.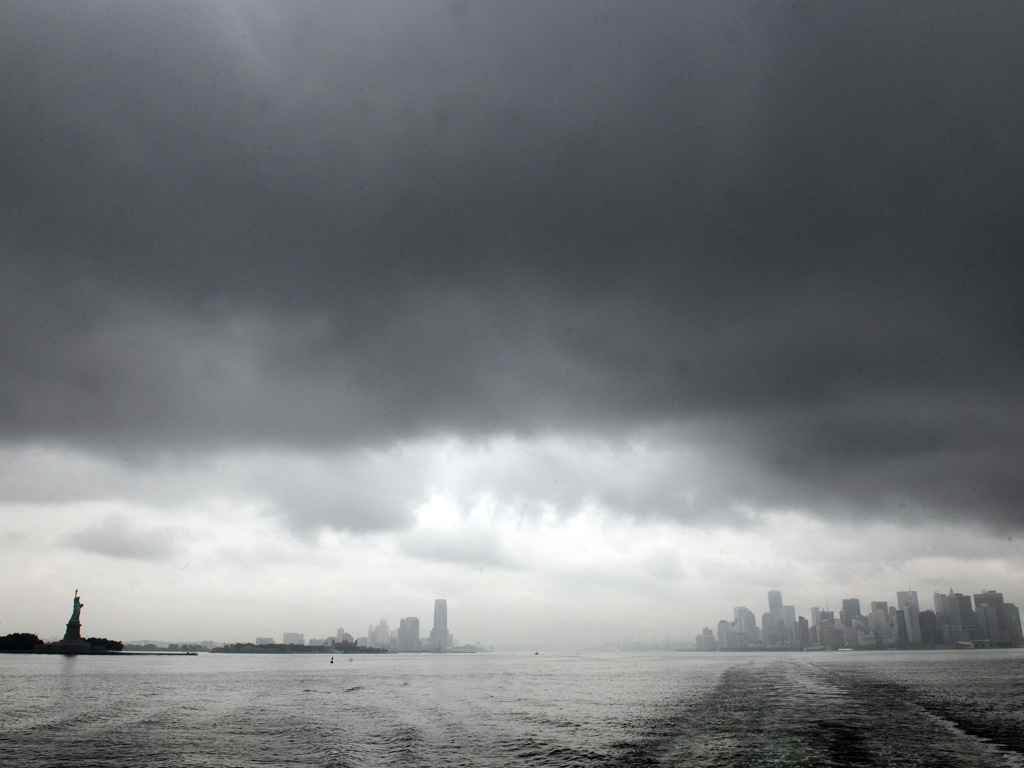 The New York skyline, with the Statue of Liberty just visible on the left, is enveloped in dark clouds as Hurricane Irene advances, August 28 2011: photo by Keystone/Rex Features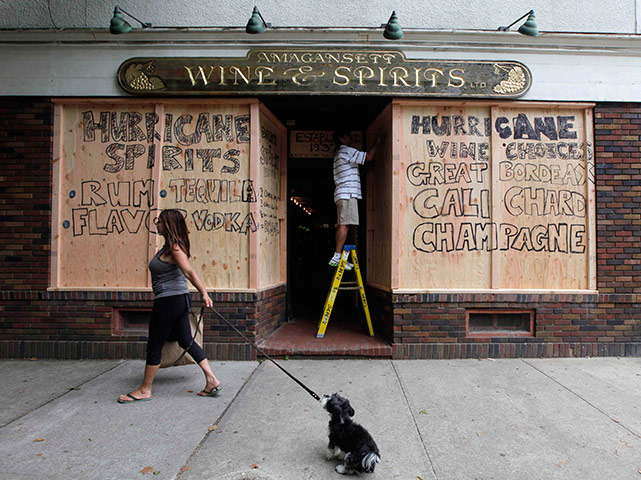 An employee boards up the windows of a store in Amagansett, East Hampton, New York, 28 August 2011: p
hoto by Lucas Jackson/Reuters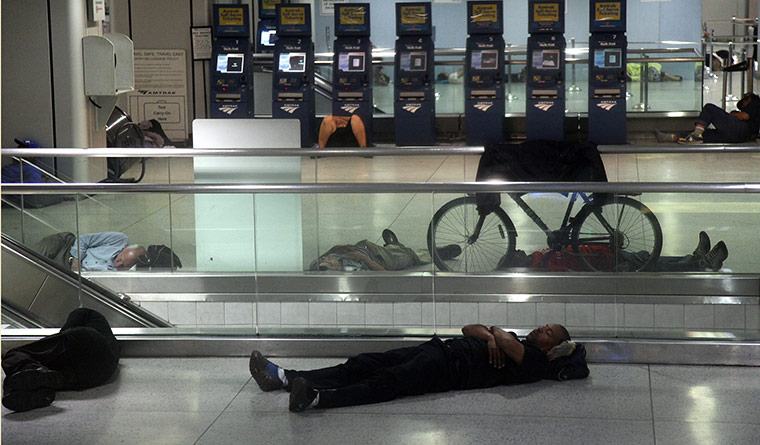 People sheltering at Penn Station in New York grab some shuteye, 28 August 2011: photo by Chelsea Matiash/AP


Workmen install plywood over the windows of Bloomingdale's department store in New York

, 28 August 2011:
photo by Karly Domb Sadof/AP
A taxi 42nd Street at Times Square in New York as rain falls before hurricane Irene hit, 28 August 2011. The city was shut down as millions of Americans sought shelter from a huge storm that closed transport systems:
photo by Peter Jones/Reuters


Hurricane Irene leaves Manhattan almost unscathed
New York dodges meteorological bullet and life returns to normal
by Paul Harris, The Guardian, 28 August 2011
No sooner had the roaring winds and driving rains of Hurricane Irene passed overhead than the denizens of lower Manhattan emerged to celebrate the storm that wasn't.
The area of the city sandwiched between the Hudson and East rivers had been a main focus of concern as Irene bore down on the metropolis...
But as the waters rose along the East River Park and along the West Side highway, they quickly reached their peak and then receded. A few streets flooded, the odd car was stranded, but on the whole the feared "storm surge" that could have swamped the city failed to materialise. Lower Manhattan had dodged a meteorological bullet.
For ordinary citizens it was an immense relief, tempered with a typical New York attitude that dictates that one must shrug nonchalantly in the face of danger.
Melanie Marchenko, 48, had come in from New Jersey to spend the night with her elderly mother in lower Manhattan. She claimed to be unfazed by all the fuss. "It was nice. It was serene," she said of the 65mph winds that had howled through the night.
The most unusual thing was the way normally bustling New York had become deserted as public transport closed and forced everyone indoors. "It felt kind of like a ghost town," she said, clutching her morning copy of the Daily News, which she had bought at a corner store deli that had remained open.
Even as city officials urged people to remain indoors once the hurricane had passed, many in lower Manhattan ignored the advice. It is not every day that a hurricane visits the neighbourhood and the curious and the concerned wanted to grab a look first hand.
The scene that greeted them was one of autumn come early: leaves and branches littered New York's pavements and roads. Most stores and businesses remained closed, sometimes with tape criss-crossed across the windows –- a salient reminder of the fear that Irene had inspired.
But, on the whole, life began to return to normal amid a light drizzle on a comparatively windless late morning, as Irene whirled away northwards.
Joggers put on their earphones and headed down to the rivers for late morning runs; families with young children went for walks; and a few elderly people straggled into the old Polish church of St Stanislaus on East 7th Street which had opened its doors for a morning service. Store owners laid out boxes of fruit and vegetables.
Hair stylist Carlos Franqui, 32, was taking his two Shih Tzu dogs for a morning walk. Franqui said he had been first amazed at the idea of a hurricane hitting New York at all, and then surprised a second time when the promised disaster failed to happen.
Even his small, ornamental pets were not impressed by Irene. "It did not bother them at all. They slept through it," he said. "I got up this morning and was like: 'All right, nothing happened'."
Of course, Franqui's attitude might have been shaped by the fact that he is originally from Puerto Rico and as a boy survived the assault on the island of the category 5 monster Hurricane Hugo in 1989.
"This was not much like that. This was nothing, but I guess it is always good to be careful," he said.


The threat of Hurricane Irene failed to stop tourists visiting Manhattan's Times Square, despite warnings from New York mayor Michael Bloomberg, 28 August 2011: photo by John Minchillo/AP
"You know what time it is, America? Time to FREAK THE FUCK OUT!": graphic and caption via Village Voice, 28 August 2011