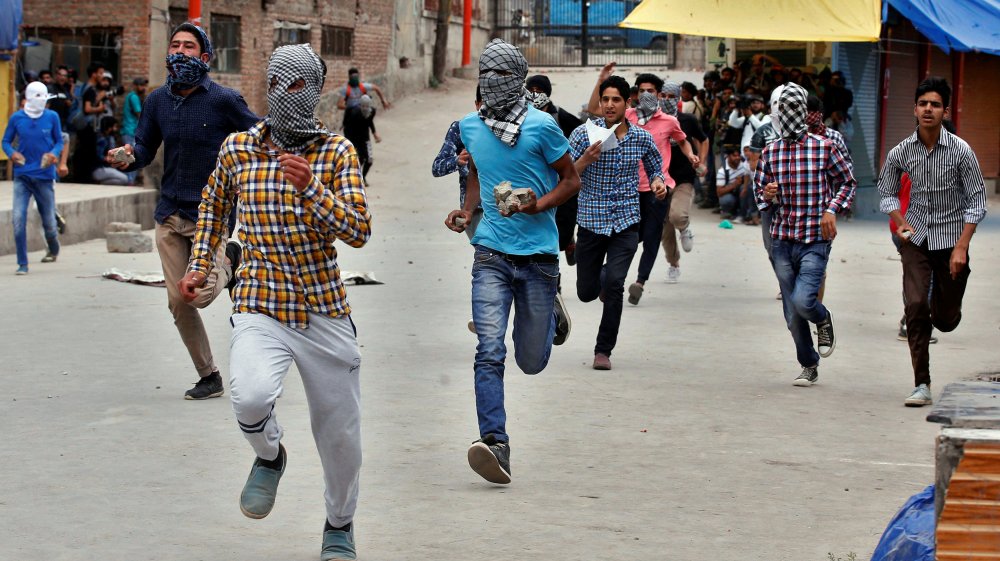 Security forces in Kashmir killed a top rebel commander in a gun battle, sparking massive protests and clashes: image via Al Jazeera English @AJEnglish, 27 May 2017
Students clash with forces in Sopore, Kashmir following the killing of Hizb militants.: image via Rouf Bhat @RoufBhat, 27 May 2017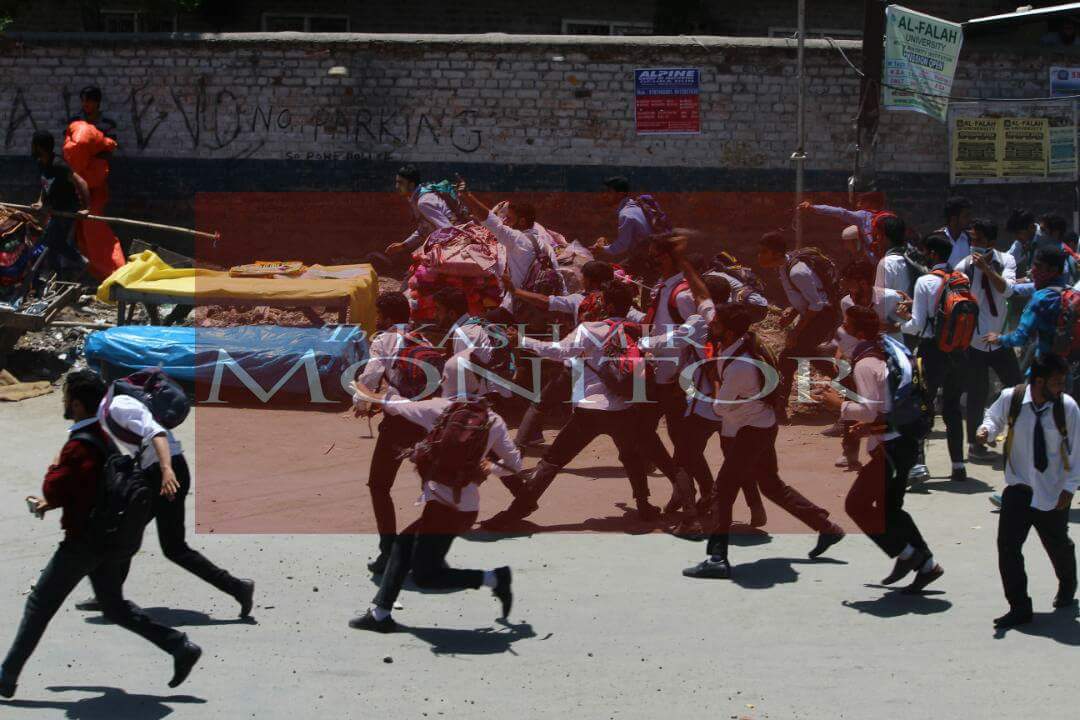 Students clash with forces in Sopore, Kashmir following the killing of Hizb militants.: image via Rouf Bhat @RoufBhat, 27 May 2017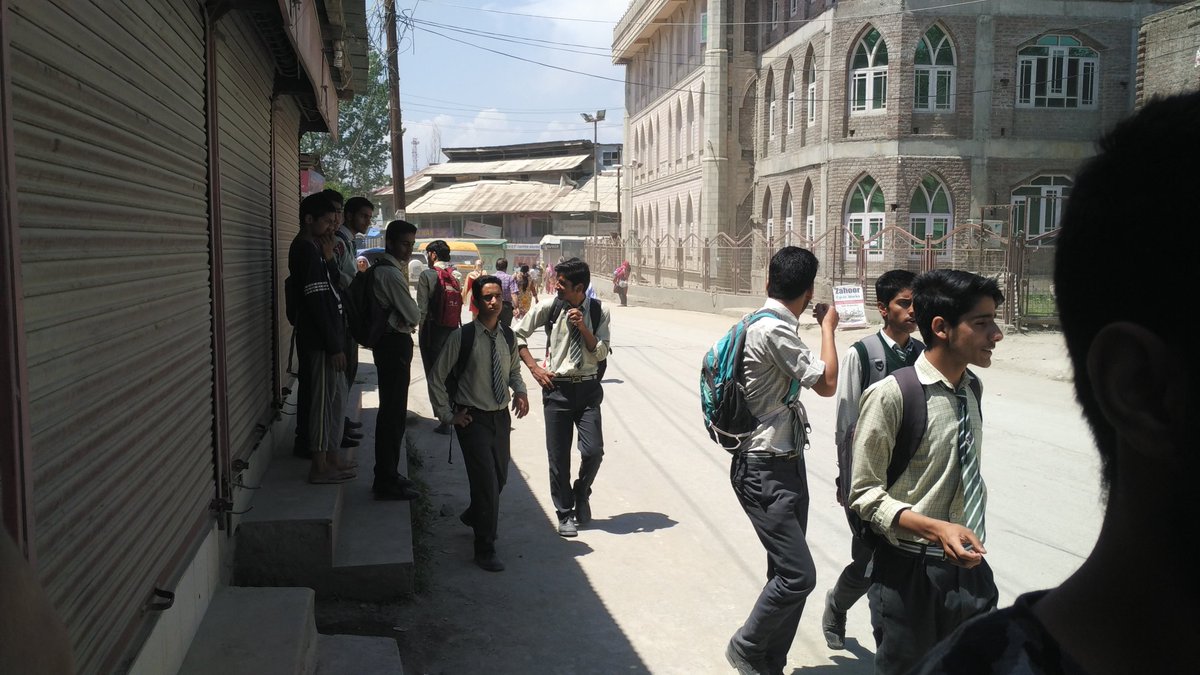 Schools shutdown in uptown Srinagar; army convoy pelted with stones in Nowgam; police enters school, students arrested, released later.:

image via Rouf Bhat @RoufBhat, 27 May 2017
Panic among students, parents and commuters as schools are closed following Hizbul Mujahideen Commander's killing.: image via Rouf Bhat @RoufBhat, 27 May 2017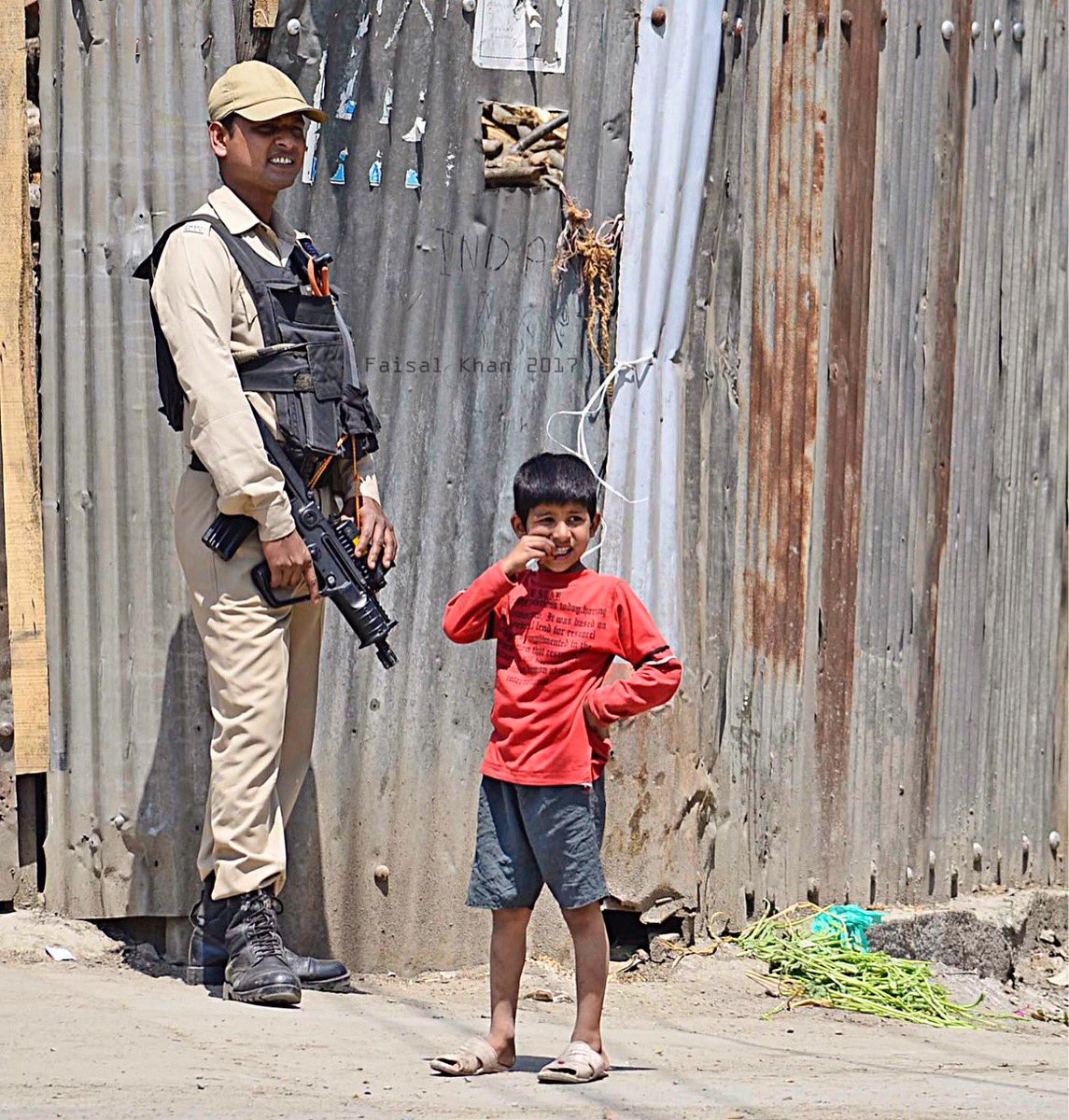 Old city Srinagar Kashmir-Photograph by @lookaround81: image via Faisal Khan @lookaround81, 21 May 2017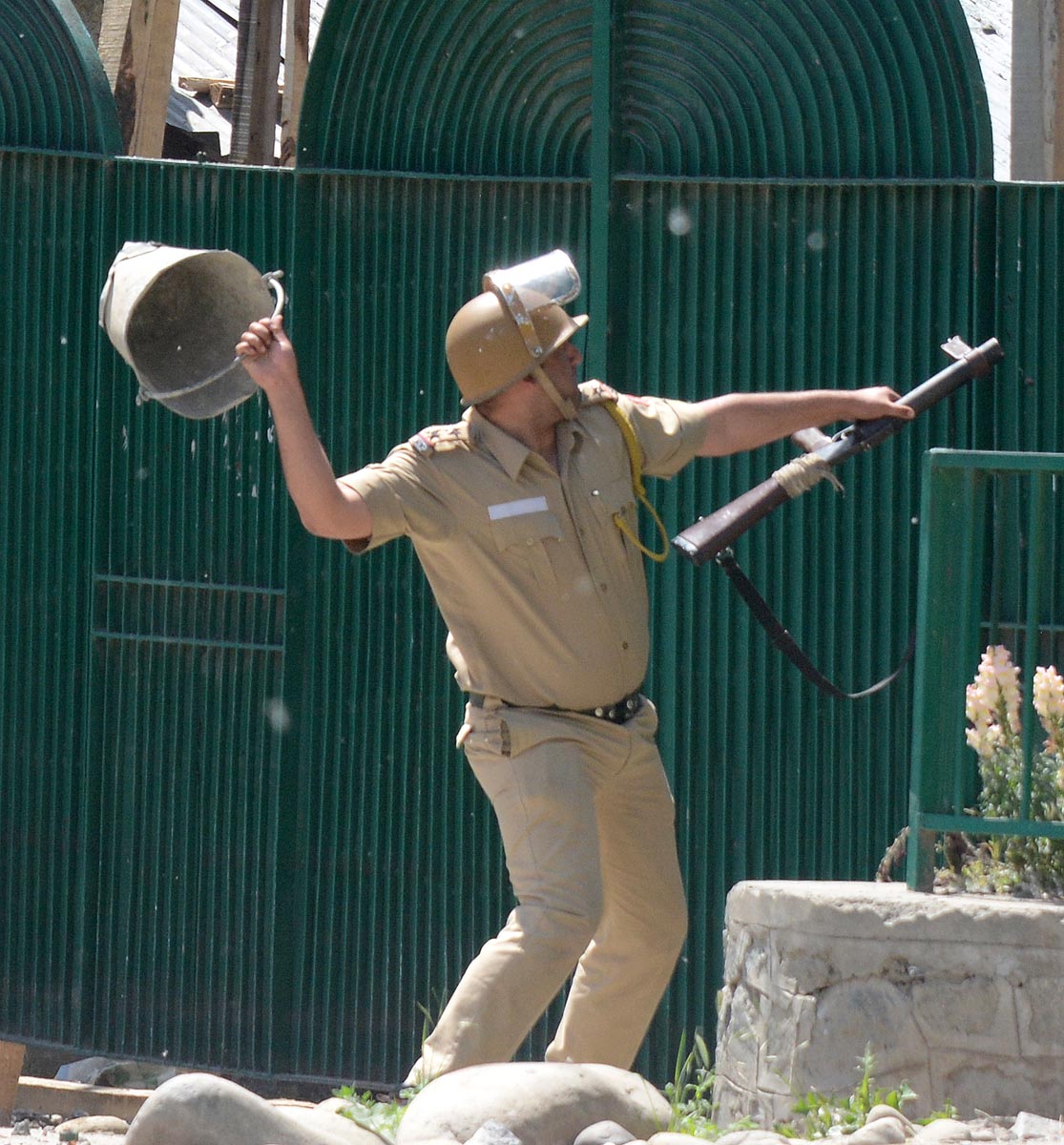 in Pix - A Policeman throws bucket inside Govt Degree College Bemina to disperse d protesting Students during clashes in #Srinagar #kashmir: image via Umar Ganie @UmarGanie1, 23 May 2017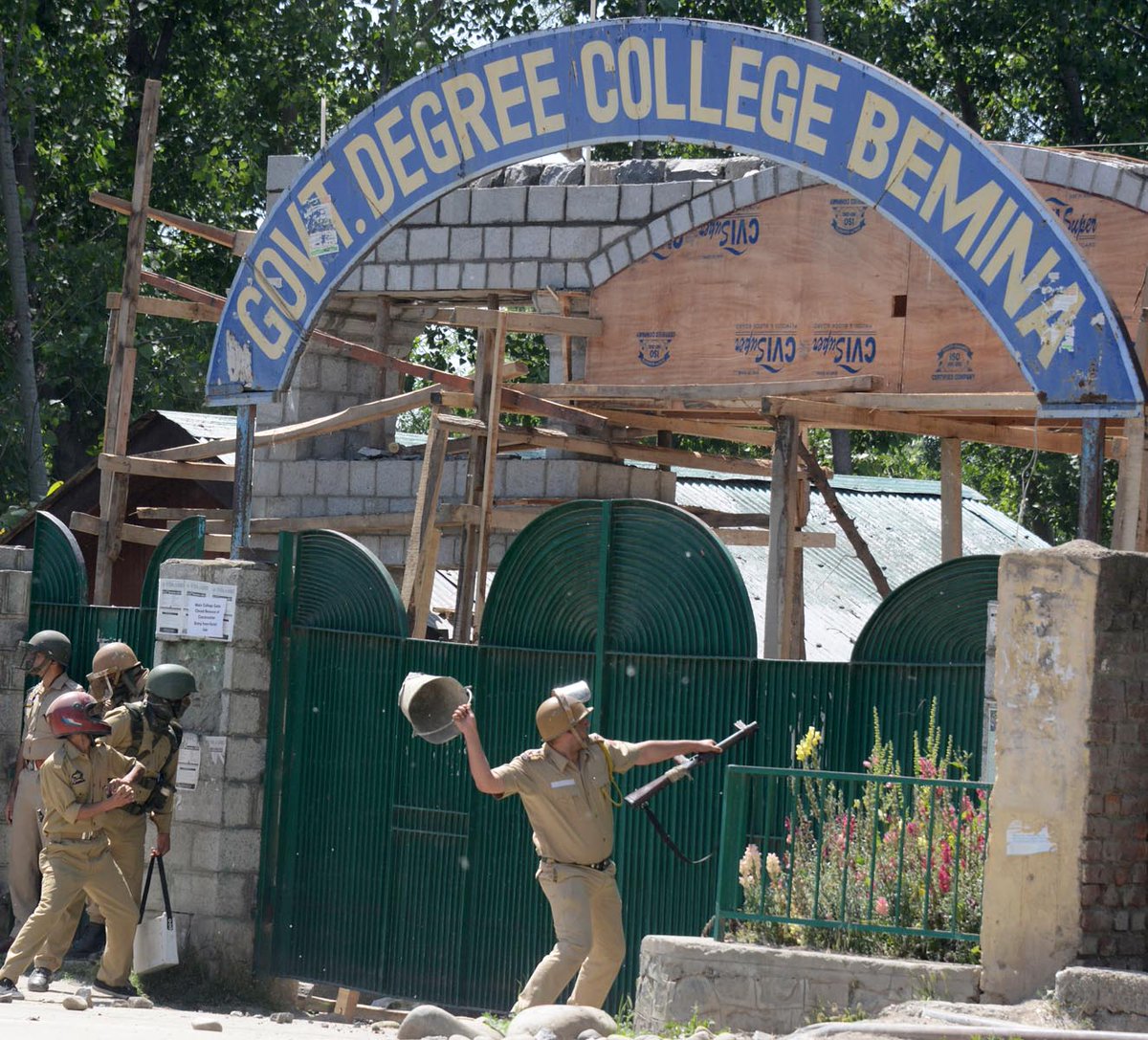 in Pix - A Policeman throws bucket inside Govt Degree College Bemina to disperse d protesting Students during clashes in #Srinagar #kashmir: image via Umar Ganie @UmarGanie1, 23 May 2017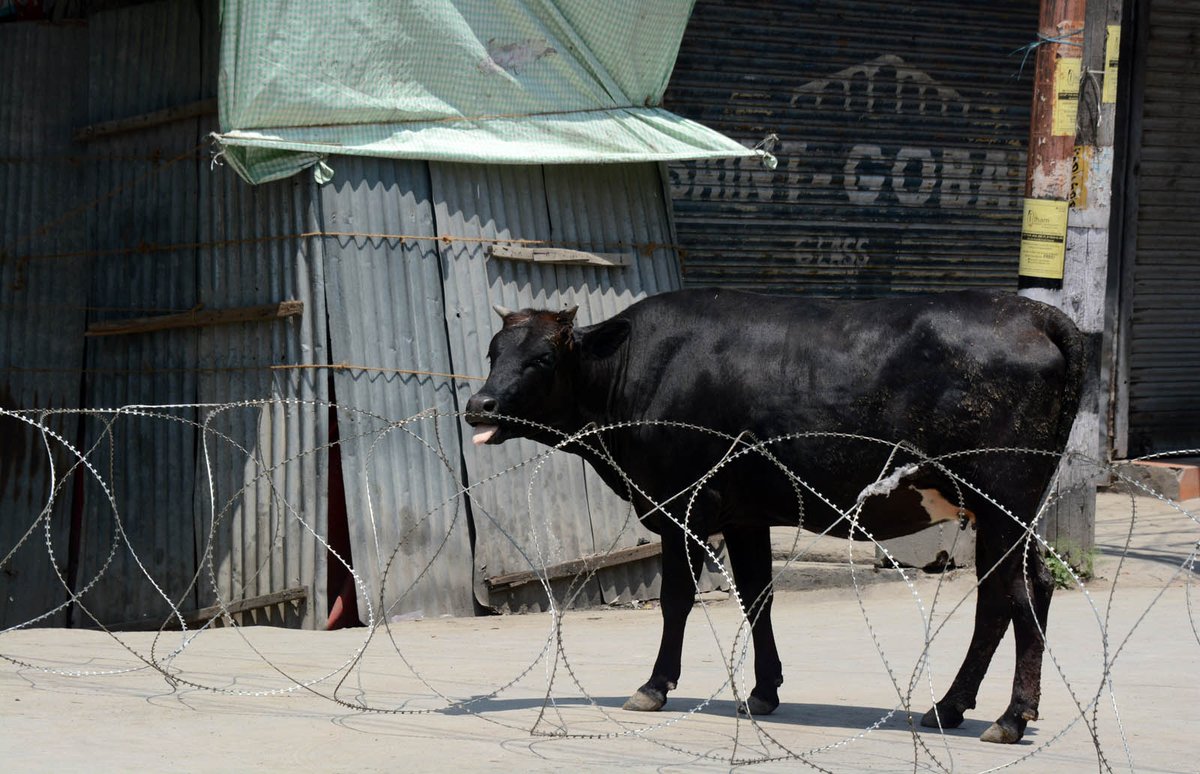 For Bhakts-Holy Cows stuck in curfew bound area of Srinagar imposed to prevent @MirwaizKashmir's Eidgah rally. #ShaheedMillat #kashmir: image via Umar Ganie @UmarGanie1, 20 May 2017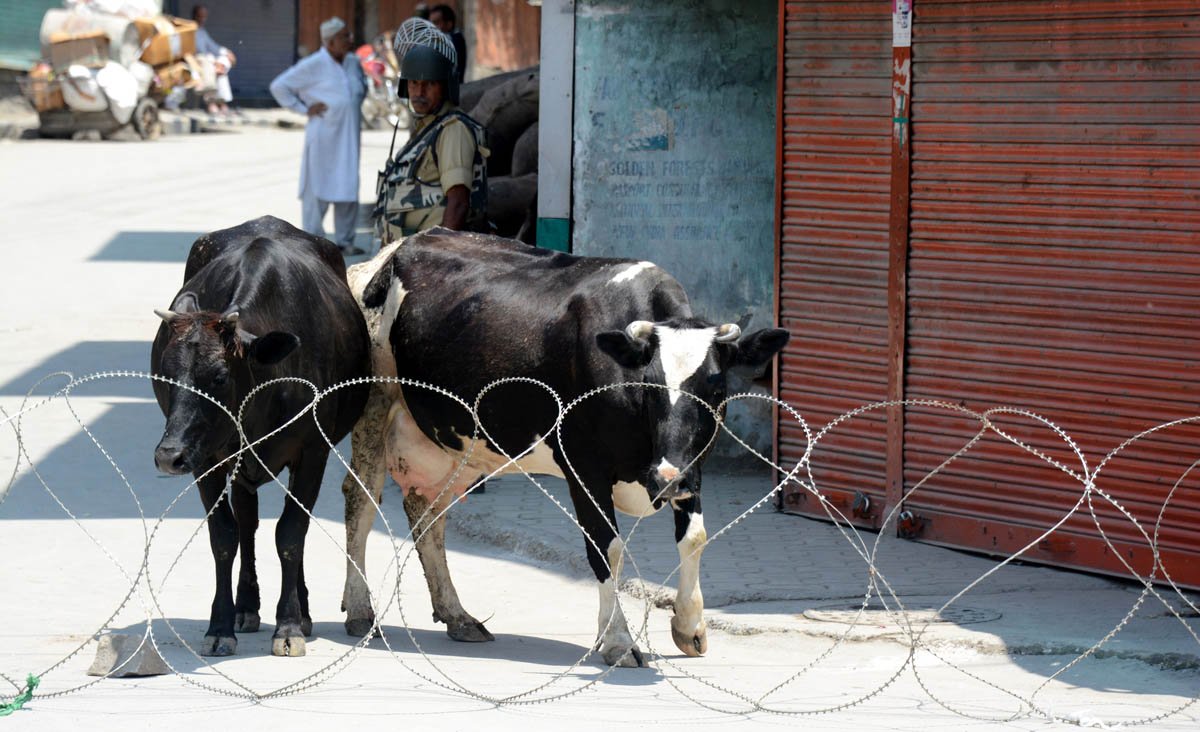 For Bhakts-Holy Cows stuck in curfew bound area of Srinagar imposed to prevent @MirwaizKashmir's Eidgah rally. #ShaheedMillat #kashmir: image via Umar Ganie @UmarGanie1, 20 May 201

7
A protester walks to join the pro freedom protest in old Srinagar Kashmir on May 19, 2017.@lookaround81: image via Faisal Khan @lookaround81, 19 May 2017
Pro freedom clashes between protesters and Indian police in old Srinagar Kashmir on May 19, 2017. @lookaround81: image via Faisal Khan @lookaround81, 19 May 2017
Indian policeman detains a youth during clashes in old Srinagar Kashmir on May 19, 2017. @lookaround81: image via Faisal Khan @lookaround81, 19 May 2017
Clashes between students and police continue in Srinagar Kashmir on May 17, 2017. @lookaround81: image via Faisal Khan @lookaround81, 17 May 201

7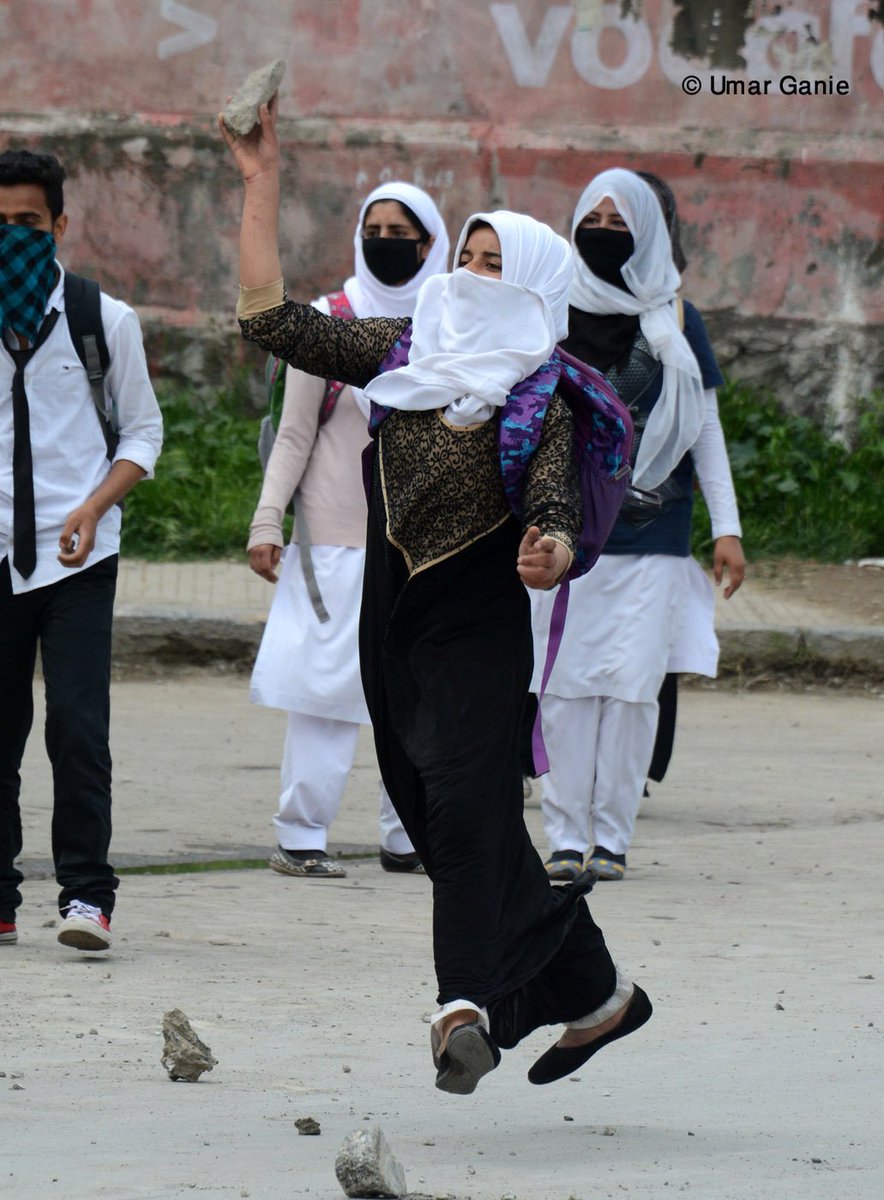 Girls did it again-in Pics:Female protesting students hit on streets and throw stones on police during clashes at Khanyar in Srinagar: image via Umar Ganie @UmarGanie1, 17 May 2017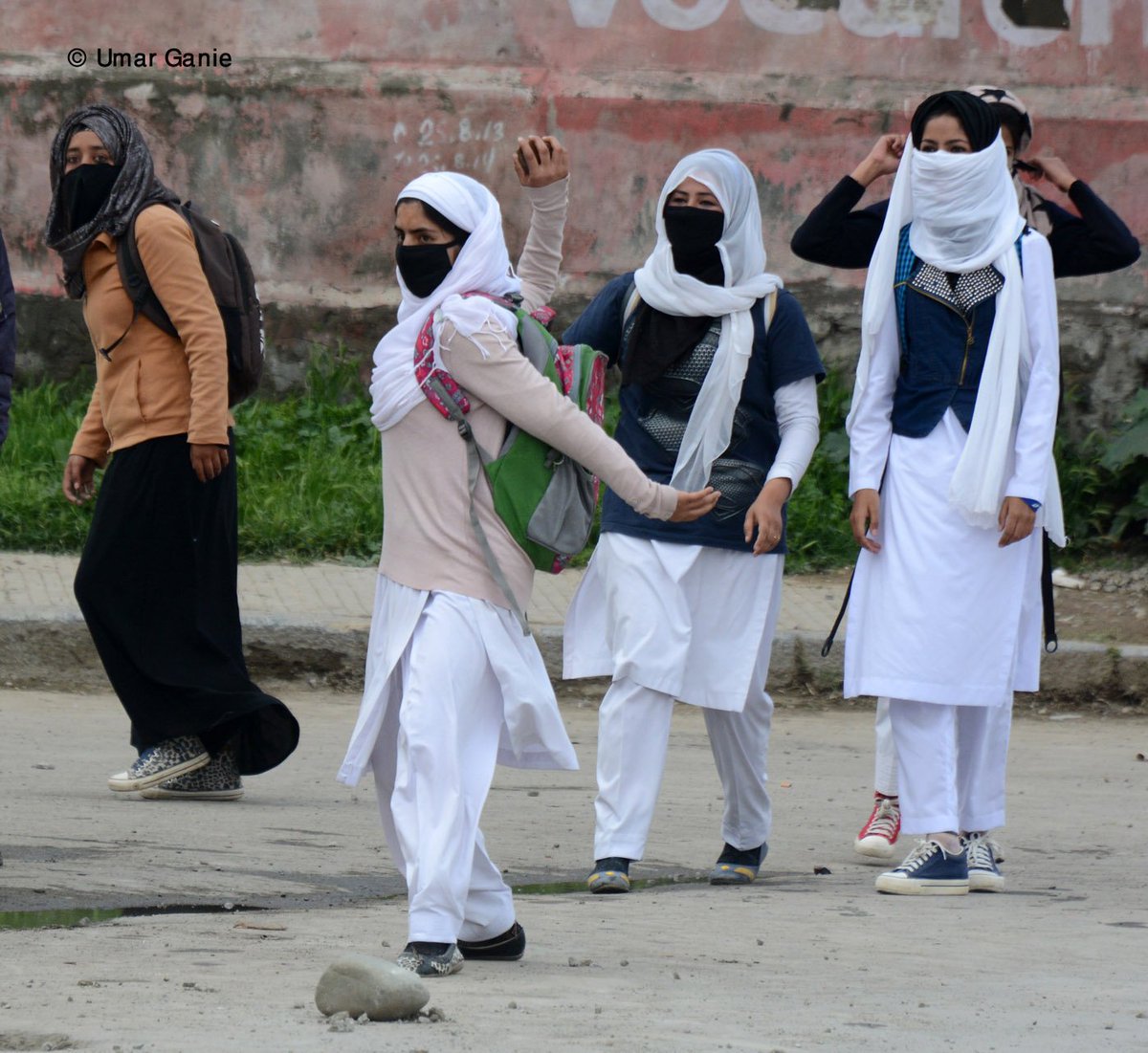 Girls did it again-in Pics:Female protesting students hit on streets and throw stones on police during clashes at Khanyar in Srinagar: image via Umar Ganie @UmarGanie1, 17 May 201

7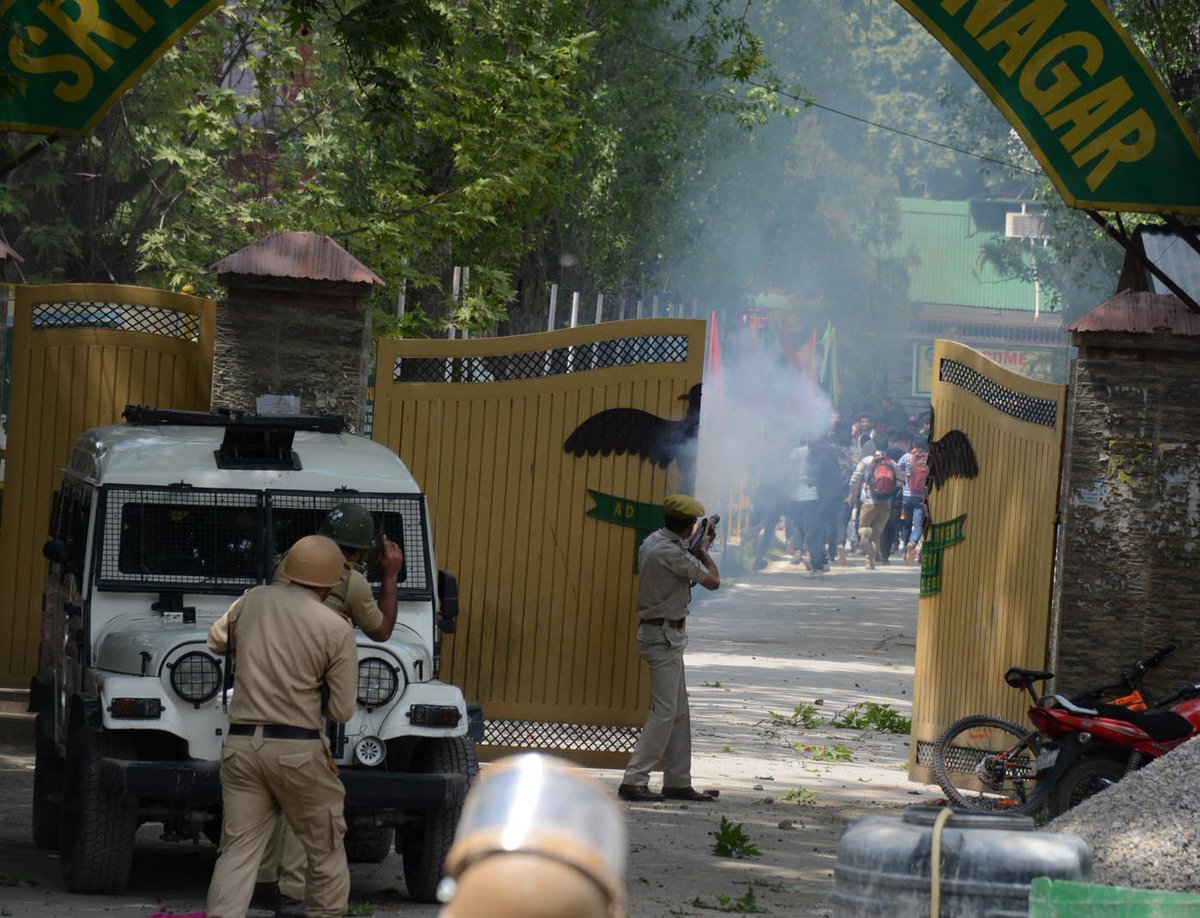 In pics-Police fires tear gas shells inside S.P College during clash with protesting Students in Srinagar #kashmir: image via Umar Ganie @UmarGanie1, 15 May 2017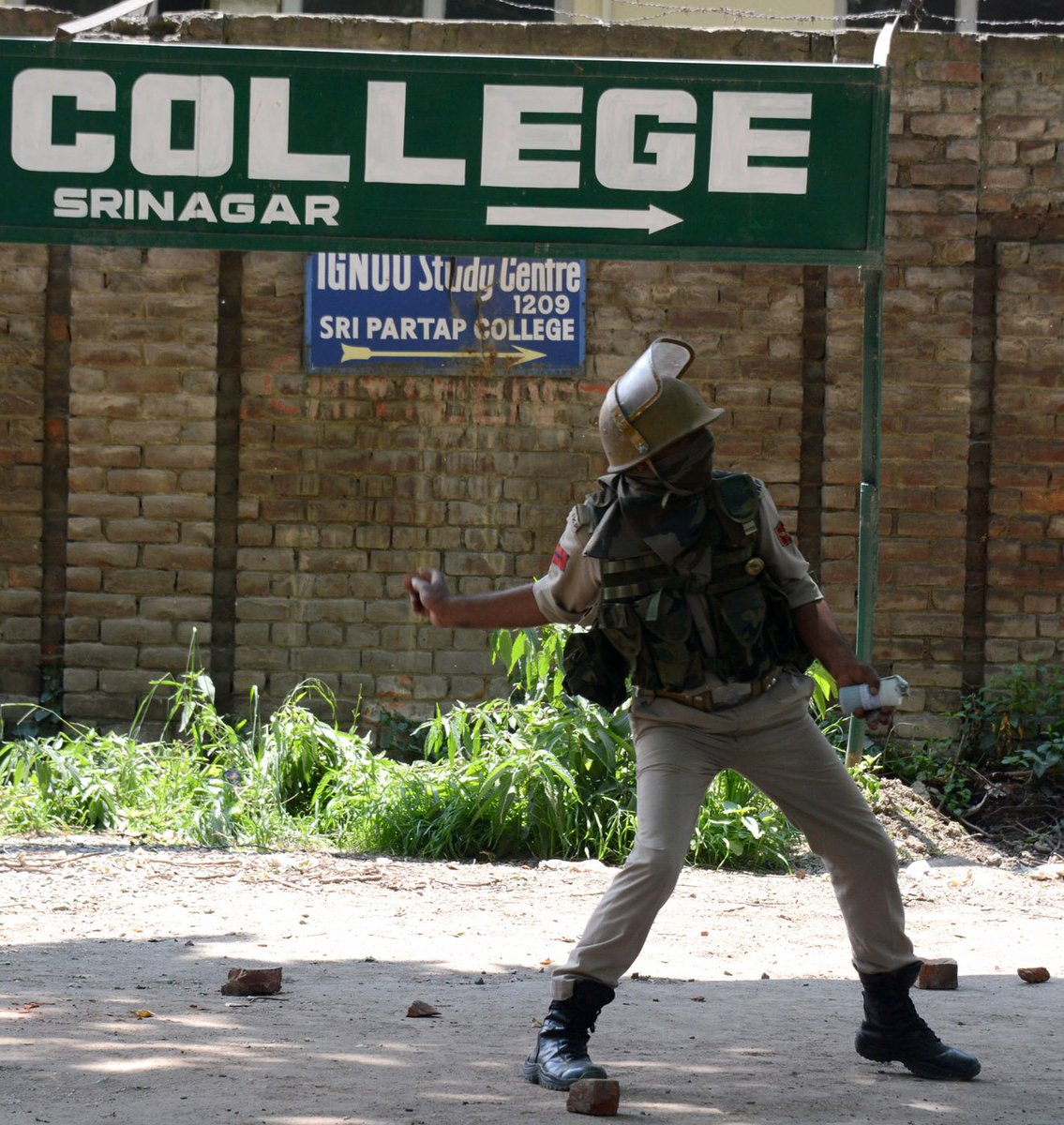 In pics-Police fires tear gas shells inside S.P College during clash with protesting Students in Srinagar #kashmir: image via Umar Ganie @UmarGanie1, 15 May 2017

Students clash with police in Srinagar Kashmir on May 15, 2017. @lookaround81: image via Faisal Khan @lookaround81, 15 May 2017

Students clash with police in Srinagar Kashmir on May 15, 2017. @lookaround81: image via Faisal Khan @lookaround81, 15 May 2017
A sister holds the photograph of her missing brother during a sit-in protest organized @_APDP in Srinagar, Kashmir on May 10, 2017.

@lookaround81: image via Faisal Khan @lookaround81, 10 May 2017
Clashes between students and Indian Police in Srinagar Kashmir on May 09, 2017 @lookaround81: image via Faisal Khan @lookaround81, 9 May 2017
An unconscious student is being attended by a woman pedestrian during a demonstration in Srinagar, Kashmiri on May 09, 2017. @lookaround81: image via Faisal Khan @lookaround81, 9 May 2017
Students clash with Indian police in Srinagar Kashmir on May 09, 2017. @lookaround81: image via Faisal Khan @lookaround81, 9 May 2017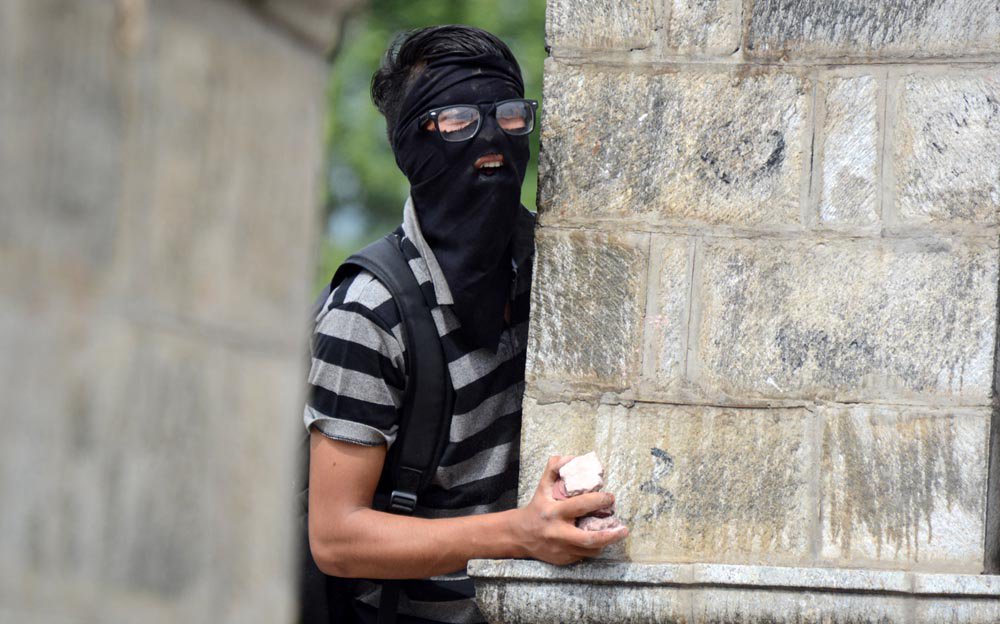 In Pix-Students of Women's College and SP higher secondary clashes with Police at M.A Road and Regal Chowk in the heart of Srinagar #kashmir: image via Umar Ganie @UmarGanie1, 9 May 2017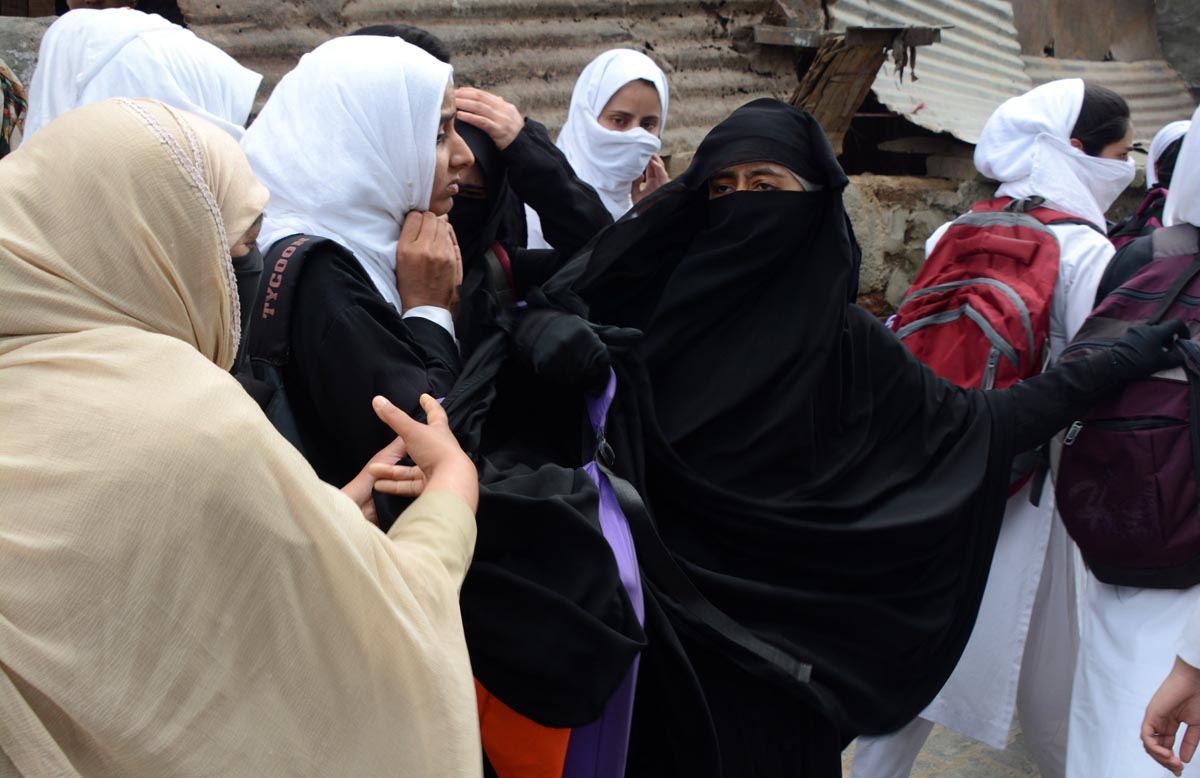 In Pix-Students of Women's College and SP higher secondary clashes with Police at M.A Road and Regal Chowk in the heart of Srinagar #kashmir: image via Umar Ganie @UmarGanie1, 9 May 2017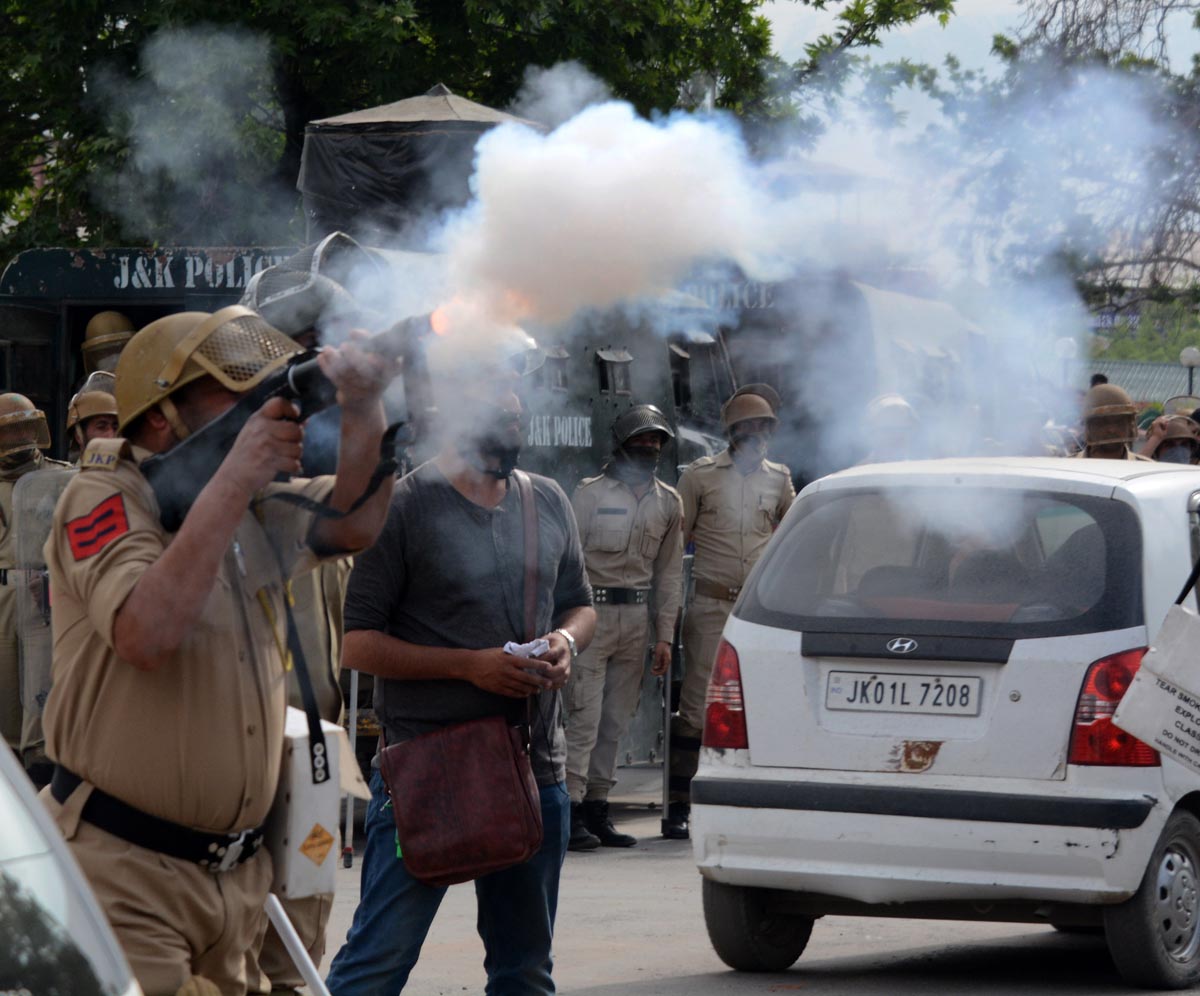 In Pix-Students of Women's College and SP higher secondary clashes with Police at M.A Road and Regal Chowk in the heart of Srinagar #kashmir: image via Umar Ganie @UmarGanie1, 9 May 2017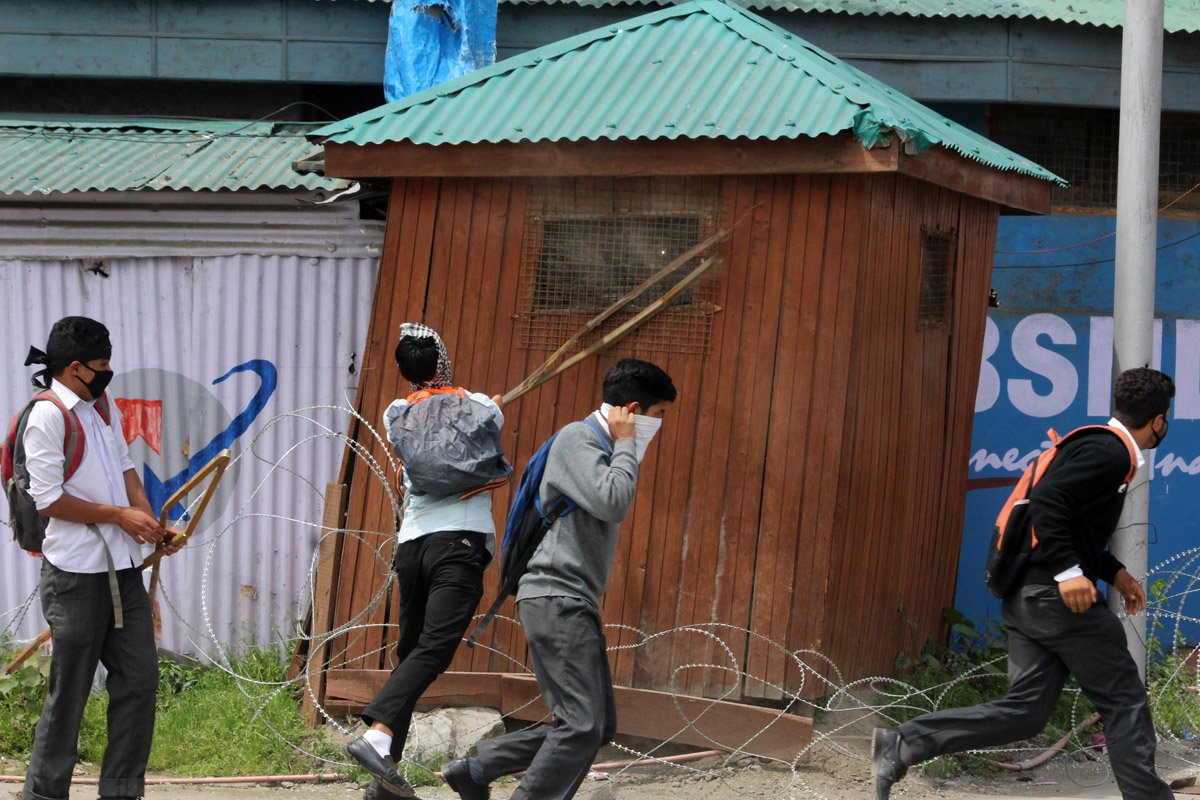 In Pix-Students of Women's College and SP higher secondary clashes with Police at M.A Road and Regal Chowk in the heart of Srinagar #kashmir: image via Umar Ganie @UmarGanie1, 9 May 2017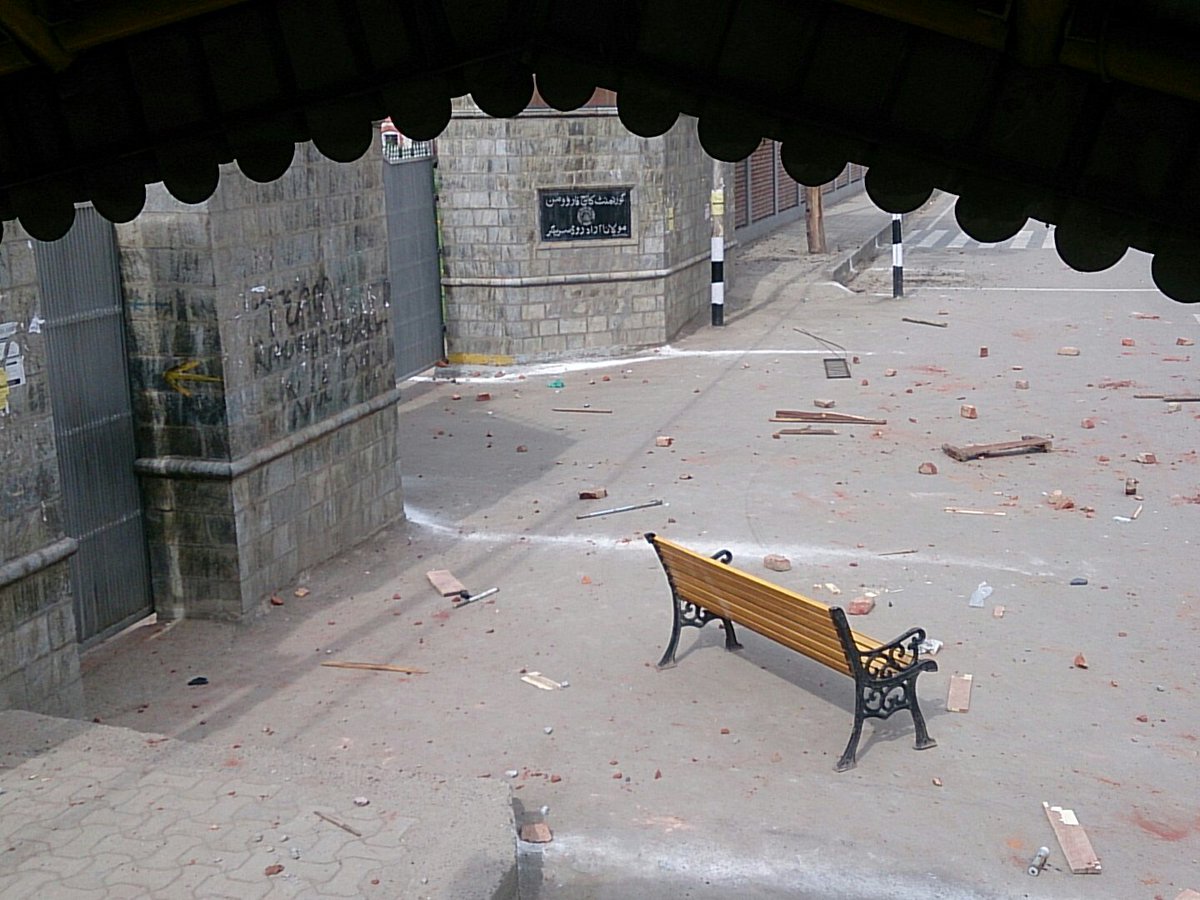 A scene outside Women's college MA Road after police fires dozens of tear gas shells to disperse the students protest in Srinagar #kashmir: image via Umar Ganie @UmarGanie1, 9 May 2017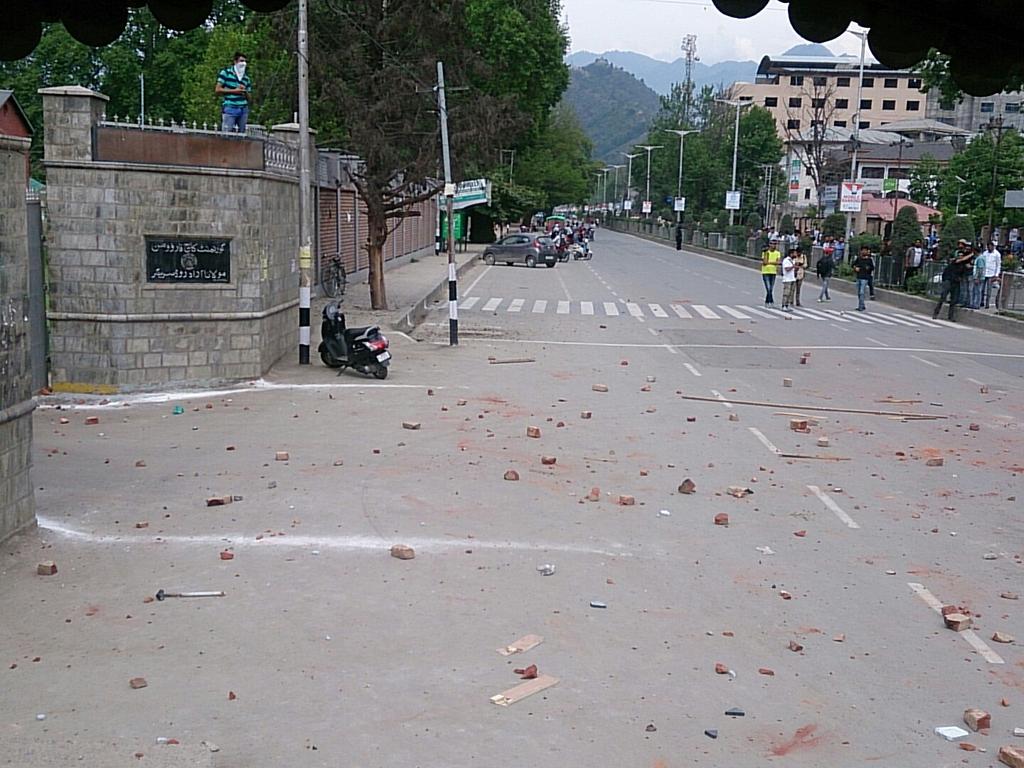 Only stones on Road- Students of Womens college and SP college clashes with police at MA Road in the heart of Srinagar #kashmir: image via Umar Ganie @UmarGanie1, 9 May 2017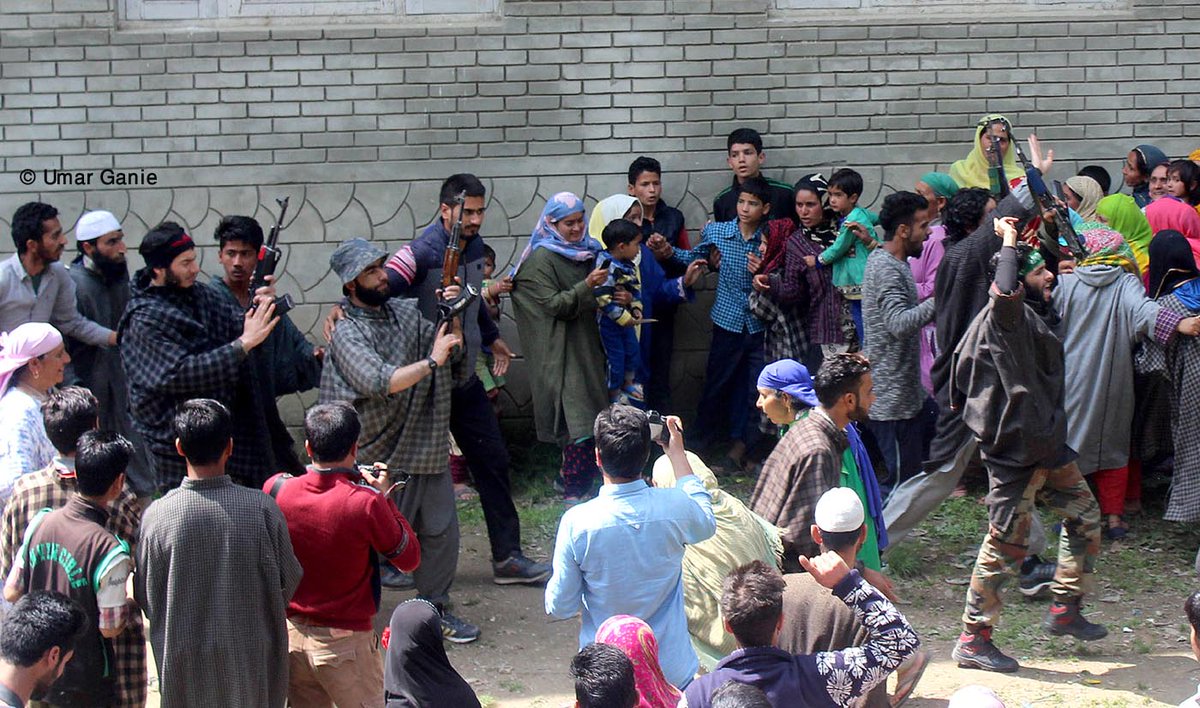 In Pics-Lashkar-e-Taiba militants giving gun salute to thr Commander Fayaz who was killed during attack on Police party in Kulgam #kashmir: image via Umar Ganie @UmarGanie1, 7 May 2017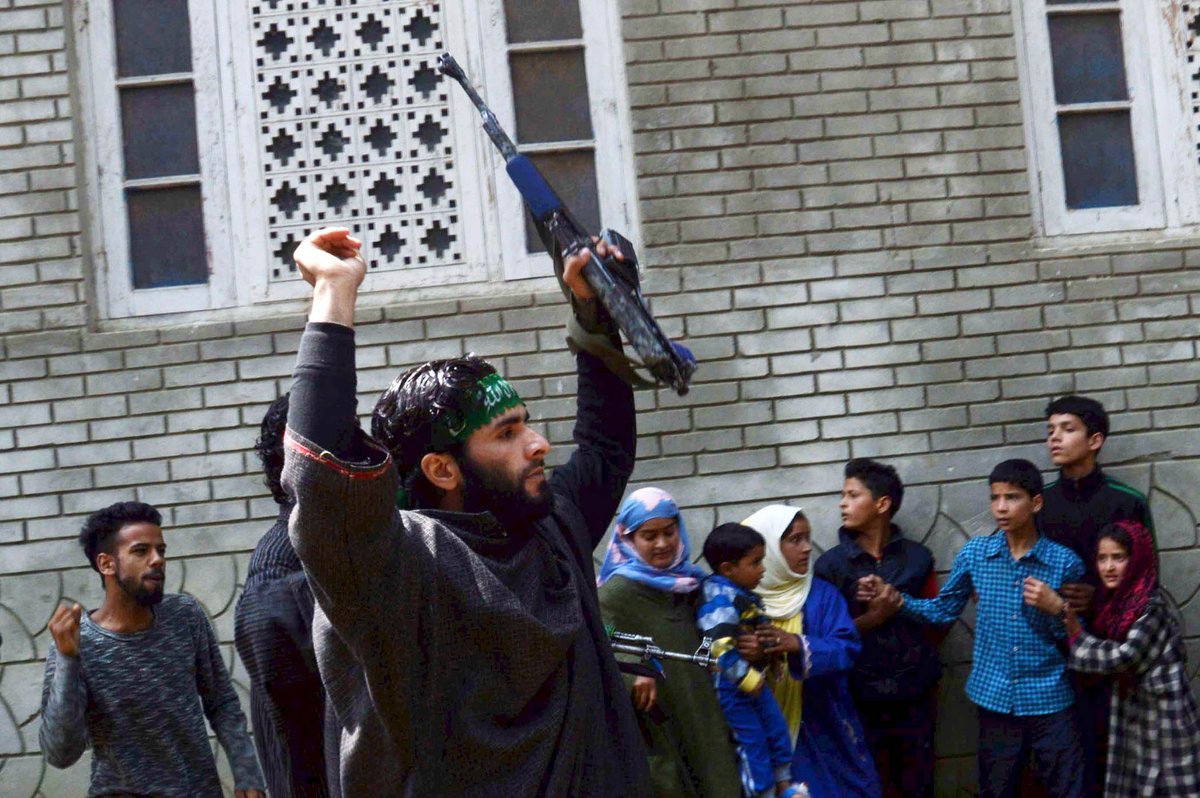 In Pics-Lashkar-e-Taiba militants giving gun salute to thr Commander Fayaz who was killed during attack on Police party in Kulgam #kashmir: image via Umar Ganie @UmarGanie1, 7 May 2017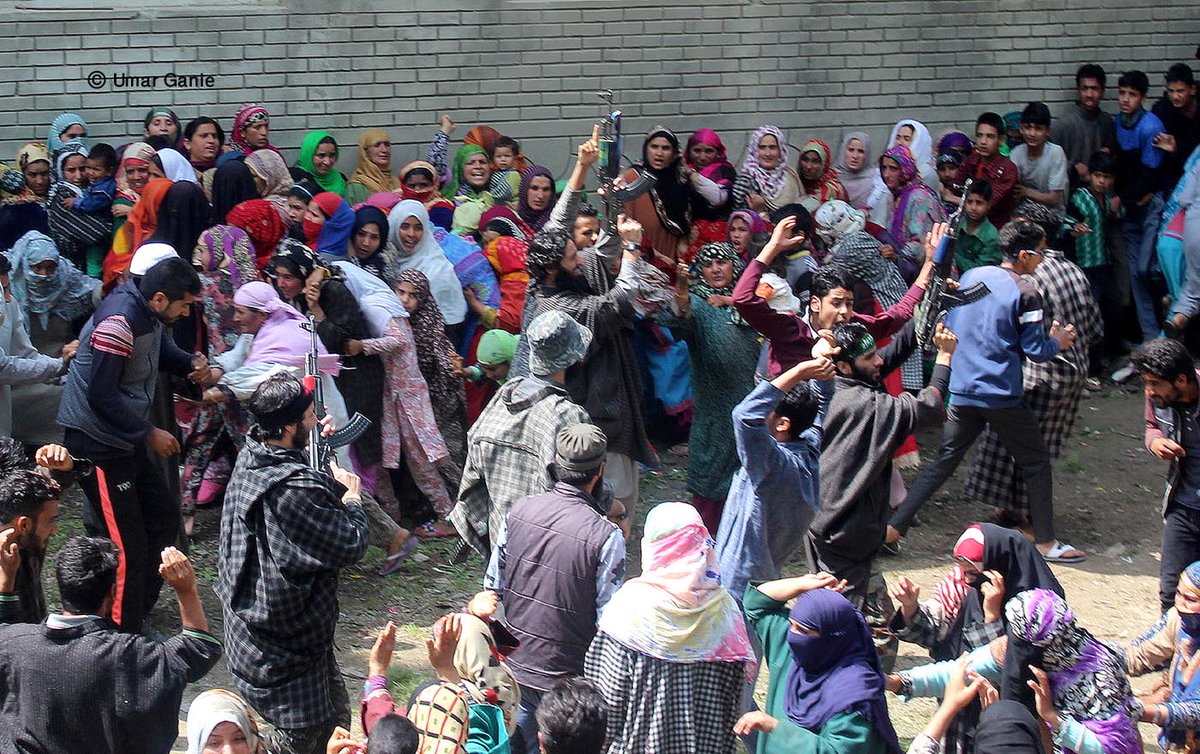 In Pics-Lashkar-e-Taiba militants giving gun salute to thr Commander Fayaz who was killed during attack on Police party in Kulgam #kashmir: image via Umar Ganie @UmarGanie1, 7 May 2017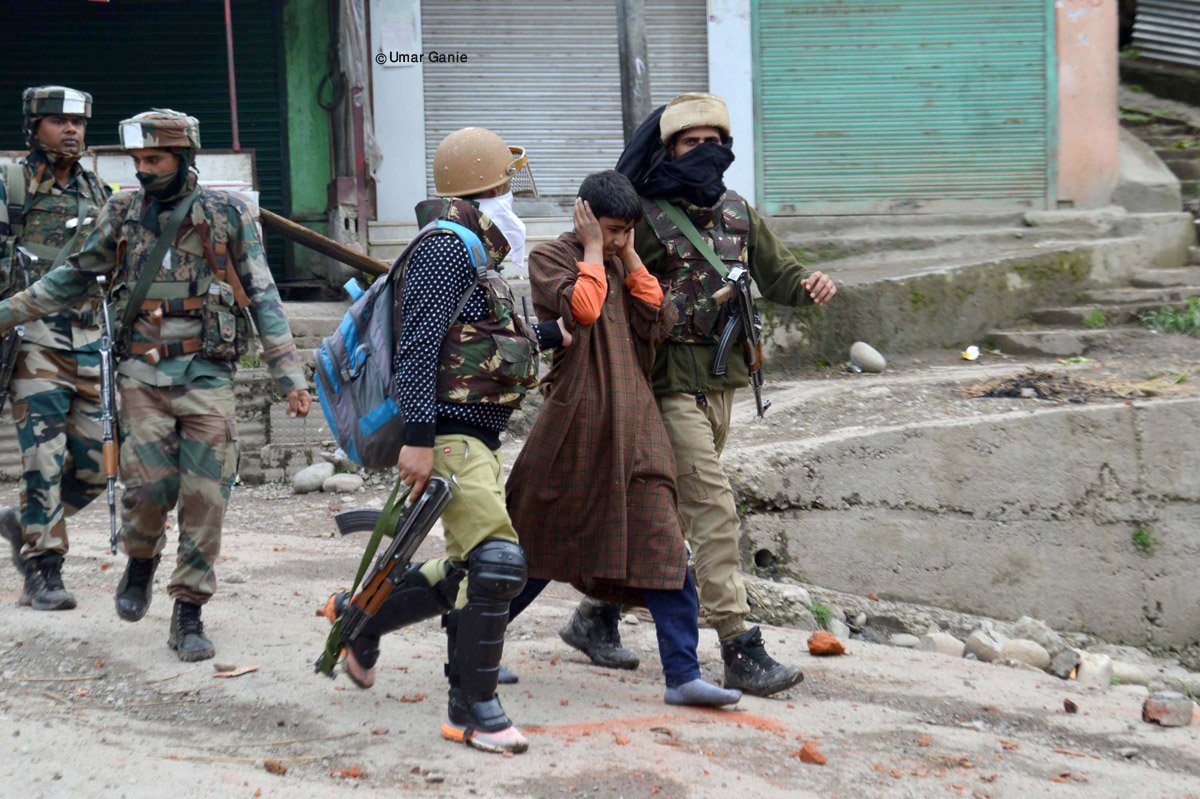 in pic:Army personnel arrests a protester during massive anti-militancy search operation in #shopian district of south #kashmir on Thursday: image via Umar Ganie @UmarGanie1, 4 May 2017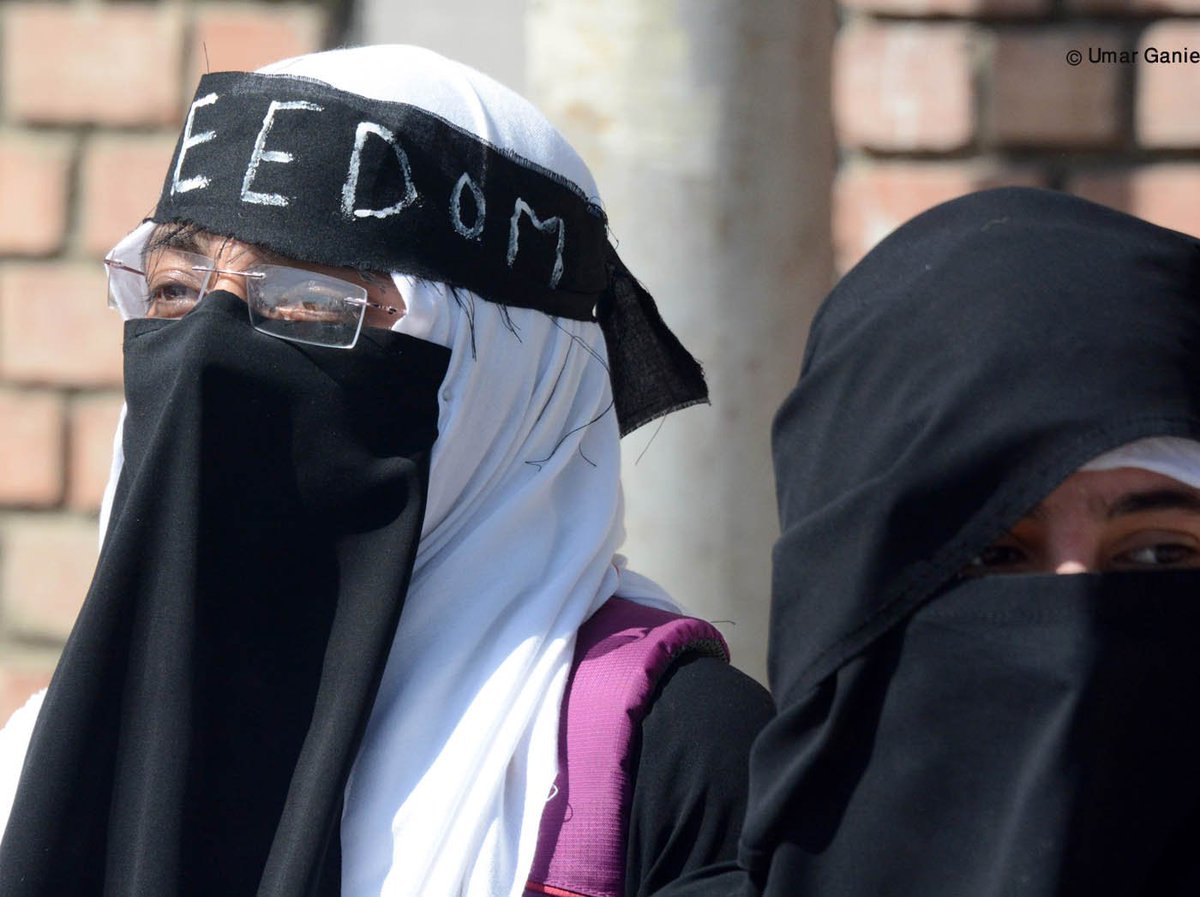 A Student of Women's College wearing 'Freedom' black band on her head during their protest rally in Srinagar #kashmir on #May 1 #MayDay2017: image via Umar Ganie @UmarGanie1, 1 May 2017
Genocidal Culture Busker Haircut #1
Paris climate commitments 'crippling' to US economic growth, says White House #climate: image via AFP news agency @AFP, 26 May 2017
To the member, society is his own community; the members of other communities may be beyond his recognition or sympathy.

To the servant, society is an establishment, in which he finds his place.

To the rebel, a particular society is a tyranny; the alternative for which he fights is a new and better society.

To the exile, society is beyond him, but may change.

To the vagrant, society is a name for other people, who are in his way or can be used.
Raymond Williams (1921-1988): from Individuals and Societies, in The Long Revolution, 1961
Beginning of the ball season, Berlin
: photo by Carl Weinrother, 1934 (Deutsches Bundesarchiv)

Political economy, therefore, does not recognise the unemployed worker, the workingman, insofar as he happens to be outside this labour relationship. The rascal, swindler, beggar, the unemployed, the starving, wretched and criminal workingman – these are figures who do not exist for political economy but only for other eyes, those of the doctor, the judge, the grave-digger, and bum-bailiff, etc.; such figures are spectres outside its domain. For it, therefore, the worker's needs are but the one need – to maintain him whilst he is working and insofar as may be necessary to prevent the race of labourers from [dying] out. The wages of labour have thus exactly the same significance as the maintenance and servicing of any other productive instrument, or as the consumption of capital in general, required for its reproduction with interest, like the oil which is applied to wheels to keep them turning. Wages, therefore, belong to capital's and the capitalist's necessary costs, and must not exceed the bounds of this necessity. It was therefore quite logical for the English factory owners, before the Amendment Bill of 1834 to deduct from the wages of the worker the public charity which he was receiving out of the Poor Rate and to consider this to be an integral part of wages.

Karl Marx (1818-1883): from Antithesis of Capital and Labour: Landed Property and Capital, in
Economic and Philosophical Manuscripts of 1844
Tulu and Ree Ree on babysitter training: photo by Rick Ele, 24 May 2017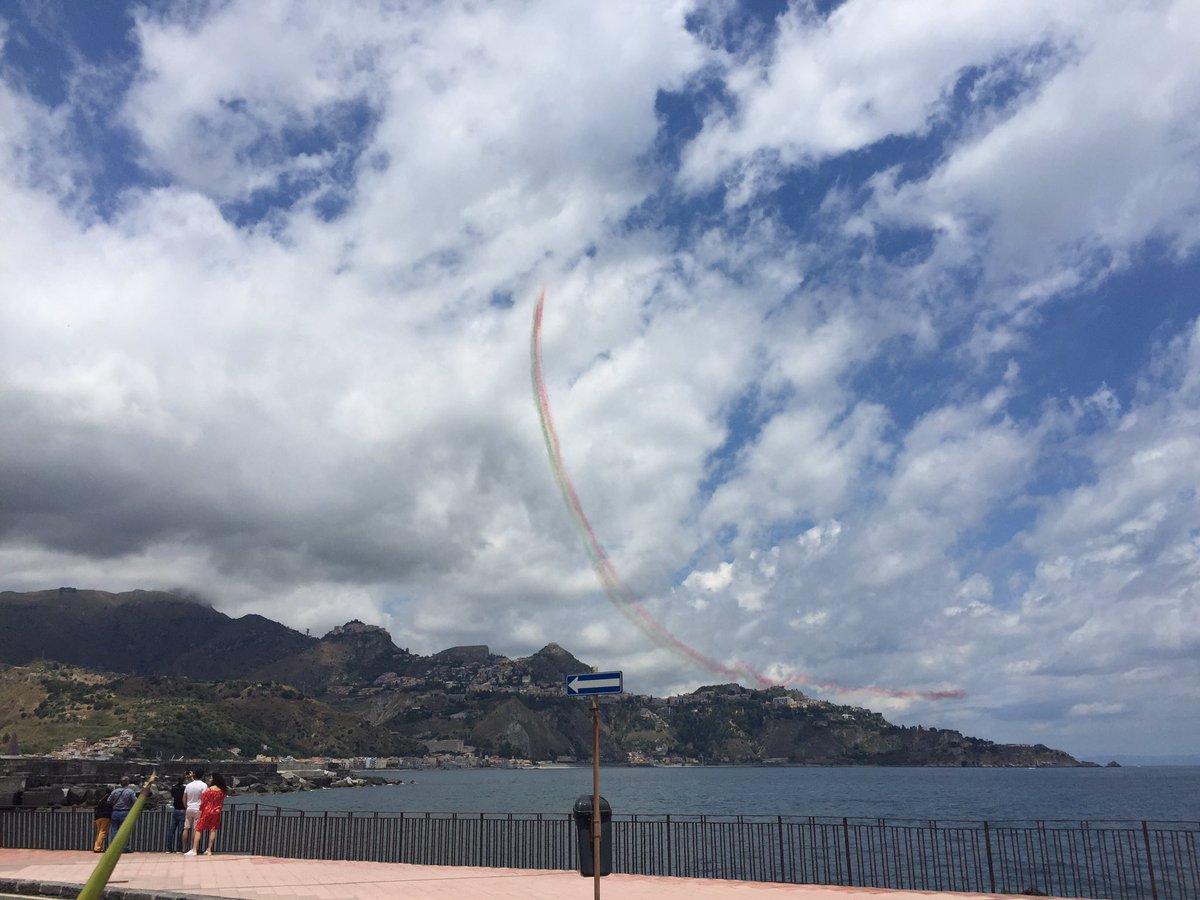 Flyover at the G7 in Taormina: image via Mike Memoli @mikememoli, 26 May 2017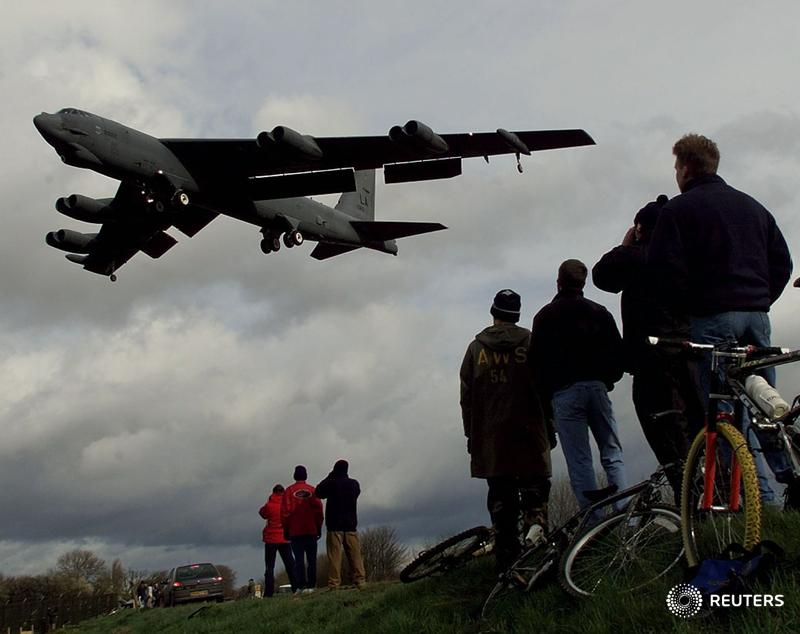 As Trump visits the NATO headquarters, a look back at the missions and role of NATO since the Kosovo conflict: image via Reuters Pictures @reuterspictures, 25 May 2017
Fun fact: There's a Chinese auto brand called "Trumpchi" and they're about to start selling in the United States. (h/t @ayoonCNBC): image via Steve Kopack @SteveKopack, 26 May 2017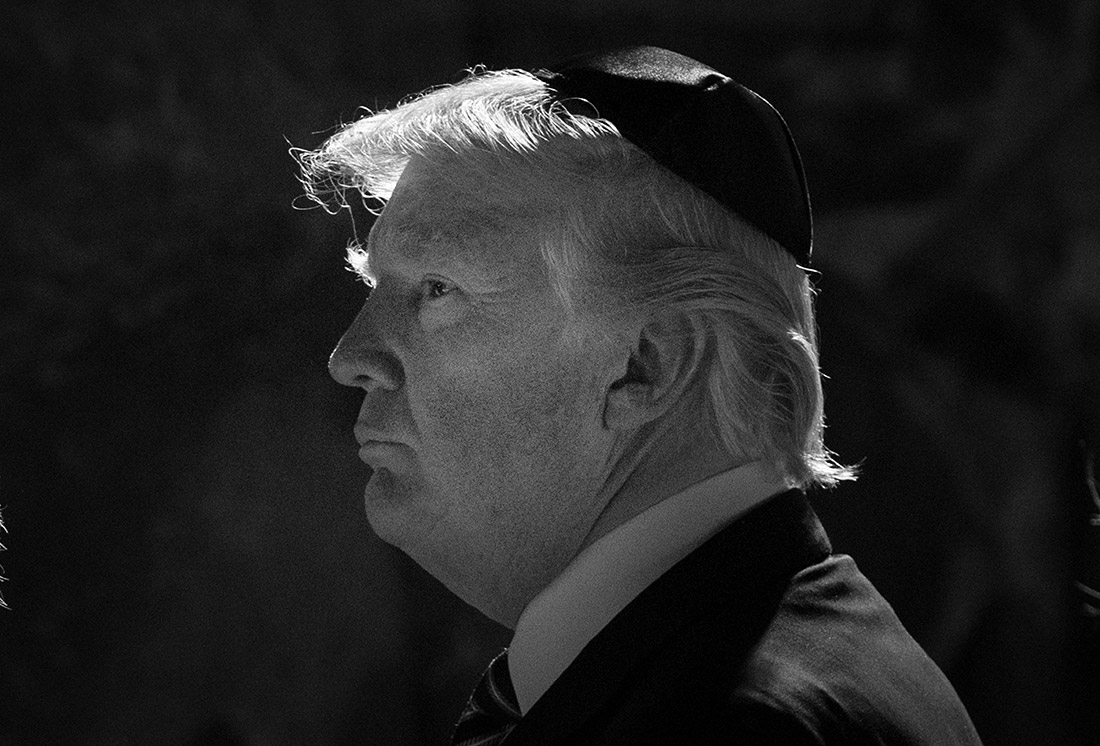 In shakeup, Trump to set up 'war room' to repel attacks over Russia probe: Jeff Mason, Richard Cowan and James Oliphant | BRUSSELS/WASHINGTON, Reuters, 26 April 2017
Once U.S. President Donald Trump returns from his overseas trip, the White House plans to launch its most aggressive effort yet to push back against allegations involving Russia and his presidential campaign, tackling head-on a scandal that has threatened to consume his young presidency.
Trump's advisers are planning to establish a "war room" to combat mounting questions about communication between Russia and his presidential campaign before and after November's presidential election, while bringing new aides into the White House, administration officials and persons close to Trump told Reuters.
The strategic shake-up comes as Republicans in Washington increasingly have fretted that the probe, continued chaos in the West Wing and Trump's steady slide in opinion polls will derail the president's drive to reform healthcare, cut taxes and rebuild the nation's infrastructure.
Upon Trump's return, the administration will add experienced political professionals, including Trump's former campaign manager, and possibly more lawyers to handle the Russia probe, which has gained new urgency since the Justice Department appointed a special counsel to head the investigation, the sources said.
Beyond pushing back at suggestions that Moscow is unduly influencing Trump's administration, the messaging effort will also focus on advancing Trump's stalled policy agenda and likely involve more trips out of Washington that will feature the kind of raucous rallies that were the hallmark of Trump's campaign.
A person in regular touch with the White House said it needed a different structure to focus on the "new reality" that there would be continued leaks to the media from the law enforcement and intelligence communities, leaks that have increased in frequency since Trump fired former Federal Bureau of Investigation Director James Comey on May 9.
"Since the firing of Comey, that really exposed the fact that the White House in its current structure ... is not prepared for really a one-front war, let alone a two-front war," the person said. "They need to have a structure in place that allows them to stay focused" while "also truly fighting back on these attacks and these leaks."
The White House declined to comment on plans for a "war room" but said Trump will be looking to expand on momentum it believes it has built up during the president's trip to Saudi Arabia, Israel, and Europe. A White House official confirmed plans to hold more rallies.
Trump returns to Washington on Saturday from his first trip abroad as president.
"The president has had an incredibly successful trip overseas and the White House looks forward to continuing an aggressive messaging strategy to highlight his agenda when we return to D.C.," said White House spokeswoman Sarah Sanders.
KUSHNER, BANNON INVOLVED IN 'WAR ROOM'
Jared Kushner, a senior adviser to Trump, will be involved in the new strategic messaging operation, as will Steve Bannon, another top adviser who specializes in managing Trump's populist appeal and shaping his political image, the sources said. Bannon and Trump's chief of staff, Reince Priebus, have been laying the groundwork for the plan this week, they added.
On Thursday, NBC News and the Washington Post reported that Kushner, who held several meetings with Russian officials following the election, is a focus of the probe, making him the first current White House official to be caught up in it, although Kushner, who is Trump's son-in-law, has not been accused of any wrongdoing.
Corey Lewandowski, Trump's former campaign manager, is also expected to be part of the effort. Lewandowski, who has been seen in the White House recently, could join the administration as early as next week, a source close to him said.
Lewandowski was fired by Trump in June 2016 over concerns that he was not experienced enough to oversee the general election fight against Democrat Hillary Clinton, but has remained a trusted adviser to Trump and a steadfast defender of the president on news programs.
This month, the Justice Department named Robert Mueller, a former FBI director, as an independent special counsel in the probe.
REPUBLICANS WORRY ABOUT AGENDA
Trump has been frustrated of late that his communications team hasn't done a more effective job at making the case that he isn't implicated in the Russia probe and highlighting his administration's successes, sources close to the president said.
The White House declined to comment on the president's frustrations.
Another Republican close to the White House said the new team is taking a page out of former President Bill Clinton's playbook. When Clinton faced impeachment in the late 1990s, he assembled a crisis-management operation that dealt with fallout from his affair with Monica Lewinsky while allowing the rest of the White House to deal with day-to-day policy matters.
"The goal of the White House is to try and contain the crisis and media coverage of the special counsel," the Republican said.
Christopher Ruddy, chief executive of Newsmax Media and a Trump friend, said he expects the president will travel more when he returns from overseas and encouraged the White House to focus on issues that pump up his base voters.
"From my perspective, I think the president should be doing the stuff that he does best, which is talking about his agenda: jobs, trade and security," Ruddy said.
Trump has scheduled a political rally for next week in Cedar Rapids, Iowa. The White House said other similar events are in the planning stages.
Republicans in Congre
ss are aching for Trump to leave the distraction of the Russia probe aside and focus on legislation and nominating officials to fill the hundreds of vacant slots across the administration.
"What we really want to be able to do is tend to our business," Mike Rounds, a Republican Senator from South Dakota, told Reuters. "We've got a healthcare bill we're working on. We've got tax reform that we think is important."
Some of Trump's donors, too, say they are concerned. Stanley Hubbard, a billionaire radio mogul from Minnesota, said he worries that the White House continues to be distracted by the Russia scandal, but laid some of the blame on Trump himself.
"He talks when he shouldn't," he said.
Former U.S. House Speaker John Boehner said this week that Trump's time in office has been a "complete disaster" aside from foreign affairs. Boehner, a fellow Republican, told an energy conference he supported efforts to "get to the bottom" of any potential interactions between Trump associates and the Russian government but described any calls to impeach Trump as the purview of "the crazy left-wing Democratic colleagues of mine."
Trump's son-in-law Jared Kushner sought secret communications line to Moscow: report: image via AFP news agency @AFP, 26 May 2017


Play for pay: FBI examining whether Russians offered financing for #Trump friends if sanctions lifted - @Reuters: image via David Beard @dabeard, 26 May 2017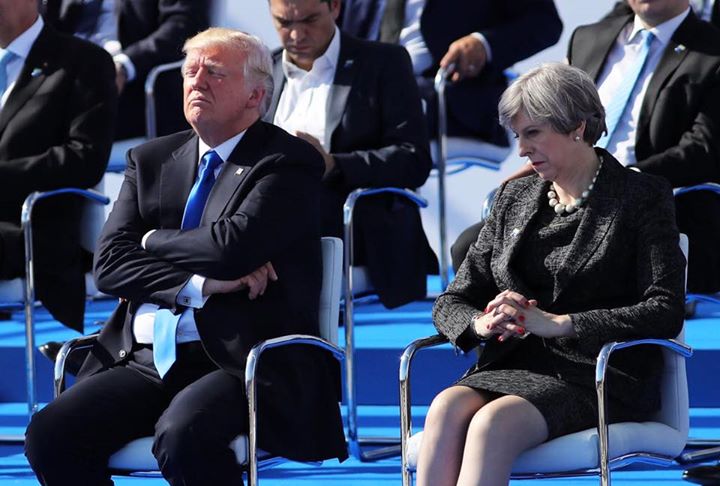 That special relationship #trump #strongandstablemyarse: image via EU Flag Mafia @ EUflagmafia, 26 May 2017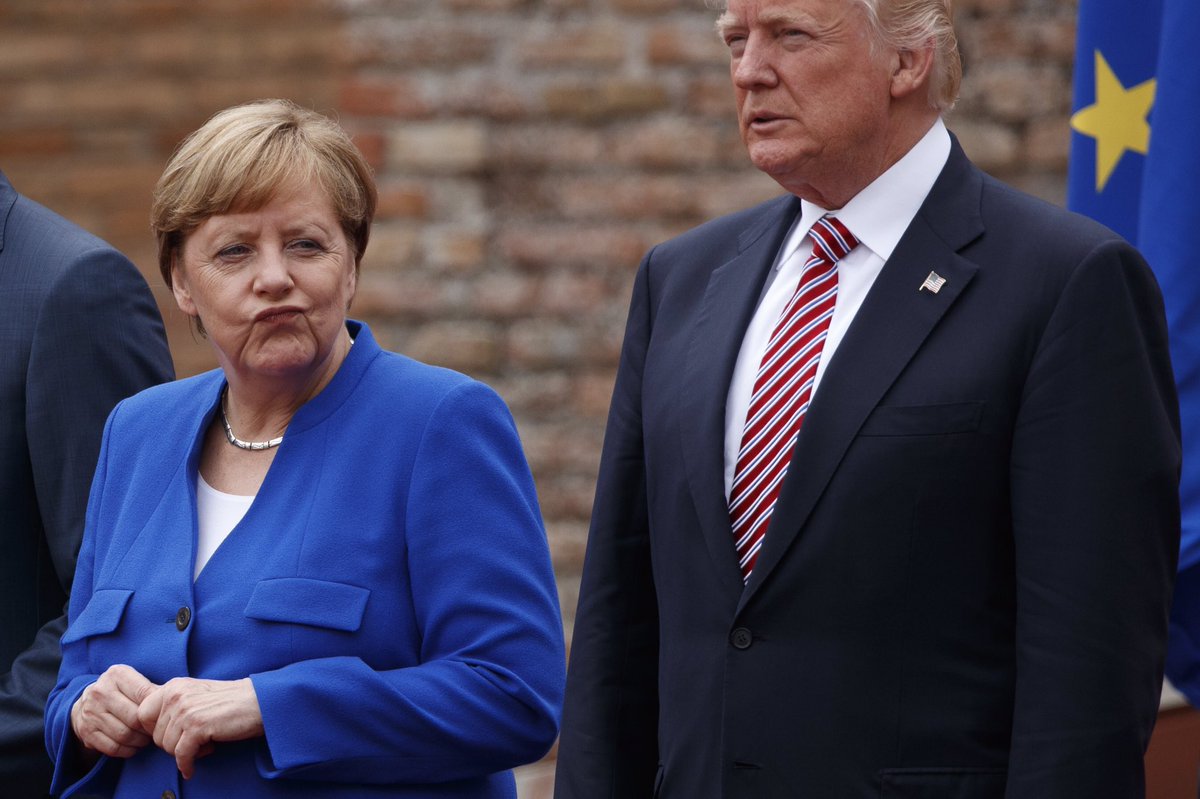 German Chancellor Angela Merkel stands with President Donald Trump during a family photo with G7 leaders in Taormina, Italy.: image via Evan Vucci @evanvucci, 26 May 2017
Ivanka Trump at the Western Wall in #Jerusalem's Old City on Monday. By Ronen Zvulun @reuterspictures: image via Photojournalism @photojournalink, 26 May 2017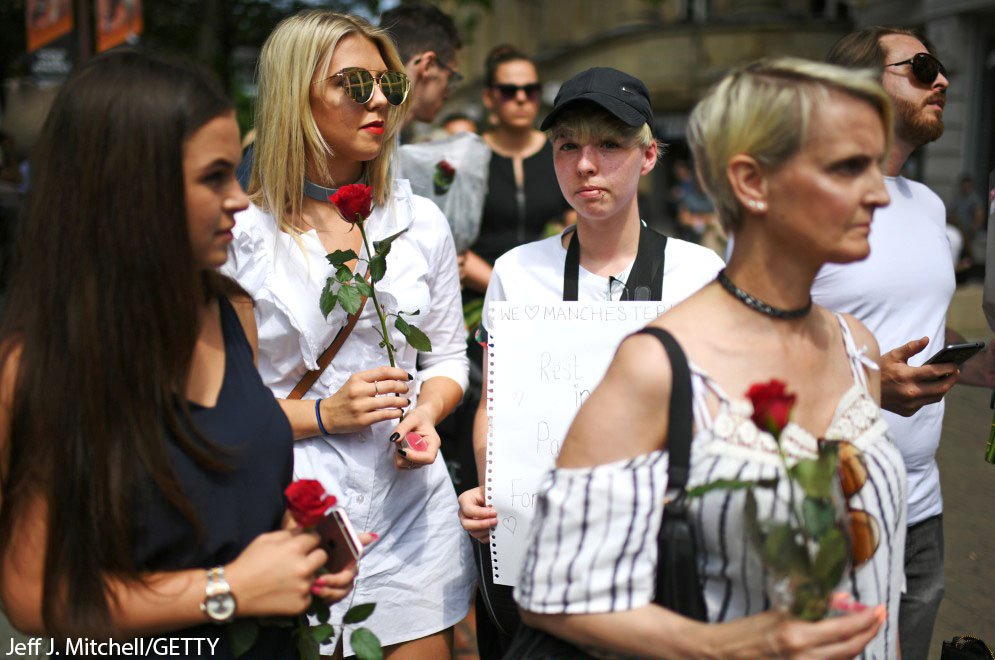 People gather to lay flowers in memory of those who lost their lives in the #manchesterattack #Manchester Photo @JeffJMitch @GettyImagesNews: image via SundayTimesPictures @STPictures, 25 May 2017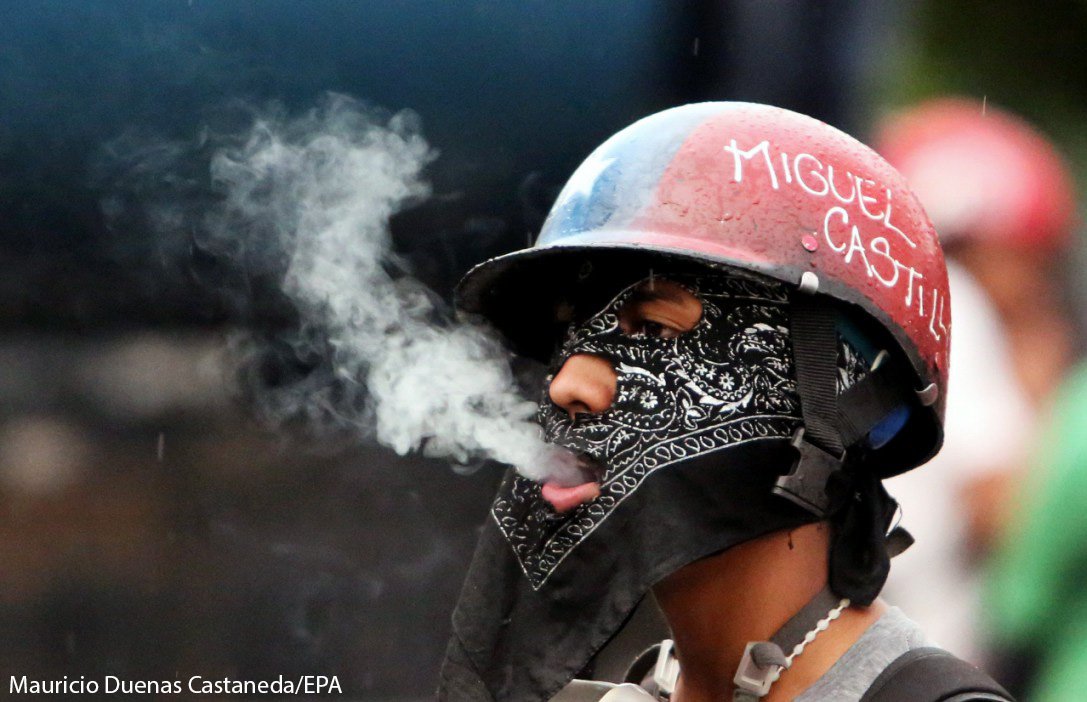 #Venezuela protests enter their 56th day. Over 56 people have died and more than a thousand have been injured Photo @MauricioDuenas @epaphotos: image via SundayTimesPictures @STPictures, 26 May 2017
#Venezuela Riot police officers clashed with demonstrators in Caracas on Wednesday. By @jbarreto1974 @AFPphoto: image via Photojournalism @photojournalink, 26 May 2017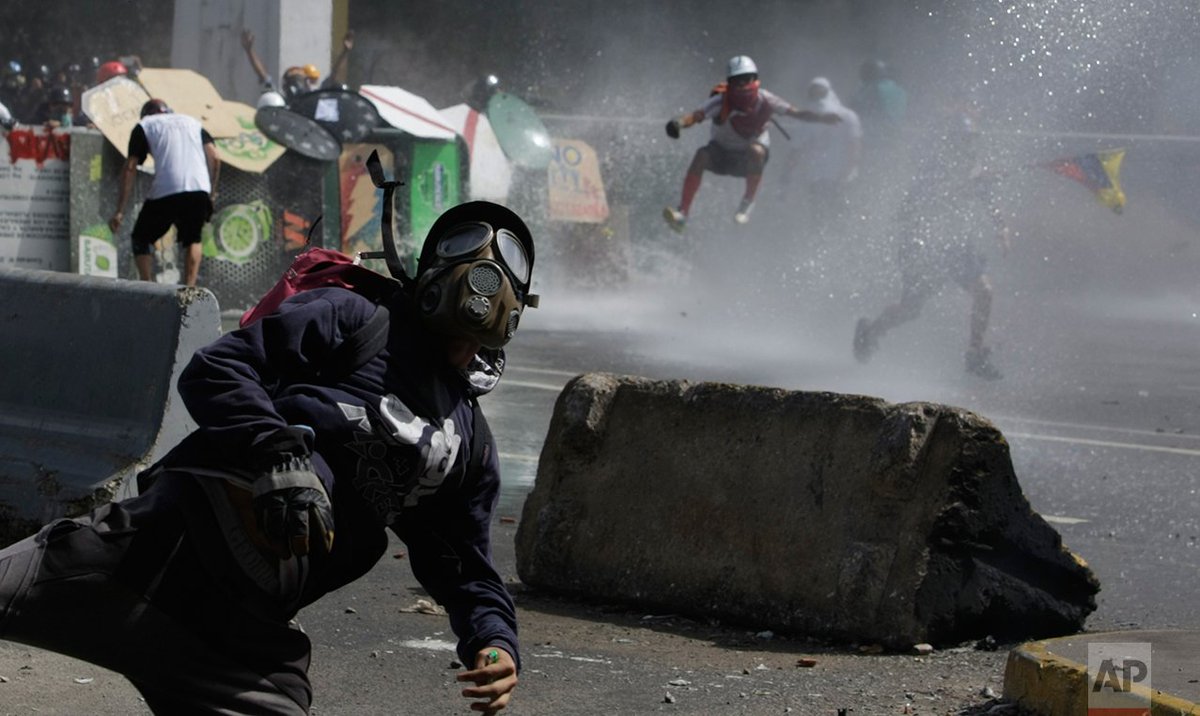 Anti-government protesters clash with security forces in Caracas, Venezuela. #APPhoto @JFernandoLlano: image via AP Images @AP_Images, 27 May 2017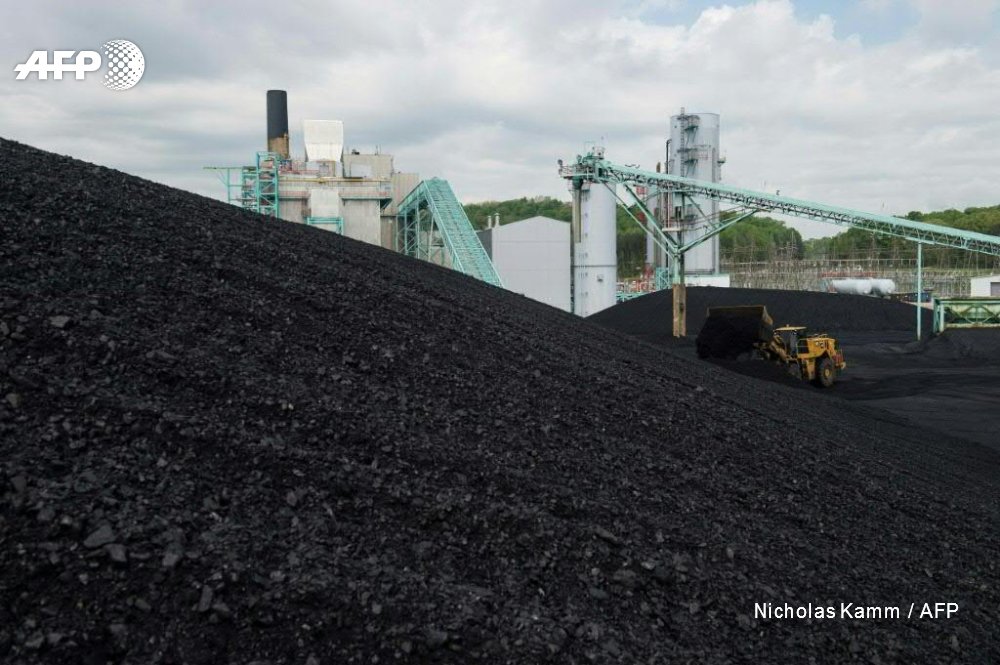 Paris climate commitments 'crippling' to US economic growth, says White House #climate: image via AFP news agency @AFP, 26 May 2017
Composition with Red, Blue, and Yellow: Piet Mondrian, 1930, oil on canvas, 46 x 46 cm (Kunsthaus Zürich)


Composition with Red, Blue, and Yellow: Piet Mondrian, 1930, oil on canvas, 46 x 46 cm (Kunsthaus Zürich)
W

hy everyone in the world looks like the prime minister of Montenegro from here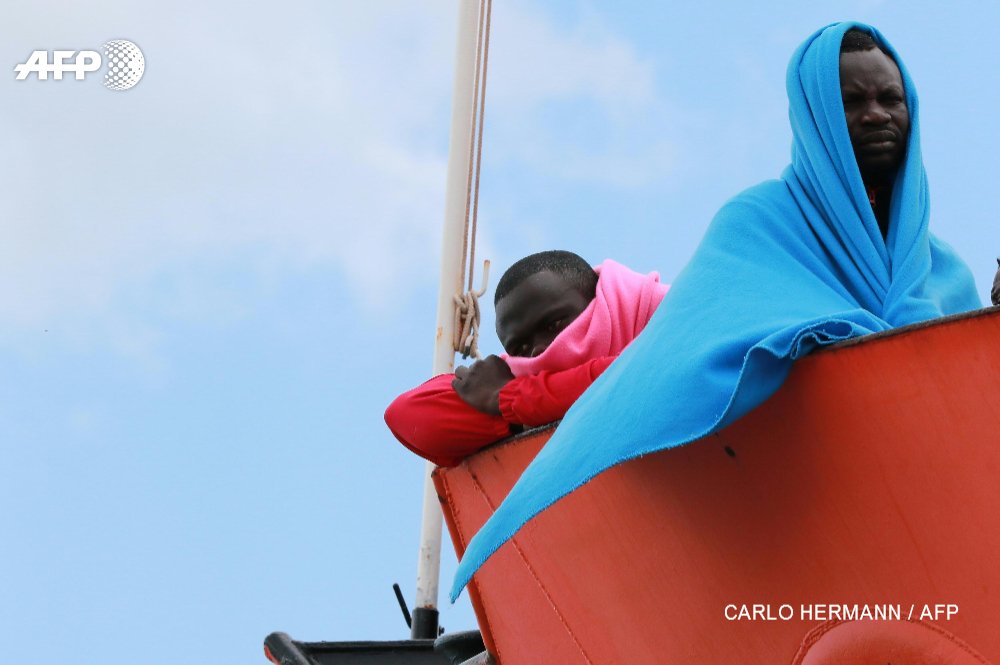 Migrants wait to disembark in the port of Salerno, Italy, after a rescue operation in the Mediterranean sea: image via AFP news agency @AFP, 27 May 2017
[Untitled]: photo by aaronbergerfoto, 26 May 2017
[Untitled]: photo by aaronbergerfoto, 26 May 2017
[Untitled]: photo by aaronbergerfoto, 26 May 2017
[Untitled]: photo by Rammy Narula, 24 May 2017
[Untitled]: photo by Chu Việt Hà, 25 March 2015
[Untitled]: photo by Chu Việt Hà, 25 March 2015
[Untitled]: photo by Chu Việt Hà, 25 March 2015
[Untitled]: photo by Danielle Houghton, 25 May 2017
DSCF0468 [Moscow]: photo by Oksana Novoselskaya, 22 May 2017
Flushing, New York City, 2016: photo by Michael Kowalczyk, 17 Seotember 2016
China Town, New York City, 2017: photo by Michael Kowalczyk, 13 January 2017
[NYC]: photo by Kanrapee Chokpaiboon, 24 August 2016



[NYC]: photo by Kanrapee Chokpaiboon, 24 August 2016


[NYC]: photo by Kanrapee Chokpaiboon, 24 August 2016
[Songkhla, Thailand]: photo by Sakulchai Sikitikul, 24 May 2017
[Songkhla, Thailand]: photo by Sakulchai Sikitikul, 24 May 2017
[Songkhla, Thailand]: photo by Sakulchai Sikitikul, 24 May 2017
[Hanoi]: photo by Bryce Watanasoponwong, 11 May 2017
[Hanoi]: photo by Bryce Watanasoponwong, 11 May 2017
[Hanoi]: photo by Bryce Watanasoponwong, 11 May 2017
[Hanoi]: photo by Bryce Watanasoponwong, 21 May 2017
Ladies [Thailand]: photo by Bryce Watanasoponwong, 24 February 2017
Corporate days III. A man quietly reads over the newspaper. Combination of reds and shades. [Emirates Stadium, London]: photo by Guille Ibanez, 25 May 2017
Corporate days II. A moment of tranquility amid the crazy day s of corporate life. [Emirates Stadium, London]: photo by Guille Ibanez, 21 May 2017
Seattle, WA: photo by Mike McCawley, 28 November 2015
[Untitled]: photo by Sakis Dazanis, 7 May 2017
[Untitled]: photo by Nick Asaro,

21

May 2017