.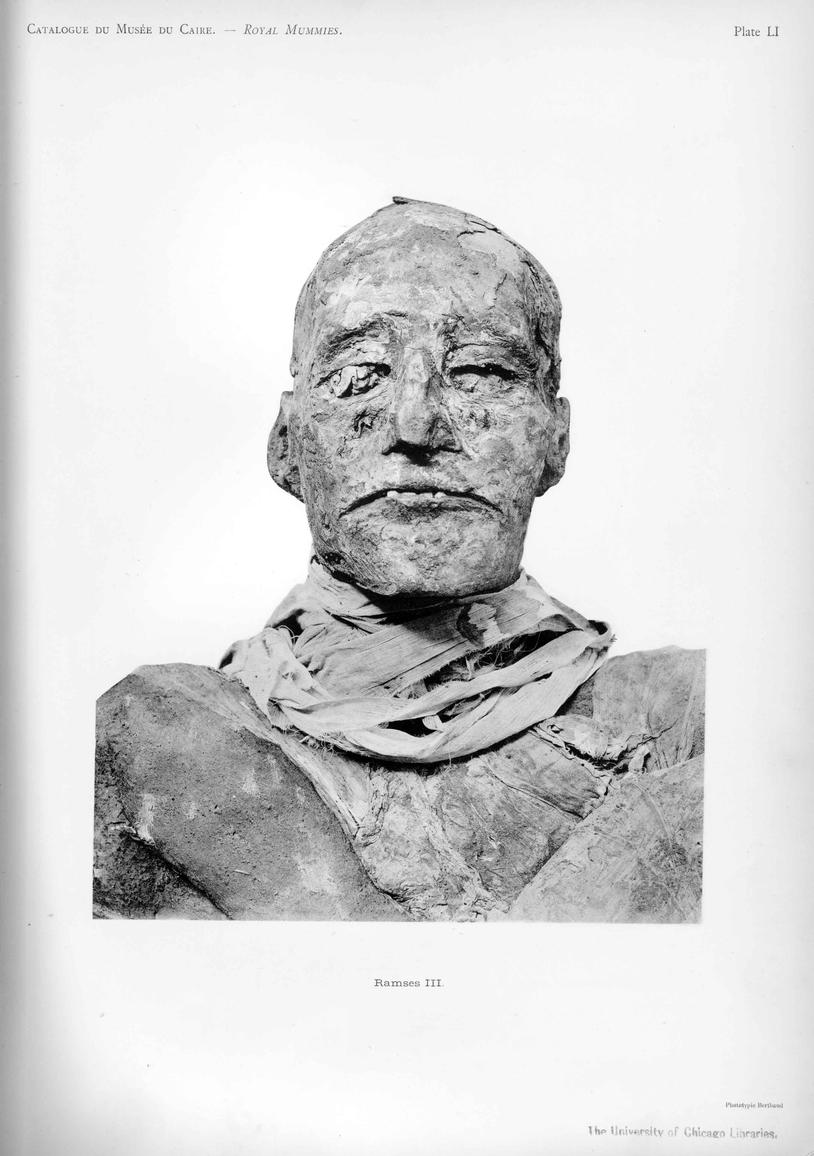 Head of mummy of Pharaoh Ramesses III
: from G. Eliot Smith, Catalogue General Antiquites Egyptiennes du Musee du Caire: The Royal Mummies Le Caire: Imprimerie de L'institut Francais D'archeologie Orientale, 1912; image by Anton Gutsunaev, 22 February 2010 (U.
of Chicago Libraries)
At court I met it, in clothes brave enough,
To be a courtier; and lookes grave enough,
To seeme a statesman: as I neere it came,
It made me a great face, I ask'd the name.
A lord, it cryed, buried in flesh, and blood.
And such from whom let no man hope least good,
For I will doe none: and as little ill,
For I will dare none. Good Lord, walke dead still.
Ben Jonson: On some-thing, that walkes some-where, from Epigrammes, 1616


William Drummond reported of Ben Jonson "that Sir John Roe loved him, and when they two were ushered by my Lord Suffolk from a masque, Roe wrote a moral epistle to him... [saying] God threateneth kings, kings lords, and lords do us. He never esteemeth of a man, for the name of a lord."
Make-up artist Jack Pierce applying the finishing touches to Boris Karloff in preparation for a scene in The Mummy (1932): photographer unknown; image by filmwolf, 18 May 2008

Egyptian mummy in Egyptian Collection, British Museum, London
: photo by Klafubra, 14 November 2004

Rameses II -- His mummy, unwrapped: photo by Emil Brugsch (1842-1830), 1889: image by Interbau, 5 November 2011

Pharaoh Seti I -- His mummy, unwrapped: photo by Emil Brugsch (1842-1830), 1889: image by Jeeny, 1 July 2007
Film poster for the 1932 Universal Pictures film The Mummy, directed by Karl Freund: poster attributed to Karoly Grosz; image by Crisco 1492, 3 March 2012 (Los Angeles Public Library)
Film poster for the 1932 Universal Pictures film The Mummy, directed by Karl Freund: poster attributed to Karoly Grosz; image by Feyday, 27 May 2010
Theatrical revival of The Mummy, Paramount Theatre, Syracuse, New York: photographer unknown, 1959; image by William, 7 September 2011