.
The Chicago Memorial Day Incident [aka the Memorial Day Massacre], during the "Little Steel" strike
: photographer unknown, for U.S. Senate, 30 May 1937
(National Archives and Records Administration)
'On Memorial Day, May 30, 1937, police opened fire on a parade of striking steel workers and their families at the gate of the Republic Steel Company, in South Chicago. Fifty people were shot, of whom 10 later died; 100 others were beaten with clubs.'
-- Eyewitness Dorothy Day, in
Selected Writings
So he with difficulty and labour hard
Mov'd on, with difficulty and labour hee.
-- Milton: Paradise Lost, II
The days of our years are threescore years and ten; and if by reason of strength they be fourscore years, yet is their strength labour and sorrow; for it is soon cut off, and we fly away.
-- Psalm 90:10
With the word labour I was, of course, familiar. Coupled mysteriously with its mate capital, this abstract term was always turning up in my father's conversation, and it occurred and reoccurred in the technical journals and reports of of companies which lay on the library table. 'Water plentiful and labour docile', 'The wages of labour are falling to their natural level'... were phrases which puzzled me... I never visualized labour as separate men and women of different sorts and kinds... labour was an abstraction, which seemed to denote an arithmetically calculable mass of human beings, each individual a repetition of the other...
-- Beatrice Webb, My Apprenticeship (1926)

Open battle between striking teamsters armed with pipes and police in the streets of Minneapolis during 1934 strike: photographer unknown, June 1934 (National Archives and Records Administration)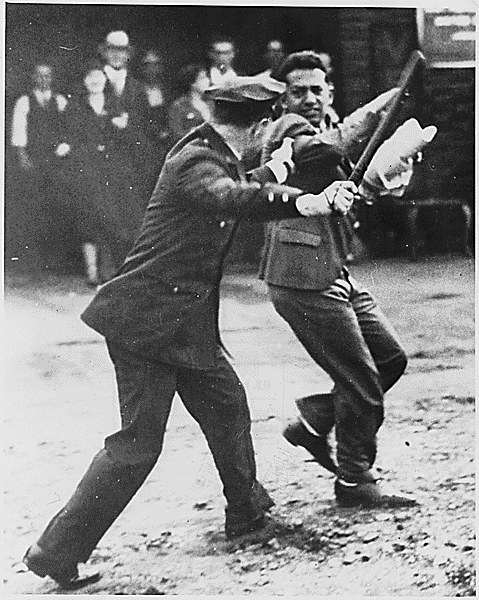 Labor strikes, San Francisco: police and strikers battle: photographer unknown, July 1934 (Franklin D. Roosevelt Presidential Library)
San Francisco dock strike
: photographer unknown for International News Photos, New York, July 1934 (Farm Security Administration/Office of War Information Collection, Library of Congress)
Strike scene, Rincon Hill, San Francisco during San Francisco waterfront strike
: photographer unknown, 3 July 1934 (1934 International Longshoremen's Association General Strikes of San Francisco Collection, Bancroft Library, U. of California)
Strikers surround produce trucks during San Francisco waterfront strike
: photographer unknown, 12 July 1934 (1934 International Longshoremen's Association General Strikes of San Francisco Collection, Bancroft Library, U. of California)

Produce market with food overturned during San Francisco waterfront strike
: photographer unknown, 12 July 1934 (1934 International Longshoremen's Association General Strikes of San Francisco Collection, Bancroft Library, U. of California)
Food raids during San Francisco waterfront strike
: photographer unknown, 13 July 1934 (1934 International Longshoremen's Association General Strikes of San Francisco Collection, Bancroft Library, U. of California)
Man arrested by police during San Francisco waterfront strike
: photographer unknown, July 1934 (1934 International Longshoremen's Association General Strikes of San Francisco Collection, Bancroft Library, U. of California)
Strikers surging down Market Street during San Francisco waterfront strike
: photographer unknown, July 1934 (1934 International Longshoremen's Association General Strikes of San Francisco Collection, Bancroft Library, U. of California)
Police fire at crowd, Potrero Hilll [?], during San Francisco waterfront strike
: photographer unknown, July 1934 (1934 International Longshoremen's Association General Strikes of San Francisco Collection, Bancroft Library, U. of California)
Pickets at Embarcadero during San Francisco waterfront strike
: photographer unknown, July 1934 (1934 International Longshoremen's Association General Strikes of San Francisco Collection, Bancroft Library, U. of California)
Police surround strikers, Embarcadero, during San Francisco waterfront strike
: photographer unknown, July 1934 (1934 International Longshoremen's Association General Strikes of San Francisco Collection, Bancroft Library, U. of California)
Funeral of men slain during San Francisco waterfront strike
: photographer unknown, July 1934 (1934 International Longshoremen's Association General Strikes of San Francisco Collection, Bancroft Library, U. of California)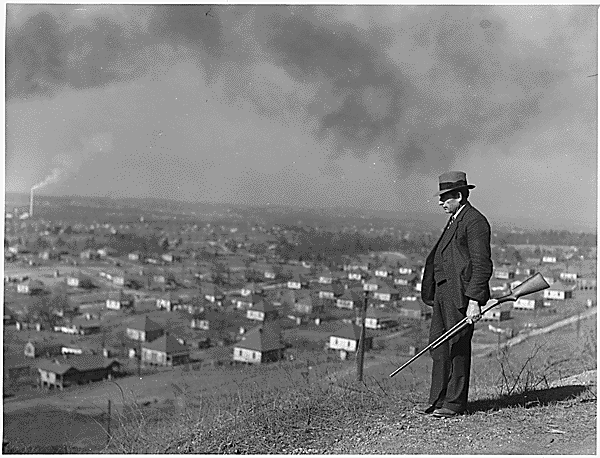 Guard at company town, Jefferson County, Alabama: photo by Arthur Rothstein, February 1937
(Farm Security Administration/Office of War Information Collection, Library of Congress)
Striking longshoremen during waterfront strike in San Francisco, California: photo by Dorothea Lange, March 1937

(Farm Security Administration/Office of War Information Collection, Library of Congress)
A political problem before the voters of San Francisco, California: photo by Dorothea Lange, March 1937

(Farm Security Administration/Office of War Information Collection, Library of Congress)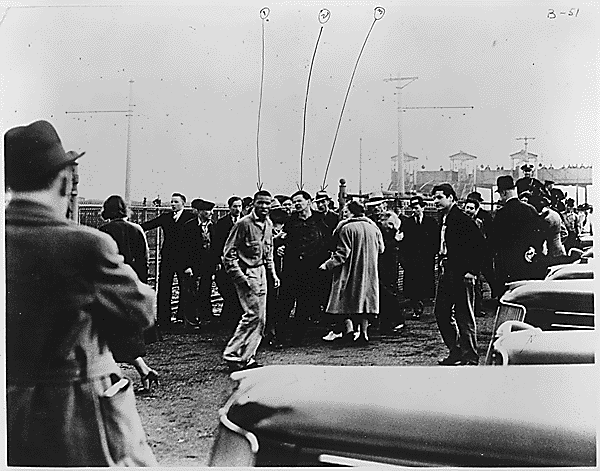 Labor strike, Ford Motor Company: large group on men and women standing, man being held back physically by several in group: photographer unknown
: photographer unknown, 26 May 1937 (Franklin D. Roosevelt Presidential Library)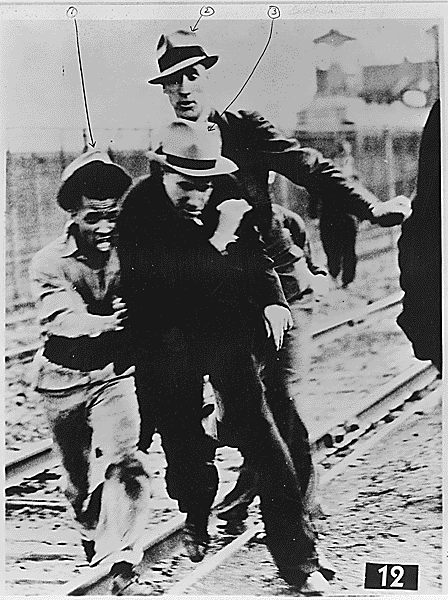 Labor strike, Ford Motor Company: men in physical altercation: photographer unknown, 26 May 1937 (Franklin D. Roosevelt Presidential Library)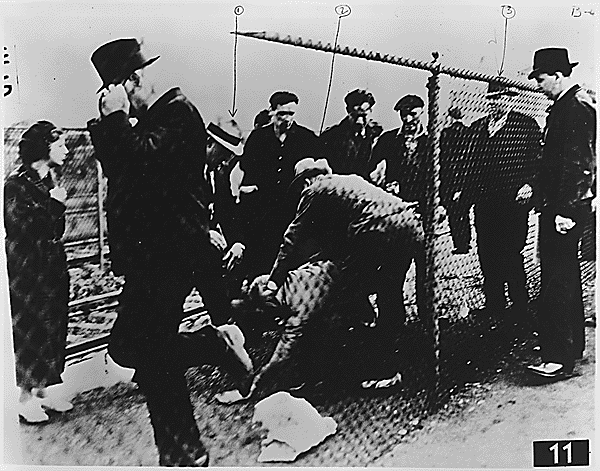 Labor strike, Ford Motor Company: men in physical altercation, woman observing on far left photographer unknown
, 26 May 1937

(Franklin D. Roosevelt Presidential Library)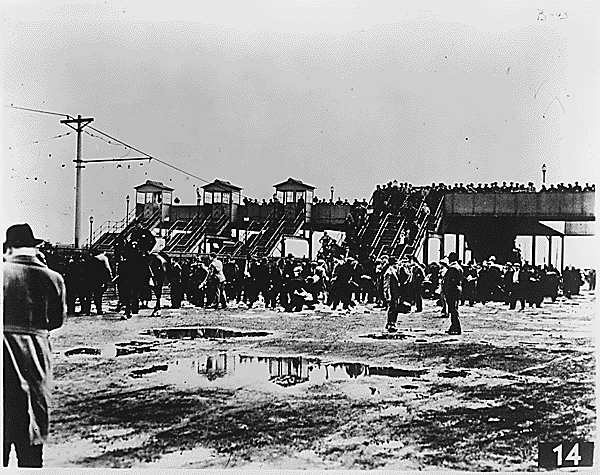 Labor strike, Ford Motor Company: distant shot of large crowd: photographer unknown
,

26 May 1937

(Franklin D. Roosevelt Presidential Library)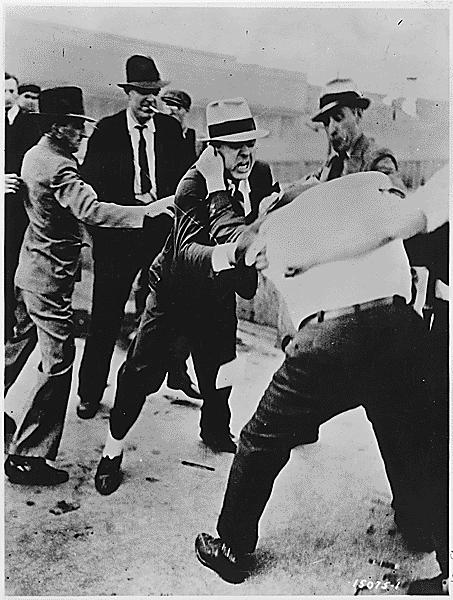 Labor strike, Ford Motor Company: men in physical altercation: photographer unknown
, 26 May 1937

(Franklin D. Roosevelt Presidential Library)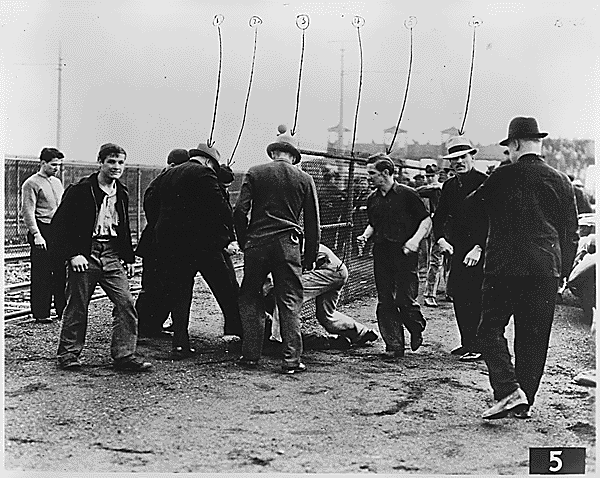 Labor strike, Ford Motor Company: men in physical altercation: photographer unknown
, 26 May 1937

(Franklin D. Roosevelt Presidential Library)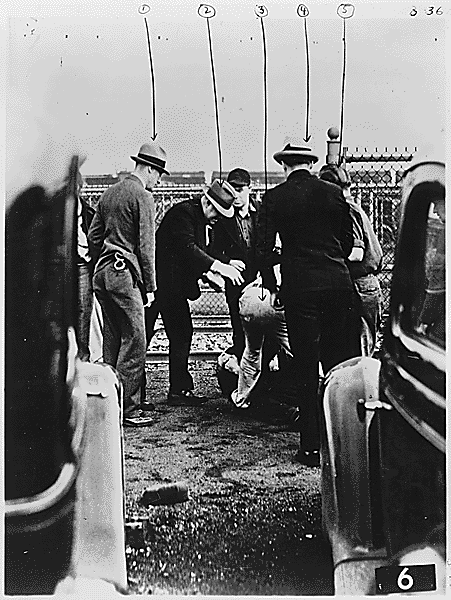 Labor strike, Ford Motor Company: men in physical altercation: photographer unknown
, 26 May 1937

(Franklin D. Roosevelt Presidential Library)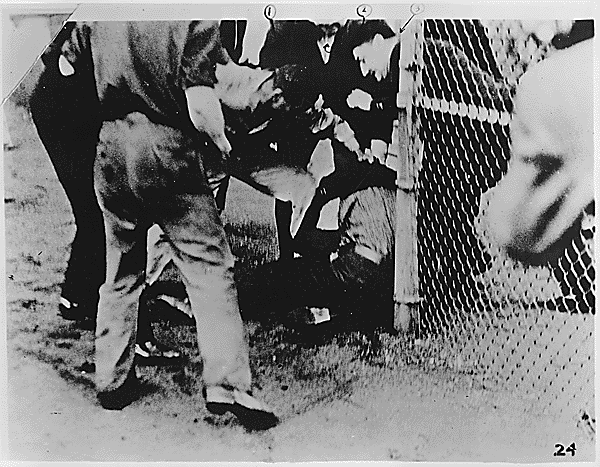 Labor strike, Ford Motor Company: men in physical altercation: photographer unknown, 26 May 1937 (Franklin D. Roosevelt Presidential Library)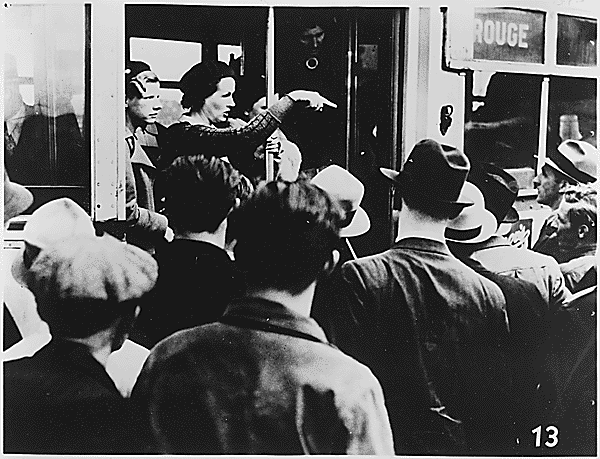 Labor strike, Ford Motor Company: group shot, woman standing in foreground and pointing finger with another woman standing to her left: photographer unknown,
26 May 1937

(Franklin D. Roosevelt Presidential Library)
Packing company strike. Cambridge, Maryland: photo by Arthur Rothstein, June 1937

(Farm Security Administration/Office of War Information Collection, Library of Congress)
Packing company strike. Cambridge, Maryland: photo by Arthur Rothstein, June 1937

(Farm Security Administration/Office of War Information Collection, Library of Congress)
Strike pickets, New York, New York: photo by Arthur Rothstein, December 1937

(Farm Security Administration/Office of War Information Collection, Library of Congress)
Picket line at the King Farm strike. Near Morrisville, Pennsylvania
: photo by John Vachon, August 1938

(Farm Security Administration/Office of War Information Collection, Library of Congress)
Migrant workers hired as strikebreakers after the King Farm strike. Near Morrisville, Pennsylvania
: photo by John Vachon, August 1938

(Farm Security Administration/Office of War Information Collection, Library of Congress)
Bakersfield, California. Outside Farm Security Administration (FSA) "grant" office during cotton pickers' strike

:
photo by Dorothea Lange, November 1938

(Farm Security Administration/Office of War Information Collection, Library of Congress)
Miner's sons bringing home salvaged coal during coal strike. Kempton, West Virginia
: photo by by John Vachon, May 1939

(Farm Security Administration/Office of War Information Collection, Library of Congress)
Miner's sons salvaging coal during coal strike. Kempton, West Virginia
: photo by by John Vachon, May 1939

(Farm Security Administration/Office of War Information Collection, Library of Congress)
Salinas Valley, California. Deputized "vigilantes" armed with clubs guard entrance to lettuce fields during lettuce strike: photo by Dorothea Lange, September 1939

(Farm Security Administration/Office of War Information Collection, Library of Congress)
Picketing. Copper miners on strike waiting for scabs to come out of mines. Ducktown, Tennessee: photo by Marion Post Wolcott, September 1939
Copper miners on strike waiting for scabs to come out of mines. Ducktown, Tennessee: photo by Marion Post Wolcott, September 1939

(Farm Security Administration/Office of War Information Collection, Library of Congress)
Coca-Cola strike, Sikeston, Missouri
: photo by John Vachon, May 1940

(Farm Security Administration/Office of War Information Collection, Library of Congress)
Employees of Coca-Cola plant on strike, Sikeston, Missouri: photo by John Vachon, May 1940

(Farm Security Administration/Office of War Information Collection, Library of Congress)
Yabucoa, Puerto Rico. At a strike meeting: photo by Jack Delano, January 1942

(Farm Security Administration/Office of War Information Collection, Library of Congress)
Yabucoa, Puerto Rico. At a strike meeting in the town of Yabucoa: photo by Jack Delano, January 1942

(Farm Security Administration/Office of War Information Collection, Library of Congress)