.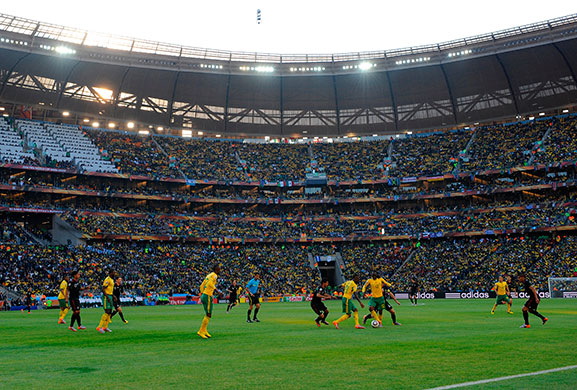 So here we go again. From some rooms away, indeed from some houses away, even city blocks, the sounds of the 2010 World Cup. What IS that sound? An angry swarm of hornets raging in a tunnel at rush hour as traffic roars past? Heavy construction in an echo chamber? Hyper-amped guitar feedback bouncing off the hull of a submarine? Stampeding elephants trumpeting non-stop? Diesel trucks blasting air horns? The white noise at the edge of the universe? A dental drill miked up at high volume blasting a root canal beyond the edge of the universe?

A cracking good game, the opener. A skillful Mexico side pinging the ball around midfield in neat triangulations with precision passes and inventive movements yet managing not to score, like a veritable second coming of Arsenal. (The presence of Carlos Vela helped enforce this impression). A rougher South Africa side proving dangerous on the counter; Mexico showing vulnerability, exposed at the back; a wonder goal for the host nation to please the world; Mexico bringing on their best attacking players, retaliating; wonderful spirited play all round.

And those horns. Never stopping. A continuous honking traffic rush-hour din, drowning out thought. Without reference to what is happening on the pitch. Blaring, droning, frenzied, unselective, all in the name of universal madness.

The one moment when the cacophony ebbed came in the wake of South Africa's goal, which produced a different wash of sound, a pure joy not farted out through three feet of plastic.

In the goal celebration below, you will see a number of vuvuzelas at half mast. This must mean the one thing that can stop the horns is a South Africa goal.

Score, Bafana Bafana, score!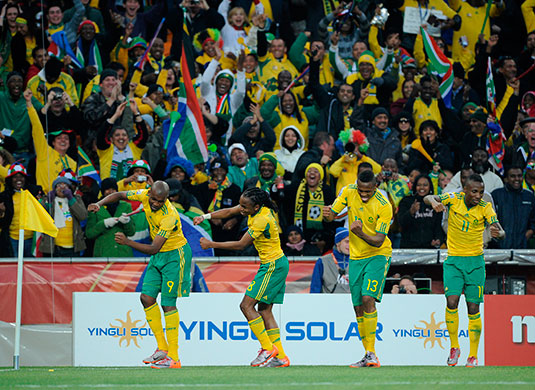 South Africa 1 Mexico 1: opening match of 2010 World Cup: photos by Tom Jenkins via the Guardian