.
Girl walking toward her mom (taken by use of an uneven mirror with the image stabilizer turned on), East Portal, Black Canyon of the Gunnison National Park, Colorado: photo by Wing-Chi Poon, 12 May 2006
Watch "nothing"
,
keep the image full of unresolved possibility.
Try to experience

the inexplicability of a partial view of life
,
never quite forgetting

the peripheral observation.
Withhold things.
Let yourself stay caught

between expectation and frustration.
Settle for the frustration

of the partial view.
See you're being permitted

a deeper leap into the world of what is shown

because that world is being held at such unusual distance.
Regard the world

at arm's length in any case, out of respect for its intrinsic mystery.
Find


in images the presentiments of future memories.
Seek to intensify

the ghostly presence in what is seen

of what remains unseen.
Designate the poetic image

as essentially bewildering. Explain
nothing. Consider the frame a drifting block of affects and signs.
Black bird (Corvus corax) landing near a tent. (The image stabiliser happened to track the motion of the bird creating this blurred background effect.) Stovepipe Wells Campground, Death Valley National Park, California: photo by Wing-Chi Poon, 22 December 2004
Still from
Three Times
: Hou Hsiao-Hsien, 2005
Still from
The Sandwich Man
: Hou Hsiao-Hsien, 1983
Still from
The Boys from Fengkuei
: Hou Hsiao-Hsien, 1983
Still from Café Lumiere

: Hou Hsiao-Hsien, 2003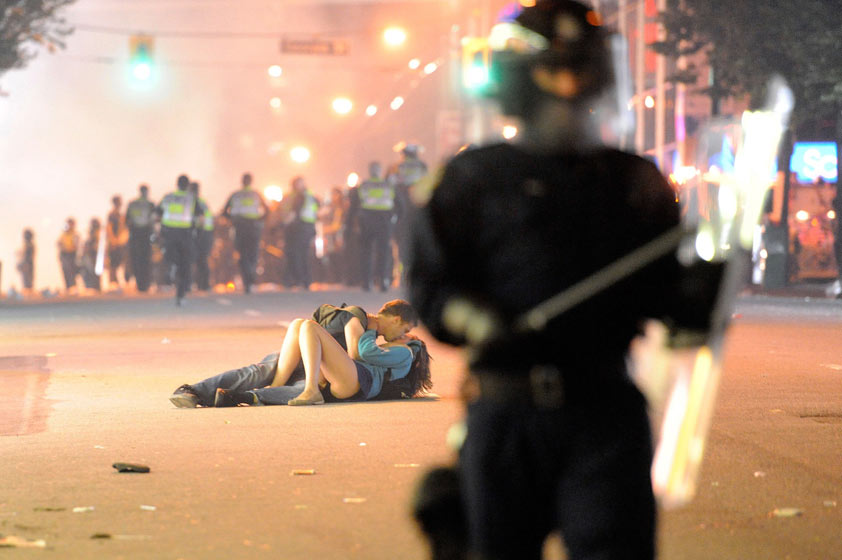 A couple are seen in the middle of the Vancouver riot after the Canucks lost to the Boston Bruins in the Stanley Cup decider, 15 June 2011
: photo by Rich Lam/Getty Images, via The Guardian