.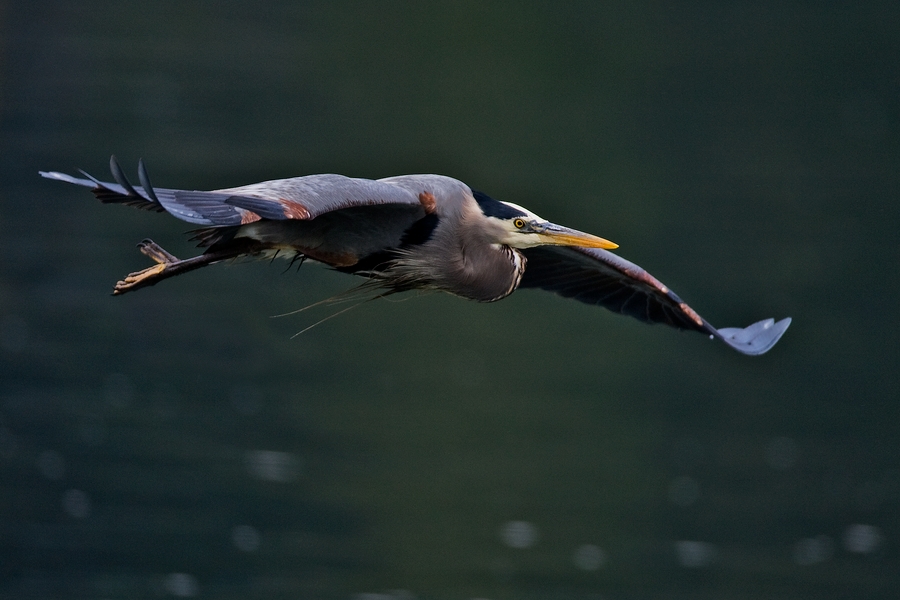 Great Blue Heron (Ardea herodias)
, Seabeck Landing, Bainbridge Island, Washington
: photo by Alan D. Wilson, 2009
Though the little clouds ran southward still, the quiet autumnal
Cool of the late September evening
Seemed promising rain, rain, the change of the year, the angel
Of the sad forest. A heron flew over
With that remote ridiculous cry, "Quawk," the cry
That seems to make silence more silent. A dozen
Flops of the wing, a drooping glide, at the end of the glide
The cry, and a dozen flops of the wing.
I watched him pass on the autumn-colored sky; beyond him
Jupiter shone for evening star.
The sea's voice worked into my mood, I thought "No matter
What happens to men . . . the world's well made though."
Robinson Jeffers: Autumn Evening, September 1924, from Roan Stallion, 1925
Great Blue Heron (Ardea herodias), Rockport Beach Park, Rockport, Texas
: photo by Alan D. Wilson, 1 September 2006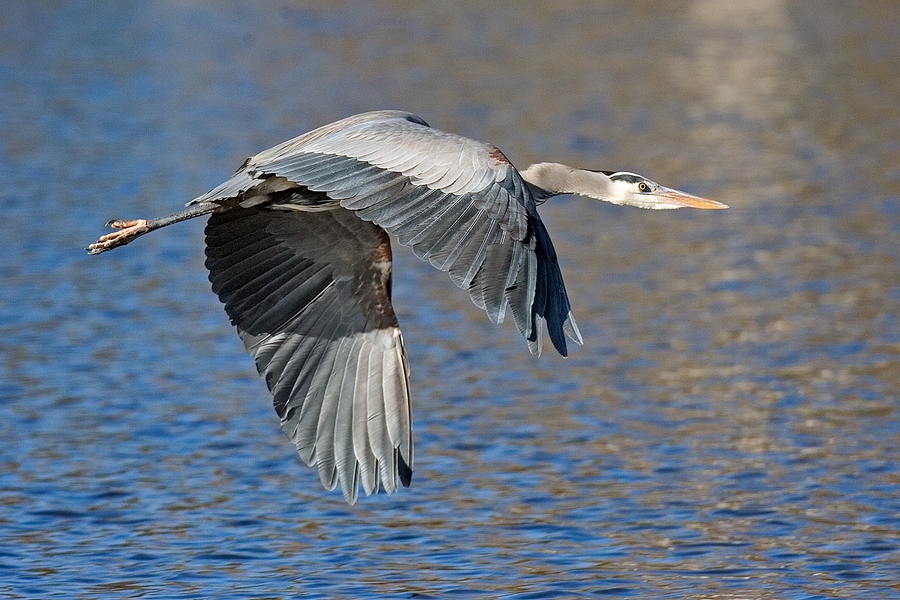 Great Blue Heron (Ardea herodias)
, Santee Lakes Recreational Preserve, Near San Diego, California
: photo by Alan D. Wilson, 2007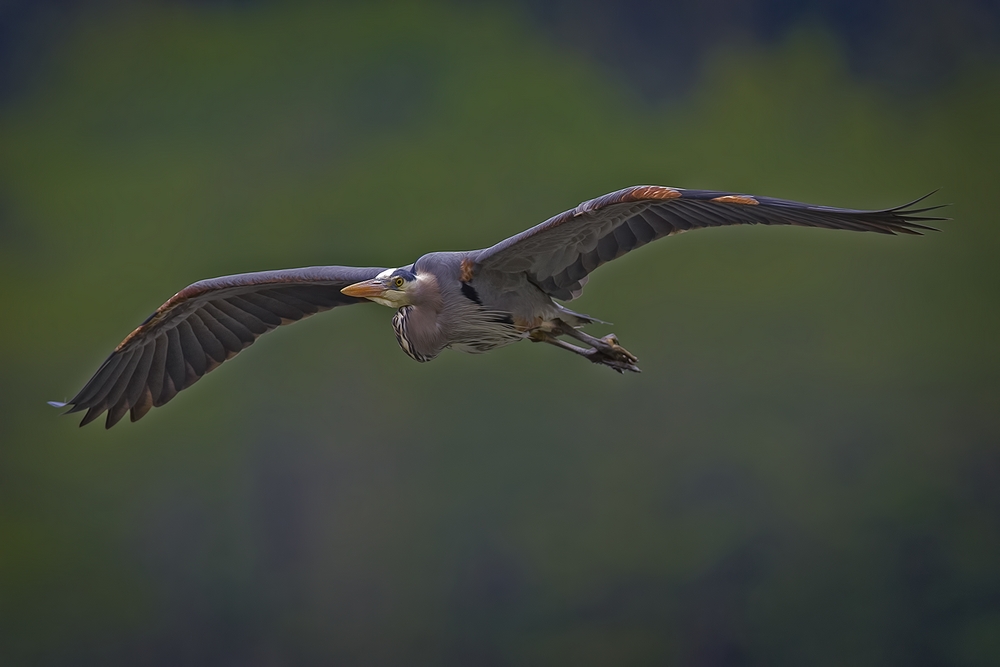 Great Blue Heron (Ardea herodias)
, Seabeck Landing, Bainbridge Island, Washington
: photo by Alan D. Wilson, 2009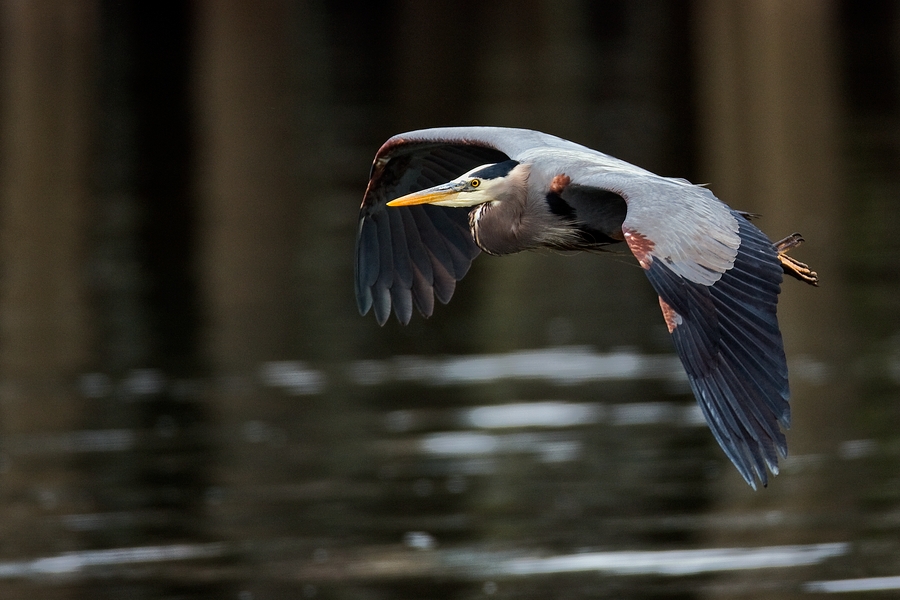 Great Blue Heron (Ardea herodias)
, Seabeck Landing, Bainbridge Island, Washington
: photo by Alan D. Wilson, 2009
Great Blue Heron (Ardea Herodias), Montezuma National Wildlife Refuge, Finger Lakes, New York
: photo by Golden Bear Retriever, 27 March 2010
Great Blue Heron (Ardea Herodias), Montezuma National Wildlife Refuge, Finger Lakes, New York
: photo by Golden Bear Retriever, 27 March 2010
Great Blue Heron (Ardea Herodias)
, east of Duck Lake, Carty Unit, Ridgefield National Wildlife Refuge
: photo by Walter Siegmund, 6 May 2006
Great Blue Heron (Ardea Herodias)
, east of Duck Lake, Carty Unit, Ridgefield National Wildlife Refuge
: photo by Walter Siegmund, 6 May 2006
Great Blue Heron (Ardea herodias), Ridgefield National Wildlife Refuge
: photo by Walter Siegmund, 6 April 2006
Great Blue Heron (Ardea herodias), Cap Tourmente National Wildlife Area, Quebec
: photo by Cephas, 19 July 2009
Great Blue Heron (Ardea herodias), Cap Tourmente National Wildlife Area, Quebec
: photo by Cephas, 19 July 2009
Great Blue Heron (
Ardea herodias
) and Great Egret (
Casmerodius albus
), Morro Bay Estuary, Morro Bay, Calfornia
: photo by Mike Baird, 18 May 2007
Great Blue Heron (
Ardea herodias
)
, Morro Bay, Calfornia
: photo by Mike Baird, 4 March 2005
Great Blue Heron (
Ardea herodias
), Half Moon Bay, California
: photo by Steve Jurvetson, 3 August 2006
Great Blue Heron (
Ardea herodias
), 1.8 m wingspan, lifting off, near the entrance to Foothils Park, Menlo Park, California
: photo by Steve Jurvetson, 21 February 2005
Great Blue Heron (
Ardea herodias
), flying with nesting material, Illinois
: photo by PhotoBobil, 9 March 2012
Great Blue Heron (
Ardea herodias
), feeding chicks in nest, San Francisco, California
: photo by Brocken Inaglory, 30 April 2008
Great Blue Heron (
Ardea herodias
), Fort Pierce, St. Lucie County, Florida
: photo by Hans Hillewaert, 4 May 2011
Great Blue Heron (
Ardea herodias
), jetty, Fort Pierce, St. Lucie County, Florida
: photo by Hans Hillewaert, 4 May 2011
Great Blue Heron (
Ardea herodias
), north of Sanibel Island, Lee County, Florida
: photo by Hans Hillewaert, 12 May 2011

Great blue heron (Ardea herodias), on the beach of Hilton Head Island, South Carolina
: photo by Dave Pape, 13 March 2008
Great Blue Heron (
Ardea herodias
), Great Woods, Concord, Massachusetts
: photo by Muffet (Liz West), 17 September 2011
Great Blue Heron (
Ardea herodias
), perching in a tree, Homossassa Springs State Park, Homossassa, Florida
: photo by Riverbank Outdoor Store (B A Bowen), 20 December 2009
Great Blue Heron (
Ardea herodias
), Hillsborough River, Tampa, Florida
: photo by Biswamberpal, 30 May 2009
Great Blue Heron (
Ardea herodias
), South El Monte, California
: photo by John Liu, 14 June 2011