.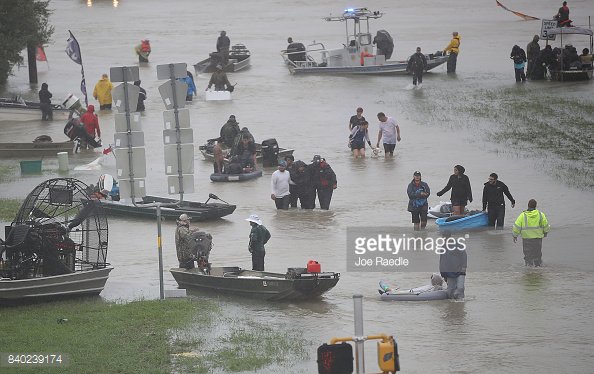 People evacuate a flooded street in #Houston after #HurricaneHarvey Photo @jraedle #HoustonFloods #hurricaneharvey2017: image via Getty Images News @GettyImagesNews, 28 August 201

7
Volunteer rescue boats make their way into a flooded subdivision to rescue stranded residents as floodwaters from Tropical Storm Harvey rise Monday, Aug. 28, 2017, in Spring, Texas.: photo b
y David J. Phillip / AP, 28 August 2017
Scientists: Climate change could cause storms like Harvey
: Seth Borenstein, AP Science Writer, Associated Press, 29 August 2017
WASHINGTON (AP) — By the time the rain stops, Harvey will have dumped about 1 million gallons of water for every man, woman and child in southeastern Texas — a soggy, record-breaking glimpse of the wet and wild future global warming could bring, scientists say.
While scientists are quick to say climate change didn't cause Harvey and that they haven't determined yet whether the storm was made worse by global warming, they do note that warmer air and water mean wetter and possibly more intense hurricanes in the future.
"This is the kind of thing we are going to get more of," said Princeton University climate scientist Michael Oppenheimer. "This storm should serve as warning."
There's a scientifically accepted method for determining if some wild weather event has the fingerprints of man-made climate change, and it involves intricate calculations. Those could take weeks or months to complete, and then even longer to pass peer review.
In general, though, climate scientists agree that future storms will dump much more rain than the same size storms did in the past.
That's because warmer air holds more water. With every degree Fahrenheit, the atmosphere can hold and then dump an additional 4 percent of water (7 percent for every degree Celsius), several scientists say.
John and Cathy Cservek hold their dogs Lacy and Iggy while being rescued from their home as floodwaters from Tropical Storm Harvey rise Monday, Aug. 28, 2017, in Spring, Texas.: photo b
y David J. Phillip / AP, 28 August 201

7
Global warming also means warmer seas, and warm water is what fuels hurricanes.
When Harvey moved toward Texas, water in the Gulf of Mexico was nearly 2 degrees (1 degree Celsius) warmer than normal, said Weather Underground meteorology director Jeff Masters. Hurricanes need at least 79 degrees F (26 C) as fuel, and water at least that warm ran more than 300 feet (100 meters) deep in the Gulf, according to University of Miami hurricane researcher Brian McNoldy.
Several studies show that the top 1 percent of the strongest downpours are already happening much more frequently. Also, calculations done Monday by MIT meteorology professor Kerry Emanuel show that the drenching received by Rockport, Texas, used to be maybe a once-in-1,800-years event for that city, but with warmer air holding more water and changes in storm steering currents since 2010, it is now a once-every-300-years event.
There's a lot of debate among climate scientists over what role, if any, global warming may have played in causing Harvey to stall over Texas, which was a huge factor in the catastrophic flooding. If the hurricane had moved on like a normal storm, it wouldn't have dumped as much rain in any one spot.
Harvey stalled because it is sandwiched between two high-pressure fronts that push it in opposite directions, and those fronts are stuck.
Oppenheimer and some others theorize that there's a connection between melting sea ice in the Arctic and changes in the jet stream and the weather patterns that make these "blocking fronts" more common. Others, like Masters, contend it's too early to say.
University of Washington atmospheric scientist Cliff Mass said climate change is simply not powerful enough to create off-the-chart events like Harvey's rainfall.
"You really can't pin global warming on something this extreme. It has to be natural variability," Mass said. "It may juice it up slightly but not create this phenomenal anomaly."
"We're breaking one record after another with this thing," Mass said.
Sometime Tuesday or early Wednesday, parts of the Houston region will have broken the nearly 40-year-old U.S. record for the heaviest rainfall from a tropical system — 48 inches, set by Tropical Storm Amelia in 1978 in Texas, several meteorologists say.
Already 15 trillion gallons of rain have fallen on a large area, and an additional 5 trillion or 6 trillion gallons are forecast by the end of Wednesday, meteorologist Ryan Maue of WeatherBell Analytics calculates. That's enough water to fill all the NFL and Division 1 college football stadiums more than 100 times over.
A rescue boat enters a flooded subdivision as floodwaters from Tropical Storm Harvey rise Monday, Aug. 28, 2017, in Spring, Texas.: photo b
y David J. Phillip / AP, 28 August 2017
Bracing
for Harvey's return, worry renews: Is worst to come?
: Michael Graczyk and David Phillip, Associated Press, 29 August 2017
HOUSTON (AP) — Crews overwhelmed by thousands of rescue calls during one of the heaviest downpours in U.S. history have had little time to search for other potential victims, but officials acknowledge the grim reality that fatalities linked to Harvey could soar once the devastating floodwaters recede from one of America's most sprawling metropolitan centers.
More than three days after the storm ravaged the Texas coastline as a Category 4 hurricane, authorities had confirmed only three deaths — including a woman killed Monday when heavy rains dislodged a large oak tree onto her trailer home in the small town of Porter. But unconfirmed reports of others missing or presumed dead were growing.
"We know in these kind of events that, sadly, the death toll goes up historically," Houston police Chief Art Acevedo told The Associated Press. "I'm really worried about how many bodies we're going to find."
One Houston woman said Monday that she presumes six members of a family, including four of her grandchildren, died after their van sank into Greens Bayou in East Houston, though Houston emergency officials couldn't confirm the deaths. Virginia Saldivar told The Associated Press her brother-in-law was driving the van Sunday when a strong current took the vehicle over a bridge and into the bayou. The driver was able to get out and urged the children to escape through the back door, Saldivar said, but they could not.
"I'm just hoping we find the bodies," Saldivar said

.
Oscar Galindo, Donato Galindo, 2, Oscar Galindo, 11, Andre Galindo, 9, and Maria Rodriguez relax while taking shelter at the George R Brown Convention Center on Monday, Aug. 28, 2017, in Houston, after living inside a car since Saturday after the rain from the Tropical Storm Harvey flooded their home in Dickinson, Texas.: photo by Marie D. De Jesus/Houston Chronicle via AP, 28 August 2017P)
And a spokeswoman for a Houston hotel says one of its employees disappeared while helping about 100 guests and workers evacuate the building amid rising floodwaters.
The disaster is unfolding on an epic scale, with the nation's fourth-largest city mostly paralyzed by the storm that has parked itself over the Gulf Coast. With nearly 2 more feet (61 centimeters) of rain expected on top of the 30-plus inches (76 centimeters) in some places, authorities worried the worst might be yet to come.
The Houston metro area covers about 10,000 square miles (25,900 sq. kilometers), an area slightly bigger than New Jersey. It's crisscrossed by about 1,700 miles (2735.76 kilometers) of channels, creeks and bayous that drain into the Gulf of Mexico, about 50 miles (80.46 kilometers) to the southeast from downtown.
The storm is generating an amount of rain that would normally be seen only once in more than 1,000 years, said Edmond Russo, a deputy district engineer for the Army Corps of Engineers, which was concerned that floodwater would spill around a pair of 70-year-old reservoir dams that protect downtown Houston.
Rescuers meanwhile continued plucking people from inundated neighborhoods. Mayor Sylvester Turner put the number by police at more than 3,000. The Coast Guard said it also had rescued more than 3,000 by boat and air and was taking more than 1,000 calls per hour.
Chris Thorn was among the many volunteers still helping with the mass evacuation that began Sunday. He drove with a buddy from the Dallas area with their flat-bottom hunting boat to pull strangers out of the water.
"I couldn't sit at home and watch it on TV and do nothing since I have a boat and all the tools to help," he said.
A mandatory evacuation was ordered for the low-lying Houston suburb of Dickinson, home to 20,000. Police cited the city's fragile infrastructure in the floods, limited working utilities and concern about the weather forecast.
In Houston, questions continued to swirl about why the mayor did not issue a similar evacuation order.
Turner has repeatedly defended the decision and did so again Monday, insisting that a mass evacuation of millions of people by car was a greater risk than enduring the storm.
"Both the county judge and I sat down together and decided that we were not in direct path of the storm, of the hurricane, and the safest thing to do was for people to stay put, make the necessary preparations. I have no doubt that the decision we made was the right decision."
He added, "Can you imagine if millions of people had left the city of Houston and then tried to come back in right now?"
Theresa Ross receives a tank of oxygen when she arrived to the George R. Brown Convention Center seeking shelter with her husband in Houston on Monday, Aug. 28, 2017. Floodwaters reached the rooflines of single-story homes Monday and people could be heard pleading for help from inside as Harvey poured rain on the Houston area for a fourth consecutive day after a chaotic weekend of rising water and rescues.: photo by Marie D. De Jesus/Houston Chronicle via AP, 28 August 2017
By Monday night, 7,000 people had arrived at the city's largest shelter set up inside the George R. Brown Convention Center — which originally had an estimated capacity of 5,000.
Red Cross spokesman Lloyd Ziel said that volunteers made more space inside the center, which also was used to house Hurricane Katrina refugees from New Orleans in 2005, in part by pushing some cots closer together. A shortage of cots means some people will have to sleep on chairs or the floor.
The center settled down at night, after an occasionally chaotic day that saw thousands of evacuees arrive in the pouring rain. Officers and volunteers at times rushed to attend to those with medical needs.
At the Addicks and Barker reservoirs, the Army Corps started releasing water Monday because water levels were climbing at a rate of more than 6 inches (15 centimeters) per hour, Corps spokesman Jay Townsend said.
The move was supposed to help shield the business district from floodwaters, but it also risked flooding thousands more homes in nearby subdivisions. Built after devastating floods in 1929 and 1935, the reservoirs were designed to hold water until it can be released downstream at a controlled rate.
In the Cypress Forest Estates neighborhood in northern Harris County, people called for help from inside homes as water from a nearby creek rose to their eaves. A steady procession of rescue boats floated into the area.
Harvey increased slightly in strength Monday as it drifted back over the warm Gulf, according to the National Hurricane Center.
Forecasters expect the system to stay over water with 45 mph (72 kph) winds for 36 hours and then head back inland east of Houston sometime Wednesday. The system will then head north and lose its tropical strength.
Before then, up to 20 more inches (51 centimeters) of rain could fall, National Weather Service Director Louis Uccellini said Monday.
That means the flooding will get worse in the days ahead and the floodwaters will be slow to recede once Harvey finally moves on, the weather service said.
A rainbow appears over over a Whataburger sign that was destroyed by Hurricane Harvey in Refugio, Texas, Monday, Aug. 28, 2017.: photo by Nick Wagner/Austin American-Statesman via AP, 28 August 2017
Sometime Tuesday or early Wednesday, parts of the Houston region will probably break the nearly 40-year-old U.S. record for the biggest rainfall from a tropical system — 48 inches — set by Tropical Storm Amelia in 1978 in Texas, meteorologists said.
The amount of water in Houston was so unprecedented that the weather service on Wednesday had to update the color charts on its official rainfall maps to indicate the heavier totals.
In Louisiana, the images of the devastation in Houston stirred painful memories for many Hurricane Katrina survivors.
"It really evoked a lot of emotions and heartbreak for the people who are going through that now in Houston," Ray Gratia said as he picked up sandbags for his New Orleans home, which flooded during the 2005 hurricane.
In Washington, President Donald Trump's administration assured Congress that the $3 billion balance in the Federal Emergency Management Agency's disaster fund was enough to handle immediate needs, such as debris removal and temporary shelter for displaced residents.
The White House said Monday night that the president and first lady will visit Corpus Christi and Austin on Tuesday. They will receive briefings on the relief efforts by local leaders and organizations.
Harvey was the fiercest hurricane to hit the U.S. in 13 years and the strongest to strike Texas since 1961's Hurricane Carla, the most powerful Texas hurricane on record.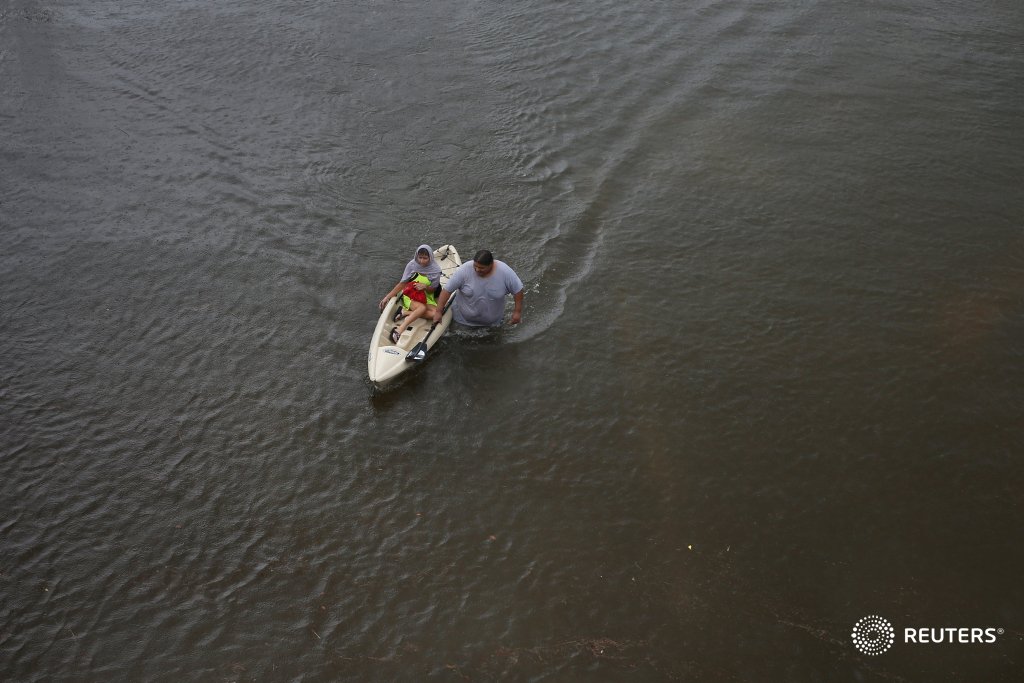 Residents wade through flood waters in Beaumont Place, Texas, as Harvey unleashes historic floods on Houston: image via Reuters Pictures @reuterspictures, 28 August 2017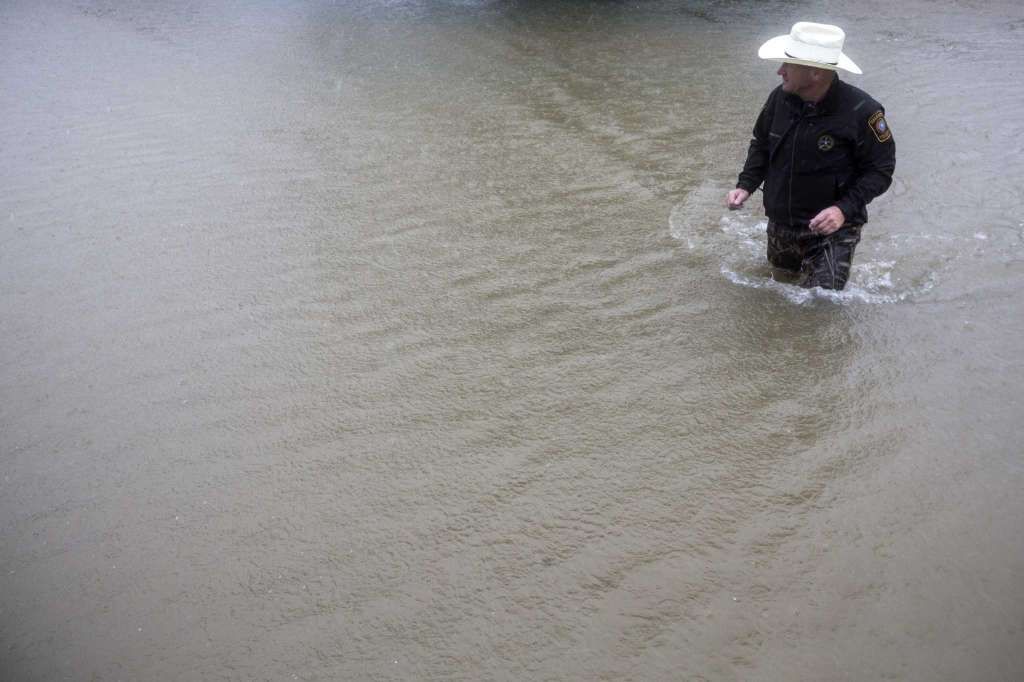 Some of the aching symbolism from Texas' historic catastrophe. The ten (trillion) gallon hat. #Harvey @HoustonChron #FortBend: image via Reading The Pictures @ReadingThePix, 28 August 2017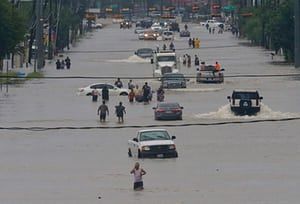 Exodus. @AFPphoto Houston #Harvey
: image via Reading The Pictures @ReadingThePix, 28 August 2017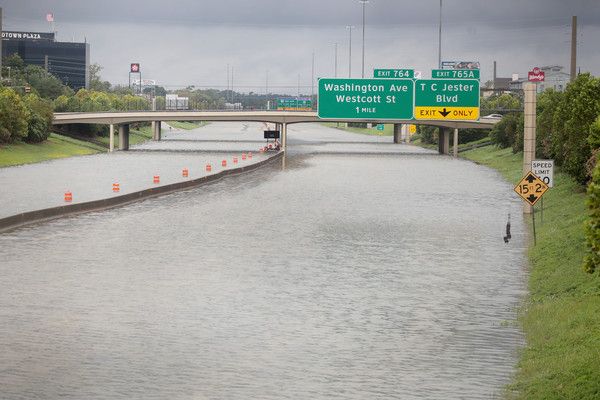 More apocalypse. Of highways, now rivers. #Harvey Photo @olsongetty #Interstate10 #Houston
: image via Reading The Pictures @ReadingThePix, 28 August 2017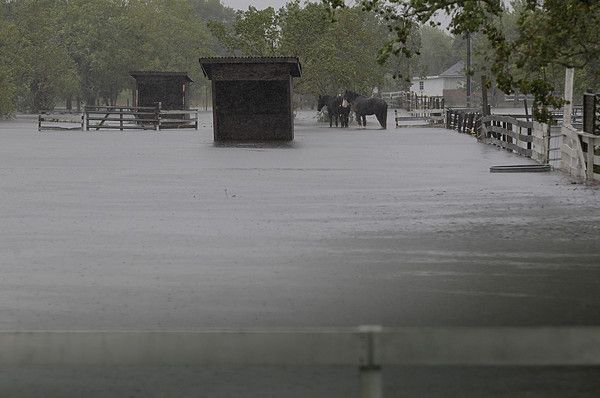 Like prairie, but it's water. #Harvey @AFPphoto #Pearland #surreal
: image via Reading The Pictures @ReadingThePix, 28 August 2017
Tamir Kalifa / The New York Times, 28 August 2017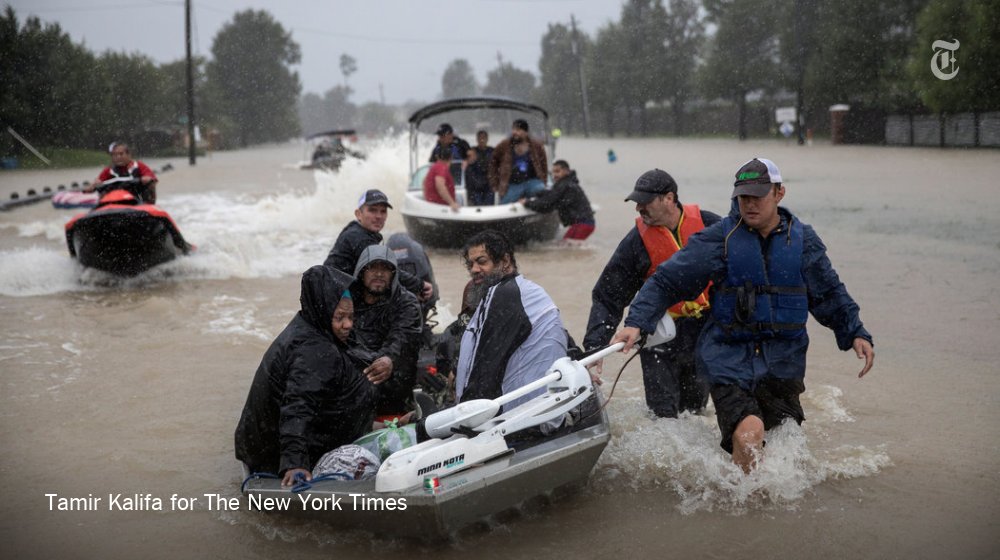 Volunteer rescuers help to evacuate people stranded by floodwaters near Bush Airport.: photo by

Tamir Kalifa / The New York Times, 28 August 2017
Tamir Kalifa / The New York Times, 28 August 2017
y Tamir Kalifa / The New York Times, 28 August 2017
: photo by

Credit

Alyssa Schukar / The New York Times, 28 August 2017
Tamir Kalifa / The New York Time, 28 August 2017
Ilana Panich-Linsman / The New York Times, 28 August 2017
Alyssa Schukar / The New York Times, 28 August 2017
Alyssa Schukar / The New York Times, 28 August 2017
: photo by

Alyssa Schukar / The New York Times, 27 August 2017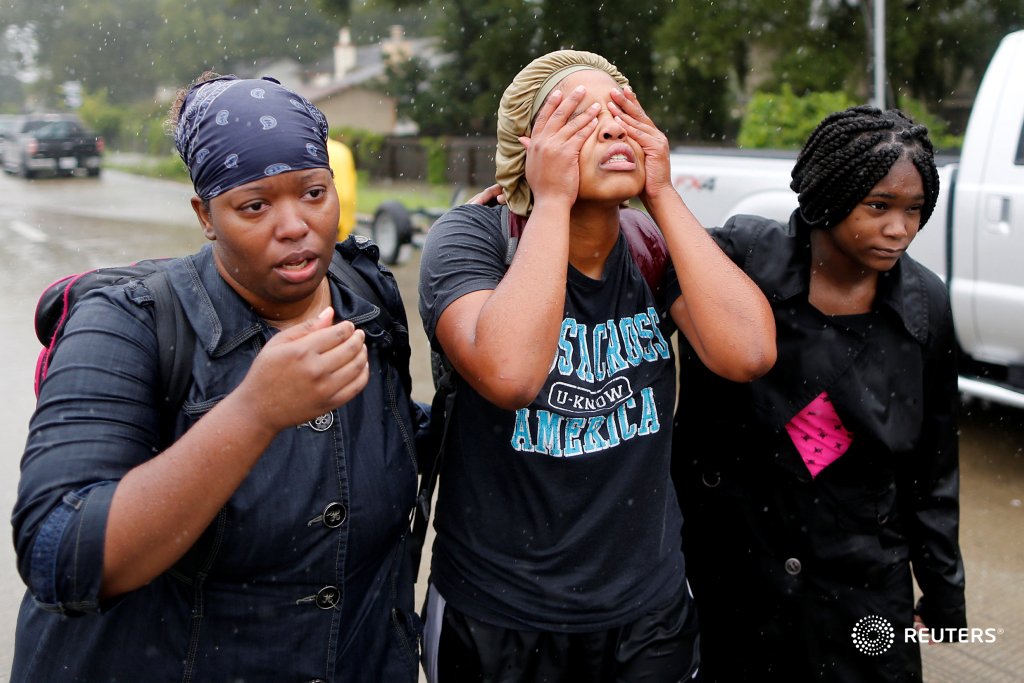 Residents wade through flood waters in Beaumont Place, Texas, as Harvey unleashes historic floods on Houston: image via Reuters Pictures @reuterspictures, 28 August 2017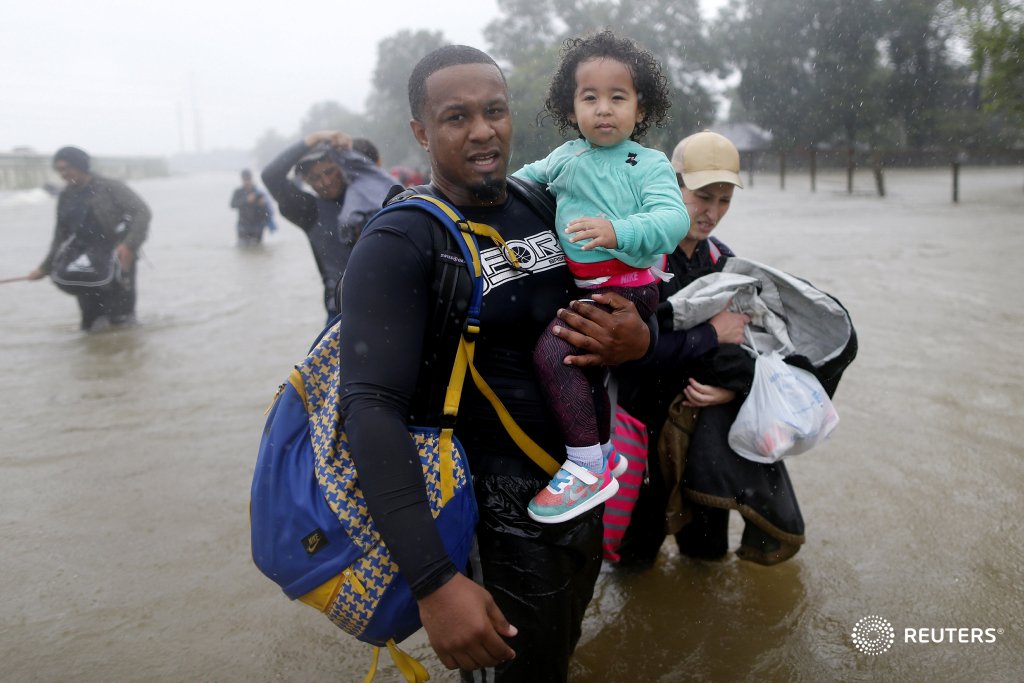 Residents wade through flood waters in Beaumont Place, Texas, as Harvey unleashes historic floods on Houston: image via Reuters Pictures @reuterspictures, 28 August 2017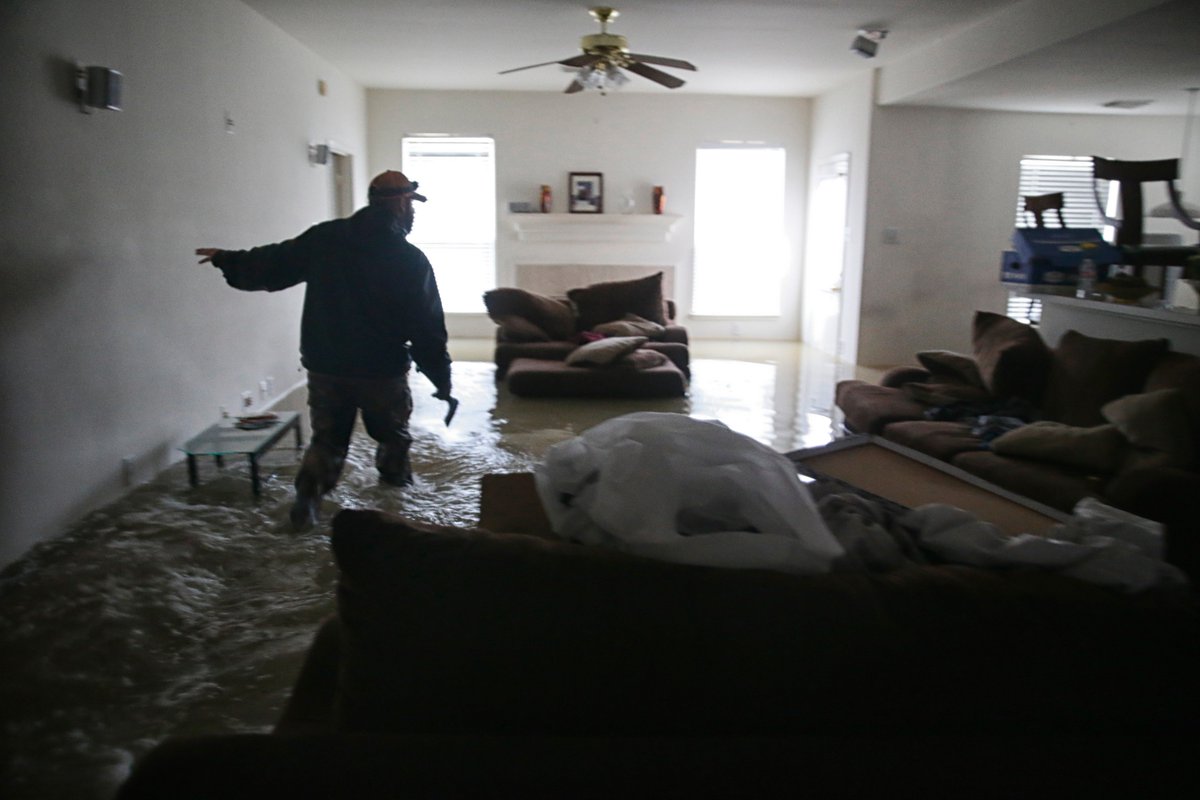 The rivers rise - so do rescue efforts. Harvey.: image via Robert Gauthier @rgaut999, 28 August 2017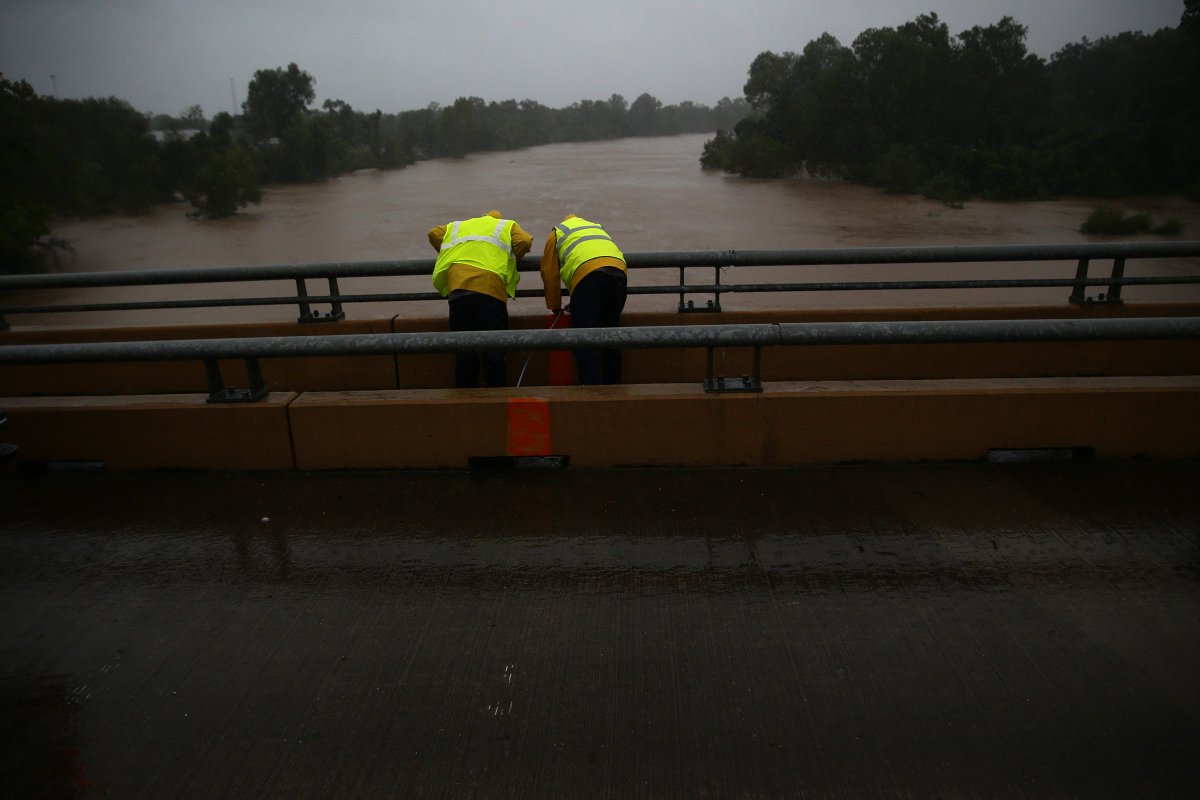 The rivers rise - so do rescue efforts. Harvey.: image via Robert Gauthier @rgaut999, 28 August 2017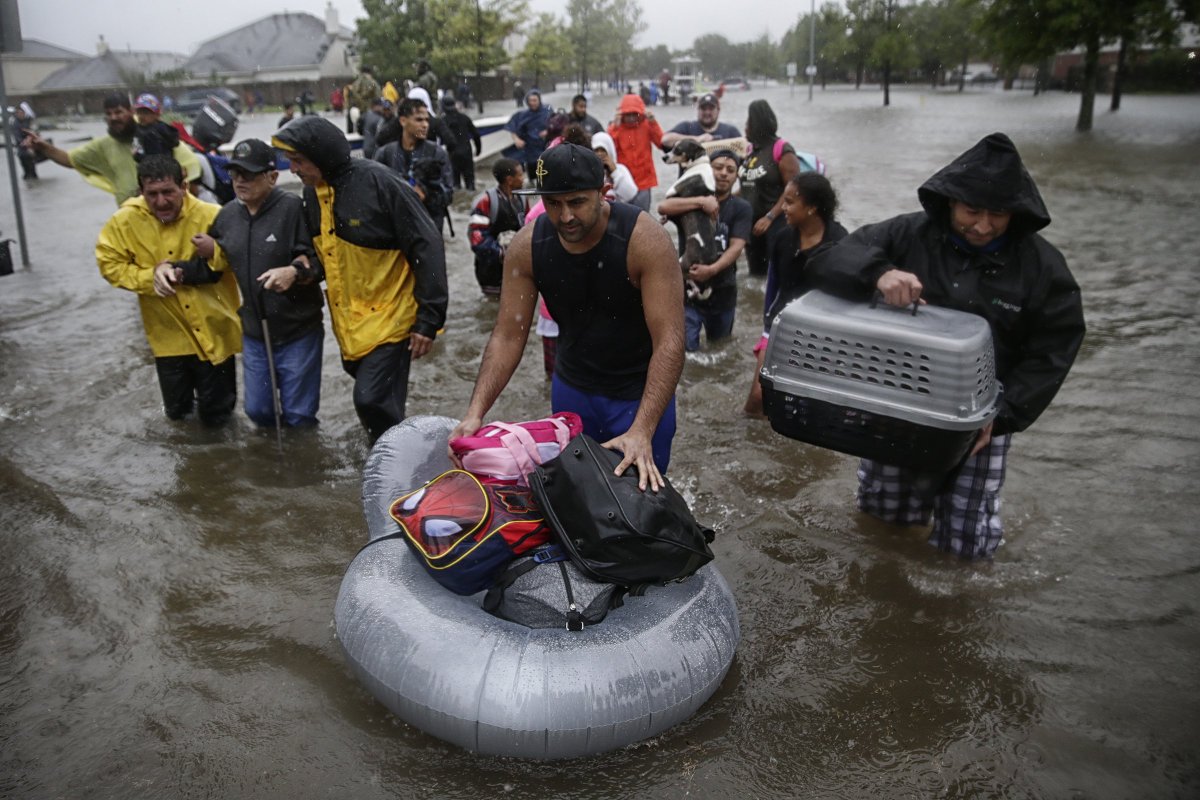 The rivers rise - so do rescue efforts. Harvey.: image via Robert Gauthier @rgaut999, 28 August 2017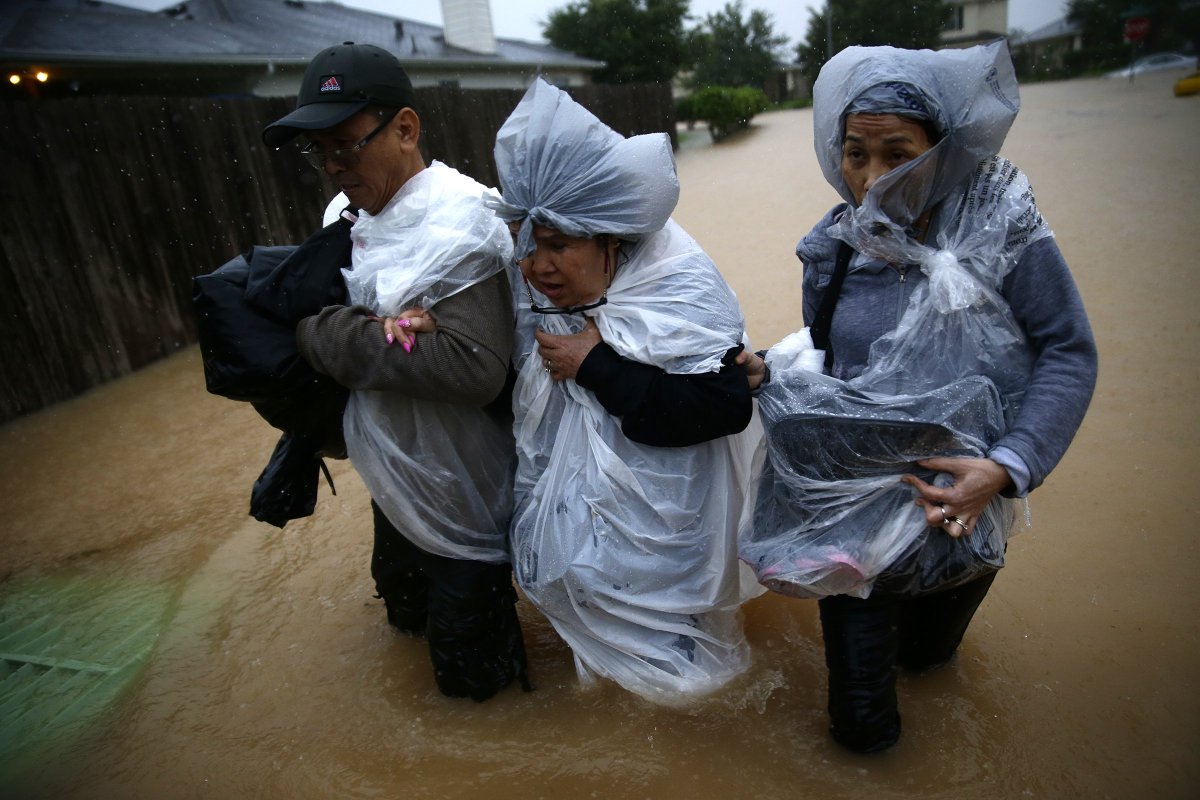 The rivers rise - so do rescue efforts. Harvey.: image via Robert Gauthier @rgaut999, 28 August 2017

A dog balances on an appliance of a destroyed mobile home in Tivoli, Texas Sunday, Aug. 27, 2017 after the area was destroyed by Hurricane Harvey.: photo by The Victoria Advocate via AP, 27 August 2017
A man walks to his home in a neighborhood inundated by floodwaters from Tropical Storm Harvey on Monday, Aug. 28, 2017, in Houston, Texas.: photo by Charlie Riedel/AP, 28 August 2017

A man walks to his home in a neighborhood inundated by floodwaters from Tropical Storm Harvey on Monday, Aug. 28, 2017, in Houston, Texas.: photo by Charlie Riedel/AP, 28 August 2017