.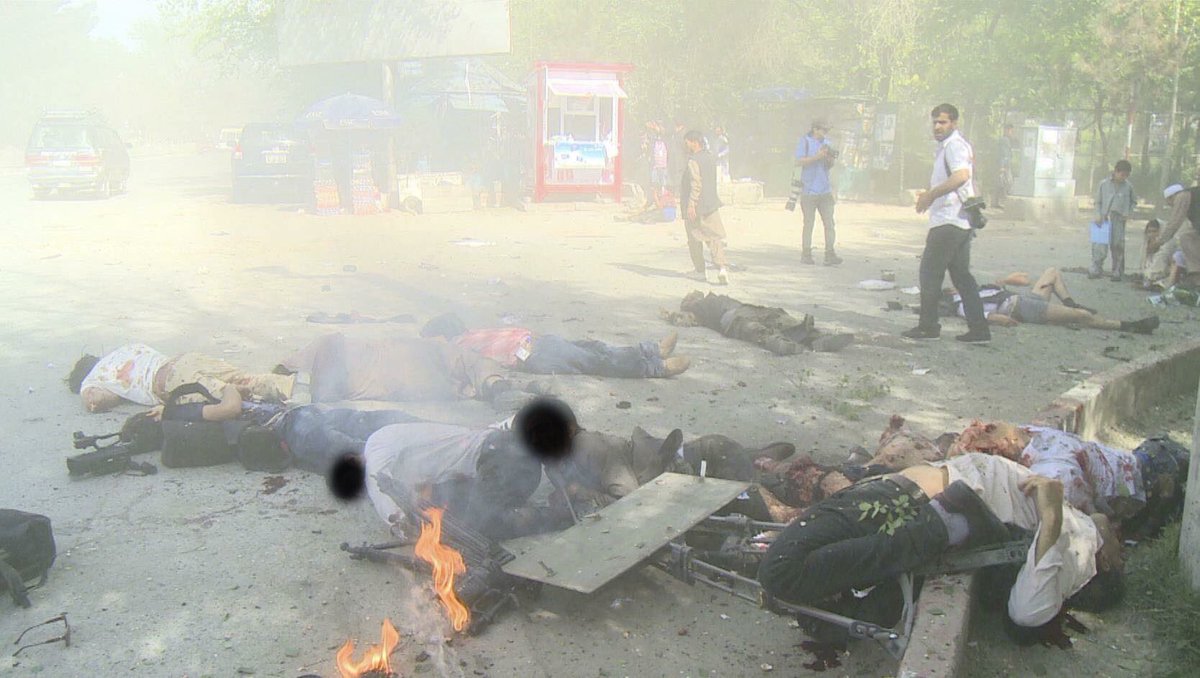 2 devastating attacks in #Kabul today. The 2nd targeted media and those assisting victims of the 1st. 7 journalists reportedly killed, including AFP Kabul's Chief photographer Shah Marai. @Massoud151 and @omarsobhani, pictured in background, lucky to be alive. Photo: Zabi Karimi: image via Andrew Quilty @andrewquilty, 30 April 2018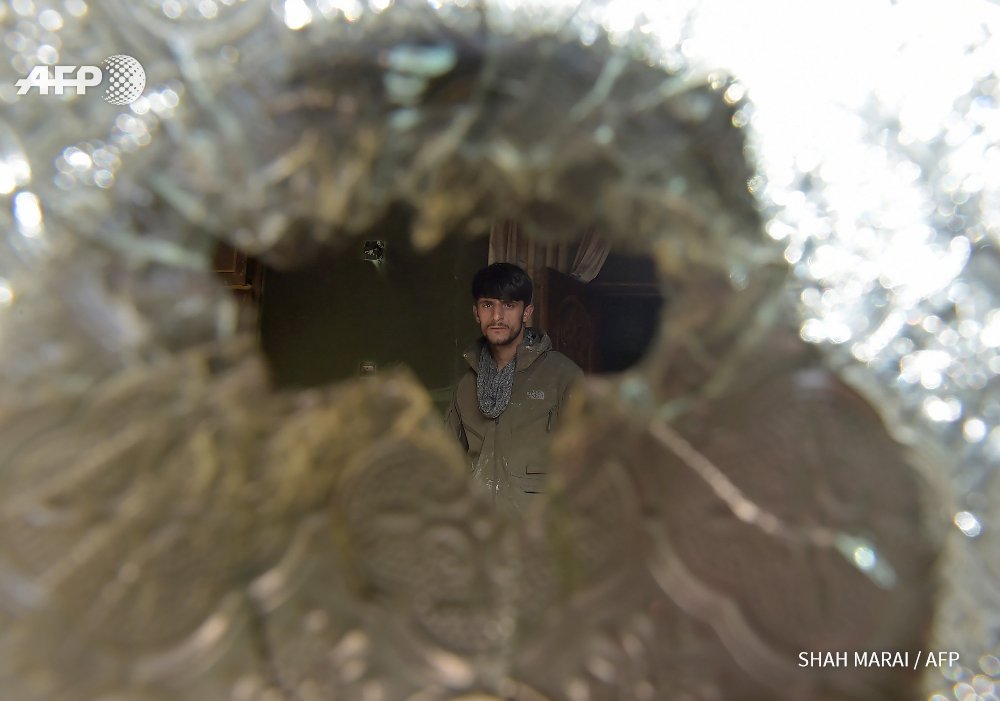 AFGHANISTAN - A man is seen through a broken glass after Taliban storm Afghan MP's house in Kabul. By @shahmarai #AFP: image via Frédérique Geffard @fgeffardAFP, 22 December 2016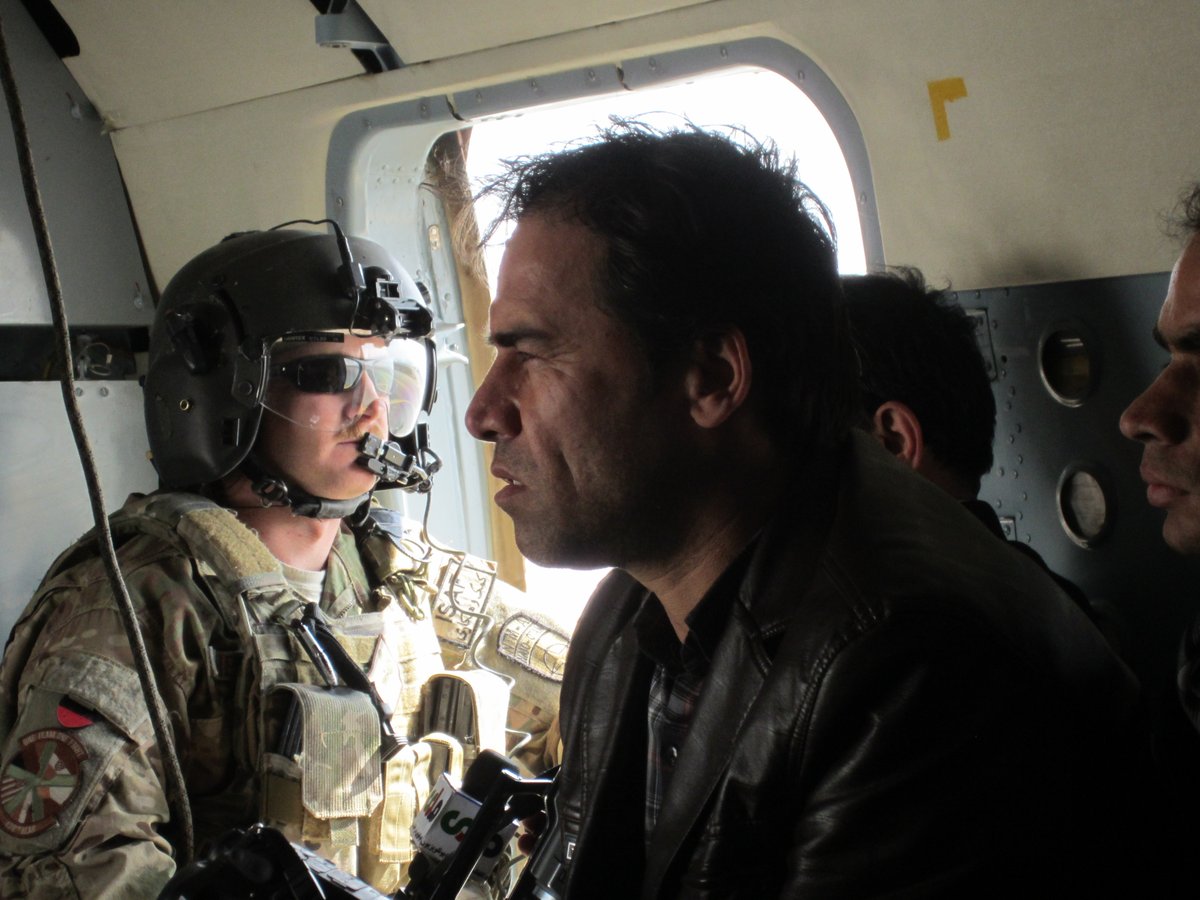 "People are no longer friendly toward someone with a camera," @AFP chief photographer in #Kabul Shah Marai wrote in 2016. He was among at least nine journalists killed in #KabulAttack Monday. #pressfreedom (Photo: @AFPphoto / Ben Sheppard): image via CPJ @pressfreedom, 30 April 2018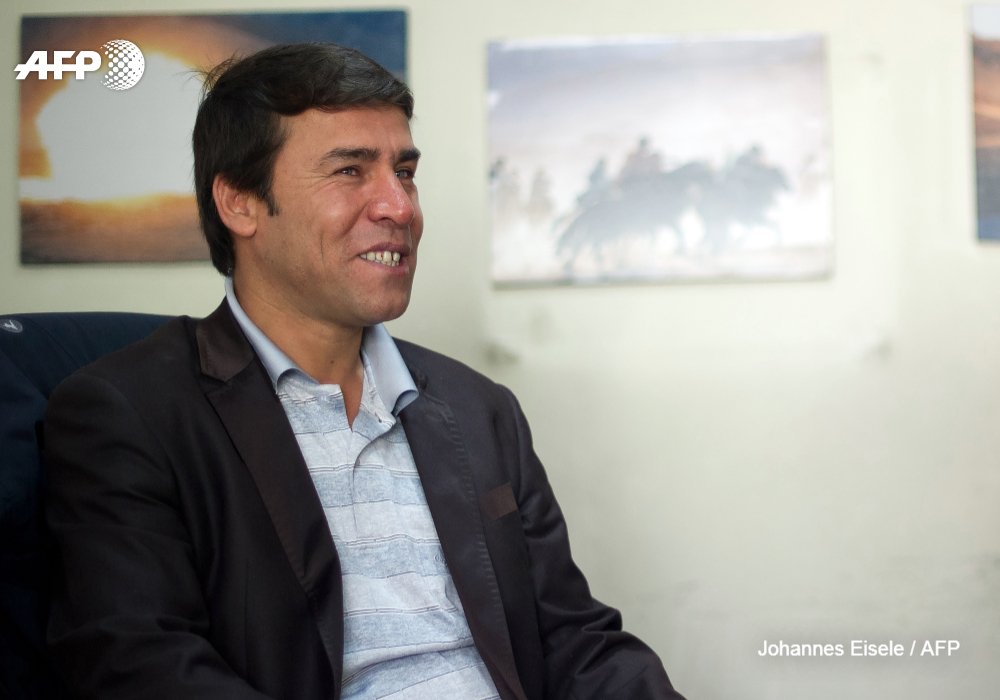 In memory of Shah Marai, AFP's chief photographer in Afghanistan A powerful essay from the father of six written …
Massoud Hossaini Retweeted AFP news agency
RIP dear Marai! You will be loved forever
image via Massoud Hossaini @Massoud151, 30 April 2018
Shah Marai @shahmarai: image via Aurelia BAILLY @AureliaBAILLY, 30 April 201

8
In a war zone, every moment may be a decisive moment, a moment may

contain

a

small

eternity, and in that fleeting eternal moment a brave photographer

may become

an angelic messenger. But his service to humanity can never be appreciated, for he is never in the picture.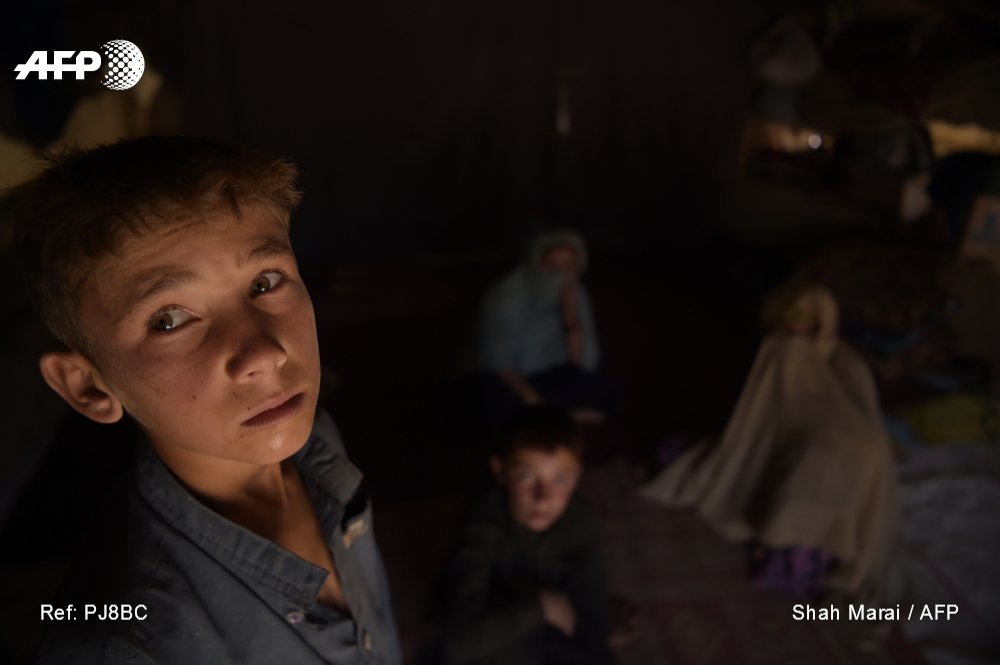 #Afghanistan An Afghan boy with his family who fled the conflict is at a camp for internally displaced persons (IDP) near Kabul. Photo @shahmarai: image via Frédérique Geffard @fgeffardAFP, 14 June 2017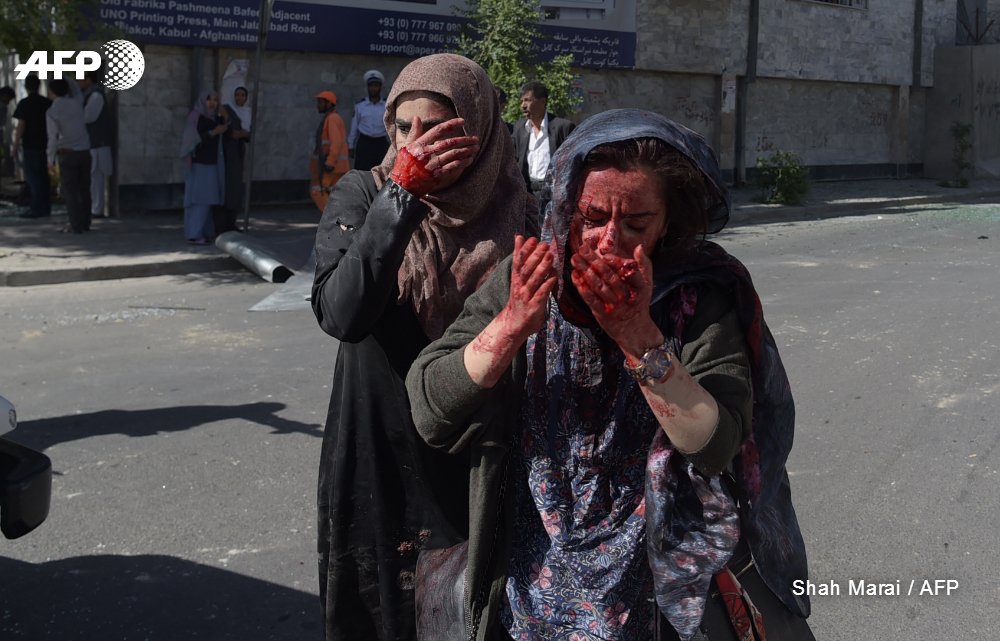 #Afghanistan Massive Kabul truck bomb kills 80, wounds hundreds. @shahmarai
: image via Frédérique Geffard @fgeffardAFP, 31 May 2017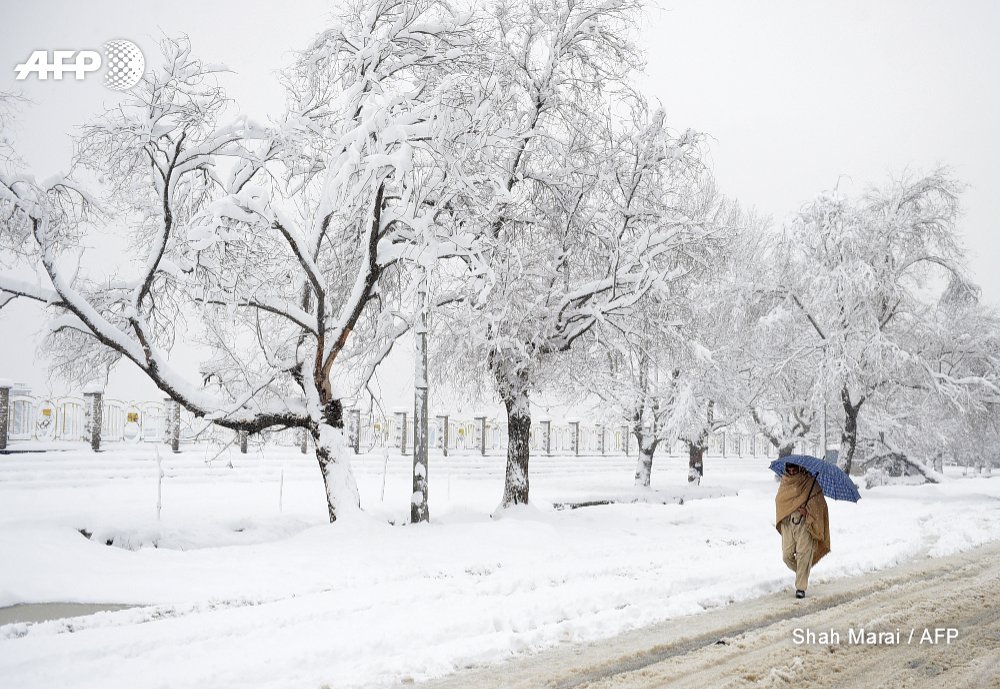 An Afghan pedestrian makes his way down a street past snow-covered trees in Kabul. By @shahmarai #AFP: image via AFP Photo @AFPphoto, 5 February 2017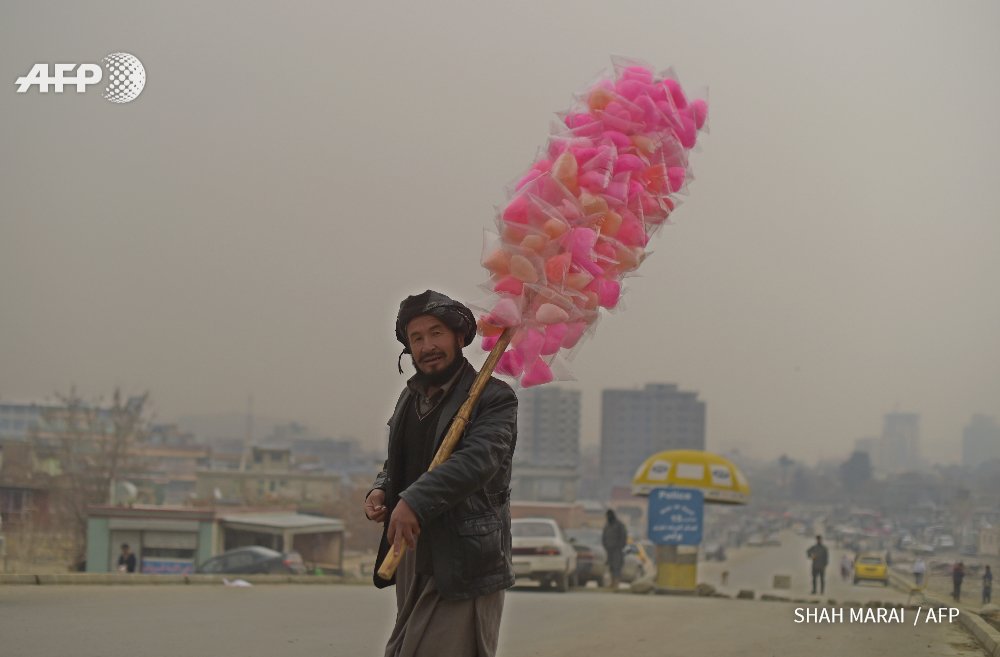 AFGHANISTAN - An #Afghan vendor sells candy floss as he walks on the streets of #Kabul #AFP: image via shahmarai @shahmarai, 4 January 2017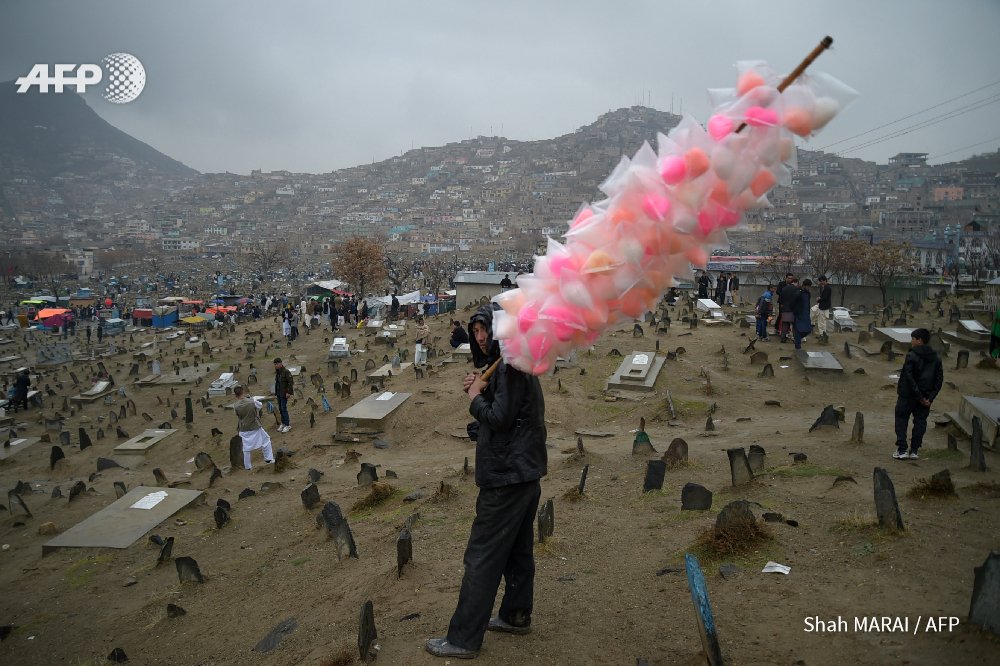 AFGHANISTAN - An Afghan vendor sells candy floss in Kabul during Nowruz festivities as devotees mark the Afghan New Year. @shahmarai #AFP: image via Frédérique Geffard @fgeffardAFP, 21 March 2017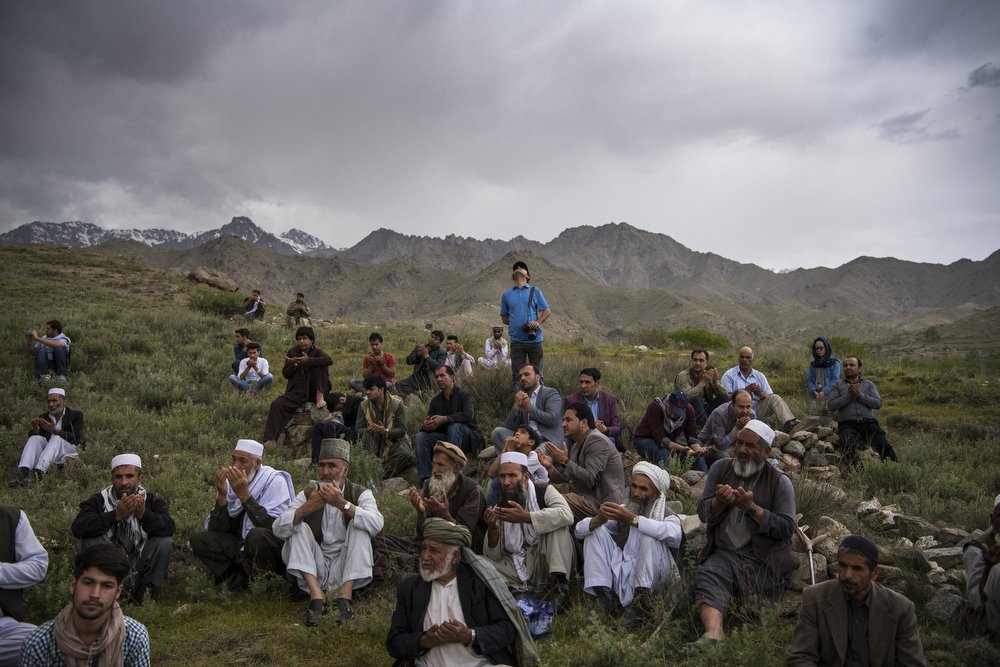 At the burial of @AFP's Shah Marai this afternoon, his longtime friend and colleague, @AP's @Massoud51, who was lucky to survive the blast that killed his friend, eight other journalists and twenty more, looked to the sky.: image via Andrew Quilty @andrewquilty, 30 April 2018
AFP's chief photographer in #Afghanistan Shah Marai has been killed in a suicide blast in Kabul. Read his touching 2016 blog on life in Afghanistan over the past 15 years, "When hope is gone." @AFPblogs: image via AFP Correspondent @AFPblogs, 30 April 2018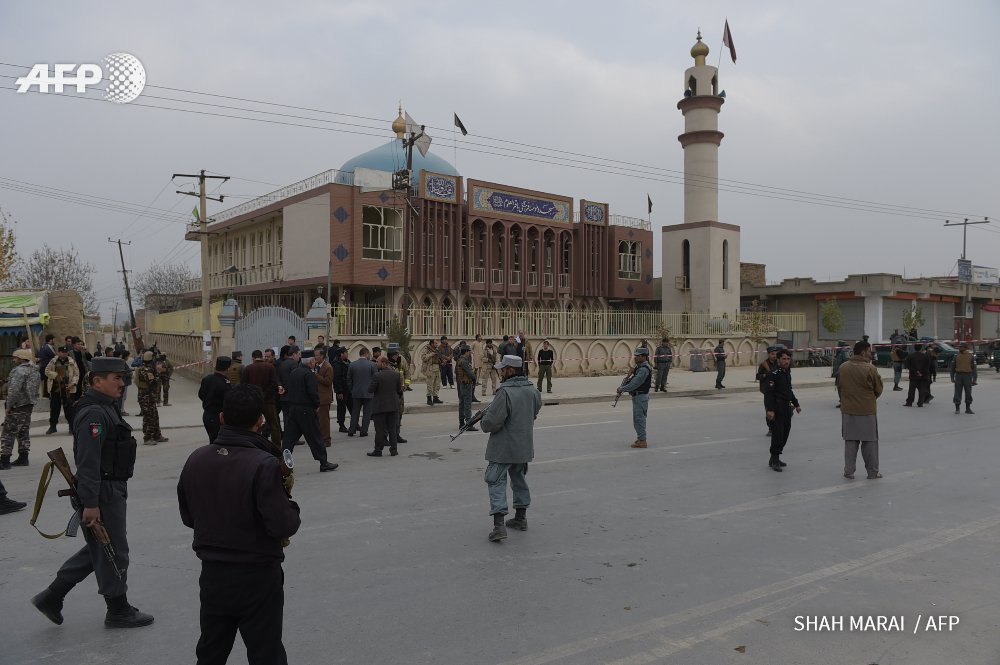 AFG: A massive suicide blast at a Shiite mosque in Kabul killed at least 27 people and wounded 35 others #AFP: image via shahmarai @shahmarai, 23 November 2016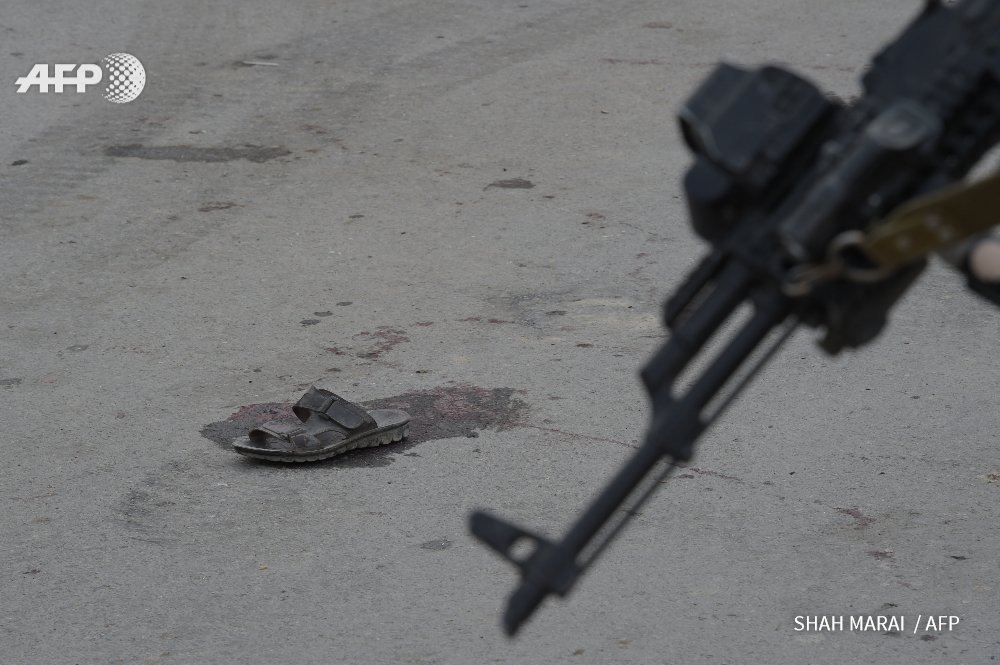 AFG: A massive suicide blast at a Shiite mosque in Kabul killed at least 27 people and wounded 35 others #AFP: image via shahmarai @shahmarai, 23 November 2016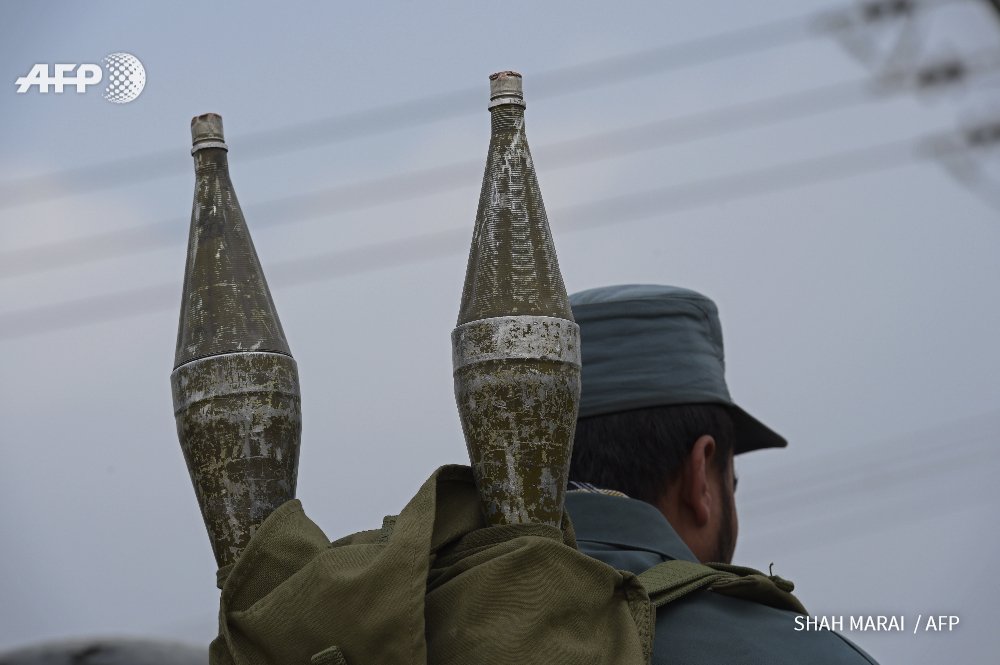 AFG: A massive suicide blast at a Shiite mosque in Kabul killed at least 27 people and wounded 35 others #AFP: image via shahmarai @shahmarai, 23 November 2016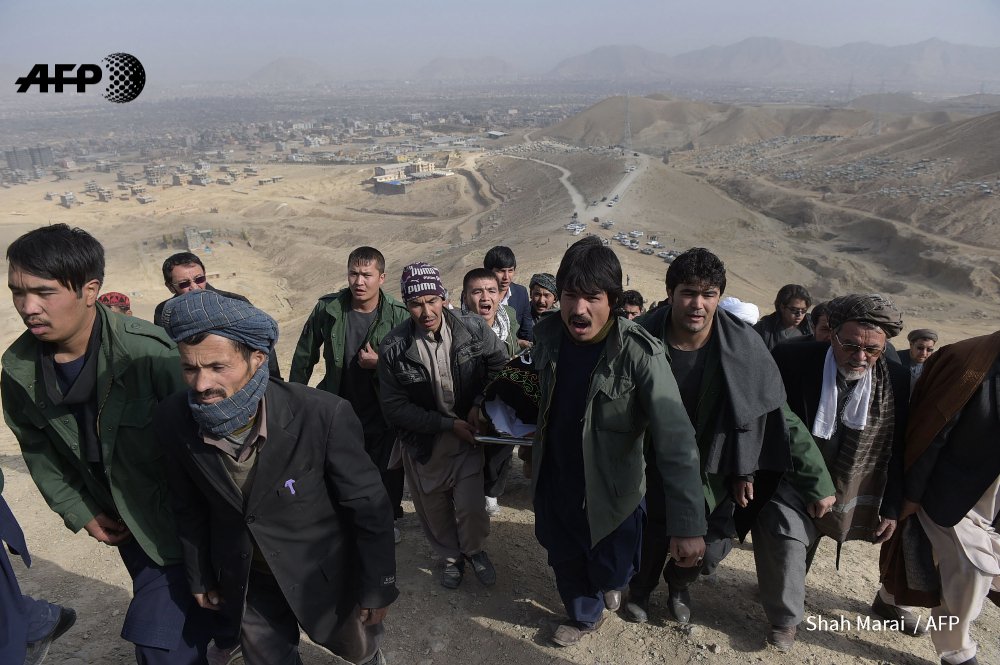 #Afghan mourners carry the coffin of one of the 27 victims killed in a bloody mosque bombing, in #Kabul #AFP: image via shahmarai @shahmarai, 23 November 2016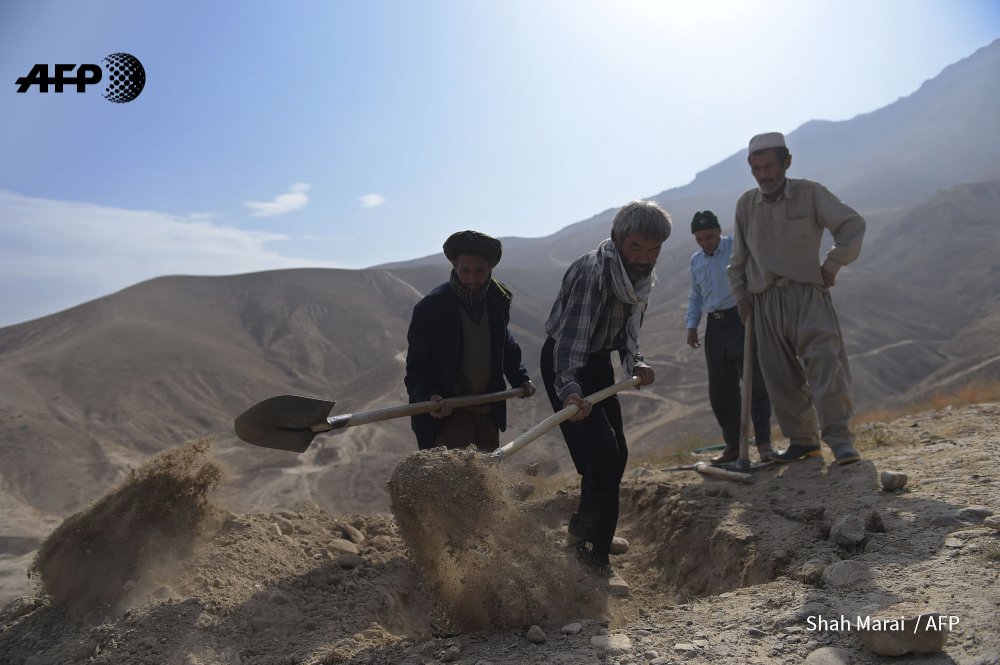 #Afghan mourners carry the coffin of one of the 27 victims killed in a bloody mosque bombing, in #Kabul #AFP: image via shahmarai @shahmarai, 23 November 2016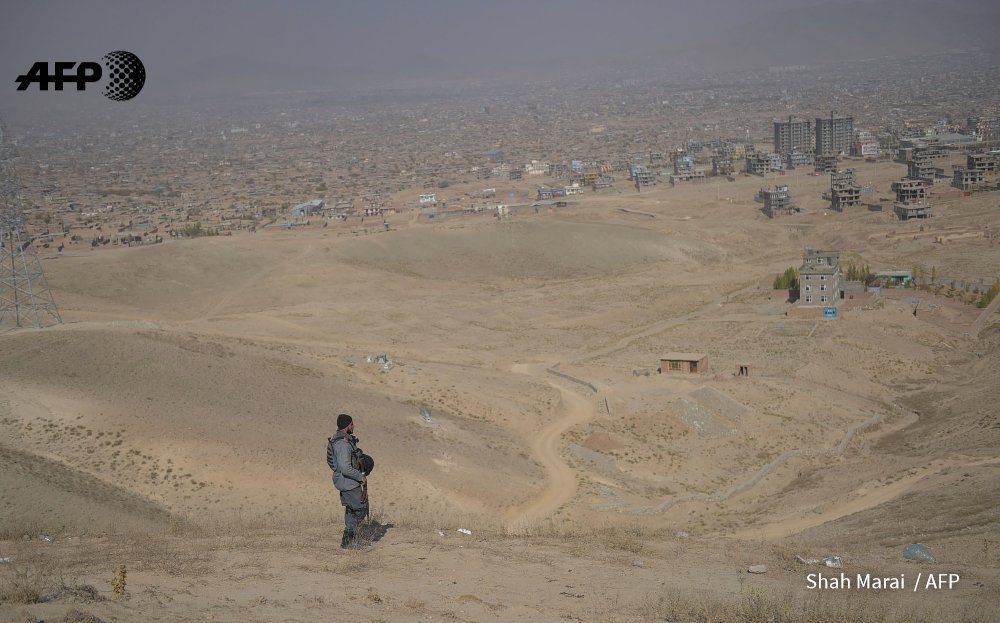 #Afghan mourners carry the coffin of one of the 27 victims killed in a bloody mosque bombing, in #Kabul #AFP: image via shahmarai @shahmarai, 23 November 2016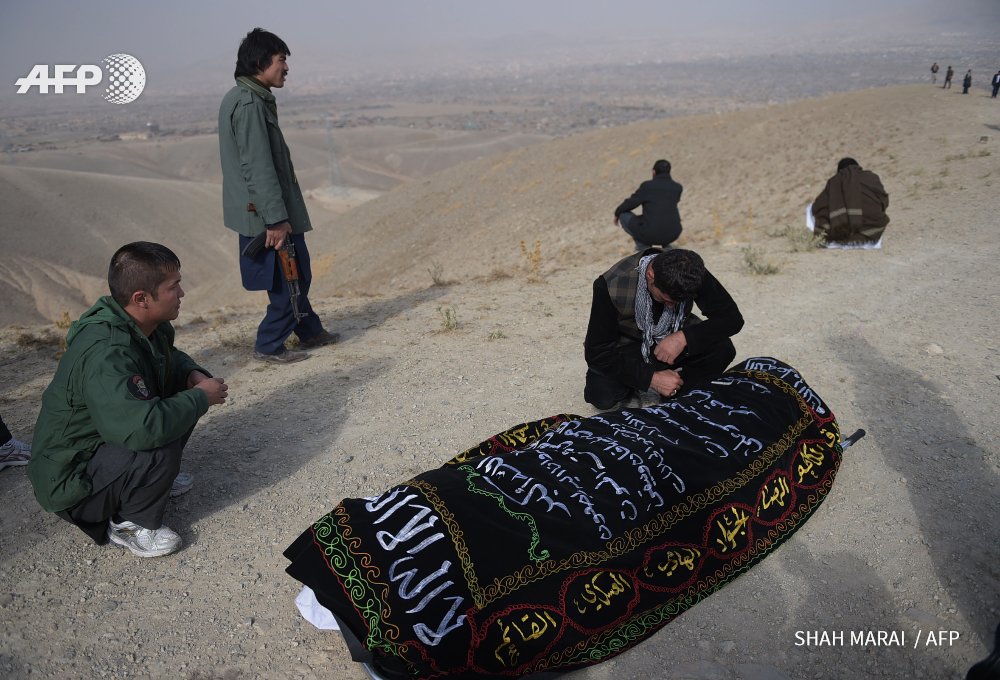 AFGHANISTAN - A relative weeps next to the coffin of one of the 27 victims killed in a bloody mosque bombing in Kabul. By@shahmarai #AFP: image via Frédérique Geffard @fgeffardAFP, 23 November 2016
Snow mountains of Kabul:
photo by Joe Burger, 2 April 2007
The desert moves like a museum made of light.
Its mighty magnitude goes on and on.
It blasts the sleeping woman in her bed. It
Blasts the sleeping man. They are made clean.
Then the wind moves off to Afghanistan.
These are millennial figures.
The tank sits upon the white sand.
The men are away from home for the first time.
Beyond them the great lonely peaks glisten.
They will hear familiar songs in the night wind.
Over to the east the great fires will burn
And burn. Something moves restlessly along the sand.
The wind picks it up and blows it away over the desert.
It is gone into another dimension.
It is like a memory or an artifact in a museum.
The desert washes everything clean.
A bright dog runs from Kabul to Albuquerque.
(1979)
Cliff Palace at Mesa Verde: photo by Jacob Rus, 2005
Snow mountains of Kabul:
photo by Joe Burger, 2 April 2007
Latest update #Kunduz: 12 MSF staff killed (same as previous update) + 10 patients (up from 7 yesterday): image via MSF International @MSF
, 4 October 2015
Alex Lopez plays baseball with his sister Sugey while smoke generated by the Las Conchas fire covers the sky in Espanola, New Mexico. As crews fight to keep the wildfire from reaching the country's premier nuclear-weapons laboratory and the surrounding community, scientists are busy sampling the air for chemicals and radiological materials: photo by Jae C. Hong/Associated Press, 29 June 2011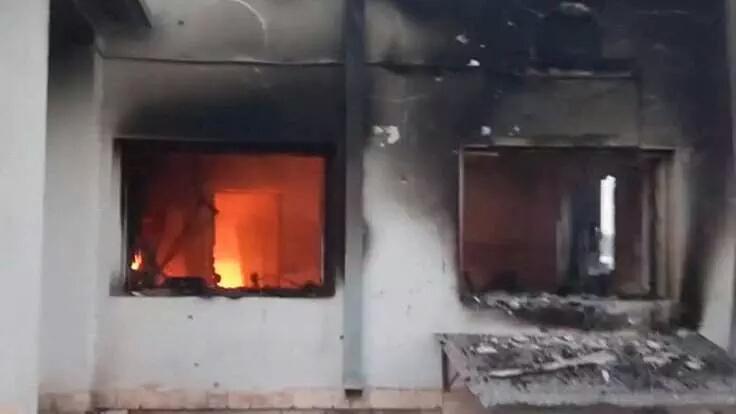 #USA
General says Afghan National Army requested strike on
#Kunduz

hospital
that killed 22 including 8 doctors: image via Times of Islamabad @
TimesofIslamabad
, 5 October 2015
Military personnel at

White

Sands

National

Monument
: photo by Daniel Schwen, 4 April 2004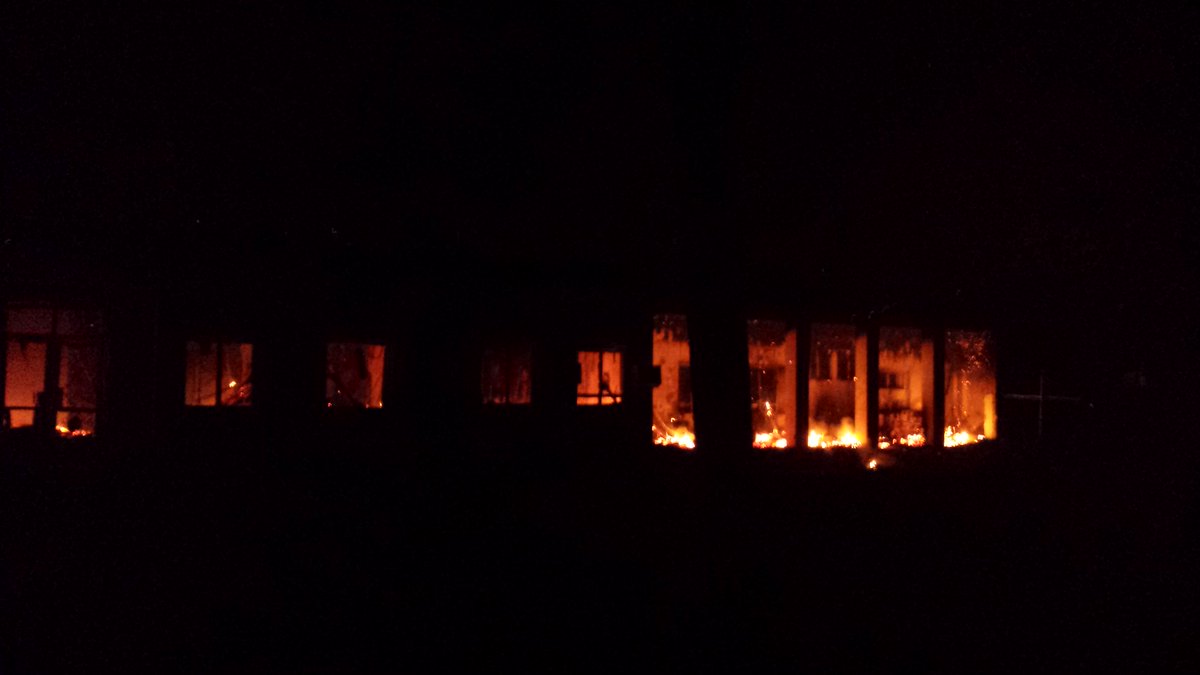 At 2:08AM our hospital in
#Kunduz
repeatedly hit by air strikes at roughly 15 min intervals: image via MSF Canada @MSF_canada
, 3 October 2015
Sunset over White Sands National Monument, New Mexico: photo by Franzinho, 22 August 2009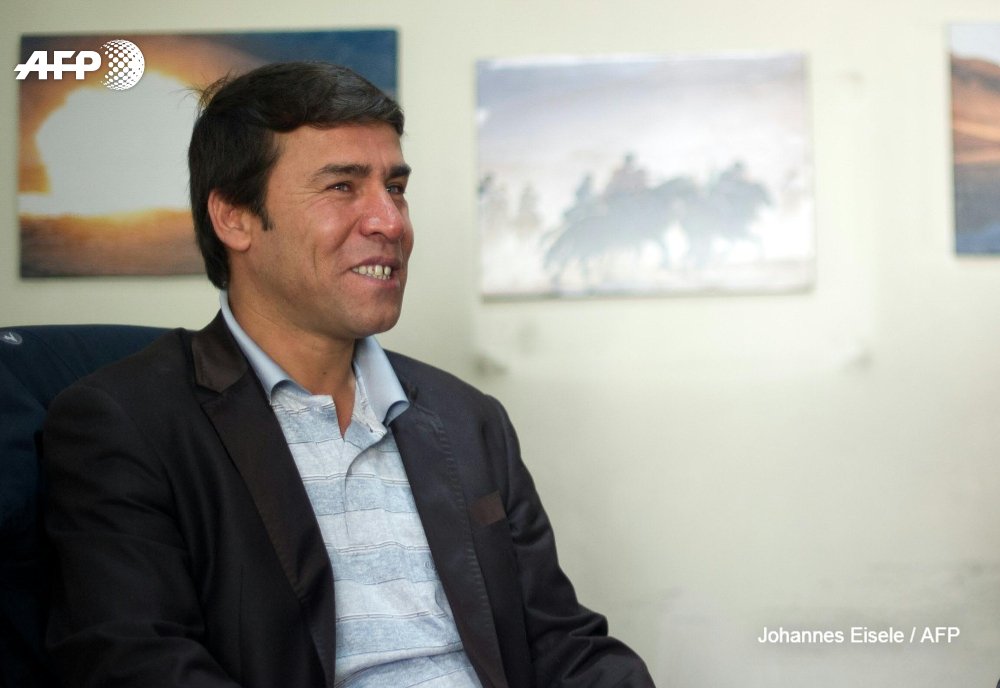 #UPDATE Agence France-Presse's chief photographer in Kabul, Shah Marai, has been killed. He died in a blast that was targeting a group of journalists who had rushed to the scene of a suicide…
Anuj Chopra Retweeted AFP news agency
Anuj Chopra added,
Devastating news. Can't believe Shah Marai - my brother, friend, colleague - is no more. This is an irreparable loss. Such a sad day for journalism.
image via Anuj Chopra @anujchopra, 30 April 2018
Our dear colleague Shah Marai, tragically murdered today in Kabul, is survived by six children including a daughter born only a few weeks ago. @AFP is gathering funds to support his family. Please consider donating.:
tweet via Anuj Chopra @anujchopra, 30 April 2018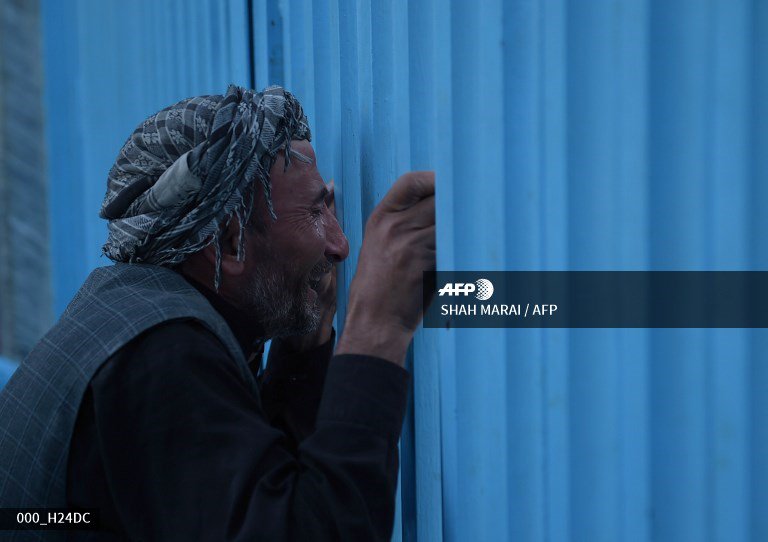 #Afghanistan
"I have never felt life to have so little prospects and I don't see a way out. It's a time of anxiety" Our colleague @Shah

m

arai
on the 15 years since US-led intervention in Afghanistan "When hope is gone." @AFPblogs: image via Fréd

é

rique Geffard @fgeffardAFP, 30 April 2018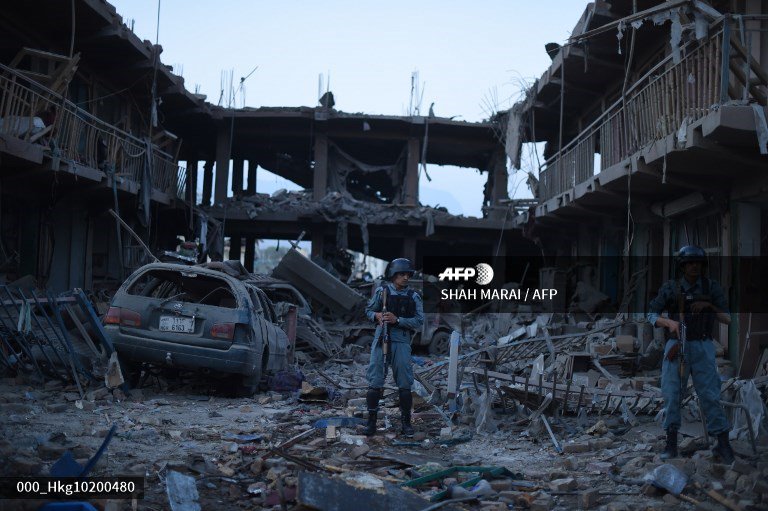 #Afghanistan
"I have never felt life to have so little prospects and I don't see a way out. It's a time of anxiety" Our colleague @Shah

m

arai
on the 15 years since US-led intervention in Afghanistan "When hope is gone." @AFPblogs #AFP: image via Fréd

é

rique Geffard @fgeffardAFP,

3

0 April 2018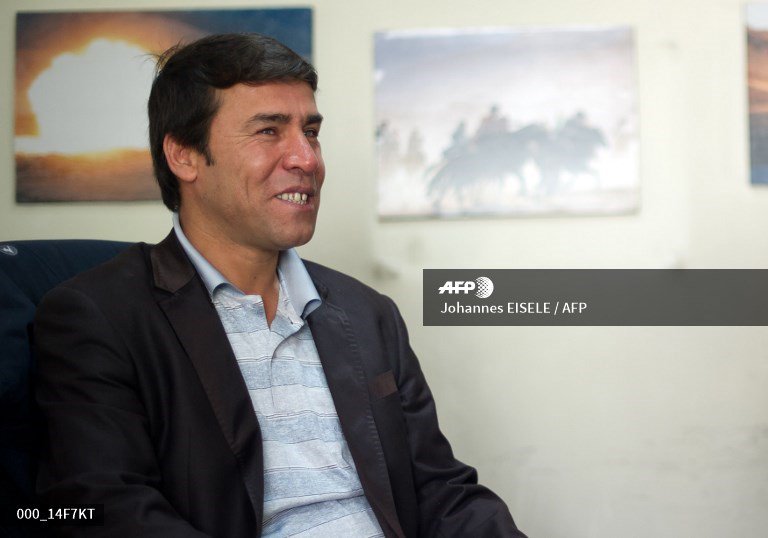 #Afghanistan
@AFP's
photographer Shah Marai @

s

hahmarai killed in Kabul blast: image via Fréd

é

rique Geffard @fgeffardAFP,

3

0 April 2018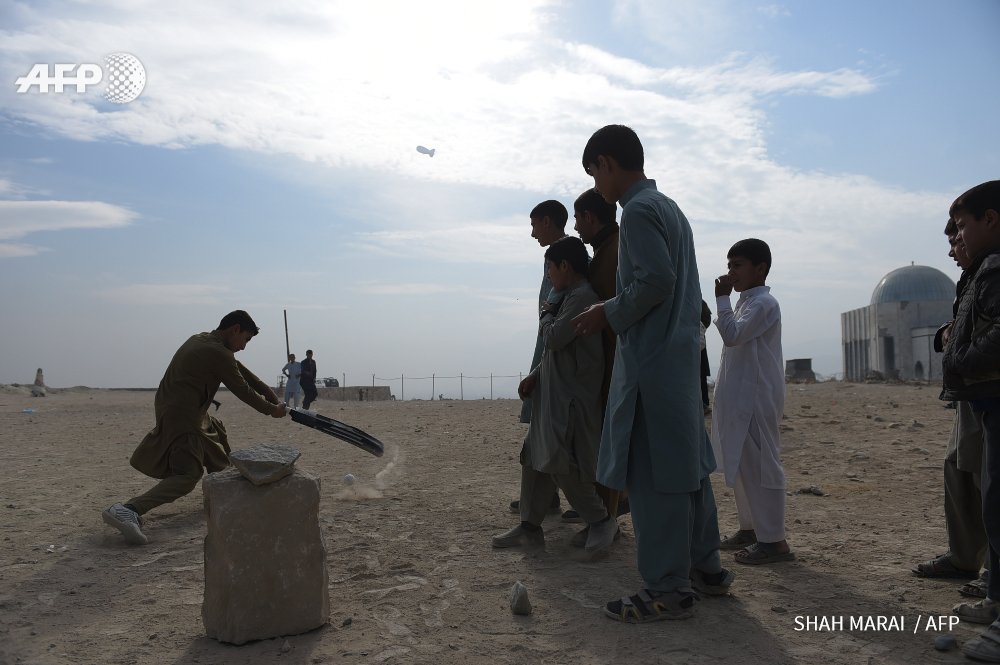 AFGHANISTAN - Afghan youths play cricket on a hilltop overlooking Kabul. By @shahmarai #AFP: image via Frédérique Geffard @fgeffardAFP, 20 November 2016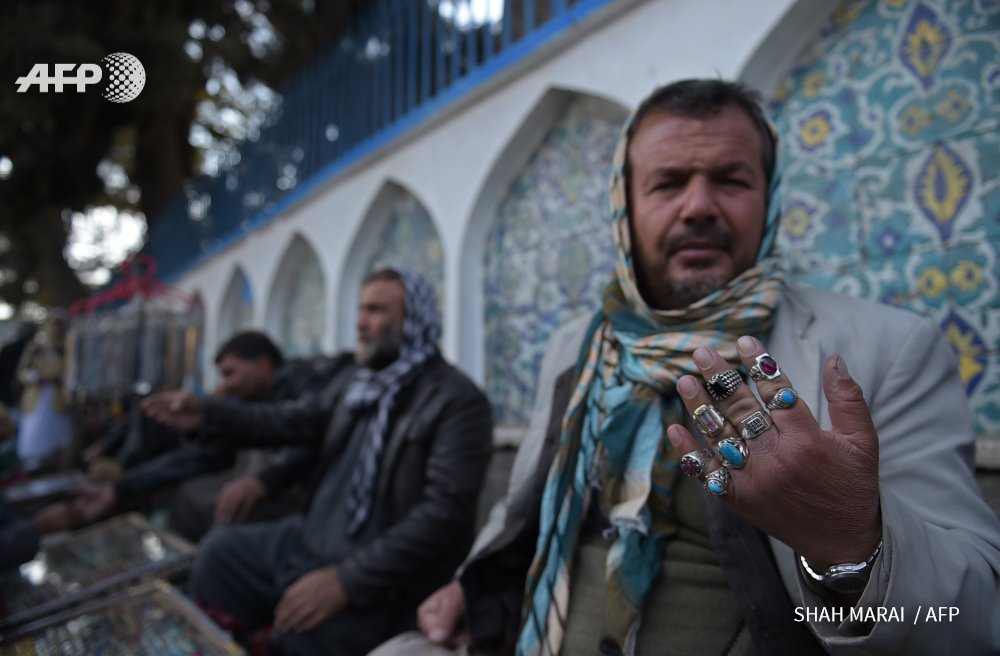 AFGHANISTAN - An Afghan vendor wears rings as he sell his wares in Kabul. By @shahmarai #AFP: image via Frédérique Geffard @fgeffardAFP, 20 November 2016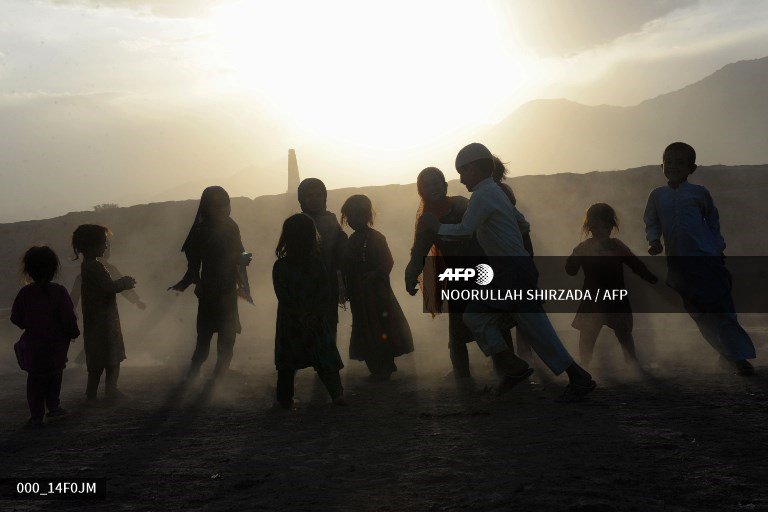 Afghan children play on the outskirts of Jalalabad. Photo @Noorullah700 #AFP
: image via Frédérique Geffard @fgeffardAFP, 29 April 2018
Shah Marai: When hope is gone: AFP Correspondent @AFPblogs, 14 October 2016
When hope is gone. @shahmarai on the 15 years since US-led intervention in #Afghanistan @AFPblogs: image via
AFP Correspondent @AFPblogs, 14 October 2016
Kabul -- The time after the American invasion was a time of great hope. The golden years. After the darkness of the Taliban rule, Afghanistan finally seemed to be on the road to a better life. But today, fifteen years later, that hope has vanished and life seems to be even harder than before.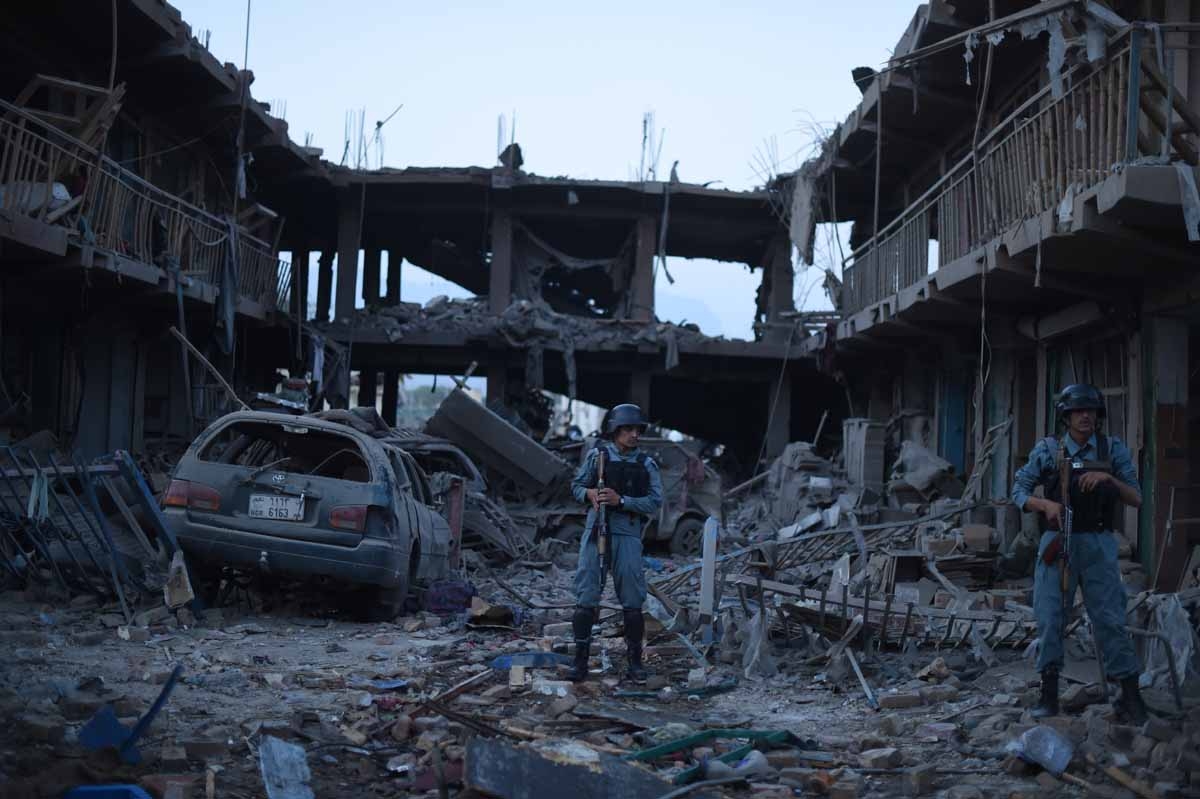 Aftermath of a truck bomb attack on a market in Kabul, August, 2015: photo by Shah Marai / AFP, August 2015


I began working as a photographer for AFP under the Taliban, in 1998.
Taliban fighters and Kabul residents watch as surgeons cut off a thief's hand at the national stadium in Kabul, under Taliban rule. August, 1998
: photo by Stefan Smith / AFP, August 1998
They hated journalists, so I was always very discreet -- I always made sure to put on the traditional shalwar kameez outfit when going outside and I took pictures with a small camera that I hid in a scarf wrapped around my hand. The Taliban restrictions made it extremely difficult to work -- they forbid the photographing of all living things, for example, be they men or animals.
One day I was taking pictures of a line outside a bakery. Life at the time was hard, people were without work, prices were going through the roof. Some Taliban approached me.
"What are you doing?" they demanded.
"Nothing," I answered. "I'm taking pictures of the bread!"
Luckily this was in the age before digital cameras, so they couldn't check to make sure I was telling the truth.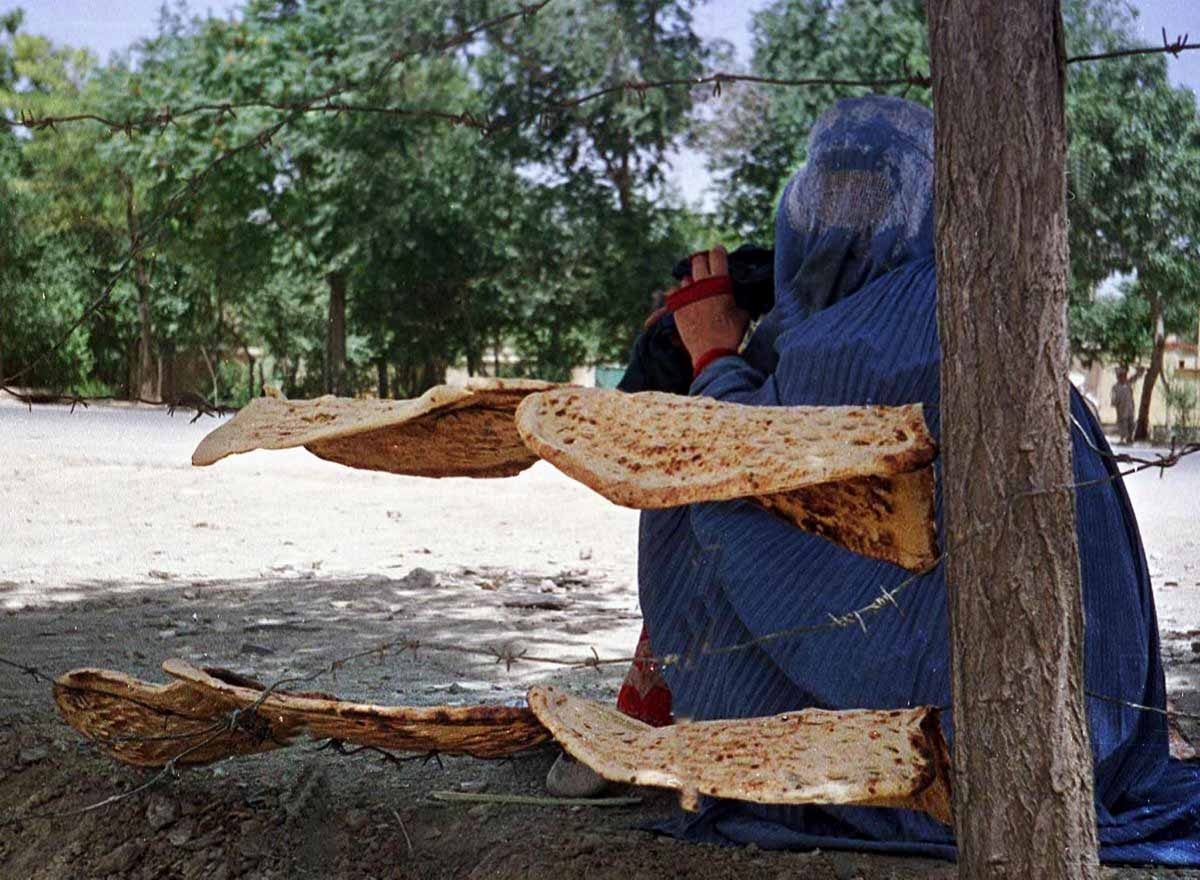 Afghan woman with bread, Kabul
: photo by Shah Marai / AFP, June 2001
I rarely put my name on my photos at the time, I just signed them "stringer," so as not to draw unwanted attention to myself.
AFP didn't really have a bureau here back then, we had a house in the same neighborhood, Wazir Akbar Khan, that we do today. Special envoys would take turns coming here, and we would regularly go to the frontline on the Shomali Plain, where the Northern Alliance was holding out against the Taliban. Aside from the BBC, only the three agencies, -- AFP, AP and Reuters -- remained in the city. Then in 2000 all of the foreigners were finally chased out and I was left alone to hold down the fort at AFP's bureau. I would phone in information to the Islamabad bureau with a satellite phone.
I watched the September 11 attacks on the BBC, not thinking for a second that there would be possible repercussions for Afghanistan. It was the Islamabad bureau that warned me some days later: "Rumors are that the Americans are going to attack."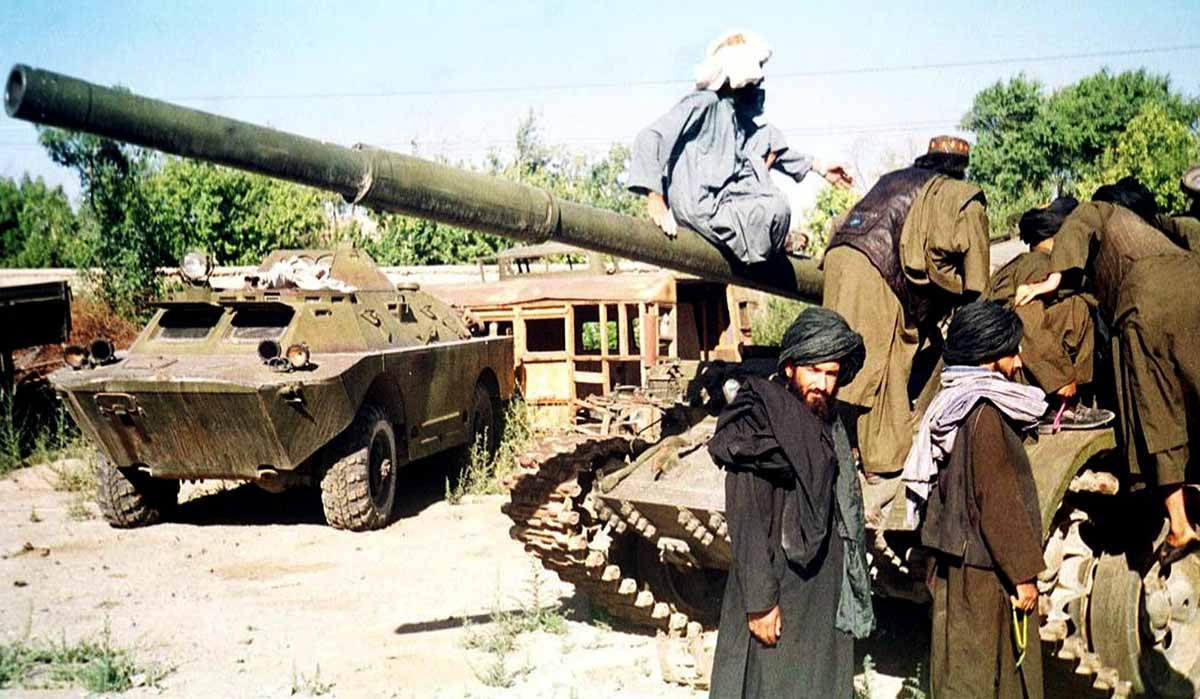 Taliban fighters try to repair a broken tank in Kabul, in anticipation of a possible US attack
: photo by Shah Marai / AFP, 2 October 2001
The bombings began less than a month later, on October 7, targeting the city of Kandahar near the Pakistani border, that the Taliban had made as their capital.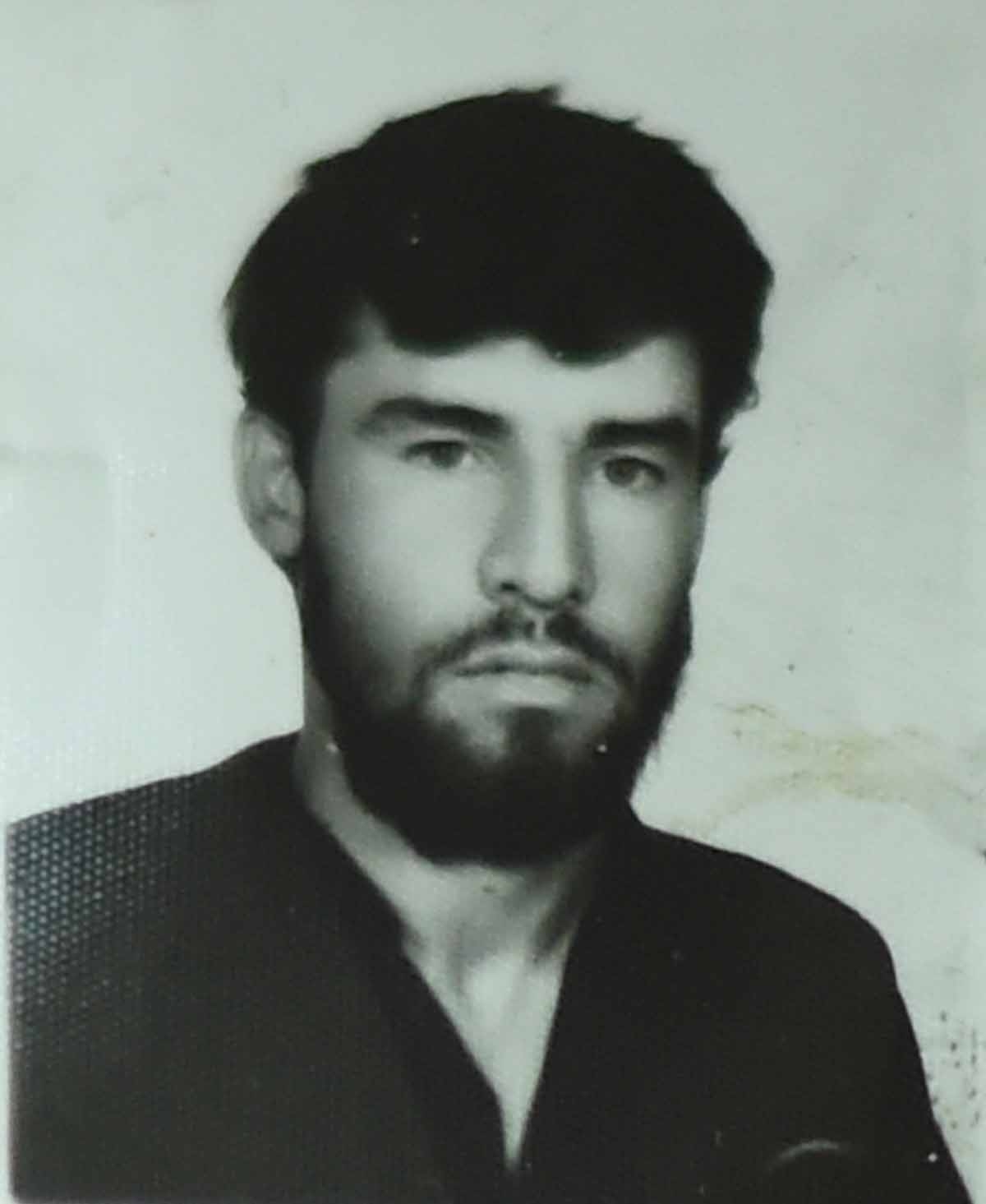 AFP correspondent Shah Marai during the time of Taliban rule, when beards were mandatory for men
: photo courtesy of Shah Marai
I was in the middle of phoning in the information to Islamabad when I heard the planes over Kabul. The first bombs were dropped near the airport. I didn't sleep that night, but I couldn't go outside.
The following morning I headed to the airport in my car. Not far from it, I came across a group of several dozen Taliban fighters, dressed in black.
One of them approached me. "Listen, I'm nice today so I'm not going to kill you, but get out of here right away."
I turned around, drove back and left my car at the office. The city was deserted. I came back with my bike, like an ordinary guy, a scarf wrapped around my hand to hide my camera. I took six photos that day, just six. I ended up sending two of them.
Coming out from the shadows
Then one morning, the Taliban were gone, vanishing into thin air. You should have seen it. The streets were filled with people. It was like people were coming out from the shadows into the light of life again.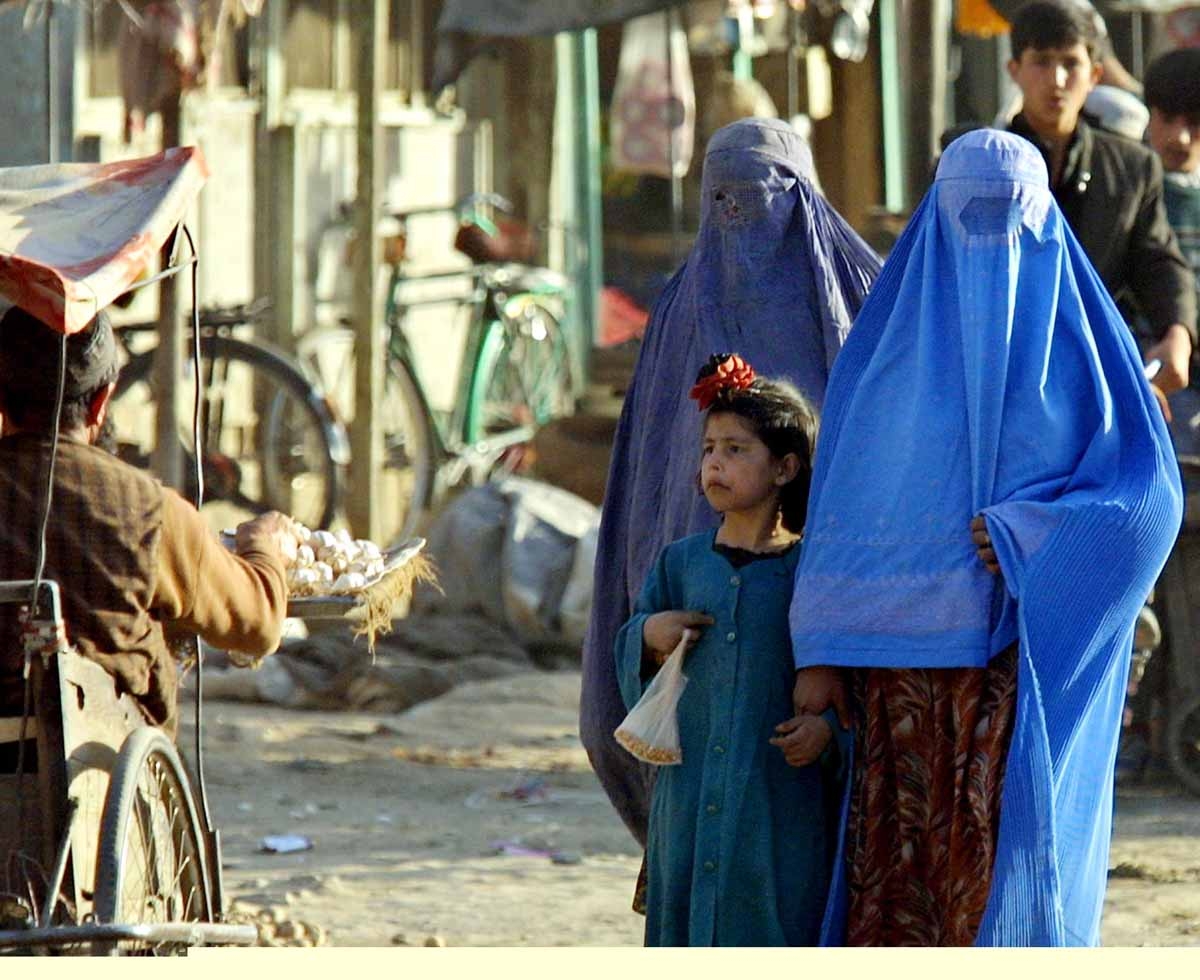 Afghani women walk in Kabul on 14 November 2001. Just a few days before, before the Taliban were chased out, they were forbidden to go outside without close male relatives.: photo by Alexander Nemenov / AFP, 14 November 2001
Colleagues began arriving in droves. AFP sent a text reporter and a photographer from Moscow right away and before you knew it, there were a dozen of us. Kabul became Journalistan. The office was never empty.
I helped out everybody, be it to find lodging, a car, a fixer, or a best way to get somewhere. My best friend opened the Sultan Guesthouse, the first one in Kabul and asked me to join him in the venture. I should have, he ended up making a fortune!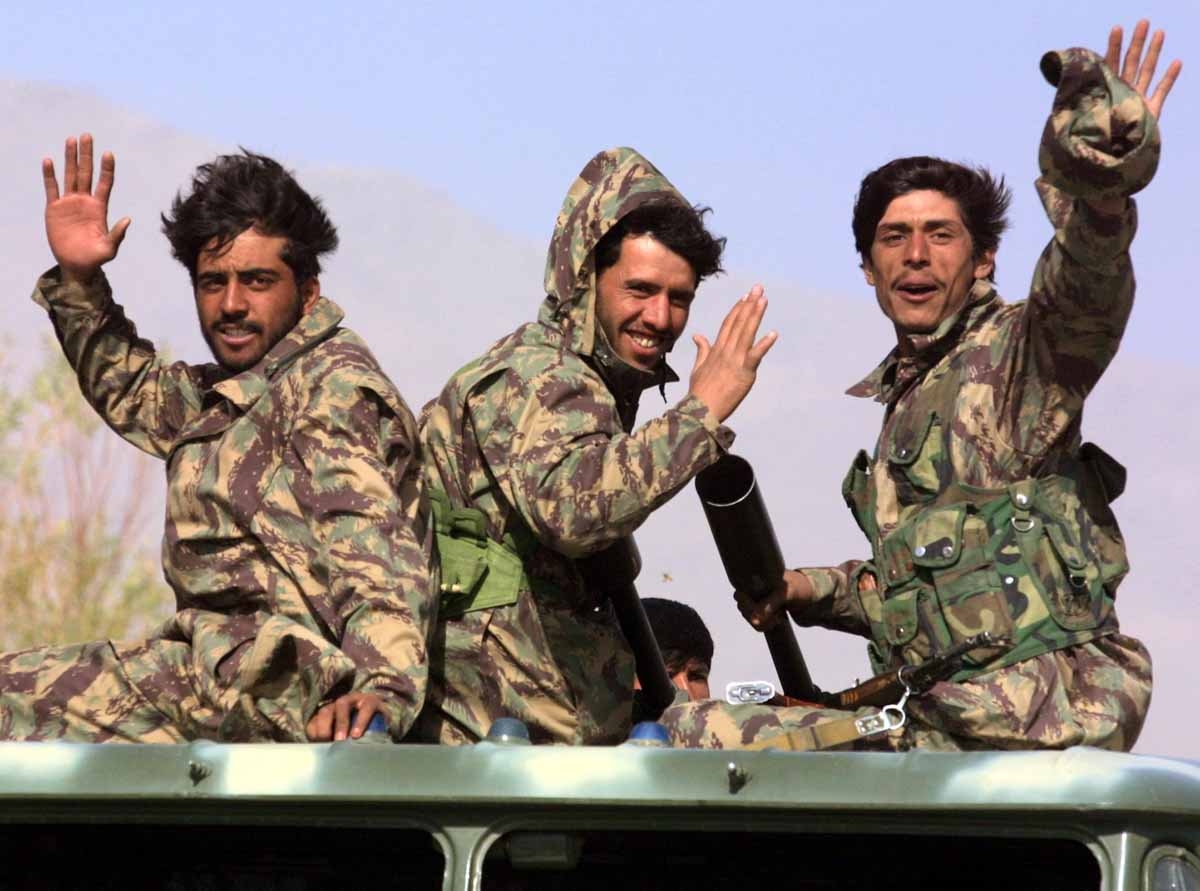 Soldiers of the anti-Taliban Northern Alliance wave on November 12, 2001, a few days before they triumphantly entered Kabul after the fall of the Taliban
: photo by Alexander Nemenov / AFP, 12 November 2001
It was incredible to see all those foreigners after all the years of isolation under the Taliban. They came from everywhere, and groups of children would run ahead of them on the streets. I remember one young man, holding a dollar, repeating over and over: "It's the first dollar that I've ever held!"
It was a time of great hope. The golden years. No fighting in the city. The streets were filled with troops from Britain, France, Germany, Canada, Italy, Turkey. The soldiers would patrol the city on foot, saying hello, relaxed and smiling. I could photograph them as much as I wanted.
You could travel anywhere, south, east, west. Everywhere was safe.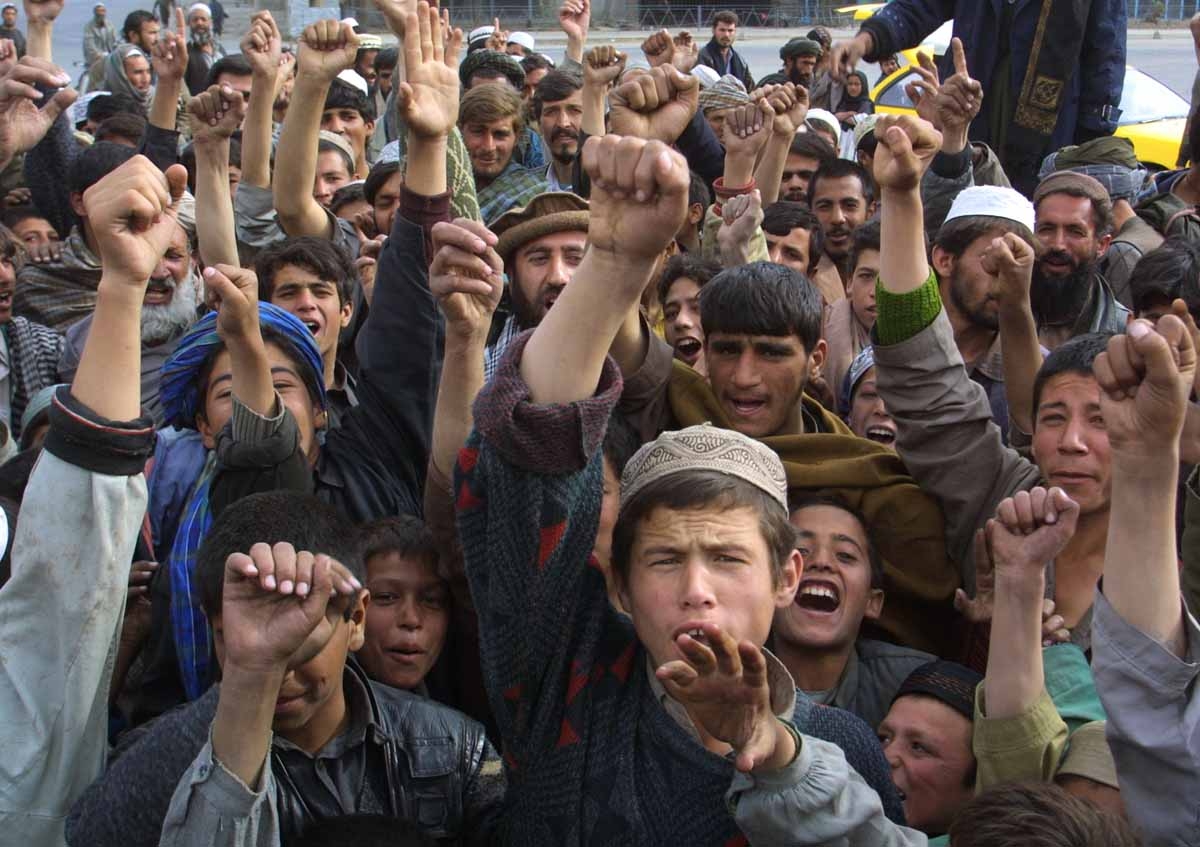 Kabul residents celebrate on November 13, 2001 after the Taliban were chased from the capital
: photo by Alexander Nemenov / AFP, 13 November 2001
And then in 2004, the Taliban came back. First in the Ghazni province in the southeast. Then in 2005 and 2006, they began to spread out, like a virus. Then the attacks started in Kabul, targeting places frequented by foreigners.
The party was over.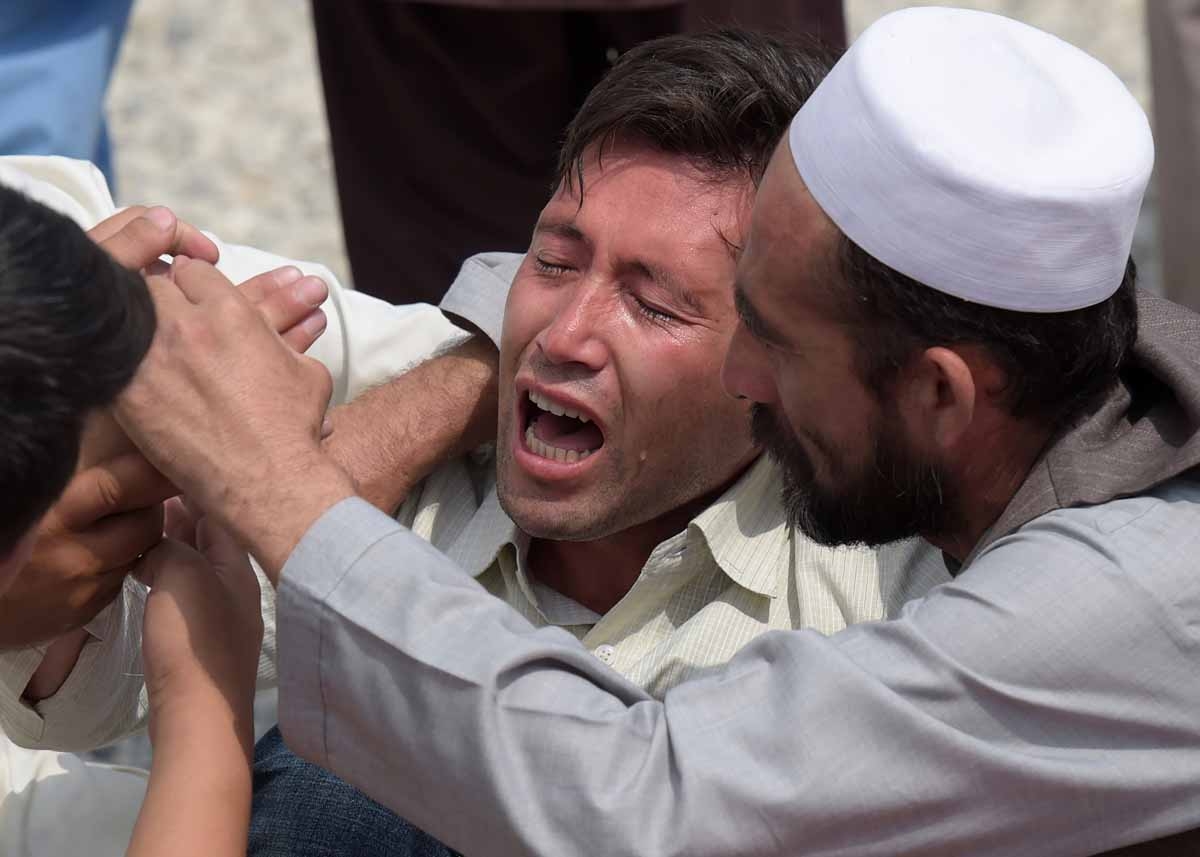 Mourning victims of a twin suicide attack at a mosque in Kabul
: photo by Shah Marai / AFP, July 2016
Today the Taliban are again everywhere and we are stuck in Kabul most of the time. T-Walls, those concrete blocks designed to protect against booby-trapped cars and trucks, have sprouted all over the city. People are no longer friendly toward someone with a camera. Often they become aggressive. People don't trust anyone, especially someone working for a foreign news agency -- 'are you a spy?" they ask.
There is no more hope

Fifteen years after the American intervention, the Afghans find themselves without money, without work, just with the Taliban at their doorstep. With the withdrawal of essential Western troops in 2014, many foreigners have left and have been forgotten, as have the billions of dollars poured into this country.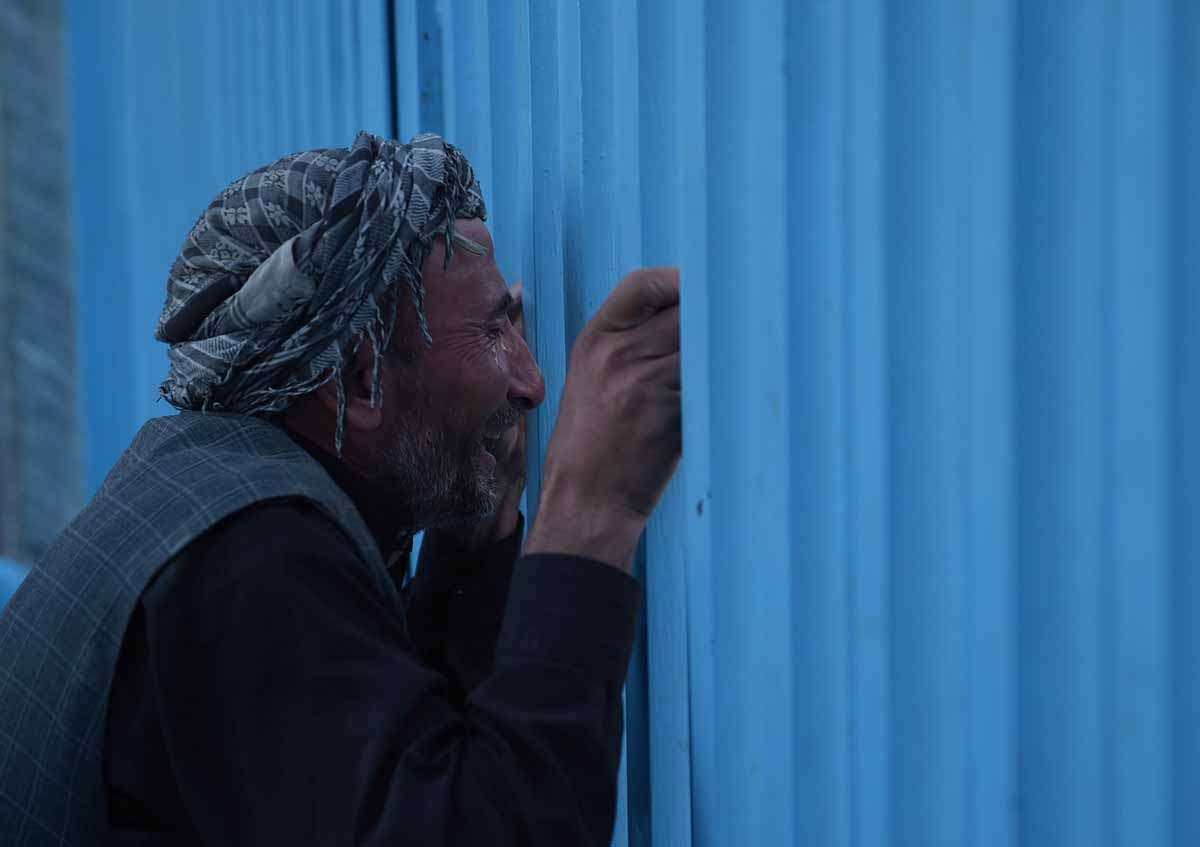 An Afghan man who lost his father in an attack weeps at the main gate of the Karte Sakhi shrine in Kabul
: photo by Shah Marai / AFP, October 2016
I long for those years, immediately following the arrival of the Americans. Of course the city has changed a lot since 2001. New buildings have been built, large avenues have replaced tiny streets. The signs of war have all but disappeared -- except for the old Darulaman royal palace, you won't see a ruin in the city. The stores are full and you can find almost anything.
But there is no more hope. Life seems to be even more difficult than under the Taliban because of the insecurity. I don't dare to take my children for a walk. I have five and they spend their time cooped up inside the house. Every morning as I go to the office and every evening when I return home, all I think of are cars that can be booby-trapped, or of suicide bombers coming out of a crowd. I can't take the risk. So we don't go out. I remember all too well my friend and colleague Sardar, who was killed with his wife and two daughters while on an outing at a hotel, with only his small son somehow surviving the attack.
I have never felt life to have so little prospects and I don't see a way out. It's a time of anxiety.
This blog was written with Anne Chaon in Kabul and translated by Yana Dlugy in Paris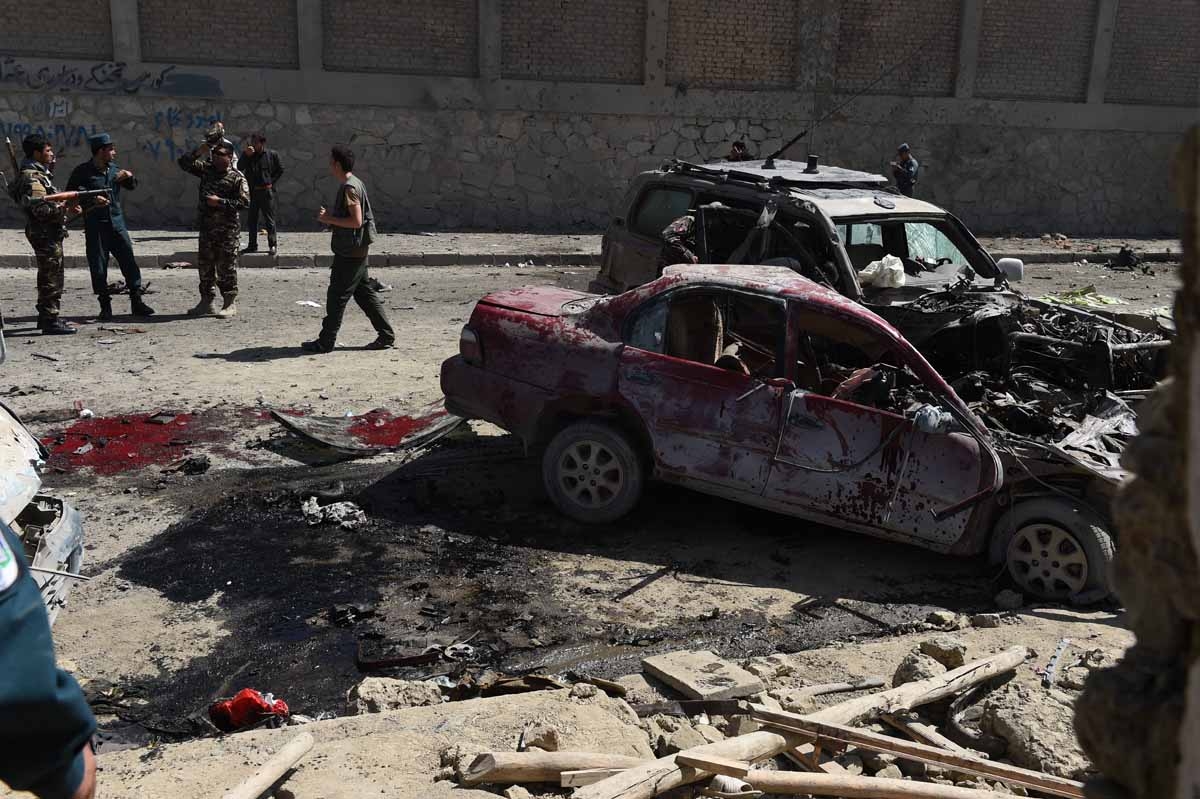 Aftermath of a suicide attack in Kabul
: photo by Shah Marai / AFP, May 2015
Kashmiri fishermen cover their heads and part of their boats with blankets and straw as they wait to catch fish in the waters of the Anchar Lake in Srinagar: photo by Danish Ismail/Reuters, 20 December 2016
Kashmiri fishermen cover their heads and part of their boats with blankets and straw as they wait to catch fish in the waters of the Anchar Lake in Srinagar: photo by Danish Ismail/Reuters, 20 December 2016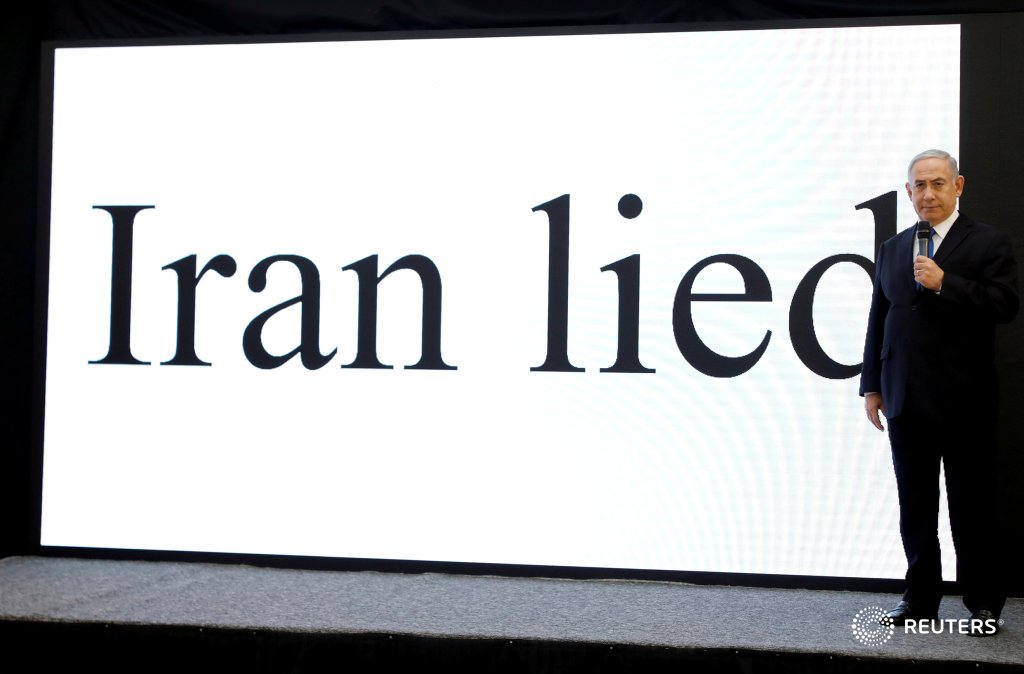 Israeli Prime Minister Benjamin Netanyahu speaks during a news conference, presenting what he said was evidence that Iran had continued gathering nuclear knowledge after a 2015 agreement.: image via Reuters Pictures @reuterspictures, 30 April 2018
Israel says Iran lied on nuclear arms, pressures U.S. to scrap deal: Stephen Farrell, Lesley Wroughton, Reuters, 30 April 2018



TEL AVIV/WASHINGTON (Reuters) - Israeli Prime Minister Benjamin Netanyahu unveiled on Monday what he said was evidence of a secret Iranian nuclear weapons program that could step up pressure on the United States to pull out of a 2015 nuclear deal with Iran.
U.S. Secretary of State Mike Pompeo said the information showed that Iran's leaders lied to their people about a nuclear weapons program known as "Project Amad". But Pompeo declined to say whether the documents provided evidence of a violation of the nuclear deal.
Intelligence experts and diplomats said Netanyahu's presentation, in a prime-time television presentation, did not seem to have a "smoking gun" showing a violation by Iran but it could strengthen the hand of advisers to U.S. President Donald Trump who want to scrap the nuclear agreement.
Most of the purported evidence Netanyahu presented dated to the period before the 2015 accord was signed, although he said Iran had also kept important files on nuclear technology since then, and continued adding to its "nuclear weapons knowledge".
Tehran dismissed Netanyahu as "the boy who cried wolf", and called his presentation propaganda.
As he traveled back from Amman, Jordan, to Washington on Monday, Pompeo told reporters he and Netanyahu discussed the documents in Tel Aviv during a meeting on Sunday.
Pompeo said that while the existence of the Amad nuclear project was known for some time, the new material discovered by the Israelis will help better understand the scope and scale of the program.
He added that the documents make "very clear that at the very least the Iranians have continued to lie to their own people."
Asked whether the information indicated a violation of the Iran nuclear agreement, Pompeo responded: "I'll leave that to lawyers. The president will ultimately have to make a determination about that too."
Trump has threatened to pull the United States out of the international deal unless it is renegotiated by May 12. After Netanyahu spoke, Trump repeated his criticism of the deal, suggesting he backed the Israeli leader's remarks.
At Israel's Defence Ministry, Netanyahu stood in front of stacks of files representing what he described as a vault full of Iranian nuclear documents obtained weeks before.
"Iran lied about never having a nuclear weapons program," he said. "One hundred thousand secret files prove it did. Second, even after the deal, Iran continued to preserve and expand its nuclear weapons knowledge for future use."
Although the presentation was live on Israeli television, Netanyahu made clear his audience was abroad, delivering most of his speech in English, before switching to Hebrew.
Netanyahu said he had shared the intelligence with the United States and would dispatch envoys to France and Germany to present it. He also spoke by phone to Russian President Vladimir Putin.
The White House later acknowledged receiving the information from Israel, saying it was examining it carefully.
"This information provides new and compelling details about Iran's efforts to develop missile-deliverable nuclear weapons. These facts are consistent with what the United States has long known: Iran had a robust, clandestine nuclear weapons program that it has tried and failed to hide from the world and from its own people," the White House said in a statement.
An earlier statement by the White House stated that Iran "has" a clandestine nuclear weapons program before it corrected it to due to what it said was a clerical error.
A 2007 National Intelligence Estimate judged with "high confidence" that Tehran halted its nuclear weapons program in the fall of 2003. The IAEA later reached a similar judgment.
Iran has denied ever seeking nuclear weapons and accuses its arch-foe Israel of stirring up world suspicions against it.
A White House official said the information provided compelling details about "Iran's past efforts" to develop nuclear weapons.
ANALYSTS, DIPLOMATS SKEPTICAL
Under the 2015 nuclear deal struck by Iran and six major powers - Britain, China, France, Germany, Russia and the United States - Tehran agreed to limit its nuclear program in return for relief from U.S. and other economic sanctions.
Trump gave Britain, France and Germany a May 12 deadline to fix what he views as the deal's flaws - its failure to address Iran's ballistic missile program, the terms by which inspectors visit suspect Iranian sites, and "sunset" clauses under which some of its terms expire - or he will reimpose U.S. sanctions.
Much of what Netanyahu presented is unlikely to surprise world powers, which have long concluded that Iran was pursuing atomic weapons before the agreement was signed in 2015. That is in part why they imposed sanctions in the first place.
The French ambassador to Washington, Gerard Araud, tweeted that information about past Iranian nuclear activity was in fact an argument in favor of the nuclear deal, not against it.
A German government spokesman said it was vital to keep the independent inspections provided for under the deal.
Some independent analysts and diplomats said Netanyahu appeared to be presenting old evidence.
A British government spokesman defended the accord, saying in a statement: "We have never been naive about Iran and its nuclear intentions."
"That is why the IAEA inspection regime agreed as part of the Iran nuclear deal is one of the most extensive and robust in the history of international nuclear accords," the spokesman added.
Speaking after Netanyahu's presentation, Trump told a White House news conference the nuclear deal was "a horrible agreement for the United States". He said it would let Tehran develop nuclear arms after seven years and had "proven right what Israel has done today" with Netanyahu's disclosures.
Washington itself has concluded, however, that Iran has not violated the deal's terms. Two U.S. intelligence officials who have monitored Iran's nuclear weapons program for years said nothing in Netanyahu's remarks appeared to contradict that view.
"We have seen no new and credible evidence that Iran is violating the agreement, whether in the Prime Minister's remarks today or from other sources," said one of the officials, both of whom spoke on the condition of anonymity.
Moments before Netanyahu spoke Iranian Foreign Minister Mohammad Javad Zarif tweeted: "The boy who can't stop crying wolf is at it again".
Israel is widely believed to be the only nuclear-armed state in the Middle East, although it neither confirms nor denies possessing atomic weapons.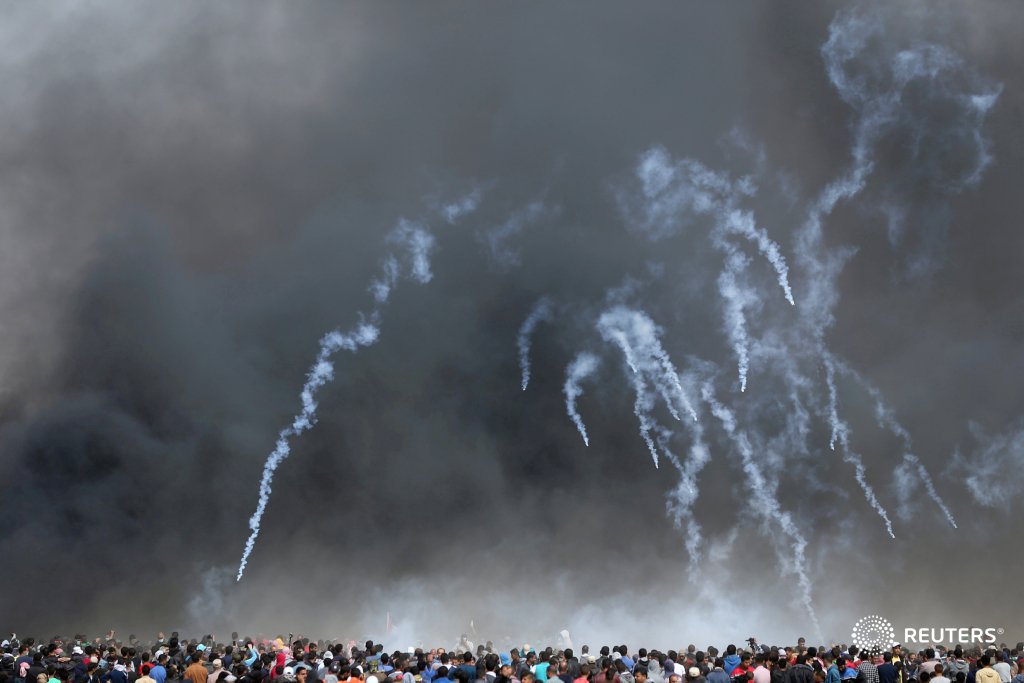 Tear gas fired by Israeli troops at Palestinian demonstrators during clashes at a protest demanding the right to return to their homeland, at the Israel-Gaza border Photo Ibraheem Abu Mustafa: image via Reuters Pictures @reuterspictures, 30 April 2018
Amir Cohen/Reuters, 30 April 2018
Amir Cohen/Reuters, 30 April 2018
But he was lying
JERUSALEM — Revealing a huge archive of stolen Iranian nuclear plans, Prime Minister Benjamin Netanyahu of Israel accused Iran on Monday of lying for years about its efforts to build a nuclear weapon.
Days before President Trump was to decide whether to pull out of the 2015 nuclear deal with Iran, Mr. Netanyahu presented records from a secret warehouse in Tehran, making the case that Iranian leaders had deceived the international nuclear agency when they insisted their nuclear program was for peaceful purposes. Israeli spies seized the documents in an overnight raid in January, a senior Israeli official said.
But Mr. Netanyahu did not provide any evidence that Iran had violated the nuclear agreement since it took effect in early 2016. That suggests that the Israeli prime minister — who has opposed the deal since its inception, and even went to the American Congress to try to block it — was hoping that the disclosures would bolster President Trump's resolve to scuttle the agreement on May 12.
Doing so could be one of the most momentous foreign policy decisions of Mr. Trump's time in office. In recent days, a succession of European leaders, including President Emmanuel Macron of France and Chancellor Angela Merkel of Germany, have come to the White House to make the case that the United States was more secure with the Iran deal than without it. Mr. Netanyahu's presentation seemed intended to push the president in the other direction.
Mr. Trump was coy about his plans. Speaking at a Rose Garden news conference minutes after Mr. Netanyahu's presentation, he gave no indication of whether he would scrap the deal or continue his effort to force the European partners who helped negotiate it — Britain, France and Germany — to try to reopen it.
"In seven years, that deal will have expired, and Iran will be free to make nuclear weapons," Mr. Trump said, incorrectly stating the terms of the deal. While some restrictions on Iran are relaxed starting in about seven years, Iran cannot make nuclear fuel until 2030, and it is never permitted to make nuclear weapons: It has signed the Nuclear Nonproliferation Treaty, which bans it from weapons production. "Seven years is tomorrow," Mr. Trump added.
Iran's deputy foreign minister, Abbas Araghchi, a top Iranian negotiator of the nuclear agreement, called Mr. Netanyahu's remarks "a very childish and even a ridiculous play."
In a telephone interview with state-run television, he said Mr. Netanyahu's presentation was "a prearranged show with the aim of impacting Trump's decision, or perhaps it is a coordinated plan by him and Trump in order to destroy the J.C.P.O.A.," the Joint Comprehensive Plan of Action, the nuclear agreement's formal name.
Mr. Netanyahu, in a highly theatrical presentation from the Israeli Defense Ministry in Tel Aviv, played clips of Iranian leaders repeatedly attesting that their country harbored no ambition for building nuclear weapons — and then pointed to photos, videos, blueprints and other evidence Israeli agents had harvested, he said, that showed the Iranians had been deceitful all along.
"These files conclusively prove that Iran is brazenly lying when it said it never had a nuclear weapons program," Mr. Netanyahu said, pointing to copies of what he said were 55,000 printed pages and 183 compact discs.
He said Israel had passed the information on to the United States, which "can vouch for its authenticity."
Mr. Netanyahu said that Iran had intensified its efforts to hide evidence of its weapons program after signing the nuclear deal in 2015, and in 2017 moved its records to a secret location in Tehran that looked like "a dilapidated warehouse."
"Few Iranians knew where it was, very few," Mr. Netanyahu said proudly. "And also a few Israelis."
The senior Israeli official, who spoke on the condition of anonymity to discuss a secret mission, said that Israel's Mossad intelligence service discovered the warehouse in February 2016, and had the building under surveillance since then.
Mossad operatives broke into the building one night last January, removed the original documents and smuggled them back to Israel the same night, the official said.
President Trump was informed of the operation by the Mossad chief, Yossi Cohen, on a visit to Washington in January, the official said. The official attributed the delay in making the material public to the time it took to analyze the documents, the vast majority of which were in Persian.
But the Iranian program to design and build nuclear weapons was hardly a secret; its existence was the reason that the United States, under President George W. Bush and then President Barack Obama, moved to block it. Both presidents said publicly that Iran had a bomb project underway, and the United States mounted, with Israel, a vast covert program to undermine the Iranian effort with one of the world's most sophisticated cyberattacks.
American intelligence agencies concluded in 2007 that Iran suspended the active portion of the bomb effort after the beginning of the Iraq war, in 2003, and Mr. Netanyahu confirmed that in his presentation. But he said that other elements of what Iran had called "Project Amad" went ahead, directed by Mohsen Fakhrizadeh, an Iranian scientist.
The documents he showed were not the first to leak out of the Iranian archives, or to document Mr. Fakhrizadeh's role.
A decade ago, in early 2008, the chief inspector of the International Atomic Energy Agency gathered diplomats from around the world to a meeting at the agency's Vienna headquarters and showed them images from a similar trove, including sketches of bomb designs and memos and budget documents from Mr. Fakhrizadeh's project. That presentation included sketches of a "spherical device" that could be detonated using high explosives, similar to plans Mr. Netanyahu showed on Monday.
The I.A.E.A. presentation included documents showing the arc of a missile that detonates a warhead at an altitude of about 600 meters, roughly that at which the Hiroshima bomb was detonated.
Mr. Netanyahu went beyond that on Monday, and brandished what he described as Iranian plans to build up to five nuclear weapons.
But he cited no evidence that those plans were pursued.
Under the nuclear deal that Secretary of State John Kerry reached in the summer of 2015 in Vienna, Iran was required to ship about 97 percent of its nuclear fuel out of the country — a task it accomplished the next year — and to dismantle all but a small portion of the nuclear centrifuges that enrich uranium.
Mr. Netanyahu's best case for a violation of the Iran deal came when he insisted that the Iranians had falsified their declarations to the I.A.E.A. in late 2015, by denying they had ever planned to build a weapon.
Still, even that would come as little shock to those who negotiated the deal: In effect, the agreement was made possible by allowing Iran to lie about the past, while imposing verification on it for the future.
"There is nothing new in Bibi's presentation," Rob Malley, a former senior official in Mr. Obama's National Security Council and a member of the negotiating team with Iran, wrote in a Twitter post on Monday, using Mr. Netanyahu's nickname. "All it does is vindicate need for the nuclear deal."
"But," Mr. Malley continued, "the Israeli prime minister has an audience of one: Trump."
On Monday night, Secretary of State Mike Pompeo said that American intelligence agencies had been going through the material, concluded that it was authentic and that "at the very least the Iranians continued to lie to their own people" about the existence of a nuclear weapons program.
But he conceded that the material dated to a project that had formally ended around 2003. Asked whether there was evidence that Iran was in violation of the 2015 accord, Mr. Pompeo said, "I'll leave that to the lawyers, and the president will ultimately have to make a determination about that, too." But he added that Iran's refusal to turn over the archive voluntarily to international inspectors showed that the country could not be trusted with nuclear materials after the 2015 accord expires.
A former senior Israeli intelligence official said the documents were significant because they revealed that Iran's nuclear program "was a far larger project" than anyone knew, and proved that the Iranians were "on a clear path to the bomb." The official said that while none of the documents were currently operational, they provided a sort of lending library for future generations of Iranians who might want to build a nuclear weapon when restrictions in the agreement expire.
Mr. Netanyahu had a spring in his step as he strode back and forth in front of a large projection screen and yanked back a black cloth to reveal shelves and cases stacked with copies of what he said was the evidence his spies had retrieved. He described the cache, which he said amounted to a half ton of documents, as "one of the biggest intelligence achievements ever by the state of Israel."
He is awaiting what is likely to be an indictment on corruption charges. He is damaged politically, and has counted for his political survival on being seen as the only leader who can be trusted to keep Israelis safe. He has been agitating single-mindedly against the nuclear deal, even at the risk of fraying Israel's close ties with the United States during the Obama administration.
Iranian diplomats greeted Mr. Netanyahu's accusation with derision.
"Ha, ha, ha," said Mohammad Marandi, a University of Tehran professor who is close to Iran's leaders and participated in the nuclear talks in Vienna. He said that Israel had "fabricated evidence" before and might have again. He called the timing of the Israeli disclosure suspect, and raised the idea that it might have been orchestrated in cooperation with the Trump administration.
"It's very convenient to bring this up two weeks before the decision on the nuclear deal is made," Mr. Marandi said. "No one in their right mind will take this seriously, unless there is a prearranged deal with the White House."
The senior Israeli official also said that Israel's government believed that Mr. Trump had already decided to abandon the nuclear agreement. Israel was thus not hoping to "pressure" Mr. Trump by publicizing evidence of Iran's lies but rather to "support" him, the official said.
The official also said that Mr. Netanyahu had intended to publicize the Iranian nuclear files a day later, but moved it up partly in response to missile s

t

rikes in Syria late Sunday night, for which suspicion has fallen on Israel. The Israeli government calculated that Iran would feel less confident in retaliating militarily, possibly setting off a full-fledged regional war, if it were on the defensive in the international arena.
S
ool photo by Thomas Coex, 29 April 2018
S
ool photo by Thomas Coex, 29 April 2018
AMMAN, Jordan — Secretary of State Mike Pompeo, speaking in Jordan at the end of a four-day, four-nation tour through the Middle East, expressed support on Monday for Israel and its response to weekly protests in Gaza that have left dozens of people dead.
"We do believe the Israelis have the right to defend themselves, and we're fully supportive of that," he said at a news conference with Ayman Safadi, the Jordanian foreign minister, when asked about the protests.
Mr. Pompeo, the former C.I.A. director who headed overseas almost immediately after he was sworn in as secretary of state on Thursday, also refused to fully endorse the two-state solution, the longtime policy of the United States before the Trump administration, to the Israeli-Palestinian conflict.
"With respect to the two-state solution, the parties will ultimately make the decision about what the right resolution is," he said. "We're certainly open to a two-party solution as a likely outcome. We certainly believe the Israelis and Palestinians need to have political engagement. We urge the Palestinians to return to that political dialogue."
Mr. Pompeo's remarks came a day after he met with Prime Minister Benjamin Netanyahu of Israel, but there were no discussions with Palestinian leaders, who have cut off political contact with the Trump administration.
Mr. Safadi said that resolving the Israeli-Palestinian conflict was the key to peace and stability in the Middle East, a long-held view by many in the region. Jordan is a crucial American ally — Mr. Pompeo's predecessor, Rex W. Tillerson, signed an agree

m

ent in February that guaranteees Jordan nearl

y

$1.3 billion in annual assistance for the next five years, recognizing the country's role in fighting extremism and taking in Syrian refugees — but on this issue, Mr. Pompeo did not entirely agree.
Mr. Pompeo called the conflict "important," but he added, "So, precisely how to rank it among all the various challenges, I'll defer on that. I know that it is an incredible priority for the United States to provide whatever assistance we can to allow the two parties to come to a resolution to this incredibly longstanding and important conflict."
Protesters in Gaza have massed along the border with Israel for five straight Fridays, part of a series of demonstrations intended to draw attention to the situation for Palestinians, leading up to a final demonstration on May 15, when perhaps tens of thousands of people might rush the fortified barrier with Israel.
Initially advertised by Hamas, the militant group that runs Gaza, as peaceful protests, they have been marked by the use of homemade fire bombs by Palestinians and deadly force on the part of Israel.
In the most recent demonstrations, on Friday, at least four people were killed and more than 1,000 others were wounded when Israeli troops fired on protesters who tried to crash through a security barrier and cross into Israel.
Mr. Pompeo's principal message at every stop on the trip has been that Iran, which supports President Bashar al-Assad of Syria and the Lebanese militant group Hezbollah, is involved in "malign activities" in the region.
During his confirmation hearings, Mr. Pompeo said that he wanted to preserve the Iranian nuclear accord, which was signed in 2015 and restricts Tehran's ability to engage in the activities necessary to make nuclear weapons.
As the days have worn on, however, his comments about the nuclear deal have become increasingly critical. President Trump is widely expected to withdraw the United States from the accord on May 12, although he has coyly refused to preview his decision.
The Iranian supreme leader, Ayatollah Ali Khamenei, responded to Mr. Pompeo on Monday, castigating the United States and accusing the Americans of trying to pit Saudi Arabia and other countries in the region against Tehran.
"They should not be deceived by the United States," Ayatollah Khamenei said, according to remarks quoted by the state

-

run Press T

V

. "The Americans do not want to suffer the cost of confronting the Islamic Republic and the powerful nation of Iran themselves; they want to make some states in the region shoulder it."
Mr. Pompeo has also met with NATO officials in Brussels, where expressed support for the alliance amid conflicting signals from Mr. Trump, and with the Saudi leadership, where he called for the country to end its feud with Qatar.
Abody Ahfad Khaled, via Reuters,

30

April 2018
Abody Ahfad Khaled, via Reuters,

30

April 2018
Missile Attack in Syria Reportedly Kills at Least 16, Raising Regional Tensions: Ben Hubbard, The New York Times, 30 April 2018
BEIRUT, Lebanon — The missiles struck after dark, hitting facilities in Syria where Iran and its militant proxies had set up camp, setting buildings on fire and causing an explosion so large that it shook the ground like a minor earthquake.
But neither the presumed attacker, Israel, nor the reported victims, Iran and its allies, said much as the dust settled on Monday. Both sought to manage the escalation in the battle between them that has been building for years in the shadows of the war in Syria.
The strikes hit a munitions storage site on Sunday, destroying a cache of missiles and killing at least 16 people, many of them Iranians, according to a conflict monitoring group and one of Iran's regional allies. Other reports suggested higher death tolls.
Much more was at stake, however, as Iran and its foes in the region — Israel, Saudi Arabia and the United Arab Emirates — compete for power in the Middle East while trying to subvert their enemies' plans.
The increased military action and heated language has raised worries that the increasing tensions could set off a new war.
"There is now so much friction between the sides that it is very natural that a single miscalculation across the board on one of these flash points could spiral out of control," said Ali Vaez, director of the Iran Project at the International Crisis Group.
Amplifying these tensions, he said, was the looming May 12 deadline by which President Trump has said he will decide whether to pull the United States out of the international agreement to curb Iran's nuclear program.
Iran has sought to preserve the deal, which gives it significant sanctions relief, while the United States' regional allies have campaigned to have it scrapped to punish Iran for what they see as its destabilizing activities across the Middle East.
They appear to have clear support from the Trump administration in their efforts to confront Iran.
On a phone call hours before Sunday's strike, Mr. Trump spoke by phone with Prime Minister Benjamin Netanyahu of Israel about "the continuing threats and challenges facing the Middle East region, especially the problems posed by the Iranian regime's destabilizing activities," according to a statement from the White House.
The new secretary of state, Mike Pompeo, who was visiting Israel at the time, said in a news conference with Mr. Netanyahu that American coordination with its allies was "critical to our efforts to counter Iran's destabilizing and malign activities throughout the Middle East."
"The United States is with Israel in this fight, and we strongly support Israel's sovereign right to defend itself," Mr. Pompeo said.
But it was not clear whether American officials were informed before the strikes took place.
The rivalry between Iran and its regional rivals cuts across the Middle East, from Lebanon and Syria to Iraq, Yemen and the Persian Gulf.
Analysts say that Iran, which has few powerful allies and shares a region with hostile countries that spend much greater sums on their militaries, has instead built relationships with proxy forces that can fight on its behalf. These include Hezbollah, the Lebanese militant group and political party; a variety of Shiite militias in Iraq; and the Houthi rebels in Yemen.
This network allows Iran to project military strength abroad while deterring potential attacks on its homeland from Israel and Saudi Arabia.
Iran's enemies argue that these activities increase instability in the region by undermining state structures and empowering militias that operate above the law.
In recent years, Iran's greatest investments have been in Syria, where it has sent military officers to help preserve the government of President Bashar al-Assad. Israel accuses Iran of using the cover of the war to build a military infrastructure there that could be used in a confrontation with Israel.
Throughout the war, Israel has frequently struck convoys believed to be carrying weapons to Iran's regional allies. In April, these attacks escalated. It first launched strikes on a Syrian military base, killing seven Iranians, including a top official in Iran's drone program.
Sunday night's attack appeared to be a further escalation, with a higher death toll.
The Syrian Observatory for Human Rights, which is based in Britain but monitors Syria through contacts there, said that the attacks killed at least 26 people, most of them Iranians.
The strikes hit munitions warehouses at the 47th Brigade military base in central Hama Province that Iran and its proxies used, destroying ground-to-ground missiles and causing large explosions, the observatory said.
The blast was large enough that it was picked up by earthquake monitors. The European-Mediterranean Seismological Center reported a disturbance in the area of the base with a magnitude of 2.6, it said, equivalent to a minor earthquake.
Other reported attacks struck a fire station, also in Hama Province, and the Neirab military air base near Aleppo. But no deaths or significant destruction was reported that those sites.
An official from the regional alliance that includes Iran, Syria and Hezbollah confirmed that the strikes near Hama had hit a storage site on the base and said they had destroyed 200 missiles and killed 16 people, including 11 Iranians. The official spoke on the condition of anonymity because he was not authorized to speak to journalists.
Neither Israel nor Iran appeared interested in publicizing the strike, which analysts said was probably an effort to diminish the chances that Iran would feel the need to retaliate immediately.
Israel's military does not comment on individual attacks in Syria, and a spokesman declined to comment on Sunday's attack, most likely because if Israel claimed responsibility it could put pressure on Iranian leaders to strike back. Israel's security cabinet convened an emergency meeting on Monday, apparently to discuss the rising tensions with Israel's northern neighbors.
A semiofficial Iranian news agency, ISNA, initially said that 18 of 40 people killed in the attacks were Iranian, but the report was later taken down and Iranian officials denied that any of their people had been killed.
That, too, could have been so that Iranian leaders would not feel compelled to respond immediately, said Amos Yadlin, the former director of intelligence for the Israeli military and now executive director of the Institute for National Security Studies in Tel Aviv.
"If there are no Iranian casualties, you are not committed to retaliation," Mr. Yadlin said in a conference call with reporters on Monday.
But he said he expected that Iran would eventually respond to the April attacks, although it was not clear when, where or how.
"The Iranian retaliation is on its way," he said.
Mr. Vaez, the analyst, said that his recent conversations with Iranian officials also suggested that Iran would eventually retaliate for Israel's strikes on Iranian assets in Syria.
"They believe that this is a slippery slope, that there is a need to send a message to Israel that there is a cost associated with its pushing the envelope too far," he said.
But influencing their decision on when to respond was their concern that any action taken now could push Mr. Trump toward withdrawing from the nuclear agreement, Mr. Vaez said, adding that Israel's decision to strike on Sunday might have been intended to provoke an Iranian response for that very purpose.
"We are in a vicious cycle, and the reality is that the collapse of the nuclear deal will significantly increase all these tensions," Mr. Vaez said. "All the parties will take the gloves off at that stage."
Pompeo and Palestinians Have 'Nothing to Discuss' Amid Gaza Crisis: Gardiner Harris and Isabel Kershner, The New York Times, 29 April 2018
TEL AVIV, Israel — Secretary of State Mike Pompeo came to Israel Sunday in the midst of the worst crisis in relations between Israelis and Palestinians in years, but he did not meet a single Palestinian representative and mentioned them publicly once.
For decades, American diplomats saw themselves as brokers between the two sides, and secretaries of state typically met Palestinian representatives on regional tours like this one. When relations between the two sides deteriorated, the United States sought to bridge the divide.
No one at the State Department called Palestinian leaders to ask for a get-together with Mr. Pompeo, according to Palestinian officials. And that may be because the Americans knew the answer they would have gotten: No.
Infuriated by President Trump's decision in December to recognize Jerusalem as the capital of Israel, paving the way for the United States to move its embassy from Tel Aviv to the contested holy city, Palestinian leaders have cut off political contacts with the Trump administration. They say the White House can no longer be considered an honest broker in the Israeli-Palestinian peace process.
"There's nothing to discuss," said Xavier Abu Eid, a senior official of the Palestine Liberation Organization's Negotiations Affairs Department.
In a remarks Sunday in Tel Aviv while standing next to Prime Minister Benjamin Netanyahu, Mr. Pompeo mentioned that the boundaries of Jerusalem should still be the subject of negotiations between the parties. "We remain committed to achieving a lasting and comprehensive peace that offers a brighter future for both Israel and the Palestinians," he said.
But the escalating pro

t

ests along the border between Gaza and Israel — which have led to hundreds of injuries and 46 deaths and have generated global sympathy for the Palestinian cause — went unmentioned.
"No meeting in Ramallah on his first visit sets an ominous tone about prospects for any progress, or even dialogue, with the Palestinians," said Daniel B. Shapiro, an American ambassador to Israel during the Obama administration.
Aaron David Miller, a former negotiator for the United States in the Middle East, said Mr. Pompeo's seeming indifference toward the Palestinians "at the very least suggests a casual disregard of the Israeli-Palestinian explosion that may be building and the U.S.'s inability or unwillingness to influence the course of events."
Instead of discussing the Palestinian issue, Mr. Pompeo's focused message on his sweep through the region has been a denunciation of Iran. He met with Saudi leaders on Saturday and Sunday morning, and they all agreed that Iran is a destabilizing force. He met on Sunday afternoon with Mr. Netanyahu, who blistered Iran alongside Mr. Pompeo.
And on Monday, he is scheduled to meet King Abdullah of Jordan in Amman, when Iran is again likely to be the most important subject of conversation.
In two weeks, Mr. Trump is expected to walk away from the Iran nuclear accord, which he has denounced as "the worst ever." Countering Iran has become one of the few unambiguous policy themes of the administration.
Mr. Trump and his advisers disagree on how to confront Moscow. A potential trade war with China has caused deep unease across the Midwest. The administration's policy on Syria is in flux. And North Korea's leader, Kim Jong-un, is suddenly looking like a statesman.
But there is consensus that Iran needs to be opposed, and Mr. Pompeo hammered away at them Sunday.
"We remain deeply concerned about Iran's dangerous escalation of threats to Israel and the region, and Iran's ambition to dominate the Middle East remains," Mr. Pompeo said beside a delighted Mr. Netanyahu. "The United States is with Israel in this fight. And we strongly support Israel's sovereign right to defend itself."
As for the nuclear accord, "President Trump made it pretty clear: This deal is very flawed," Mr. Pompeo said.
"He's directed the administration to try to fix it," he said. "And if we can't fix it, he's going to withdraw from the deal. It's pretty straightforward."
Mr. Netanyahu agreed. "Mr. Secretary," he said, "I think the greatest threat to the world and to our two countries — and to all countries — is the marriage of militant Islam with nuclear weapons, and specifically the attempt of Iran to acquire nuclear weapons."
United States officials and international inspectors agree that Iran is abiding by the nuclear deal, which has substantially degraded the country's ability to pursue nuclear weapons. Iranian officials have said the country may restart its nuclear program if the United States withdraws from the nuclear accord.
On May 14, the 70th anniversary of the establishment of Israel, the United States will formally open its embassy in Jerusalem, and a host of American dignitaries are expected. Mr. Trump has suggested he may come.
But that opening also coincides with the time that Palestinian protests are expected to crest, coming on the eve of the Palestinian commemoration of the Nakba, or "catastrophe," when hundreds of thousands of Palestinians were expelled or fled their homes and became refugees during the hostilities surrounding Israel's creation in 1948.
The first senior American official to feel the Palestinians' furor over the Jerusalem decision was Vice President Mike Pence, who postponed what was expected to be an emotional visit over the Christmas holidays after several Christian leaders in the region refused to meet him. When he finally made it in January, the Palestinian Authority, led by President Mahmoud Abbas, boycotted him.
Since nothing has been done to assuage the Palestinians in the meantime, Mr. Pompeo could have expected the same treatment.
"We refused to see Mr. Pence twice," said Nabil Shaath, an Abbas adviser on international relations. He added: "We have declared our position and we don't accept an American role in unilaterally controlling the peace process. To us, Trump is irrelevant, whether he announces the deal of the century or not."
On Monday, the Palestine National Council, the P.L.O.'s legislative body, is scheduled to hold its first formal meeting in nine years. If Mr. Pompeo had a strategy to bridge the divide, he could hardly have picked a better moment to address the movement's leadership.
Instead, he will fly home Monday after seeing King Abdullah.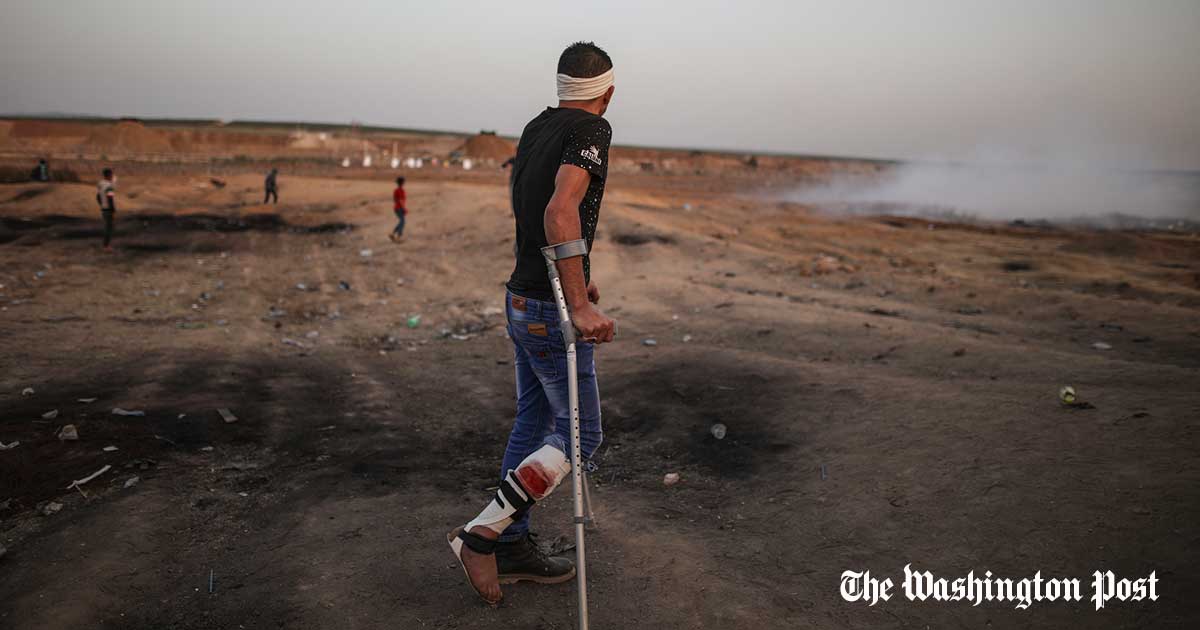 Israeli gunfire is taking a severe toll on the lower limbs of Palestinian protesters: image via Washington Post @washingtonpost, 28 April 2

018
The desert moves like a museum made of light moving silently on huge well-oiled self-driving invisible wheels.
Its mighty magnitude goes on and on.
But that doesn't make living in the same galaxy as Bibi and Mike Pompeo ok.
They remind me of every malevolent in a hurry to get to the money driver on the freeway feeder.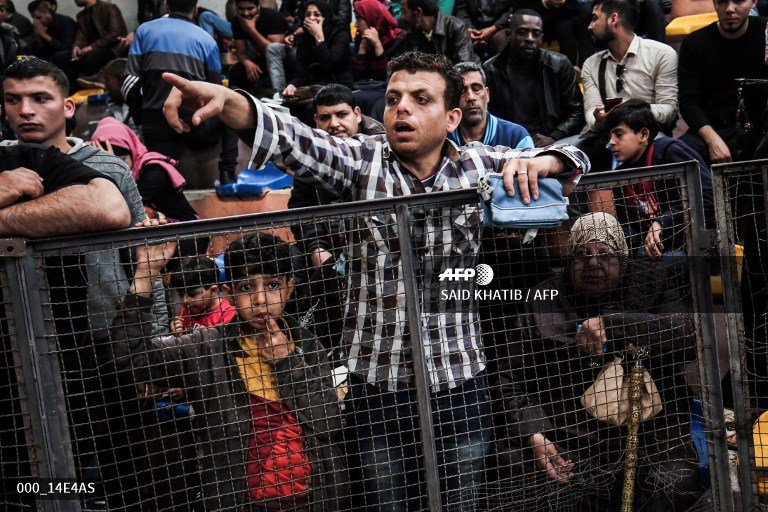 GAZA STRIP - Palestinians wait for travel permits in Khan Yunis to cross into Egypt from the Rafah border crossing in the southern Gaza Strip , after it was opened for three days to allow humanitarian cases to pass. Photo @saidkhatib #AFP: image via Frédérique Geffard @fgeffardAFP, 28 April 2018
Wissam Nassar for The New York Times, 29 April 2018
Wissam Nassar for The New York Times, 29 April 2018
For Gaza Protester, Living or Dying Is the 'Same Thing': Iyad Abuheweila in Gaza and David M. Halbfinger in Jerusalem, The New York Times, 29 April 2018
GAZA CITY — No one would ever pick out Saber al-Gerim from the crowds of Palestinians demonstrating against Israel along the heavily guarded fence that has helped turn the Gaza Strip into an open-air prison.
Not for his youthful appearance. At 22, he wears ripped jeans and white sneakers, has a modish haircut and carries a few extra pounds from too many months without work.
Not for his anger. Screaming "Allahu akbar!" and hurling stones with a sling, or straining to pull a cable hooked onto Israel's barbed-wire barrier in hopes of tearing it apart, he is just one in a fevered multitude, a protagonist in nobody's drama but his own.
Not even for his willingness to risk death, or his dream of going home to a patch of land he has never seen and cannot really visualize.
But zoom in on this man: A beggar's son, just a few yards from Israel, and squarely in the line of fire. Soldiers, the only Israelis Mr. Gerim has ever seen this close, can be spotted through the smoke of burning tires, moving about in their foxholes atop tall sand berms, occasionally launching tear-gas barrages, sometimes using live fire. Over a loudspeaker, one warns Palestinians to retreat or risk death
Mr. Gerim, well within range, and resting between slinging stones, shouts back: "We want to return!"
Say what you will about root causes and immediate ones — about incitement and militancy, about siege and control, about who did what first to whom — one thing is clear.
More than a decade of deprivation and desperation, with little hope of relief, has led thousands of young Gazans to throw themselves into a protest that few, if any, think can actually achieve its stated goal: a return to the homes in what is now Israel that their forebears left behind in 1948.
In five weeks of protests, 46 people have been killed, and hundreds more have been badly wounded, according to the Gaza health ministry.
With its 64 percent unemployment rate among the young, Gaza, under a blockade maintained by Israel and Egypt for years, presents countless men like Mr. Gerim with the grimmest of options.
They can seek an education in preparation for lives and careers that now seem out of reach, and hope for a chance to eventually emigrate. They can join groups like Hamas or Islamic Jihad, devoting themselves to armed conflict with Israel in return for a livelihood and a sense of purpose and belonging. Or they can stay home, staving off boredom by smoking shisha, a tobacco-molasses mix, or stronger stuff, and wait for things to change.
Mr. Gerim considers himself neither a terrorist nor a freedom fighter. He is not much for prayer or for politics; he says he does not belong to Hamas or Fatah or any other faction. He is a young man with nothing to do, for whom the protests have offered a chance to barbecue with friends late into the night, sleep late most mornings, make himself useful while singing songs of love or martyrdom or an end to suffering, and lash out at a hated enemy all afternoon.
S
Wissam Nassar for The New York Times, 29 April 2018
S
Wissam Nassar for The New York Times, 29 April 2018
"It doesn't matter to me if they shoot me or not," he said in a quiet moment inside his family's tent. "Death or life — it's the same thing."
The protests, with an outdoor festival's schedule of fun and games, performances and creative programming — and carnage every Friday — is meant to build to a climax on May 15, the day Palestinians mark the Nakba, or catastrophe, of their flight and expulsion when Israel was established 70 years ago.
The protest, which grew out of a young activist's Facebook page and was a grass-roots initiative before being embraced, organized and publicized by Hamas, the militant Islamist group that rules Gaza, has hardly scared the Israelis into altering their basic policy. Israel continues to treat the tiny coastal enclave like a deadly virus to be quarantined and, other than that, more or less tunes it out.
But it has been a success in one important respect: It has cast a light onto the unsolved problem that is Gaza, and reminded a world that had seemed to move on to more urgent crises that its two million people, deprived of clean water, freedom of movement and a steady supply of electricity, are sliding steadily into despair.
Mr. Gerim is typical in another way: He does not think of Gaza as his home, but he has no idea what home is.
His grandmother, Haniya al-Kurdi, 80, was a little girl when her family left what is now Ashdod, Israel, in 1948. She has never been back, but has heard that there is a coffee shop next to where her home was. The closest anyone else in the family has gotten was in 2013, when Mr. Gerim's sister, Sabreen, now 26, contracted cancer and was allowed to spend a year in Tel Aviv getting treatment. On the way there, her mother, Iktimal al-Gerim, asked their driver to point out Ashdod to them from the highway.
For Mr. Gerim, the family's old property is an idea more than a place he can actually picture.
Israelis themselves he has had more experience with. When he was about 10, before the Israelis evacuated their Gaza settlements in 2005, Mr. Gerim climbed a tree outside his grandfather's house to get a better look at the soldiers a few hundred yards away. Then he fell to the ground and broke his right hand.
He has been as enterprising, and as ill-starred, ever since.
He used to raise pigeons and chickens on his family's roof, for fun and for food — until an Israeli airstrike hit a neighbor's house and it collapsed on the coop, killing all of his birds.
He sometimes dreams of working in an automobile-manufacturing plant, of traveling overseas to learn how to build cars, then coming back to Gaza to make them. But the closest he has ever gotten is loading tuk-tuks — motorcycles with cargo beds — or handling a pushcart to distribute sacks of donated flour, sugar and other staples to his fellow refugees.
In the autumn, Mr. Gerim sometimes harvests olives. When there is construction work, he looks for chances to lay bricks or pour concrete. He has never had a regular job.
He is stoic for a 22-year-old, though this may be an acquired response to adversity: His father is mentally ill, Mr. Gerim says, given to flying into destructive rages over the slightest disappointments. His family — two younger brothers, their sister and their parents — all share a single room with a tile floor and blankets but no beds. The kitchen floor is sand. The family's debts are choking them, he says.
Mr. Gerim's industriousness shows at the protests, as does his stoicism.
On Thursday, he arrived early at his family's tent, a roomy contraption that was provided to them by the protest's organizers, and set about sweeping the tarpaulin floor for the first of several times, before building a fire and cooking eggplants and tomatoes that city workers were distributing to the needy.
At lunch, a charity handed out meals of chicken and rice, and then Mr. Gerim swept the floor of crumbs and bones, singing a love song as he did.
He has no girlfriend, and no hopes of marrying. "There is no money, no work," he explained. "Marriage is not free."
After lunch, he walked up to the fence for a quick look across at the Israeli soldiers, then foraged for firewood. He dragged a six-foot log more than a quarter-mile back to the tent, and broke it apart with his hands and feet.
Later, he assembled kites from sticks, clear plastic and paper — and talked about attaching soda cans to them stuffed with gasoline-soaked rags, to sail over the fence and maybe set something or someone on fire.
At 10 p.m., he and his friends began barbecuing a feast for 12. It didn't end until 2:30 a.m. It takes a long time to cook 22 pounds of chicken wings on a grill about 18 inches across.
Sitting around the fire, a friend named Abu Moaz, 25, said he wanted to use a kite to drop leaflets in Hebrew and Arabic warning Israeli soldiers to "evacuate your houses and return to the countries from which you came."
Everyone liked the sound of that.
Mr. Gerim went home to sleep, but was back at the tent at 8 a.m. on Friday, sweeping again, building the wood fire, drinking tea with his neighbors.
He went to Friday Prayer, then ate a falafel sandwich.
At 2:30, he was crouching behind the barbed-wire barrier, whirling his slingshot like a helicopter rotor, aiming in vain at Israeli soldiers again and again.
Around 5 p.m., he saw a group of men a few hundred yards to the south, and ran to see what they were doing. They had breached the barbed wire, and were trying to get to the main fence marking Israeli territory. Mr. Gerim hung back, and did not try to join them.
Near him, a man fell, hit in the stomach by what seemed like a grenade fragment, Mr. Gerim said.
He was not shocked by this, he said afterward.
"I could be shot or killed anytime," he said. "It doesn't matter."
Night had fallen now; the protesters were headed home. And soon Mr. Gerim was singing again — this time a Lebanese tune of weariness with conflict.
"Enough is enough," he crooned softly in Arabic. "Enough for miseries, promises and words. School students, church bells, a soldier, a knight and the calls of prayer — all pray for prevailing peace."
Wissam Nassar for The New York Times, 29 April 2018
Wissam Nassar for The New York Times, 29 April 2018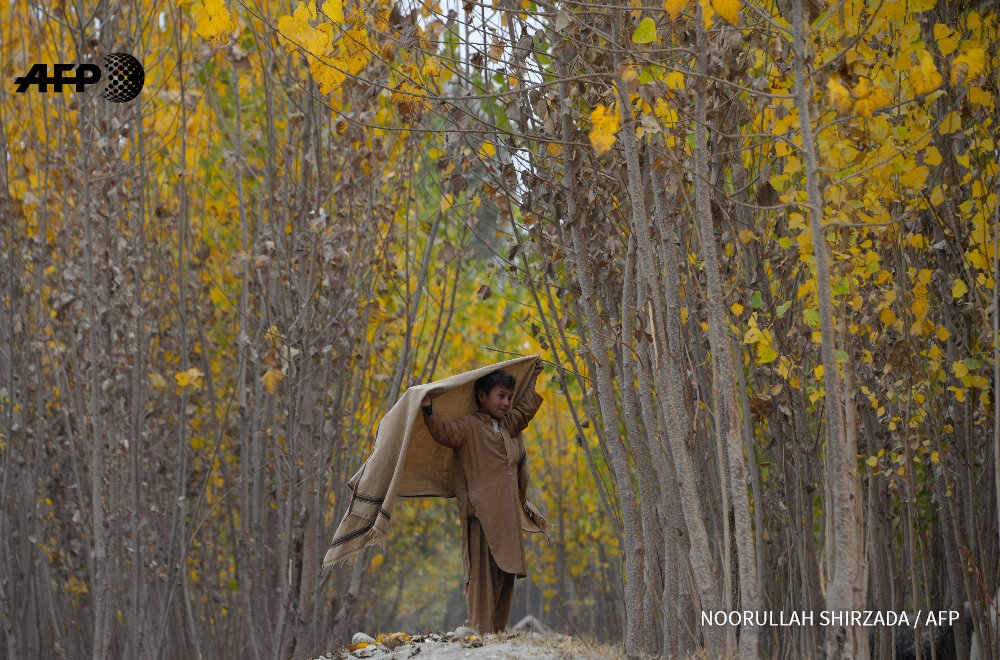 An Afghan child shepherd walks under the changing leaves of trees on the outskirts of Jalalabad. @NoorullahShir #AFP: image via shahmarai @shahmarai, 23 November 2016