.
Metal Works, Icknield Port Road Birmingham. Another discarded lecture slide. This one dated 10/1959 is labelled Metal works Icknield Port Rd. To my mind the focus of the slide is the BCN repair depot on a loop off the Birmingham - Wolverhampton canal. A number of work boats are drawn up waiting for materials, much of which is lying around, canal gate timbers, lock mechanisms, building materials for bank/building repairs. The roofs in the foreground contain blacksmith shops carpentry shops and stables, all are listed buildings and still stand. The photograph was taken from the north end of Edgbaston reservoir. Although the slide is 53 years old no colour work or sharpening was needed but it was covered in scratches owing to it's long use in a lecture set by Mr Maurice Steadman University of B'ham: photographer unknown, October 1959, posted by Geoff Dowling, 13 April 2012
Empty boats
in Icknield Port
and then
a lump of church.
Hair branches scratch.
"Oh!",
the wet rot musk cloud sings.
Eyes are fucked
with caffeine shots.
Traffic pulse desecrates and stutters.
Bare will's thinned.
How heavy are my hands?
The Little Wooden Boy: Bus note 88, from The Little Wooden Boy, Saturday, 1 February 2014

The start of the BCN [Birmingham Canal Navigations] Main Line, 1960. The junction to the left is for the Oozells Street Loop, the original course of the canal before straightening. Taken from a boat turning even sharper left towards the Worcester and Birmingham Canal, after leaving Farmer's Bridge top lock at about 11:10 in the morning: photo by Robin Webster, 17 April 1960


The Icknield Port Loop canal, a loop canal around an industrial area, Birmingham UK: photo by David Smith, 17 March 2010
Icknield Port Loop from Rotton Park Junction bridge over the Soho Loop on the BCN Main Line Canal, Birmingham UK: photo by Oosoom, 19 March 2012
Icknield Port Loop from Rotton Park Junction bridge over the Soho Loop on the BCN Main Line Canal, Birmingham UK: photo by Oosoom, 19 March 2012

Icknield Port Road, Birmingham UK. This is the NE side of the bridge on Icknield Port Road. The last station of that name on the Harborne Branch was on the other side of this bridge and beneath this wall the land has been in-filled. That station was closed in 1931 but the line lasted in use until 1963: photo by Aan Baylis, 25 April 2011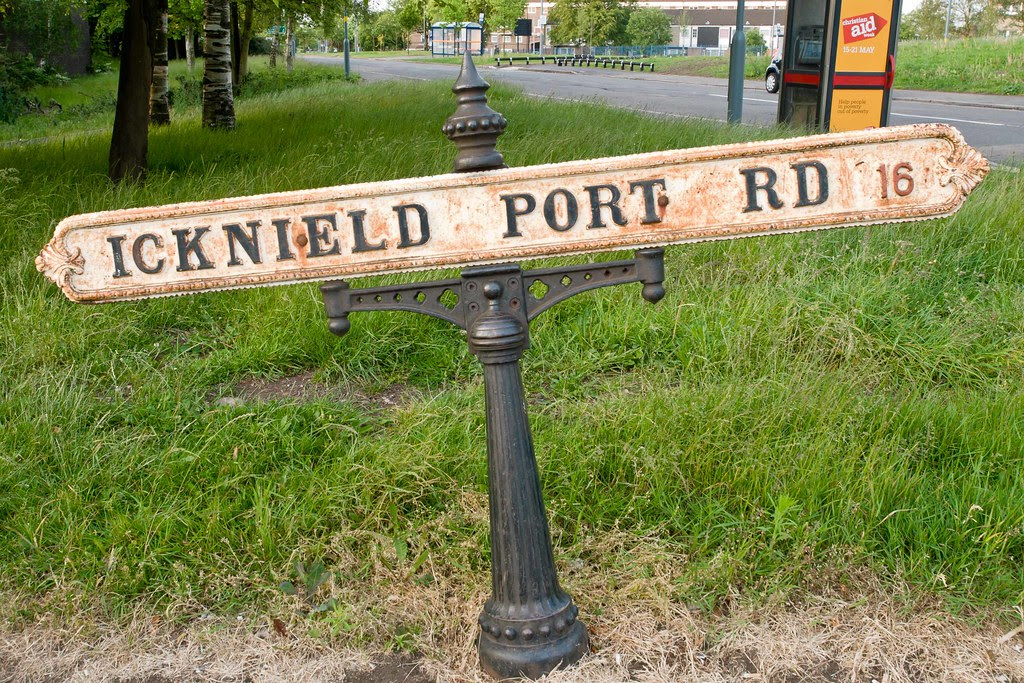 Icknield Port Road, Birmingham UK. The sign is leaning so rather than correct it I've left it as it is: photo by Alan Baylis, 18 May 2011