.
Stunning sky tonight @berkeleyside
: image via Avram Goldstein @newsdoc, 29 February 2016

That glancing silver band upon the Bay
shimmered, and the light that lay out on the shining sands
gleamed, as the tide went down, and the German
Shepherds were leaning out the windows of the SUVs
at the stoplight, straining
to attack, and that
was that. The tail lights in a long red line

Two blanco gangstuz w/multi tats roared up the sidewalk
on stretched out low riding motorized POS
I objected, they laughed and gunned their motors.

There went the waste of a perfectly good
three quarters of a century but regret not yet
take her up tenderly, lift her with care
over the threshold.

In the shadow light
I walked through the long school room questioning
a kind of old nun in a white hood replied...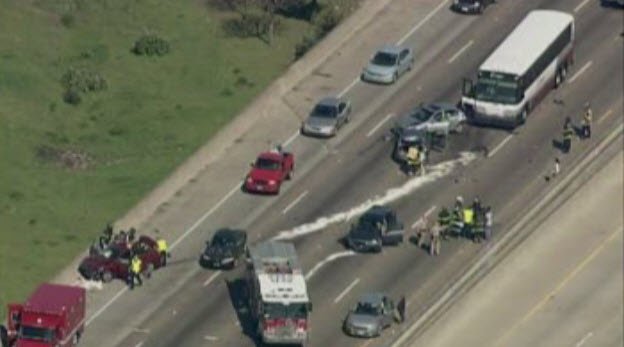 TRAFFIC ALERT: 10-vehicle collision including bus in Berkeley along I-80, injuries.: image via NBC Bay Area @nbcbayarea, 29 February 2016

Stephen Curry, No. 30, celebrates with teammates after making the game-winning 3-pointer against the Thunder Saturday night: photo by
J Pat Carter via The New York Times, 28 February 2016
Stephen Curry, No. 30, celebrates with teammates after making the game-winning 3-pointer against the Thunder Saturday night: photo by
J Pat Carter via The New York Times, 28 February 2016
A woman l

ies

on the ground in Mytilene, on the northern island of Lesbos, Greece, after crossing the Aegean Sea from Turkey: photo by
Aris Messinis/Agence France-Presse, 29 February 2016
Stranded refugees tr

y

to take down a fence along the Greek-Macedonian border near Idomeni, Greece. The refugees were angry over restrictions on travel.: photo by Alexandros Avramidis/Reuters, 29 February 2016
Stranded refugees tr

y

to take down a fence along the Greek-Macedonian border near Idomeni, Greece. The refugees were angry over restrictions on travel.: photo by Alexandros Avramidis/Reuters, 29 February 2016
A refugee watche

s

a shelter burn at a camp in Calais, France, where refugees were told to leave after a French court upheld their expulsion: photo by
Laurent Dubrule/European Pressphoto Agency, 29 February 2016
Supporters at a campaign event at Radford University in Virginia w

ear

T-shirts of Donald J. Trump, a Republican presidential candidate.: photo by
Damon Winter/The New York Times, 29 February 2016
A woman in Dallas h

o

lds up a picture of Senator Ted Cruz of Texas, not long before a rally for the Republican presidential hopeful: photo by
Stephen Crowley/The New York Times, 29 February 2016
A Hillary Clinton supporter cheer

s

at a rally at the Old South Meeting House in Boston
: photo by
Doug Mills/The New York Times, 29 February 2016
A Hillary Clinton supporter cheer

s

at a rally at the Old South Meeting House in Boston
: photo by
Doug Mills/The New York Times, 29 February 2016
Models w

ear

clothing by Giorgio Armani at Milan Fashion Week
: photo by
Vittorio Zunino Celotto via The New York Times, 29 February 2016
Models w

ear

clothing by Giorgio Armani at Milan Fashion Week
: photo by
Vittorio Zunino Celotto via The New York Times, 29 February 2016
Workers and police officers clear part of the 'jungle' migrant camp on in Calais, France. The French authorities have begun dismantling part of the migrant encampment in the northern French town of Calais and relocating people to purpose-built accommodation nearby.: photo by
Carl Court via FT Photo Diary, 29 February 2016
A girl holds a bag with clothes outside the old international airport, which is being used as a shelter for refugees and migrants, in Athens. Greece said the number of refugees and migrants on its soil could more than triple next month, reaching as many as 70,000, as a cap on border crossings by Balkan countries left them "trapped" in the country.

: photo by
Angelos Tzortzinis/AFP, 29 February 2016
R2-D2 and C-3PO pose backstage at the Oscars at the Dolby Theatre in Los Angeles: photo by Matt Sayles/Invision/AP, 29 February 2016