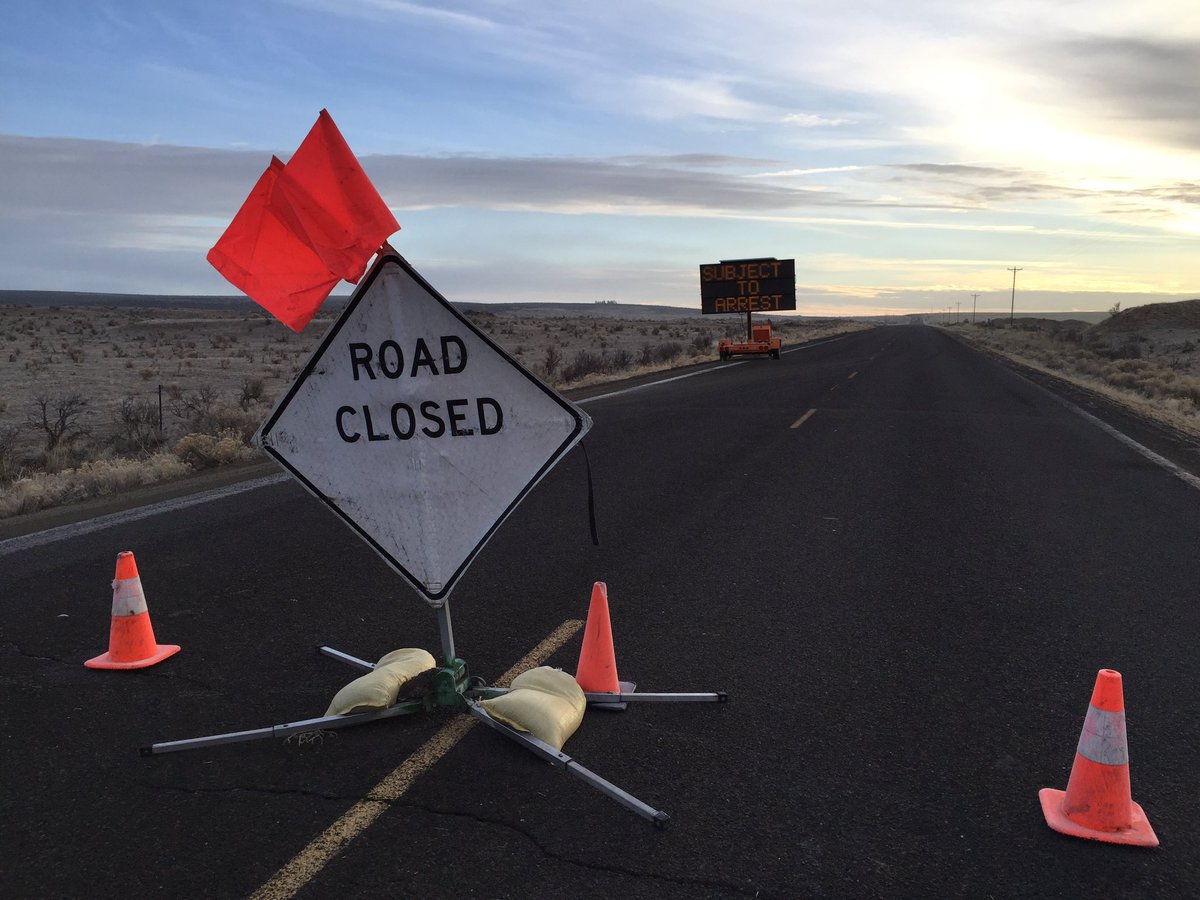 No sign of lawyers, lawmakers or clergy expected to take part in #OregonStandoff surrender: image via Kyle Iboshi @Kyle Iboshi, 11 February 2016
Outside courthouse, Wilson Freimuth plans to use his shofar all day "You ever heard of psychological warfare?": image via Leah Sottile @Leah_Sottile, 11 February 2016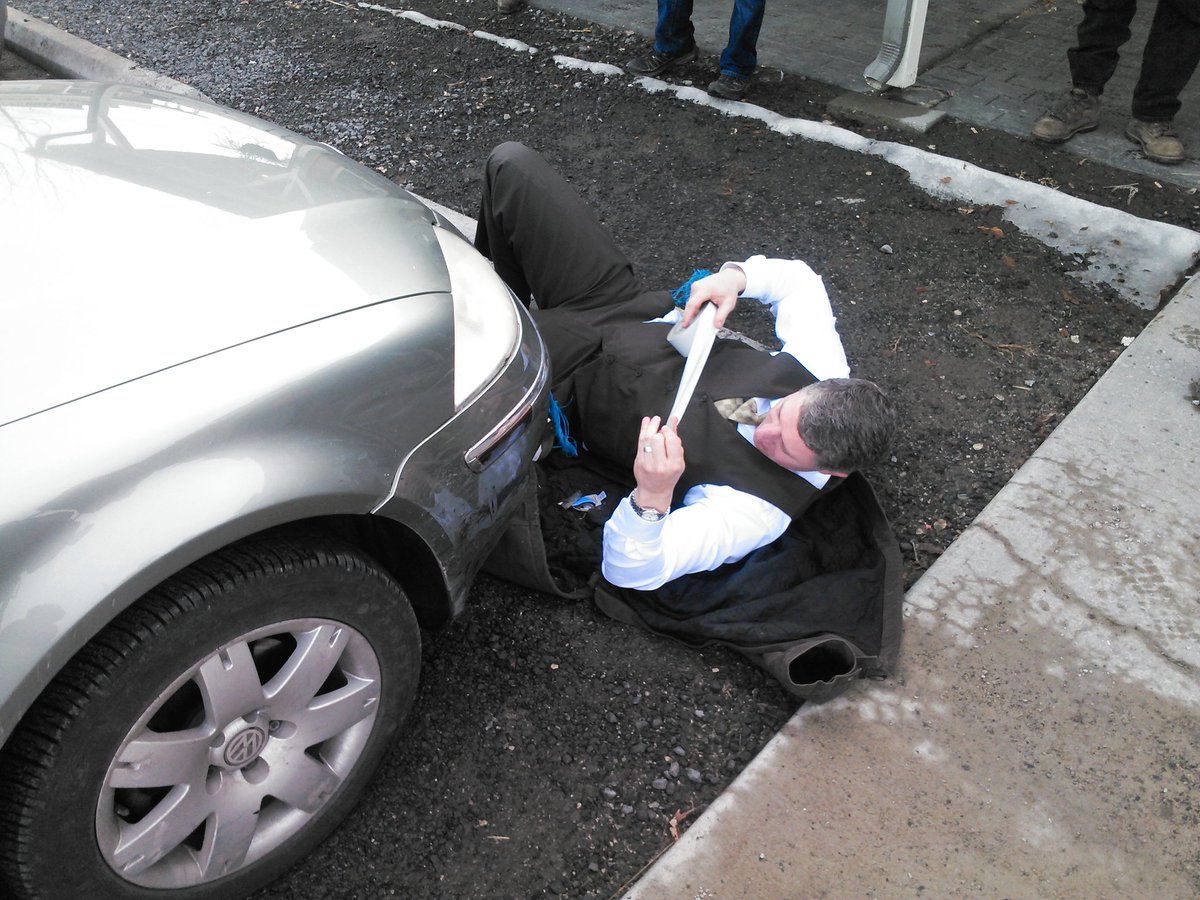 Michael Arnold, attny 4 Ammon Bundy, fixes up @washingtonpost reporter's car. Deer did the damage.: image via Leah Sottile @Leah_Sottile, 11 February 2016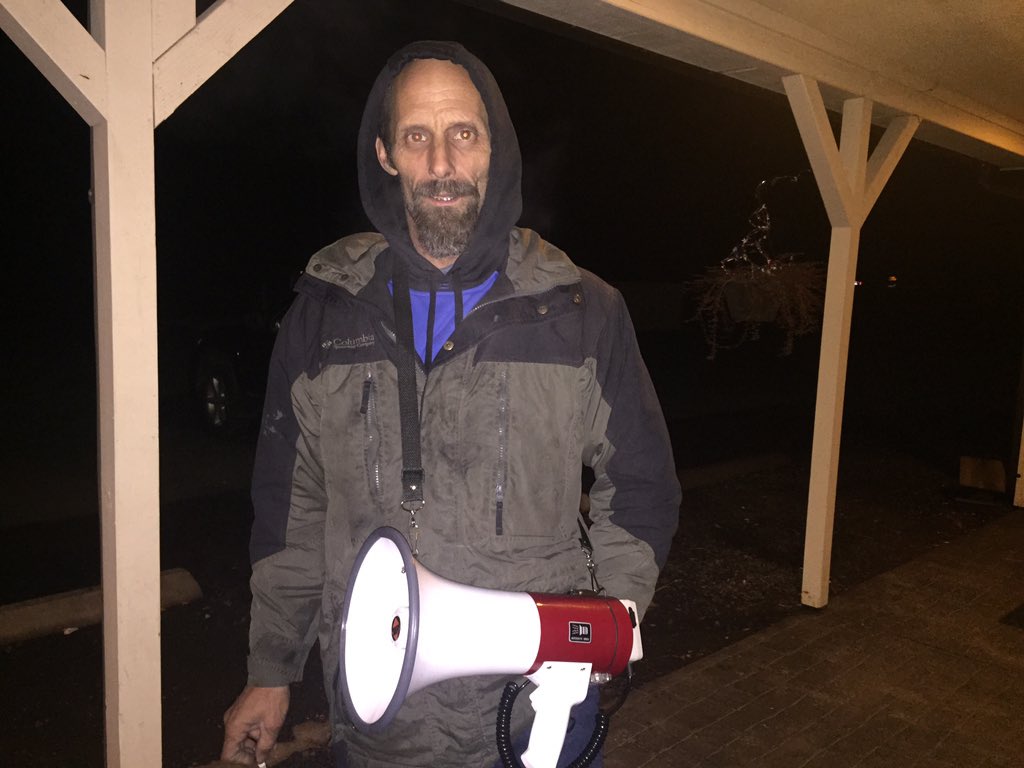 Brent from Louisiana answered the call from Fry. He has a bullhorn instead of a weapon.: image via Amanda Peacher @amandapeacher, 11 February 2016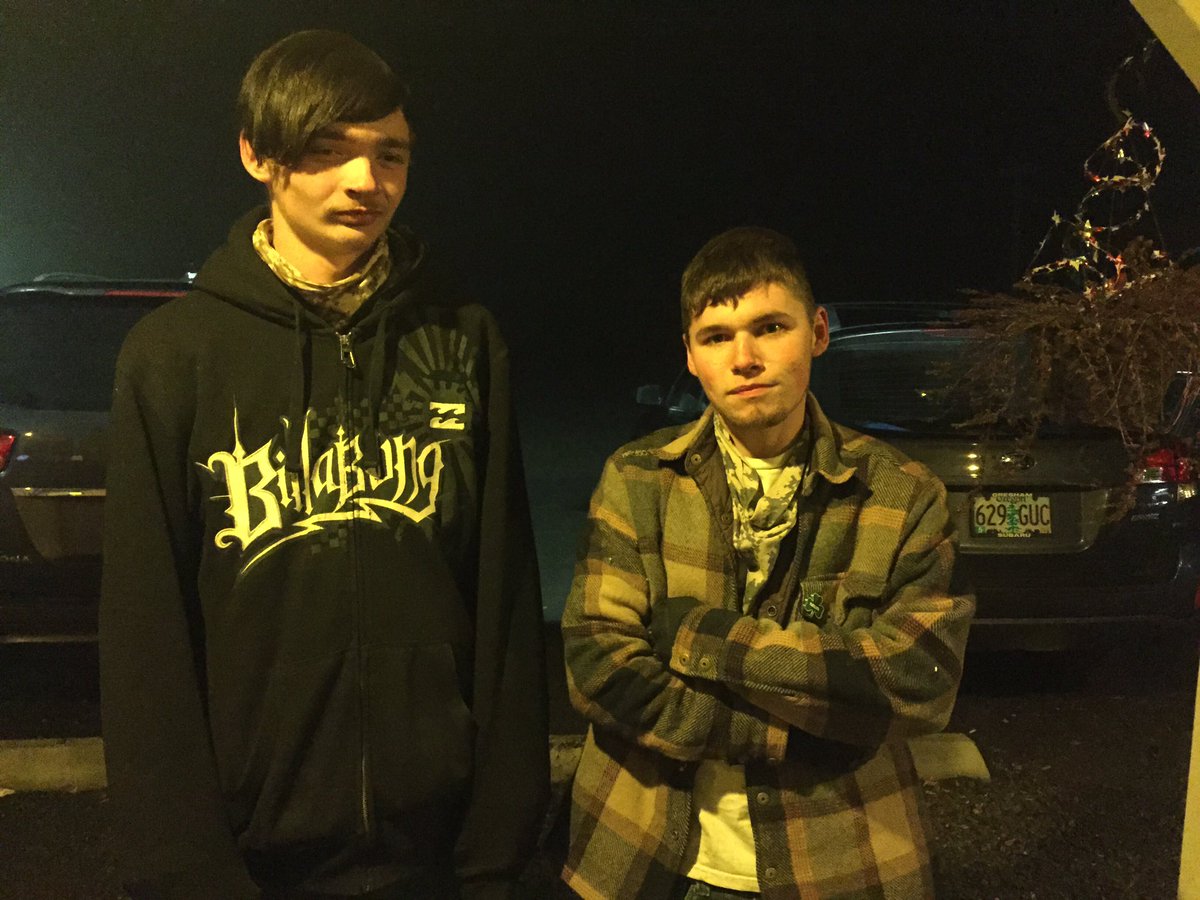 These two young guys from Burns also answered Fry's call. "I don't want to see these guys die," said one.: image via Amanda Peacher @amandapeacher, 11 February 2016 Oregon, USA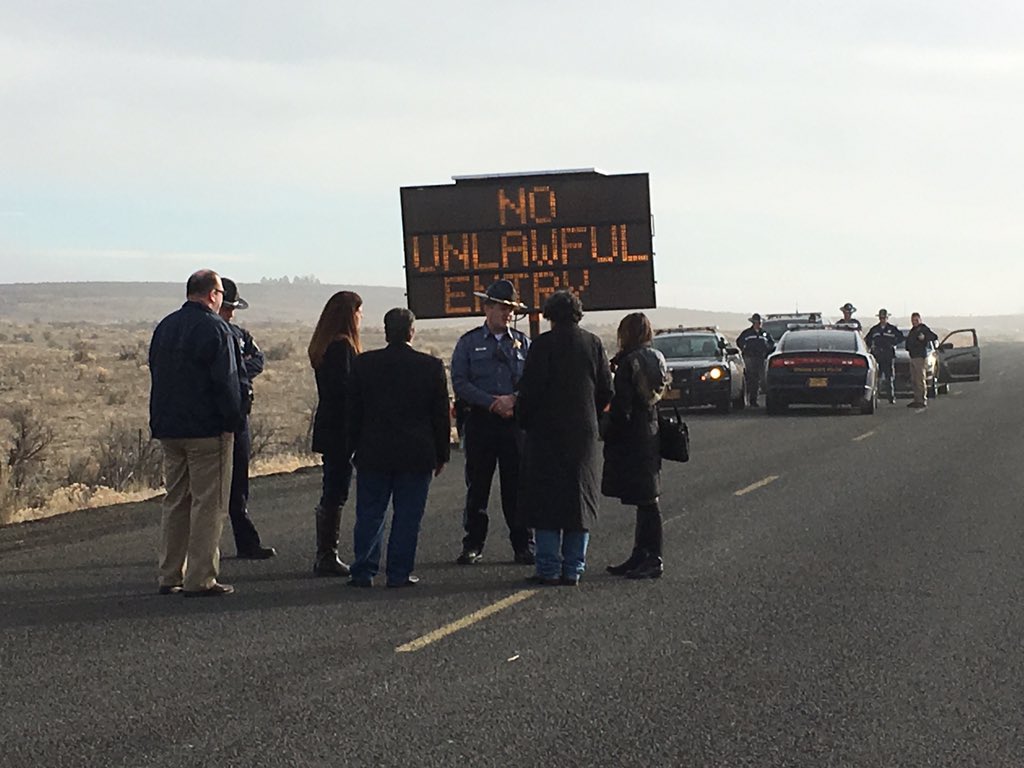 Five people walked up and are speaking with law enforcement. Officer says "we appreciate that.". #OregonStandoff: image via Conrad Wilson @conradjwilson, 11 February 2016 Oregon, USA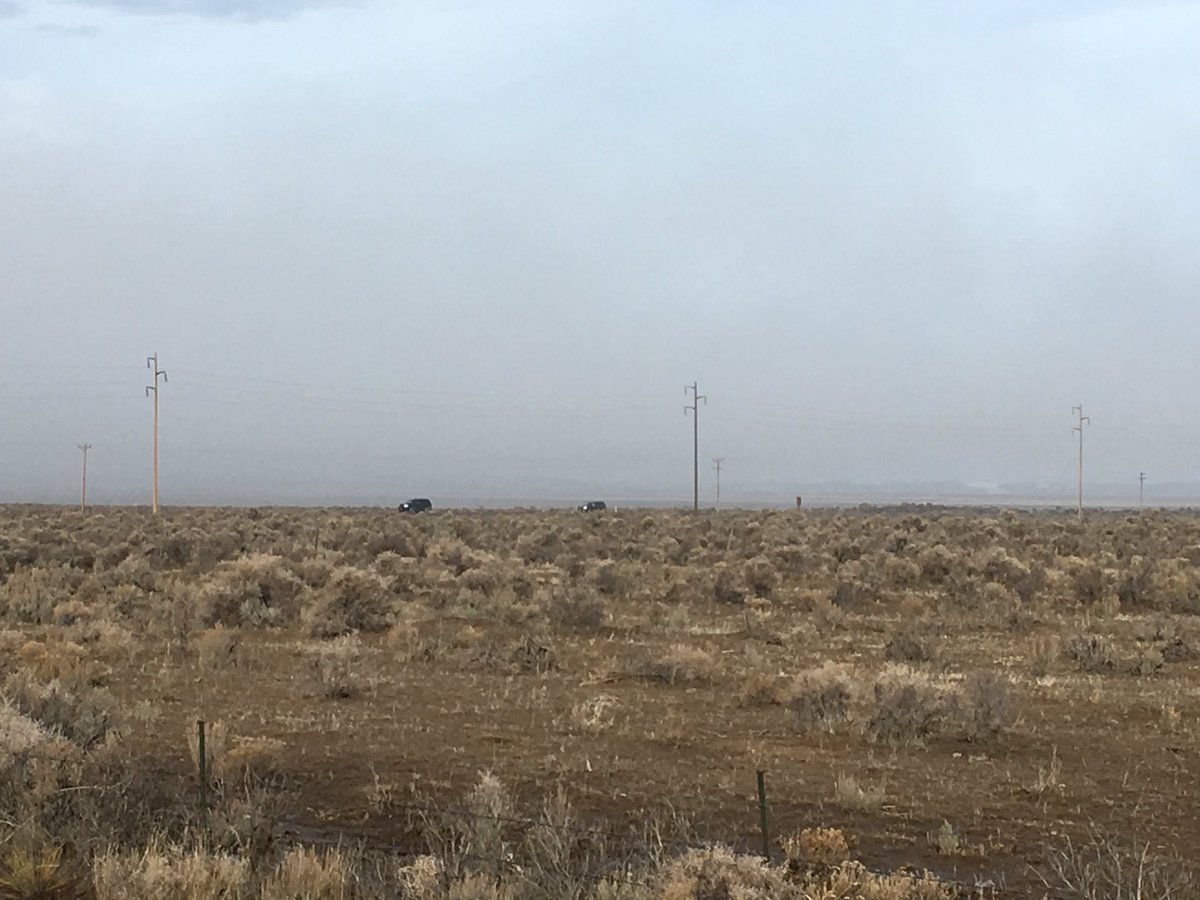 Convoy is approaching #OregonStandoff: image via Conrad Wilson @conradjwilson, 11 February 2016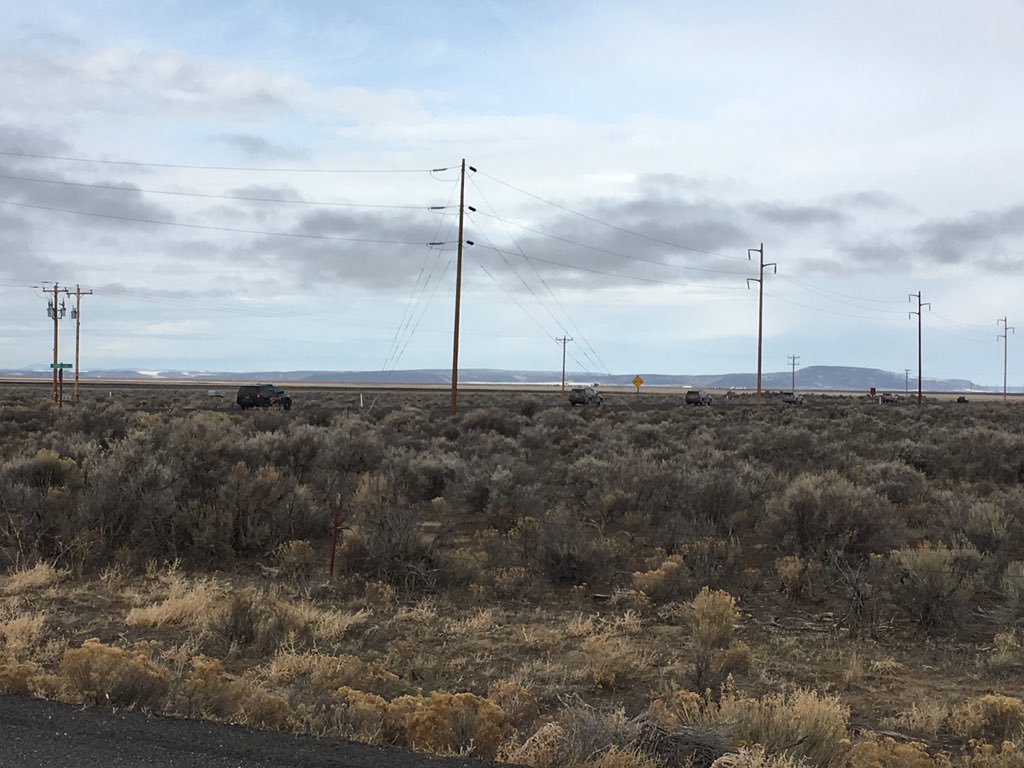 Big FBI convoy leaving the refuge just moments ago. All 4 remaining occupiers turned themselves in #OregonStandoff: image via Conrad Wilson @conradjwilson, 11 February 2016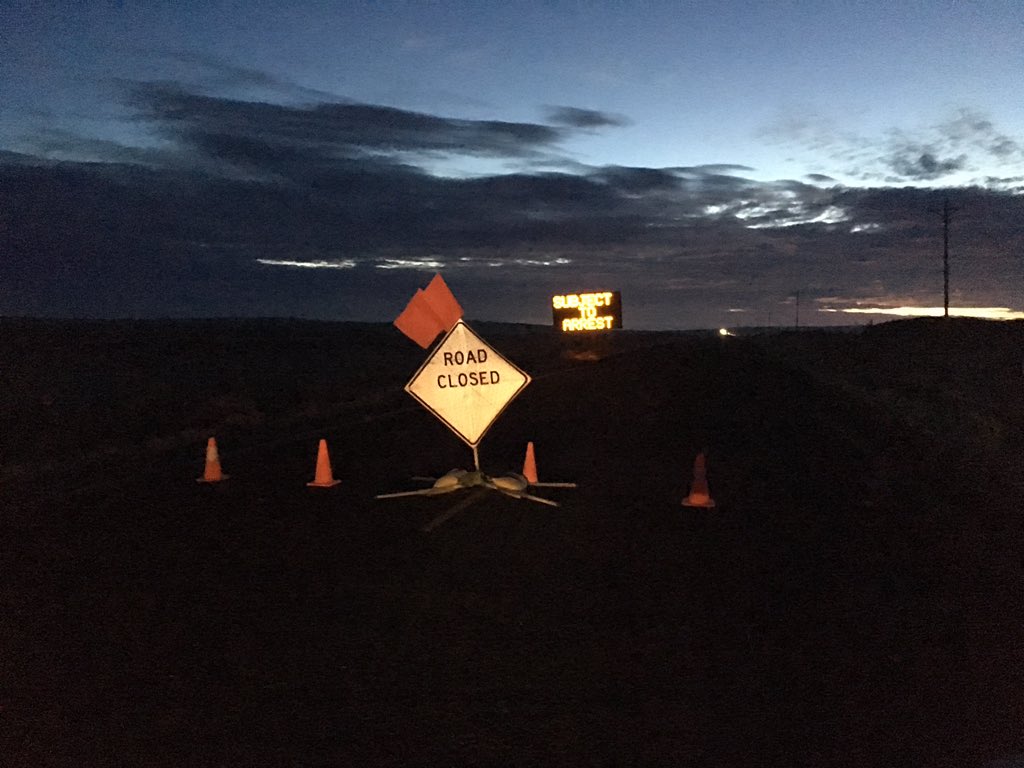 Here's an image you're going to see a lot of all day #OregonStandoff: image via Conrad Wilson @conradjwilson, 11 February 2016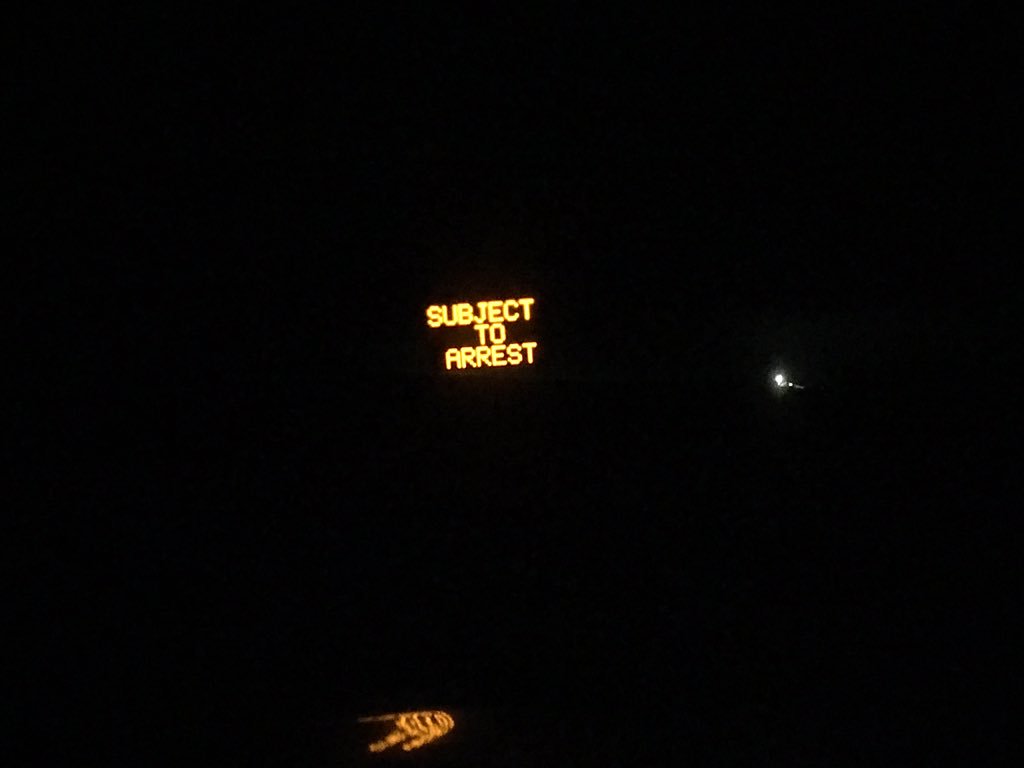 Real quiet (and dark) here at the FBI checkpoint near the Malheur Refuge HQ #OregonStandoff: image via Conrad Wilson @conradjwilson, 11 February 2016


A roadblock near Burns, Ore., as F.B.I. agents surrounded the remaining four occupiers at the Malheur National Wildlife Refuge on Wednesday: photo by
Thomas Boyd/The Oregonian via Associated Press, 11 February 2015

Thomas Wagner waved a flag near the Malheur National Wildlife Refuge on Thursday: photo by
Rebecca Boone/Associated Press, 111 February 2016
No tarp on earth is strong enough to cover over the stink of murican patriot trash left behind at the bird refuge by the pinhead peckerwood revolution livestream camo divas
What a pig sty they have left us to clean up! #OregonStandoff: image via Cornelia @PaladinCornelia, 11 February 2016
Cliven Bundy was arrested on Wednesday night
: photo by
Multnomah County Sheriff's Office, 11 February 2016
Blaine [Cooper] looks a little too excited to be in custody: image via Kim Freda @ksfreda 11 February 2016
If the guys with the shofars call in...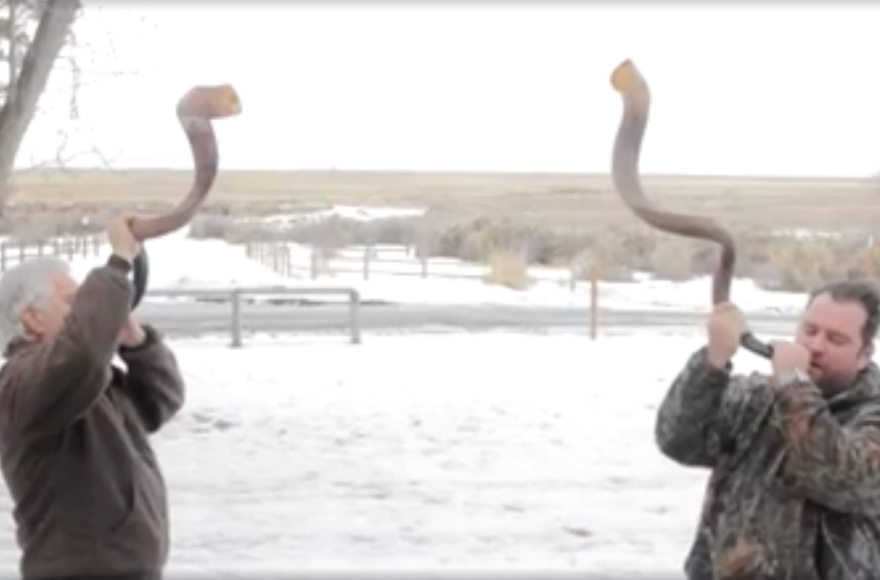 Why are these Oregon standoff dudes blowing #shofars?: image via Gabe Friedman @GabeFriedman563, 21 January 2016
Oregon militia leaders blow 'battle trumpet' shofars: photo via Facebook / Jewish Telegraphic Agency, 19 January 2016
In between songs, the mighty shofars rang out. The Sharp kids looked horrified at the grown men who produced such a god-awful cacophony: tweet by jj macnab @jjmacnab, 4:03 PM - 23 Jan 2016
If the guys with the shofars call in...

Where the heck is David Fry?

Victoria wants to call in and sing. Nooooooooo.

Gavin thinks that telephone campaign got militants out of solitary confinement. They don't know how prison quarantine works.

Sandy thinks that God sent them to be there because they have steaks and pork to eat.

Sandy and Sean: "We need a miracle." Praying again. Seim: "We ask that you send legions of angels here tonight."

FBI is moving vehicles behind the militants.

The Bundy email list sent out a shrill demand.

During the Ed and Elaine Brown standoff (9 months), this type of manic call took place every single day for an hour. For 9 months....

FBI need to arrest Cliven Bundy.

Troll named Pedro was patched into the call so Gavin disconnected the militants.

The final four are negotiating among themselves and Fiore asks them if they want her to pick them up some food from McDonalds. Sigh.

Fiore: Did you guys eat some dinner. Sean: No, we had some snacks though.

Where is Cliven Bundy?

FBI Tells Fiore that they will not escalate the situation tonight.

Common core discussion. Almost 10,000 listeners drop off.
Sean is ranting about weapon/ammo conspiracy theories that were passed around the internet a year ago.

Sean: "We have to go to the bathroom outside. We're making a lot of sacrifices."

And the final four are back on the line but didn't get Victoria back on the call. Yay!

If Victoria sings, "This land is your land" again, I'm out.

In an effort to patch in Victoria, Gavin cut off the final four at the refuge.

They keep threatening listeners that Victoria Sharp will be singing on the live feed. Please, no.

If the guys with the shofars call in...
-- tweets via @jjmacnab, 11 February 2016

Last occupiers in #OregonStandoff booked into jail; due in court tomorrow. #KOIN6Nrews: image via Brent Wesiberg, 11 February 2016
We the People Chapter 6, Section 6772-b: or, The Zombie Nightmare of the Living Dead and Not Going Away Aspect of Eternal Recurrence Wrapped Inside the Enigma Which Is the Go Ahead Cut the Head Off My Snake It's Too Damn Dumb to Die Pinhead Peckerwood Revolution
Harney County common law grand jury taps Sheriff Glenn Palmer as their leader: image via JJ MacNab @jjmacnab, 11 February 2016
@jjmacnab @msbellows The Oregon Common Law Grand Jury edict: image via Gargoyle @Patztense, 11 February 2016
You may know the shofar as a musical instrument of Jewish antiquity, traditionally blown in synagogues during Rosh Hashanah—but did you know that right now, in the frozen hinterland of the Pacific Northwest, the Oregon militiamen are blowing the HORNS OF FREEDOM as we speak? The following video was shared by militia honcho Blaine Cooper with this caption: SHARE UPDATE BURNS OREGON! CHRISTIANS THE BATTLE TRUMPET HAS BEEN SOUNDED TIME TO RISE! CALL TO ACTION SEND IN THE TROOPS TO STAND WITH US IN BURNS OREGON!: photo via Facebook/Gawker, 19 January 2016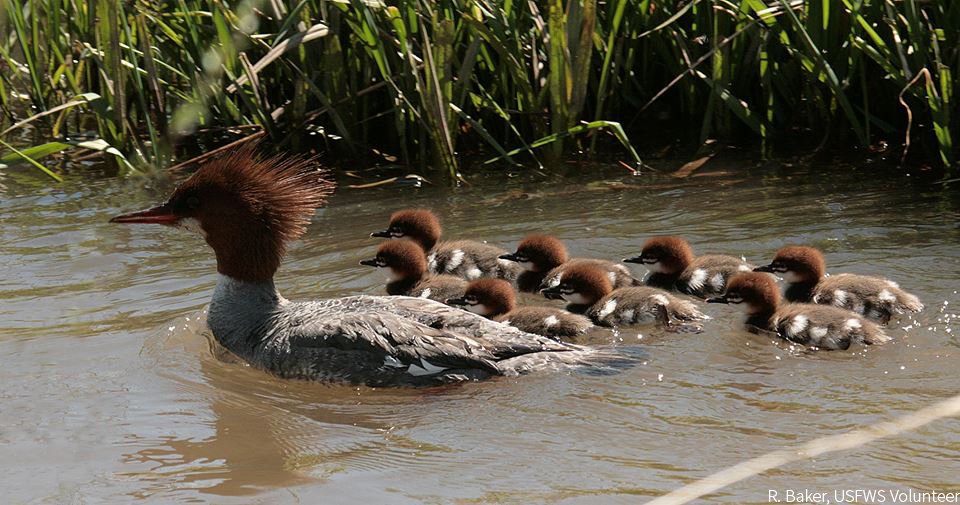 #OregonStandoff
ends in time to prepare
for seasonal visitors: birds [like this family of common merganser ducks]: image via David Yarnold @david_yarnold, 11 February 2016

#Oregonstandoff Today's real winners: image via Baseball @baseballminutia, 11 February 2016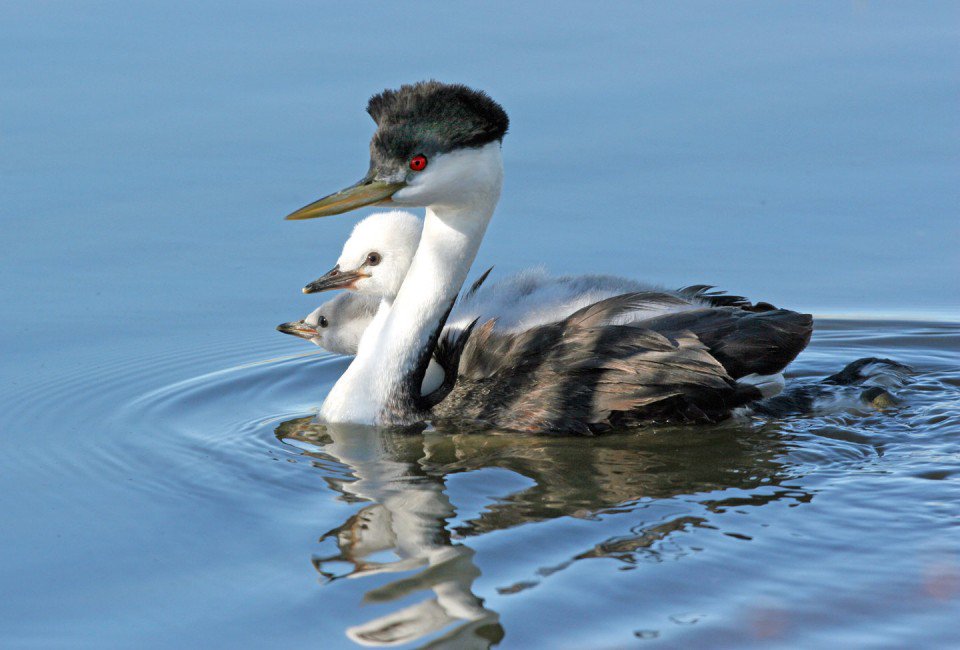 #Oregonstandoff:
How you can volunteer to help restore Malheur wildlife refuge [photo: a probable Western and Clark's Grebe hubrid has distinctively different chicks / Kay Steele, May 2015]: image via The Oregonian @Oregonian, 11 February 2016
My mommy's nest in the watchtower was disturbed. Is it safe to come back now Lady Police Officer? #OregonStandoff: image via Cornelia @PaladinCornelia, 11 February 2016
Brutal merciless incurable I can feel
your diseased
solace slipping through my arteries
Your yen two wol slee me sodenly
I may the beautee of hem not sustene
So woundeth hit throughout my herte kene
sd the large human with many guns tenderly
to the little owl on the murican roadside
outside the trashed sanctuary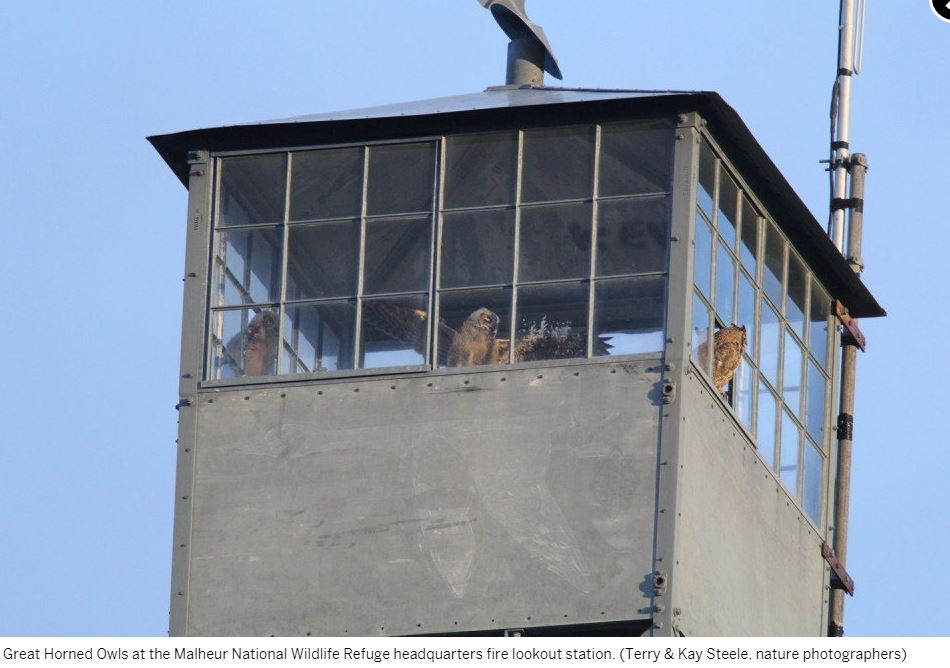 Lookout tower at #Malheur occupied by stern new observers armed with talons, beaks [photo: Great Horned Owls at Malheur National Wildlife Refuge headquarters fire lookout station / Terry and Kay Steele, May 2015] #OregonStandoff: image via Deborah Hartman @frankiecatPDX, 11 February 2016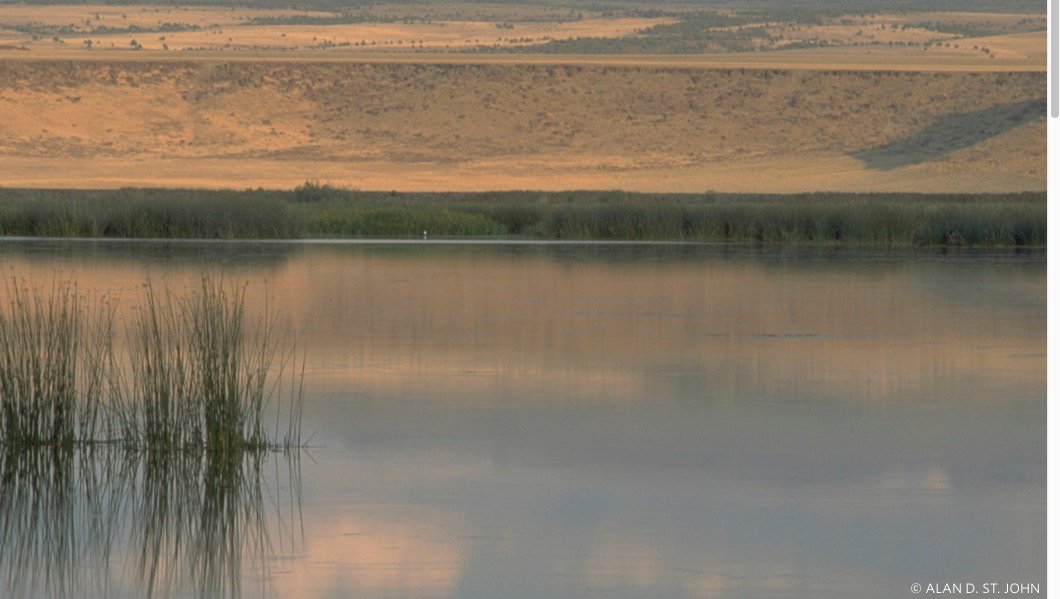 As
#OregonStandoff
Ends at Wildlife Refuge, Let's Get Back To Work—Together: image via Nature Conservancy @nature_org, 11 February 2016