Black Tern (Chlidonias niger) near Burns, Oregon: photo by Jon Nelson, 13 May 2015
Killdeer 2. "Broken Wing Act". Killdeer (Charadrius vociferus), near Burns, Oregon.
These birds forage for food in fields, mudflats and shores, usually by sight. Their name comes from their frequently heard call. These birds will frequently use evasive action display ("broken wing act") to distract predators from their nests. This involves the bird walking away from its nesting area holding its wing in a position that simulates an injury. and then flapping around on the ground emitting a distress call. The predators then think they have easy prey and are attracted to the seemingly injured bird and away from the nest. If the parent sees that a potential predator is not following along, it will move closer and get louder until it gets the attention of the predator.: photo by Nick Perla, 29 June 2010
Ezra Pound: from Canto LXXXI
The ant's a centaur in his dragon world.
Pull down thy vanity, it is not man
Made courage, or made order, or made grace,
Pull down thy vanity, I say pull down.
Learn of the green world what can be thy place
In scaled invention or true artistry,
The green casque has outdone your elegance.
"Master thyself, then others shall thee beare"
Thou art a beaten dog beneath the hail,
A swollen magpie in a fitful sun,
Nor knowst'ou wing from tail
Rathe to destroy, niggard in charity,
Ezra Pound (1885-1972): from Canto LXXXI (1945/1948)
Black Terns (Chlidonias niger) near Burns, Oregon: photo by Jon Nelson, 13 May 2015
Black-necked Stilt (Himantopus mexicanus). A striking black-and-white bird with very long, thin legs, the Black-necked Stilt is found along the edges of open water, in this case near the Malheur National Wildlife Refuge, Harney County, Oregon: photo by Dan Dzurisin, 25 May 2008
Black-necked Stilt (Himantopus mexicanus). A striking black-and-white bird with very long, thin legs, the Black-necked Stilt is found along the edges of open water, in this case near the Malheur National Wildlife Refuge, Harney County, Oregon: photo by Dan Dzurisin, 25 May 2008
Black-necked Stilt (Himantopus mexicanus), feeding in flooded agricultural fields several miles north of Malheur National Willdlife Refuge, Harney County, Oregon: photo by Dan Dzurisin, 1 June 2008
Black-necked Stilt (Himantopus mexicanus), feeding in flooded agricultural fields several miles north of Malheur National Willdlife Refuge, Harney County, Oregon: photo by Dan Dzurisin, 1 June 2008
Black-necked Stilt (Himantopus mexicanus), feeding in flooded agricultural fields several miles north of Malheur National Willdlife Refuge, Harney County, Oregon: photo by Dan Dzurisin, 1 June 2008
The standoff [Portland, Oregon]: photo by Nick Fisher, 3 February 2007

Sittin' around and Constitution learnin #Oregonstandoff: image via Jennifer Hayden @Scout_Finch, 30 January 2016

Anderson describes seeing bald eagles and taking it as a sign of God's hand. Apparently forgets they are at a bird refuge #Oregonstandoff: tweet via Jennifer Hayden @Scout_Finch, 30 January 2016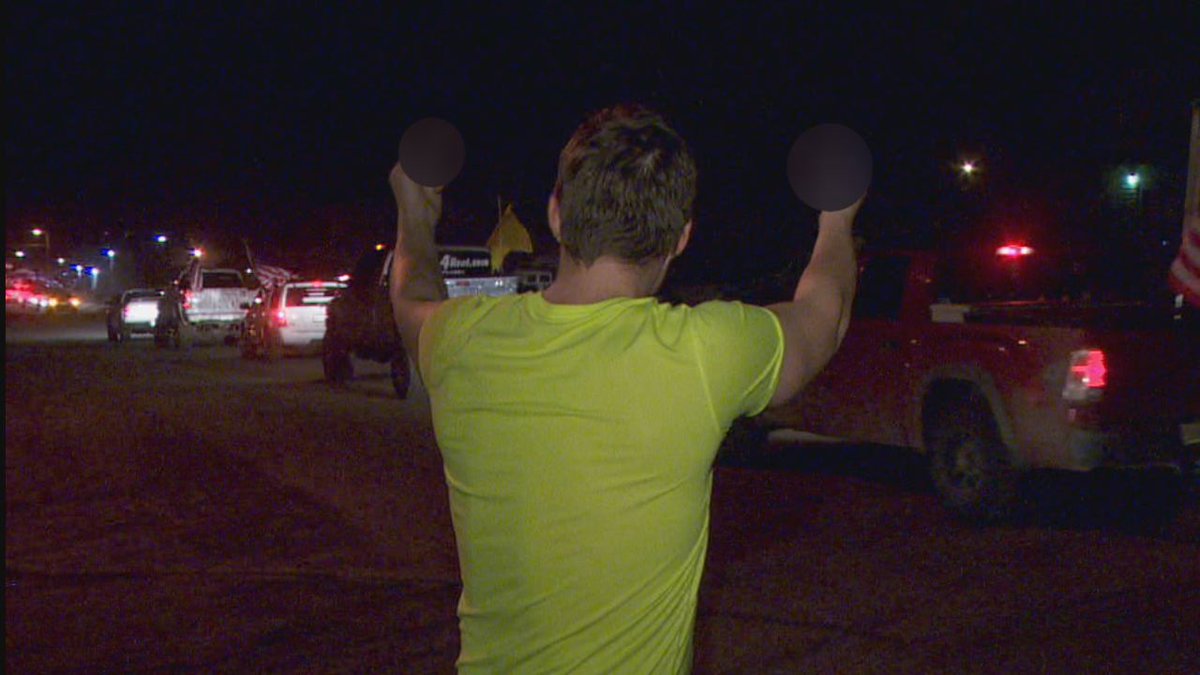 This Burns resident is NOT happy about the 3%er rolling rally. #Oregonstandoff: image via Corry Young @photocorry, 30 January 2016
Driving through residential areas at night blaring horns. Way to win hearts and minds, III%
#Oregonstandoff: tweet via Shane Roth @apexnerd, 30 January 2016
Revolution Radio can't find locals who are supportive of Rolling Bro-test #Oregonstandoff: tweet via Shane Roth @apexnerd, 30 January 2016
All they want is peace...a piece of Oregon, a piece of Idaho, a piece of Montana, a piece of Arizona, a piece of Wyoming! #Oregonstandoff:
tweet

via Return Our Refuge @
Return Our Refuge

30 January 2016
A Veritable "Who's That" of the Patriot Movement mill about a Rite Aid parking lot #Oregonstandoff: tweet via Shane Roth @apexnerd, 30 January 2016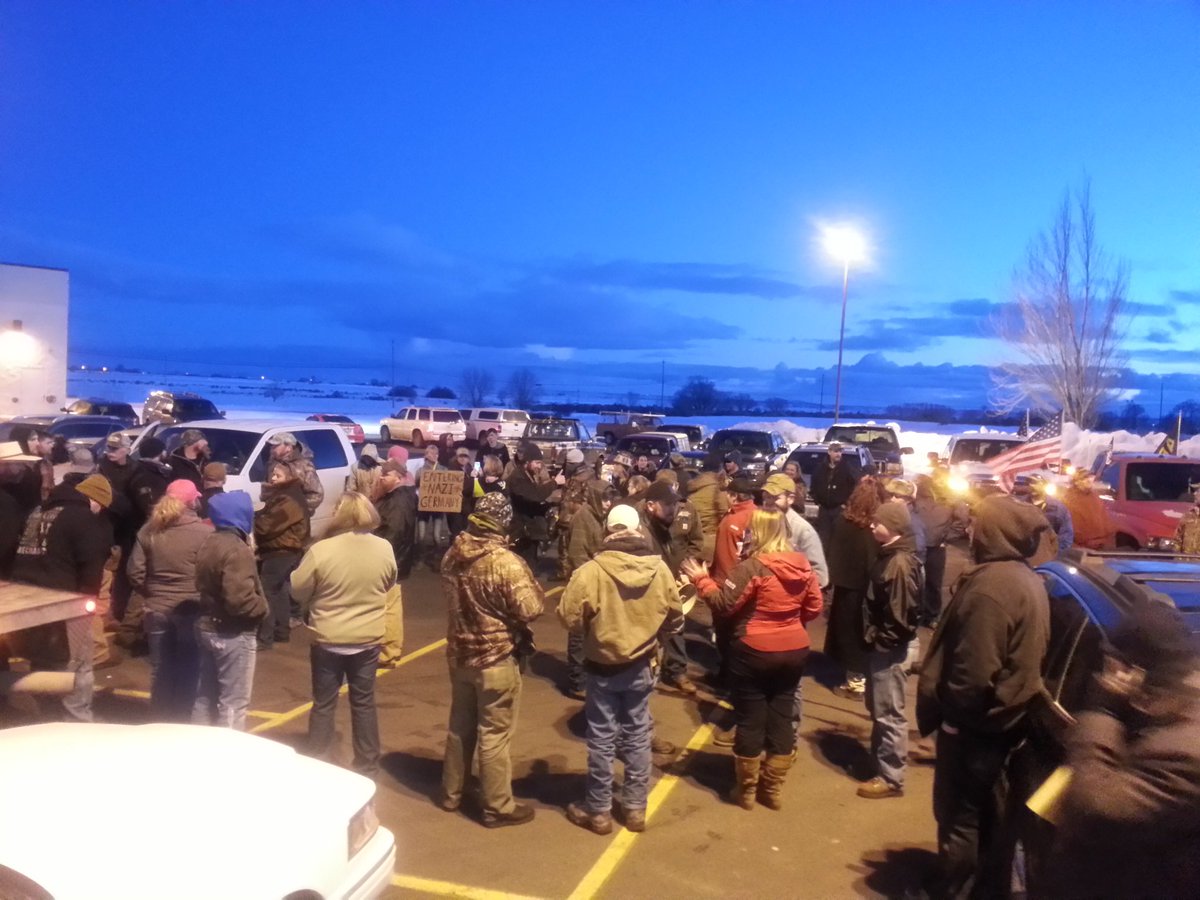 Crowd getting larger for the 3%ers rolling rally #Oregonstandoff: image via Corry Young @photocorry, 30 January 2016
Sunset west of Burns, Oregon: photo by Kurt Johnson, 26 April 2011