.
Ryan Bundy talks on his mobile phone in front of a large bulldozer at the Malheur National Wildlife Refuge Headquarters in Burns, Oregon on January 6, 2016. A small group of armed activists remained holed up at a remote US federal wildlife refuge in Oregon, vowing to leave only if asked by local residents: photo by Rob Kerr / AFP, 6 January 2016
'Bundy Militia' Compared To ISIS For Pawing Through Native American Artifacts, Destroying Sites: Kristina Killgrove, Forbes, 21 January 2016
From the outset of the now weeks-long occupation of the Malheur Wildlife Refuge in Oregon by the 'Bundy militia,' archaeologists as well as members of the Burns Paiute Tribe have been concerned for ancient artifacts and sacred spaces. Their fears were realized this week as news reports discussed bulldozing of land and a video surfaced of armed militants rifling through boxes of artifacts archived at the refuge. And many on Twitter are already making a parallel between the militia and the work of ISIS in destroying world heritage sites.
In online statements and photographs, the Islamic State claimed to have smashed statues from the ancient Syrian city of Palmyra
: photo by
Agence France-Presse, 3 July 2016
Indian Country Today Media Network (ICTMN) has the best coverage thus far, in a piece by Jacqueline Keeler titled, "Oregon Militia Nuts Hold Paiute History, Artifacts Hostage.

.

" There are thousands of artifacts stored in the building that is being occupied by the militia, and the Burns Paiute are worried. ICTMN reports that "the tribe is demanding federal action under both the Archeological Resources Protection Act of 1979 and a 'protection against bad men' provision the tribe signed with the United States in 1868."
This is not the first time Bundy supporters have damaged or held Native American heritage hostage. In 2014, half a dozen people rode ATVs through Recapture Canyon in Utah, destroying ancient Puebloan home sites. And petroglyphs in Gold Butte, Nevada, may also have been defaced by Bundy supporters. Chairperson Charlotte Rodrique of the Burns Paiute tribe told ICTMN that just a few days ago "they took a bulldozer and built a line around the refuge headquarters."
A still image from a militant video posted on YouTube on April 3, 2015, shows a militant hammering a wall in Hatra, Iraq
: image
via Associated Press

, 20 January 2016
The Bundy folks put out a 3-minute video showing themselves looking through box upon box of Native American artifacts in the basement archive of the refuge

.
LaVoy Finicum and others talk repeatedly about how they want to return the artifacts to "their rightful owners."
They deplore the conditions in which the artifacts are kept: "there's a rat's nest in here; this is how we found them. [...] Native artifacts, they just kind of boxed them up and let them rot here."
Further, they complain that the artifacts have different dates on them, some dating back to the 1980s.
Finicum looks at the camera and feigns concern: "So my question is, Why? Why do they just keep them down here? Why are they locked away here for nobody

but for them to look at whenever they come down here. This needs to be taken care of, and so we're reaching out to the Paiute people in as sincere a manner as we can. Please, let's open up a dialogue."
A 13th-century tomb near Kirkuk in northern Iraq, destroyed by members of the Islamic State
: photo by Ihsan Feti / Iraqi Architects Society, 3 July 201
5
On the face of it, this doesn't seem like a bad sentiment. For an organization obsessed with individual rights, it makes sense in a way: Finicum and others may actually be convinced that the Paiute objects need rescuing. But their paternalistic concern for people they perceive as downtrodden by the US government is misplaced. The Paiute agree that the objects need to be rescued -- but rescued from Finicum and the other militia members. Rodrique is further quoted in Daily Kos as saying that "we feel strongly because we have had a good working relationship with the Malheur National Wildlife Refuge" prior to the occupation. "We view them as a protector of our cultural rights in that area." The Paiute helped archive the artifacts at the refuge in the first place.
Burns Paiute tribe chair Charlotte Rodrique addresses reporters during a press conference in response to the armed occupation of the nearby Malheur National Wildlife Refuge in Burns, Ore., Wednesday, Jan. 6, 2016. A leader of the Oregon Indian tribe whose ancestral property is being occupied by an armed group opposed to federal land policy said Wednesday that the group is not welcome and needs to leave.: photo by Manuel Valdes / AP, 6 January 2016
The Daily Kos quotes tribal council member Jarvis Kennedy as saying, "They just need to get the hell out of there. They didn't ask anybody, we don't want them here." And the archaeologist for the US Fish and Wildlife Service, Carla Burnside, told ICTMN that militants released photos of themselves in her office rifling through sensitive archaeological files. Fish and Wildlife Service assistant director of external affairs, Jason Holm, further told Oregon Public Broadcasting that the road the occupiers recently bulldozed is "an archaeological site important to the Burns Paiute Tribe." They also removed a fence that Holm said was "a deterrent to keep fire crews from driving across the archaeological site."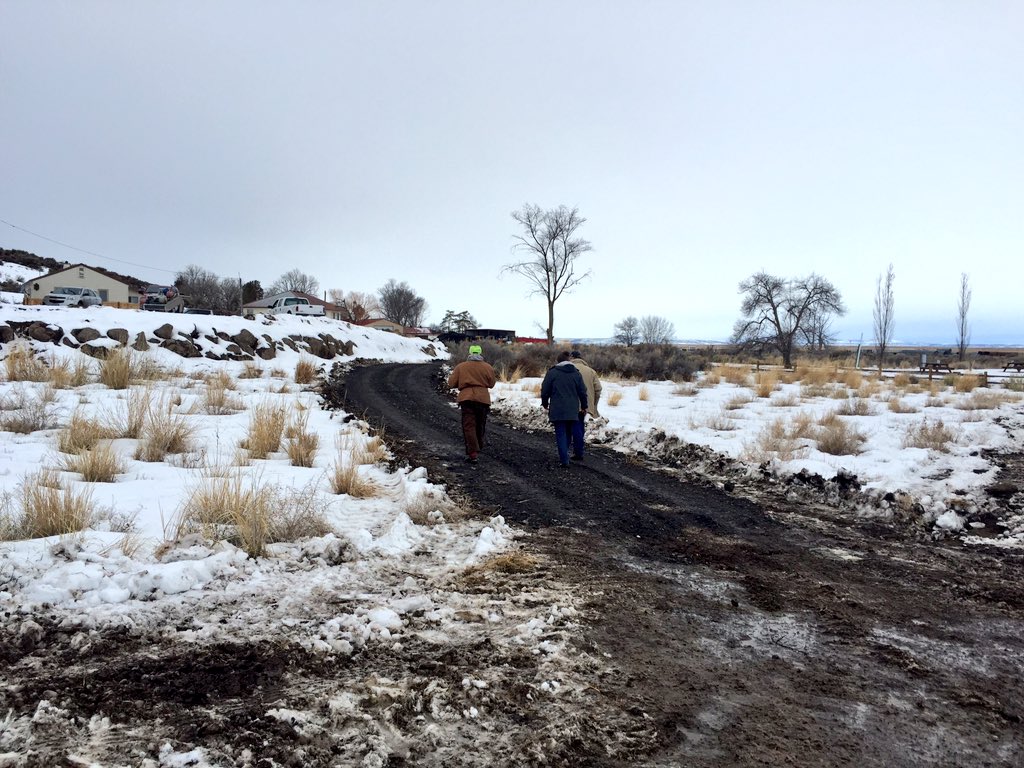 Today the #bundymilitia made this road within the refuge. #oregonstandoff: image via Amanda Peacher @amandapeacher, 14 January 2016
The actions of the 'Bundy militia' almost certainly go against ARPA, in spite of what Finicum and friends seem to think. Legal protections have been put into place over decades in the US to protect Native sites, artifacts, and burials and to help right the wrongs done to Native archaeological remains since Europeans first landed. Finicum may think he is doing the right thing in his misguided attempt to repatriate artifacts that are being stored at the refuge by choice and by design, but the Paiute vehemently disagree. And as it's their heritage, it's their right to rebuff Finicum and to bring federal action against the occupants who have no idea how to handle the artifacts or how to safeguard their sacred sites.
Rodrique's quote in ICTMN sums it up for me, and for many of the people in my Twitter feed outraged by this brash disregard for the opinions of Natives: "I don't know what these people are doing… if they are doing things to just get a rise or to be a martyr -- all they are doing is making enemies out of the people they professed to support."
Kristina Killgrove is a bioarcheologist at the University of West Florida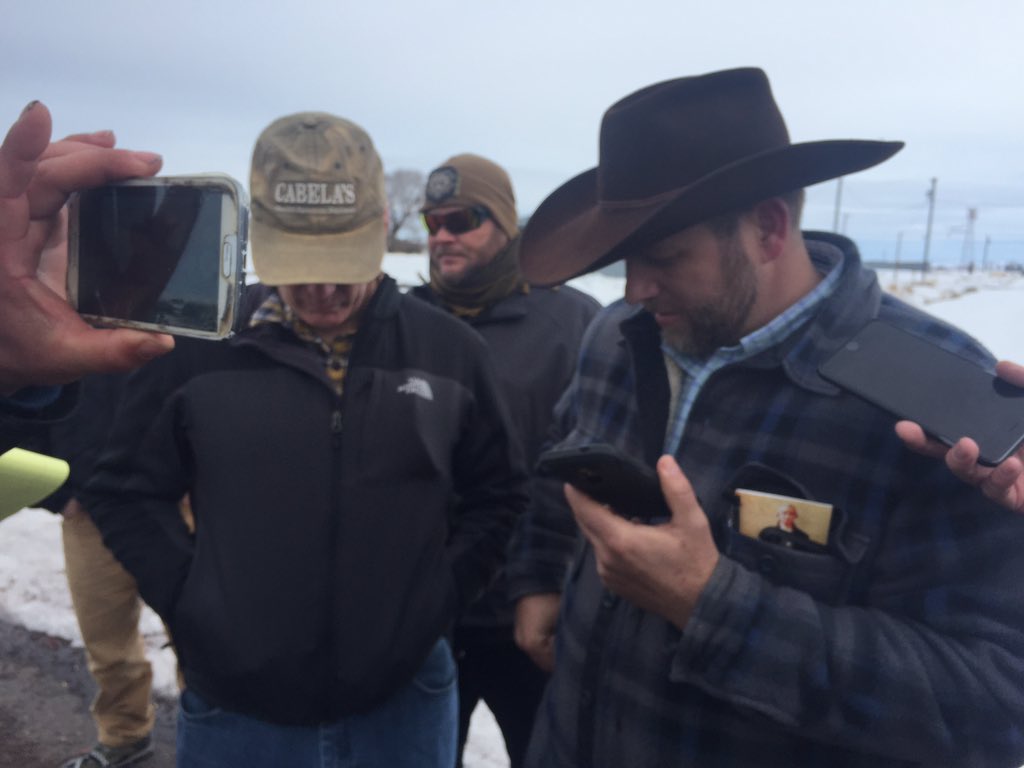 B
undy is talking with the FBI at Burns airport. #OregonStandoff: image via Amanda Peacher @amandapeacher, 21 January 2016
Looting the
artifacts and documents
Charlotte Rodrique, tribal chair: "We pray for the winged animals...this group of naughty ppl is down there w/no respect for the land."
#OregonStandoff: tweet via Amanda Peacher
@amandapeacher, 21 January 2016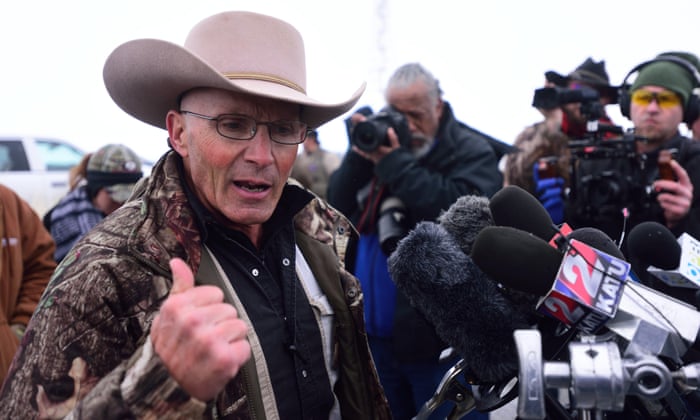 LaVoy Finicum posted a video of himself inside a government building looking through cardboard boxes of papers and other items associated with the Paiute tribe.
The militiamen stationed at a federal wildlife refuge in eastern Oregon are now rummaging through artifacts and documents of the Paiute tribe, sparking outrage among local Native Americanswhose ancestors originally occupied the land.
: photo by Rex/Shutterstock via The Guardian, 21 January 2016
Fresh outrage after militia seen rifling through tribal artifacts at Oregon refuge: Standoff leader posted a video of him looking through artifacts and documents from the Paiute tribe at the Malheur national wildlife refuge, sparking outrage: Sam Levin,
The Guardian, 21 January 2016
The militiamen stationed at a federal wildlife refuge in eastern Oregon are now rummaging through artifacts and documents of the Paiute tribe, sparking outrage among local Native Americans whose ancestors originally occupied the land.
LaVoy Finicum, one of the leaders of the armed protesters occupying the Malheur national wildlife refuge, posted a video of himself inside a government building looking through cardboard boxes of papers and other items associated with the local tribe –- and inviting Paiute leaders to meet with the militia and reclaim their belongings.
"We want to make sure these things are returned to their rightful owner," said Finicum, who recently helped destroy a US Fish and Wildlife Service fence and remove cameras that he claimed the government was using for surveillance.
The rightwing militia, led by Ammon Bundy, took over the headquarters of the wildlife sanctuary on 2 January to protest the government's land-use regulations in rural Harney County. They have demanded that local ranchers have control of public lands –- not the federal government.
But days after the occupation began, leaders of the federally recognized Paiute Indian tribe in Burns, the town closest to the refuge, decried the armed occupation, pointing out that the out-of-state militiamen were trying to claim sacred lands that are part of the tribe's ancestral territory.
The new video, posted on Wednesday night, has only further enraged tribal leaders who recently called on law enforcement officials to protect native cultural resources at the refuge and to criminally prosecute the militiamen.
"I feel disrespected that they're even out there," said Jarvis Kennedy, the tribal council's sergeant-at-arms. Kennedy said he was too upset to watch all of Finicum's video. "It's like me going through their drawers at their house."
Tribe leaders and federal officials say the refuge stores confidential documents and thousands of historic artifacts, such as baskets, spears, tools and beads. The refuge is also home to Paiute burial grounds, making the militia's recent decision to pave a road through the refuge particularly alarming.
"I could go to the Bundys where his grandparents are buried," Kennedy said. "How would they feel if I drove over their grave and went through their heirlooms?"
In his video, Finicum said that he was showing how the wildlife refuge has done a poor job maintaining the artifacts and keeping storage rooms clean. "This needs to be taken care of, and so we're reaching out to the Paiute people in the sincerest manner as we can," he said on camera. "Let's make sure that we take care of the heritage of the Native American people."
Added militia member Blaine Cooper: "The rightful owners need to come back and claim their belongings."
But Kennedy said the tribe has a good relationship with refuge officials and noted that the Paiute people refuse to communicate with militia leaders or visit the occupation.
"I'm not going to give them the satisfaction of meeting with them," Charlotte Rodrique, chairwoman of the Burns Paiute tribe, told the Guardian last week.
Kennedy noted that the militiamen have had no trouble leaving and returning to the refuge and feared one of them might damage or steal their artifacts and documents. "All the stuff they are doing out there, it's like a crime scene," he said. "Once this is done, we'll see what's missing."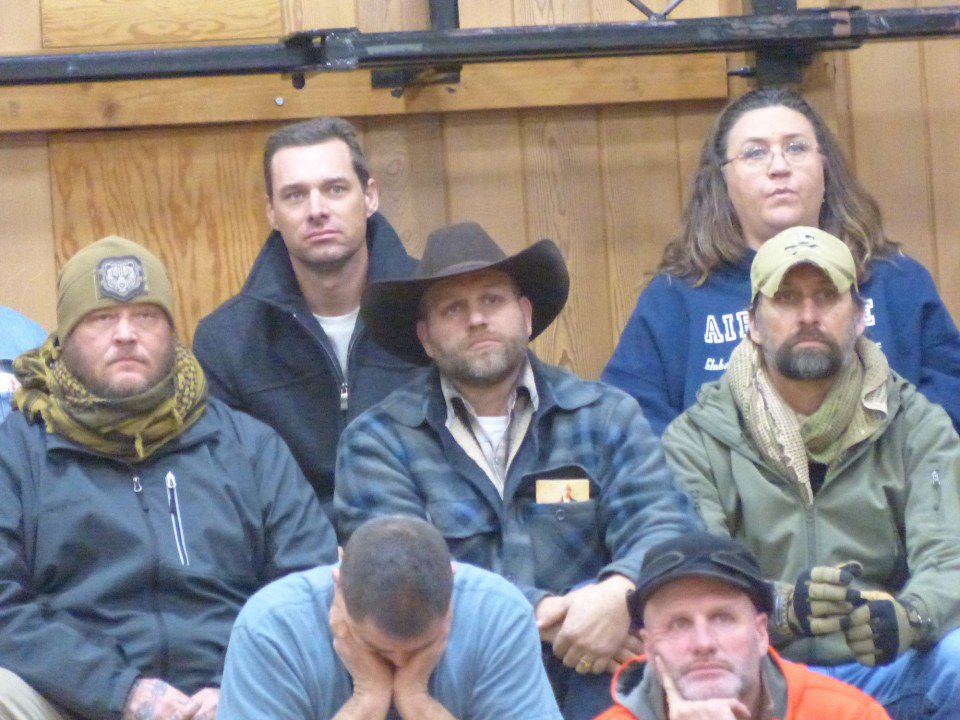 Ammon Bundy walks past wall of deputies into heated community meeting. Leaves in silence.
: image via Les Zaitz @LesZaitz, 20 January 2016
4,000 artifacts stored at Oregon refuge held by armed group

: Rebecca Boone, AP, 15 January 2016
Thousands of archaeological artifacts -- and maps detailing where more can be found

--

are kept inside the national wildlife refuge buildings currently being held by an armed group of protestors angry over federal land policy.
Ryan Bundy, one of the leaders of the group occupying the Malheur National Wildlife Refuge in southeastern Oregon, says they have no real interest in the antiquities. Still, their access to the artifacts and maps has some worried that looters could take advantage of the situation.
"There's a huge market for artifacts, especially artifacts that have provenance, where you can identify where they came from," said Carla Burnside, the U.S. Fish and Wildlife Service's refuge archeologist.
More than 300 recorded prehistoric sites are scattered across the refuge, including burial grounds, ancient villages and petroglyphs. Some of the artifacts -- including spears, stone tools, woven baskets and beads

--

date back 9,800 years.
The artifacts and remains came from ancestors of the Burns Paiute Tribe. Chairwoman Charlotte Rodrique says she feels helpless knowing that her tribe's cultural heritage is now in the hands of the armed group.
"As far as I'm concerned, our history is just another hostage," Rodrique said.
The tribe has sent a letter to the U.S. Fish and Wildlife Service and the U.S. attorney for Oregon, Billy Williams, asking that members of the armed group be prosecuted if any artifacts or maps are damaged or missing.
WHY AREN'T THE RELICS AT A MUSEUM?
About 7,000 artifacts and samples from the refuge are kept at a museum in Eugene, Oregon. But 4,000 more are kept at the refuge for research.
Only Burnside has a key to the room containing the artifacts and the maps. She's since seen pictures of the occupiers in her office, adjacent to the room where the artifacts are stored. The group has been looking through government files at the site, but it is unclear if they've gone through the room with the artifacts. Bundy told The Associated Press that he's seen the artifacts and lots of maps, but he didn't know what the maps illustrated.
The artifacts and maps are legally protected by the 1979 Archeological Resources Protection Act and other federal laws.
Rodrique said she doesn't know if members of the group have disturbed the artifacts but wants the artifacts and documents catalogued as the occupation continues and once it comes to an end.
"If the occupiers disturb, damage, remove, alter or deface any archaeological resource on the refuge property, the Tribe requests that the United States bring criminal charges," Rodrique wrote in her letter to federal officials.
WHAT IS THE ARMED GROUP DOING WITH THE ARTIFACTS?
Bundy said they're not interested in the artifacts and would turn them over to the Burns Paiute Tribe, if asked.
"If the Native Americans want those, then we'd be delighted to give them to them," he said.
Rodrique said the tribe is not going to legitimize the armed group's occupation of the refuge by negotiating with them.
"That's our history, our ancestors' possessions and remains," Rodrique said. "It's hard to explain, as a native person, what that means to us. That's the very proof of our existence in this country."
Bundy said he didn't think it was likely that anyone would use the maps to loot the site.
"We haven't really been thinking along those lines," Bundy said.
Removing artifacts from federal property without a permit is illegal.
WHAT ABOUT THE PREHISTORIC SITES?
Scientists are also worried about unintentional damage that could be done to the prehistoric sites by cattle, vehicles and heavy equipment.
The group at the ranch has driven road graders and other large construction equipment around the refuge headquarters buildings, but Bundy said Thursday they haven't used the machinery to move any earth. He wouldn't rule out that possibility, however.
In 2014, Ryan Bundy and supporters of the Bundy family rode ATVs on federal land closed to motorized vehicles in Utah as part of a protest. Their route took them along an illegal trail that crossed through Native American archeological sites.
HAVE THE SITES BEEN LOOTED BEFORE?
While well-known petroglyphs or other prehistoric sites are occasionally publicized for public viewing, federal land managers often go to great lengths to keep such locations secret when they can't be safely protected from vandals and looters.
Looting has long been a problem at the refuge, with the first documented instance recorded in 1979, according to the Fish and Wildlife Service's comprehensive conservation plan.
"It's a huge problem in Oregon, especially in the southeast portion of the state," said Dennis Griffin, the state's archaeologist. "More often than not, when they are caught, it's connected to drug running or seeking quick money on eBay."
An online search of "great basin artifacts for sale" yields arrowheads, stone pestles and other items, many priced at hundreds of dollars each.
Burnside said the artifacts are part of the ancestry of the Burns Paiute Tribe and are priceless to science.
"There's so much you can gain from looking at one artifact: Where the stone came from, how far they traveled, how it was used, the skill of the person who made it," she said.
The tribe works extensively with federal officials on the archeology projects. In her letter, Rodrique said the tribe knows it's a difficult time for Burnside and other refuge employees, and thanked the U.S. Fish and Wildlife Service for its cooperation and help.
"All I want is that our past be respected, that things don't go by the wayside, that they're not destroyed by cattle," Rodrique said in a phone interview.
"Their history is being hijacked by these people," said Donald Grayson, an anthropologist and archeology expert at the University of Washington.
HOW DOES BUNDY WANT THE ARCHEOLOGICAL SITES HANDLED?
Bundy said people interested in archeology are welcome to explore the refuge, but that cattle ranchers and loggers should have priority when it comes to land use.
"Before white man came, so to speak, there was nothing to keep cattle from tromping on those things," Bundy said.
Though some countries had domesticated cattle 10,000 years ago, the animals came to the United States with European settlers.
"We also recognize that the Native Americans had the claim to the land, but they lost that claim," Bundy said. "There are things to learn from cultures of the past, but the current culture is the most important."
"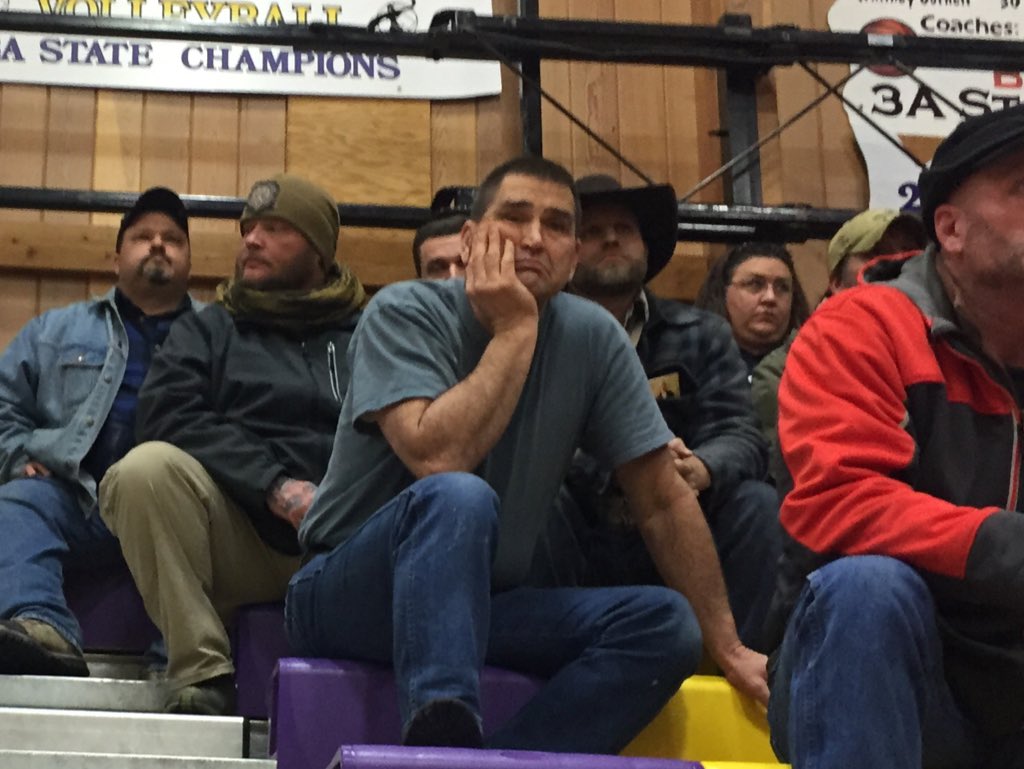 Bundy sits quietly. Oh, and "Fluffy Unicorn" is back: image via Amanda Peacher, 19 January 2016
The armed occupiers at the Malheur National Wildlife Refuge want the federal government to give back their land. This map of Oregon shows who had that land in the first place. Note: No map of pre-conquest America is exact because tribal "borders" were fluid: image via Daily Kos, 7 January 2016
Paiute tribal chair: 'Don't tell me any of these ranchers came across the Bering Strait': Meteor Blades, Daily Kos, 7 January 2016
As the media continue spotlighting the armed extremists occupying the federal headquarters of the Malheur National Wildlife Refuge in Oregon, their complaints about federal government "over-reach," and their demands that the feds "give the land back," members of another group say that if there were to be any giveback, they ought to be first in line.
Charlotte Rodrique, chairwoman of the Burns Paiute Tribe: photo via Daily Kos, 7 January 2016
They are the Burns Paiute Tribe, descendants of the people the U.S. Army under Gen. George Crook starved and murdered into submission in the 1860s in a successful effort to confine them to a 1.8 million-acre reservation. This was later reduced to the 1,000 or so acres where the 420-member tribe is now headquartered. The Paiute leaders are profoundly irked by the occupiers' demands. Amanda Peacher reports:
"Armed protesters don't belong here. By their actions, they are endangering one of our sacred sites," said tribal Chair Charlotte Rodrique.




Rodrique said she told a friend she was offended by the militants' notion that they could return the refuge lands to their rightful owners.




"I'm sitting here trying to write an acceptance letter for when they return all this land to us," Rodrique said.



For all too many American Indians, it's a familiar story.
Chairwoman Rodrique also said, "

Don't tell me any of these ranchers came across the Bering Strait and settled here."
The archeological record shows that people populated the land now surrounding the 190,000-acre Malheur preserve at least 6,000 years ago. The Northern Paiute were there at least back as far as 1,300 years ago.
As land-hungry white settlers started flooding into the area in the late 1850s, the Paiutes objected forcefully. That brought calls for the Army to step in and quell resistance. Immediately after the Civil War, it did just that. After nearly half the tribe had been wiped out by starvation and slaughter for defending themselves, Crook's dictum was "peace or death." Outnumbered and outgunned, the Paiutes gave in.
In 1868, a treaty was "negotiated" at gunpoint with the Paiutes and other tribes in eastern Oregon. The government promised to prosecute any whites who killed or injured Indians. But the Senate refused to ratify the treaty. This was a common occurrence. Tribes would sign treaties and make land concessions and the government negotiators would agree to certain obligations. But, not unusually, the Senate would either not ratify the treaty or would make deep changes in it, such as reducing annuities, often without informing the tribe. However, the treaty-signing tribe was required to stick to its side of the agreement.
As another tribe's leader -- the Oglala Lakota chief

Red Cloud (Mahpiua Luta) -- would later say: "

They made us many promises, more than I can remember, but they kept one; they promised to take our land, and they did."
In 1872, by executive order, President U.S. Grant established the Malheur Reservation. But almost immediately white settlers poured in, and then prospectors found a little gold. Rather than enforce the executive order, the government gave cover to the settlers and gold diggers by opening the boundaries of the reservation. Clashes were inevitable.
Topping that off, as was so often the case elsewhere, the private contractor Washington installed as the government's agent for the Paiutes was an Indian hater who withheld food and other allotments the tribe was supposed to receive.
In 1876, in response to this encroachment on the reservation lands his people had been guaranteed, Paiute Chief E-He-Gant (Egan) fumed:
"Did the government tell you to come here and drive us off this reservation? Did the Big Father say, go and kill us all off, so you can have our land? Did he tell you to pull our children's ears off, and put handcuffs on them, and carry a pistol to shoot us with? We want to know how the government came by this land. Is the government mightier than our Spirit-Father, or is he our Spirit-Father? Oh, what have we done that he is to take all from us that he has given us? His white children have come and taken all our mountains, and all our valleys, and all our rivers; and now, because he has given us this little place without our asking him for it, he sends you here to tell us to go away. Do you see that high mountain away off there? There is nothing but rocks there. Is that where the Big Father wants me to go? If you scattered your seed and it should fall there, it would not grow, for it is all rocks there."
That wasn't the end. The Paiutes joined the Bannocks in 1878 and renewed their resistance to encroachment. A brave but hopeless fight. Ultimately, all the Northern Paiutes were moved off

the reservation and shipped to Fort Simcoe in Washington state. In the early 1880s, the now-vacated Malheur Reservation was completely opened to homesteaders and miners. Eventually, under the Dawes Act of 1887 that squeezed two-thirds of their remaining land out of Indian hands across the West, just 115 Paiutes were given private allotments of 160 acres each. Most of these were sold off to non-Indians over the years. About 25 of those allotments remain in Paiute hands today.
As noted, this story of theft and murder, of "peace or death," is not extraordinary. It's the story of America. One which ranchers, miners and irrigators, including the gunslinging thugs of the Bundy Bunch, still benefit from today.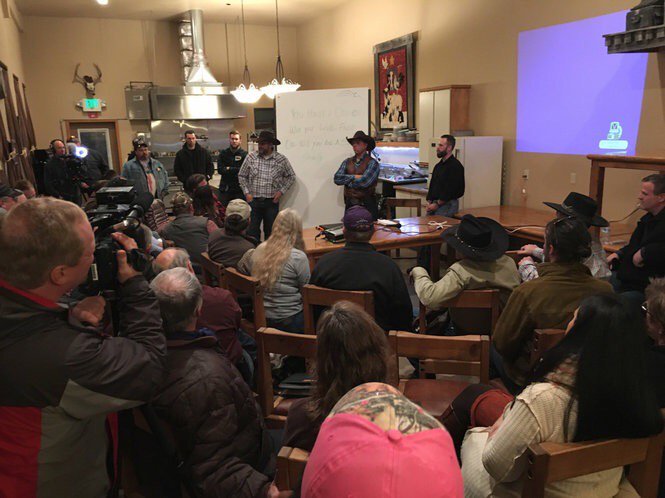 Oregon standoff leader warns feds: Back off.
: image via Les Zaitz @LesZaitz, 20 January 2016
History and Cultural Background of the Burns Paiute Tribe
"Paiute Wadatika Ma-Ni-Pu-Neen"
The Burns Paiute Reservation is located north of Burns, Oregon in Harney County. The current tribal members are primarily the descendants of the "Wadatika" band of Paiute Indians that roamed in central and southern Oregon.
Nine thousand years ago the northern Great Basin, which is now desert, was probably a series of very large lakes. The ancestors of the Burns Paiute people lived in caves near their shores. Horses, camels, mammoths, bison, elk and deer roamed the hills. These people used the fibers of the tule plant, willow, Indian hemp, and sagebrush bark to make woven sandals, coiled and twined baskets, and rope. They also made duck decoys, fish nets, and traps for small game with these fibrous plants. A beautiful soft blanket woven from the furs of rabbits and child's sandals made from sagebrush fibers were found preserved for close to 10,000 years in a cool, dry cave. Archeologists also found clothing made from deer, animal and bird hides. Their diet included a wide variety of items, such as fish (including a great deal of salmon), birds, deer, small animals, plants and seeds.

During the next one to 2,000 years, the climate slowly became drier and warmer. The lakes began drying up and food sources were less readily available. By 7,500 years ago, large mammals such as horses, camels and mammoth were extinct. People began seasonal migrations to take advantage of plants and animals in certain areas. Small family groups would travel separately collecting seeds, berries, roots, hunting small animals, deer, mountain sheep, elk and fish.

These smaller groups came together to harvest, socialize and intermarry with other Paiutes, as well as other Indian tribes. Spring offered roots to be gathered on the sunny hillsides and meadows, and fishing for salmon during the salmon runs. During the summer, berries and fruit were collected as food and stored for winter use. By late summer and early fall, seeds were the main resource to be gathered. Families also came together during this time of the year for communal antelope and rabbit drives. Late fall was the time to collect plant material to make items such as sandals, baskets, and clothing during the long winter months. By November, the families had gathered the cached goods they had put away during the months of harvesting. Materials were then gathered from the area (sagebrush in the desert or tules near the lakes) and they built houses near springs in which to live out the winter. The Paiutes lived in this manner for thousands of years.

The Paiute people believe that the Paiutes have lived in this area since before the Cascade Mountains were formed as they have learned from their stories and legends. Recent researchers, on the other hand, believe that about 1,000 years ago an influx of Paiute-speaking people came from the south and migrated throughout the Great Basin. They brought with them not only their language but also certain types of atlatl and spear points, and brownware pottery. Pottery was not found in the Great Basin before this time. However, the people of the Burns Paiute Tribe were basket makers and did not make pottery. According to the researchers, the language spoken here before the arrival of the Paiute is unknown. This, however, contradicts the Paiute stories and legends that are handed down from generation to generation which tell of the Paiute people living in the Great Basin for thousands and thousands of years.

The Burns Paiute Tribe descended from the Wadatika band, named after the wada seeds they collected near the shores of Malheur Lake to use as food. Bands were usually named after an important food source in their area. The Wadatika's territory included approximately 52,500 square miles between the Cascade Mountain Range in central Oregon and the Payette Valley north of Boise, Idaho, and from southern parts of the Blue Mountains near the headwaters of the Powder River north of John Day, to the desert south of Steens Mountain.
-- via The Burns Paiute Tribe, 17 March 2014
Welcome to Harney County, Oregon: photo by Ken Lund, 26 May 2008

Rainbow near Burns: photo by Richard Bauer, 30 August 2014