.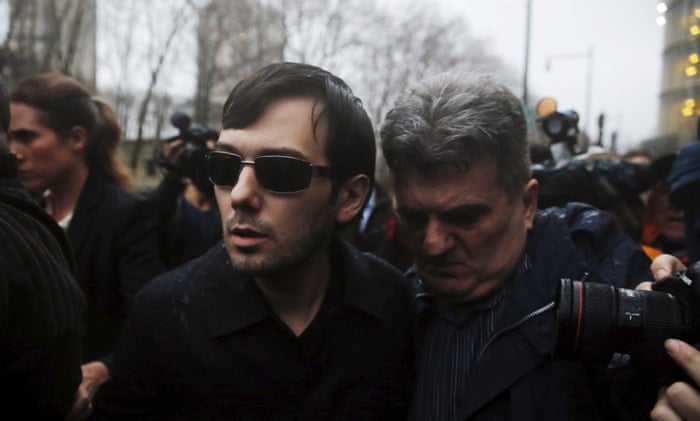 Martin Shkreli, in sunglasses, departs US federal court in
Brooklyn after arraignment on Thursday
: photo by Lucas Jackson/Reuters, 17 December 2015
"What whiteness, what candour?"
The disease of whiteness that kills everything
it touches, like the disease of money
that paints the headland and hills
across the Bay with the leukocytes
of the rich spoiled brats who get
to do what they like, because they've got
their moms waiting at the bar, and when
they get ready to cross over everything
in their path must die
Ethan Couch and seven other teens piled into this pickup truck before the fatal crash:
photo by Tarrant County Sheriff's Office, 15 June 2013 via ABC News, 15 October 2015
The pick-up truck Ethan Couch was driving is pictured here after the accident that left four people dead.:
photo by Tarrant County Sheriff's Office, 15 June 2013 via ABC News, 15 October 2015
Ethan Couch reportedly drove this pick-up truck 70 miles per hour before causing a fatal car crash.:
photo by Tarrant County Sheriff's Office, 15 June 2013 via ABC News, 15 October 2015
Runaway Rich Kid Beer Pong Killer with Wing Mom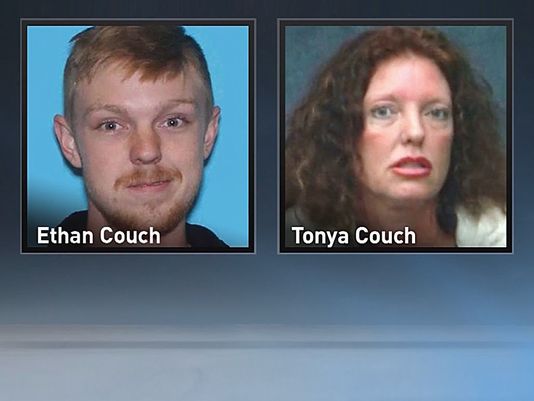 MORE: @AP reports #EthanCrouch granted temporary stay against deportation: image via WFAA-TV Verified account @wfaachannel 8, 30 December 2015
'Affluenza' Teen Ethan Couch and Mom Will Not Be Sent to US Today: photo by Jalisco State Prosecutor's Office via ABC News. 30 December 2015
#RealWorldJediPowers Killing four people in a DUI and then avoiding prison, then disappearing. #Affluenza
: image via TheValuesVoter @TheValuesVoter, 18 December 2015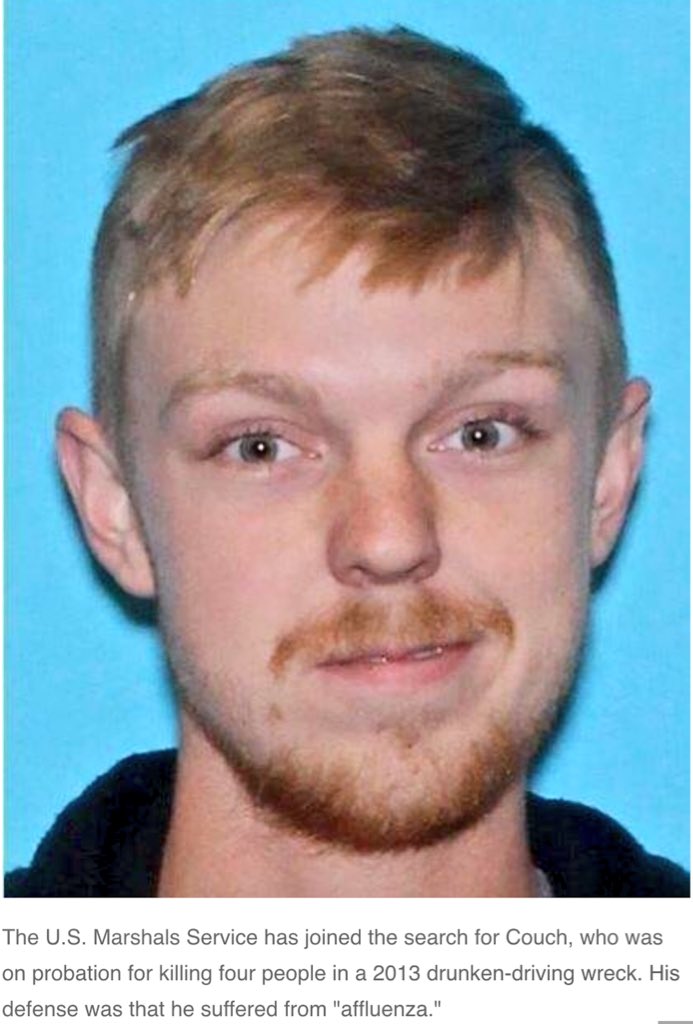 Kills 4, still gets to party. That affluenza is crippling! Manhunt For '#Affluenza'
Teen
: image via KHARY PENEBAKER @kharyp
, 19 December 2015
#Affluenza
teen mass-murderer Ethan Couch is on the run with his delinquent award-winning WORLDS'-WORST 'mommy'!
: image via BeachMilk @
BeachMilk

, 18 December 2015
The news needs to be PLASTERING #TonyaCouch's face. Mother of #Affluenza teen #EthanCouch
: image via FitHBIC @im_theHBIC
, 19 December 2015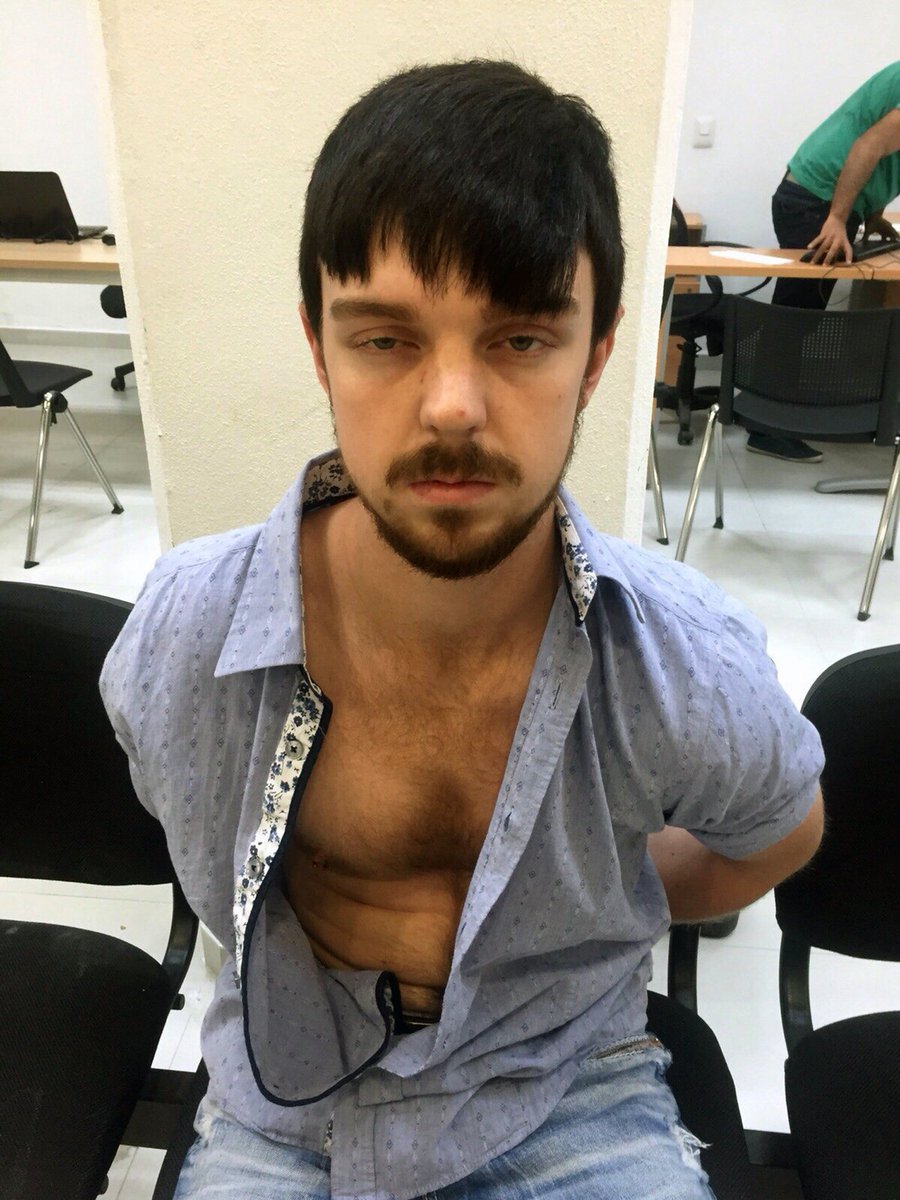 Well, Ethan Couch, now you'll be spending some time behind bars

#affluenza
: image via The Tico Times @TheTicoTime
s. 29 December 2015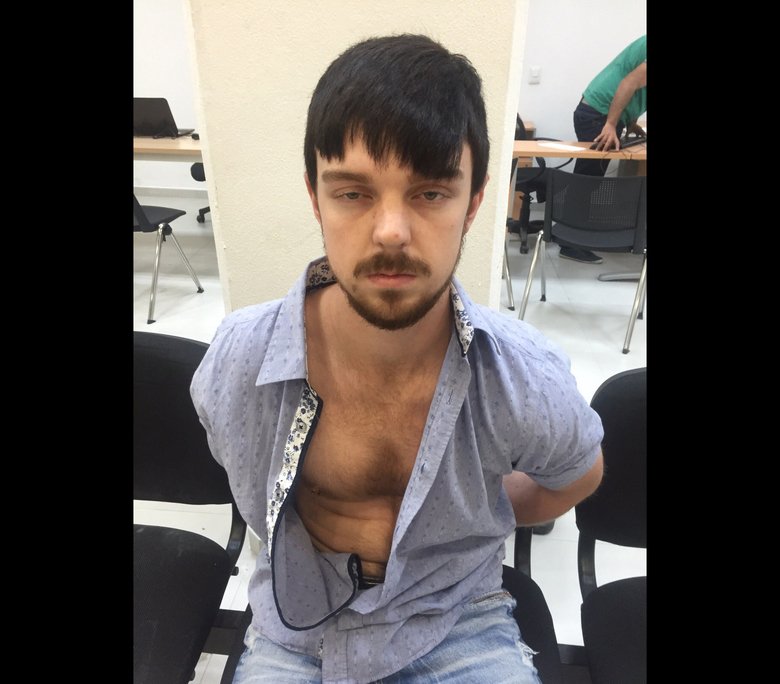 Police:

#Affluenza
teen #EthanCouch had "a going-away party" before skipping parole
: image via The Seattle Times Verified account @
seattletimes
. 29 December 2015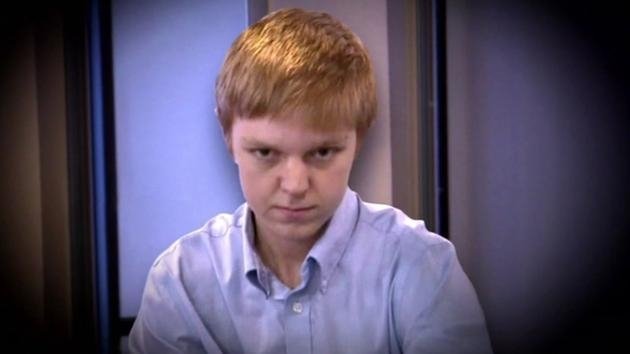 The 'Affluenza Teen' Who Killed Four People While Drunk... @ue4 #affluenza
: image via Daily Brew - Tech @
DailyBrewTech

, 19 December 2015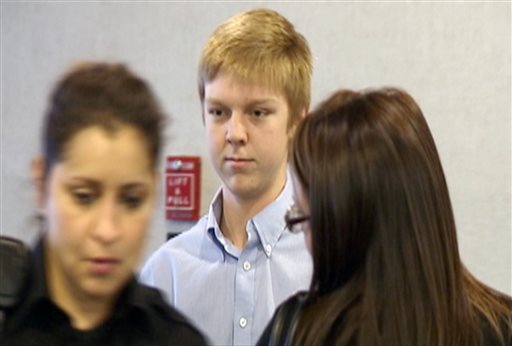 Q and A: The search for #Texas teen who claimed to be suffering from from #affluenza
: image via KSNT News @
KSNTNews

, 19 December 2015

#Closer #Look at '#affluenza' teen's #Parents #00 #Teens
: image via Best Videos Today @
Best Videos Today

, 20 December 2015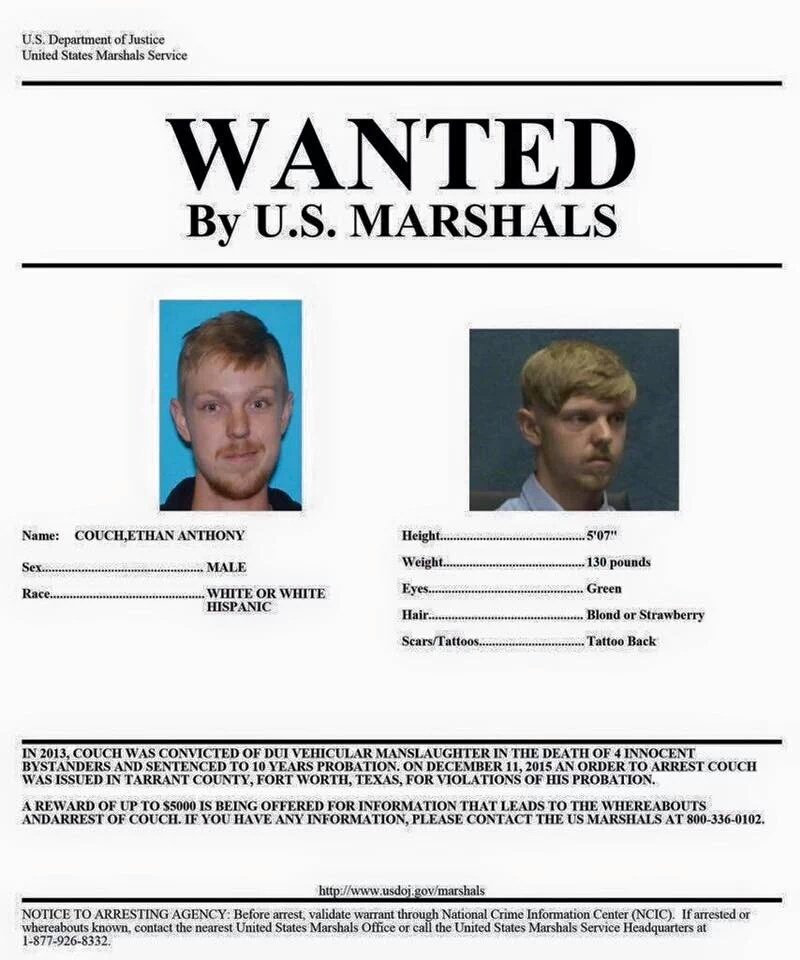 Manhunt underway for #EthanCouch the terrorist who killed 4 ppl then set free by White Privilege. #affluenza
: image via D @
Delo_Taylor

, 20 December 2015
Ethan Couch after he was taken into custody in Puerto Vallarta, Mexico, on Monday
: photo by
Jalisco State Attorney General's Office via New York Times, 29 December 2015
An undated photo of Tonya Couch, 48: photo by
Jalisco State Attorney General's Office via New York Times, 29 December 2015

The authorities have intensified their search for Ethan Couch, releasing new details and offering a $5,000 reward: photo by U.S. Marshals Service via Agence France-Presse / The New York Times, 22 December 2015
Tonya Couch: photo by Tarrant County Sheriff's Office via The New York Times, 29 December 2015
Ethan Couch appeared in juvenile court in Fort Worth, Texas, last year
: photo by
LM Otero/Associated Press via the New York Times, 16 December 2015
Daniel S. Loeb, shown with his wife, Margaret, runs the $17 billion Third Point hedge fund. Mr. Loeb, who has owned a home in East Hampton, has contributed to Jeb Bush's super PAC and given $1 million to the American Unity Super PAC, which supports gay rights. Mr. Loeb has invested in a Bermuda-based reinsurer -- an insurer to insurance companies -- that turns around and invests the money in his hedge fund. That maneuver transforms his profits from short-term bets in the market, which the government taxes at roughly 40 percent, into long-term profits, known as capital gains, which are taxed at roughly half that rate. It has had the added advantage of letting Mr. Loeb defer taxes on this income indefinitely, allowing his wealth to compound and grow more quickly: photo on left by
Patrick McMullan Company/photo on right by Doug Kuntz via The New York Times, 30 December 2015
Louis Moore Bacon, shown with his wife, Gabrielle, is the founder of a highly successful hedge fund and a leading contributor to Jeb Bush's super PAC. Among his homes is one on Robins Island, off Long Island. "Our investment in Max Re was not a tax-driven scheme, but rather a sound investment response to investor interest in a more dynamically managed portfolio akin to Warren Buffett's Berkshire Hathaway," said Mr. Bacon, who leads Moore Capital Management.: photo on left by
Amanda Gordon/Bloomberg News/photo on right by Doug Kuntz via The New York Times, 30 December 2015
Steven A. Cohen, shown with his wife, Alexandra, is the founder of SAC Capital and owns a home in East Hampton. He is a prominent art collector and has focused his political contributions on a super PAC for Gov. Chris Christie.: photo on left by
Carly Erickson/BFA/photo on right by Doug Kuntz via The New York Times, 30 December 2015
An exterior view of the headquarters of SAC Capital Advisors, L.P. in Stamford, Connecticut
: photo by Michelle McLoughlin/Reuters, 25 July 2013
SAC Capital to pay $10 million in investors' insider trading lawsuit: Nate Raymond in New York for Reuters Business News, 24 December 2015
Billionaire Steven A. Cohen's former hedge fund SAC Capital Advisors LP has agreed to pay $10 million to resolve a lawsuit by shareholders of drugmaker Wyeth, who claimed they lost money because the fund engaged in insider trading in Wyeth's stock.The proposed settlement was disclosed in court papers filed on Wednesday in federal court in Manhattan and would resolve a class action launched following the arrest of a former SAC Capital portfolio manager, Mathew Martoma, for insider trading.

Martoma was sentenced in 2014 to nine years in prison after being convicted of engaging in insider trading based on confidential results of a clinical trial of an Alzheimer's drug being developed by Elan Corp and Wyeth.

Prosecutors said the trades enabled SAC Capital to make $275 million, making it the most lucrative insider trading case ever charged in the United States.

The $10 million class action accord, which requires court approval, follows earlier deals with U.S. authorities in which SAC Capital agreed to pay $1.8 billion and plead guilty following investigations into insider trading by its employees.

Those accords included a $602 million settlement with the U.S. Securities and Exchange Commission by an SAC Capital unit resolving claims related to insider trading in Elan and Wyeth.

Elan and Wyeth are now part of Perrigo Co Plc and Pfizer Inc, respectively.

City of Birmingham Retirement and Relief System and KBC Asset Management NV served as lead plaintiff in the Wyeth class action, which was filed in 2013 and sought to recover investor losses from the defendants, who included Cohen himself.

A separate case by Elan investors remains pending. SAC Capital has been in runoff mode, and Cohen's fortune is now traded through his family office, Point72 Asset Management.

"We are pleased to have resolved the Wyeth matter and are prepared to vigorously contest the remaining class action," Point72 spokesman Mark Herr said.

In total, six ex-SAC Capital employees have been convicted of insider trading. Prosecutors in October dropped charges against two others, including Michael Steinberg, who was convicted in 2013 and sentenced to 3-1/2 years in prison.

Cohen was never criminally charged. But the SEC filed an administrative action against him in 2013 for failing to supervise Martoma and Steinberg.

The SEC on Monday said that given the dismissal of charges against Steinberg, it would pursue a narrower case against Cohen over his supervision of Martoma.

Trial is scheduled for April 11.
The case is Birmingham Retirement and Relief System v. SAC Capital Advisors LP, U.S. District Court, Southern District of New York, No. 13-02459.
'Mao' by Andy Warhol: image by Sotheby's via Bloomberg Business, 11 November 2015
Steve Cohen Is Trading Art Like Stocks: Katya Kazikina, Bloomberg Business, 3 November 2015
Steven A. Cohen built a reputation as a fast trader with an uncanny ability to predict where stock prices are headed. He's applying his investing style to an art collection that now accounts for about $1 billion of his $11 billion fortune.
Cohen is selling two paintings estimated at more than $65 million at New York auctions this month, according to people familiar with the matter, as the billionaire money manager is taking advantage of surging prices. The works are part of the bellwether semiannual auctions at Sotheby's, Christie's and Phillips that will target more than $2.1 billion in sales over 10 days starting Wednesday.
The 59-year-old Cohen regularly sells pieces from his collection, both privately and at auction, and buys new ones, according to dealers and advisers. One of the works he's consigned, according to one of the people, is a punctured, egg-shaped Lucio Fontana canvas estimated at more than $25 million at Christie's. The piece may smash an auction record for the Italian artist that was set just last month in London.
Warhol's Mao
Cohen also is selling a Mao portrait by Andy Warhol at more than $40 million at Sotheby's, or 40 times its last auction price 19 years ago, said two people who asked not to be named because the information is private. Both of Cohen's works are marked as guaranteed in the auction catalogs, meaning he will get an undisclosed price regardless of what happens in the salesrooms.
"He is a trader by mentality," said John Good, a private art dealer in New York who knows Cohen and his collection, having spent 13 years as director at Gagosian Gallery and three years at Christie's private sales division. "But he is also a great collector. As dealers, we love people like Stevie Cohen."
The stakes are high for the auction houses: the sales are the art trade's biggest test since the global stock market rout in August and September unnerved investors. To win consignments, the companies guaranteed about $1 billion of art to sellers, backing most of the works with their own money, a risky proposition should there be no takers.
Natural Evolution
Fontana's 1964 "Concetto spaziale, La fine di Dio," will be offered at Christie's postwar and contemporary evening sale on Nov. 10. Christie's is financing the guarantee, according to the catalog. Warhol's 1972 portrait of former Chinese leader Mao Zedong is for sale at Sotheby's contemporary art evening auction on Nov. 11. An outside backer agreed to place an irrevocable bid for the work, according to Sotheby's. Both auction houses put Cohen's artworks on the covers of their weighty catalogs.
Jonathan Gasthalter, a spokesman for Cohen at Sard Verbinnen & Co., declined to comment on the sales. Sotheby's and Christie's declined to comment on the auction sellers.
"He used to collect modernism. Now he's into classic postwar and contemporary," Good said of Cohen. "That's a natural evolution. On the high-ticket things, if he likes them, he keeps them. If he doesn't, he sells them."
New Approach
Cohen's approach, setting records as a buyer and seller with a changing taste, is fairly new in the collecting world. Traditionally, collectors spent decades building their holdings with a mix of superior and mediocre works, and they rarely sold.
"They loved it. They lived with it," said Wendy Cromwell, a New York-based art adviser. "That was the old-school way."
An example of such a collection is on view at Sotheby's, which is selling a 500-lot trove amassed by its former chairman A. Alfred Taubman, Cromwell said. "Masterworks," the first sale from the collection, is on Wednesday.
New Record
Cohen's style of collecting is different. In May, Cohen's 1961 Jean Dubuffet painting "Paris Polka" fetched $24.8 million at Christie's, more than three times the artist's previous auction record of $7.4 million set six months earlier. A year ago, Cohen's Franz Kline canvas, "King Oliver" (1958), fetched $26.5 million, also at Christie's in New York, the second-highest price for the Abstract Expressionist painter.
The owner of Point 72 Asset Management, a family office that manages about $11 billion, in 2013 consigned a group of seven paintings to Sotheby's. They tallied at least $77 million, led by Gerhard Richter's 1986 abstract painting "A.B. Courbet" that fetched $26.5 million.
Cohen's recent acquisitions include Alberto Giacometti's 1950 painted-bronze sculpture "Chariot" that fetched $101 million at Sotheby's in November 2014.
Fontana Record
Almost 7-feet-tall, "Mao" is one of 11 made in this height, according to Sotheby's catalog. This painting fetched $1 million at Sotheby's in 1996, when it last appeared at auction.
Fontana's market has been on fire this year, surpassing the 2008 high when his works tallied $95.9 million at auction, according to research company Artprice.com. Last month in London, Sotheby's and Christie's sold 21 Fontana pieces for a total of 36.6 million pounds ($56.6 million). The artist's auction record was established last month at Sotheby's for a black egg canvas at $24.7 million.
It's unclear how much Cohen paid for the Warhol and Fontana. Cohen bought "Mao" in a private transaction from Francois Pinault, the billionaire owner of Christie's, in 2007. At Christie's in 2006 another "Mao" painting from the same group fetched $17.4 million.
Cohen exemplifies a new breed of collectors who have a passion for art but also aren't reluctant to switch up their holdings, Good said.
"A lot of people treat their art collections as one asset class and they trade within that asset class," Good said. "If it's not working for you anymore, why not turn it into cash and buy more art?"
Steve Cohen
Is Writing Eight-Figure Checks To Make People Go Away: Jon Shazar, Dealbreaker, 28 December 2015
Even to people who are already splitting 602 million of his dollars. Be advised, Mary Jo White.
Billionaire Steven A. Cohen's former hedge fund SAC Capital Advisors LP has agreed to pay $10 million to resolve a lawsuit by shareholders of drugmaker Wyeth, who claimed they lost money because the fund engaged in insider trading in Wyeth's stock….
"We are pleased to have resolved the Wyeth matter and are prepared to vigorously contest the remaining class action," Point72 spokesman Mark Herr said.
Steve Cohen:
photo by Reuters via Page Six, 18 July 2015

Billionaire furious he can't sell "jinxed" Manhattan apartmen
t:
Emily Smith, Page Six, 18 July 2015

Hedge fund billionaire Steven A. Cohen is back trying to offload the "jinxed" Manhattan apartment that just won't sell.
The SAC Capital founder initially put his One Beacon Court duplex on East 58th Street on the market for a whopping $115 million in April 2013.
But the pricey penthouse atop the Bloomberg Tower didn't attract any buyers, so he slashed $17 million off the pad in December 2013, offering the luxe four-bedroom for a bank-busting $98 million.
But still there were no takers for the 9,000-square-foot minimalist apartment, which boasts 24-foot-high walls of windows and offers sweeping views of Central Park and Downtown. So, after slashing it to $82 million, Cohen took it off the market and blamed his brokers.
One source told us at the time, "Cohen hasn't had a buyer, and he blames his broker. Furious is not the word." But another source sniffed, "The lack of a buyer might be because some feel the place might have some bad karma or be jinxed because of his SAC troubles."
In November 2013, his firm SAC Capital pleaded guilty to securities fraud and paid a rec­ord $1.8 billion fine to settle insider-trading charges. Cohen, who was not charged with any crime and denied any wrongdoing, now runs Point72 Asset Management, which operates as a family office hedge fund.
Cohen has just put his princely penthouse back on the market -- reduced to $79 million. But a real-estate insider tells us, "It was way overpriced . . . There's still a feeling from some big-money guys that the place is still jinxed."
Despite any real-estate woes, Cohen continues to live large. Page Six exclusively revealed last month that he purchased the world's most expensive sculpture, Giacometti's "Pointing Man," for 141.3 million. He owns a sprawling Connecticut estate, bought an East Hampton mansion for $62.5 million in 2013, and also the same year splashed out on an apartment at the Abingdon in the West Village for $23.4 million. In January, Cohen bought a nine-bedroom Beverly Hills mansion that was listed for $35 million.

Giacometti's "Pointing Man", purchased by hedge fund billionaire Steve Cohen for record $141.3 million at Christie's: image via Page Six, 8 June 2015
Man who bought the world's most expensive sculpture revealed: Emily Smith, Page Six, 8 June 2015
Hedge fund billionaire Steven Cohen is the secret buyer of the world's most expensive sculpture, Alberto Giacometti's "Man Pointing," for $141.3 million at Christie's, Page Six can exclusively reveal.
While much of the attention was on the sale of Picasso's "Les Femmes d'Alger" for $179 million, setting a world record for the most expensive artwork ever sold at auction, Cohen quietly bought Giacometti's 1947 masterpiece "Man Pointing," or "L'Homme au doigt," a life-size bronze sculpture of a thin man, at the same May 11 Christie's auction.
Giacometti, who died in 1966, made six casts of the work; four are in museums, and the others are in private hands and a foundation collection.
While Cohen, 58, elected to remain an anonymous buyer, multiple sources have since confirmed to Page Six that the Point72 Asset Management founder made the record-breaking Giacometti purchase.
It is not the only piece Cohen owns by the artist. In November 2014, the hedge funder was the lone bidder for Giacometti's 1950 sculpture "The Chariot," spending $101 million at a Sotheby's auction.
"It's one of the great 20th-century sculptures,'' said Manhattan art dealer William Acquavella at the time, adding of Cohen, "Steve is a very serious, very astute collector. He also has the right instincts, ones that can't be learned from reading art-history books."
Cohen has homes in Manhattan, East Hampton and Greenwich, Conn., where he has been building a private museum for his art collection, which includes Picasso's "Le Rêve," Edvard Munch's "Madonna" and Damien Hirst's iconic shark in formaldehyde piece, "The Physical Impossibility of Death in the Mind of Someone Living."
The Physical Impossibility of Death in the Mind of Someone Living (Tiger shark in formadehyde solution):

Damien

Hirst

, 1992 (Metropolitan Museum of Art, New York)
Cohen, worth an estimated $11.4 billion, closed his legendary hedge fund SAC Capital in 2014 following an insider-trading probe and created a new group of funds called Point72 Asset Management to manage his personal assets.
A spokesman for Cohen declined to comment.


Wall Street: photo by Reuters via New York Post, 25 December 2015
Cover of Adrift in New York, by Horatio Alger: image from Project Gutenberg e-text by Tagishsimon, 27 July 2006

Demonstrators protested in October outside of the New York offices of Turing Pharmaceuticals, whose chief, Martin Shkreli, was arrested on Thursday: photo by Craig Ruttle/Associated Press via the New York Times, 18 December 2015
Martin Shkreli, in sunglasses, departs US federal court in
Brooklyn after arraignment on Thursday
: photo by Lucas Jackson/Reuters, 17 December 2015
Martin Shkreli was arrested at his Manhattan home Thursday morning
: photo by
Richard Perry/The New York Times, 18 December 2015
The handcrafted silver and nickel box that the Wu-Tang Clan's 'Once Upon a Time in Shaolin' album will come in: photo by Scluzay/Warren Wesley Patterson via New York Daily News, 28 March 2014
The handcrafted silver and nickel box that the Wu-Tang Clan's 'Once Upon a Time in Shaolin' album will come in: photo by Scluzay/Warren Wesley Patterson via New York Daily News, 28 March 2014

Martin #Shkreli resigns as #Turing CEO after securities fraud arrest (MGN)
: image via Local12/WKRC-TV Verified account @Local12, 18 December 2015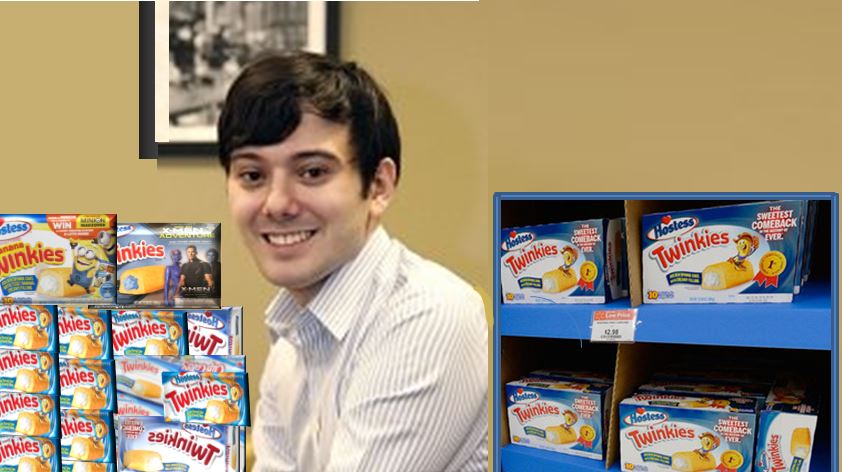 Breaking News: Martin Shkreli's lawyer said to have not ruled out Twinkie Defense. #Turing $KBIO $RTRX
: image via William Gerber @
WilliamGerber

, 18 December 2015
Martin Shkreli, chief executive of Turing Pharmaceuticals, was arrested Thursday morning: photo by Andrew Burton via New York Times, 17 December 2015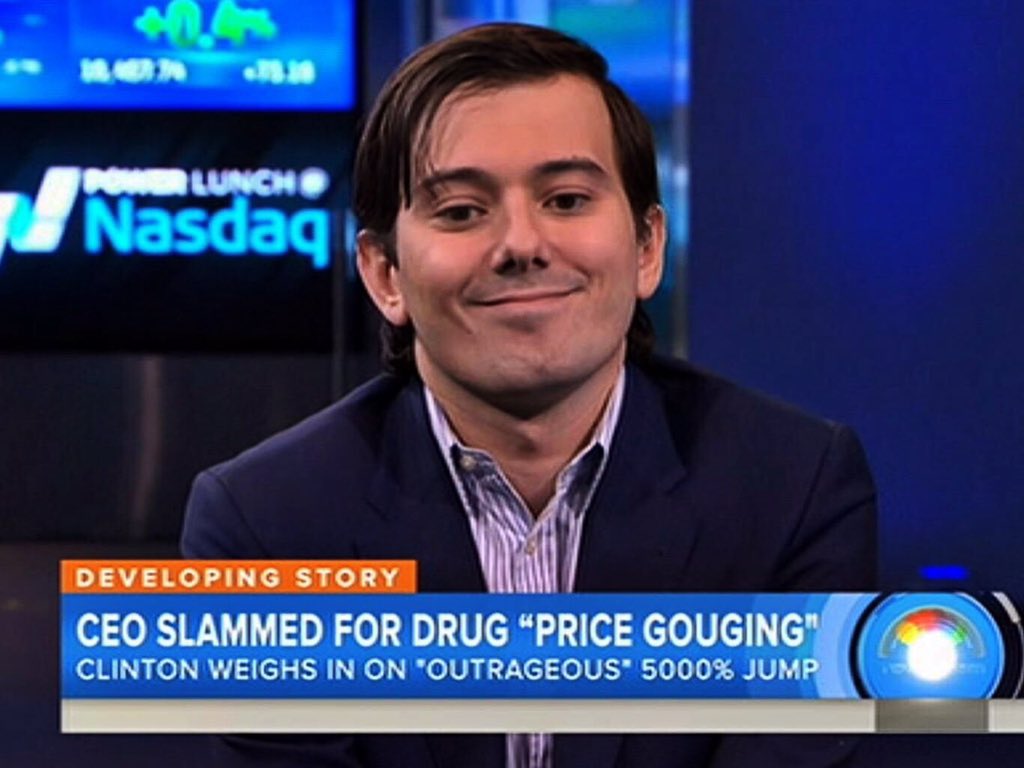 "Most hated man in America" who raised HIV drug price to $750 arrested by FBI for securities fraud.#karma
: image via Mike Sington @Mike Sington, 17 December 2015 Los Angeles, CA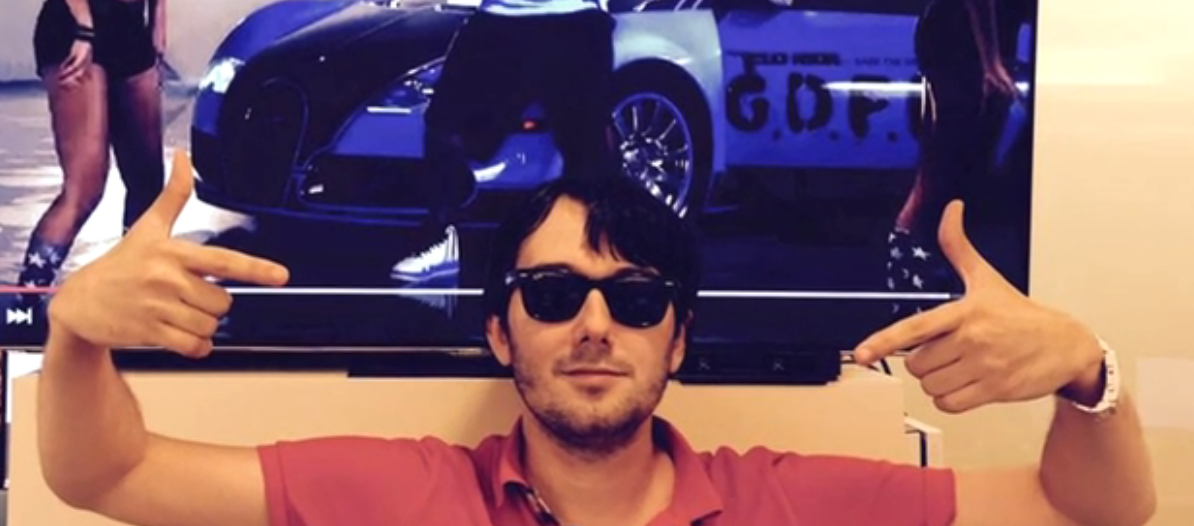 #MartinShkreli: I should've "raised prices higher": image via CBS This Morning Verified account @
CBSThisMorning,

4 December 2015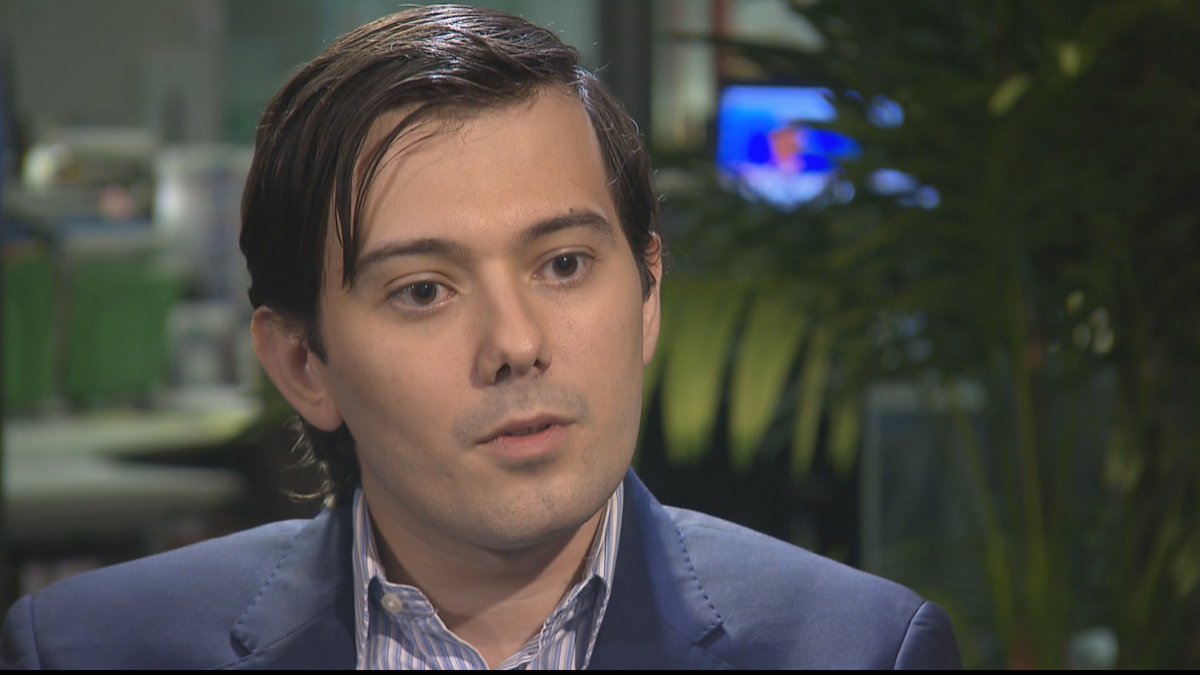 NEW THIS MORNING: Officials confirm to
@CBSNews
drug company CEO #MartinShkreli
faces charges of securities fraud:: image via CBS This Morning Verified account @
CBSThisMorning,

17 December 2015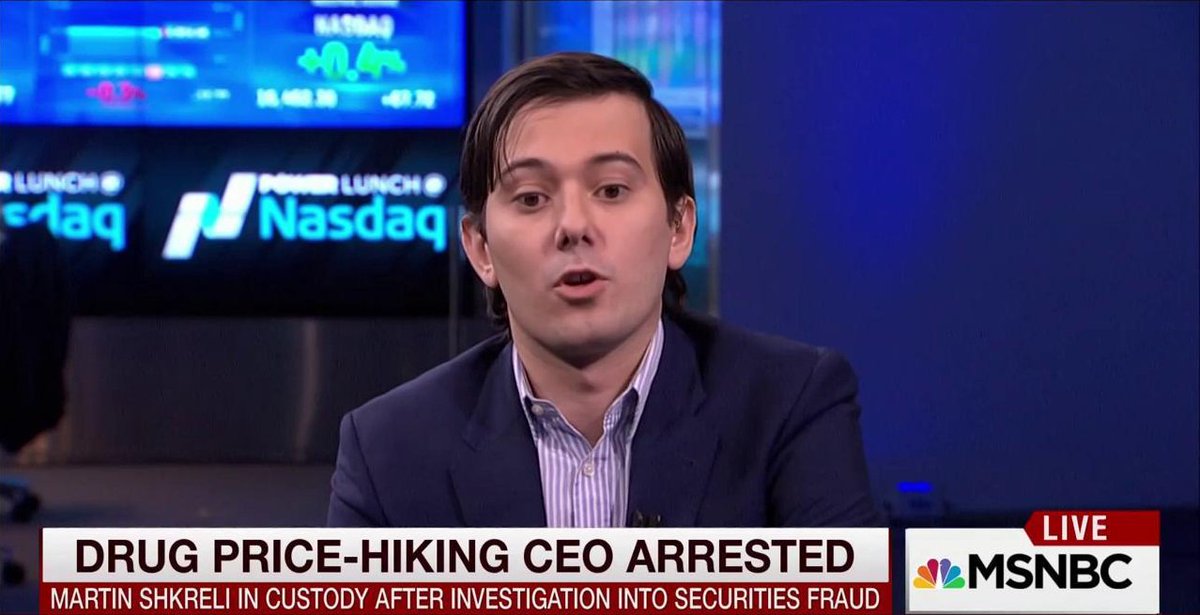 @TheDomino on #MartinShkreli
arrest: This has all the makings of a made-for-TV pay cable movie...:: image via Morning Joe Verified account @
Morning Joe
,

17 December 2015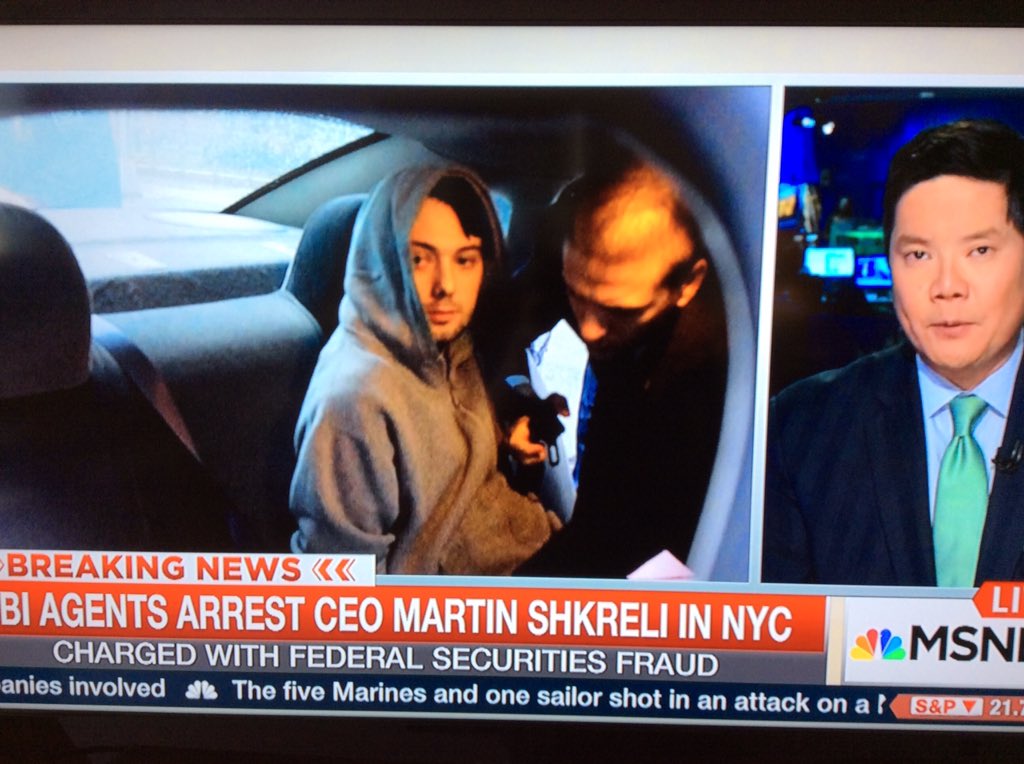 Why does it not surprise me that #MartinShkreli
is the type when situations are reversed would throw up on himself?: image via K Smith @
Smithh83K
,

17 December 2015
Buying the whole fucking float
Money, far from being the harmless arena of human emulation as its apologists hold, is a great destroyer.

Because money is eminent desire, there is no satisfaction in the external world unless it is conveyed in money, until the world is possessed in monetary garb -- like an Indian bride in her finery, hair reeking of attar of roses, eyes stinging with kohl
-- ; because money is all power and potential, the external world is a poor thing and may be exploited and altered without compunction.
El mundo es poco. Columbus sucked a thousand years of gold from the Caribbean in two or three, and then extinguished all its human life. The Conquest he not so much inaugurated as carried to the New World now rages all over the globe, including its polar regions. Woods are paved, mountains mined, seas eaten, species annihilated. All the large land and sea animals of the earth, and most of ts birds, are under sentence of extinction. They are being killed not by the rifle, but by a more lethal invention, money. Money is no longer, as Adam Smith thought in an excitable passage, 'a waggon-way through the air' that leaves the earth free for men, but is actually destroying it, in the sense of extirpating its most intimate and precious nature, as the cattle-money of the Masai is destroying the grasslands of East Africa. To say that human beings must accept these losses, and live among their parasites -- learn to love sparrows and magpies and no other birds, hold cockroaches to be the only insects -- in a world of perfect artifice is the final idolatry: that money is our ineluctable destiny, not merely our life, but our death as well. Schopenhauer watched the old men of his age barricade themselves behind money against the siege engines of death. Now all people do that. Humanity itself is transforming into the dragon of the Nibelungen, squatting in a filthy cave amid heaps of dusty treasure. The Ego is satisfied at last, surrounded by annihilating possessions.
James Buchan: from Frozen Desire: The Meaning of Money, 1997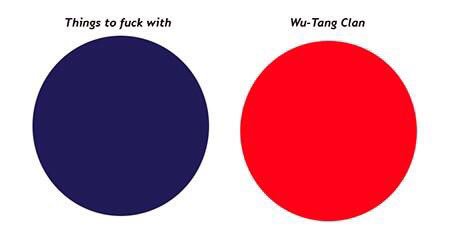 Every Day I'm Studying
: image via Wu-Tang Financial @Wu_Tang_Finance, 12 December 2015

SANTAS ELVES SO SAVAGE
: image via Wu-Tang Financial @Wu_Tang_Finance, 14 December 2015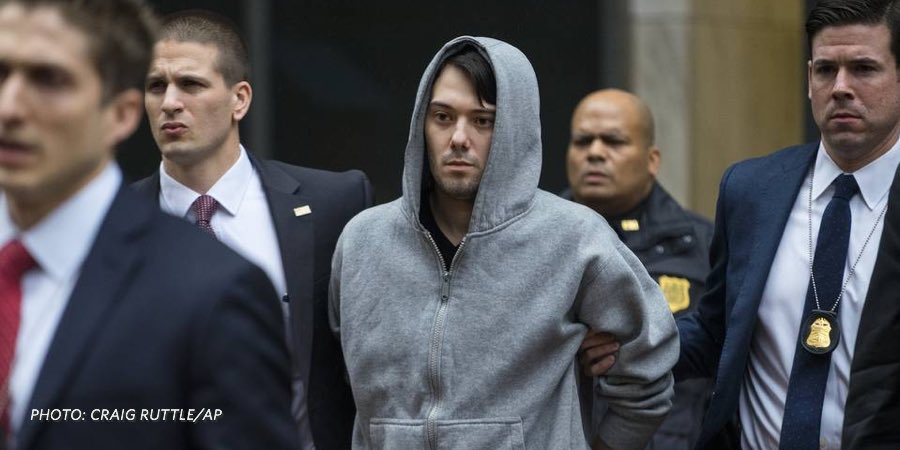 MARTIN LOOK LIKE HE BOUT TO DROP THE HOTTEST MIXTAPE OF 2016
: image via Wu-Tang Financial @Wu_Tang_Finance, 17 December 2015
best Bloomberg headline of the day. cc: @Wu_Tang_Finance @Wu_Tang_Clan: image via deuceocho @deuceocho28
, 17 December 2015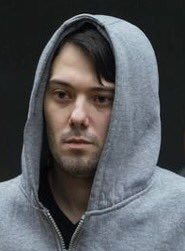 When momma makes yo favorite cookies and the rest of ya fam eat them all before u get home from work
: image via Wu-Tang Financial @Wu_Tang_Finance, 17 December 2015
LOL Martin $KBIO
: image via Nathan Michaud @InvestorsLive, 19 November 2015
Turnaround in progress. $KBIO
: image via
MartinShkreli

@
MartinShkreli

, 23 November 2015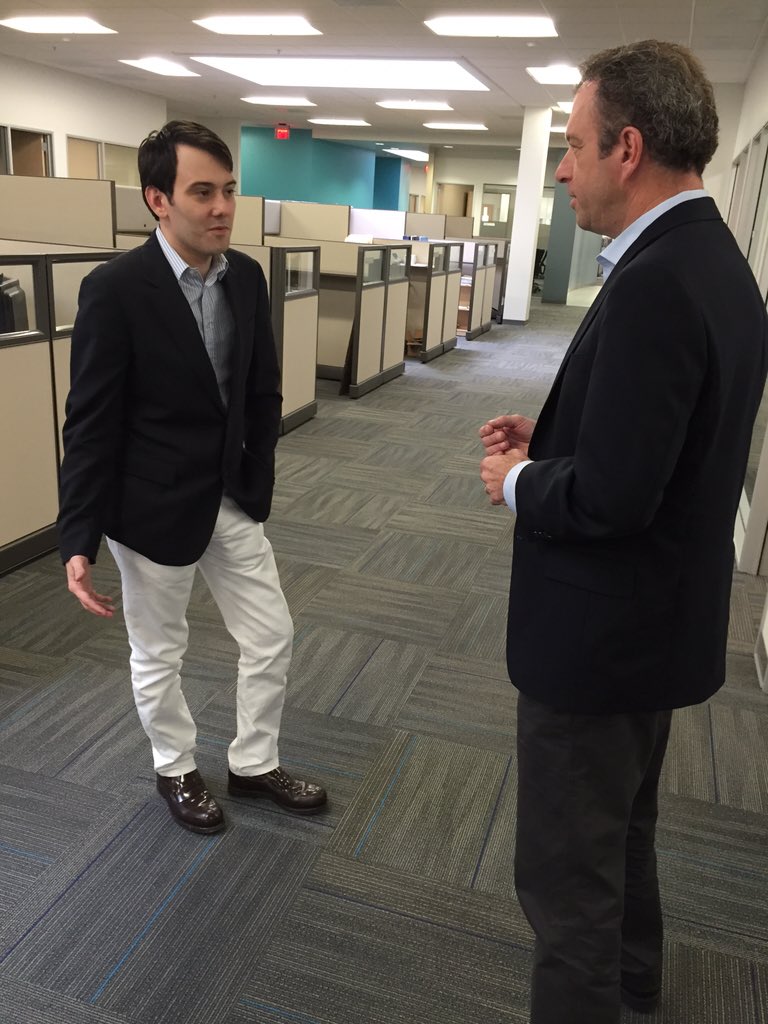 Exclusive: KaloBios CEO
MartinShkreli
on drug prices, criticism, and fighting leukemia. Tonight at 6pm

$KBIO
: image via
scott budman

@
scottbudman

, 24 November 2015
Had a wonderful evening with this young man
: image via
Martin Shkreli

@
MartinShkreli

, 4 December 2015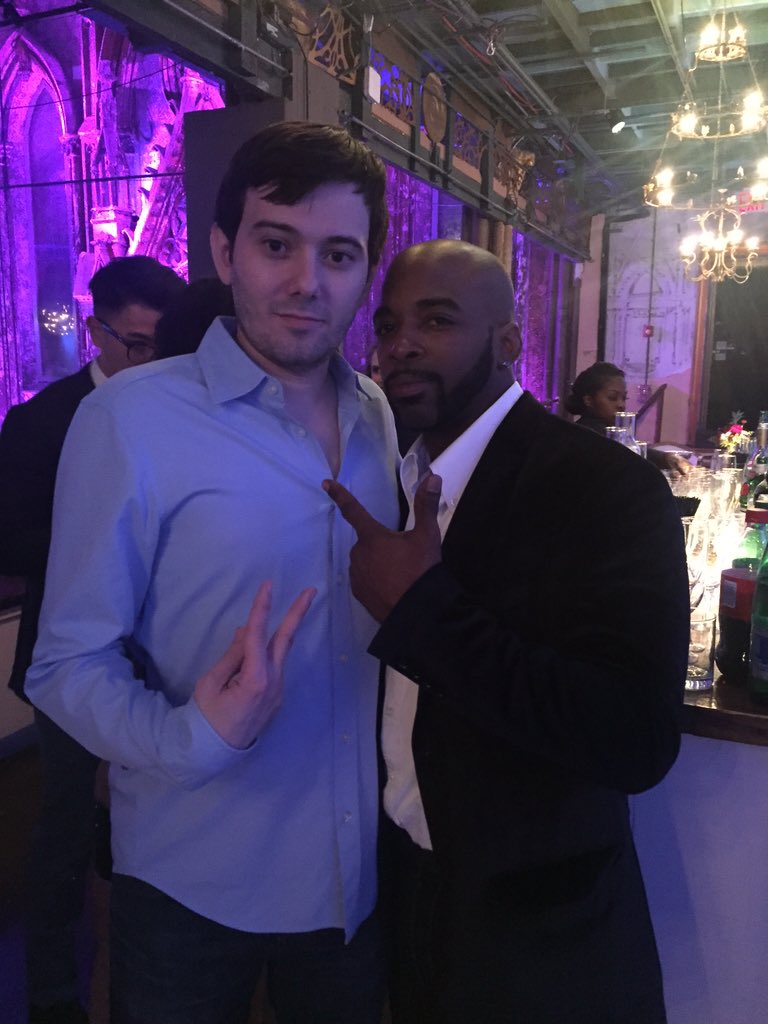 With my guy
@

MartinShkreli

real cool dude
: image via LIL SHAUN
@
lilshaun45

, 5 December 2015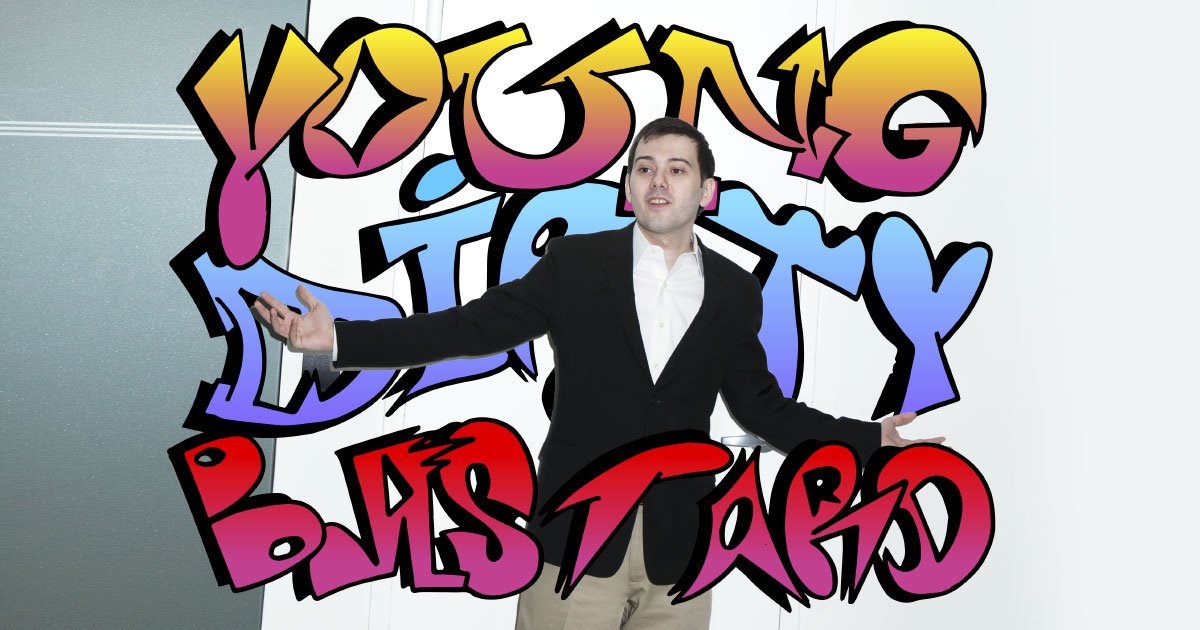 We found out who bought the only copy of Wu-Tang's album
: image via Bloomberg Business
@
business

, 9 December 2015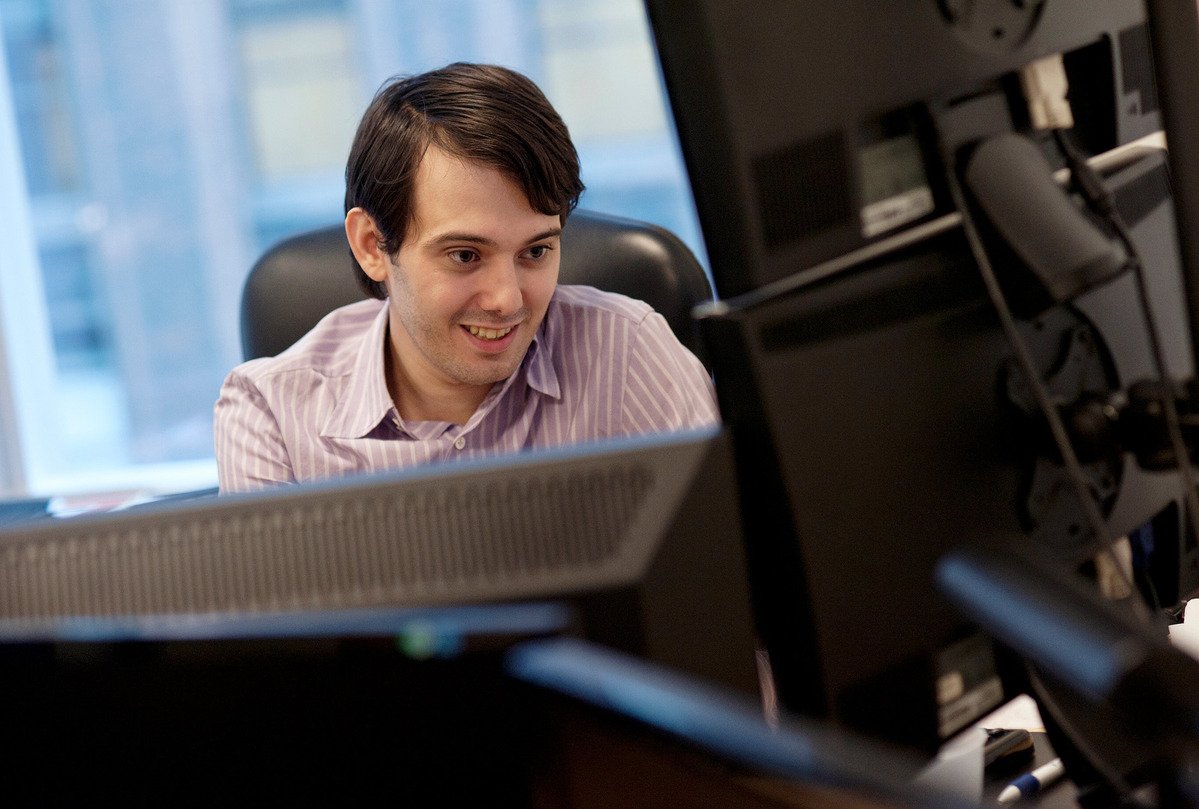 Wu-Tang loving Turing CEO Martin Shkreli is really good at short selling
: image via Bloomberg Business
@
business

, 16 December 2015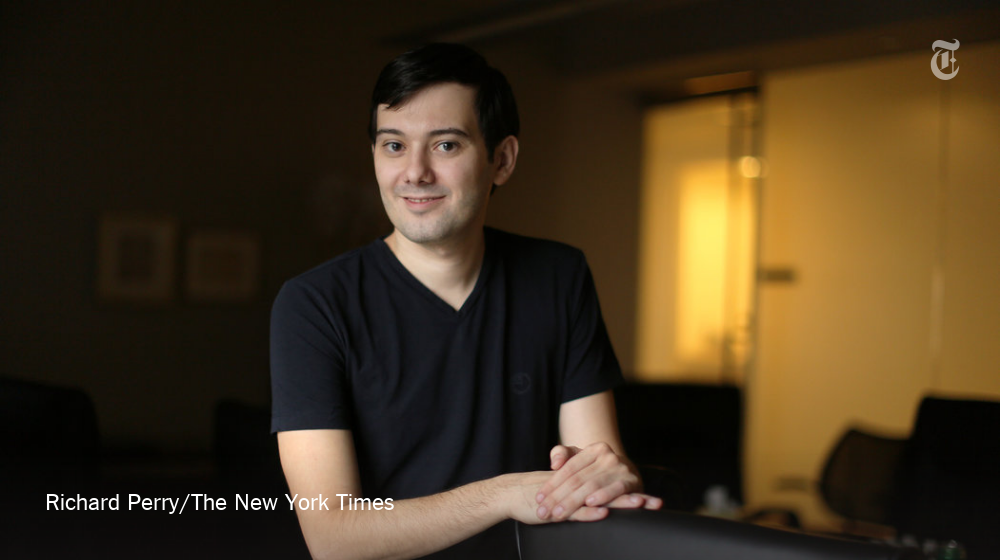 Our profile of Martin Shkreli, bad boy of pharmaceuticals, who was arrested this morning
: image via NYT Business @nytimesbusiness
, 17 December 2015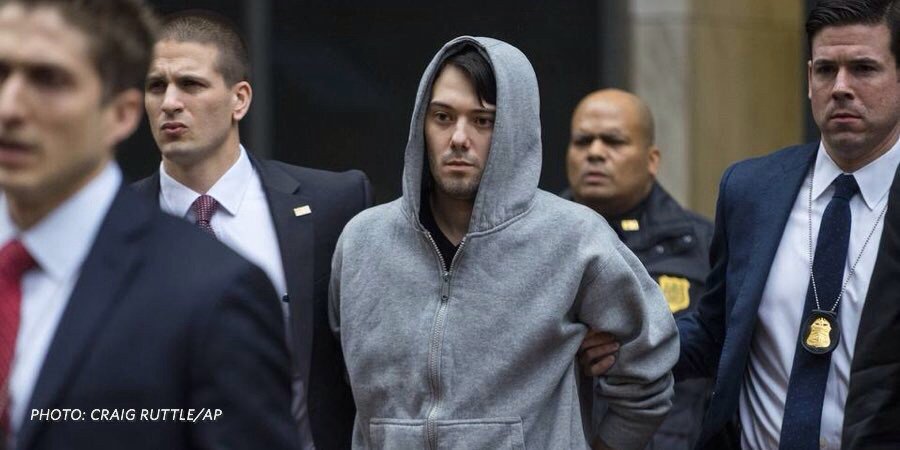 It's the most wonderful time of the yearrr #MartinShrkeli: image via Jamie Smart @jamiesmart, 17 December 2015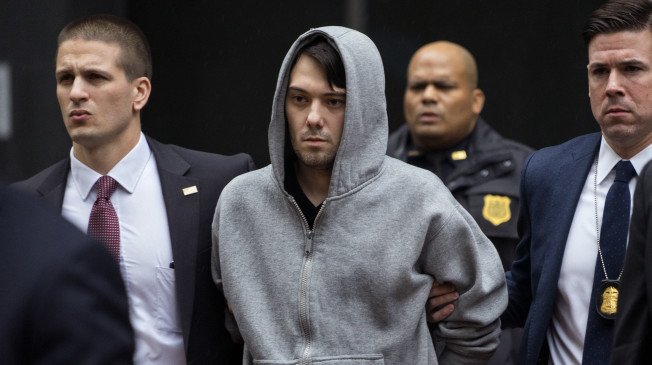 #MartinShrkeli indicted in "Ponzi-like" securities fraud scheme, faces up to 20 years: image via Talking Points Memo Verified account @TPM, 17 December 2015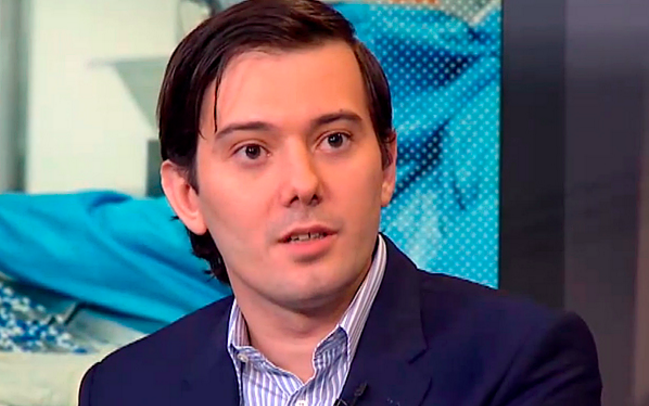 #MartinShkreli arrested by federal agents on fraud charges: image via HipHopDX Verified account @HipHopDX, 17 December 2015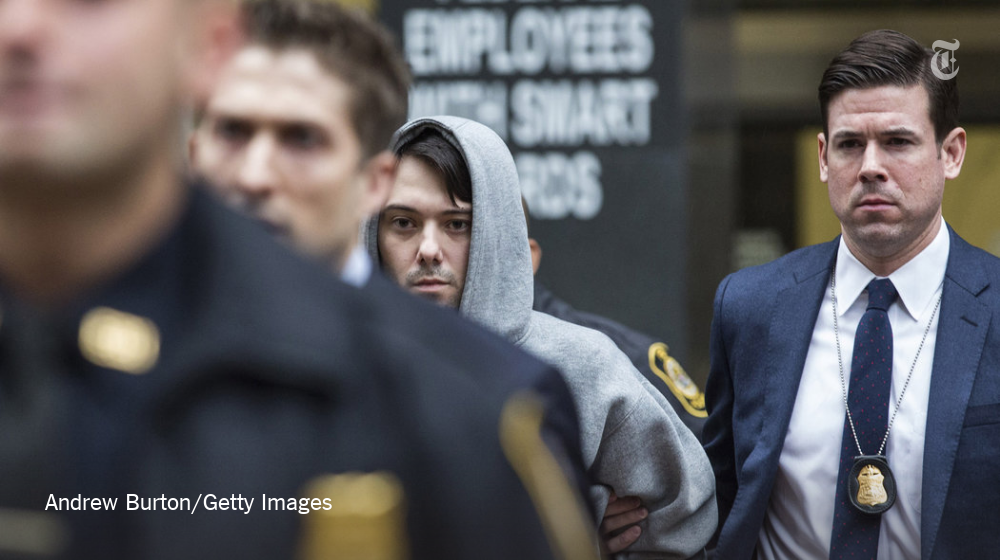 SEC files a lawsuit contending that Martin Shkreli's empire was built on lies to investors: image via The New York Times @nytimes, 17 December 2015

Martin Shkreli, the former hedge fund manager under fire for buying a pharmaceutical company and ratcheting up the price of a life-saving drug, is escorted by law enforcement agents in New York Thursday, after being taken into custody following a securities probe: photo by Craig Ruttle/AP, 17 December 2015

Martin Shkreli, center, and attorney Evan Greebel exit the federal building in Manhattan where the FBI is located: photo by John Taggart/Bloomberg, 17 December 2015



AIDS activists pour cat litter on an image of Shkreli in a makeshift cat litter pan during a protest highlighting pharmaceutical drug pricing, in front of the building that houses Turing's offices, in New York.: photo by
Craig Ruttle/APJ via Bloomberg, 17 December 2015
A picture of the nature of Money

[To the gold:]
O thou sweet king-killer, and dear divorce
'Twixt natural son and sire! thou bright defiler
Of Hymen's purest bed! thou valiant Mars!
Thou ever young, fresh, loved and delicate wooer,
Whose blush doth thaw the consecrated snow
That lies on Dian's lap! thou visible god,
That solder'st close impossibilities,
And mak'st them kiss! that speak'st with every tongue,
To every purpose! O thou touch of hearts!
Think, thy slave man rebels, and by thy virtue
Set them into confounding odds, that beasts
May have the world in empire!

William Shakespeare: Timon of Athens, first performed 1607, from Act IV Scene III


Shakespeare paints a brilliant picture of the nature of money.

That which exists for me through the medium of money, that which I can pay for, i.e., that which money can buy, that am I, the possessor of money. The stronger the power of my money, the stronger am I. The properties of money are my, the possessor's, properties and essential powers. Therefore, what I am and what I can do is by no means determined by my individuality. I am ugly, but I can buy the most beautiful woman. Which means to say that I am not ugly, for the effect of ugliness, its repelling power, is destroyed by money. As an individual, I am lame, but money procures me 24 legs. Consequently, I am not lame. I am a wicked, dishonest, unscrupulous and stupid individual, but money is respected, and so also is its owner. Money is the highest good, and consequently its owner is also good. Moreover, money spares me the trouble of being dishonest, and I am therefore presumed to be honest. I am mindless, but if money is the true mind of all things, how can its owner be mindless? What is more, he can buy clever people for himself, and is not he who has power over clever people cleverer than them? Through money, I can have anything the human heart desires. Do I not possess all human abilities? Does not money therefore transform all my incapacities into their opposite?
If money is the bond which ties me to human life and society to me, which links me to nature and to man, is money not the bond of all bonds? Can it not bind and loose all bonds? Is it therefore not the universal means of separation? It is the true agent of separation and the true cementing agent, it is the chemical power of society.
Shakespeare brings out two properties of money in particular:

(1) It is the visible divinity, the transformation of all human and natural qualities into their opposites, the universal confusion and inversion of things; it brings together impossibilities.

(2) It is the universal whore, the universal pimp of men and peoples.
The inversion and confusion of all human and natural qualities, the bringing together of impossibilities, the divine power of money lies in its nature as the estranged and alienating species-essence of man which alienates itself by selling itself. It is the alienated capacity of mankind.
What I, as a man, do –- i.e., what all my individual powers cannot do –- I can do with the help of money. Money, therefore, transforms each of these essential powers into something which it is not, into its opposite.

If I desire a meal, or want to take the mail coach because I am not strong enough to make the journey on foot, money can provide me both the meal and the mail coach -- i.e., it transfers my wishes from the realm of imagination, it translates them from their existence as thought, imagination, and desires, into their sensuous, real existence, from imagination into life, and from imagined being into real being. In this mediating role, money is the truly creative power.
Demand also exists for those who have no money, but their demand is simply a figment of the imagination. For me, or for any other third party, it has no effect, no existence. For me, it therefore remains unreal and without an object. The difference between effective demand based on money and ineffective demand based on my need, my passion, my desire, etc., is the difference between being and thinking, between a representation which merely exists within me and one which exists outside me as a real object.

If I have money for travel, I have no need -– i.e., no real and self-realizing need –- to travel. If I have a vocation to study, but no money for it, I have no vocation to study -– i.e., no real, true vocation. But, if I really do not have any vocation to study, but have the will and the money, then I have an effective vocation do to so. Money, which is the external, universal means and power –- derived not from man as man, and not from human society as society -– to turn imagination into reality and reality into more imagination, similarly turns real human and natural powers into purely abstract representations, and therefore imperfections and phantoms –- truly impotent powers which exist only in the individual's fantasy -– into real essential powers and abilities. Thus characterized, money is the universal inversion of individualities, which it turns into their opposites and to whose qualities it attaches contradictory qualities.
Money, therefore, appears as an inverting power in relation to the individual and to those social and other bonds which claim to be essences in themselves. It transforms loyalty into treason, love into hate, hate into love, virtue into vice, vice into virtue, servant into master, master into servant, nonsense into reason, and reason into nonsense.

Since money, as the existing and active concept of value, confounds and exchanges everything, it is the universal confusion and exchange of all things, an inverted world, the confusion and exchange of all natural and human qualities.
He who can buy courage is brave, even if he is a coward. Money is not exchange for a particular quality, a particular thing, or for any particular one of the essential powers of man, but for the whole objective world of man and of nature. Seen from the standpoint of the person who possesses it, money exchanges every quality for every other quality and object, even if it is contradictory; it is the power which brings together impossibilities and forces contradictions to embrace.

If we assume man to be man, and his relation to the world to be a human one, then love can be exchanged only for love, trust for trust, and so on. If you wish to enjoy art, you must be an artistically educated person; if you wish to exercise influence on other men, you must be the sort of person who has a truly stimulating and encouraging effect on others. Each one of your relations to man -– and to nature –- must be a particular expression, corresponding to the object of your will, of your real individual life. If you love unrequitedly –- i.e., if your love as love does not call forth love in return, if, through the vital expression of yourself as a loving person, you fail to become a loved person –- then your love is impotent, it is a misfortune.

Karl Marx: from Money, in Economic and Philosophic Manuscripts of 1844, translated by Gregor Benton, 1974

$$$ wallpaper 02 (Florence): photo by Prof Alex O Chevtchenko, 26 December 2013
The Bank of Japan announced an open-ended asset purchase program in January 2013 and an unexpectedly ramped-up version of the program was implemented in early April. Market commentary at that time suggested that flooding the economy with liquidity would lead to a "wall of money" flowing out of Japan in search of higher yields, affecting asset prices worldwide. So far, however, Japan's wall of money remains missing in action, with no pickup in Japanese foreign investment since the April policy shift. Why is this?
from Japan's Missing Wall of Money: Thomas Klitgaard, in Liberty Street Economics, blog of the Federal Reserve Bank of New York, 4 November 2013
$$$ wallpaper (Florence): photo by Prof Alex O Chevtchenko, 26 December 2013
In the work I did for the exhibition "Art, Price and Value", at Palazzo Strozzi in Florence, the destructive action on the banknote was accompanied by a different practice that I have been trying out in recent years: that of the free distribution of works. Displayed on a wall measuring 9 metres by 3 were 3,000 low denomination dollar notes, which I had treated individually with sulphuric acid. Every visitor could choose a banknote, detach it from the wall and take it away.
The idea that the aesthetic synthesis, represented by the united composition of 3,000 banknotes, can be corroded, piece after piece, until it is literally emptied, calls into question the work of art as an unchangeable museum piece, offered to the public's fetishist contemplation. In a way, it is a second "destructive" level: after the attack on the banknote, the attack on the work. At the same time, however, the act of destruction also represents a multiplication of the work itself. That installation can no longer be held in a museum, while it can be carried in the pockets of 3,000 people. I'm not saying that a piece of a painting by Pollock should be taken away every time someone goes to the MoMA. I do think, though, that this work can express an alternative function to that of contemplation.
-- Cesare Pietroiusti: from
Francesca Picchi: Methods for an irreversible alteration of money: An interview with Cesare Pietroiusti, in Domus, 18 February 2009

Chemical "preparation" of a banknote: photographer unknown, from Francesca Picchi: Methods for an irreversible alteration of money: An interview with Cesare Pietroiusti, in Domus, 18 February 2009
Whose Is the Money?
The Middle Ages also had practical questions about money. Whose is the money? What is it for? The questions became particularly acute with the defaults and debasements in England and France to finance their long war in the fourteenth century: Edward III defaulted on his Italian loans while his adversary used the mints as a form of taxation: the silver substituted by alloy became an additional revenue or seignorage. These monetary debasements were disastrous to those living on incomes fixed in money, such as absentee landlords and rentiers, but a boon to those who could pay their debts in the debased coin, such as the poor and above all the crown: these
grandes alliances
have been at it ever since. Oresme, writing in the middle of the fourteenth century,
sets out the terms of this super-secular struggle with admirable clarity; but, in truth, there is no common psychological ground between the adversaries. As a bishop and a landlord, Oresme comes down decisively on the side of hard money: money, he says, is not the property of the prince but of the community which uses it; and he argues, threateningly, that princes that abuse their money will lose their kingdoms.

It is fascinating to behold. Just at the moment when princes, through their control of money, gain the upper hand over their feudatories, so they fall prey to the bankers, who, murdered or mulcted or bankrupted by monarchs, will lend to them only at rates that incorporate those rather substantial risks. The advanced cites of Italy, such as Genoa and Florence, had already alienated themselves to their bankers, a process made manifest in Florence by the Medici dictatorship; while Machiavelli thought the creditors of Genoa, collected in the House of St George, should have taken over the whole city... Marx, worrying away at the nature of money in Rue Vaneau in Paris in the spring of 1844, was deeply skeptical about the liberty embodied in the use of money. For him, the rootless lord, insubordinate vassal and emancipated serf are now subject to a set of autonomous and superhuman relations, the rule of money: 'The medieval proverb nulle terre sans seigneur [there is no land without its master] is thereby replaced by that other proverb, l'argent n'a pas de maître [Money knows no master] which suggests the complete domination of living man by dead matter.' He saw money as the successor of medieval religion, as an amalgam of human fear and desire estranged from its originator and granted dominion over him: truly, a mortgaged crown of thorns. He sought to restore not religion, but humanity. He revived the medieval notion of the just price, appealing not to a divine standard but to a human: the real value of anything was the volume of human effort and misery that had gone into its making.

Marx, unfortunately, was no saint, and it is given only to saints to see into the nature of money: to look into its bland exterior, its absolute refusal to divulge its history in transaction, and unlock it from a merciless nature. Toward the end of the fifteenth century, St Francis of Paola attempted to restore the corrupted Franciscan teaching in a regime of extreme austerity and a total renunciation of money. Travelling through Naples, he was offered a bag of gold for his expenses by King Ferdinand I. He refused it because, he said, it was the price of the blood of the King's subjects. 'To prove it, he took one of the gold pieces and broke it in two, whereupon several drops of blood fell from the money.'
.

With the feudal system in ruins, there arose a spirited debate in the most advanced city in Europe, Florence, as to what actually constituted strength in the state: money or men. Machiavelli argued that anybody with soldiers could obtain money. He was contradicted flatly by his friend Francesco Guicciardini, whose nephew, Lodovico, helped make proverbial a comment of the condottiere Gian Giacomo di Trivulzio: asked by Louis II in 1499 what was needed to capture Milan, the great mercenary said: Money, money and once again money.

The dispute was, in reality, a first attempt to come to grips with the oppositions of capital and labour in the department then of greatest interest to states, the strategic.
James Buchan: from Frozen Desire: The Meaning of Money, 1993

Mictlantecuhtli, god of the dead and king of Mictlan (Chicunauhmictlan), lowest and northernmost section of the underworld
: Aztec, sculptor unknown, recovered during excavation of the House of Eagles in the Templo Mayor
: photo by Thelmadatter, 23 March 2008 (
Museum of the Templo Mayor, Mexico City
Looking back from the present, it cannot be denied that western capitalism in the long run created a new art of living, new ways of thinking: it developed side by side with them. Can one call this a new civilization? That would I think be putting it too strongly: a civilization is built up over a longer time scale.
But if change there was, when did it come? ... Werner Sombart locates it in fifteenth-century Florence.
There is no doubt in my mind: on this point Sombart is right... Thirteenth-century -- and a fortiori fourteenth-century Florence was a capitalist city, whatever meaning one attaches to the word. The precocious and abnormal picture it presented struck Sombart, quite understandably... Leon Battista Alberti (1404-1472), architect, sculptor, humanist, was the scion of a long-powerful family with an eventful history: members of the Alberti family had economically colonized England in the fourteenth century; indeed so ubiquitous were they that the English documents often refer to them as the Albertynes -- as if like the Lucchese or indeed the Florentines, they were a nation in themselves. Leon Battista spent many years in exile and with the intention of escaping the troubles of the world entered holy orders. He wrote the first of three Libri della Famiglia in Rome, in about 1433-1434; the fourth was completed in Florence in 1441. Sombart finds in these books a new climate: praise of money, recognition of the value of time, the need to live thriftily -- all good bourgeois principles in the first flush of their youth. And the fact that this cleric came from a long line of merchants respected for their good faith lent weight to his writings. Money is 'the root of all things'; 'with money, one can have a house or a villa, and all the trades and craftsmen will toil like servants for the man who has money. He who has none goes without everything, and money is required for every purpose.' This was a new attitude towards wealth: previously it had been regarded as a kind of obstacle to salvation. The same was true of time: in the past, time had been considered as belonging to God alone; to sell it (in the shape of interest) was to sell non suum, what did not belong to one. But now time was once more becoming a dimension of human life, one of man's possessions which he would do well not to waste. And there was a new approach to luxury: 'Always remember, my sons', writes Alberti, 'that your expenditure should never exceed your income ' -- a new rule which condemned the conspicuous luxury of the nobles. As Sombart says, 'this was introducing a spirit of thrift not into the wretched domestic budgets of humble people who could hardly get enough to eat but into the mansions of the rich'. In other words, the spirit of capitalism.
Fernand Braudel: from The Wheels of Commerce (Les jeux de l'echange), 1979, Volume 2 of Civilization and Capitalism, 15th-18th century (Civilisation materielle, économie et capitalisme); translated from the French by Sîan Reynolds, 1982

For the Love of God: sculpture by Damien Hirst, 2007, platinum cast of a human skull covered with 8,601 diamonds; displayed at White Cube Gallery, London, asking price 50 million pounds: photographer unknown, via Daily Telegraph

... the desire incarnate in money offered a reward to the imagination, as between two lovers; and that reward seemed at first to be guaranteed by rare and beautiful metals, of whose inner nature and capacity men could only dream. In time, that guarantee was unveiled as only the projected authority of a community... It was the community that authorised the wishes expressed in money or frustrated them. To use money was to submit to the state, and when states disintegrated their moneys vanished as completely as their laws...
James Buchan: from Frozen Desire: The Meaning of Money, 1993
Máscara de Xiuhtecuhtli: representation of Xiuhtecuhtli (Lord Turquoise), Central Mexican god of fire:
Mixtec-Aztec, c. 1400-1521,

mosaic of turquoise inlay and other materials; photo by Manuel Parada López de Corselas, 2007 (British Museum, London)
Martin Shkreli, chief executive of Turing Pharmaceuticals, was arrested Thursday morning: photo via The New York Times, 17 December 2015
An image from Martin Shkreli's live stream on YouTube: photo via The New York Times, 17 December 2015
An image from Martin Shkreli's live stream on YouTube: photo via The New York Times, 17 December 2015

Mictlantecuhtli, god of the dead: Aztec, sculptor unknown
; photo by Jamie Dwyer, 19 August 2008

(Museum of the Templo Mayor, Mexico City)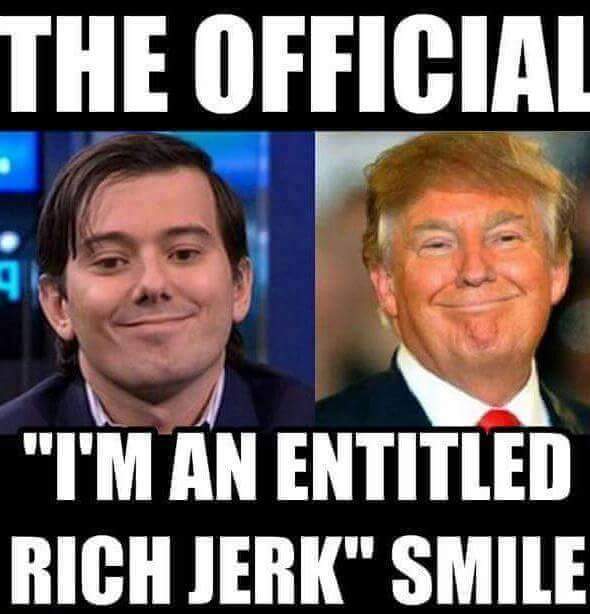 Or the look of someone suffering from a terrible case of affluenza... #PharmaBro #TrumpIsEvil #Affluenza #GetCouch
: image via Minerva Neryse @minervaneryse, 18 December 2015