.
Eternal Youth [Stoke Newington]
: photo by duncan c, 2 November 2013
The dark side:
The secret world of sports doping
: Al Jazeera investigation raises questions about whether sports heroes are linked to performance enhancing drugs
: Al Jazeera, 28 December 2015
Inside a hotel room in Austin, Texas, a pharmacist advises a professional athlete on taking performance-enhancing drugs.
"One anabolic, and I can give you something to use right now, is this Delta 2 stuff. It's a steroid. There's a bunch of football players who take this," he tells Liam Collins, a British hurdler reporting undercover.
In another conversation, a Vancouver pharmacist poses a question to the same athlete.
"Have I doped people? Oh yeah. And no one's got caught because the system is so easy to beat. That's the sad fact."
Later, a Naturopath doctor explains how he would destroy medical records if investigators came looking for them.
"I can just document everything not in this chart but on my own chart. And if somebody ever comes sniffing for it, it's very easy to just delete and say no, this is the real chart. If say, WADA [World Anti-Doping Agency] comes sniffing around."
Normally these conversations take place behind closed doors, but a new investigation by Al Jazeera is bringing them to light. Liam Collins, working on behalf of Al Jazeera's Investigative Unit, spent six months undercover investigating the murky world of performance-enhancing drugs -- what athletes refer to as "the dark side."
"For me, it was an opportunity to be the guy, to go undercover, and make a change," said Collins. At 37, he competes as a hurdler at an international level. For the investigation he claimed that he was making one last push for the Rio Olympics and was willing to do "whatever it takes" to get there.
The investigation has exposed the crucial role of pharmacists and doctors in creating and prescribing programs of performance-enhancing drugs designed to cheat the testing system. It also raises questions about some well-known athletes in American football and baseball who the medical professionals claim to work with.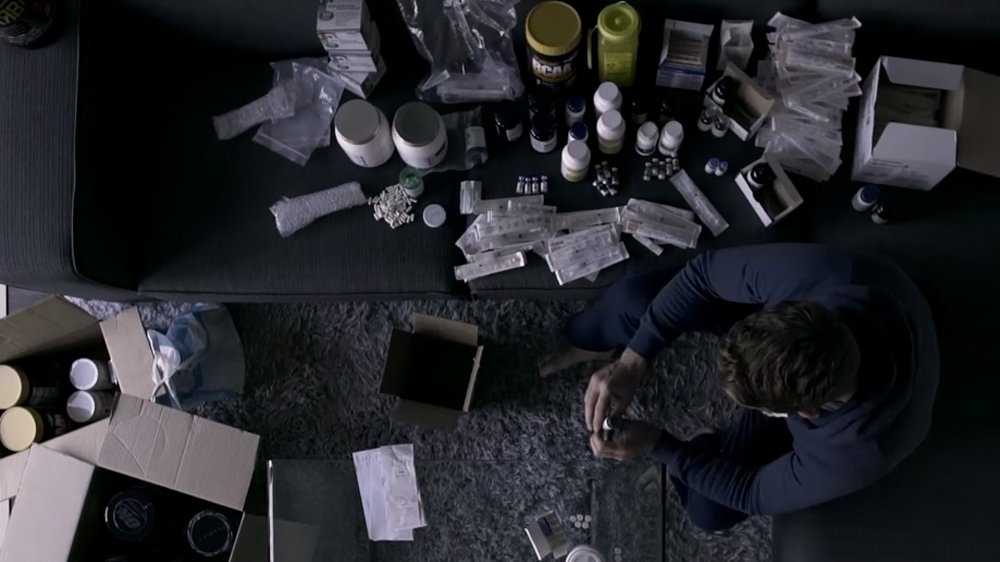 "I can take a guy with average genetics and I can make him world champion." #DarkSideDopers
: image via AJE News @AJENews, 28 December 2015
The athletes and medical professionals who responded to requests for comment denied any wrongdoing. This includes Peyton Manning, a football player for the Denver Broncos, whose wife, one pharmacist alleged, was supplied with human growth hormone.
That pharmacist, Charlie Sly, has disavowed his statements to Collins that were caught on hidden camera. In a follow-up email, he said that when he spoke with Collins "was in no state of mind to be making any coherent statements as I was grieving the death of my fiancée."
Manning in an interview Sunday on ESPN emphatically denied that he has ever used performance-enhancing drugs. He also said he is "sick" that his wife, Ashley, "is being brought into this."
Regarding his treatment in 2011 for a severe neck injury, the Denver Broncos player said: "I busted my butt to get healthy.
"Time and hard work was my best medicine," Manning said. "It stings me [that] whoever this guy is says that I cut corners, I broke rules to get healthy."
Manning said he used a hyperbaric chamber, received 35 days of treatment to enhance blood flow in his muscles, and had nutrient therapies. "All under coach authorization," he said. "Anything else this guy is insinuating is complete garbage."
In a statement, the Broncos said, "Knowing Peyton Manning and everything he stands for, the Denver Broncos support him 100 percent. These are false claims made to Al Jazeera, and we don't believe the report."
Dr Dale Guyer, the head of the Guyer Institute in Indiana, where Manning received treatments, also denied the allegations in a statement to sports website Bleacher Report on Sunday.
Sly also named baseball players Ryan Zimmerman of the Washington Nationals and Ryan Howard of the Philadelphia Phillies, raising questions about whether they use the hormone supplement Delta 2. Both have denied the allegations.
In a statement to the Philadelphia Inquirer on Sunday, Zimmerman and Howard's lawyer William Burck said, "The extraordinarily reckless claims made against our clients in this report are completely false and rely on a source who has already recanted his claims." The Nationals also issued a statement in support of Zimmerman.
The Phillies subsequently issued a statement supporting Howard, calling him "an extremely well respected member of our team and an outstanding contributor to our community." The team said it will "fully cooperate with any investigation conducted by Major League Baseball and will refer all further questions to them concerning the Al Jazeera report."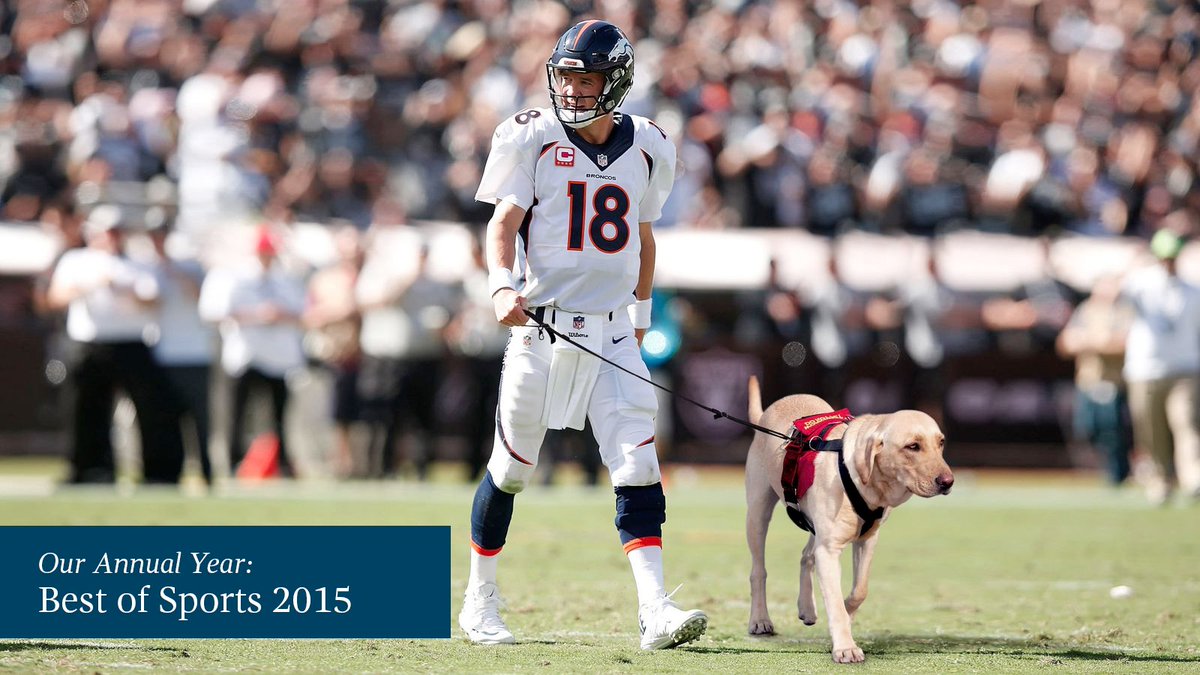 Aging Peyton Manning Now Forced To Take Field With Assistance Dog: image via The Onion @TheOnion, 28 December 2015
Explosive Documentary Links Peyton Manning, Major Athletes To Doping Ring: The quarterback and his wife received human growth hormone in 2011, an alleged supplier asserts in a new undercover investigation: Travis Waldron and Ryan Grim, The Huffington Post, 28 December 2015
An Indianapolis anti-aging clinic supplied quarterback Peyton Manning with human growth hormone, a performance-enhancing drug banned by the NFL, a pharmacist who once worked at the clinic asserts in a new special report from Al Jazeera's Investigative Unit.
The report, "The Dark Side," is the result of a monthslong investigation in which Liam Collins, a British hurdler, went undercover in an attempt to expose the widespread nature of performance-enhancing drugs in global sports. As a cover story, Collins tells medical professionals tied to the trade of performance-enhancing drugs that he is hoping for one last shot at glory at the 2016 Olympics in Rio de Janeiro, Brazil. Manning is just one of many high-profile players the report names and raises questions about.
Manning issued a statement Saturday night strongly denying the allegations, claiming that "whoever said this is making stuff up."
The Denver Broncos also responded to the allegations against Manning, releasing the following statement:
"Knowing Peyton Manning and everything he stands for, the Denver Broncos support him 100 percent. These are false claims made to Al Jazeera, and we don't believe the report.
Peyton is rightfully outraged by the allegations, which he emphatically denied to our organization and which have been publicly renounced by the source who initially provided them.
Throughout his NFL career, particularly during his four seasons with the Broncos, Peyton has shown nothing but respect for the game. Our organization is confident Peyton does things the right way, and we do not find this story to be credible."
As part of the investigation, Collins connected with Charlie Sly, a pharmacist based in Austin, Texas, who worked at the Guyer Institute, the Indiana-based anti-aging clinic, in 2011.
Manning missed the 2011 season, when he was a member of the Indianapolis Colts, after undergoing neck surgery. In the documentary, Sly tells Collins, who is taking secret video of his interactions, that he was "part of a medical team that helped [Manning] recover" from the surgery. Sly alleges that the clinic mailed growth hormone and other drugs to Manning's wife, Ashley Manning, so that the quarterback's name was never attached to them.
"All the time we would be sending Ashley Manning drugs," Sly says in the video. "Like growth hormone, all the time, everywhere, Florida. And it would never be under Peyton's name, it would always be under her name."
Manning and his wife also came to the clinic after its normal business hours for intravenous treatments, Sly tells Collins on the undercover video.
Peyton-in-mah-hand. He had Peyton Manning in his hand yo.: photo by Justin Taylor, 23 May 2009
Manning left the Colts after the 2011 season to sign with Denver. The NFL banned human growth hormone in 1991, but did not begin testing for it until 2014. No player has ever tested positive.
Manning's agent denied the details of the report to Al Jazeera, calling Sly's assertions "outrageous and wrong." But the statement does not deny that growth hormones were shipped to Manning's wife, only insisting that such matters were a matter of medical privacy.
Manning "has never done what this person is suggesting," his agent told Al Jazeera. "The treatment he received at the Guyer Institute was provided on the advice of his physician and with the knowledge of team doctors and trainers."
"Any medical treatment received by Ashley is a private matter of hers, her doctor, and her family," the agent said.
The credibility of the report hinges largely on whether Sly should be believed, or whether he's simply concocting stories to impress Collins. Several details lend significant credibility to Sly's assertions.
First, Sly and the ring he is associated with do, in fact, obtain drugs for Collins, which the network says it retained as evidence.
In a stunning scene, Taylor Teagarden, an eight-year MLB veteran, appears in one of the undercover videos, openly discussing his use of performance-enhancing drugs during the previous season.
elixir of eternal youth: photo by David, 5 April 2011
Al Jazeera confirmed that Sly did work at the anti-aging clinic that treated Manning; it is difficult to imagine how Sly would have had knowledge of any arrangement to ship drugs to Manning's wife if he were not operating with genuine insider knowledge. (Sly also describes an interaction with Manning, telling Collins that the quarterback is "really cool if you just sit down with him.")
Collins, in some ways, was the perfect athlete to put at the center of the operation. He's no stranger to the shade, having himself been tied up in a fraud scam in recent years.
Beyond the allegations against Manning, the report calls into question the effectiveness of testing regimes meant to prevent performance-enhancing drug use in professional sports, from American leagues to the Olympics.
Collins' undercover quest took him from the Bahamas, where he connected with a doctor who claimed to have supplied performance-enhancing drugs to Bahamian Olympic athletes, to Canada, where he met naturopathic physician Brandon Spletzer and pharmacist Chad Robertson, who devised a "cutting edge" drug program for Collins that included up to 10 injections each day.
Collins then connected with Sly, who has "taken smart drugs to a whole new level," according to Spletzer.
Rejuvenator. This device I invented could rejuvenate any biological organism: photo by Doctor Who, 1 February 2009
"The Dark Side" paints a picture of an underground marketplace where athletes can easily obtain drugs that are hard to detect even with sophisticated drug tests like those implemented by MLB, the NFL and the Olympics. And it raises questions about how serious the owners of professional sports teams are about rooting out drug use, which can make the games more exciting and profitable, while doing damage to the bodies of players, not owners.
"No one's got caught, because the system's so easy to beat," Robertson, the pharmacist, brags to Collins. "And it still is, that's the sad fact. I can take a guy with average genetics and make him a world champion."
Robertson designed a program for Collins that included prescription fertility and hormone drugs, other substances labeled as "not for human consumption" and illegal drugs. Sly, meanwhile, preached the effectiveness of Delta-2, a hormone supplement that is "steroidal in nature" but is not an anabolic steroid, according to online product descriptions.
"There's a bunch of football players who take this, and a bunch of baseball players who take it too," Sly tells Collins in the documentary.
"Delta-2 is not for use by anybody subject to performance-enhancing drug tests," state online reviews for the product. Major League Baseball has banned the drug explicitly.
The report does not link Manning to Delta-2, but Sly and Robertson name multiple football players as customers, including Green Bay Packers linebacker Mike Neal. Neal, Sly says, connected him with multiple teammates, including defensive end Julius Peppers.
Pittsburgh Steelers linebacker James Harrison is another NFL player he has supplied, Sly says.
Sly also names Philadelphia Phillies first baseman Ryan Howard and Washington Nationals infielder Ryan Zimmerman as players who received the drug from him. He also claims in the report he gave drugs to Mike Tyson.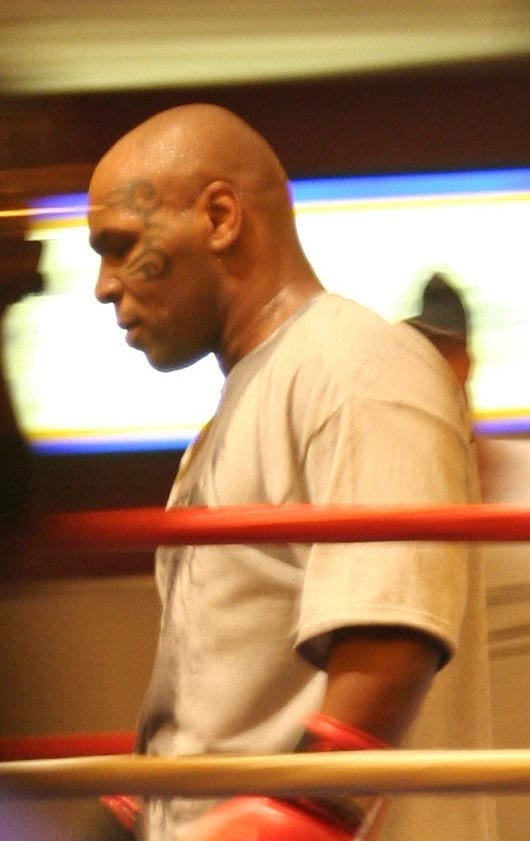 Mike Tyson in the ring, Las Vegas: photo by Octal, 2006
Delta-2 is designed to stay ahead of drug tests, Sly explains on video. He tells Collins that he provided the drug to Dustin Keller, a tight end who last played for the Miami Dolphins and allegedly used Delta-2 while in college at Purdue University and then before the NFL Combine, according to Sly. (Keller did not respond to Al Jazeera's requests for comment).
"We just used Delta-2 because it wasn't detectable," Sly says.
Sly also says that he provided Clay Matthews, Green Bay's Pro Bowl linebacker, with the prescription painkiller Percocet to help him deal with pain before at least one game. He also brags in one undercover video that Matthews texted him in an attempt to obtain Toradol, a powerful painkiller that is banned in many countries but not in the United States.
Harrison, Zimmerman and Howard all denied using the drugs to the network.

The Philadelphia slugger Ryan Howard was among the baseball players an Al Jazeera report said had been a recipient of drugs: photo by Hunter Martin via The New York Times, 27 December 2015
Neal, Peppers, Matthews and Tyson did not respond to Al Jazeera's request for comment.
Robertson, the pharmacist, and Spletzer, the neuropathic physician, did not respond to Al Jazeera's request for comment.
Sly, when pressed by Al Jazeera, backtracked, saying that his claims about supplying the drugs to athletes were "false and incorrect."
In a subsequent statement to Al Jazeera, he walked back the comments even further, saying that Collins took advantage of him while Sly was grieving the death of his fiancée.
Peyton Manning has angrily denied that HGH was shipped to his wife, Ashley
: photo by
Cathy Knightlinger via New York Daily News
, 28 December 2015
Upsetting Developments: Week 16: Peter King, Monday Morning Quarterback, 28 December 2015
Upset Sunday actually began with Upset Saturday Night. That's when the Peyton Manning/Al Jazeera story broke. And if you thought you'd ever see "Peyton Manning" and "Al Jazeera" in the same hemisphere, never mind as neighbors in a sentence, well, you're smarter than I am. (Sayeth an indignant Mike Ditka on ESPN: "Al Jazeera is not a credible news organization! They're out there spreading garbage!")
Upset Sunday. That was defined later by Pittsburgh losing in Baltimore, Seattle losing to the Rams for the fourth time in four seasons, and, of course, previously 14-0 Carolina losing in Atlanta. But earlier, on Sunday morning inside the Denver Broncos' practice facility, Manning was the personification of it.
"Yeah, I'm upset," a rehabbing Manning said after a spirited throwing session with receivers. "I'm pissed off. I was throwing so hard this morning I think I broke some fingers out there."
In a 15-minute conversation from Denver, Manning was alternately angry and emotional and strident and impassioned and defensive about the investigative report by the Qatar-based Al Jazeera -- a quite credible and respected international news organization (contrary to Ditka's assertion), the CNN of the Middle East spreading its news-gathering around the world in recent years. Al Jazeera used an undercover former Olympic hurdler to ferret out the use of performance-enhancing drugs in global sports. Part of the investigation connected the hurdler, Liam Collins, with a former intern at an anti-aging clinic in Indianapolis that Manning used in 2011 when he was rehabbing from neck surgeries. The intern, Charles Sly, said the clinic mailed HGH to Manning's wife, Ashley Manning, to avoid connecting HGH to Peyton Manning. Sly last week recanted this admission, and there is so much smoke around Sly and the report and … well, we'll get to an increasingly cloudy path to the truth.
Peyton Manning has been sidelined since mid-November with a foot injury
: photo by

Don Wright

/AP via Monday Morning Quarterback, 28 December 2015
But first, Manning, blowing off steam.
"I can promise you this is a total fabrication," he said over the phone, his voice rising and sometimes shaking. "I simply do not understand how somebody makes up something like this and it becomes a story. And then the guy admits he made it up and it's still a story. How exactly does that work?"
It works because of Sly, and that could turn out to haunt the credibility of the story. The Al Jazeera reporter on the story -- a documentary called "The Dark Side: Secrets of the Sports Dopers" that aired on Al Jazeera on Sunday night -- told me Al Jazeera met with Sly for six days. Reporter Deborah Davies said the network had "approximately 20 hours of footage … hour upon hour of recordings" of Sly discussing the work of the Indianapolis clinic and of doping. Then, in the past several days, with the airing of the documentary looming, Sly recorded a statement recanting "any recordings or communication that Al Jazeera plans to air … there is no truth to any statement of mine that Al Jazeera plans to air."
At the base of the dispute between the Manning camp and Al Jazeera is Sly's employment history at the Guyer Institute in Indianapolis. When he recanted his testimony over the weekend, Sly said he worked for founder Dale Guyer of the anti-aging clinic in 2013, not in 2011, when Manning was a patient. Guyer, in a statement issued Sunday afternoon, said: "I would emphasize that Mr. Sly was never an employee of the Guyer Institute and his brief three-month internship occurred in 2013 during which time Peyton was not even being treated or present in the office."
"That is not what the clinic told me," Davies said after Guyer's statement was issued.
She called the clinic on Dec. 1, asking for employment verification dates for Sly, and the clinic said Sly began working there on Oct. 17, 2011, according to a transcript of the call.
I emailed Guyer, asking him for a response to Davies' claim about the 2011 dates. On Sunday night, he responded thusly:
"The information you have been provided is incorrect. Charles Sly was never an employee of The Guyer Institute. At the relevant time, Mr. Sly was a pharmacy student in Nevada who emailed us a request for an internship. Arrangements for his internship, including the specific start and end dates, were made through his school advisor. Mr. Sly began his unpaid student internship with us on February 18th, 2013. He had no patient responsibilities at any time. Further, he had no affiliation with our office prior to February 18th, 2013, and has had none subsequent to the conclusion of his internship in May of 2013. Hope this helps to clarify the dates in question."
Back to Davies. Late Sunday, I asked her if Al Jazeera stood by the 2011 dates for Sly at Guyer. "Absolutely," Davies texted. "We have the transcript of the call I made."
These stories are never very easy. This one won't be either.
Manning sat out the entire 2011 season while rehabbing from neck procedures: photo by AJ Mast/AP via Monday Morning Quarterback, 28 December 2015
Between February 2010 and September 2011, Manning underwent four neck procedures, the final one a single-level fusion. On Sunday, he said that soon after that he and the Colts began sifting through therapies that doctors and athletic trainers thought might speed up the healing process and the nerve regeneration.
"We didn't really know what would work in addition to the regular rehab I was doing every day at the Colts," Manning said. "We were looking at a lot of different things, and it turned out [the Guyer Institute] had some things we wanted to try."
Manning said he did three things at Guyer: regular use of the hyperbaric chamber, with concentrated oxygen treatments; intravenous nutrient therapy, involving vitamins and minerals; and Enhanced External Counterpulsation therapy. As the Guyer website explains, EECP uses oversized blood-pressure cuffs strapped to the legs and buttocks that are synched to the pulse of the heart, helping push blood through the body, ideally to speed healing. Manning hoped it would expedite nerve regeneration.
"I was a good patient," Manning said. "Basically, they told me I had to do this an hour a day, Monday through Friday, for 35 consecutive [week] days. Every day I'd start there before I went to the Colts facility. So that's how long I did it, every day. I remember I watched a lot of Hoda and Kathie Lee.
"Every treatment I did, I did with the knowledge and cooperation of the Colts. Never did I do anything outside the rules. Damn straight I'd never do anything outside the rules. I know how hard I've worked to play in this league for 18 years. For this jerk [Sly] to insinuate I cut any corners, I cheated, I took shortcuts, is outrageous. Damn outrageous.
"I'm getting emotional now. But I know what I did. And I did nothing illegal."
SAM_5334. PEYTON PEYTON PEYTON PEYTON: photo by arctic_whirlwind, 15 September 2012
Al Jazeera reported the transport of HGH was from Guyer to Ashley Manning, who has not commented on the allegations. Peyton Manning said the insinuation that HGH was shipped to his wife to disguise that he was getting it "sickens me." He said her medical information was personal, and he would not discuss it.
Davies didn't speculate on Peyton Manning's HGH use. She said: "I feel confident in what we said in our program -- that HGH was shipped to Ashley Manning in Florida."

Although HGH (human growth hormone) is most commonly linked to illicit use in athletes to speed healing and create more efficient and powerful workouts, it has uses outside of athletics. A 2014 Redbook magazine story called its use a possible "secret fertility weapon."
Two other points to make: The NFL likely will look into the charges by Al Jazeera, though, as Pro Football Talk's Mike Florio reported on NBC Sunday night, because there was no agreement between the league and players on HGH testing until 2014, it's unlikely the league could do anything unless it was proven Manning used the performance-enhancer.
And on NBC Sunday night, I reported that Manning, asked if he would sue Al Jazeera over the report, said, "Yeah, I probably will. I'm that angry."
But the threshold for public figures to prove defamation of character is very high, and Manning's past will be pumped to the depths if he does choose to pursue legal action. He sounded intent on it Sunday, but who knows? With his recently hired crisis PR counselor, former White House press secretary Ari Fleischer, on board, it's doubtful Manning will make any emotional moves dealing with this.
Finally, I asked Manning if he was worried about the effect of the charge on his legacy. Once stained, can a reputation, even one that is cleared of serious allegations, ever be fully clean?
"I'm not worried about that," Manning said. "I'm not worried because this is a flat-out lie."
Frustrated Manning. Four interceptions that day. At home. Ugh
.: photo by
spablab
, 5 December 2010
El espejo de la juventud eterna
. Sin palabras.: photo by
A;fredo Cofré
, 18 November 2010
corner of volunteer and peyton manning. [Volunteer Boulevard and Peyton Manning Pass, Circle Park, University of Tennessee, Knoxville.] Very few people came to work on Friday, due to the snow.: photo by Joel Kramer, 8 January 2010