.
An elevation in the city of Sarajevo, Bosnia and Herzegovina, covered in a thick layer of fog, on Monday. Due to high levels of NO2 (nitrogen dioxide) in the air over the city and a certain meteorological condition, residents of Sarajevo were recommended to reduce their movement in the streets and to reduce car traffic: photo by Fehim Demir/EPA, 21 December 2015
I work all day, and get half-drunk at night.
Waking at four to soundless dark, I stare.
In time the curtain-edges will grow light.
Till then I see what's really always there:
Unresting death, a whole day nearer now,
Making all thought impossible but how
And where and when I shall myself die.
Arid interrogation: yet the dread
Of dying, and being dead,
Flashes afresh to hold and horrify.

The mind blanks at the glare. Not in remorse
-- The good not done, the love not given, time
Torn off unused -- nor wretchedly because
An only life can take so long to climb
Clear of its wrong beginnings, and may never;
But at the total emptiness for ever,
The sure extinction that we travel to
And shall be lost in always. Not to be here,
Not to be anywhere,
And soon; nothing more terrible, nothing more true.

This is a special way of being afraid
No trick dispels. Religion used to try,
That vast, moth-eaten musical brocade
Created to pretend we never die,
And specious stuff that says No rational being
Can fear a thing it will not feel, not seeing
That this is what we fear -- no sight, no sound,
No touch or taste or smell, nothing to think with,
Nothing to love or link with,
The anaesthetic from which none come round.

And so it stays just on the edge of vision,
A small, unfocused blur, a standing chill
That slows each impulse down to indecision.
Most things may never happen: this one will,
And realisation of it rages out
In furnace-fear when we are caught without
People or drink. Courage is no good:
It means not scaring others. Being brave
Lets no one off the grave.
Death is no different whined at than withstood.


Slowly light strengthens, and the room takes shape.
It stands plain as a wardrobe, what we know,
Have always known, know that we can't escape,
Yet can't accept. One side will have to go.
Meanwhile telephones crouch, getting ready to ring
In locked-up offices, and all the uncaring
Intricate rented world begins to rouse.
The sky is white as clay, with no sun.
Work has to be done.
Postmen like doctors go from house to house.


Philip Larkin (1922-1985): Aubade, drafted 1974, completed 29 November 1977, first published in Times Literary Supplement, 23 December 1977; also appears in Poems 1946-1983, from Collected Poems (1988)

It went so far, it was so bad (that the best thing was that you were not like them): photo by y Coyhand, 15 November 2015



Many thanks for writing so kindly about my mother. It has been a depressing year since about March, when she began to deteriorate (she had been in a nursing home for nearly six years), and the last few months of her life were scarcely livable. She would have been 92 in January! Yesterday my sister and I went to Lichfield (where my branch of Larkins come from) and saw her ashes interred next to my father's, in what the Rector said would be the last burial at the Old Churchyard, wch wd now be handed over to the Council to be 'landscaped' into a vandals' playground, or some such nonsense. I expect I shan't see all the old Larkin graves again (one of 'Phillip Larkin', d. 1879), as they will all be levelled and the stones taken away.



I don't know whether it's a result of all this but I feel very disinclined to observe Christmas even in the few rudimentary ways I usually do. Depression hangs over me as if I were Iceland. A succession of duties have occupied me... I can't imagine how I ever found time to write poems, let alone had the inclination, though I did round off an old one lately and it will appear in the TLS called Aubade.


Philip Larkin to Winifred Bradshaw (née Arnott), 13 December 1977, in Selected Letters of Philip Larkin 1940-1985 (1992)

Very good of you to write about 'Aubade' and the feelings that inspired it... several people have said they liked it as a poem, but avoided mentioning its subject... It's hard to say whether fear of death is a neurotic condition (of course, I don't know what a neurotic condition is, but still). My first impulse is to say that it is simply seeing things clearly... or that it's simply being more sensitive (like worrying about cruelty to animals (I do that too). But does one's fear increase in direct ratio to the nearness of death? Is an adolescent less frightened than an old age pensioner? Is a man in an air raid more frightened still? Is a mortally sick man more frightened than any? Not, I think, necessarily. A lady of 70 wrote to me about the poem 'When I was 50 I felt as you do; now I don't bother.' So perhaps we can comfort ourselves with the thought that when death is really near, it won't worry us. We shall become as thickskinned as everyone else.

... You might like Llewellyn Powys's Love and death, an autobiographical novel that ends with death in the first person, quite a tour de force. But nothing really expunges the terror: it remains a sort of Bluebeard's chamber in the mind, something one is always afraid of -- and this is bad for one. It certainly doesn't feel like egocentricity!
Philip Larkin to W. G. Runciman, 26 November 1978
, in Selected Letters of Philip Larkin 1940-1985 (1992)
A Muslim man prays while people shout slogans against U.S. Republican presidential candidate Donald Trump outside of his office in Manhattan, New York: photo by
Eduardo Munoz/Reuters, 21 December 2015
Druze women mourn their relatives Farhan al-Shaalan and Samir Kantar, who were killed from an Israeli airstrike near the Syrian capital, in the Druze village of Ein Kinya in the Israeli controlled Golan Heights, near the border with Syriak: photo by
Ariel Schalit/AP

, 21 December 2015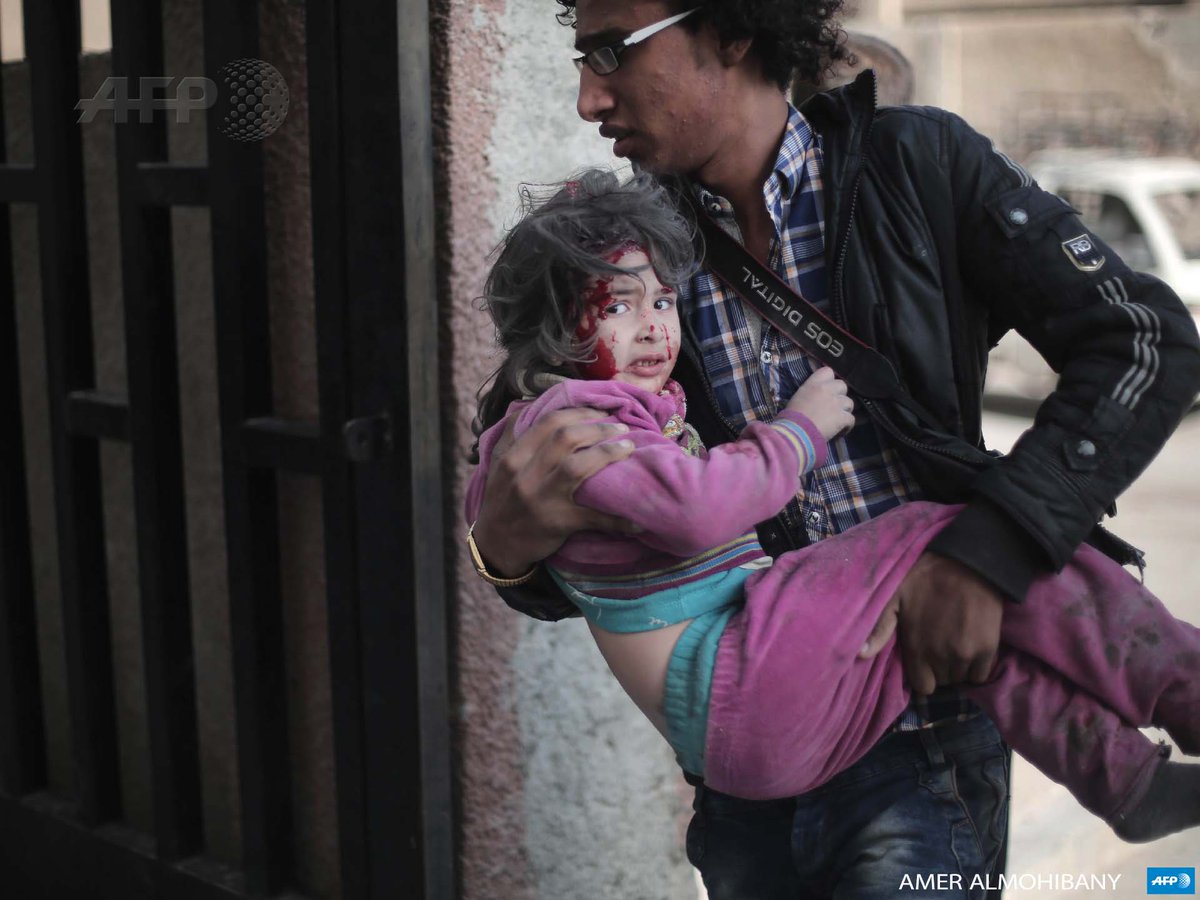 SYRIA - A Syrian photographer carries injured girl following air strikes on al-Nashabiyah. By Amer Almohibany By @RAtanasovski #AFP: image via Frédérique Geffard @fgffardAFP, 15 December 2015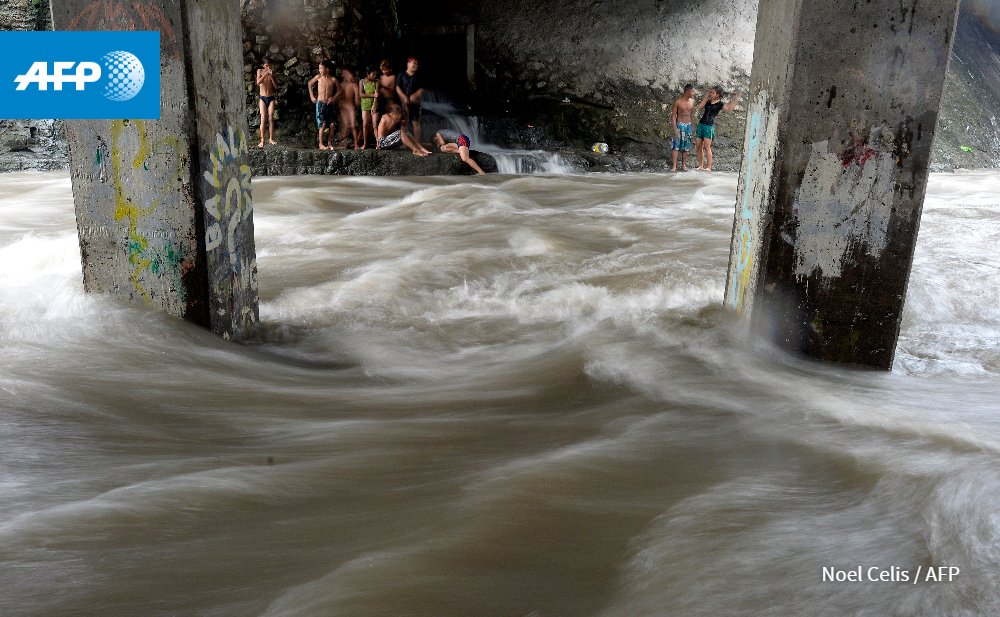 #floods in Manila, Philippines #AFP
Photo by @afp_noel
: photo by Aurelia BAILLY @AureliaBAILLY, 19 December 2015
Christmas decorations for sale in the Shia holy city of Najaf on Thursday: photo by Haidar Hamdan/AFP, 17 December 2015

Palestinian women mourn as they take the last look at the body of Yahya Taha, 21, who was killed during clashes with Israeli troops following an Israeli army raid, at the family house during his funeral in the West Bank village of Qattana, near Ramallah, Thursday: photo by Nasser Nasser/AP, 26 November 2015
Filipino, Fil Binay battles to contain a fire in Mandaluyong City, east of Manila, Philippines: photo by Mark R. Cristino/EPA, 25 November 2015
A man walks past steam rising from underground heating pipes outside a shopping mall in Beijing
: photo by Greg Baker/AFP, 17 December 2015
Siberian gulls hover over Sangam, the confluence of the Ganges and Yamuna Rivers, in Allahabad, India. The gulls travel thousands of miles to India during the Siberian winter in October and return home in March: photo by Rajesh Kumar Singh/AP, 17 December 2015
An elevation in the city of Sarajevo, Bosnia and Herzegovina, covered in a thick layer of fog, on Monday. Due to high levels of NO2 (nitrogen dioxide) in the air over the city and a certain meteorological condition, residents of Sarajevo were recommended to reduce their movement in the streets and to reduce car traffic: photo by Fehim Demir/EPA, 21 December 2015
Filipinos search for salvageable materials following a fire in Manila: photo by

Mark R. Cristino/EPA, 17 December 2015
A Palestinian dressed up as Santa Claus talks to an Israeli soldier during a demonstration in front of a gate along the Israeli controversial separation wall in the West Bank city of Bethlehem, on Friday: photo by Musa Al Shaer/AFP, 18 December 2015