.
Greek Prime Minister Antonis Samaras, Spanish Prime Minister Mariano Rajoy, British Prime Minister David Cameron, Danish Prime Minister Helle Thorning-Schmidt, European Union foreign policy chief Federica Mogherini, Paris Mayor Anne Hidalgo, European Commission President Jean-Claude Juncker, Israeli Prime Minister Benjamin Netanyahu, Malian President Ibrahim Boubacar Keita, French President Francois Hollande, German Chancellor Angela Merkel, European Union President Donald Tusk, Palestinian president Mahmud Abbas, Jordan's Queen Rania, Jordan's King Abdullah II, Italian Prime Minister Matteo Renzi, Turkish Prime Minister Ahmet Davutoglu, Ukrainian President Petro Poroshenko and other guests march during the Unity rally, Paris: photo by Dominique Faget/AFP, 11 January 2015
RWB condemns presence of "predators" in Paris march, calls for solidarity with "all Charlies": Reporters Without Borders, 11 January 2015
Reporters Without Borders welcomes the participation of many foreign leaders in today's march in Paris in homage to the victims of last week's terror attacks and in defence of the French republic's values, but is outraged by the presence of officials from countries that restrict freedom of information.
On what grounds are representatives of regimes that are predators of press freedom coming to Paris to pay tribute to Charlie Hebdo, a publication that has always defended the most radical concept of freedom of expression?
Reporters Without Borders is appalled by the presence of leaders from countries where journalists and bloggers are systematically persecuted such as Egypt (which is ranked 159th out of 180 countries in RWB's press freedom index), Russia (148th), Turkey (154th) and United Arab Emirates (118th).
"We must demonstrate our solidarity with Charlie Hebdo without forgetting all the world's other Charlies," Reporters Without Borders secretary-general Christophe Deloire said.
"It would be unacceptable if representatives of countries that silence journalists were to take advantage of the current outpouring of emotion to try to improve their international image and then continue their repressive policies when they return home. We must not let predators of press freedom spit on the graves of Charlie Hebdo."
The authorities have announced the presence of Turkish Prime Minister Ahmet Davutoglu, Egyptian foreign minister Sameh Shoukry, Russian foreign minister Sergei Lavrov, Algerian foreign minister Ramtane Lamamra, UAE foreign minister Sheikh Abdullah bin Zayed Al Nahyan and Gabonese President Ali Bongo.

Unity March, Paris: photo by Associated Press, 11 January 2015
Deconstructing the Photograph of World Leaders at the Paris March: Marco Bohr, Photoworks, 26 January 2015
In the aftermath of the attacks on the Charlie Hebdo office and a kosher supermarket in Paris, the coming together of world leaders at the unity march in the French capital constituted a remarkable event in world history.
Rarely before have so many heads of state been at the same place at the same time for an event other than a meeting at the UN or for the G7/8 and G20 summits. Photographs of the world leaders standing literally and figuratively shoulder-to-shoulder with Françoise Hollande attempt to emphasize a sense of solidarity with the French people. Behind this group of powerful leaders, or so the viewer assumes, were millions of people marching in remembrance of the victims and to honor the tripartite motto that underpins the French Republic.
On that day photography played a crucial function in not just documenting the march and the almost unique coming together of world leaders, but also by creating a visual rhetoric for freedom of speech and against terrorism. The photograph of world leaders is meant to suggest that they stand up against terrorism and that they are willing to defend the values of a democracy. In that sense the photograph of world leaders is in itself a 'document' for democratic values -– a document signed by Françoise Hollande positioned in the centre of the image and counter-signed by the heads of state and dignitaries standing behind and next to him.
The symbolic importance of this photograph could be measured as soon it was shared online and in the media. In particular, the absence of a representative from the United States (other than the ambassador to France) was interpreted as a 'snub' by the global media. Let's not forget that France is the oldest ally of the United States. In the following days The White House effectively admitted that it was caught off guard for not sending a higher ranked person if not President Obama himself. Not even the US Attorney General Eric Holder, who was in Paris at the time, attended the march.
Though, is this furore based on the fact that Obama should have been at the march, or is it, more accurately, a question of whether he should have been at a photo opportunity? The latter should not be conflated with the former even if both are directly related to each other. The furore surrounding America's 'snub' alludes to the power of photography in this type of context: that it provides a form of irrefutable evidence for non-attendance. One must wonder whether the same questions would have emerged if the world leaders were not photographed at all -– if they just quietly and discreetly participated in the march. In the absence of a group photograph would anyone have really noticed Eric Holder missing?
Another aspect that attracted scrutiny was the impression provided by the photograph that heads of state were leading the march. This impression is created by the vantage point of the camera at the same height of the people depicted in the image. In that sense the photograph alludes to the notion of égalité as the viewer assumes that the world leaders and the people were marching together -– as equals. Yet as TV footage of the gathering indicates, nothing could be further from the truth: world leaders were standing in a side street that was cordoned off from the main march. Quite clearly they are not equals, and they are not marching together with the people of France that day.
Further scrutiny at the world leaders who did attend the photo opportunity also raises question about what exactly the common cause is that they stand for. Daniel Wickham, a politics student at the London School of Economics, tweeted about the hypocrisy of a wide range of world leaders attending a march that is presumably fighting for the freedom of speech. Wickham highlighted the attendance of the prime minister of Turkey, which imprisons more journalists than any other country in the world, or the foreign minister of Bahrain, which has the second highest per capita rate of imprisoning journalists. Wickham's series of tweets ends with pointing out the moral and ethical contradiction provided by the attendance of the foreign minister of Saudi Arabia –- a country where the human rights activist and blogger Raif Badawi is periodically flogged in public while serving a ten-year prison sentence.
The more the photograph of the world leaders gathering in Paris is analyzed the more it reveals itself as a deeply conflicted sign. The visual rhetoric it exercises has less to do with a stance for freedom of speech than it does with the PR machinations of individuals attending a photo opportunity. And what about that tripartite motto of the French Revolution that was so beautifully displayed by the masses that day? Of those heads of state attending the photo opportunity, how many of them lead deeply autocratic regimes where civil liberties are routinely ignored? How many of them lead nations where equality –- whether it is with regards to gender, religion or caste -– is actually considered illegal? How many of them lead nations that are involved in territorial disputes or even war with neighbors in, what is supposed to be, a brotherhood of nations? For that brief moment, while walking on a cordoned off street in Paris, world leaders where united, whereas business as usual will resume shortly.
Marco Bohr is a photographer, academic and researcher in visual culture
France Attacks Rally, 11 January 2015: photo by Associated Press via Photoworks, 26 January 2015
Pen-Ultimate Paris Unity March for Freedom 2015, Place de la République, Paris: photo by DB Young, 11 January 2015
Silent march of world leaders through Paris in honor of the satirical newspaper Charlie Hebdo
:
photo by Kenji Tribouillard/AP,
11 January 2015

; image via European External Action Service, 13 January 2015
March of world leaders through Paris in honor of the satirical newspaper Charlie Hebdo, front row: image via European External Action Service, 11 January 2015

Silent march of world leaders through Paris in honor of the satirical newspaper Charlie Hebdo: photo by Julien Warnand/European Pressphoto Agency, 11 January 2015; image via FuTurXTV, 30 January 2015
French President Francois Hollande is surrounded by heads of states as they attend the solidarity march (Marche Republicaine) in the streets of Paris: photo by Philippe Wojazer/Reuters, 11 January 2015
"Circus of Hypocrisy": Jeremy Scahill on How World Leaders at Paris March Oppose Press Freedom: Democracy Now! January 12, 2015
AMY GOODMAN: Let's talk about this latest news out of France.
JEREMY SCAHILL: Yeah, well, I mean, first of all, you know, what we saw yesterday on display, on the one hand, was very heartening, to see so many people come into the streets. And, you know, one of the core issues of press freedom, if this is a moment where the whole world is saying we have to have a free press, and that no matter how controversial or hateful some of the speech is or may be interpreted in some communities, that we judge a free press by how we treat the journalists or the stories that we don't like or that we're offended by.
But on the other hand, this is sort of a circus of hypocrisy when it comes to all of those world leaders who were marching at the front of it. I mean, every single one of those heads of state or representatives of governments there have waged their own wars against journalists. You know, David Cameron ordered The Guardian to smash with a hammer the hard drives that stored the files of NSA whistleblower Edward Snowden. Blasphemy is considered a crime in Ireland. You had multiple African and Arab leaders whose own countries right now have scores of journalists in prison. Benjamin Netanyahu's government in Israel has targeted for killing numerous journalists who have reported on the Palestinian side, have kidnapped, abducted, jailed journalists. You know, there's this controversy right now: Why didn't President Obama go, or why didn't Joe Biden go? You know, Eric Holder was there already and was representing the United States.
I think that we should remember -- and I was saying this on Twitter over the weekend -- that Yemen should have sent the Yemeni journalist Abdulelah Haider Shaye as their representative. He, of course, was in prison for years on the direct orders of President Obama for having reported on secret U.S. strikes in Yemen that killed scores of civilians. Or Sudan should have sent Sami al-Hajj, the Al Jazeera cameraman who was held for six years without charge in Guantánamo and repeatedly interrogated by U.S. operatives who were intent on proving that Al Jazeera had some sort of a link to al-Qaeda. So, you know, while there is much to take heart in, in terms of this huge outpouring of support for freedom of the press, hypocrisy was on full display in the streets of Paris when it came to the world leaders.
AMY GOODMAN: Reporters Without Borders issued a statement saying it, quote, "condemns [the] presence of 'predators' in [the] Paris march," and, quote, "is appalled by the presence of leaders from countries where journalists and bloggers are systematically persecuted such as Egypt ... Russia ... Turkey ... and United Arab Emirates." A Gabonese journalist covering the march expressed similar reservations about his president, Ali Bongo Ondimba, participating in the event.
GABONESE JOURNALIST: [translated] He banned demonstrations in his own country and is coming to a demonstration in France. That's intolerable for us. It's a complete hypocrisy. We're here not only to show our outrage for what happened to Charlie Hebdo, but also to show our outrage over the fact that dictators like Ali Bongo Ondimba are present here in Paris, in a country that supports human rights, at an assembly that is in fact dedicated to freedom of expression, freedom of the press.
AMY GOODMAN: That, a Gabonese journalist covering the march, expressing reservations about his president participating in the march, Jeremy.
JEREMY SCAHILL: Well, and then you have—you know, you have General Sisi, the dictator of Egypt, who apparently is showing his solidarity for press freedom by continuing to preside over the imprisonment of multiple Al Jazeera journalists whose only crime was doing actual journalism and scores of other Egyptian journalists that never get mentioned in the news media.
Another thing that I think is really absent from a lot of the coverage of the aftermath of this horrific massacre is that France also is a surveillance state. And France has a very Islamophobic position toward their immigrant community, but also toward second- and third-generation Arabs or people from other Muslim countries who have settled inside of France. And there's going to be an intense -- intensification of an already overreaching surveillance system inside of France.
You know, some months ago I was on the show talking about the U.S. watchlisting system, and one of the things that we heard when we were doing this report on how you end up on the no-fly list or on the watchlist was that people within the U.S. counterterrorism community, who are actually trying to prevent acts of terrorism from happening, say that they're flooded in information and that if everyone is on the watchlist, effectively no one is on the watchlist when it comes to actually looking at who might be engaged in these kinds of terror plots.
A similar phenomenon is happening in Paris, France. You know, people talk about an intelligence failure, an intelligence breakdown. When you are putting people on these lists for monitoring or surveillance based on flimsy or circumstantial evidence, what that means is that you overload your own bureaucracy. So, on the one hand, you have a surveillance state that unfairly targets Muslims and immigrants, in both the United States and in France, and on the other hand, you have a system that is intended to stop acts of terrorism or to monitor people that are plotting acts of terrorism that has become its own hindrance, its own biggest obstacle to actually figuring out the reality of these plots.
And let's remember, while horrifying and reprehensible, these incidents represent a relatively minor threat to Western society. You know, in terms of the actual threats facing our society, this doesn't even rank in the top five. And so, you know, to have this kind of a reaction is not only a waste of a tremendous amount of money, but it is going to encourage, I think, future acts of terrorism.

Jeremy Scahill is co-founder of The Intercept. His books include Blackwater: The Rise of the World's Most Powerful Mercenary Army and Dirty Wars: The World is a Battlefield
In Lebanon, a Syrian girl stands behind a door at a refugee camp in the village of Ketermaya. A storm raged across the Middle East this week raising concerns for Syrian refugees facing freezing temperatures in makeshift shelters: photo by Ali Hashisho/Reuters, 10 January 2015

Palestinian children look out through holes in a sheet at their family's house, which was damaged by Israeli shelling during the 50-day war last summer. Since the war, thousands are still living in UN shelters and damaged homes and power is on for only six hours a day: photo by Mohammed Salem/Reuters, 10 January 2015

Afghan refugee children gather their goats in heavy fog on the outskirts of Islamabad, Pakistan: photo by Muhammed Muheisen/AP, 10 January 2015

Hundreds of Muslims attend Friday prayers during the first day of the three-day long Muslim congregation at Tongi, Dhaka, Bangladesh: photo by Abir Abdullah/EPA,
10 January 2015

Fear spread in France after the country's bloodiest attack in half a century. In Villefranche-sur-Saône, forensic police officers scour the scene at a kebab shop damaged following an explosion near a mosque: photo byJean-Philippe Ksiazek/AFP, 10 January 2015

There was a shoot-out between the two suspects of the Charlie Hebdo attack and the police on the N2 motorway. The gunmen eventually took refuge in a printing works on an industrial estate in Dammartin-en-Goële. In this photograph, smoke rises as a special forces soldier enters the building where the suspects had taken refuge. They were both killed during the raid by the special forces: photo by Christopher Furlong via The Guardian, 10 January 2015

Islam is as dangerous in a man as rabies in a dog. - Sir Winston Churchill #islam: image via 1ForHealth 1 @forhealth1, 9 January 2015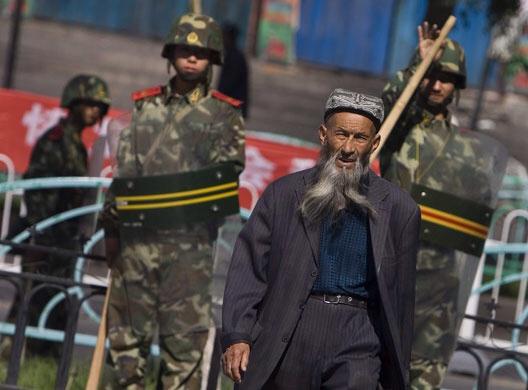 Horrendous oppression #Islam: While entering and leaving the mosque #Uyghurs are supposed to show their 'mosque cards': image via Voice of Uyghurs @VoiceUyghur, 6 January 2015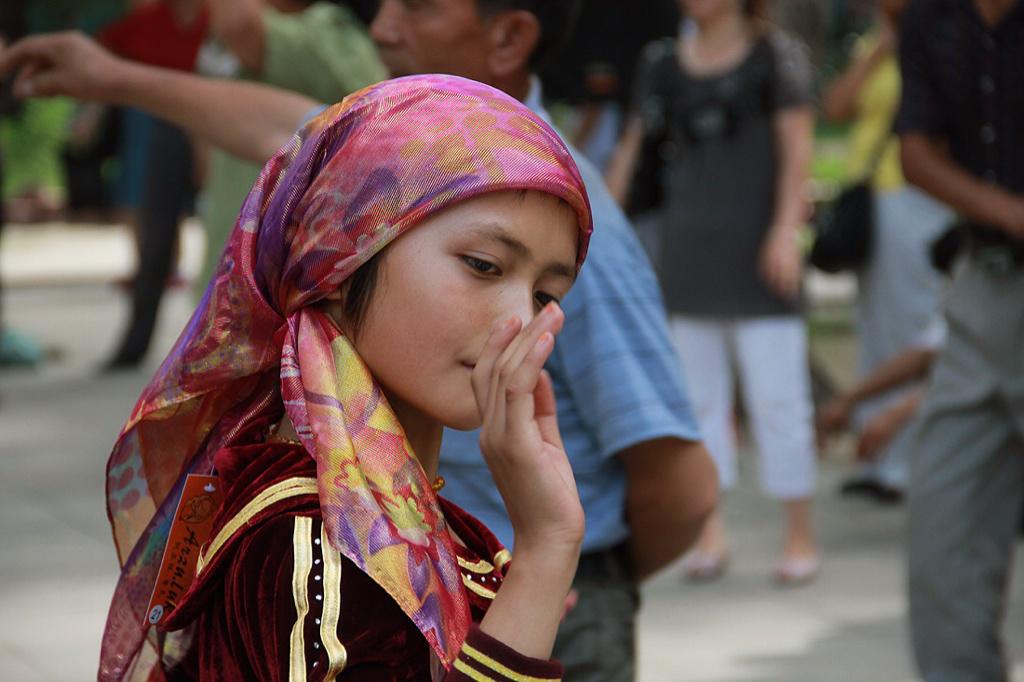 Horrendous oppression #Islam: While entering and leaving the mosque #Uyghurs are supposed to show their 'mosque cards': image via Voice of Uyghurs @VoiceUyghur, 6 January 2015

Anti-Islamic marches are gaining support in Germany following the #CharlieHebdo attacks: image via VICE News @vicenews, 12 January 2015

An anti-Islam rally in Germany drew 25,000 protesters in wake of the attack on #CharlieHebdo attacks: image via Fusion @ThisIsFusion, 12 January 2015
White privilege is the ability to look at this #CharlieHebdo comic and somehow not understand that it's deeply racist
: image via Jonathan McIntosh @radicalbytes, 12 January 2015
A Bahraini protester stands in a cloud of teargas during a confrontation with police on the outskirts of Manama after a demonstration against the arrest of the head of the Shia opposition movement Al-Wefaq, Sheikh Ali Salman
: photo by Mohammed Al-Shaikh/AFP, 10 January 2015