.
Attendees cheered after hearing the Nevada caucus results at Donald J. Trump's watch party in Las Vegas on Tuesday night: photo by
Ruth Fremson/The New York Times, 23 February 2016
The moment when everybody's happy because they're feeling free to hate with impunity
again,
because

hating's what makes
Murica great. That and the
[ubiquitous]

copious [redundant][accumulation of][superabundance of]
kidney fat.

A veteran and protester holds up a sign at a Trump campaign event in Las Vegas on Monday. He was later ejected from the audience.: photo by
Ruth Fremson/The New York Times, 23 February 2016


The moment at which the herd of lard-ass dumbos becomes aware of an alien in its midst, aching
because he's "nowheres near" fat and dumb enough to be a true [real bonafide] Murican
Donald Trump speaks to supporters in Las Vegas after his victory in the Nevada caucuses: photo by Jae C. Hong / Associated Press, 23 February 2016
Trump in Las Vegas. He has now won three states in a row in the GOP nominating contest.: photo by Jae C. Hong / Associated Press, 23 February 2016
Trump supporters at his Las Vegas rally celebrate his Nevada victory: photo by Jae C. Hong / Associated Press, 23 February 2016

Trump supporters in Las Vegas: photo by Jae C. Hong / Associated Press, 23 February 2016
Donald Trump greets supporters at a caucus site in Las Vegas: photo by Jae C. Hong / Associated Press, 23 February 2016
'A cauldron of the baser instincts of humanity': inside Donald Trump's Nevada triumph

:

Ideology is almost beside the point at the Republican caucus in Nevada. Dave Schilling reports on how personality and temperament are swaying voters in this insane, apocalyptic election

: Dave Schilling, The Guardian, 24 February 2016
T

here is a moment during Donald Trump's effusive, ebullient victory speech, following his huge victory in Nevada, when he asks fellow hotel magnate Steve Wynn to stand up. Trump and Wynn are both bombastic personalities with a penchant for self-mythologizing. Trump says that he constantly reminds Wynn that the Trump International Hotel is the best in Las Vegas. On this one assertion, I cannot quibble with The Donald, having spent the past 48 hours staying there. Trump's hotel doesn't have a casino. You can't smoke inside either. The ostentatious decor suits the man whose name adorns practically every inch of the 50-floor tower on Fashion Show Drive. It is all marble and gold, with crystal chandeliers and wood paneling. The whole place reeks of what I can only describe as a curious mix of embalming fluid and baby powder. It is, in short, a monument to all that is tacky and grandiose about America.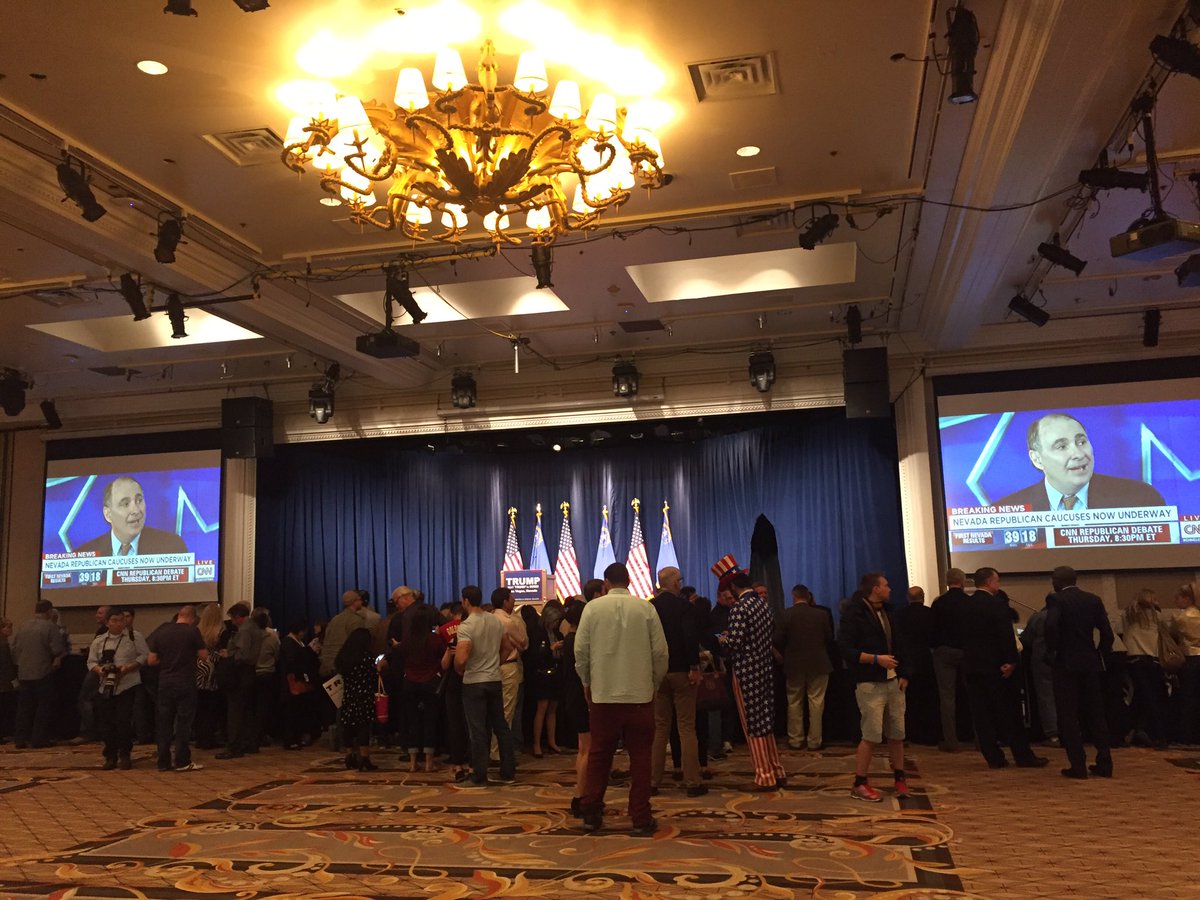 #realDonaldTrump
will speak here tonight. Unclear when we'll know a winner of the#Nevadacaucus, though
: image via Emily Cahn @CahnEmily, 23 February 2016
The hotel's faux-chic styling is in stark contrast to the supporters, who stand in interminable queues for the opportunity to get a glimpse of their burnt-orange hero at Donald Trump's pre-caucus rally on Monday.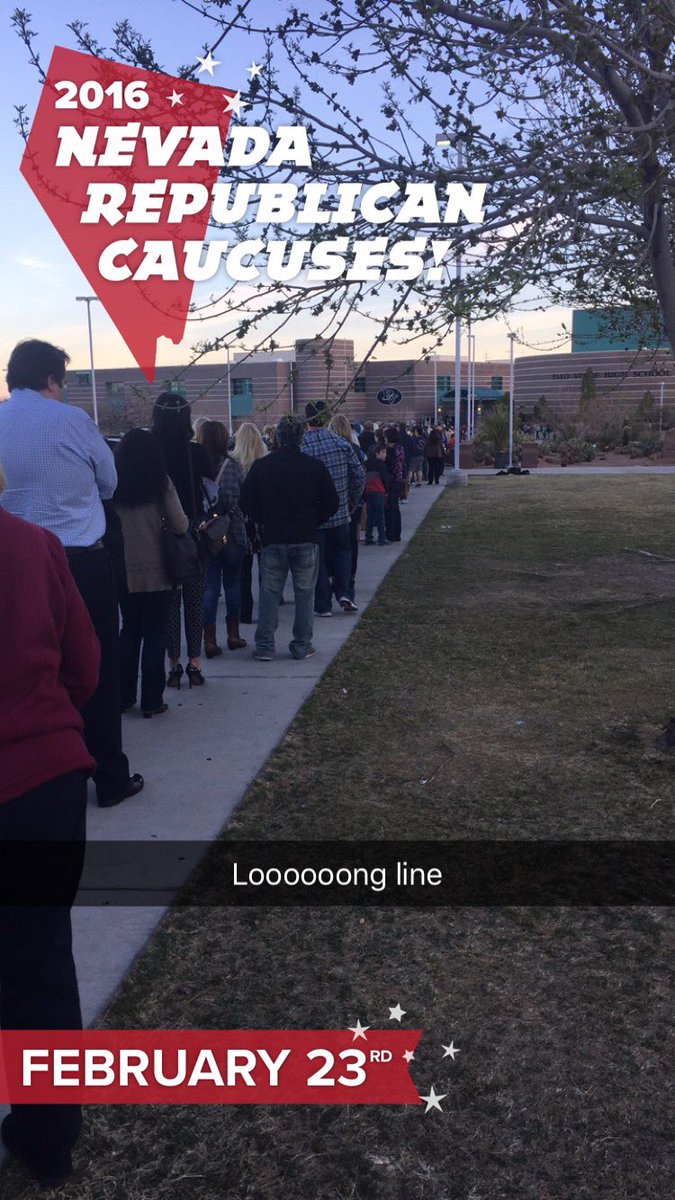 This line snakes far from the entrance and is only getting longer at Palo Verde HS. #Nevadacaucus: image via Emily Cahn @CahnEmily, 23 February 2016
The rally takes place in a quaint venue called the South Point Arena, an event space adjacent to a casino in Enterprise, Nevada, an area known as horse country that mostly caters to the rodeo crowd. Oversized photos of men in cowboy hats, and ads for fertilizer adorn the walls. The concession stands sell nachos, hot dogs, and flat soda pop.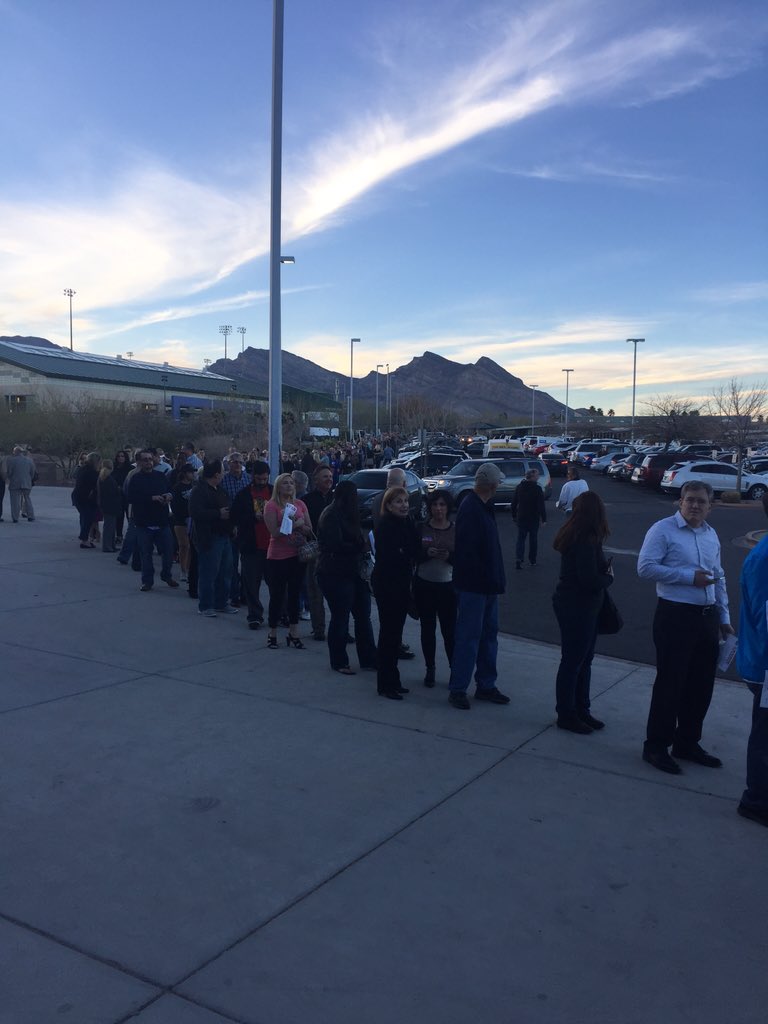 The line to enter the caucus site here in Summerlin is LOOOOONG at 5 pm, when things begin.
#Nevadacaucus: image via Emily Cahn @CahnEmily, 23 February 2016
A tractor with an American flag draped over it is near the stage from which Trump says he would like to punch a protester in the face as the man is escorted out of the building.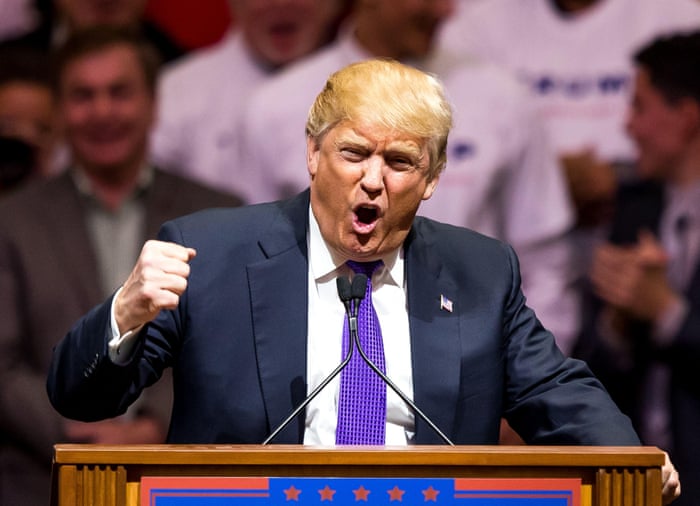 Trump at the Las Vegas rally.: photo by MediaPunch/Rex/Shutterstock, 23 February 2016
It is worlds away from the overwhelming grandeur with which he typically associates himself, as memorialized by his Fashion Show Drive hotel. The Trump brand seems more than a little confused. Is he the populist hero giving voice to the blue-collar folks who feel lost in Barack Obama's America? Or is he the man with a private jet and an overpriced collection of handbags on sale in the lobby of his hotel?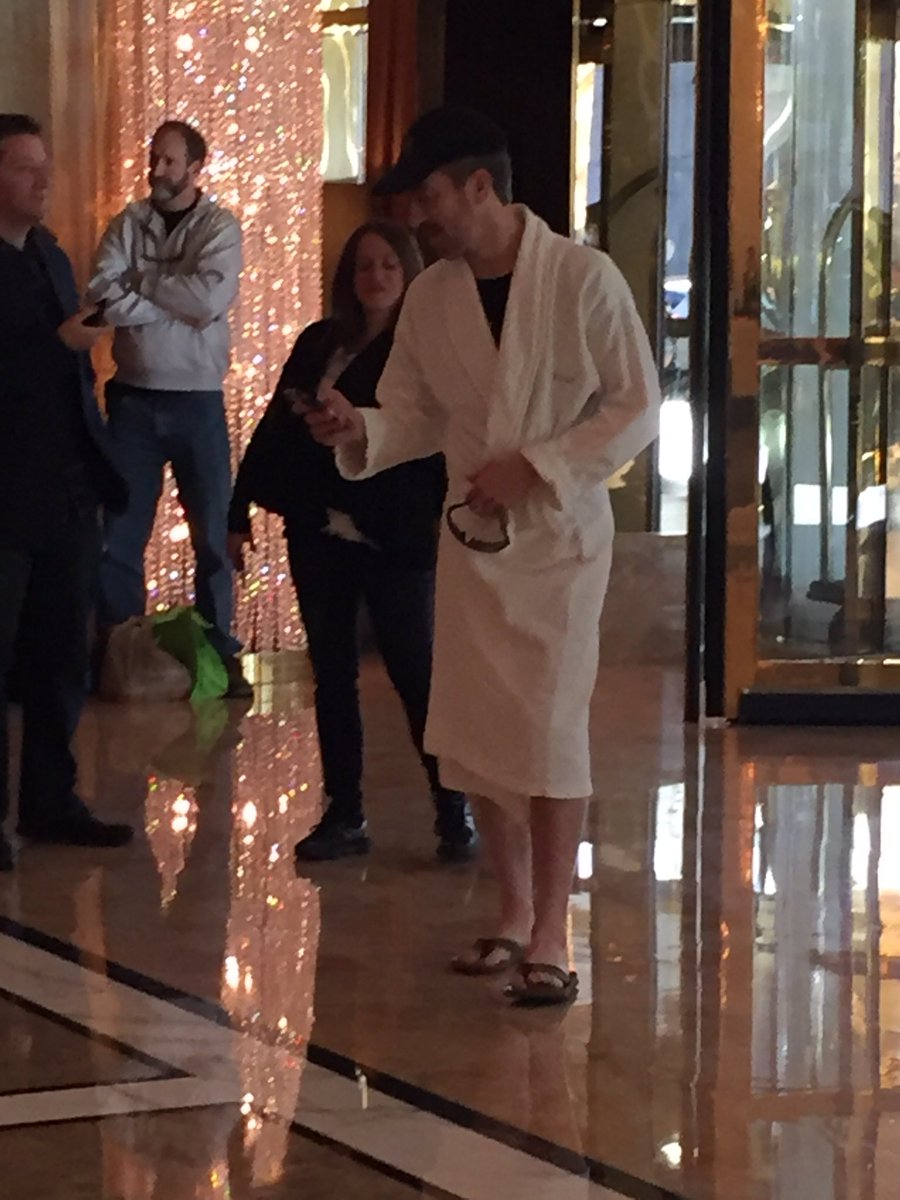 Dude in a robe waits for #realDonaldTrump in the lobby. That's #dedication #nevadacaucus: image via Emily Cahn @CahnEmily, 23 February 2016
It doesn't seem to matter to his supporters that Trump represents all the worst excesses of cheesy, heartless capitalism. It certainly doesn't matter that, on his arrival before the opening of voting in Nevada on Tuesday –- a state he later wins with a resounding victory -– a group of activists from the Culinary Workers Union protest in front of the hotel over Trump's unwillingness to negotiate with employees who recently voted to unionize. It's all meaningless to Trump supporters, in no small part because they have banded together against a common enemy: the media.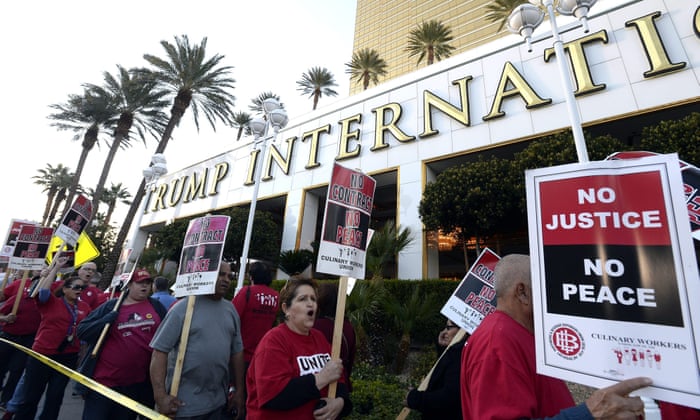 The Culinary Workers Union stages a protest outside Trump International Hotel: photo by
Mike Nelson/EPA, 23 February 2016
Attending a Trump rally is a nervy thing for a journalist. Invariably, the Republican frontrunner will single out the cordoned-off media pen, pointing in our direction while declaring that we are mostly horrible people who are ruining the nation one word at a time. Apart from the incessant blaring out of Billy Joel's Uptown Girl, diatribes against the media are the most common occurrences at Trump gatherings. They boo us in the pen. They boo Fox News host Megyn Kelly. "These are the most dishonest people, bad people," Trump says. It's taken as gospel that 80% of journalists are shrieking devil worshippers who want nothing more than to consume the souls of right-thinking individuals all over the country.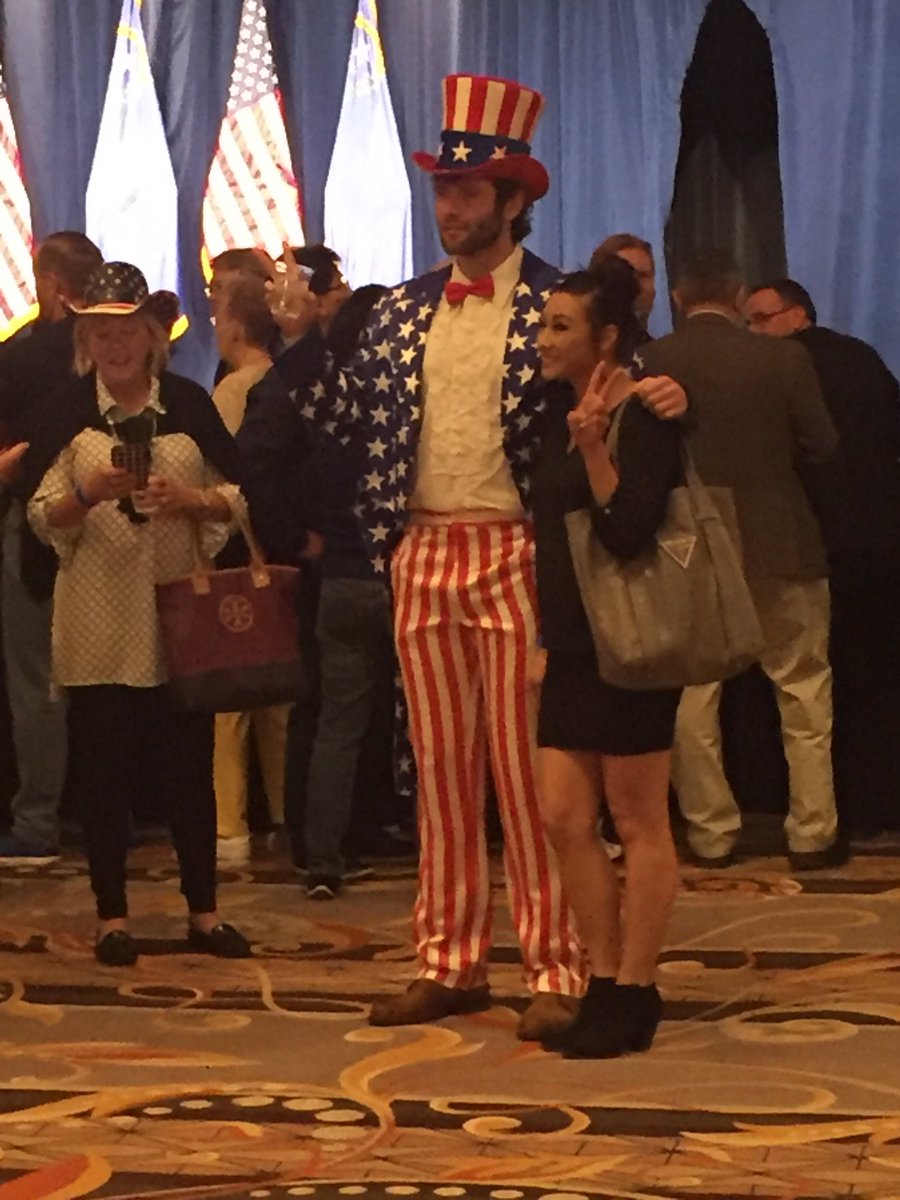 Overseen at the #realDonaldTrump
caucus night party at the Treasure Island casino on the Las Vegas strip
: image via Emily Cahn @CahnEmily, 23 February 2016
It is quite a feeling to be among a crowd of thousands who would gladly tear you to pieces, given the right circumstances.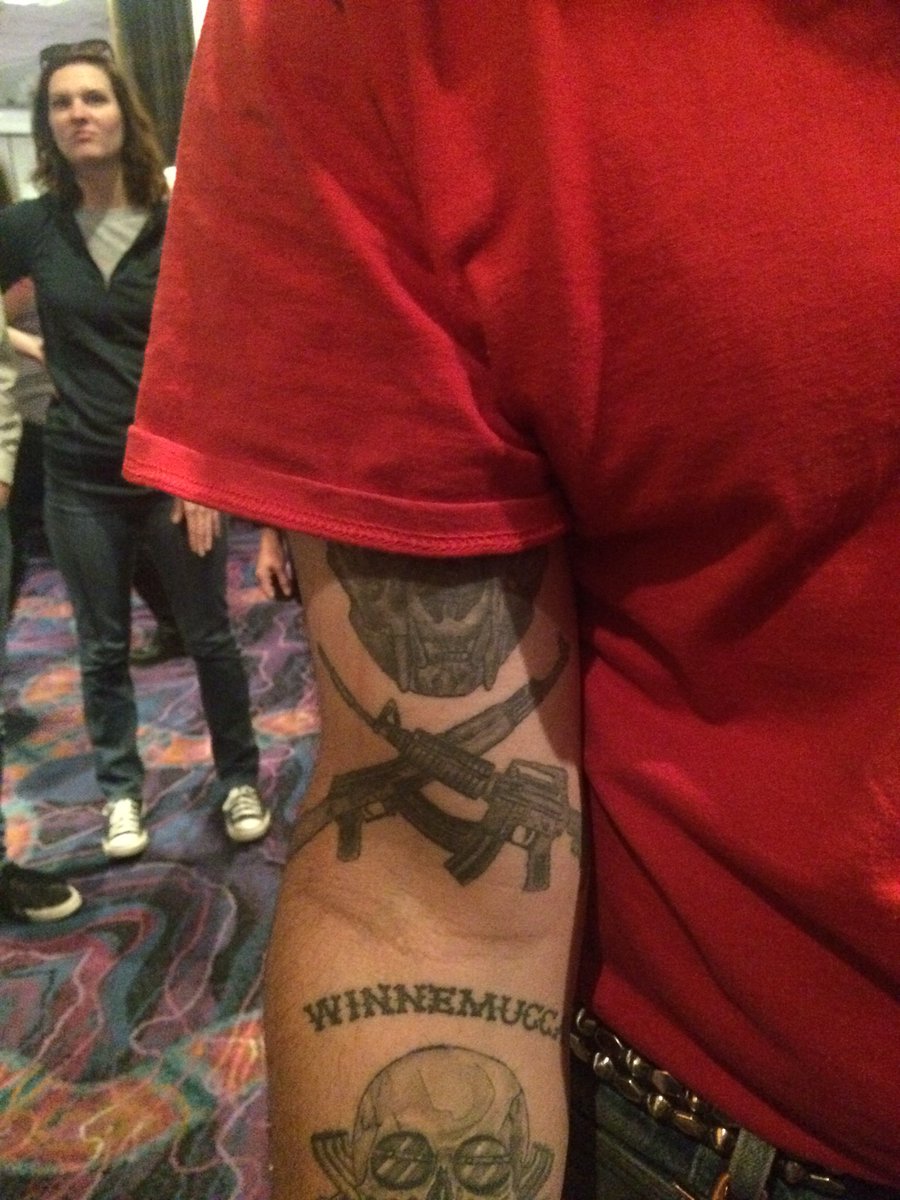 Aaron Castro, former Army gunner, traveled from Winnemucca (160 miles out) to see Trump. 'He's the one for us.': image via Kurtis Lee @kurtisalee, 23 February 2016
As Trump so callously tells one of the hecklers being escorted out of the rally, in the old days, he would have been taken out on a stretcher. The greying, overwhelmingly white audience might not actually be able to beat me up due to their age, but the spectre of menace is almost as potent as the real thing. "There's not even a woman here my own age," 28-year-old Timmy Lally, a documentary film-maker from Los Angeles tells me. Lally, bizarrely, considers himself undecided, despite his own fearful impression of the crowd. "I see a stadium full of racists," he says. He is even more dubious of Trump's potential as a world leader. "If people tell you he can't run a hotel, how can he run a country?"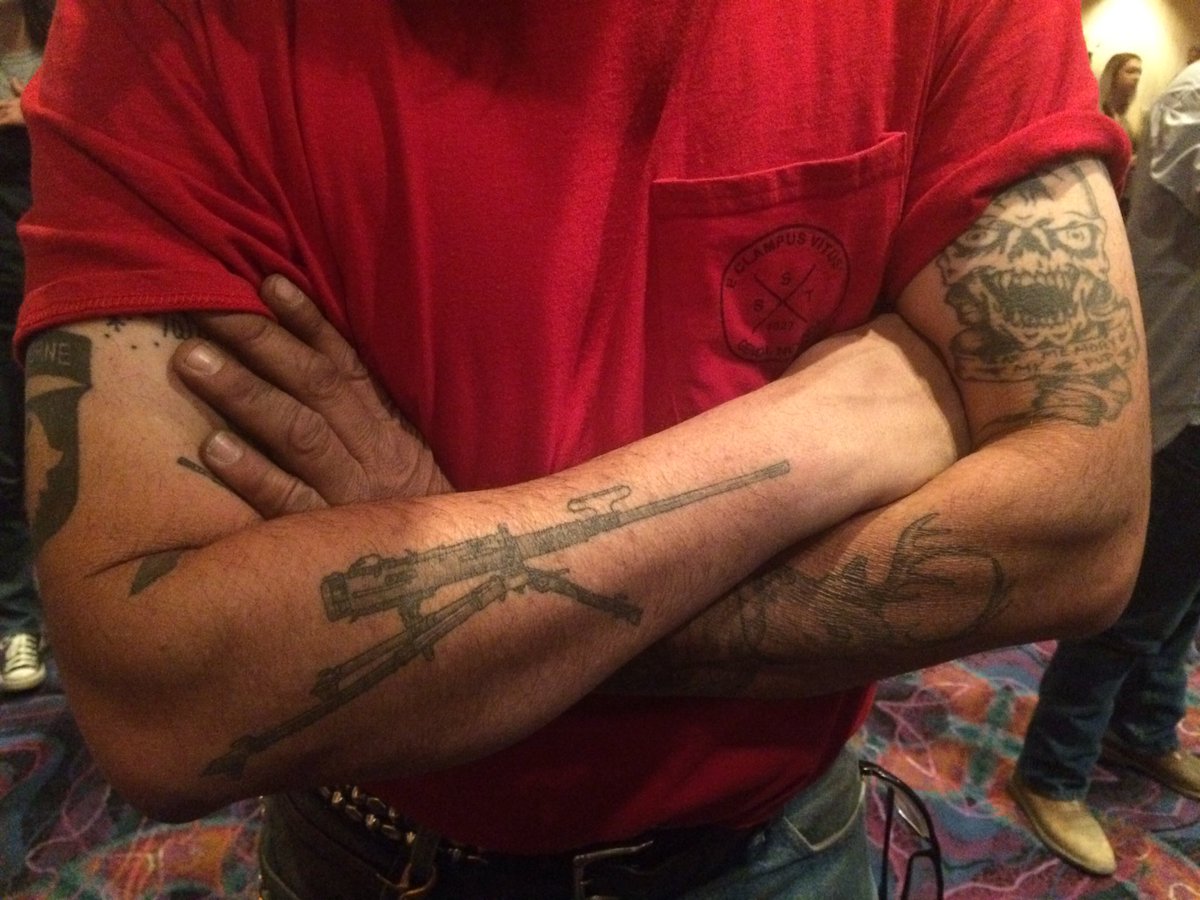 Aaron Castro, former Army gunner, traveled from Winnemucca (160 miles out) to see Trump. 'He's the one for us.': image via Kurtis Lee @kurtisalee, 23 February 2016
After a few hours of cowering in terror, I feel the need to unwind with a bit of classic Vegas entertainment. A Trump rally isn't that much different from the average casino show. There is loud music, acrobatics (in the case of Trump, the rhetorical kind that make your head spin like a faulty amusement park ride), free-flowing alcohol, ponderous pomposity, and a towering crescendo that leaves you with a sense of either blissful euphoria or crippling depression. There are even people in costumes. I spot a man wearing an American revolution uniform, an off-duty Elvis impersonator, and Robert S Ensler, a working Donald Trump impersonator. Ensler was once a Dean Martin impersonator, but got too old for it and eventually hopped on to the Trump gravy train. I ask him if he has ever met Trump. "Four years ago, I saw him at a women's Republican event. This is when he first was thinking about running for president. And he was very unpolitically correct, swore, gutter mouth. It was great. I loved it. Everyone went nuts for it. He saw me. He said: 'I know you. You're a good-looking guy.'"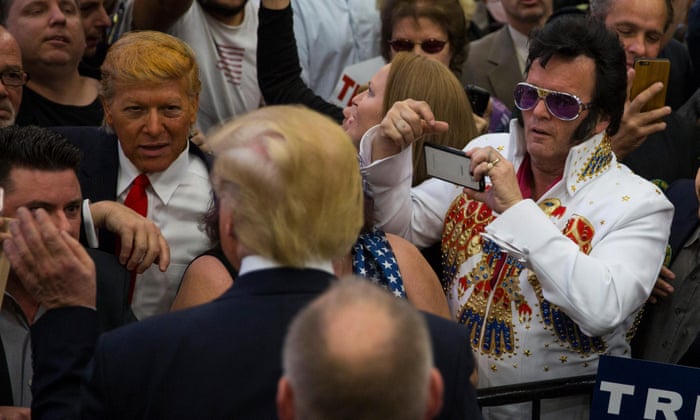 Elvis and Trump impersonators greet Donald Trump in Las Vegas on Monday: photo by Ruth Fremson/New York Times/Redux / eyevine, 23 February 2016
Trump rallies, like Vegas itself, are a roiling cauldron of the baser instincts of humanity. Self-absorption, frustration, and unrequited yearning combine to create a circus of the desperate. I suppose the only difference between the Trump rally and the musical I see afterwards is that I don't fear for my safety during Cirque du Soleil's Michael Jackson ONE at the Mandalay Bay casino.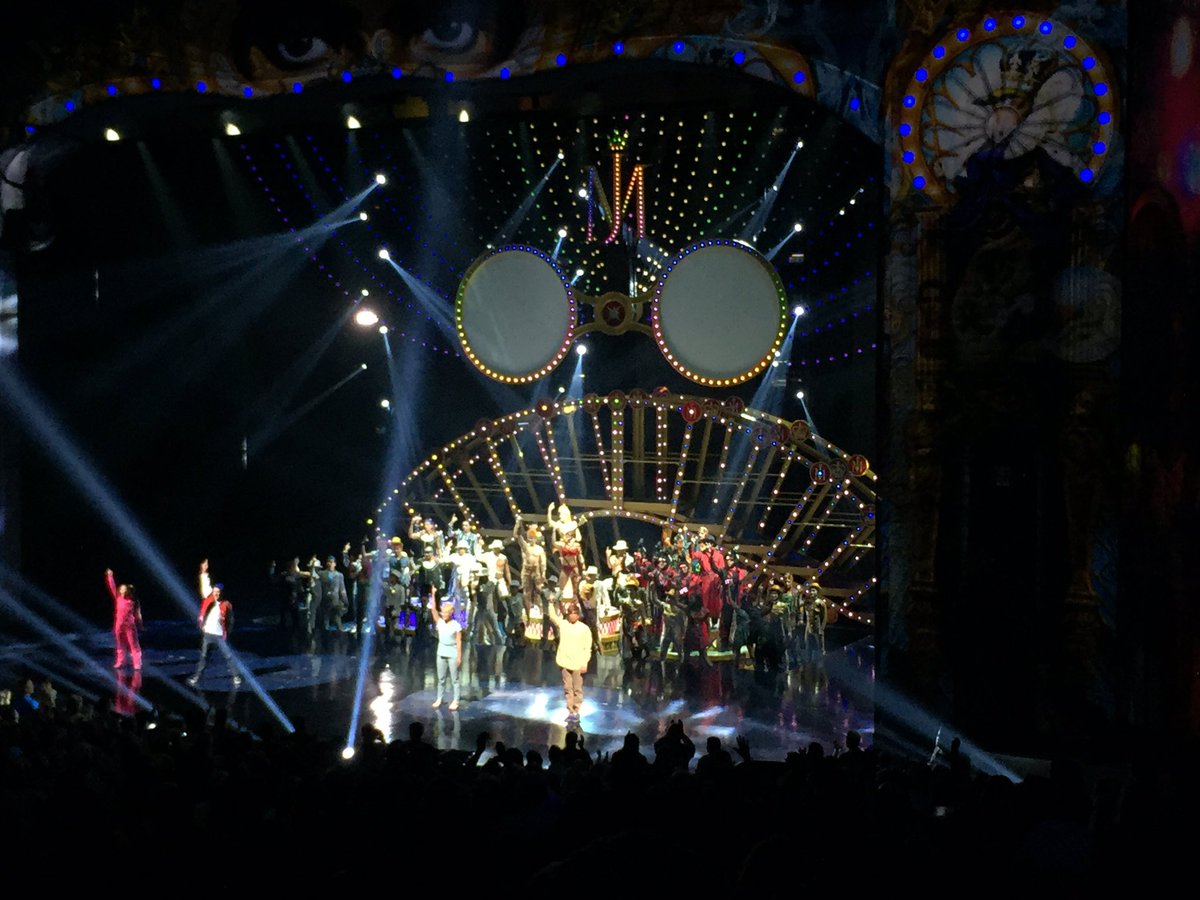 #MichaelJacksonONE is a dazzling #CirqueduSoleil tribute to the Gloved One that's surprisingly heartfelt #Vegas: image via Ed Uyeshima @EdUyeshima, 20 February 2016 Paradise, NV
In ONE, four squeaky nerds learn the power of dance through their discovery of relics owned by Michael Jackson –- his single sparkly glove, a hat, shoes, and sunglasses. A jukebox revue of Jackson's songs follows, accompanied by smoke machines, open flames, sparks, and ghastly video projections of the dead pop star. Throughout the show, the protagonists are accosted by fascistic paparazzi demons with cameras attached to their heads, who want nothing more than to steal the spirit of Jacko and, I guess, take pictures. After the protagonists triumph over the media through their spangled creativity and gratuitous crotch-grabbing, they are strapped into what resemble metal coffins and ascend to what I can only assume is heaven, or some other place where there are no journalists, like Malibu.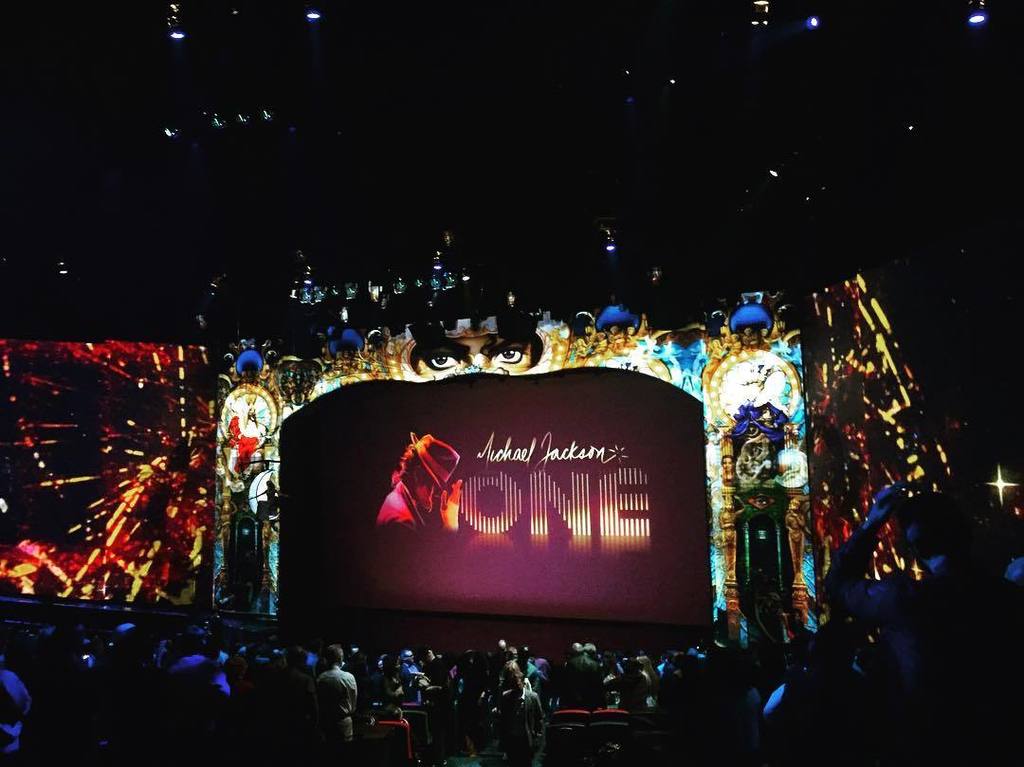 Just been to see #michaeljacksonone #michaeljacksononeonecirquedusoeil absolutely bloody amazing!!!: image via Vegas Selfie @vegaselfie, 23 February 2016
Even for the cost of a Vegas show ticket, I still can't escape the disgust that meets the average journalist. Never mind that Jackson was accused of molesting numerous children or that Trump has no problem inciting violence at his rallies. The real villains here are the media, who want to talk about it in public. Going to Trump's victory speech was not nearly as perilous as his rally, but that doesn't mean I feel totally comfortable surrounded by people hyped up on lukewarm Budweiser and good cheer. Trump still finds the time to chastise the media for vilifying him and wishing for his electoral demise, lashing out at pundits who believe he is vulnerable if either Ted Cruz or Marco Rubio drops out. "If they could just take the other candidates and add 'em up," he says mockingly above jeers from the adoring masses. Cruz people and Rubio people and everyone else will end up Trump supporters, he contends.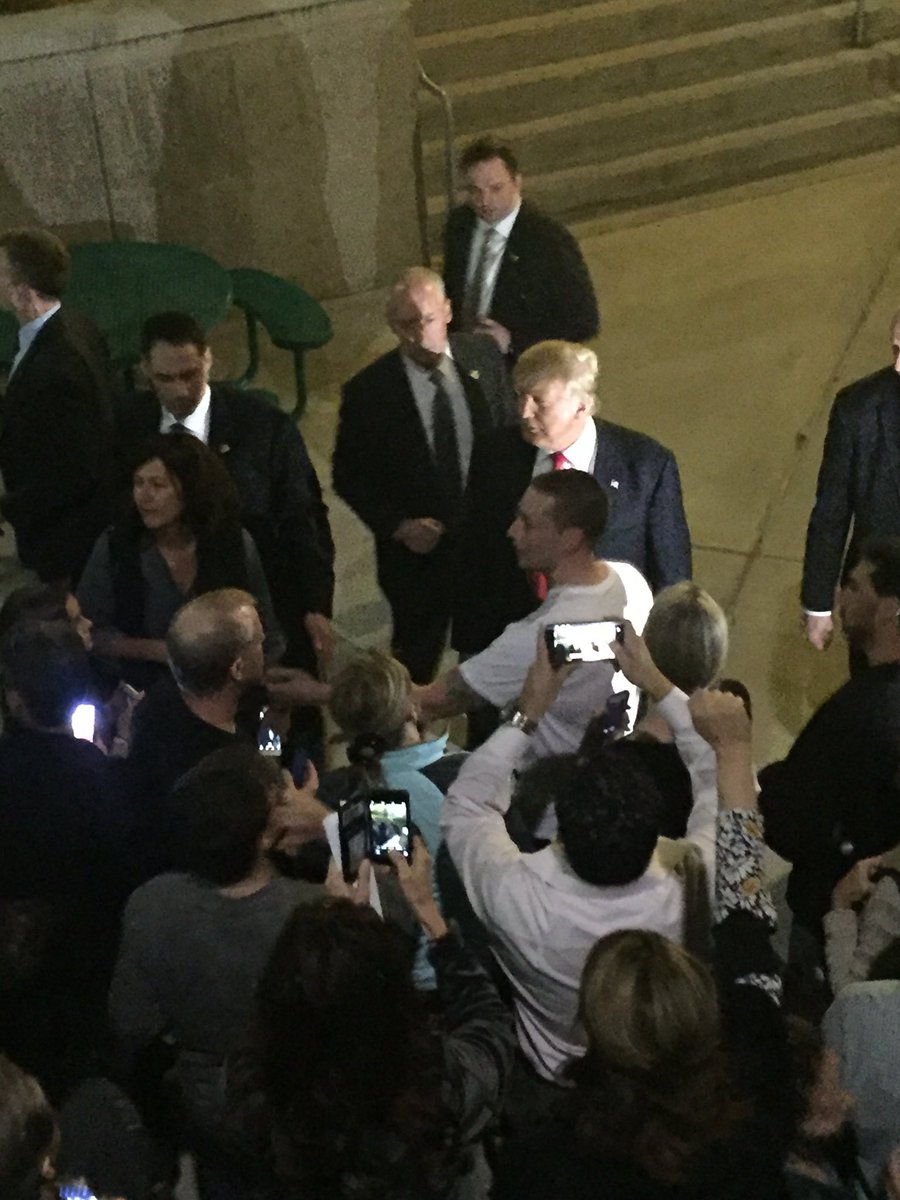 #realDonaldTrump is still here at Palo Verde HS greeting folks. Woman just said "I'm Hispanic and voting for you"
: image via Emily Cahn @CahnEmily, 23 February 2016
As he said at the previous night's rally, reflecting on his victory in South Carolina, which followed his victory in New Hampshire, there is no one who doesn't like him. "Actually, I won everything. I won short people, tall people. I won fat people, skinny people. I won highly educated, OK-educated, and practically-not-educated-at-
all. I won the evangelicals big and I won the military." We all love Trump, and Trump loves us, even the so-called "poorly educated". He loves them too, as long as they keep voting for him in droves.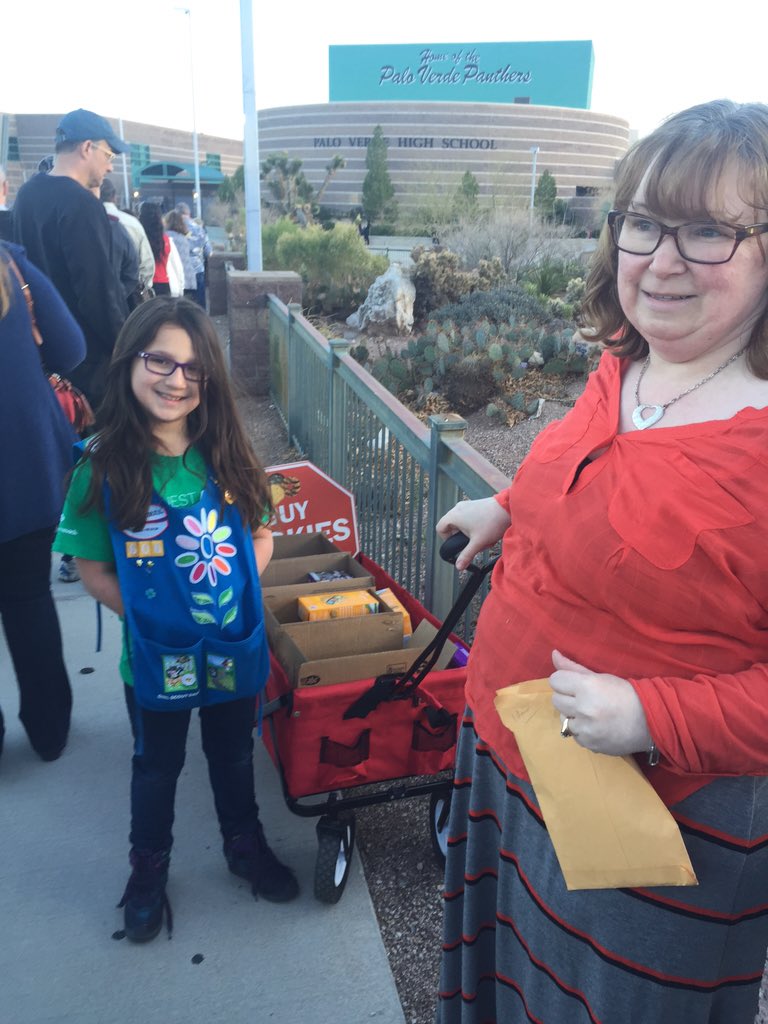 Gabriella, 6, is a smart biz woman, selling cookies here in long line at
#Nevadacaucus.
300 boxes sold already!
: image via Emily Cahn @CahnEmily, 23 February 2016
But scooping up his rivals' supporters might not be as easy as Trump claims. I go to the Durango Hills Community Center YMCA for a Cruz rally the Monday before the caucus, to figure out what is keeping some Republicans from embracing the man who has wrested a lion's share of the available delegates from his befuddled competitors.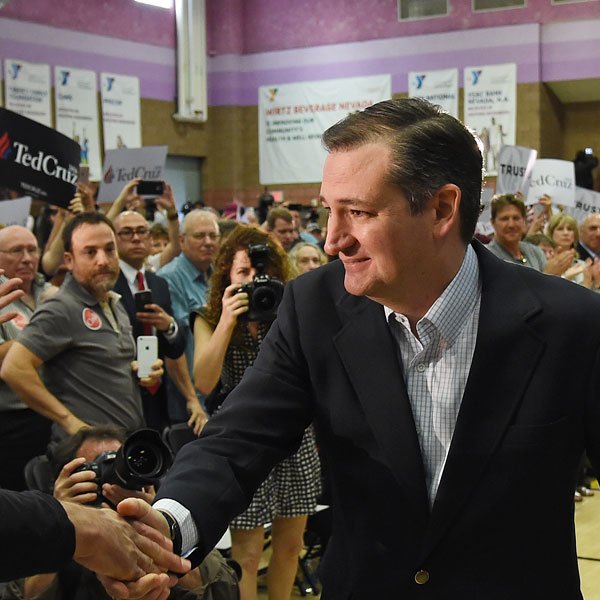 High Stakes for Cruz in Nevada Caucuses: image via National Review @NRO, 23 February 2016
A crowd of 100 or so Cruz people fills the modest gymnasium, patiently sitting through preliminary speakers such as former Fox News host Glenn Beck. Beck's remarks meander from declaring that Hillary Clinton should be running for "president of cell block six" to a bizarre story about George Washington's reluctant participation in the constitutional convention that produced the American system of government we tolerate today. Beck holds up a book that he says "confused him for a long time". That book –- not the Bible or a copy of the US constitution -– is what he claims to be Washington's personal copy of Don Quixote, which he says was purchased after the ratification of the nation's governing document. That book, Beck says, carries some sort of special meaning for him, a meaning that he never quite got around to revealing to us by the time he was ushered off in favor of Cruz.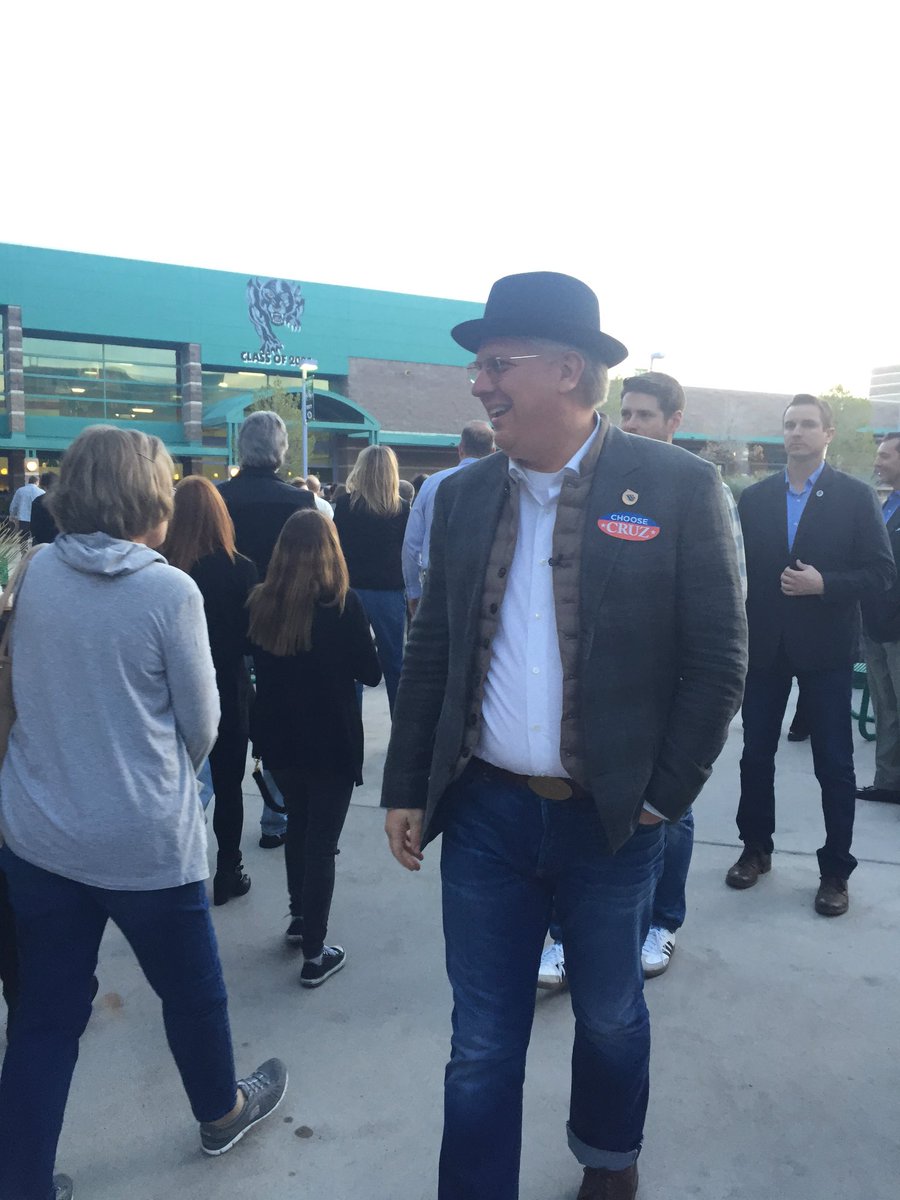 @glennnbeck is here greeting caucus goers. People are excited to see him. #Nevadacaucus: image via Emily Cahn @CahnEmily, 23 February 2016
The guest of honor's speech is a combination of attacks on Trump and dorky aphorisms such as: "I don't advise carrying money in your underwear" and "Pick up the phone and call your mom," which might be useful information for a slothful college student. This is not the kind of soaring, inspiring material that catapults the average politician to power, nor is it the bellicose hectoring of his main rival. Still, what Cruz says inexplicably inspires some to action.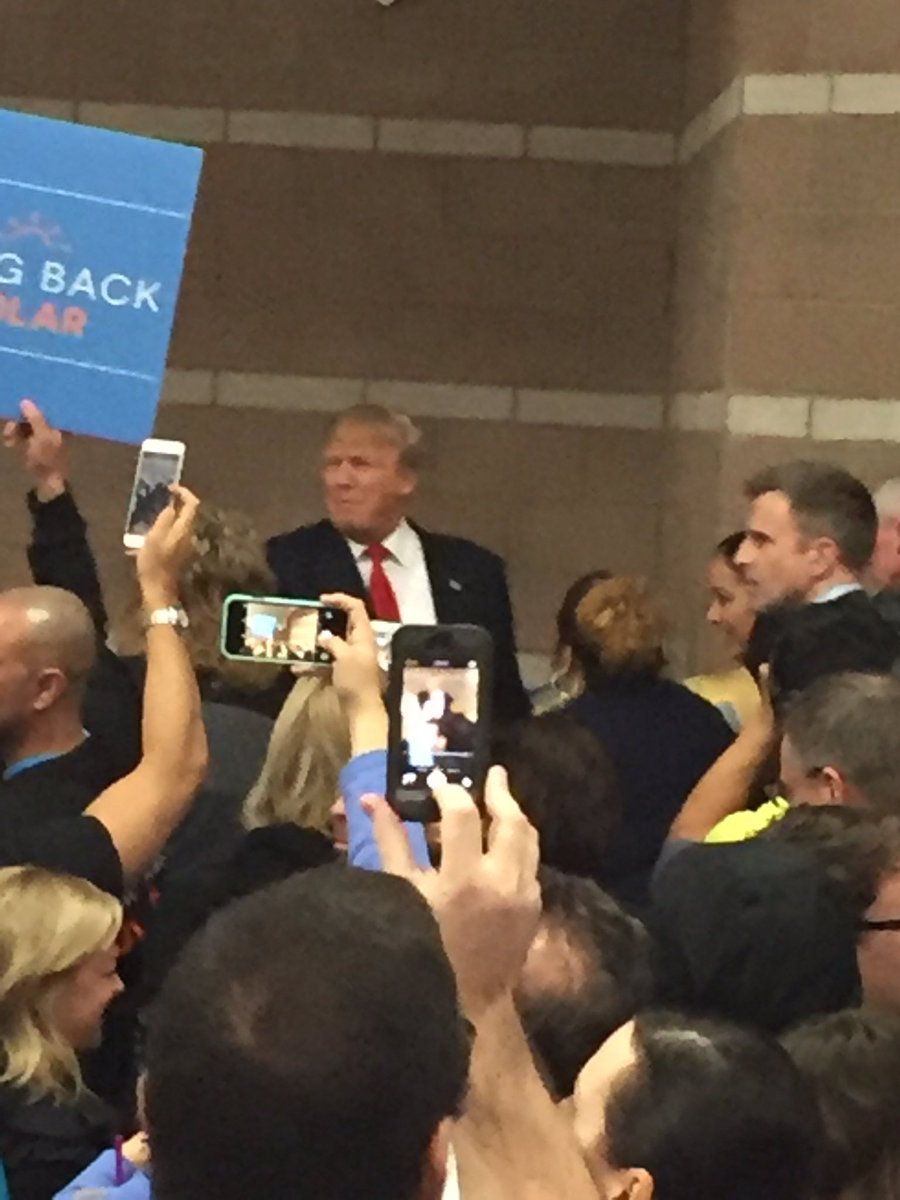 #realDonaldTrump
shows up as @glennbeck speaks. Room goes wild!
: image via Emily Cahn @CahnEmily, 23 February 2016
One 62-year-old Cruz supporter I meet at the YMCA, might find it difficult to toss her vote to Trump if her chosen candidate gives up his own personal quixotic journey. "He's a narcissist. He's had three wives and his wife [now] is a porno star." It's unfair to label Melania Trump a "porno star", considering the sorts of actual porno one can consume on and around the Las Vegas Strip, but statements such as this are indicative of the animosity that many people on the Republican side feel toward Trump, even as he careens into their presidential nomination. Despite this, there are points of agreement that might give his campaign a bit of hope. "All of us hate the Muslims," the woman says casually during our chat, as though this is an unassailable truth that I must agree with.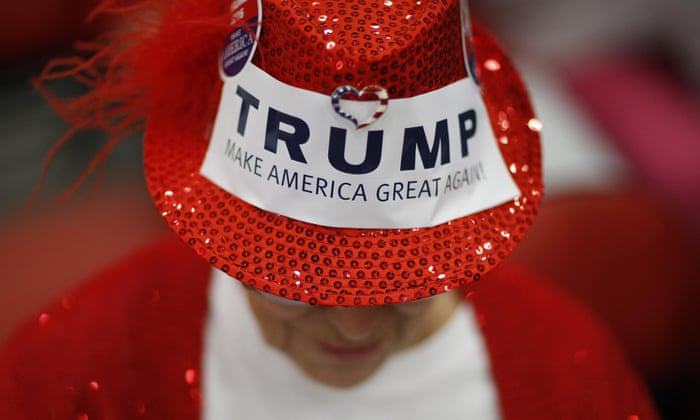 A supporter waits for Donald Trump to speak at Monday's campaign rally.: photo by John Locher/AP, 23 February 2016
Ideology is almost beside the point with the people here in Nevada. Personality and temperament are what sway voters in this insane, apocalyptic election. Before Trump's mortal enemy the media declare him the winner of the caucus, I speak to Tario Mills, a 19-year-old woman covered in tattoos. She came to the victory speech with her father. This is her first election and she is a firmly committed Trump voter. She wants to go into politics as a profession, but is concerned that her tattoos may make that difficult. "When Donald wants something, he's going to fight for it. I need someone who's going to fight for what I want too," she says. When I ask which issue she cares about the most, she says LGBT rights. I mention that Trump's not the most committed ally of the cause. "Hillary shifted in support of it. Maybe he will, too." But what if he doesn't? "Then he doesn't do it, you know." At this moment, I realise that there is a segment of the Trump base that doesn't care what he says. They just trust him to be tough, like a surly father figure from whom you crave approval in between swats from a leather belt. "If I don't agree with what he does, I'll still love and support him."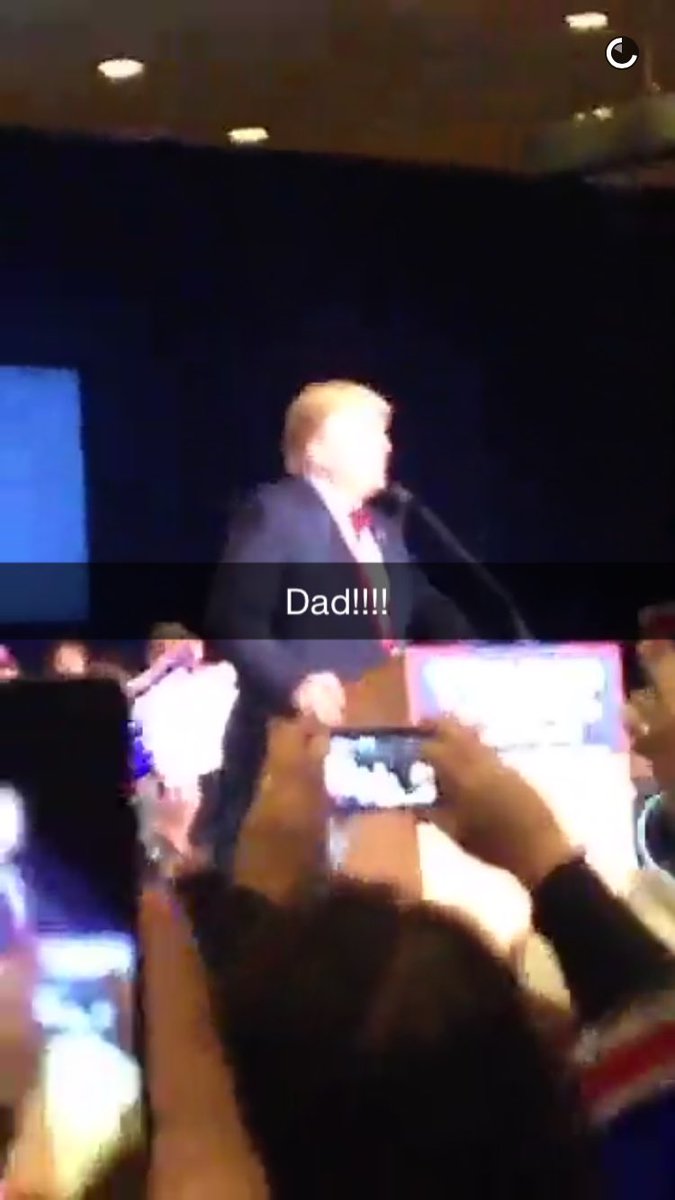 Someone's screaming and calling Donald Trump "dad" on the Nevada caucus snapchat story: image via Hunter Schwar @hunterschwartz, 23 February 2016
If it doesn't matter what Trump believes, and if it doesn't matter that he lives in a gold and marble palace while his employees earn less than a living wage, then he might just be unstoppable.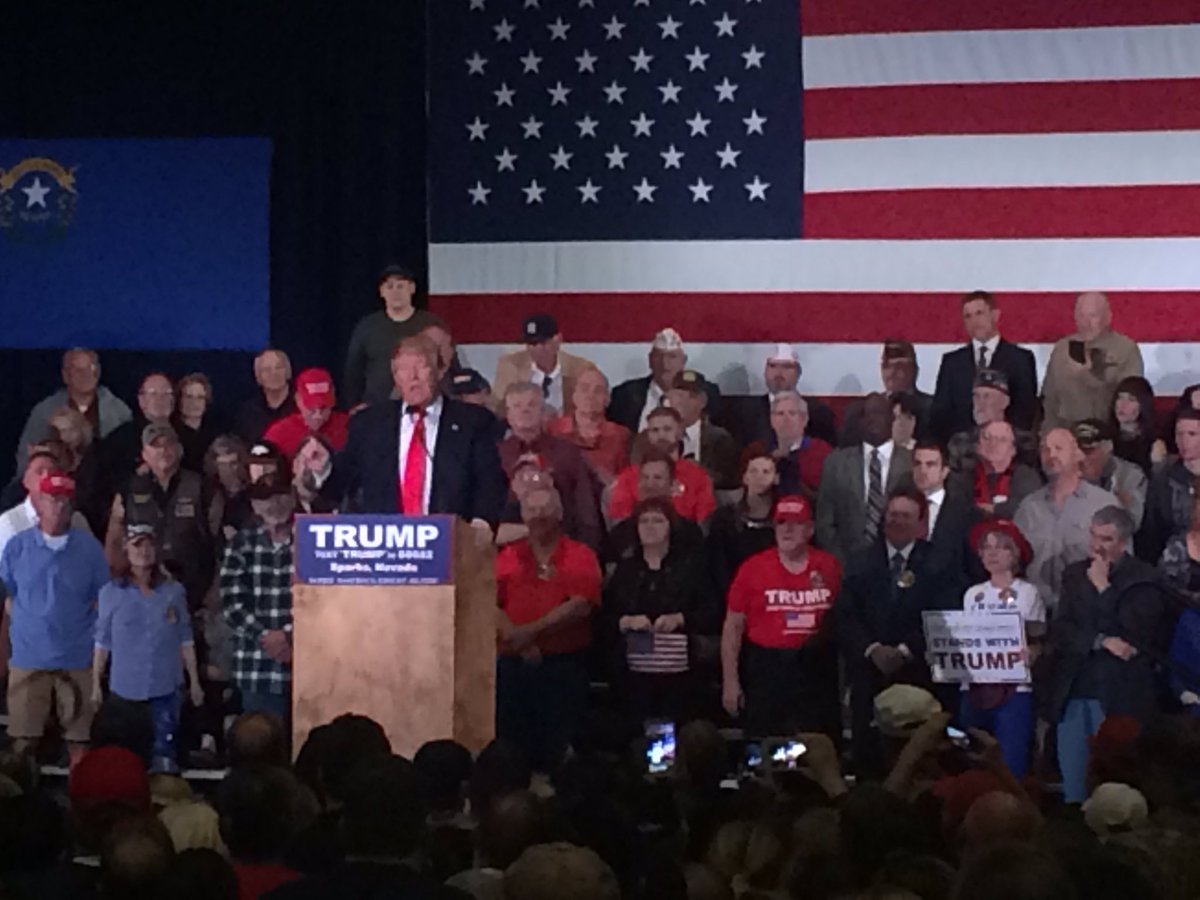 Trump on Rubio: 'He hasn't hit me. When he does, you'll see what happens.': image via Kurtis Lee @kurtisalee, 23 February 2016
Peak Trump will actually be what they call Mt. Rushmore after his second term
: image via andrew kaczynski @BuzzFeedAndrew, 23 February 2016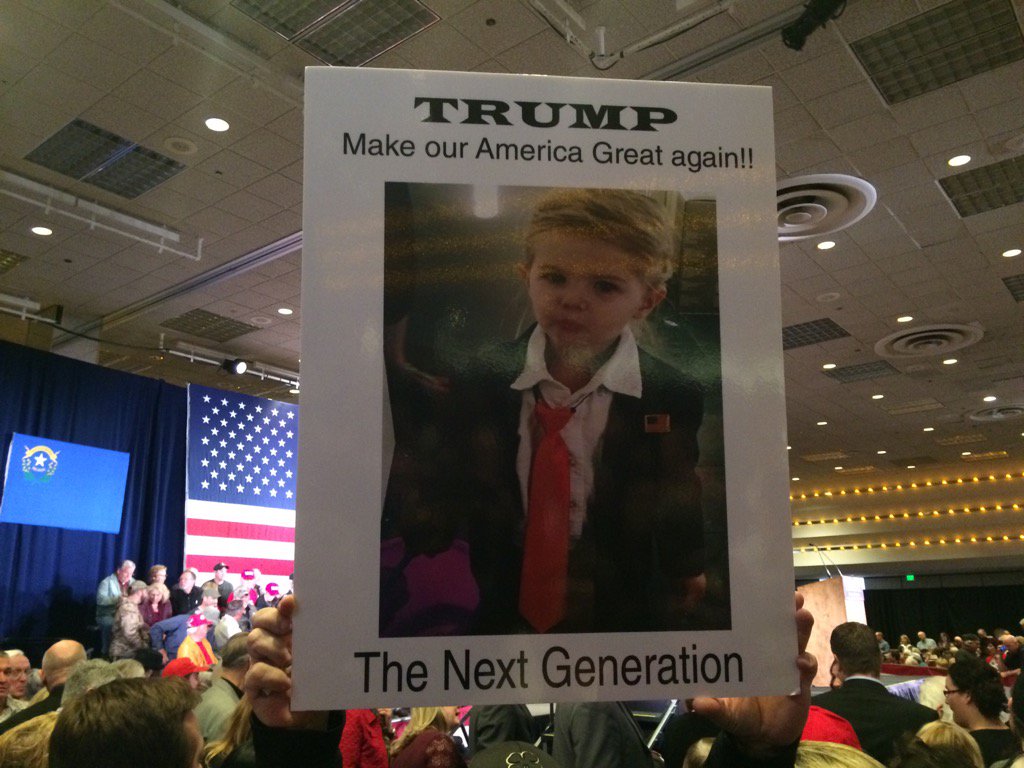 'Sign spotted at Trump's Sparks, Nev, rally. Always amazed at how many ppl dress up like Trump at these rallies.: image via Kurtis Lee @kurtisalee, 23 February 2016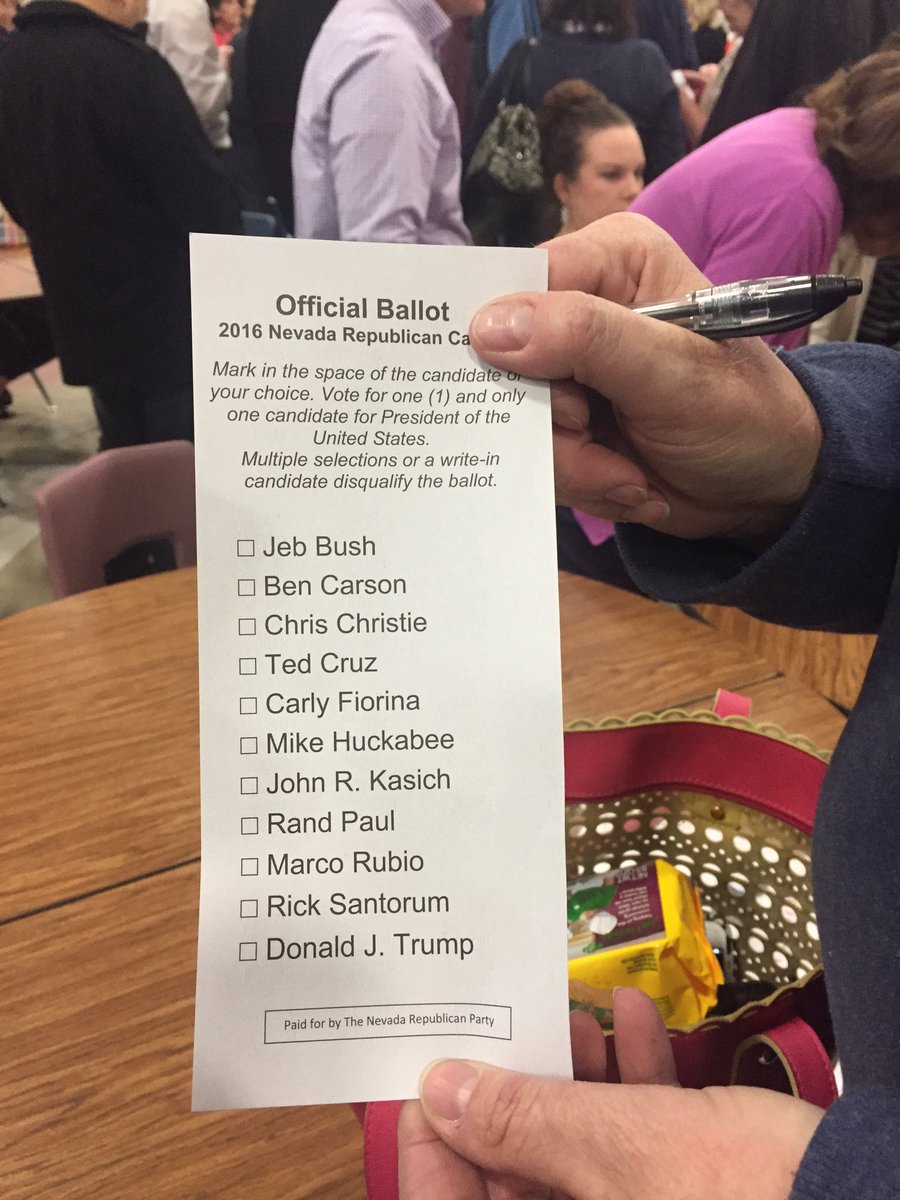 Second woman says no one checked her ID. She was just handed a ballot. She says it's very scary.
#Nevadacaucus
: image via Emily Cahn @CahnEmily, 23 February 2016
Caucus chaos at Palo Verde HS in Summerlin NV
#nvgopcaucus
: image via Bill Clark @billclarkhotos, 23 February 2016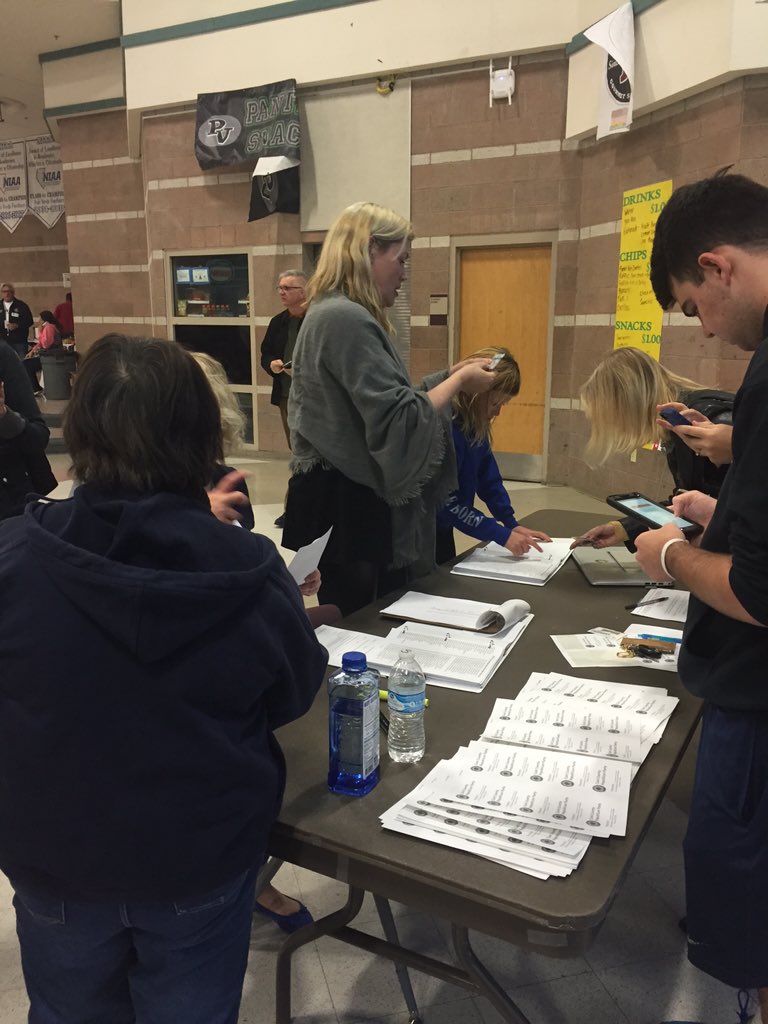 The check in tables. Volunteers look overwhelmed.
#Nevadacaucus
: image via Emily Cahn @CahnEmily, 23 February 2016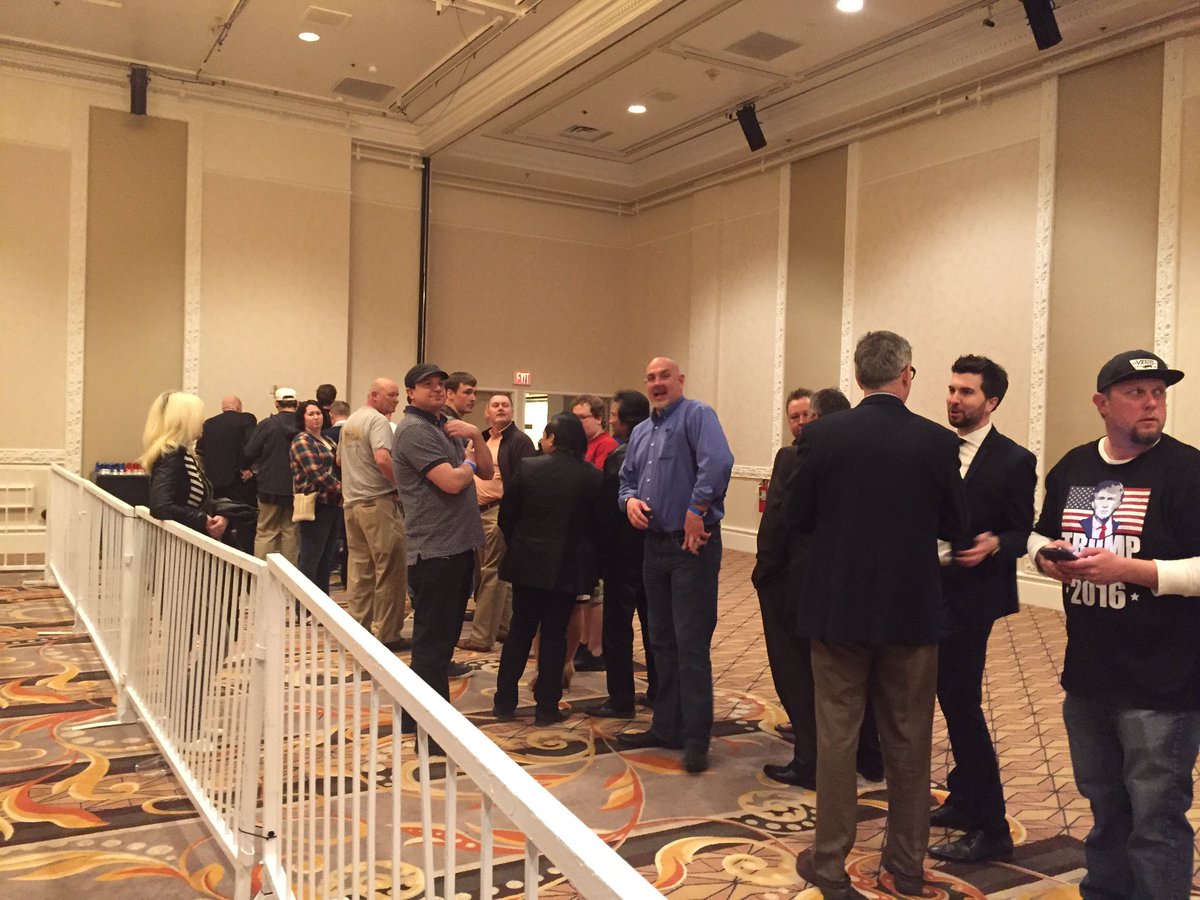 This is the line for booze at the @realDonaldTrump caucus night party: image via EmilyCahn@CahnEmily, 23 February 2016 Paradise, NV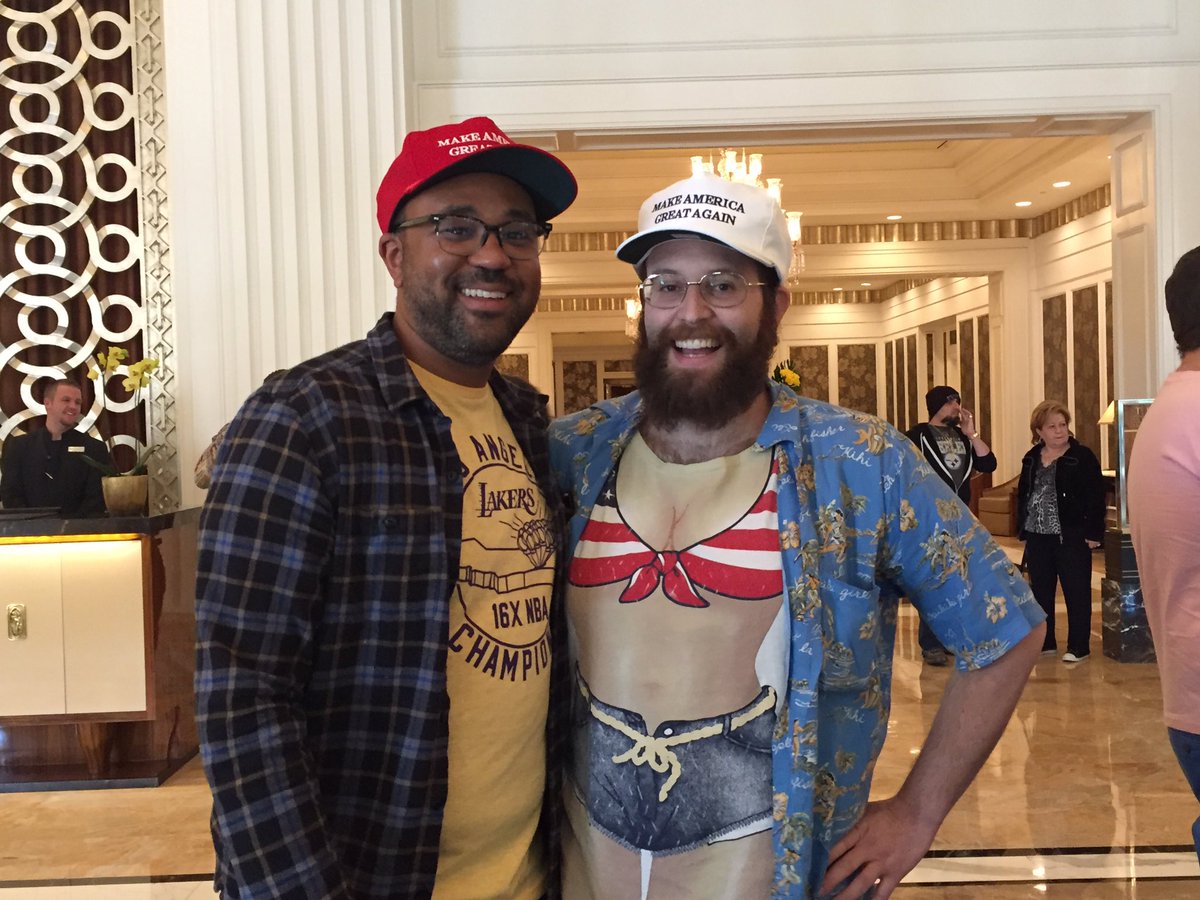 Two guys from LA here waiting for @realDonaldTrump at the Trump hotel.
: image via EmilyCahn @CahnEmily, 23 February 2016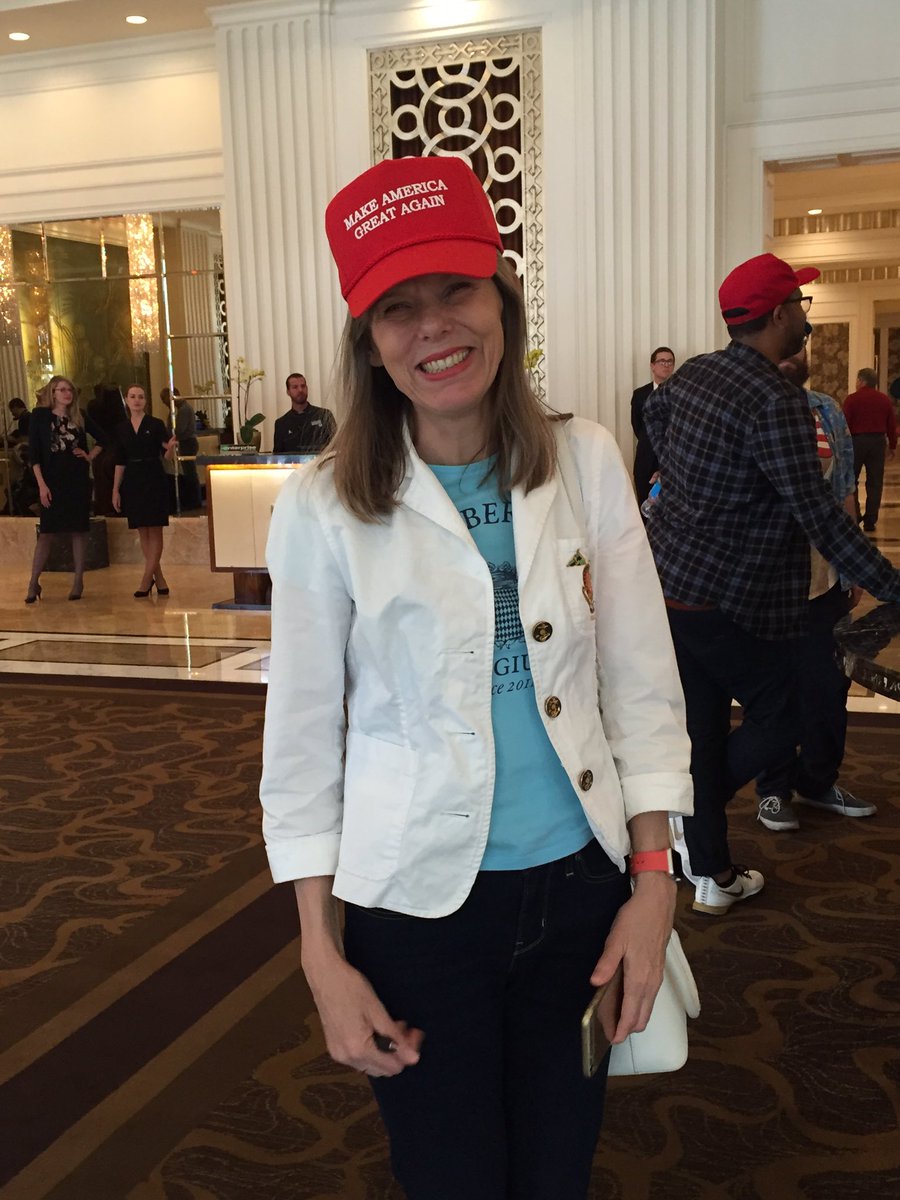 "I'm not even an American, and I'm here." Says woman from the UK: image via EmilyCahn@CahnEmily, 23 February 2016 Paradise, NV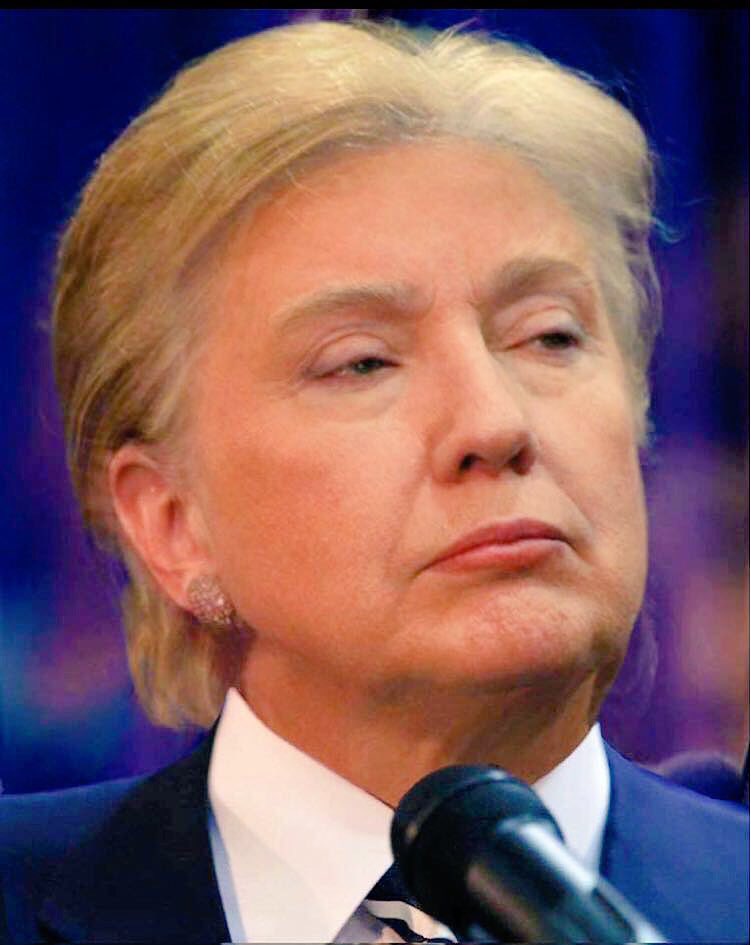 Happy Monday!!! #murica
: image via Tiffany Hayden @haydenntiff, 22 February 2016
Curzio

Malaparte

:

On patriotic dictatorship and Hitler's reactionary character

: from La tecnica della colpo di Stato, 1931
Adolf

Hitler
: photo by Heinrich Hoffmann, 1927 (Deutsches Bundesarchiv)
What would induce

Hitler

to give up his dangerous opportunism? Is he waiting for Parliament to get the National-Socialist revolution under its control? He is afraid of being outlawed.

Hitler

, a poor imitation of Mussolini, is not posing as a Sulla, a Caesar, a Cromwell, a Bonaparte or a Lenin when he claims to be the liberator of the Fatherland; but he poses as a defender of the law, a restorer of national tradition, and servant of the State. One should always beware of a dictator's patriotism. The future of this sort of civic hero does not lend any brilliance to his revolutionary past. As Giolitti would say, "

Hitler

is a man with a great future behind him." He has lost so many opportunities. He could have overthrown the State numberless times had he known how to take advantage of favorable circumstances. In spite of his eloquence, his electoral successes, his insurrectional army, in spite of the undeniable prestige of his name, and the legends which have been woven about him as an agitator, a man who sways crowds, a violent and unscrupulous conspirator; in spite of the passions he inspires in those who surround him and of his dangerous sway over the imagination and the spirit of adventure in German youth,

Hitler

is only a would-be leader. In Moscow I heard a Bolshevik, who was one of the most active instruments of Trotsky's revolutionary tactics during the coup d'état of October 1917, pass this singular judgment upon

Hitler

: "He has all

Kerenski's

good and bad qualities and like Kerenski, he too is only a

woman

."
Adolf

Hitler

: photographer unknown, 1937 (Deutsches Bundesarchiv)
Hitler

's intelligence is in point of fact profoundly feminine: his mind, his ambitions, even his will are not in the least virile. He is a weak man who takes shelter in violence, so that he may conceal his lack of energy, his unexpected failings, his morbid egoism, and his clumsy pride. A quality common to nearly all dictators and one which is characteristic of their manner of judging men in relation to events, is their jealousy. Dictatorship is not only a form of government, it is also the most complete form of jealousy in all its aspects: political, moral and intellectual. Like all dictators,

Hitler

is guided much more by his passions than by his mind. His attitude towards his oldest partisans, the shock-troops who followed him from the very beginning, who stood by him in adversity, who shared his humiliation, dangers and imprisonment, who have been his glory and his power, can only be explained by jealousy. This will astonish only those who are unaware of the true nature of dictators, i.e., their violent and timid psychology.

Hitler

is jealous of those who have helped him to become one of the foremost figures in German political life. He is afraid of their pride, their energy, and their fighting spirit -- that fearless, disinterested enthusiasm which turns

Hitler

's shock-troops into a dangerous weapon of power. He exercises all his brutality to humble their pride, to crush their freedom of will, to obscure their individual merits and to transform his partisans into flunkeys stripped of all dignity. Like all dictators,

Hitler

loves only those whom he can despise. His ambition is to be able one day to debase and humble the whole German nation and to reduce it to a state of servitude, in the name of German liberty, glory and power.
There is something confused, equivocal, something morbidly sexual in

Hitler

's opportunist tactics, in his aversion from revolutionary violence, and in his hatred of every form of individual freedom and dignity. In the history of nations, at moments of great misfortune, after wars, invasions, or famines, there is always one man who rises above the masses and enforces his will, his ambition and his bitterness; who "wreaks a

woman

-like revenge" upon the whole people, for all the freedom, power and happiness that has been lost. In the history of European countries it is Germany's turn now:

Hitler

is the dictator, the "

woman

" Germany deserves. The feminine side of him explains

Hitler

's success, his domination of the crowd and the enthusiasm he rouses in the youth of Germany. In the eyes of the common people

Hitler

is untainted, ascetic, a mystical interpreter of action, a kind of saint. It is not as a Catiline that he wins approval. "No story of a

woman

is coupled with his name," say his biographers. One ought rather to say of dictators, in general, that no story of a man is coupled with their name.
Benito Mussolini with Adolf

Hitler

: photographer unknown,
25 October 1936
In every dictator's life there are moments which reveal the cloudy, unhealthy and sexual depths of his power; these are the crises which reveal the wholly feminine side of his character. In the relations between a leader and his followers these crises most frequently take the form of revolts. When he is menaced with domination by those he once humiliated and enslaved, the dictator defends himself with flaming energy against the rebellion of his partisans: it is the

woman

in him that defends herself. Cromwell, Lenin and Mussolini have all known these moments. Cromwell did not hesitate to use fire and the sword to crush the revolt of the "

levellers

," who stood for a kind of Seventeenth Century Communism in England. Lenin had no pity for the mutinous sailors at Kronstadt, Mussolini was harsh with the Florentine Black Shirts whose revolt lasted a year, up to the eve of the coup d'état. It is surprising that

Hitler

has not yet had to face widespread sedition among his shock-troops. The partial mutinies which have sprung up all over Germany in the ranks of

Hitler

's battle squadrons are perhaps only the first symptoms of an inevitable clash. Opportunism in the course of a revolution is a crime that entails its own punishment. Unhappy the dictator who heads a revolutionary army but shrinks from the responsibility of a coup d'état. He may, thanks to tricks and compromise, be able to seize power by legal means, but dictatorships which arise out of a compromise are only semi-dictatorships. They do not last. It is revolutionary violence which legitimizes a dictatorship: the coup d'état itself is its soundest foundation. It is perhaps

Hitler

's plan to arrive at power by parliamentary compromise. All he can do, if he wants to forestall a revolt among his fighting squads, is to distract their attention from the capture of the State, and rivet their revolutionary zeal not on internal politics but on foreign affairs. Has not the problem of the eastern frontiers been, for some time, the main theme of

Hitler

's eloquence? It is significant that Germany's future may depend on a parliamentary compromise rather than on a coup d'état. A dictator who will not dare to seize power by revolutionary action never could intimidate Western Europe, which is ready to defend its freedom whatever the cost.
Parade of SA troops past

Hitler

, Nuremberg: photographer unknown, September 1935 (Deutsches Bundesarchiv)
Curzio

Malaparte

: from

Hitler

: A Would-Be Dictator, in The Technique of Coup d'Etat (La tecnica della colpo di Stato), 1931 (translated by Sylvia Saunders, 1932)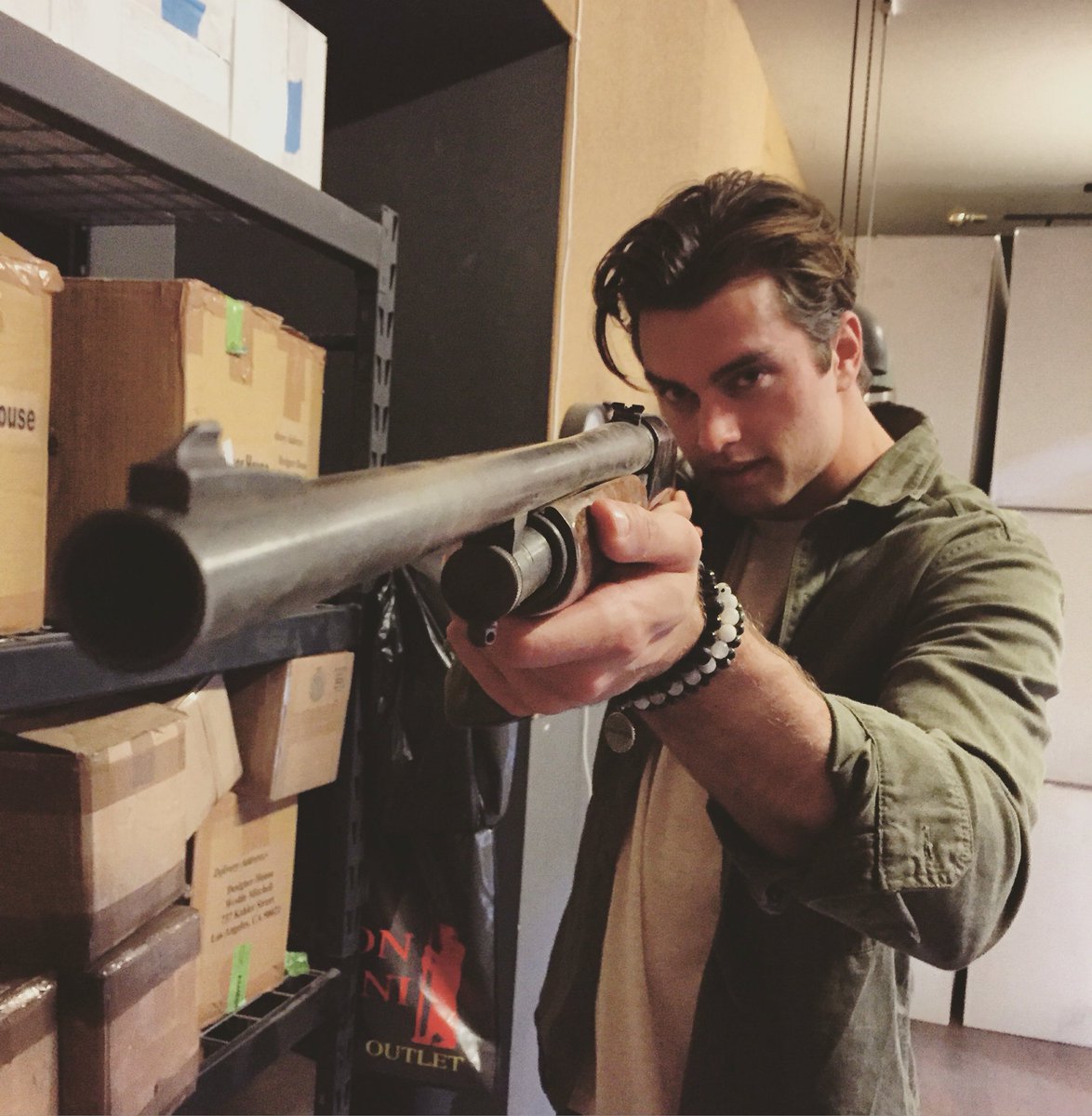 Say hello to my little friend #Murica #BTS: image via Pierson Fodé Verified account @PiersonFode, 24 February 2016
Democrat presidential candidate Hillary Clinton gestures during a commercial break at a CNN town hall televised event at the University of South Carolina School of Law, in Columbia: photo by Gerald Herbert/AP, 24 February 2016
Democrat presidential candidate Hillary Clinton gestures during a commercial break at a CNN town hall televised event at the University of South Carolina School of Law, in Columbia: photo by Gerald Herbert/AP, 24 February 2016
Attendees cheered after hearing the Nevada caucus results at Donald J. Trump's watch party in Las Vegas on Tuesday night: photo by
Ruth Fremson/The New York Times, 23 February 2016
A fighter loyal to the Libyan government checks a damaged house in Benghazi: photo by Abdullah Doma/AFP, 24 February 2016