Chris Christie endorses Donald Trump for president on Friday in Fort Worth, Texas: photo by
Mike Stone/Reuters, 26 February 2016
Friedrich Hölderlin: Menschenbeifall
Ist nicht heilig mein Herz, schöneren Lebens voll,


..

Seit ich liebe? warum achtetet ihr mich mehr,


....

Da ich stolzer und wilder,


......

Wortereicher und leerer war?
Ach! der Menge gefällt, was auf den Marktplatz taugt,


..

Und es ehret der Knecht nur den Gewaltsamen;


....

An das Göttliche glauben


......

Die allein, die es selber sind.
Chris Christie endorses Donald Trump for president on Friday in Fort Worth, Texas
: photo by
Mike Stone/Reuters, 26 February 2016
Friedrich Hölderlin:

The Approval of Men
Isn't my heart holy, filled with a whole
new more beautiful life, now that I've known love? Why did you value
me more highly then, when I was so full of myself
and my words were so much more numerous, and empty?
Ah, everybody rushes to approve
what sells; everybody wants to be told what to do by the powerful; and only those
who have retained inhuman qualities continue to believe in anything
but what is human.
Friedrich Hölderlin (1770-1843): Menschenbeifall (The Approval of Men); German text from Ausgewählte Werke, 1874; English by TC
Gov. Chris Christie and Donald J. Trump at the Republican debate on January 14 in North Charleston, S.C.

: photo by
Eric Thayer for The New York Times
, 14 January 2016

Donald J. Trump at a news conference announcing the establishment of Trump University in May 2005 in Manhattan. Many of the students are now suing Mr. Trump for misrepresentation..: photo by
Thomas Robinson

/The New York Times
, May 2005

A woman checks her cellphone before the start of a fashion show in Milan: photo by Amer Almohibany/Agence France-Presse, 26 February 2016



Tear gas is set off in Parliament in Kosovo by legislators trying to halt the election of a new president by the legislature: photo by
Armend Nimani/Agence France-Presse, 26 February 2016

Tear gas is set off in Parliament in Kosovo by legislators trying to halt the election of a new president by the legislature: photo by
Armend Nimani/Agence France-Presse, 26 February 2016


A refugee from Afghanistan prays at the train station in Tabanovce, Macedonia, where he waits for permission to cross into Serbia: photo by Marko Djurica/Reuters, 26 February 2016
An election official in Iran registers voters for parliamentary and Assembly of Experts elections at a poll in Qom, 80 miles south of Tehrant: photo by
Behrouz Mehri//Agence France-Presse, 26 February 2016

The body of a Syrian boy was wrapped in shrouds after he was killed in airstrikes by Syrian government forces near Douma, east of Damascus, before the partial cease-fire: photo by Agence France-Presse, 26 February 2016




A Syrian rebel emerges from a hiding place in the town of Arbin on the outskirts of Damascus, Syria, before a partial cease-fire that was to start at midnight: photo by Amer Almohibany/Agence France-Presse, 26 February 2016
A Syrian rebel emerges from a hiding place in the town of Arbin on the outskirts of Damascus, Syria, before a partial cease-fire that was to start at midnight: photo by Amer Almohibany/Agence France-Presse, 26 February 2016

Fans filling the bleachers along the red carpet: photo by Monica Almeida/The New York Times, 26 February 2012
A firebombing damaged a hotel that had been converted into a refugee shelter in Bautzen, Germany, on Sunday: photo by. Rico Loeb/European Pressphoto Agency, 26 February 2016

A defendant in an arson case arrived at a court in Hanover, Germany, last week. He and two others are charged with attempted murder in the firebombing of an immigrant family's home in Salzhemmendorf.: photo by Julian Stratenschulte/European Pressphoto Agency, 26 February 2016

A defendant in an arson case arrived at a court in Hanover, Germany, last week. He and two others are charged with attempted murder in the firebombing of an immigrant family's home in Salzhemmendorf.: photo by Julian Stratenschulte/European Pressphoto Agency, 26 February 2016


Investigators at a house that was damaged by a fire in Vorra, Germany, in 2014. A swastika was also sprayed on the house, which had been renovated to shelter refugees. There have been almost 1,200 attacks, including some 100 arsons, on refugee shelters over the past year.: photo by Christof Stache/Agence France-Presse, 26 February 2016
A view from backstage as Julianne Moore gives her acceptance speech after winning the best actress award for "Still Alice": photo by Monica Almeida/The New York Times, 22 February 2015


Smoke fills the auditorium of the Kosovo assembly after opposition lawmakers released tear gas canisters disrupting a parliamentary session in Kosovo capital Pristina on Friday. Kosovo opposition members have released tear gas inside Parliament as the lawmakers were readying to vote on whether to elect Hashim Thaci as the next president.: photo by Visar Kryeziu/AP, 26 January 2016

An Oscar statue stands covered with plastic at the entrance to the Dolby Theater as preparations continue for the 88th Academy Awards in Hollywood, Los Angeles, Ca

l

ifornia: photo by Lucy Nicholson,

/Reuters, 26 February 2016
A Sotheby's employee stands in front of a series of portraits of the Mitford Sisters during the pre-auction preview of the personal collection of Deborah Cavendish, Duchess of Devonshire at Sotheby's: photo by Justin Setterfield via FT Photo Diary, 26 January 2016
A Sotheby's employee stands in front of a series of portraits of the Mitford Sisters during the pre-auction preview of the personal collection of Deborah Cavendish, Duchess of Devonshire at Sotheby's: photo by Justin Setterfield via FT Photo Diary, 26 January 2016
A member of the Syria Arab Red Crescent carries a wounded boy following an airstrike in the rebel-held city of Douma in Eastern Ghouta, on Friday: photo by Abd Doumany/AFP, 26 January 2016
FIFA presidential candidate Gianni Infantino, of Switzerland, second left, laughs during the Extraordinary FIFA Congress 2016 held in Zurich, Switzerland. The Extraordinary FIFA Congress is being held in order to vote on the proposals for amendments to the FIFA Statutes and choose the new FIFA President.: photo by Ennio Leanza/AP 26 January 2016
Iranian women stand in line at a polling station during the parliamentary and Experts Assembly elections in Qom, Iran: photo by Ebrahim Noroozi/AP, 26 January 2016
Iraqi supporters of Shia cleric Moqtada al-Sadr wave the national flag as they listen to his speech during a demonstration in Baghdad's Tahrir Square: photo by Ahmad Al-Rubaye/AFP, 26 January 2016
A fake dollar bill with US Republican presidential candidate Donald Trump's picture on it is displayed for sale with other electoral items at a roadside stall as pedestrians walk past in New York: photo by Jewel Samad/AFP, 26 January 2016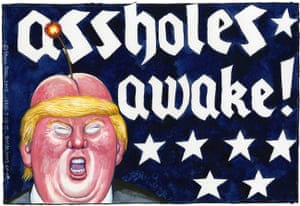 Donald Trump: illustration by Steve Bell via The Guardian, 9 December 2015