.
IMG_0042 [Sakyong Mipham, Vienna]: photo by

r

obertivanc, 4 February 2007
Sakyong Mipham Rinpoche | Ruling Your World program in Munich: photo by

r

obertivanc, 4 February 2007
"Just what I wanted - how did you know?!"
IMG_
0063 [
Sakyong Mipham Rinpoche, Vienna]: photo by

r

obertivanc,

2

February 2007

Blossoming of the Sun - Sakyong Mipham #2 | Sakyong Mipham just before the wedding ceremony, 10 June 2006: photo by Hèlen A Vink, 8 November 2006
Khandro Tseyang | Sakyong Mipham Rinpoche's wife [Munich]: photo by

r

obertivanc,

2

February 2007
Sakyong Mipham Rinpoche [Vajrayana Seminary]: photo by renwon, 22 August 2009
"Like gravity, karma is so basic we

often

don't even notice it." - Sakyong Mipham | 345/366 - surprise!

:

photo by anokarina, 12

D

ecember 201

2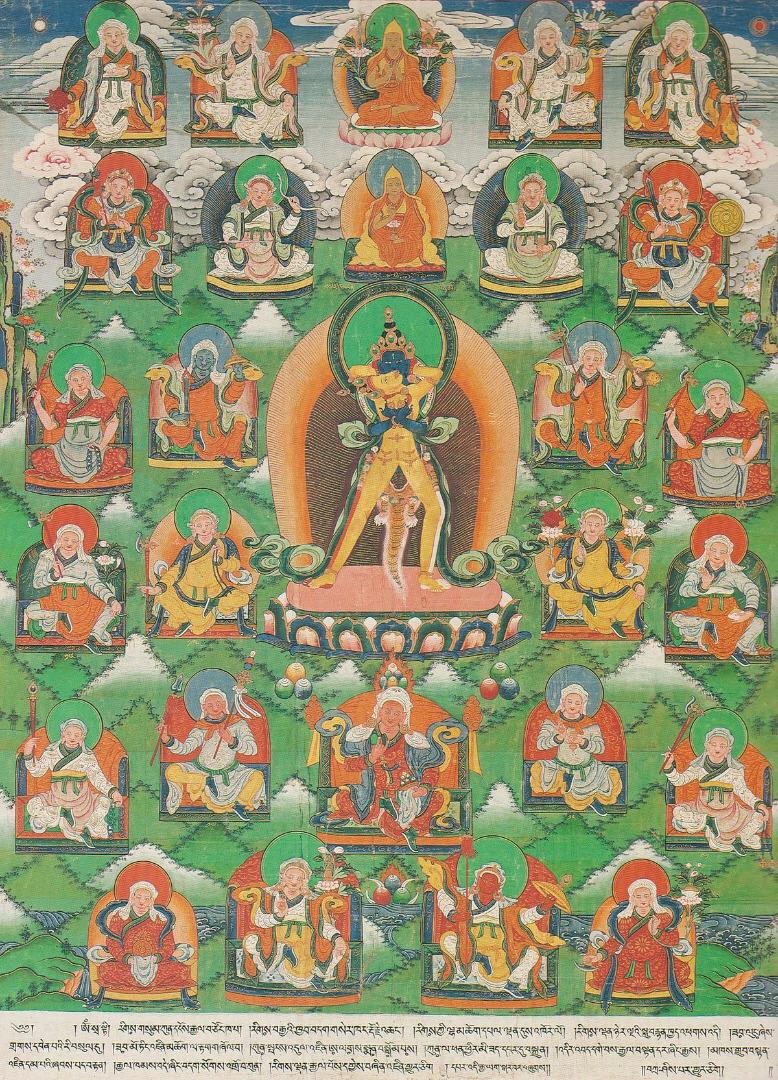 25 Kings of #Shambhala with Lord Kalacakra in the centre and centre top is Lord Tsongkapa. #buddhism #buddha #goodreads #tsemtulku: image via Kok Wah Ying @wahying, 2 February 2018
Nowness #shambhala: image via Kailua Shambhala @KailuaShambhala, 10 April 2018
After giving it two days of thought and sleeping on it, I've decided I will leave
#Shambhala for another sangha community if the Sakyong doesn't step down. The Shambhala teachings are deeply precious to me and have changed my life. But I just can't see him as my teacher anymore.:tweet via
Ellery @elleryprescott, 29 June 2018

, 10 April 2018
What is the appropriate response when people make excuses for sexual assault from gurus? If teachers are abusing and abandoning their students how on earth is that "skillful means" or "crazy Tibetan wisdom" that is beyond comprehension. #shambala: tweet via Ellery @elleryprescott, 29 June 2018
These women were devoted to him and trusted him and were then assualted [sic], abused and mistreated. Guru devotion has always made me nervous but I trusted the Sakyong and never thought he could ever do this. I don't think I'll ever be able to trust a male teacher again.

#shambala: tweet via Ellery @elleryprescott, 29 June 2018, 10 April 2018
Shambhala teachings say we all have the potential to accomplish our enlightened nature - our basic goodness. —Sakyong Mipham #shambhala: image via Kailua Shambhala @KailuaShambhala, 10 April 2018
Gabriella Angotti-Jones/The New York Times, 11 July 2018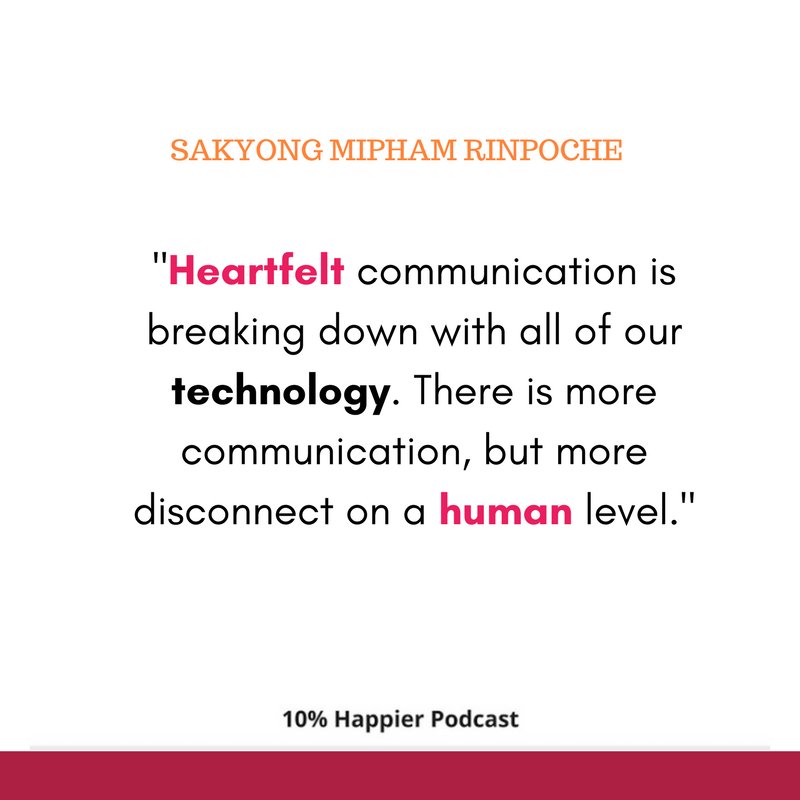 Sakyong Mipham Rinpoche, head of the #Shamhala Buddhist lineage and Shambhala International. Listen to the full podcast here: @SakyongMipham: image via 10%Happier @10percent, 5 December 2017
Keep Calm with The Rimp and The Sak and the Lineage and say OOOO

M

MMM and make the tiny bells go tinkle tinkle like baby gongs in mouse temple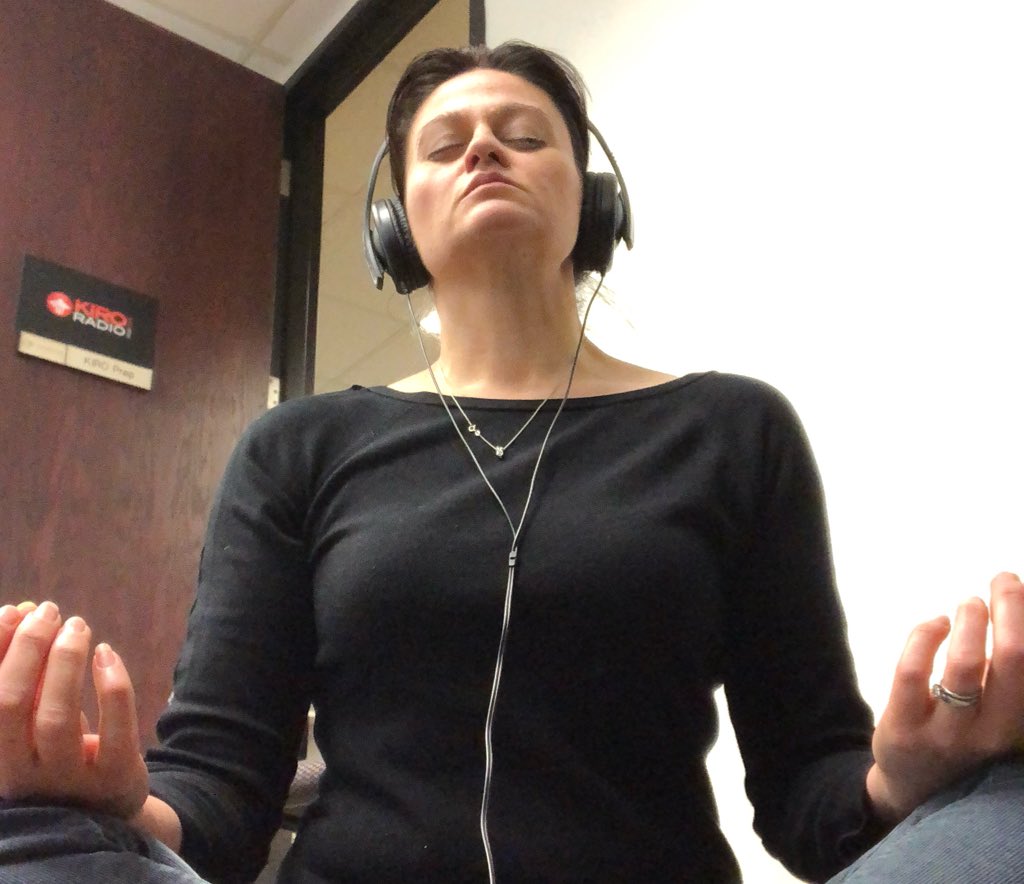 The #ThaiNavySeals rescued all 12 boys today, their coach kept them calm with guided meditation. Tried the #Rinpoche meditation about space today...it works. #ThaiCaveRescue
: image via Ron and Don @@RonandDon, 10 July 2018
Sakyong Mipham Rinopche said he would 'step back from his administrative and teaching responsibilities'.:

p

hot

o

Alamy via the Guardian, 11 July 2018

Buddhist group leader steps down over sexual assault claim

:

Sakyong Mipham Rinpoche, leader of global Shambhala community, steps down while claims are investigated: Sara Marsh, The Guardian, 11

J

uly 2018
The head of one of the west's largest Buddhist groups has stepped down while allegations of sexual assault and misconduct are investigated.
Sakyong Mipham Rinpoche, the leader of the Shambhala Buddhist community – an organisation with more than 200 meditation centres globally – will "step back from his administrative and teaching responsibilities", a statement said.
He resigned after the publication of a report on sexual misconduct within the group, which included stories from women who claim he sexually assaulted them. The report, by a leadership coach and active member of the US Shambhala community, Andrea Winn, also claims Shambhala International ignored the issue.
It includes stories claiming the sakyong – which translates as king, emperor or governor – sexually assaulted women when drunk and used kusung (volunteers who assist him) "to procure women students for his own sexual gratification".
He has not responded specifically to the recent allegations but said he fully supported an investigation and wanted to allow the time and space for it to proceed. He had previously apologised for hurt caused by past relationships with women in his community.
The report says the allegations point to "a pattern of behaviour". Conducted with the assistance of Carol Merchasin, a retired lawyer and sexual misconduct investigator, it says: "Shambhala International was aware of these actions and did nothing."
The news follows the resignation of nine members of the Shambhala organisation's highest leadership body. A law firm in Halifax, Nova Scotia, where the community has its headquarters, has been hired to investigate allegations against the community's leader.
The international leaders of Shambhala, the Kalapa council, said: "We recognise that parts of our system are broken and need to dissolve in order to make room for real change."
Before resigning, the Kalapa council said it took "the allegations of misconduct within our community very seriously and is working on a path forward to address [them]".
In a previous statement, Shambhala International said the organisation was looking into past "abhorrent sexual behaviour".
"In our complex history there have been instances of sexual harm and inappropriate relations between members and between teachers and students. We are still emerging from a time in which such cases were not always addressed with care and skill," a statement posted on Shamhala's Facebook page said.
Shambhala also announced a change in the way it handles and reports sexual assault allegations.
Last month Mipham issued an apology for hurt caused by past relationships with women in his community. In a letter, he wrote: "There have been times when I have engaged in relationships with women in the Shambhala community. I have recently learned that some of these women have shared experiences of feeling harmed as a result of these relationships. I am now making a public apology."
Winn welcomed the sakyong's decision to step aside during the investigation, saying: "I am very happy [about this] decision."
Merchasin welcomed the formal investigation. "These are credible people and if the council believe these allegations are not true then they now need to conduct a very thorough investigation," she said.
"The allegation is that these people were used to procure women for sex for the sakyong. I want to make it clear that it is not just a number of women who have come forward but what other people have also had to say."
The report includes three accounts from anonymous women who closely served Mipham. The women alleged that the encounters took place at or after alcohol-fuelled private parties thrown for the head of Shambhala.
"When I first began to be invited to these parties, I was elated. I felt as though my devotion was being recognised and acknowledged and that I now genuinely 'belonged'," wrote one woman featured in the report.
She claimed that over the years, when the sakyong was "completely intoxicated", he kissed and groped her while "aggressively encouraging" her to go to bed with him. She alleges that she resisted his advances for years and only ended up sleeping in his bed on one night, during which she spent most of the time holding a bowl for him to vomit into.
According to her account, when she confronted her teacher about his treatment of women, he "said that he was sorry, that he had not meant to hurt me" and after that she was gradually relieved of her tasks in his "inner circle".
Another woman said: "Over many years I had several sexual encounters with the sakyong that left me feeling ashamed, demoralised and worthless. Like many young women in the sangha [community] I was deeply devoted to the sakyong and did whatever I could to serve him and be close to him. I witnessed the steady stream of attractive women that were invited into his quarters and I longed to be the one that he fell in love with and was worthy of being his wife."
Merchasin said that since the publication of the report other women had come forward to share their stories. "I would rather not say the numbers but there are others. A woman who just came forward has given me names of several other women affected."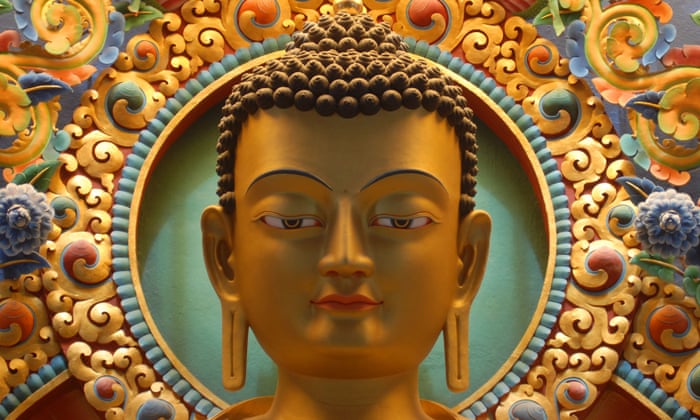 Buddhist group admits sexual abuse by teachers: Shambhala International leaders promise to take action against 'abhorrent sexual behaviour': Sarah Marsh, The Guardian, 6 March 2018
One of the west's largest Buddhist organisations has admitted to sexual abuse by its teachers, announcing it will take urgent measures to tackle the problem.
Leaders of Shambhala International, which has more than 200 meditation centres across the world, including several in the UK, admitted to major failures in how it dealt with "abhorrent sexual behaviour".
They said the #MeToo movement, in which women share stories of sexual assault and harassment, prompted the community to go through their own "collective wake-up call".
In an open letter to the community published online, the Kalapa council, the international leaders of Shambhala, said: "In our complex history there have been instances of sexual harm and inappropriate relations between members and between teachers and students. We are still emerging from a time in which such cases were not always addressed with care and skill.
"Members have at times not felt heard or have been treated as though they are a problem when they tried to bring complaints forward. We are heartbroken that such pain and injustice still occurs."
The council said it wanted to make it clear it stood strongly against all forms of abuse and discrimination and any efforts to "suppress reports of wrongdoing or shame victims". It added that "ignorance or uncertainty as to how to address the systemic nature of these harms" had made leaders "part of the problem".
The letter comes after an active member of the Shambhala community in the US, Andrea Winn, published a report to raise awareness on "the frightening shadow of sexualised violence lying across the heart of out community".
Winn, who said she had been subjected to abuse herself, investigated the subject for a year, saying it ad been suppressed for a long time. The report claims: "Known child abusers are freely active within the Shambhala community, some are even senior teachers. Meanwhile, many who have been abused have been left with no recourse but to leave the community to heal and move forward as best they can."
The report aims to create a space for women to talk about abuse and collect stories. It also wants to promote a campaign so that Shambhala followers globally can "hear the truth".
One woman, writing anonymously in the report, alleged: "I was sexually abused by several men … My experience of abuse in the Shambhala community has impacted my life over the decades."
The report notes that a handful of male teachers have been removed from their positions as the result of care and conduct processes.
Suzanne Newcombe, a research fellow at Inform, an LSE-based charity that monitors new religious movements, said that many Buddhist groups were having discussions about consent and sex and power imbalances in light of the #MeToo movement.
"They are looking at their internal processes on how they deal with allegations of sexual assault or complaints against leaders and unethical behaviour in these groups. This is largely being led by victims and then organisations are determining what procedures to take," she said.
Newcombe said other groups who were looking into this included the Triratna sect, which has faced controversy after a former follower claimed he was coerced into sex with one of its elders.
Newcombe said a lot of the calls they received, including reports of abuse, were about Buddhist groups in the UK. "We used to get a lot of requests [to investigate] about Scientology but now the majority are about Buddhist groups because some of them [with problems] have not been outed in the same way and have effective PR. People contact us because they cannot find out much about them online."
Sarah Harvey, a senior research officer at Inform, said: "The majority of our inquiries at the moment concern Buddhist groups. I think that this is due to a number of inter-related factors. Obviously there is a current popular interest in the practice of mindfulness which has Buddhist roots which we receive some inquiries about.
"But also, to generalise horribly, I think there is a popular assumption that Buddhism as a whole is unproblematic and people are surprised when they do encounter controversies or have negative experiences."

Sakyong Mipham Rinpoche presents the Living Peace Award to the Dalai Lama at the Shambhala Mountain Retreat in Larimer County in 2006.: photo by Cliff Grasmick / Daily Camera, 2006
B

oulder's Naropa University removes Shambhala International leader from its boa

rd:

Additionally, all members of the Kalapa Council, the sect's governing body, will step down:

C

arina Julig, Boulder Daily

C

amera, 8 July 2018
Boulder's Naropa University this week removed Sakyong Mipham Rinpoche from its Board of Trustees, saying it found the allegations iof sexual misconduct against the leader of Shambhala International to be "credible and believable."
Additionally, the members of Boulder-born Shambhala's governing body, the Kalapa Council, announced Friday that they will all step down from their posts.
A report published last week by Project Su

ns

hine contained anonymous accounts from multiple women accusing Mipham of sexual assault. So far, neither Mipham nor the Kalapa Council have confirmed or denied the allegations, though Mipham sent out a letter in advance of the report's publication apologizing for "harm" in past relationships with women.
Responses from other Shambhala leaders have been slow to arrive, but a changedotorg petition calling for Mipham to step down has gathered more than 600 signatures.
Naropa, the Buddhist-inspired university created by Shambhala's late founder Chogyam Trungpa Rinpoche, a

nnounced Thursday

that its Board of Trustees met July 1 to discuss the allegations against Mipham, and found the women's accounts to be "credible and believable." The board subsequently requested that Mipham resign from his roles as ex officio board member and Naropa Lineage Holder, which he agreed to do immediately.
Mipham did not have a vote on the board, and the two roles were largely ceremonial and based on Shambhala's importance to Naropa's history. Naropa University has been independent from Shambhala International since 1987, and the statement clarified that none of Mipham's alleged sexual misconduct took place at Naropa or in his role as a board member.
"However, that does not make the need for these Board actions any less important for the integrity of our Naropa community," the statement said.
Charles Lief, president of Naropa University and co-signer of the statement, said that he was "saddened" by the situation at Shambhala, as he and a number of faculty and staff have personal connections to the organization. He said that it is possible Mipham or another representative from Shambhala could regain the board seat in the future, but for now the board believes the allegations are serious enough to warrant his removal.
The director of the Boulder Shambhala Center — the first of the now more than 200 meditation centers under the umbrella of Halifax, Nova Scotia-based Shambhala International — has said there have been no reported cases of sexual misconduct at the Boulder center since she began her term in 2015.
Mipham owns a home in unincorporated Boulder County, according to property records.
The Kalapa Council, Shambhala's governing body, announced Friday that all of its members will step down

from their posts "in the interest of beginning a healing process for our community."
It also said that the council has engaged Wickwire Holm, a law firm based in Halifax, Nova Scotia, to conduct an independent investigation into allegations of abuse or misconduct by Shambhala teachers and leaders.
It was not specified whether the council members will be stepping down permanently or only for the duration of the independent investigation. The statement said there will be a phased departure in order to create a smooth transition, and did not give a specific timeline.
The Office of the Sakyong also released a statement Friday in which Mipham announced that he is "stepping back" from his administrative and teaching responsibilities within Shambhala, and that he fully supports a third-party investigation into the allegations against him. The statement said he is entering "a period of self-reflection."
Andrea Winn, the creator of the first and second Project Sunshine reports, said that after working on the projects for more than a year, she is stepping bac

k

from her role as an activist.
She expressed disappointment in the Kalapa Council's reactions to the allegations so far, especially its hiring of public relations firm Hiltzik Strategies. The New York City firm is run by Matthew Hiltzik, who has represented high-profile clients including Glenn Beck, Harvey Weinstein and Katie Couric.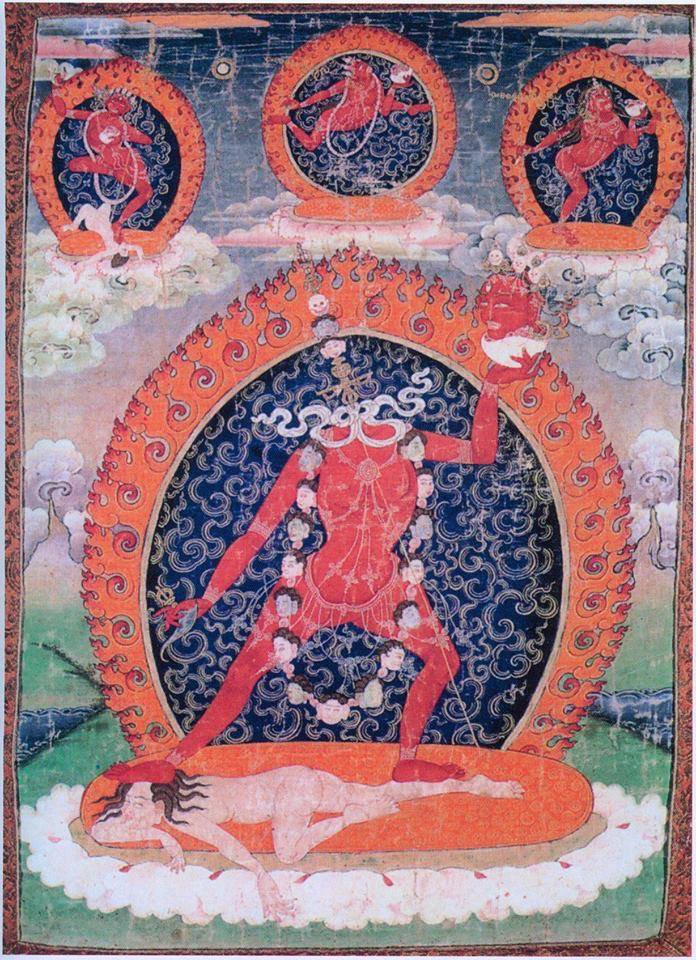 A very rare lineage of the Severed-Head Vajra Yogini thangka. She has severed her head and holding it in her own skull cup. Top left is Indra Kacho Vajra Varahi, centre is Flying Vajra Yogini and top right is Maitri Kacho Vajra Yogini. #Tsemtulku #Rinpoche #dharma #Mandsaur: image via Albert Ratchaga @albertlwr, 11 July 2018
Buddhist leader locked his victim in a bathroom to sexually assault her, report claims

: The group's senior leadership reportedly knew about the incident and did nothing.: Joshua Eaton, ThinkProgress, 11 July 2018
Mipham heads a global network of more than 200 Buddhist centers called Shambhala International. The report alleges members of its board of directors knew about the incident in Chile as early as 2002.
"I found this woman very credible," the report's author, retired employment lawyer Carol Merchasin, wrote. "She reached out immediately after the incident to others, telling them the same story; her contemporaneous account to the Corroborating Witness further strengthens her credibility."
S

hambhala International referred ThinkProgress' requests for comment to the public relations firm Hiltzik Stategies, which referred them to Mipham's personal lawyer, Michael Scott, of the Halifax, Canada, firm Patterson Law.
Shambhala has hired Halifax law firm Wickwire Holm to investigate other allegations of sexual assault against Mipham published last month.
"Out of respect for the integrity of the independent investigation, my client will, for the moment, be offering no comment," Scott told ThinkProgress in response to questions about those other allegations.
The new allegation is harrowing: During a party, Mipham allegedly pulled the woman into a bathroom, then locked the door and stood in front of it, barring her escape. Then he proceeded to grope her, put her hand on his genitals, and try to undress her, all while she said "no" and "I don't want to do this." When she told him she had a boyfriend, he responded, simply, "That doesn't matter." After about 15 minutes in the bathroom, the woman said she managed to push him away from the door and escape. By that time, all the other guests had left the party.
The next morning, the woman told a cook who was traveling with Mipham about the incident. That cook confirmed the woman's account to Merchasin, the report says. That cook also told Merchasin that David Brown, a member of Shambhala's board of directors and Mipham's personal secretary, interviewed her about the incident later that year and told her two other board members, Mitchell Levy and Jesse Grimes, were trying to get Mipham to "clean up his act."
A third woman told Merchasin that she overheard a senior Shambhala leader talking about the incident on the phone in 2002.
Brown, Levy, and Grimes did not immediately respond to requests for comment.
ThinkProgress did not interview any of these women and has not independently confirmed their stories. But parts of the account square with statements Shambhala board members made during a private video call with the group's meditation teachers last week.
"

Early in 2002 some close to [Mipham] became concerned with his drinking," Grimes said during the call, according to notes obtained by ThinkProgress. "Mitchell Levy and I sat with [Mipham] for an intervention."
On that same call, another board member and Mipham's chief of staff, Josh Silberstein, addressed the incident in Chile directly:

"We have first-hand witnesses who indicate it isn't true."
Scott and Hiltzik Stategies declined multiple requests to put ThinkProgress in touch with those witnesses or provide further details.
Wednesday's report comes after another report by Buddhist Project Sunshine, published last month, detailed several other allegations of sexual assault, sexual misconduct, and heavy drinking by the Mipham. That report briefly mentioned the incident in Chile as a second- or third-hand rape allegation. The new report corrects and clarifies those allegations.
Three days before the last report came out, Mipham apologized for having "relationships" with women in Shambhala. He did not admit any sexual misconduct.
"I have recently learned that some of these women have shared experiences of feeling harmed as a result of these relationships," Mipham wrote. "I am now making a public apology."
In 2003, the reports says Mipham met with the woman whom he reportedly assaulted in Chile and apologized to her. He sent her an apology letter later, though the report doesn't make clear whether he ever admitted to sexual assault.
Shambhala's governing body, called the Kalapa Council, announced its "phased" resignation in the wake of last week's allegations. Mipham has stepped down from teaching and administrative duties pending the outcome of that investigation. Naropa University, in Boulder, Colo., also forced Mipham to resign from two honorary positions.
Scott nor Hiltzik Stategies would comment on whether Mipham and the Kalapa Council members will continue in their legal roles as directors of the half-dozen or so legal entities affiliated with Shambhala. They also declined to comment on whether Mipham will continue to receive a salary, attendants, cooks, travel and housing expenses, and other benefits.
"The organization is assessing the situation and taking necessary steps towards healing and rebuilding the community," a source close to Shambhala said in a statemen

t.