.

58th on the South Side 'L'. A moment of everyday life out in front of an 'L' station. 58th, a former station on the South Side Main Line (just three blocks south of Garfield on today's Green Line), had a rare island platform (the line was mostly built with side platforms, as it is today). Note the distinct station house -- with its round bay and a half-cone roof: photographer unknown, 1946 (CTA Collection / CTA Web)

I make it out the door to the El station.
It's a hot summer day in 1955.

Heat waves jump off the El tracks.
From the train you can see down into the backyards

Where angels live in dejection.
Ragged wash hangs there: grey t-shirts without arms.

Next come vistas of wrecked cars and the bolt factory.
Downtown I change trains for the North Side

Or the South Side. One night late
I'm walking down 35th Street toward the El
When out of the double doors of a bar

Explodes a woman screaming as if escaped
From hell, her torso a red streaming suture.
I decide I am unsuited for this line of work
But the next night I'm back on the train to the ballpark.
63rd and Cottage Grove. Pedestrian traffic and CTA buses under the 'L' at 63rd and Cottage Grove. Streetcar tracks can be seen in the street; overhead are remnants of trolley wire hung for streetcars that ran beneath the structure: photographer unknown, 1955 (CTA Web)
State Street Subway Entrance. The northwest stairs to what appears to be the Madison-Monroe mezzanine of the Monroe station on the State Street Subway.
Before a change in routing that led to today's Red and Green Lines, the "North-South" service went from the North Side Mainline (Red North) to the South Side 'L' (Green South) via the subway, thus trains to Howard, Englewood (the branch that terminates at Ashland/63rd) and Jackson Park (the branch that now terminates at Cottage Grove): photographer unknown, 1970 (CTA Web)

Passengers at Chicago Avenue station. On a late winter Thursday, 'L' riders exit a Loop-bound Ravenswood "B" train at Chicago. The rear cars are among the first four cars in a series of single-unit rail cars built for CTA by the St. Louis Car Company in 1959. These cars were painted in a distinctive maroon and silver gray color scheme: photographer unknown, March 1962 (CTA Web)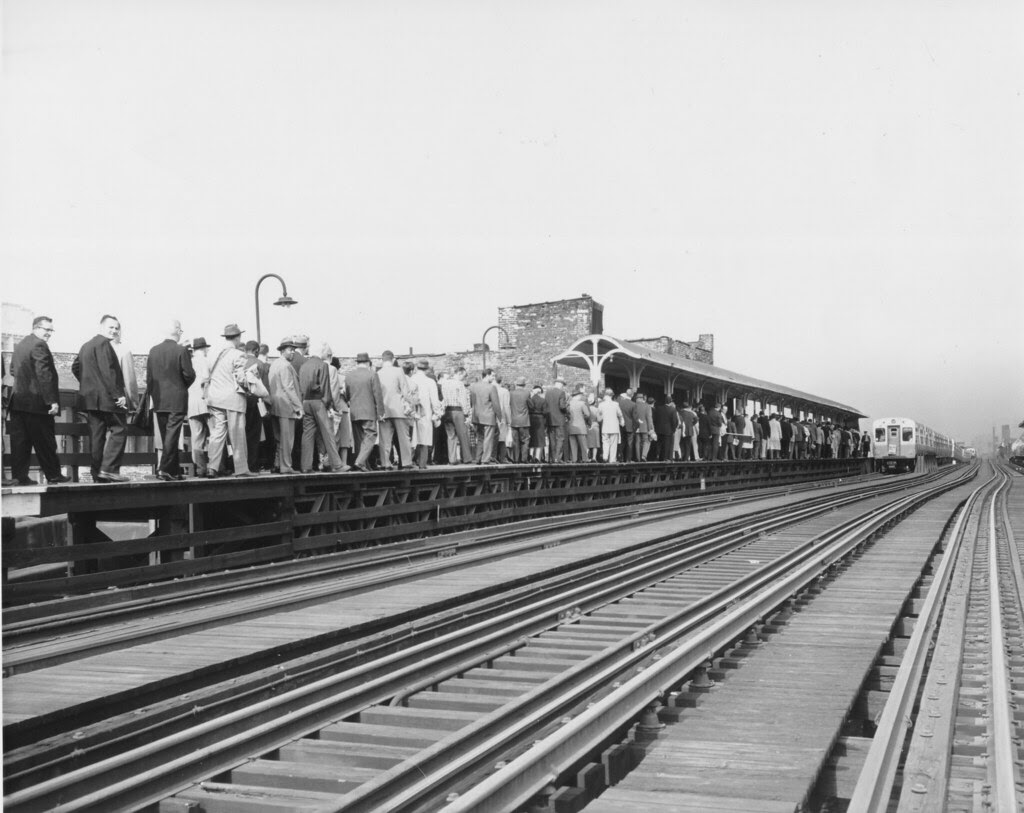 Tech-35th during 1959 World Series (White Sox vs Dodgers). Trains handled massive numbers of people at the Tech-35th station on the South Side 'L' for a World Series game at Comiskey Park. Today, the station in this location is called 35th-Bronzeville-IIT and is served by Green Line trains: photographer unknown, October 1959 (CTA Web)
South Side 'L' at 33rd. On June 6, 1892, the first 'L' line, South Side 'L' began service from Congress St. just south of what is now the Loop (which didn't fully open for another five years) and 39th St. (now Pershing Rd.). This 121-year-old elevated railway is still in service as part of today's Green Line from near the S-curve at Harrison to just before the Indiana stop on Chicago's South Side. Like those that would follow, the South Side 'L', was in direct competition for passengers with surface transit in the decades before consolidation into CTA. Although the 'L', with its separated right-of-way, was inherently faster than surface transit, streetcar stops were often closer to people's homes, so 'L' lines had to build stops that were spaced closely enough to attract more walk-up traffic. This photo is taken from the former station at 33rd, looking south toward 35th. In 1949, a service revision was implemented which streamlined and simplified operations, and reduced travel times at all hours by eliminating some intermediate stops, including 33rd. It also established Howard-Englewood and Howard-Jackson Park through-service via the State Street Subway. As a convenience to riders coming from north of 35th, a walkway was built so people could still enter at 33rd, then proceed at track level to the inbound platform at 35th, for service into downtown. In this photo the walkway, seen at left, has only lately opened.
Later, around 1960, CTA would rebuild the station at 35th and add an entrance at 34th to more directly serve people coming to the 'L' from the north (and eliminating the blocks-long track-level walkway)
: photographer unknown, 1949 (CTA Web)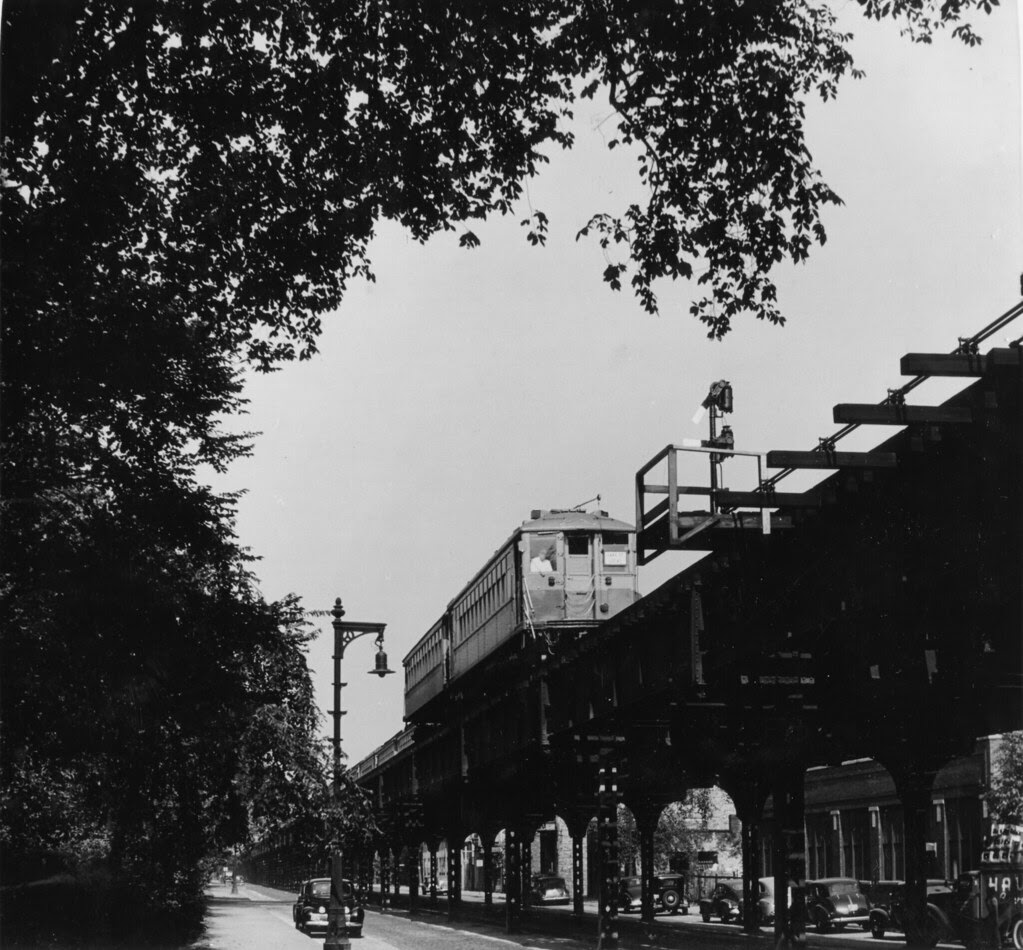 Lake Street 'L'. A two-car train of all-steel 4000-series cars, near St. Louis Avenue, on the Lake Street 'L'. This train has trolley poles because, west of Laramie, the Lake St. 'L' would descend down to street level and ride along Lake, Corcoran and South Blvd through Austin and Oak Park, and trains would draw power from trolley wires rather than from third rail. If you look closely, you can see a number of 'L' cars also sitting, stored on a third (center) track that once ran through this area: photographer unknown, c. 1940 (CTA Web)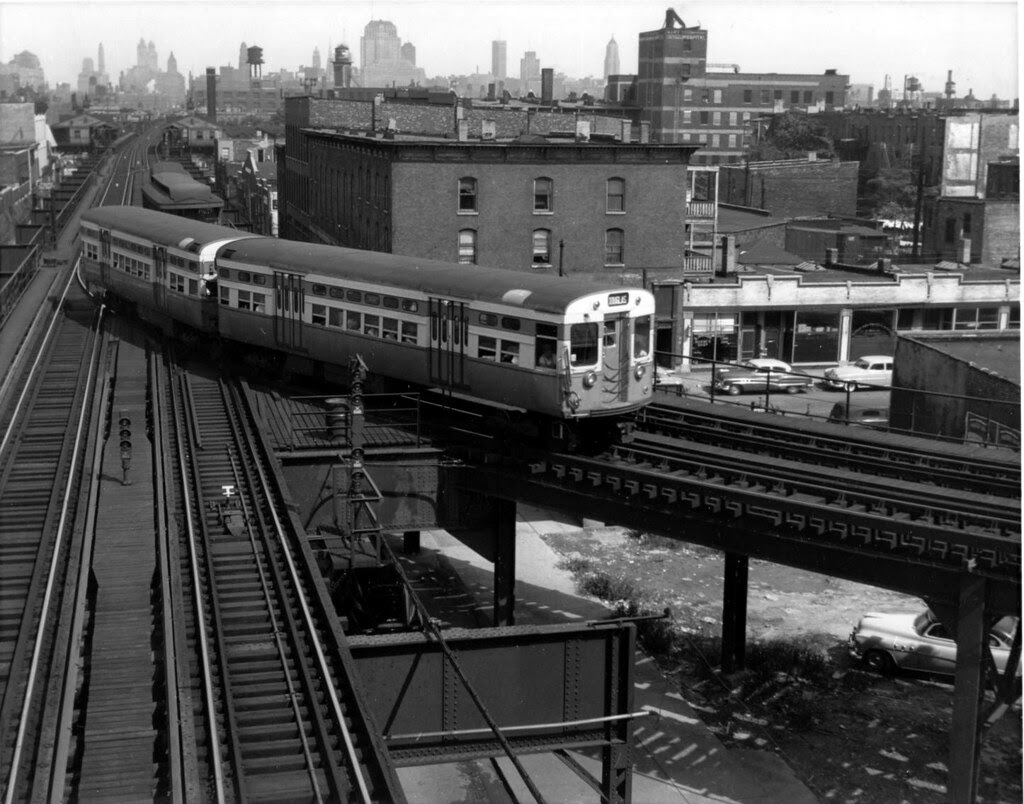 Douglas Trains Passing. Two Douglas trains pass each other at Paulina Junction -- the train in the background consists of wooden 'L' cars and the train in the foreground is one of CTA's 6000-series rapid transit cars; seen just after this track connection between the former Logan Square branch of the Metropolitan West Side 'L' lines and the Lake St. 'L' was added. The view here is looking east down Lake, and the Chicago Board of Trade is the tall building toward the center-right on the horizon.
The station just in the background is the original station at Ashland, opened in 1893, recently re-opened at the time this photograph was taken. It had been closed for years due to there being a station just a block away, which was added to allow transfers between the Metropolitan 'L' to Logan Square and the Lake St 'L'
: photographer unknown, c. 1954 (CTA Web)
Loomis/63rd. The Englewood Branch, in its early years, had been built out to Loomis/63rd and ended there for much of its life (before being extended to Ashland/63rd in 1969, now part of the Green Line). As can be seen in this south-facing view from just north of 63rd Street, the tracks ended unceremoniously over the street. The location was a busy interchange for Englewood residents (as the Ashland/63rd terminal is today). An 'L' train is visible in the terminal and a "Blue Goose" streetcar is in the foreground. The paint scheme on this particular car is atypical for these cars, as it's one of several that received experimental livery modifications for better visibility on the road
: photographer unknown, c. 1944 (CTA Web)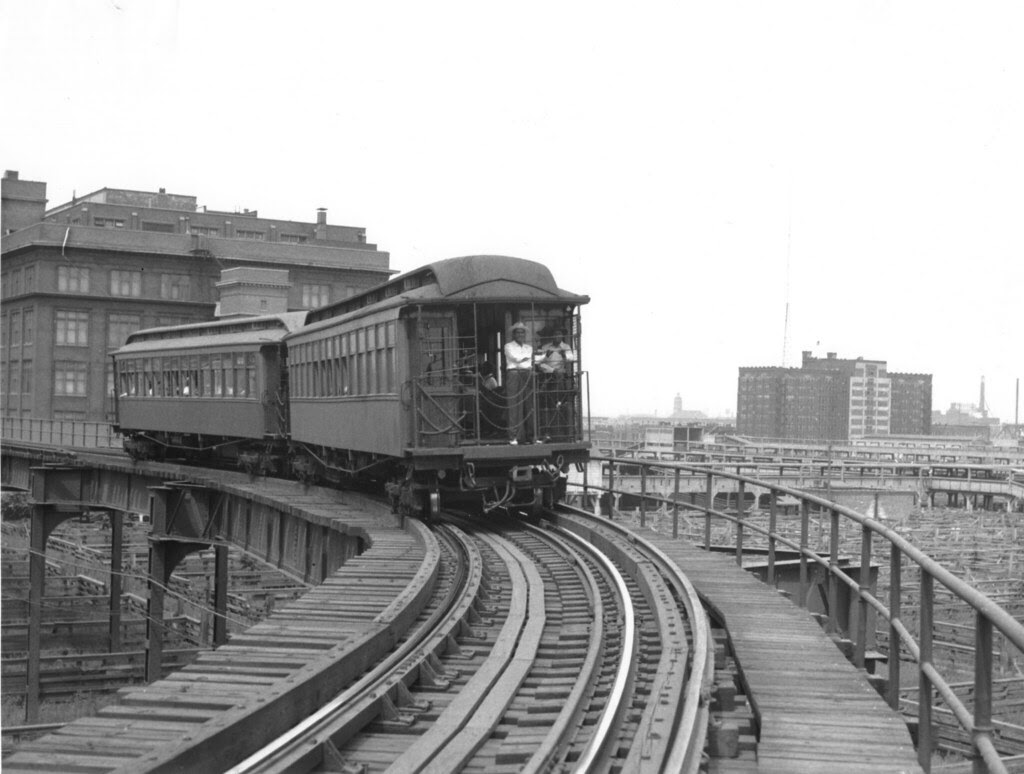 Stock Yards Loop. A two-car train of wooden 'L' cars makes its way around the single track loop of the Stock Yards Branch. This branch connected to the rest of the 'L' at Indiana on the South Side Elevated (now part of the Green Line) and largely ran as a shuttle throughout its life. Elevated track structure snaked its way west into The Yards at around 41st and split into a single-track loop to serve the area where the major packing houses existed, with a handful of stations to connect people with jobs there. Trains operated counterclockwise around the Stock Yards loop
: photographer unknown, c. 1946 (CTA Web)
Wilson. The Arthur Gerber-designed Uptown Station building is seen here, looking westward on Wilson and north on Broadway: photographer unknown, 1959 (CTA Web)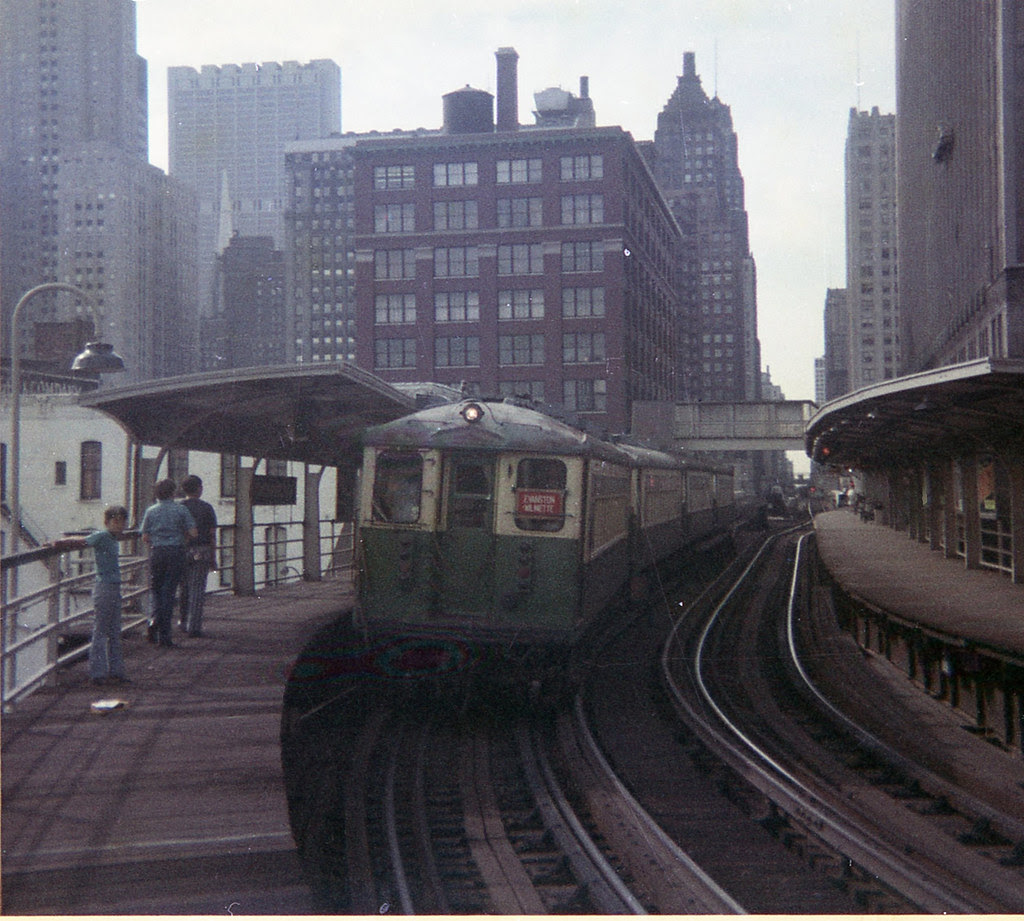 Merchandise Mart. This is Merchandise Mart -- although not the one you'd recognize today. These platforms from the original station opened in 1930 to serve the then-new Merchandise Mart. When the Merchandise Mart station was built, it had a transfer bridge that not only bridged the platforms for transfers, but also continued east to make a connection to an adjacent North Water Terminal (a "stub terminal" just east off the tracks), which some trains to/from the North Side used instead of continuing onto the then-at-capacity Loop 'L'. In the station is a 4-car Evanston Express train of CTA 4000-series cars to Linden in Wilmette (today it's the Purple Line Express): photographer unknown, 1970, courtesy Bruce G. Moffat (CTA Web)
Lake Street 'L' at Central, pre-elevation. A Lake Street 'L' train at Central, in Chicago's Austin neighborhood on the West Side, before the part of the route west of Laramie was elevated. At Laramie, train conductors would raise the trolley poles (the station had both third rail and overhead wire to make the transition to running along the street) and trains would descend to grade level where they'd travel alongside Lake Street and the Chicago and North Western railroad embankment, out to a terminal station in Forest Park, just west of Harlem.
In 1962, trains were diverted onto the North Western's right-of-way (now Union Pacific), where they operate to the Harlem/Lake terminal, as part of the CTA Green Line, today. The line serves Oak Park, River Forest and Forest Park
: photographer unknown, c.1960, courtesy Bruce G. Moffat (CTA Web)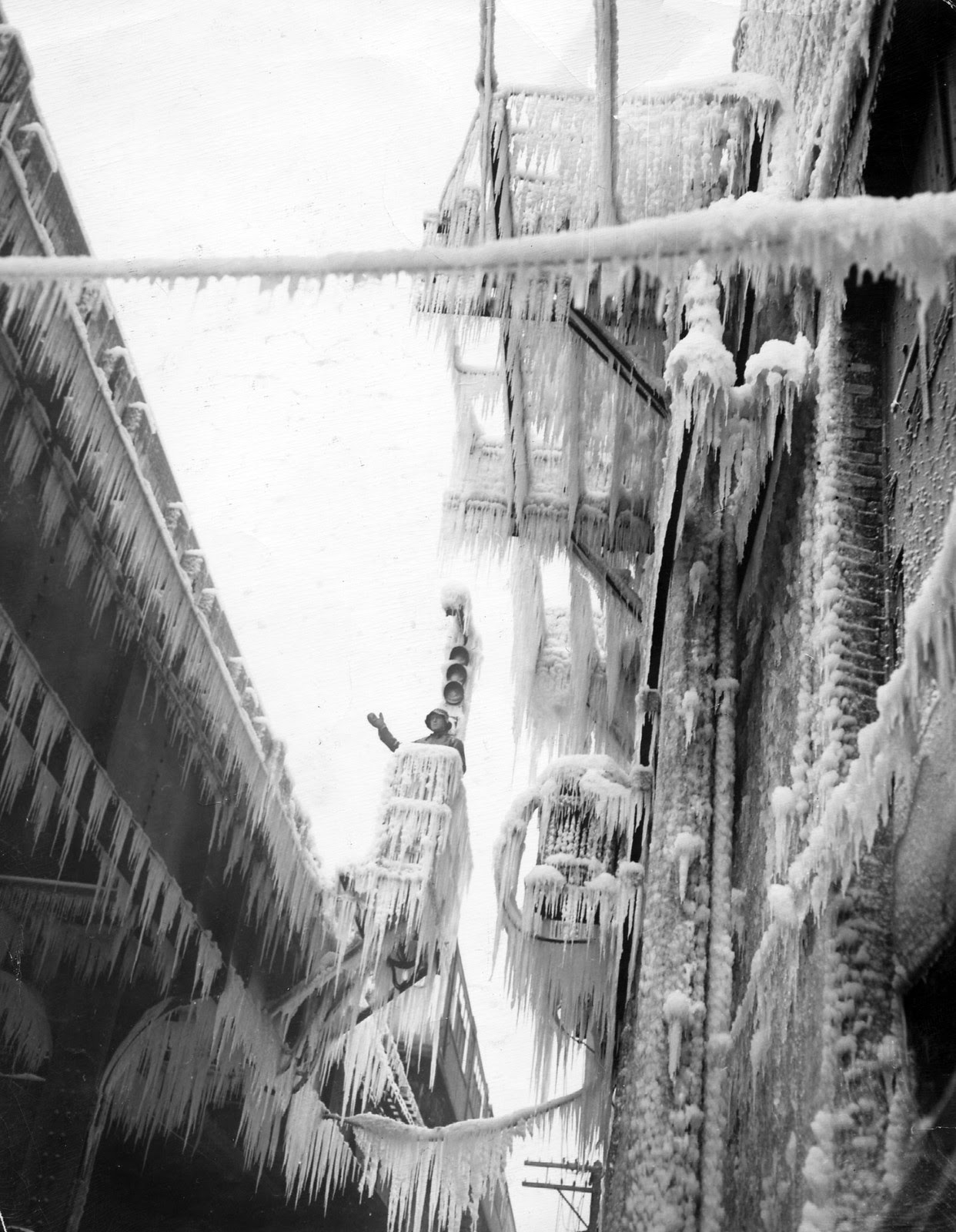 Ice. A stark contrast to Chicago's hot summer weather, this photo shows a worker on the elevated structure at a signal with ice all around after what was likely spray from firefighters putting out a building fire. The location isn't marked, but this photo might be somewhere along the North Side Main Line, where the Red & Brown Lines run together. The side of a train of "Baldies" (a nickname given to early 4000-series cars with plain, arched roofs) is visible just behind the signal: photo by Acme Newspictures, c. 1950 (CTA Web)