.
Police investigate a scene after a series of shootings in Isla Vista, California: photo by Associated Press / KEYT-TV / Los Angeles Times, 23 May 2014
A Killer Story: An Interview with Suzanne Collins, Author of 'The Hunger Games'
What inspired you to write it?
One night, I was lying in bed, and I was channel surfing between reality TV programs and actual war coverage. On one channel, there's a group of young people competing for I don't even know [what]; and on the next, there's a group of young people fighting in an actual war. I was really tired, and the lines between these stories started to blur in a very unsettling way. That's the moment when Katniss's story came to me.
Why did those programs speak to you so deeply?
When I was a kid, my dad fought in Vietnam. He was gone for a year. Even though my mom tried to protect us -- I'm the youngest of four -- sometimes the TV would be on, and I would see footage from the war zone. I was little, but I would hear them say "Vietnam," and I knew my dad was there, and it was very frightening. I'm sure that a lot of people today experience that same thing. But there is so much programming, and I worry that we're all getting a little desensitized to the images on our televisions. If you're watching a sitcom, that's fine. But if there's a real-life tragedy unfolding, you should not be thinking of yourself as an audience member. Because those are real people on the screen, and they're not going away when the commercials start to roll.
What was the most difficult part of writing the story?
When you're going to write a story like The Hunger Games, you have to accept from the beginning that you're going to kill characters. It's a horrible thing to do, and it's a horrible thing to write, particularly when you have to take out a character that is vulnerable or young or someone you've grown to love when you were writing them.

from A Killer Story: An Interview with Suzanne Collins, Author of 'The Hunger Games': Rick Margolis, School Library Journal, 1 September 2008
Jennifer Lawrence as Katniss Everdeen in The Hunger Games: photo by Murray Close/Lionsgate, via New York Times, 22 March 2012
At 'Hunger Games' camp, children want to fight to the 'death'
Largo, Florida
The first day of camp brought girls with lunchbags and suntans and swimsuit strings hanging down the backs of their shirts. They smiled and jumped up and down, excited to see each other; many were classmates at Country Day School, the host of the summer camp. It was this friendship that made Rylee Miller, 12, feel a little conflicted. "I don't want to kill you," she told Julianna Pettey. Julianna, also 12, looked her in the eye. "I will probably kill you first," she said. She put her hands on Rylee's shoulders. "I might stab you."
The boys had gathered away from the girls, across the room. Eli Hunter cocked an elbow and pointed the fingers on his other hand, explaining that he was a sniper in a tree. He gunned down Liam Cadzow, a tiny blond boy in a bucket hat.
"What are we going to do first?" shouted 14-year-old Sidney Martenfeld. "Are we going to kill each other first?"
*
"If I have to die, I want to die by an arrow," Joey Royals mused to no one in particular. "Don't kill me with a sword. I'd rather be shot."
•
The Hunger Games trilogy is wildly popular: The first movie grossed nearly $700 million worldwide. More than 36 million copies of the books have been sold in the United States.
One of the girls at the camp can recite the first chapter by memory.
While it's difficult to think of a children's phenomenon that doesn't involve violence, The Hunger Games might take the prize. As punishment for a failed rebellion, 12 districts have to send a boy and girl to fight to the death in a televised tournament.
•
"What's your specialty? Ours is primarily weapons," said Frances Pool-Crane, the youngest camper at 10 years old.
"Ours is, like, half weapons," said Briana Craig, 12. "Alliance?"
"Sure," Frances said. The girls were decorating posters for the Games. "LOSING MEANS CERTAIN DEATH," Frances wrote.
Next door to the Hunger Games camp, about two dozen kids in another camp played a computer game where they built structures to protect their lives from monsters. Kids can fake-die in nearly any game these days, counselor Simon Bosés said.
"But if you actually sit down and talk to them and they say, 'I'm going to kill you,' they don't understand what they're saying. Death for this age isn't a final thing. It's a reset."
Susan Toler, a clinical psychologist specializing in children's issues and an assistant dean at the University of South Florida St. Petersburg, called the camp idea "unthinkable."
When children read books or watch movies, they're observers, removed from the killing. "But when they start thinking and owning and adopting and assuming the roles, it becomes closer to them," Toler said. "The violence becomes less e
gregious."
-- from At 'Hunger Games' camp, children want to fight to the 'death': Lisa Gartner, Tampa Bay Times, 2 August 2013
At least one bicyclist was struck by a car driven by the alleged gunman who killed six people in a Friday night rampage in Isla Vista
: photo by Urban Hikers via Noozhawk, 23 May 2014)
Elliot Rodger, left, on the red carpet for
The Hunger Games, is believed to be the son of assistant director Peter Rodger
: photographer unknown, via The Telegraph, 24 May 2014
The 48 Laws of Power. DNF. Machiavelli on steroids: photo by Mark Larson, 24 March 2012

(On his Facebook page, Elliot Rodger "favorites" four books, with The 48 Laws of Power at the top of the list, followed by Game of Thrones, A Song of Ice and Fire and The Success Principles)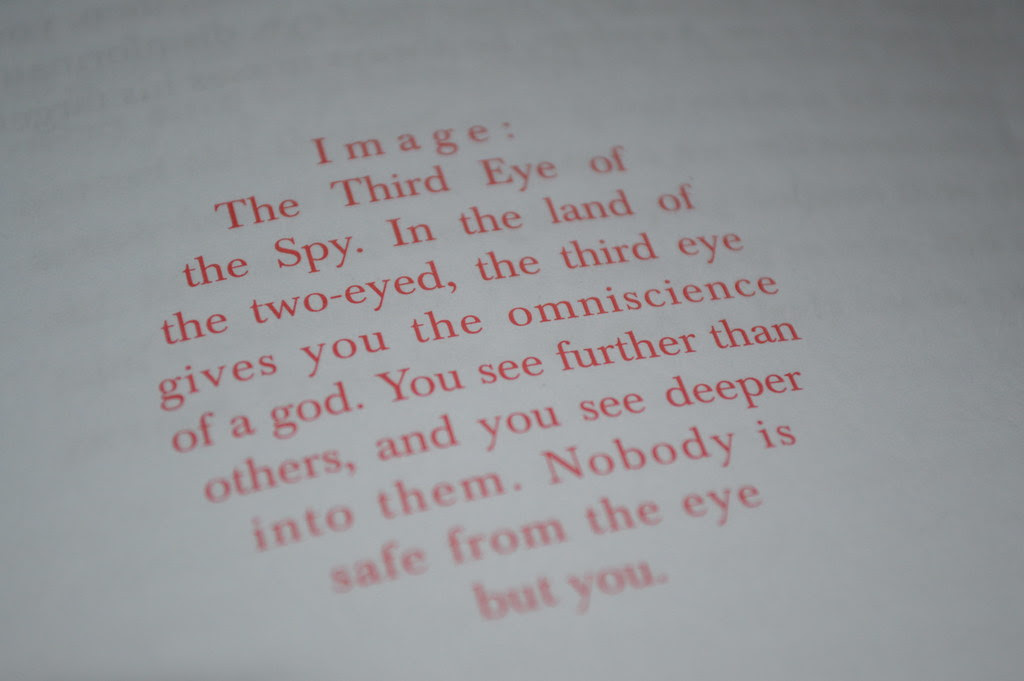 Third eyed spy [from Robert Greene: The 48 Laws of Power]: photo by Jamel Alatise, 21 November 2012
A body is covered on the street next to a BMW sedan crashed on an Isla Vista, California sidewalk. The driver is suspected in a shooting rampage that killed six people Friday night in Isla Vista: photo by Urban Hikers / Noozhawk via Los Angeles Times, 24 May 2014
Elliot Rodger in his BMW: photo from Elliot Rodger's Facebook page, as posted at the time of his death