.
A pair of white-faced ibis, left, and an egret forage for food in a rice field of the Montna farms near Yuba City, California, US. Severe drought has shrunk critical wetlands to one-sixth of their size, threatening the habitat of migrating birds along the Pacific flyway: photo by Rich Pedroncelli/AP via the Guardian, 19 September 2014
This earth will grow cold,
a star among stars
               and one of the smallest,
a gilded mote on blue velvet --
   I mean this, our great earth.
This earth will grow cold one day,
not like a block of ice
or a dead cloud even 
but like an empty walnut it will roll along
   in pitch-black space . . . 
You must grieve for this right now
-- you have to feel this sorrow now --
for the world must be loved this much
                               if you're going to say "I lived". . .


Nazim Hikmet (1902-1963): from Living, in Poems of Nazim Hikmet, translated by Randy Blasing and Mutlu Konuk, 1994

A group of wood ducks, Aix sponsa, paddling pretty on a rainy day in North Carolina, US. A study found North America's birds are at risk from climate change, some facing extinction: photo by Robbie George via The Guardian, 12 September 2014


A turtle makes its way to the sea on a debris-strewn Medano beach in Cabo San Lucas, in the aftermath of a hurricane that hit Baja California in Mexico: photo by Henry Romero/Reuters via The Guardian, 26 September 2014


A blacktail doe and fawn being steered away from backyard gardens by fencing in Langley, Washington, US: photo by Dean Fosdick/AP via The Guardian, 12 September 2014
Wild bear Daniza with her cubs in 2012 in the Trento province, Italy. A bungled attempt to capture her after an attack on a man led to the death of the animal, prompting calls for the country's environment minister to resign: photo by AP via The Guardian, 12 September 2014

A painted stork carries a twig for its nest in New Delhi, India. Painted storks (Mycteria leucocephala) is a nearly threatened species found in the wetlands of the plains of the Indian subcontinent and extending upto southeast Asia. Their distinctive pink tertial feathers give them their name: photo by Arkaprava Ghosh/Barcroft India via The Guardian, 12 September 2014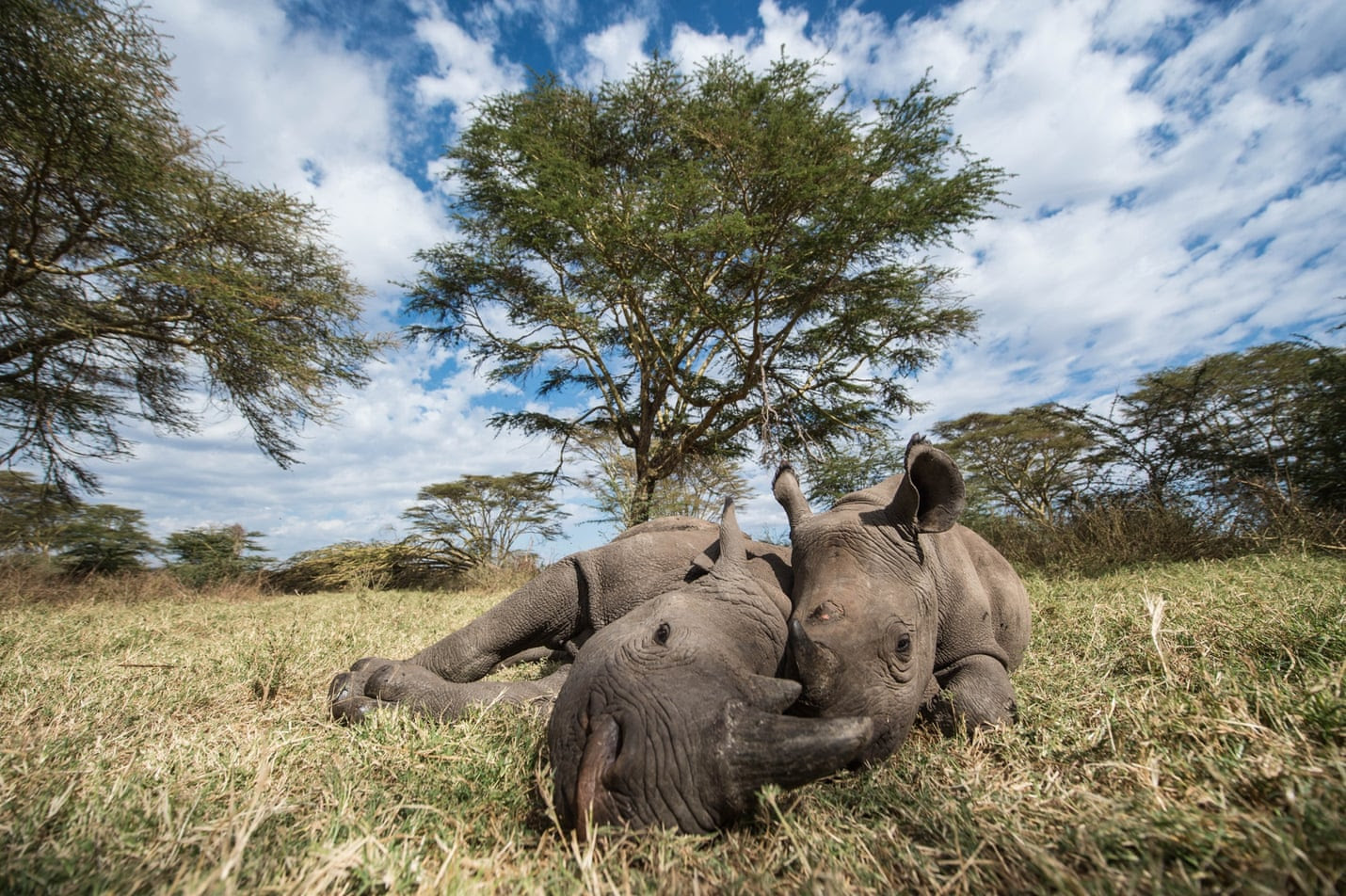 Orphaned baby rhino in Lewa Wildlife Conservancy, Ngare Ndare forest, Kenya. The conservancy is hand-raising three orphaned baby rhino: Nicky, Hope and Kilifi. Rhino are becoming extinct as a result of the brutal poaching fuelled by an illegal international market for their horns: photo by Luca Ghidoni/Barcroft Media via The Guardian, 12 September 2014
A billboard in Hanoi, Vietnam, reads: 'Rhino horns are just like buffalo horns, human hair and nail. Do not waste your money,' to mark the World Rhino Day on 22 September. This year's theme was 'Five rhino species forever.': photo by Luong Thai Linh/EPA via The Guardian, 26 September 2014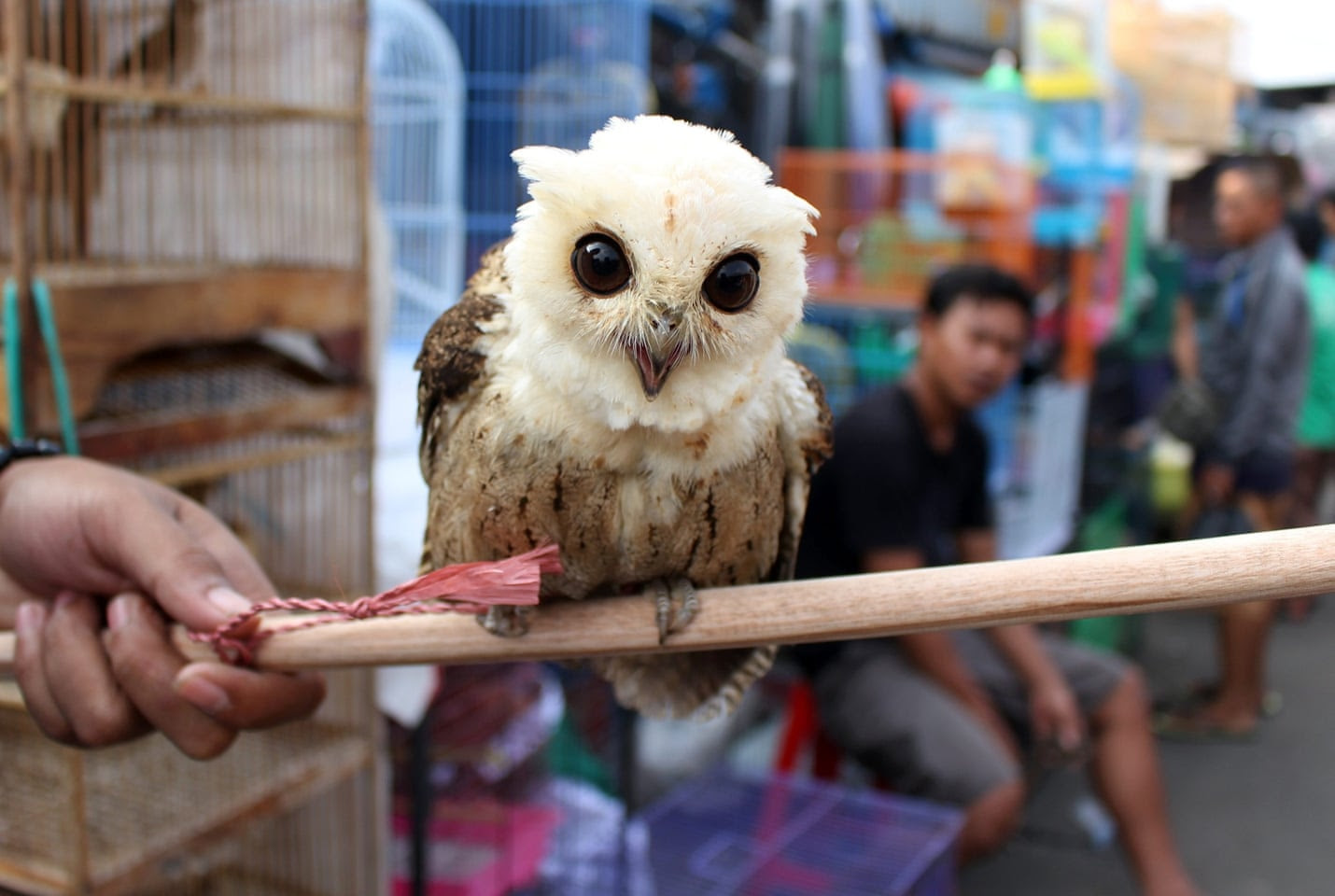 A vendor holds an owl for sale at Jatinegara bird market in Jakarta, Indonesia. Sale of endangered animals is a major problem in Indonesia: photo by Adi Weda/EPA
via The Guardian, 5 September 2014
Vultures in Africa and Europe could face extinction within our lifetime, conservationists have warned. Veterinary drug diclofenac that wiped out 99% of vultures in India, Pakistan and Nepal, has been commercially available in at least two European countries. And in Africa they are facing increasing threats mainly due to poisoning: photo by Ramon Elosegui/BirdLife International via The Guardian, 12 September 2014
35,000 walrusess gather on the shoreline near Point Lay, Alaska. Pacific walrus
unable to find sea ice on which to rest in Arctic waters are coming ashore in record numbers on Alaska's north-west coast: photo by Corey Accardo/AP via The Guardian, 1 October 2014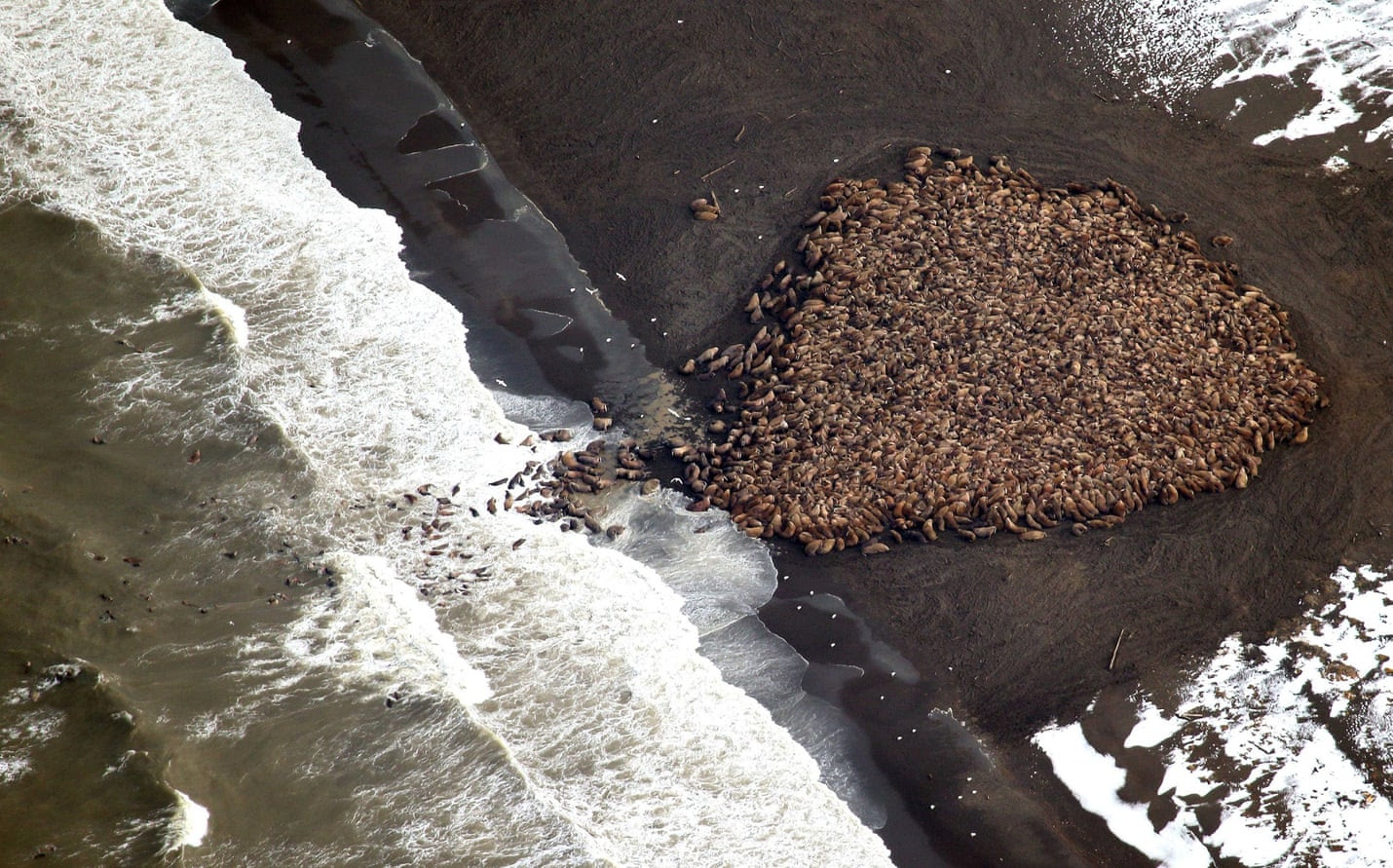 This aerial photo taken on 23 September 2014, shows a gathering of 1,500 walruses on Alaska's north-west coast: photo by Corey Accardo/AP, 23 September 2014 via The Guardian, 1 October 2014

Pacific walruses in the Chukchi Sea off the coast of Alaska in June 2014. Researchers are trying to improve their knowledge of the animal's numbers ahead of an expected US Fish and Wildlife Service decision on whether they need special protection: photo by USGS/AP, June 2014 via The Guardian, 1 October 2014
Female walruses and their young rest on sea ice between foraging bouts in July 2012: photo by S A Sonsthagen/USGS, July 20i2
via The Guardian, 1 October 2014
The skull of a sub-adult Pacific walrus lies on the rocky tundra near the shore of Wrangel Island in Russia, 2009: photo by Jenny E Ross, 2009
via The Guardian, 1 October 2014