.
Three to four thousand frozen pangolins lie in a pit before being burnt in Medan, Indonesia. This huge seizure was a joint operation between the Indonesian National Police's criminal investigation division and the Wildlife Conservation Society's wildlife crimes unit, from a warehouse in Medan, the largest city on the island of Sumatra, on 23 April. A total of 96 live animals were found including five tonnes of frozen pangolins, 77kg of scales with an estimated street value of $1.8m (£1.2m), plus 24 bear paws
: photo by Paul Hilton/WCS via The Guardian, 30 April 2015
Another armored animal -- scale


....

lapping scale with spruce-cone regularity until they
form the uninterrupted central


..

tail-row! This near artichoke with head and legs and grit-equipped gizzard,


..

the night miniature artist engineer is,


........

yes, Leonardo da Vinci's replica --


...........

impressive animal and toiler of whom we seldom hear.


........

Armor seems extra. But for him,


...........

the closing ear-ridge --


.............

or bare ear lacking even this small


.............

eminence and similarly safe

contracting nose and eye apertures


....

impenetrably closable, are not; a true ant-eater,
not cockroach eater, who endures


..

exhausting solitary trips through unfamiliar ground at night,


..

returning before sunrise, stepping in the moonlight,


........

on the moonlight peculiarly, that the outside


...........

edges of his hands may bear the weight and save the claws


........

for digging. Serpentined about


...........

the tree, he draws


.............

away from danger unpugnaciously,


.............

with no sound but a harmless hiss; keeping

the fragile grace of the Thomas-


....

of-Leighton Buzzard Westminster Abbey wrought-iron vine, or
rolls himself into a ball that has


..

power to defy all effort to unroll it; strongly intailed, neat


..

head for core, on neck not breaking off, with curled-in-feet.


........

Nevertheless he has sting-proof scales; and nest


...........

of rocks closed with earth from inside, which can thus darken.


........

Sun and moon and day and night and man and beast


...........

each with a splendor


.............

which man in all his vileness cannot


...........

set aside; each with an excellence!

"Fearfull yet to be feared," the armored


....

ant-eater met by the driver-ant does not turn back, but
engulfs what he can, the flattened sword-


..

edged leafpoints on the tail and artichoke set leg- and body-plates


..

quivering violently when it retaliates


.......

and swarms on him. Compact like the furled fringed frill


.........

on the hat-brim of Gargallo's hollow iron head of a


.......

matador, he will drop and will


...........

then walk away


.............

unhurt, although if unintruded on,


.............

he cautiously works down the tree, helped

by his tail. The giant-pangolin-


....

tail, graceful tool, as a prop or hand or broom or ax, tipped like
an elephant's trunk with special skin,


..

is not lost on this ant- and stone-swallowing uninjurable


..

artichoke which simpletons thought a living fable


.........

whom the stones had nourished, whereas ants had done


...........

so. Pangolins are not aggressive animals; between


.........

dusk and day they have not unchain-like machine-like


.............

form and frictionless creep of a thing


.............

made graceful by adversities, con-

versities. To explain grace requires


....

a curious hand. If that which is at all were not forever,
why would those who graced the spires


..

with animals and gathered there to rest, on cold luxurious


..

low stone seats -- a monk and monk and monk -- between the thus


.........

ingenious roof supports, have slaved to confuse


...........

grace with a kindly manner, time in which to pay a debt,


.........

the cure for sins, a graceful use


...........

of what are yet


..............

approved stone mullions branching out across
.............

.

the perpendiculars? A sailboat

was the first machine. Pangolins, made


....

for moving quietly also, are models of exactness,
on four legs; on hind feet plantigrade,


..

with certain postures of a man. Beneath sun and moon, man slaving


..

to make his life more sweet, leaves half the flowers worth having,


........

needing to choose wisely how to use his strength;


...........

a paper-maker like the wasp; a tractor of foodstuffs,


........

like the ant; spidering a length


...........

of web from bluffs


.............

above a stream; in fighting, mechanicked


.............

like the pangolin; capsizing in

disheartenment. Bedizened or stark


....

naked, man, the self, the being we call human, writing-
masters to this world, griffons a dark


..

"Like does not like like that is abnoxious"; and writes error with four


..

r's. Among animals, one has sense of humor.


.........

Humor saves a few steps, it saves years. Unignorant,


...........

modest and unemotional, and all emotion,


.........

he has everlasting vigor,


...........

power to grow,


.............

though there are few creatures who can make one


.............

breathe faster and make one erecter.

Not afraid of anything is he,


....

and then goes cowering forth, tread paced to meet an obstacle
at every step. Consistent with the


..

formula -- warm blood, no gills, two pairs of hands and a few hairs -- that


..

is a mammal; there he sits on his own habitat,


.......

serge-clad, strong-shod. The prey of fear, he, always


...........

curtailed, extinguished, thwarted by the dusk, work partly done,


.......

says to the alternating blaze,


...........

"Again the sun!


.............

anew each day; and new and new and new,


.............

that comes into and steadies my soul."
Marianne Moore (1887-1972): The Pangolin, from The Pangolin and Other Verse (1936)
MT @TheWCS newsroom: Indonesian Nat'l Police Seize Major #Pangolin Shipment, Arrest Smuggler: image via Nat Moss, 27 April 2015
Sunda pangolin (Manis javanica) are among the most trafficked mammals in Asia. Sunda pangolin are critically endangered and IUCN reports that wild populations have halved in the past 15 years. They are in high demand both for their meat and for their scales, which are used in traditional medicine — and as love charms. Tens of thousands of Sunda pangolins have been poached from the wild, headed primarily to China where it is considered a luxury food: photo by Rungroj Yongrit/EPA via the Guardian, 5 February 2015
A mother and baby pangolin were part of a release effort on the outskirts of Medan, Indonesia. The mother later died: photo by Paul Hilton via the Guardian, 5 May 2015
94 pangolins released in Sumatra following huge illegal wildlife seizure: Trafficked pangolins are freed as Indonesian ministers urged harsher penalties to deter illegal wildlife trade, reports Mongabay
: Ayat S. Karokaro for Mongabay,
part of the Guardian Environment Network, 5 May 2015
Following a major seizure of illegal wildlife goods in North Sumatra, the Indonesian authorities released 94 pangolins into the wild last week, including a newborn whose mother died shortly after the authorities caught up with the traffickers.
Environment and Forestry Minister Siti Nurbaya flew to the provincial capital of Medan to witness the burning of five tons of pangolin meat which had been confiscated along with 77 kilograms (169 pounds) of pangolin scales and the live animals.
The minister urged judges to hand down harsher punishments to serve as a deterrent.
"In Palembang (the capital of Jambi province), the prosecutor demanded the maximum penalty of five years and Rp500 million ($38,000)," she said. "We expect the same for this network in Medan."
At present, offenders get an average of eight months behind bars and Rp10 million. "That's the reason illegal wildlife networks stay in business," said Irma Hermawati, a legal advisor from the nonprofit Wildlife Conservation Society.
Besides the newborn's mother, two other pangolins died in the wake of the raid. A team of veterinarians nevertheless decided that all of the animals, even the baby, were fit enough to return to the wild.
"If we keep [the baby] first, it's not necessarily better," said Tata Jati Rasa, an official from the provincial Natural Resources Conservation Agency (BBKSDA). "Let us release it. We believe it can survive. Let nature determine whether it will live."
Pangolins are critically endangered and highly sought after in East Asia for use of their body parts in traditional medicine and cuisine. One of them can sell for Rp500,000-800,000, according to Didit Wijanardi, a deputy at the Indonesian National Police's detectives' unit (Bareskrim).
"This is the driving factor pushing people into the woods to hunt," he said. "We need to fight this because pangolins are a protected species."
Often known as scaly anteaters, pangolins are the only mammal with scales. Their closest relatives are anteaters, armadillos and sloths. These two will end up on a dinner table in Gunagzhou, southern China, one of the areas of the world where their flesh is considered a delicacy. The illegal trade in pangolins is estimated to be worth about $19bn (£12.7bn) a year
: photo by Paul Hilton for WildAid via the Guardian, 16 March 2015

A Sunda Pangolin (Manis javanica), one of two Asian species of pangolin listed as critically endangered on the IUNC red list: photo by Paul Hilton for WildAid
via the Guardian, 16 March 2015

Pangolin are a bit like a friendly, flightless dragons. Many of them have no problem being around people.:
photo by Paul Hilton for WildAid
via the Guardian, 16 March 2015
An African white-bellied pangolin –- poachers are turning to African pangolins because Asian populations have been denuded: photo by IUCN/ZSL via The Guardian, 28 July 2014
A selection of two tons of pangolin scales, the largest seizure in five years, taken by Hong Kong customs in June 2014: photo by Alex Hofford/EPA via The Guardian, 28 July 2014
There are four African and four Asian species of pangolin, of the genus Manis in the family Manidae.
These pictures are all taken in Indonesia. This image shows hunting dogs, used to catch the pangolins, surrounding a tree in Kalimantan where one is trying to hide.
: photo by Paul Hilton for WildAid via the Guardian 10 March 2015
A critically endangered pangolin curls up into a ball to resemble a giant pine cone as a poacher nears the tree where it is trying to hide: photo by Paul Hilton for WildAid via the Guardian 10 March 2015
A poacher catches a juvenile sunda pangolin in Indonesia: photo by Paul Hilton for WildAid via the Guardian 10 March 2015
Poachers across Indonesia sell critically endangered live pangolins to middlemen for $28 (£18.70) to $31 per kilo; the average size of a pangolin is six to seven kg.: photo by Paul Hilton for WildAid via the Guardian 10 March 2015
Researchers at the International Union for the Conservation of Nature (IUCN) say that over a million pangolins were caught in the last decade, which makes them the most illegally traded mammal in the world.
: photo by Paul Hilton for WildAid via the Guardian 10 March 2015
The demand for pangolin meat, which is considered a delicacy, and scales, which are used in traditional medicine, particularly in China and Vietnam, is pushing the pangolin to extinction.
: photo by Paul Hilton for WildAid via the Guardian 10 March 2015

A pangolin releases a foul smell when scared, like a skunk –- though it is not enough to ward off a pack of poacher's dogs
: photo by Paul Hilton for WildAid via the Guardian 10 March 2015
Already this year 125kg of pangolin scales were intercepted by the Indonesian authorities en route to Hong Kong: photo by Paul Hilton for WildAid via the Guardian, 10 March 2015


A poacher holds up the skin of a pangolin with the scales still attached: photo by Paul Hilton for WildAid via the Guardian 10 March 2015
Detail of a pangolin's skin. Their scales are made of keratin, which is also found in human hair and nails.: photo by Paul Hilton for WildAid via the Guardian 10 March 2015
A pangolin skin and, on the right, some scales: photo by Paul Hilton for WildAid via the Guardian 10 March 2015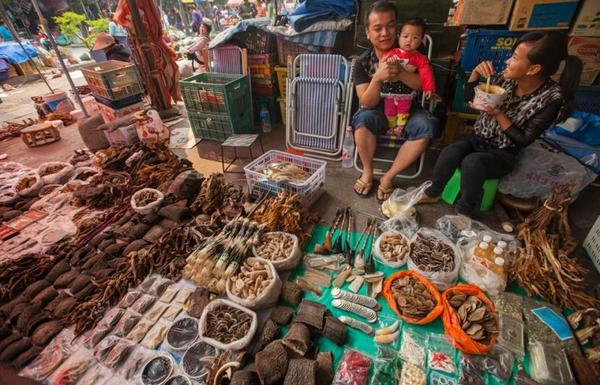 The tip of the iceberg #illegal #wildlifetrade on #Burma #China #wildlife #ecocide: image via Peter Burton @peterburton @peteswildlife, 21 July 21 2015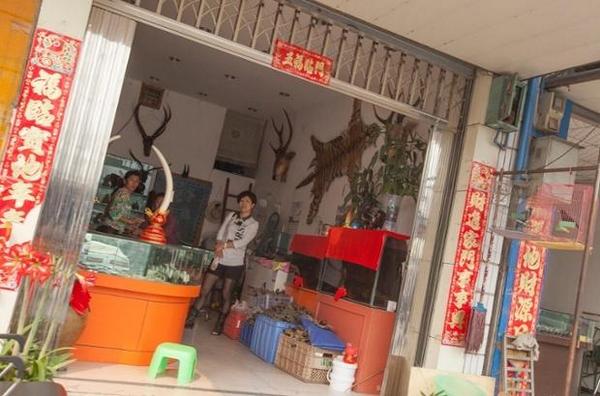 The tip of the iceberg #illegal #wildlifetrade on #Burma #China #wildlife #ecocide: image via Peter Burton @peterburton @peteswildlife, 21 July 21 2015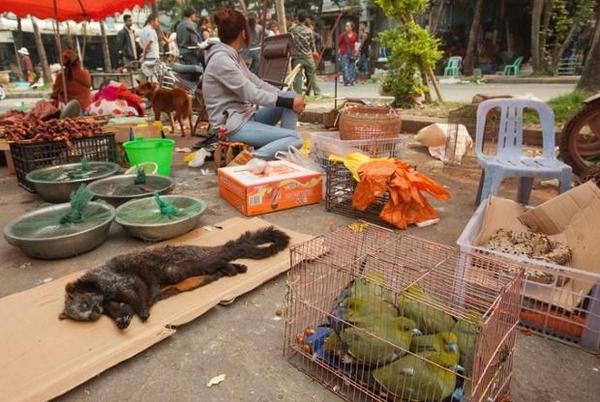 The tip of the iceberg #illegal #wildlifetrade on #Burma #China #wildlife #ecocide: image via Peter Burton @peterburton @peteswildlife, 21 July 21 2015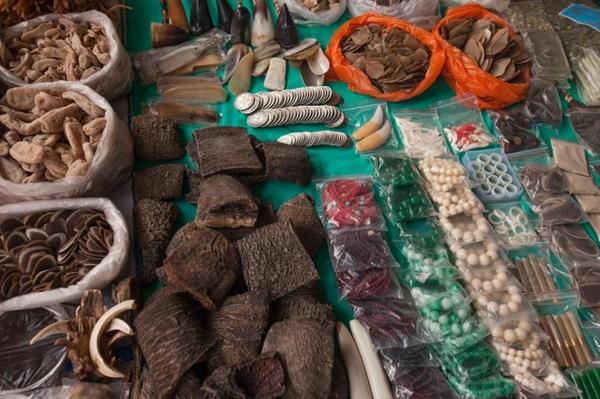 The tip of the iceberg #illegal #wildlifetrade on #Burma #China #wildlife #ecocide: image via Peter Burton @peterburton @peteswildlife, 21 July 21 2015
In 2014, 6.7 tons of African #pangolin scales were confiscated in Asia. In 2013, it was just over 600KG @THTZim: image via United for Wildlife @united4wildlife, 23 April 2015
Pangolin scales for sale on Daluo market Illegal #wildlifetrade #Burma: image via calfune @calfune, 26 July 2015
A waitress in Hanoi, Vietnam, shows how pangolin is prepared. Pangolin sells for as much as $350 per kilo: photo by John D. Sutter for CNN, 2014

"You find pangolins, and I'll give you money." That's what Ruslan, 58, says he was told by a wildlife trader from out of town: photo by John D. Sutter for CNN, 2014
Pangolins are traded by the ton, frozen and alive. They're sometimes mixed with frozen fish or snakes as cover.: photo by John D. Sutter for CNN, 2014
Traditional medicine has a long history in Vietnam and China. Pangolin scales are made of the same material as fingernails but are claimed to help with lactation issues and other ailments.: photo by John D. Sutter for CNN, 2014
This hunting dog in Sumatra, Indonesia, has been trained on the scent of pangolins, which are difficult to find at night: photo by John D. Sutter for CNN, 2014
Pangolin scales are sold in traditional medicine shops like those found in an old quarter of Hanoi: photo by John D. Sutter for CNN, 2014

Pangolin fetus is an unproven aphrodisiac: photo by John D. Sutter for CNN, 2014
Pangolin is easy to find on menus in Hanoi. Some restaurants slit its throat in front of customers.: photo by John D. Sutter for CNN, 2014

A restaurant in Hanoi kept this pangolin floating in rice wine. CNN reporter John Sutter was told it was removed after authorities were called: photo by John D. Sutter for CNN, 2014
Some pangolin hunters say they're just trying to support their families. They use the money to buy milk, not luxury items: photo by John D. Sutter for CNN, 2014

Ropi, a 29-year-old in Sumatra, Indonesia, said he has hunted pangolins to feed his kids; not to get rich: photo by John D. Sutter for CNN, 2014
Lucky is the biggest and friendliest pangolin at Cuc Phuong National Park in Vietnam. He weighed only 4 pounds when he was seized from the wildlife trade. He now weighs 17 pounds: photo by John D. Sutter for CNN, 2014
Three to four thousand frozen pangolins lie in a pit before being burnt in Medan, Indonesia. This huge seizure was a joint operation between the Indonesian National Police's criminal investigation division and the Wildlife Conservation Society's wildlife crimes unit, from a warehouse in Medan, the largest city on the island of Sumatra, on 23 April. A total of 96 live animals were found including five tonnes of frozen pangolins, 77kg of scales with an estimated street value of $1.8m (£1.2m), plus 24 bear paws
: photo by Paul Hilton/WCS via The Guardian, 30 April 2015