.
TURKEY - Migrants wait at Istanbul's Esenler Bus Terminal in front of a police barricade. By Yasin Akgul #AFP: image via Frédérique Geffard @fgeffardAFP, 18 September 2015
Nâzim Hikmet Ran: Faust's House
Below the towers, under the arcades,
I wander through Prague late
at night.
The sky is an alembic distilling gold in the dark —
an alchemist's still over a deep-blue flame.
I walk down the hill toward Charles Square:
on the corner, next to the clinic there,
is Doctor Faust's house set back in a garden.
I knock on the door.
The doctor isn't home.
As we all know,
on a night like this
about two hundred years ago,
the Devil took him
through a hole in the ceiling.
I knock on the door.
In this house I, too, will hand Satan a deed —
I, too, signed the deed with my blood.
I don't want gold from him
or knowledge or youth.
I've had it with exile,
I give up!
If I could have just one hour in Istanbul.
I knock and knock on the door.
But the door doesn't open.
Why?
Am I asking the impossible, Mephistopheles?
Or isn't my tattered soul
worth buying?
In Prague the moon is rising lemon-yellow.
I stand outside Doctor Faust's house
at midnight, knocking on the closed door.
Nâzim Hikmet Ran

(

b. Salonica, 15 January 1902 - d. Moscow, 3 June 1963

: Faust's House, translated by Randy Blasing and Mutlu Konuk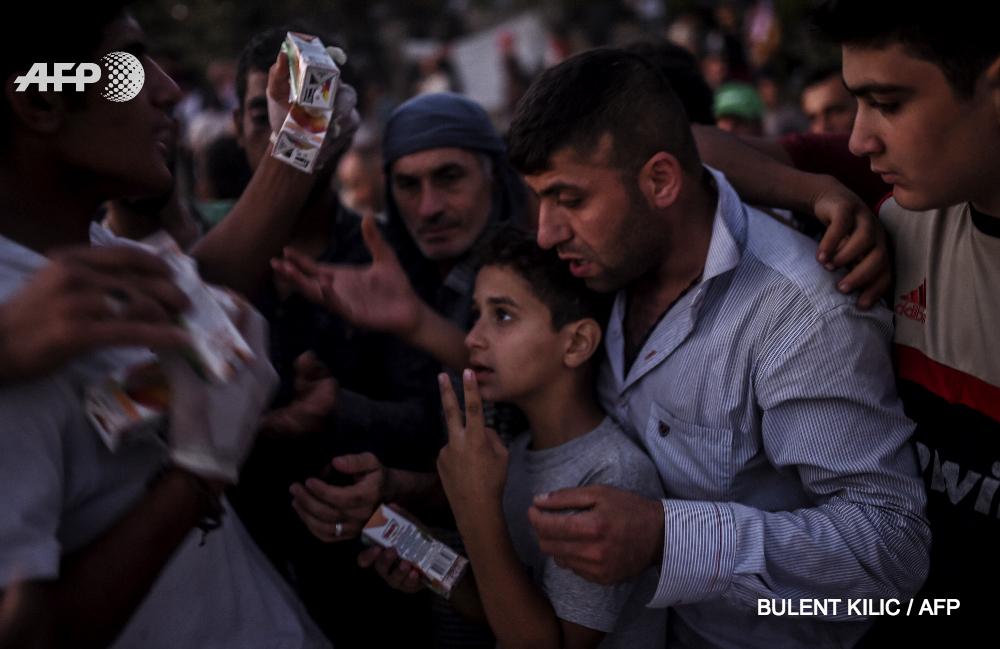 Syrian refugees queue for food as they rest in Edirne on their way to the border between Turkey and Greece.@Kilicbil: image via Stéphane Arnaud @StephaneArnaud, 18 September 2015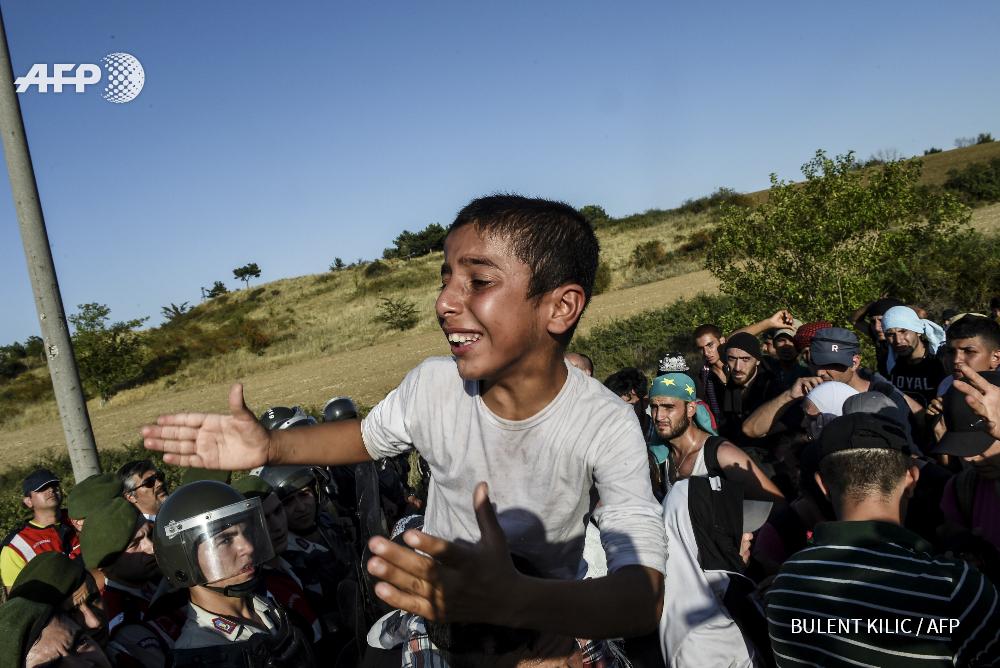 #refugees and #migrants face a police barricade as they march towards Turkish-Greek border. By @Kicilbil #AFP: image via Christophe Delattre @chrisdelattre7, 18 September 2015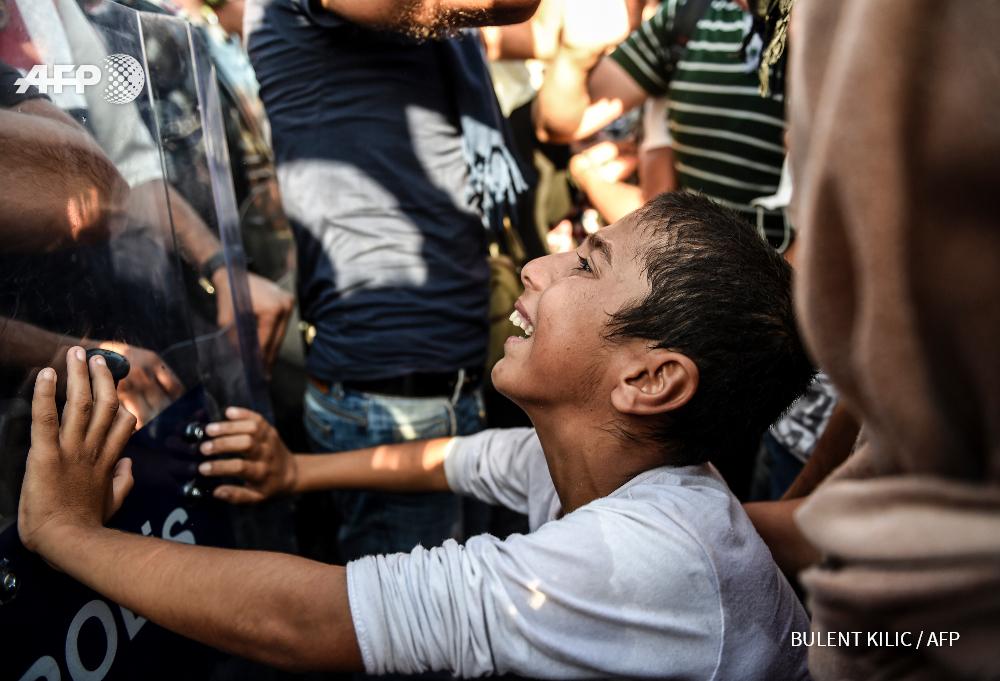 A boy cries as he pushes against police barricade as #refugees & #migrants march towards Turkish-Greek border. By @Kicilbil #AFP: image via Christophe Delattre @chrisdelattre7, 18 September 2015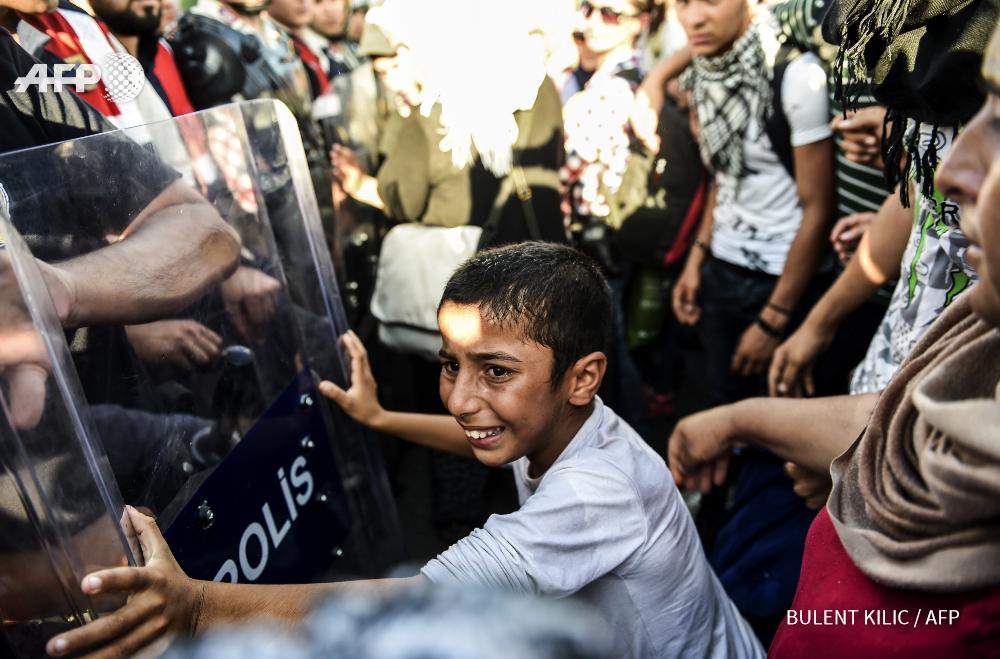 A boy cries as he pushes against police barricade as #refugees & #migrants march towards Turkish-Greek border. By @Kicilbil #AFP: image via Christophe Delattre @chrisdelattre7, 18 September 2015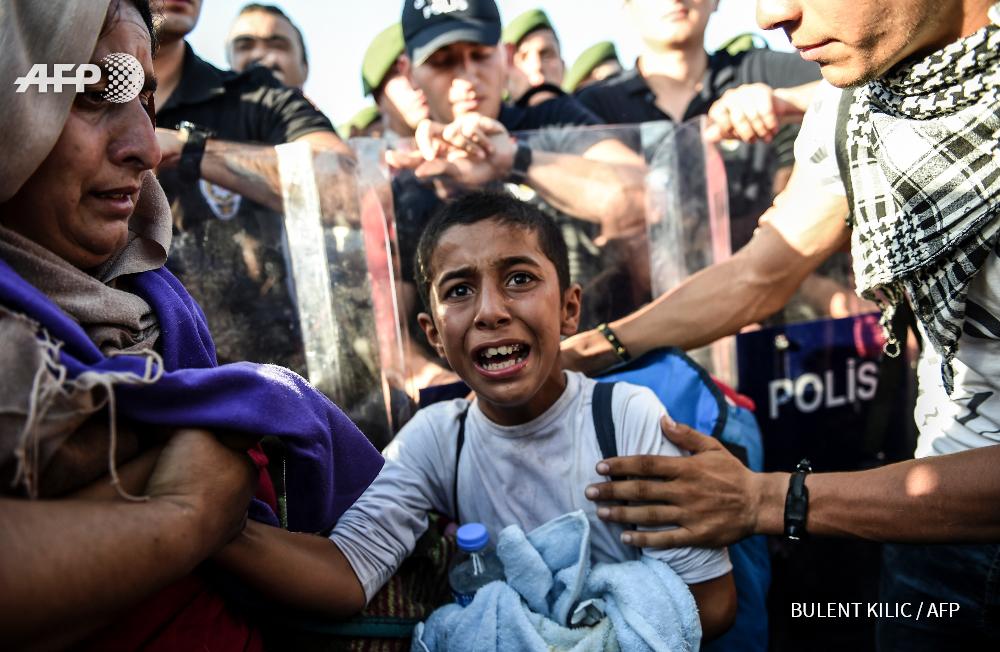 #Turkey: A boy cries as Syrian refugees push against a police barricade near the Greek border in Edirne. @Kilicbil: image via Stéphane Arnaud @StephaneArnaud, 18 September 2015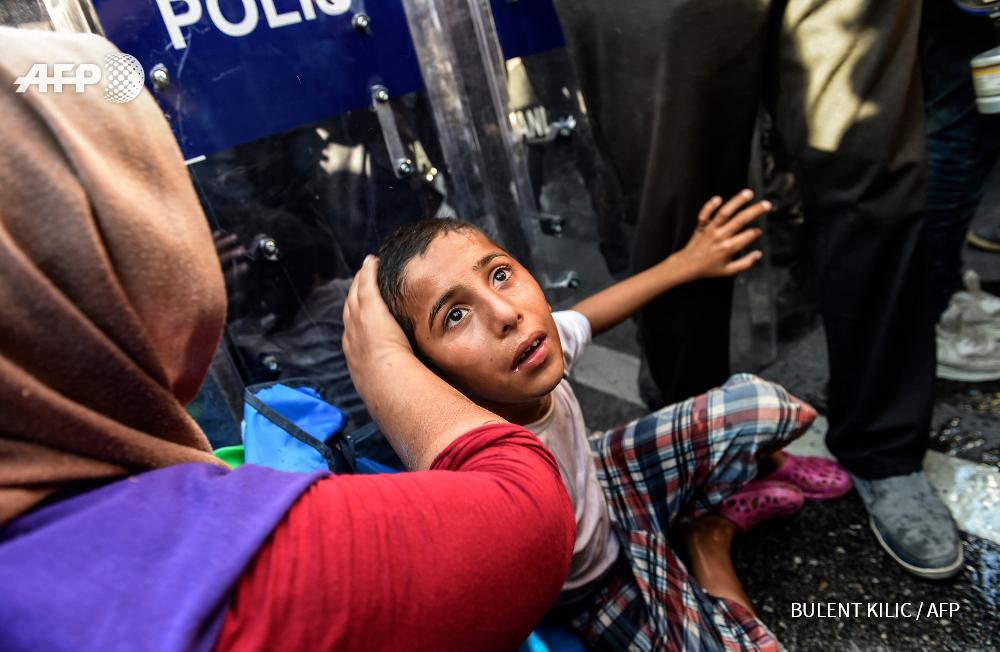 #Turkey: A boy cries as Syrian refugees push against a police barricade near the Greek border in Edirne. @Kicilbil #AFP: image via Christophe Delattre @chrisdelattre7, 18 September 2015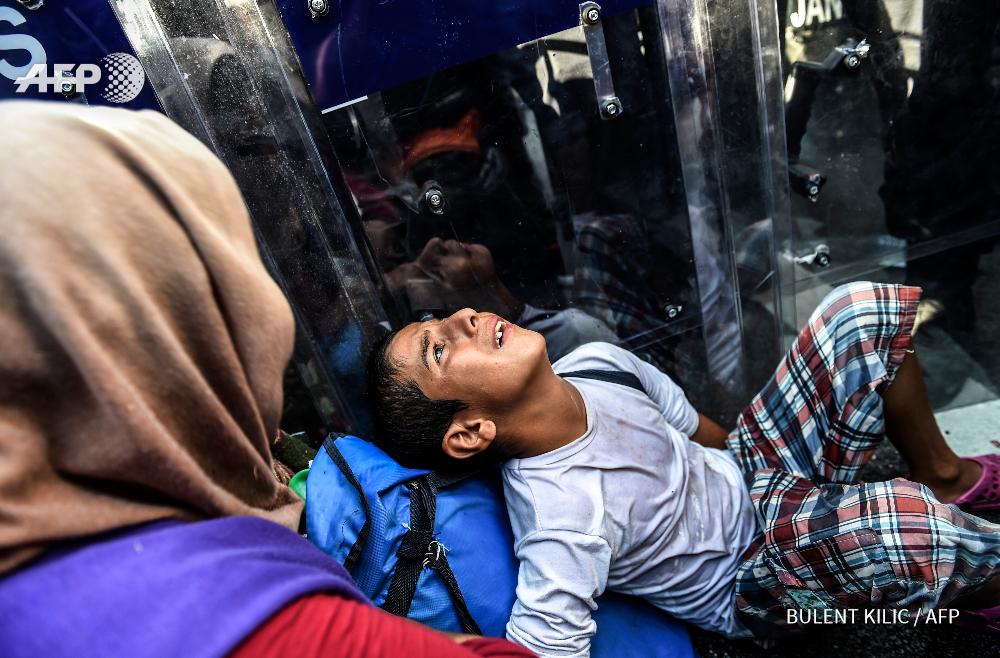 #Turkey: A boy cries as Syrian refugees push against a police barricade near the Greek border in Edirne. @Kilicbil: image via Stéphane Arnaud @StephaneArnaud, 18 September 2015
TURKEY - Migrants and refugees wait for buses to the Turkish-Greece border in Istanbul. By Yasin Akgul #AFP: image via Frédérique Geffard @fgeffardAFP, 16 September 2015
Turkey
: Syrian refugees march along a highway on their way to the border between Turkey and Greece, in Edirne. By Yasin Akgul #AFP: image via AFP Photo Depatment @AFPphoto, 18 September 2015
Face à l'afflux de migrants, l'Europe balkanique et centrale se barricade #AFP
: image via Agence France-Presse @afpfr, 18 September 2015
Save Aleppo
: image via baraa al halabi @baraaalhalabi, 18 September 2015
Des immigrés illégaux arrêtés par la police à Tripoli avant qu'ils ne tentent de traverser la Méditerranée #AFP: image via Agence France-Presse @afpfr, 18 September 2015
Serbie: un jeune homme tient une pancarte dans un camp de réfugiés improvisé près de Horgos par @armend_nimani #AFP: image via Agence France-Presse @afpfr, 18 September 2015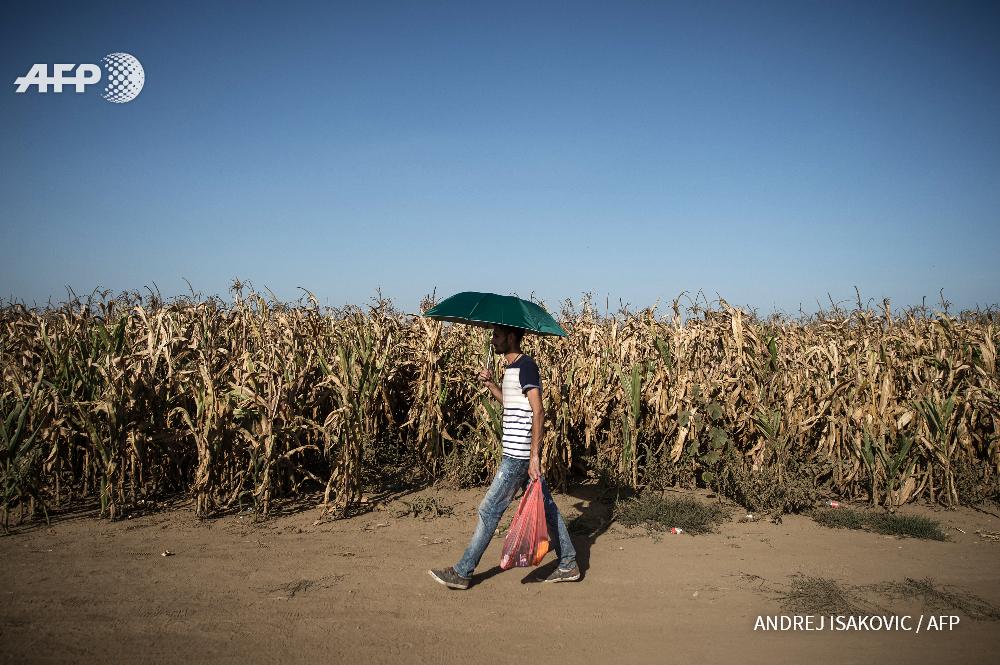 #migrantcrisis
- A migrant walks towards border between #Croatia and #Serbia near Sid. By @iandrej #AFP: image via Christophe Delattre @chrisdelattre7, 18 September 2015

Hundreds of #refugees sit in shade in #Zagreb suburb in #Croatia waiting for buses to take them to makeshift camp: image via Oliver Varney @OliverVarney, 18 September 2015

Child #refugee sleeping on curbside in #Croatia outside makeshift camp his family taken 2 @AJEnglish #refugeecrisis: image via Mohammed Jamjoom @MIJamjoon, 17 September 2015
A Tovarnik, des migrants dans l'attente d'un train qui ne vient pas: image via Agence France-Presse, 18 September 2015
Migrants struggled to clamber onto a train for Zagreb, the Croatian capital, at Tovarnik station near the border with Serbia, on Friday
: photo by
Sergey Ponomarev for The New York Times, 18 September 2015
Migrants rested in a train in Beli Manastir, Croatia, on Friday: photo by Darko Bandic/Associated Press,
18 September 2015
Migrants rested in a train in Beli Manastir, Croatia, on Friday: photo by Darko Bandic/Associated Press,
18 September 2015
Bulgaria responded to the influx of migrants diverted from Greece by starting construction of its own fence on the border with Turkey, above, in 2014. Bulgaria's fence and border control efforts reduced illegal crossings by more than half last year. Most migrants are now forced to take sea routes: photo by Andrew Testa for The New York Times, 18 September 2015
A Syrian refugee man plays with his daughter after spending night near an abandoned military barrack in Beli Manastir, near the Hungarian border, northeast Croatia, Friday. Croatian police say some 13,300 migrants have entered the country from Serbia since the first groups started arriving more than two days ago: photo by Muhammed Muheisen/AP, 18 September 2015
A Syrian refugee man plays with his daughter after spending night near an abandoned military barrack in Beli Manastir, near the Hungarian border, northeast Croatia, Friday. Croatian police say some 13,300 migrants have entered the country from Serbia since the first groups started arriving more than two days ago: photo by Muhammed Muheisen/AP, 18 September 2015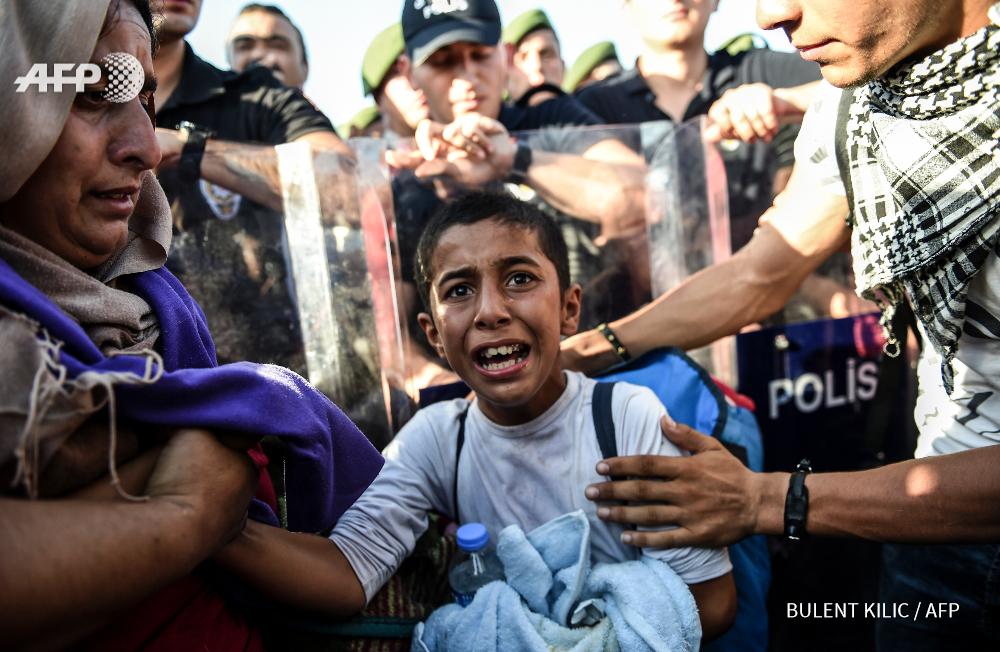 #Turkey: A boy cries as Syrian refugees push against a police barricade near the Greek border in Edirne. @Kilicbil: image via Stéphane Arnaud @StephaneArnaud, 18 September 2015