.
Lorries cross a bridge shrouded in haze in Klang, Malaysia, on Wednesday. The thick so-called "haze," caused by slash-and-burn clearances on the islands of Sumatra and Borneo, has pushed air quality to unhealthy levels in Malaysia and neighboring Singapore: photo by Olivia Harris/Reuters, 7 October 2015
At once as far as Angels kenn he views
The dismal Situation waste and

wilde

,
A Dungeon horrible, on all sides round
As one great Furnace

flam'd

, yet from those flames
No light, but rather darkness visible


Serv'd

onely

to discover sights of woe,
Regions of sorrow, doleful shades, where peace


And rest can never dwell, hope never comes
That comes to all; but torture without end
Still urges, and a fiery Deluge, fed
With ever-burning Sulphur

unconsum'd
John Milton: Paradise Lost, Book I

Sun in Haze (Singapore)
: photo by aamanatullah, 24 September 2015
PS! 253 over Tiong Bahru, Central Singapore. You could see, smell and taste the haze tonight in Tiong Bahru area. The air is no more fresh and you deeply breathe smoke if you don't wear a proper mask (#N95 at least). Condition worsens a lot today. Massive deforestation (mostly in Sumatra and Borneo) to increase palm oil production is ongoing. To speed up the process, people burning a forest. The heavy and dense smoke is then spreading all over the region from Kuala Lumpur to Palembang
: photo Charles Collier, 24 September 2015


A male orangutan (Pongo pygmaeus) in Tanjung Puting National park, Central Kalimantang, Indonesia: photo by CIFOR, 13 August 2010
Widespread forest fires, many set deliberately to clear land for oil palm plantations, have been disastrous for Sumatran orangutans. Thousands are thought to have burned to death, unable to escape the flames both in Sumatra and Kalimantan.
The species' range is now severely circumscribed, says WWF in Jakarta. Of nine populations left in Sumatra, only seven are thought viable. "The fate of Sumatran orangutans is inextricably linked to the island's fast-disappearing forests. If we want to save the Sumatran orangutan we have to save their forest home," said Barney Long, WWF's Asian species expert.
Orangutan, Sumatra, Indonesia: photo by Carol Mitchell, 12 July 2014


Smoke rises as a fire burns in a forest in Ogan Komering Ilir Regency, a regency of South Sumatra province, Indonesia: photo by Nova Wahyudi/Antara Foto/Reuters, 20 October 2015

Orangutans in the haze shrouding the Borneo Orangutan Survival Foundation camp: photo by Antara Foto/Reuters, 5 October 2015: image via John R Platt @johnrplatt, 22 October 2015 PORTLAND, OR
Orangutans Are Dying as Indonesia Burns: Thousands of forest fires set by palm oil companies across Sumatra and Borneo threaten not just endangered apes but the global climate: John R. Platt, TakePart, 22 October 2015
Right now, tens of thousands of small forest fires are burning across the islands of Sumatra and Borneo, the only habitats for orangutans and other rare species. Many of the fires appear to have been intentionally set by palm oil companies, which employ slash-and-burn agriculture to clear land of native trees to plant their cash crop, which is used as an ingredient in everything from food to cosmetics.
Richard Zimmerman, executive director of Orangutan Outreach, calls the conflagrations a disaster for endangered orangutans. Some of the fires are burning in important orangutan habitats, including Borneo's Sabangau National Park, thought to hold the largest wild population of orangutans. "This is catastrophic," Zimmerman said. He said he's worried about how many wild orangutans have died from the flames and resulting smoke.
"The problem with fire and smoke is absolutely dire," said Lis Key, communications manager for International Animal Rescue, which runs a rehabilitation center for more than 125 injured and orphaned orangutans in Ketapang, Borneo.
"Wild orangutans and orangutans in centers like ours are badly affected by the smoke," she said. "Some suffer upper respiratory tract infections, which can even prove fatal. Some of the babies we've taken in recently have been suffering not only from dehydration and malnourishment through lack of food but also breathing problems from the polluted air."
No matter where the fires are, they have raged out of control owing to an abnormally dry and windy season caused by El Niño weather patterns. Zimmerman said the situation is similar to that in drought-plagued California, where forest fires have grown in frequency and intensity over the past few years.
Indonesia's fires are much worse than California's, however. Not only are they deliberately set, but many of them occur in carbon-rich peat forests. These forests -- which would normally be wet and hard to burn at this time of year -- grow out of several meters' worth of damp, rich organic matter instead of soil. Zimmerman said the peat forests are so dry this year that "one match or a cigarette would let it all go up in flames."
Not only does this release more carbon than normal forest fires, but it makes fires harder to control. "Even if things look fine, there are actually fires burning 20 feet below the ground," Zimmerman said. "You have these teams of people doing their best to extinguish small fires or hot spots, but the fire can come back up 100 meters behind them. It's a constant vigil."
Orangutans have more to fear than just the fire. The flames and smoke are pushing them out of their already reduced habitats and closer to human villages, where the adults are killed and the young apes are sold into the pet trade. In the past week, International Animal Rescue saved one such young orangutan, Gito, who had been kept in a cardboard box and left in the sun to die.
Two more young orangutans were repatriated to Indonesia this week after they were rescued from smuggers at the airport in Kuala Lumpur, Malaysia. A report last year from the Great Apes Survival Partnership found that many illegally obtained orangutans are being sold to China for display in zoos and other entertainment facilities.
Although most adult orangutans that escape the fires are killed by poachers, a few are luckier. Key reported that her group recently relocated 10 wild orangutans that had been found "stranded close to palm oil concessions or in areas of forest that have been destroyed by fire."
The fires threaten more than just Indonesia's wildlife: They have also created a cloud of smoke and haze big enough to be seen from space and are releasing an estimated 15 to 20 million tons of carbon dioxide per day -- more than he emissions from the entire U.S. economy. "This isn't just one little fire in one little area," Zimmerman said. "It's the whole earth."
And there's no end in sight. Malaysia's environment minister this week warned that the Indonesian fires are so bad that human efforts can't control them until the rainy season begins in mid-November, if then.
Still, Zimmerman said his group is collecting funds to help support villagers, firefighters, and local conservation organizations. After that, it will start surveys to see how many orangutans have been lost. "When these fires finally end, that's when we'll see the bodies," he said.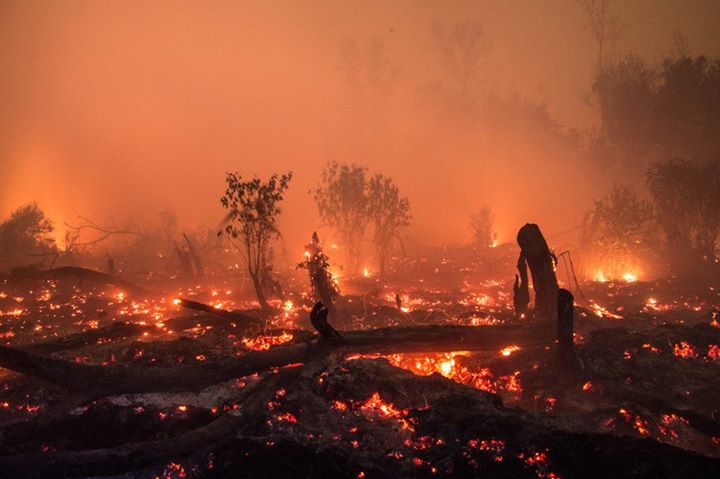 #Indonesia
Worst threat in century to people, orangutans, wildlife & Western media's not even mentioning it! #palmoil
: image via
PeSSouZiX @
PeSSouZiX

, 23 October 2015
Students walk along a street as they are released from school to return home earlier due to the haze in Jambi, Indonesia's Jambi province, Tuesday. Indonesia has sent nearly 21,000 personnel to fight forest fires raging in its northern islands: photo by Antara Foto/Wahdi Setiawan/Reuters, 29 September 2015
#Indonesia
readies warships for haze evacuations, says gov't minister. #VOAlert
: image via Steve Herman
Verified Account

@W7VOA, 23 October 2015
Forest fires have been burning out of control across Indonesia for months, blanketing Palangkaraya in Central Kalimantan province and other parts of South-East Asia in smog
: photo by Hugo Hudoyoko/European Pressphoto Agency, 23 October 2015
Muslim students pray for rain to put out the fires which enveloped the region at Palembang 1 senior high school in Palembang, South Sumatra, Indonesia, on Thursday: photo by Feny Selly/Antara Foto/Reuters, 17 September 2015
The dismal Situation waste and wilde
Indonesia moves to stop forest fire pollution as haze grips Singapore #smog #cleanair
: image via CECHR @CECHR, 16 September 2014
#Indonesia
's Fire Crises: the biggest environmental crime of the 21st century [Jakarta Globe... by @emeijaard]
: image via Alessio Fratticcioli
@
fratticcioli
, 24 October 2015
Indonesia readies warships for haze evacuation
: image via Agence France-Presse
@AFP
,
24 October 2015
Indonesia readies warships for haze evacuation:

AFP, 24 October 2015
Jakarta (AFP) - Indonesia has put warships on standby to evacuate people affected by acrid haze from forest fires which has killed at least 10 and caused respiratory illnesses in half a million, officials said Saturday.
For nearly two months, thousands of fires caused by slash-and-burn farming in Indonesia have choked vast expanses of Southeast Asia, forcing schools to close and scores of flights and some international events to be cancelled.
The government has decided to send ships to haze-affected provinces to evacuate victims, especially children and women, if necessary, with two warships deployed to Kalimantan on Friday and another carrying medical workers and health equipment expected Saturday.
Military spokesman Tatang Sulaiman said the warships, which will be standing by in Banjarmasin, the capital of south Kalimantan, could serve as evacuation centers and hospitals for those affected by the haze.
Tatang said there was no immediate plan to bring people onboard but that could change if hospitals on land reach capacity or become overwhelmed.
"The ships are sent just in case children or pregnant women must be relocated from the local health facilities, it does not mean everyone would be put into the ships," Tatang said.
"So far health facilities on the ground in Kalimantan are still trying their best, we are just getting ready by deploying warships," Tatang said.
Each warship can carry up to 2000 people and has 344 beds onboard.
"For now the ships will be standing by. We will begin evacuation when there is an instruction from the government," navy spokesman Muhammad Zainuddin told AFP.
The government has deployed around 30 aircraft to fight the fires and for cloud seeding with 22,000 troops on the ground to combat the blazes.
Indonesian disaster mitigation agency spokesman Sutopo Purwo Nugroho said the fires had killed 10 people so far, some fighting the blazes while others died of respiratory illnesses or medical conditions exacerbated by the pollution.
"The impact of the forest fires has caused 10 people in Sumatra and Kalimantan to die, directly and indirectly," Nugroho said.
The figure did not include seven hikers killed in a wildfire on Java last week.
The agency estimated at least half a million people have suffered from respiratory illness since the fires started in July and 43 million people have been affected in the islands of Sumatra and Kalimantan.
Nugroho said the figure was likely just the tip of the iceberg because many people did not go to health facilities for treatment.
More than 1.7 million hectares (4.2 million acres) of land has been burned and six provinces severely affected by the haze, according to Indonesia's forestry ministry.
"This is due to human acts because 99 percent of forest fires were started deliberately. This is an extraordinary crime against humanity," Nugroho said.
Other countries such as Malaysia, Singapore, Australia and Japan have sent assistance to help Indonesia fighting the forest fires.
With Malaysia, Singapore and parts of Thailand already affected, the Philippines Friday said the haze had now spread there, disrupting air traffic and prompting warnings for residents to wear face masks.
Palm oil plantations, such as this one covering thousands of hectares, are causing habitat-loss for many Indonesian species, although pangolins are one of a few that have limited tolerance to palm-oil habitats. The average monthly wage for an Indonesian working full-time on a plantation is $47 and many turn to poaching because they can earn 10 times as much: photo by Paul Hilton for WildAid via the Guardian 10 March 2015
Indonesia's Wildfires Are as Bad as Some of the Planet's Worst Air Polluters: An eye-popping amount of greenhouse gas issues from the thousands of blazes in the Southeast Asian country: Liz Dwyer, TakePart, 22 October 2015
They've burned for weeks, producing toxic smoke that has blanketed much of Southeast Asia and caused air quality to plummet. But just how bad is the pollution generated by the wildfires raging across Indonesia?
Between Sept. 1 and Oct. 14, the fires -- which are allegedly being intentionally set by businesses looking to make a buck producing palm oil -- may have produced more air pollution than Germany does in a calendar year.
Although Germany has one of the worst pollution problems in Europe, try this on for size: The pollution

generated from the fires is also greater than the single-day emissions of the second-largest producer of greenhouse gases on the planet, the United States.
That's the startling finding

of a team of researchers led by Guido van der Werf, a scientist at VU University Amsterdam in the Netherlands. Van der Werf and his team estimated the amount of air pollution being produced by the fires using data from previous blazes in Indonesia.
They calculated that the more than 100,000 blazes that have burned Indonesia's carbon-rich peatlands this year generated more than 1,102 million metric tons of carbon dioxide. To put that into perspective, in 2013, the entire United States generated 6,673 million metric tons, according to the EPA.
Thanks to the suffocating haze created by these fires, schools across Indonesia -- and its neighboring nations, Malaysia and Singapore -- are closing intermittently when pollution levels spike. Battling the blazes has been exceptionally difficult for firefighters this year because the island nation is a tinderbox. While El Niño creates wetter conditions on the West Coast of the United States, it leads to drought in Southeast Asia.
Indeed, the arrival of the monsoon in the region has been significantly delayed by El Niño, and Indonesia has been hard hit by the lack of rain. Farmers have suffered extreme crop losses

, and in the ultimate irony, given the role the industry allegedly plays in setting the fires, palm oil production is expected to drop.

Van der Werf's team found that more than 4,700 fires were burning in Indonesia on Oct. 14 alone. It seems an improvement in air quality shouldn't be expected anytime soon.
"Unless there is rain, there is no way human intervention can put out the fires," Wan Junaidi Tuanku Jaafar, the natural resources and environment minister in neighboring Malaysia, warned on Monday,

the Australian Broadcasting Corporation reported.
Students walk along a street as they are released from school to return home earlier due to the haze in Jambi, Indonesia's Jambi province, Tuesday. Indonesia has sent nearly 21,000 personnel to fight forest fires raging in its northern islands: photo by Antara Foto/Wahdi Setiawan/Reuters, 29 September 2015
Sun in Haze (Singapore)
: photo by aamanatullah, 24 September 2015