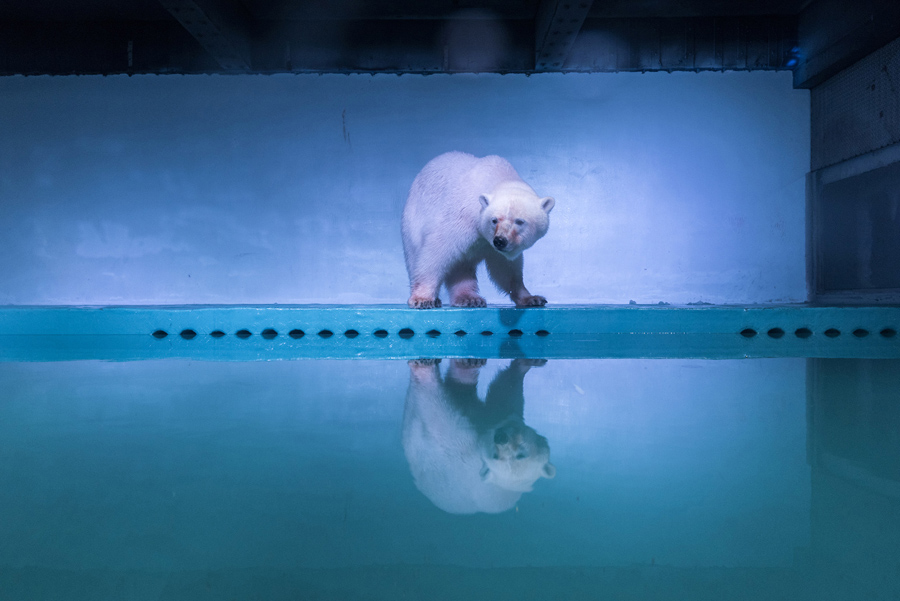 A polar bear is seen in an aquarium at the Grandview mall in Guangzhou, Guangdong province, China: photo by Reuters, 27 July 2016

The world gradually draws into
a global unit, knitted together
by the networks stitched
into everyone's private arrangements.
There is increasingly the threat
of an objective penalty
for being excluded from the game,
from these networked arrangements.

At the same time seeing these arrangements
clearly and objectively from the inside
is impossible.
Only by being cut adrift, stranded on the outside,
does one begin to make out
the workings of the game --
to make out that it is a game
and not a "natural" state of things.
A "natural" state of things
may or may not ever have obtained.
That no longer matters.
The thought of a "natural"
state of things troubles and distracts.
The time of nature has passed
like the dinosaurs.
All that is left,
effectively, is the present
drawing toward it
as a magnet attracts iron filings
the mechanical regime of a future
from which the players of the game,
enclosed as in bubbles
by their socially enforced subscription
to what is perceived as an inevitable
and necessary condition,
would not be able to escape
even if the inchoate impulse to escape
were to become a conscious motive.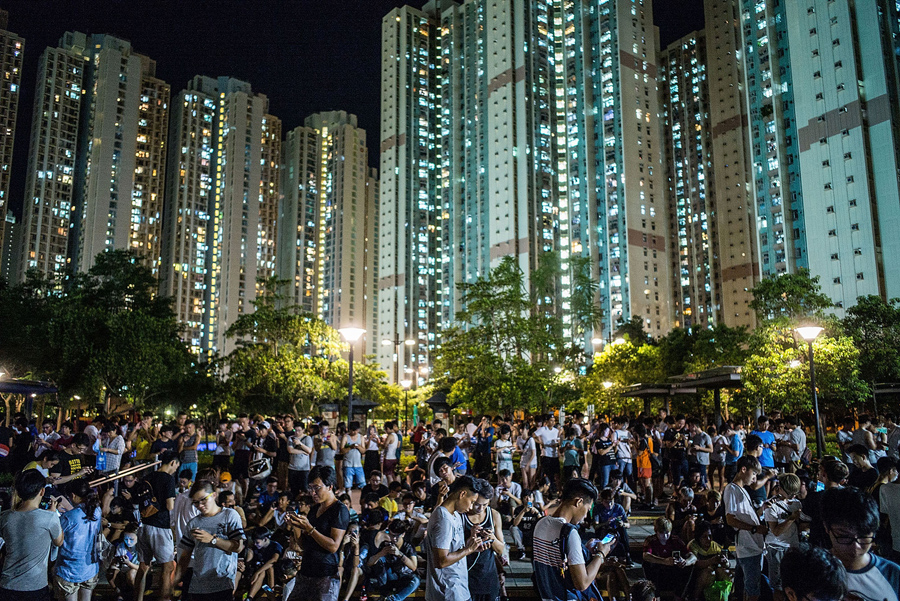 People play Pokemon Go at a park at Tin Shui Wai in Hong Kong. Pokemon Go, which has been a smash-hit across the globe, was launched in Hong Kong.: photo by Lam Yik Fei, 26 July 2016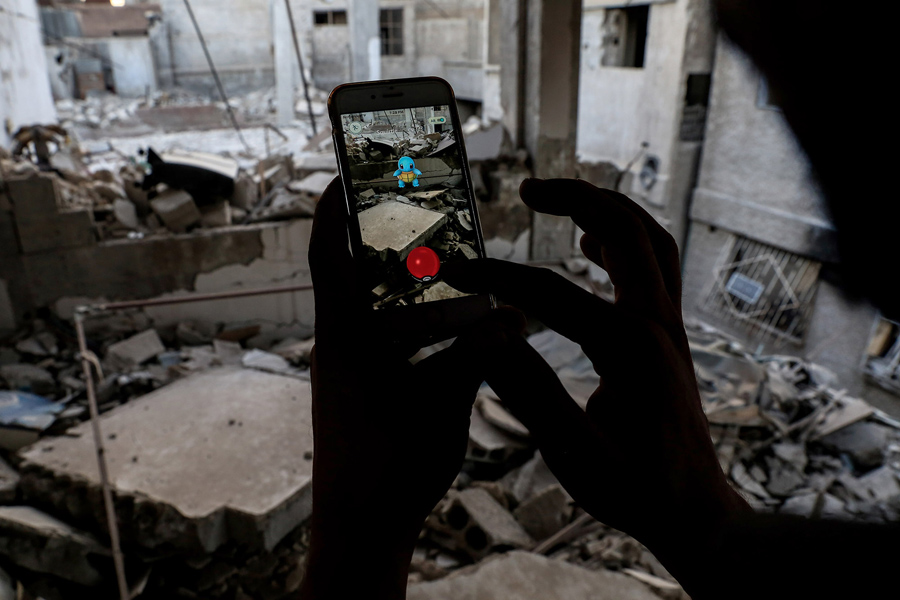 A Syrian gamer uses the Pokemon Go app on his mobile phone to catch a Pokemon amid the rubble in the besieged rebel-controlled town of Douma, a flashpoint east of the capital Damascus: photo by Sameer Al-Doumy / AFP, 23 July 2016
A young woman dressed in cosplay uses her phone at the annual Ani-Com show in Hong Kong. The Ani-Com show is one of the biggest of its kind in Asia, where teenagers and video game lovers go to buy limited editions of toy figures and wear costumes mimicking their favourite comic book heroes: photo by Anthony Wallace/AFP, 29 July 2016


A young woman dressed in cosplay uses her phone at the annual Ani-Com show in Hong Kong. The Ani-Com show is one of the biggest of its kind in Asia, where teenagers and video game lovers go to buy limited editions of toy figures and wear costumes mimicking their favourite comic book heroes: photo by Anthony Wallace/AFP, 29 July 2016
Cosplayers use an escalator at the 18th Ani-Com and Games Hong Kong in Hong Kong, China: photo by Jerome Favre / EPA, 29 July 2016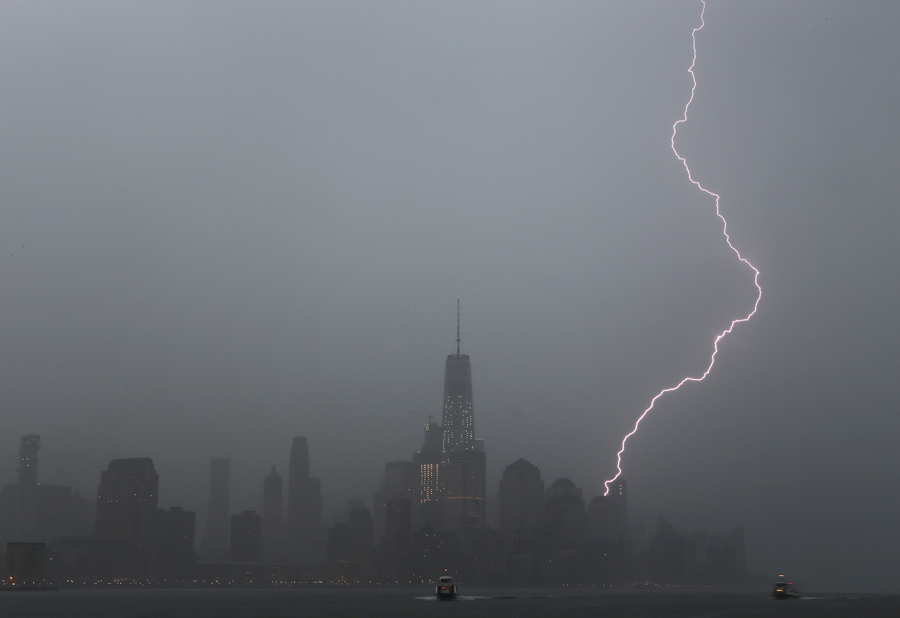 Lightning strikes Lower Manhattan as a thunderstorm passes through New York City as seen from Hoboken, New Jersey: photo by Gary Hershorn, 25 July 2016
A woman walks in heavy rain in Allahabad, India: photo by Jitendra Prakash / Reuters, 29 July 2016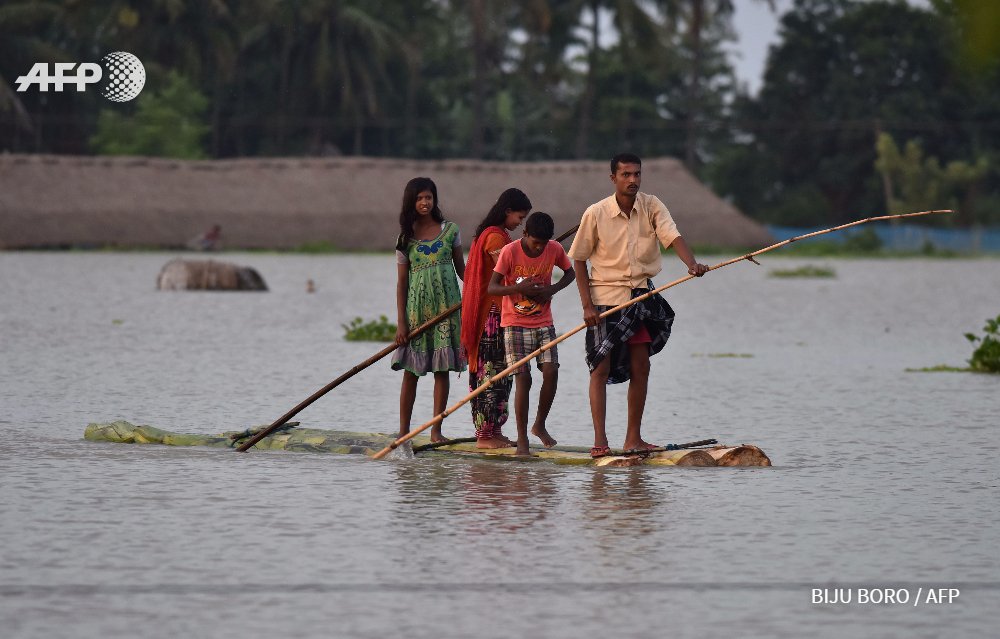 Indian villagers make their way on a raft over flood waters in the northeastern state of Assam, by #BoroBiju: image via AFP Photo Department @AFPphoto, 28 July 2016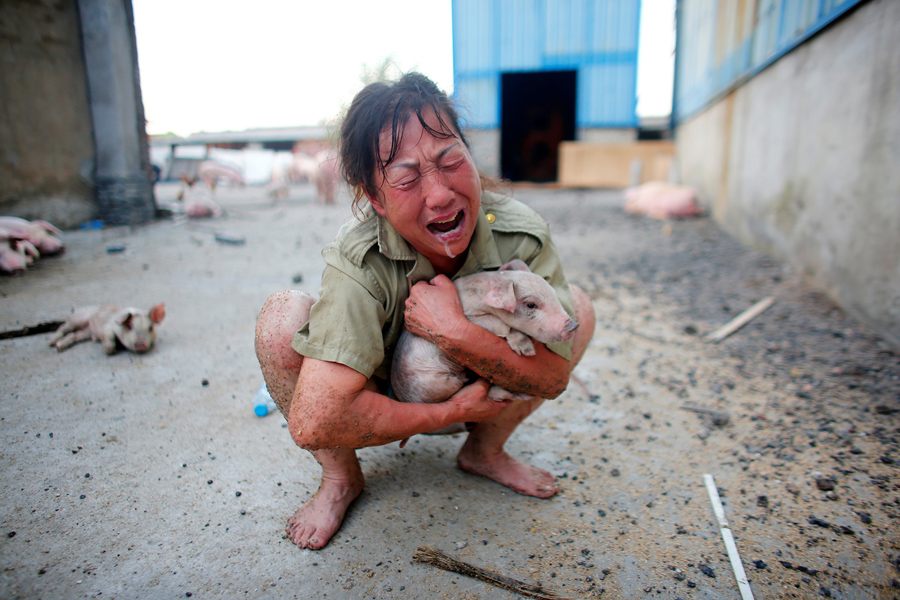 A woman cries as she holds a pig rescued from a flooded farm in Xiaogan, Hubei Province, China: photo by Darley Shen / Reuters, 22 July 2016
Fighters from Jaish al-Izzah, part of the Free Syrian Army, demonstrate their skills during a military display as part of a graduation ceremony at a camp in Hama province, Syria: photo by Ammar Abdullah/Reuters, 29 July 2016
Fighters from Jaish al-Izzah, part of the Free Syrian Army, demonstrate their skills during a military display as part of a graduation ceremony at a camp in Hama province, Syria: photo by Ammar Abdullah/Reuters, 29 July 2016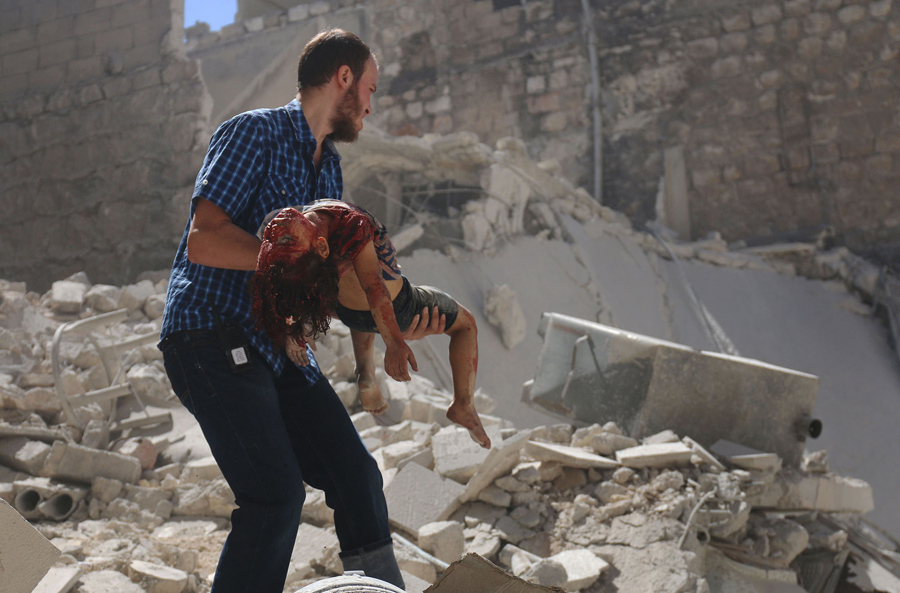 A Syrian man carries the body of a girl after she was trapped under the rubble following reported air strikes on the rebel-held neighborhood of al-Mashhad in the northern city of Aleppo. Air strikes and barrel bomb attacks killed 16 civilians in rebel-held parts of Aleppo province, with rebel rocket fire onto government areas killing three more, the Britain-based Syrian Observatory for Human Rights said.: photo by Mujahed Abul Joud / AFP, 25 July 2016



Dustin, 11, from Nigeria, who said his mother died in Libya, cries aboard a Spanish NGO's boat, after being rescued from an overcrowded rubber boat during a rescue operation on the Mediterranean Sea, about 23 kilometers north of Sabratha, Libya: photo by Santi Palacios/AP, 29 July 2016



Dustin, 11, from Nigeria, who said his mother died in Libya, cries aboard a Spanish NGO's boat, after being rescued from an overcrowded rubber boat during a rescue operation on the Mediterranean Sea, about 23 kilometers north of Sabratha, Libya: photo by Santi Palacios/AP, 29 July 2016
A migrant baby wrapped in a life jacket is held by her mother aboard an overcrowded rubber boat while they wait to be assisted by an NGO during a rescue operation in the Mediterranean Sea, about 23 kilometres north of Sabratha, Libya: photo by Santi Palacios / AP, 29 July 2016
An Afghan man rides a horse as another leads his horse as the sun sets in Injil district of Herat province: photo by Aref Karimi/AFP, 29 July 2016
An Afghan man rides a horse as another leads his horse as the sun sets in Injil district of Herat province: photo by Aref Karimi/AFP, 29 July 2016
Their silent screams. Harrowing account of #Afghan child sex slaves @AnujChopra @AFPblogs: image via AFP Correspondent @AFPblogs, 25 July 2016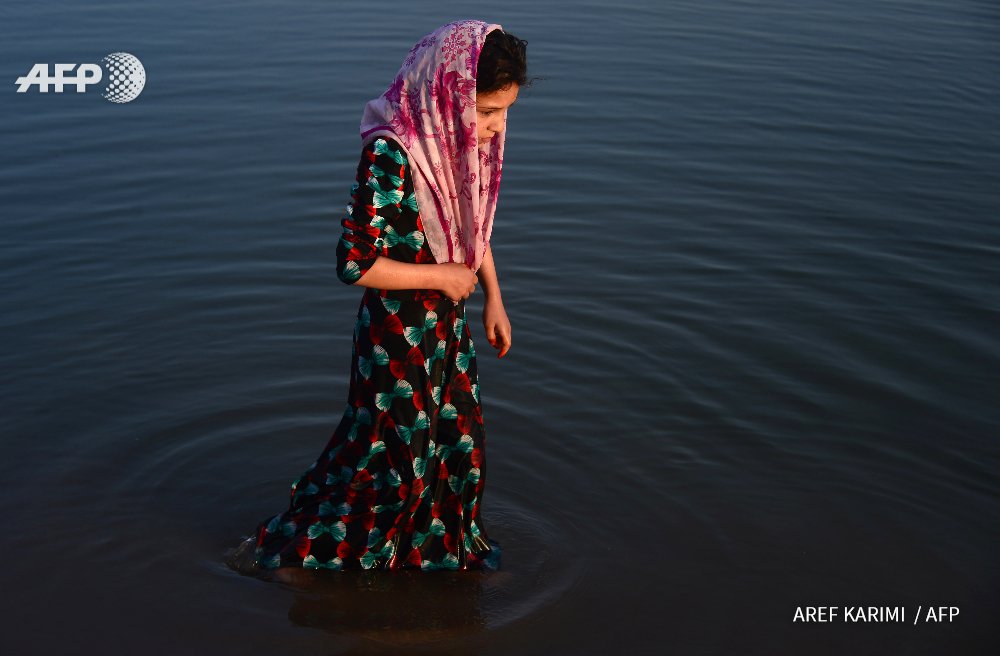 AFGHANISTAN - A girl stands in the Hari Rud river on the outskirts of Herat.. By @Arefkarimi#AFP: image via Frédérique Geffard @fgeffardAFP, 29 July 2016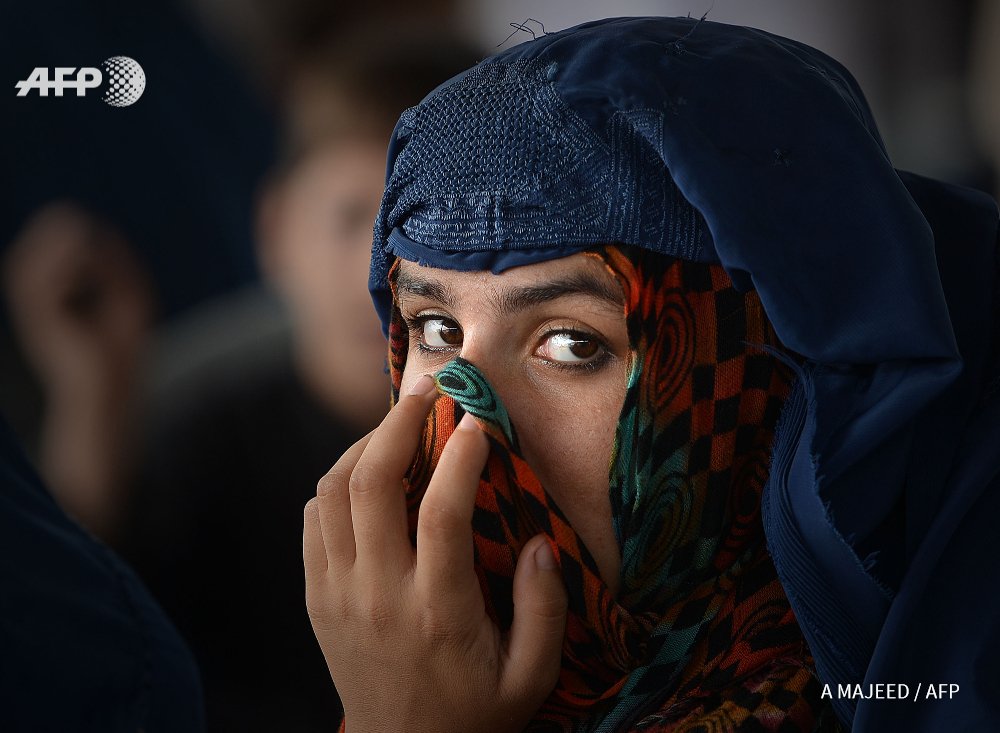 AFGHANISTAN - A refugee woman waits to board a truck at UNHCR repatriation centre near Peshawar. By A. Majeed #AFP: image via Frédérique Geffard @fgeffardAFP, 28 July 2016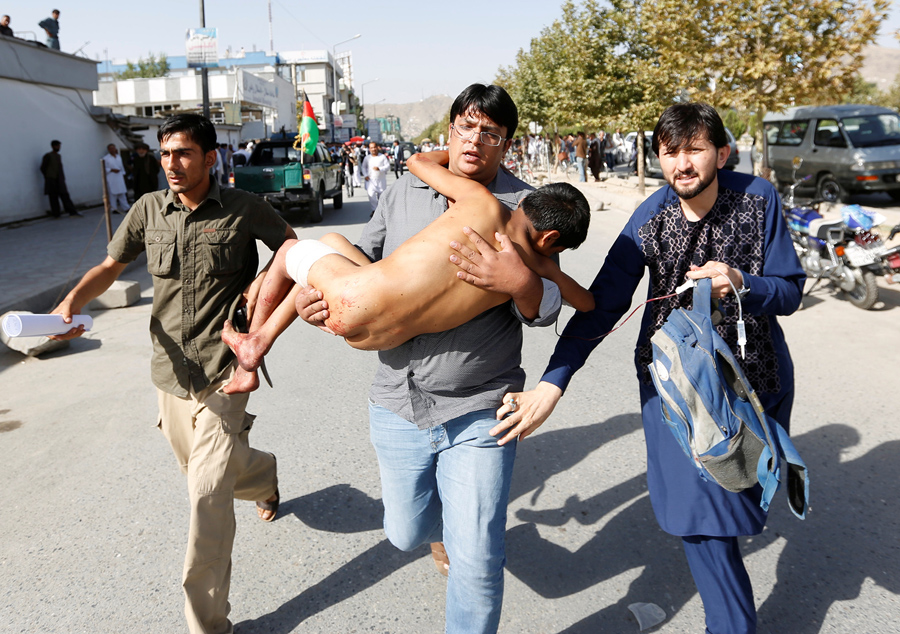 Men carry an injured boy outside a hospital after a suicide attack in Kabul, Afghanistan: photo by Mohammad Ismail / Reuters, 23 July 2016


An artisan carries an idol of Hindu god Shiva to a workshop through an alley in Kolkata: photo by Rupak De Chowdhuri/Reuters, 29 July 2016
An artisan carries an idol of Hindu god Shiva to a workshop through an alley in Kolkata: photo by Rupak De Chowdhuri/Reuters, 29 July 2016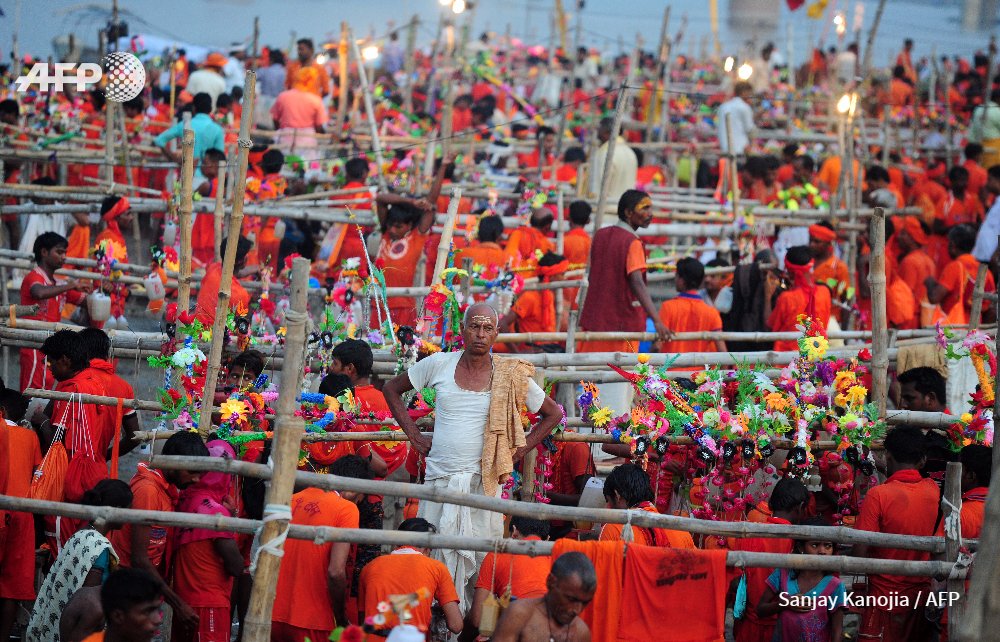 #India Devotees of the deity Shiva attend the holy month of Shravan, in Allahabad. #AFP Photo by @sanjaykanojia27: image via Aureia BAILLY @AureliaBAILLY, 28 July 2016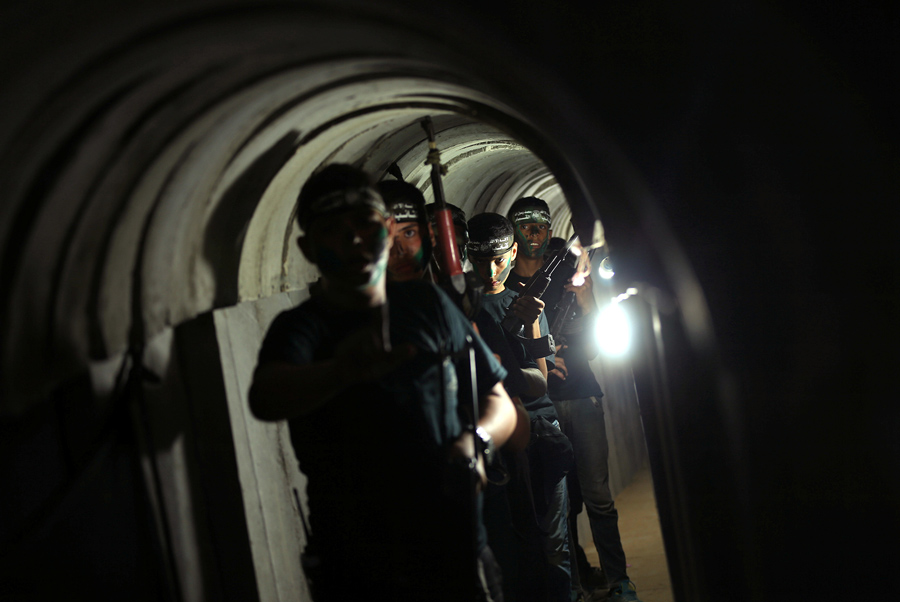 Young Palestinians holding weapons walk in a tunnel during a military exercise graduation ceremony at a summer camp organised by Hamas's armed wing, east of Gaza City: photo by Mohammed Salem / Reuters, 22 July 2016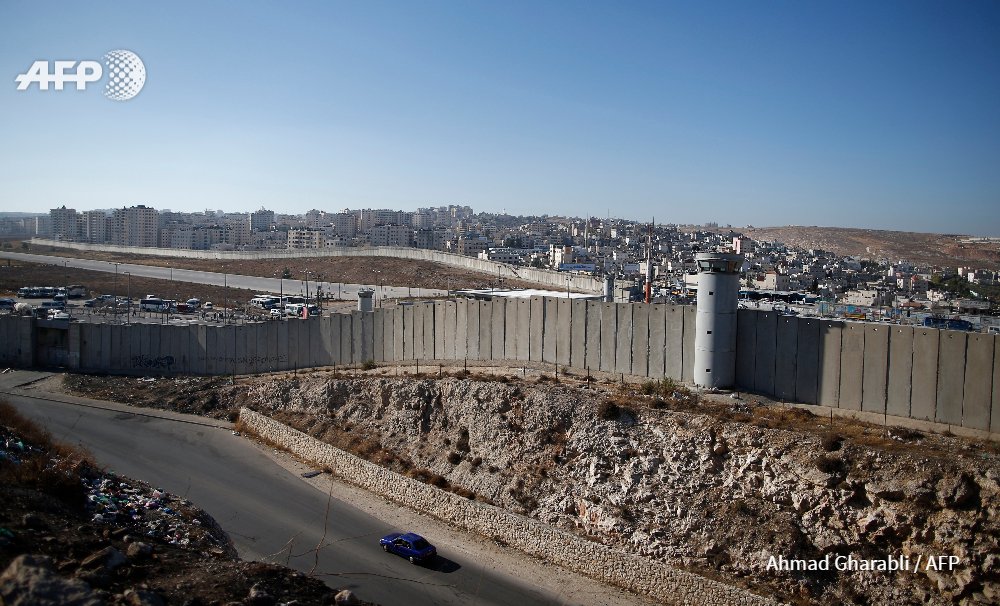 #Palestinians #Israeli controversial separation wall between Ramallah and east Jerusalem #AFP by @gharabli_ahmad: image via Aureia BAILLY @AureliaBAILLY, 28 July 2016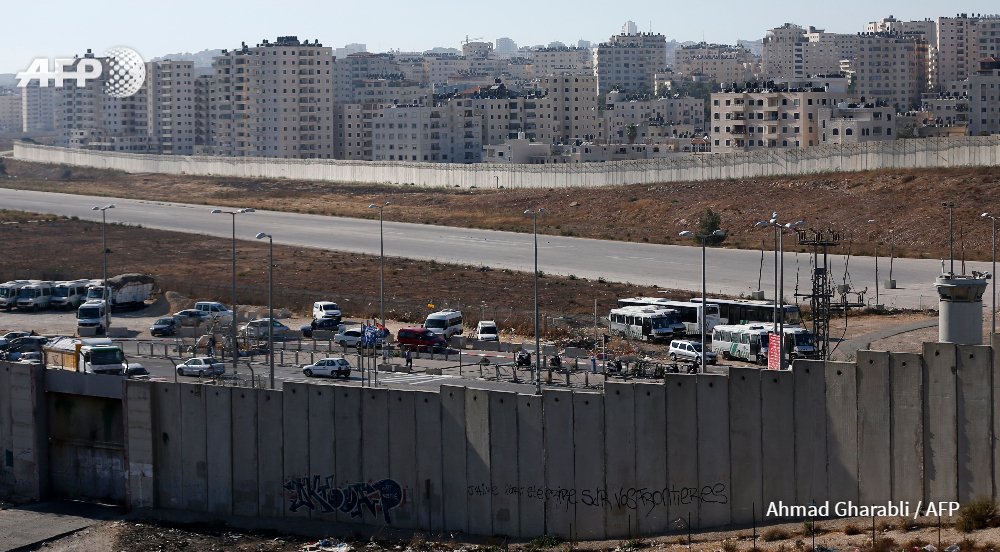 #Palestinians #Israeli controversial separation wall between Ramallah and east Jerusalem #AFP by @gharabli_ahmad: image via Aureia BAILLY @AureliaBAILLY, 28 July 2016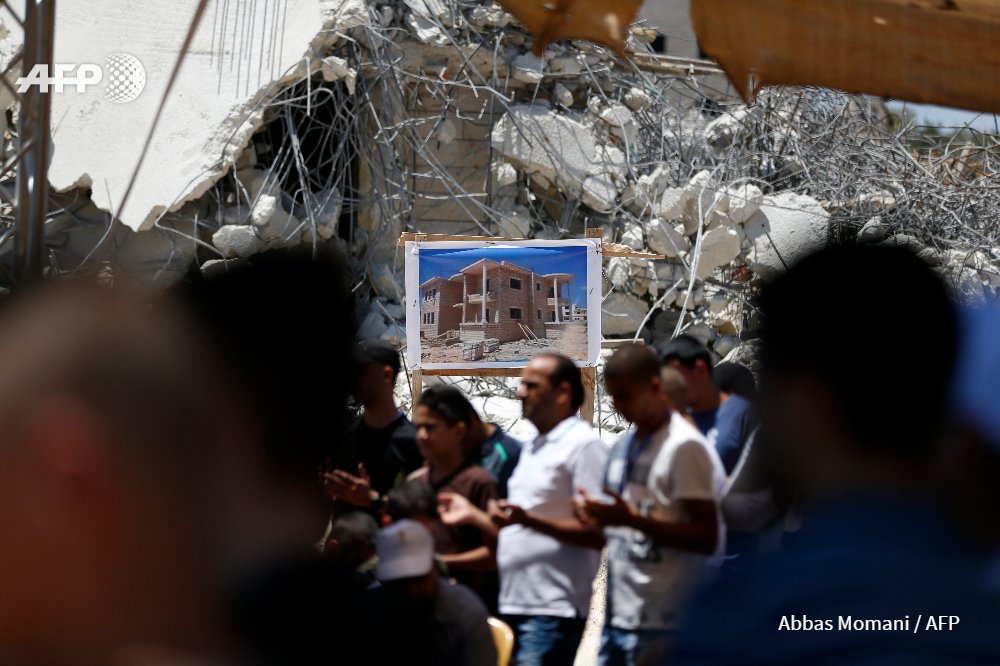 #Palestinians
perform the Friday prayer next to the rubble of a house destroyed by #Israeli #AFP by @gharabli_ahmad: image via Aureia BAILLY @Abbasmomani, 29 July 2016