.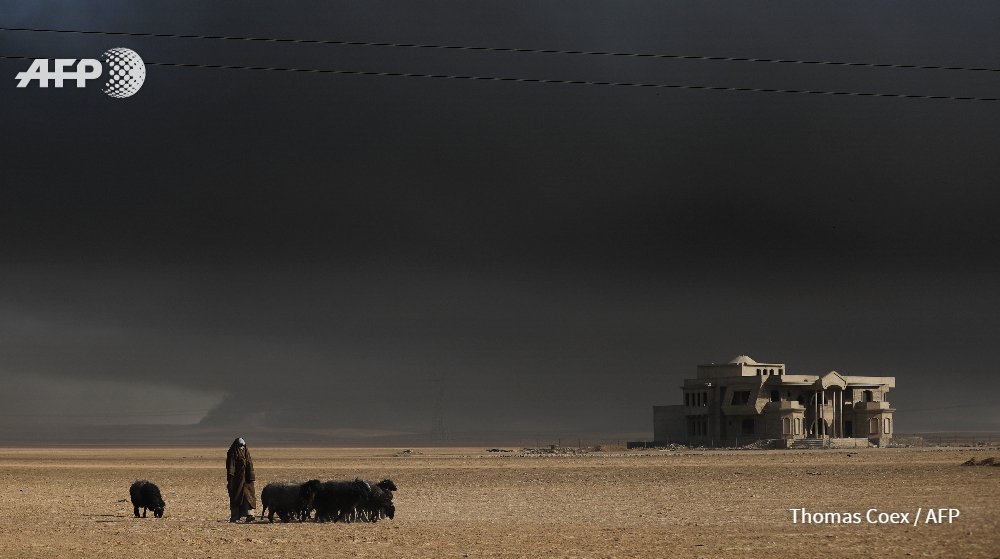 A shepherd and his sheep near Qayarrah, Iraq @AFPphoto By @TomCoex: image via Jean-Marc Mojon @mojobaghdad, 25 November 2016
Wislawa Szymborska: The Turn of the Century
It was supposed to be better than the others, our 20th century,
But it won't have time to prove it.
Its years are numbered,
its step unsteady,
its breath short.

Already too much has happened
that was not supposed to happen.
What was to come about
has not.

Spring was to be on its way,
and happiness, among other things.

Fear was to leave the mountains and valleys.
The truth was supposed to finish before the lie.

Certain misfortunes
were never to happen again
such as war and hunger and so forth.

These were to be respected:
the defenselessness of the defenseless,
trust and the like.

Whoever wanted to enjoy the world
faces an impossible task.

Stupidity is not funny.
Wisdom isn't jolly.

Hope
Is no longer the same young girl
et cetera. Alas.

God was at last to believe in man:
good and strong,
but good and strong
are still two different people.

How to live -- someone asked me this in a letter,
someone I had wanted
to ask that very thing.

Again and as always,
and as seen above
there are no questions more urgent
than the naive ones.
Wislawa Szymborska (1923-2012): The Turn of the Century, from Miracle Fair (2001), translated from the Polish by Joanna Trzeciak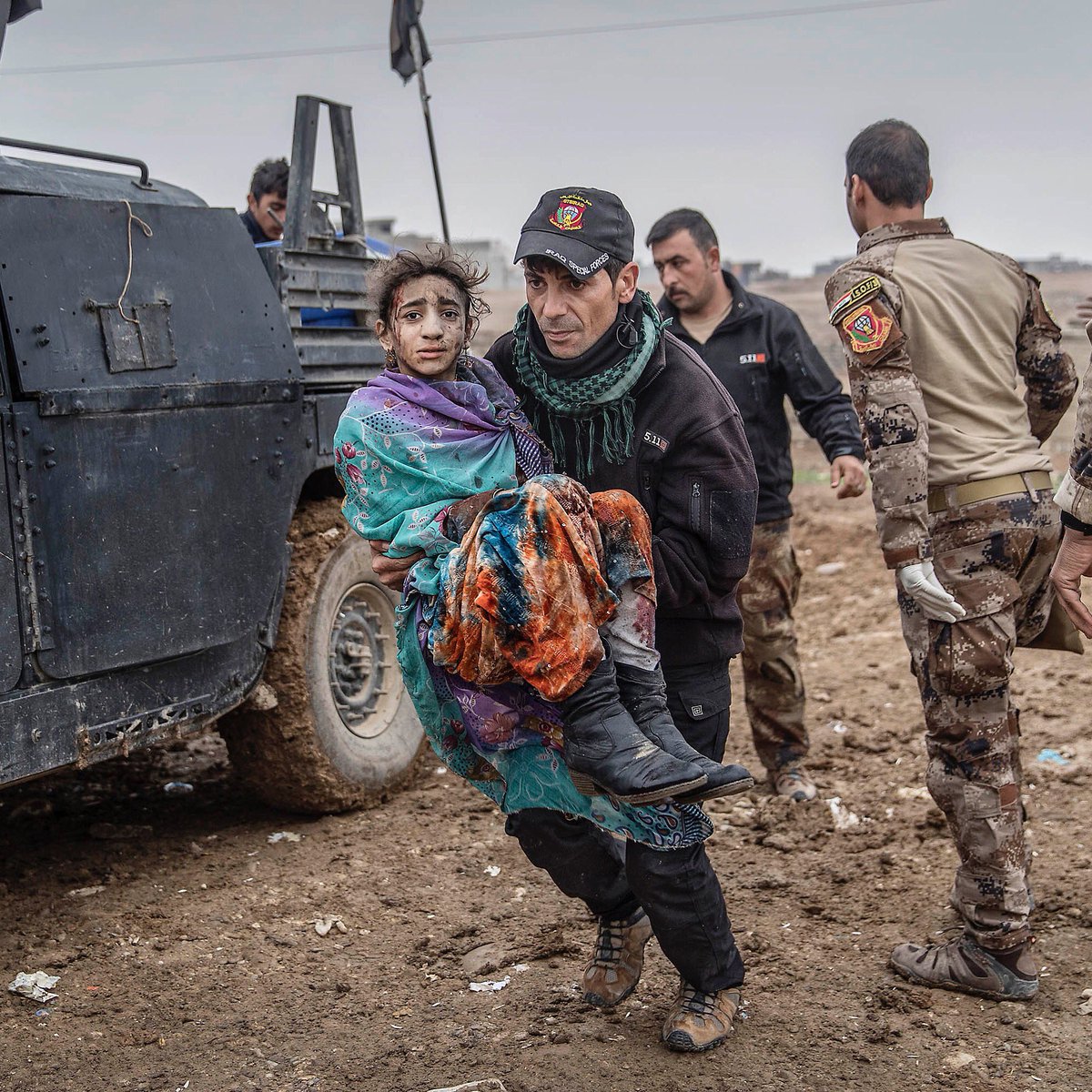 12 year old Wijdan Moofik arrives at a field hospital in Mosul. She is severely wounded. @aftonbladetnyheter tomorrow: image via Magnus Wennman @Magnus Wennman, 1 December 2016


Black Skies Above #Mosul Photo by @cmcgrath_photo: image via Photojournalism @photojournalink, 2 December 2016


Black Skies Above #Mosul Photo by @cmcgrath_photo: image via Photojournalism @photojournalink, 2 December 2016


Black Skies Above #Mosul Photo by @cmcgrath_photo: image via Photojournalism @photojournalink, 2 December 2016
Black Skies Above #Mosul Photo by @cmcgrath_photo: image via Photojournalism @photojournalink, 2 December 2016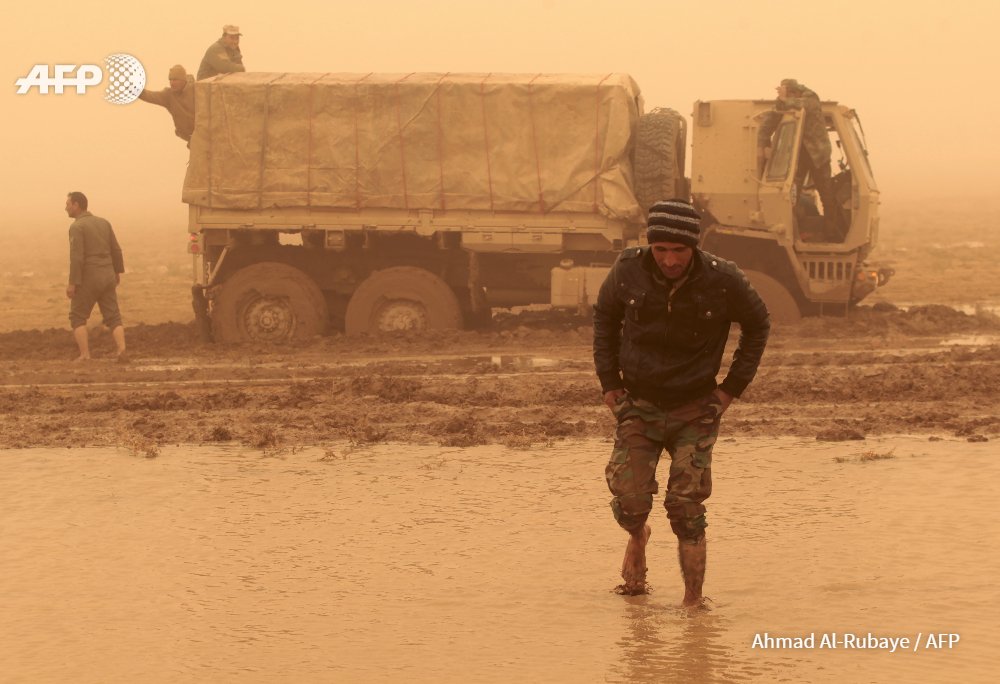 #Iraq Shiite fighters from Hashed al-Shaabi drive through a desert area near Al-Boutha al-Sharqiyah #mosul @AFP Photo by Ahmad Al-Rubaye: image via Aurelia BAILLY @AureliaBAILLY, 2 December 2016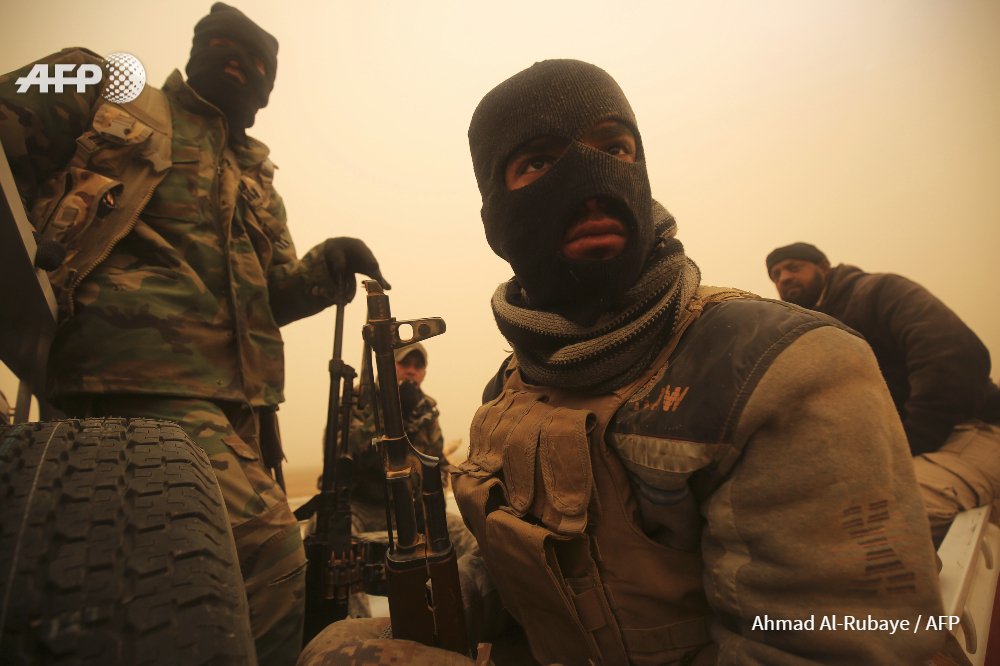 #Iraq Shiite fighters from Hashed al-Shaabi drive through a desert area near Al-Boutha al-Sharqiyah #mosul @AFP Photo by Ahmad Al-Rubaye: image via Aurelia BAILLY @AureliaBAILLY, 2 December 2016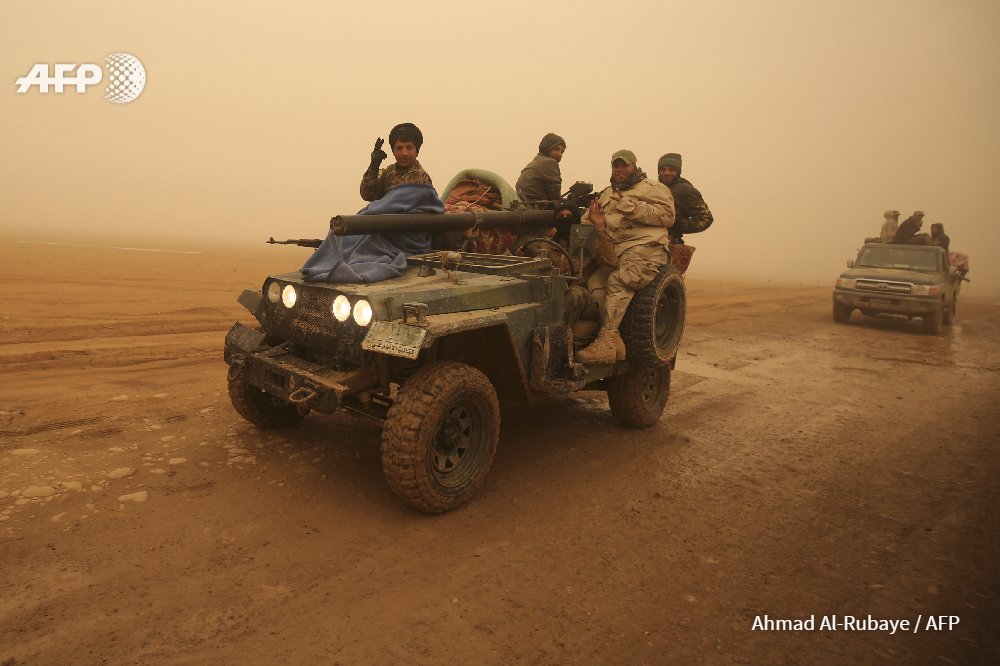 #Iraq Shiite fighters from Hashed al-Shaabi drive through a desert area near Al-Boutha al-Sharqiyah #mosul @AFP Photo by Ahmad Al-Rubaye: image via Aurelia BAILLY @AureliaBAILLY, 2 December 2016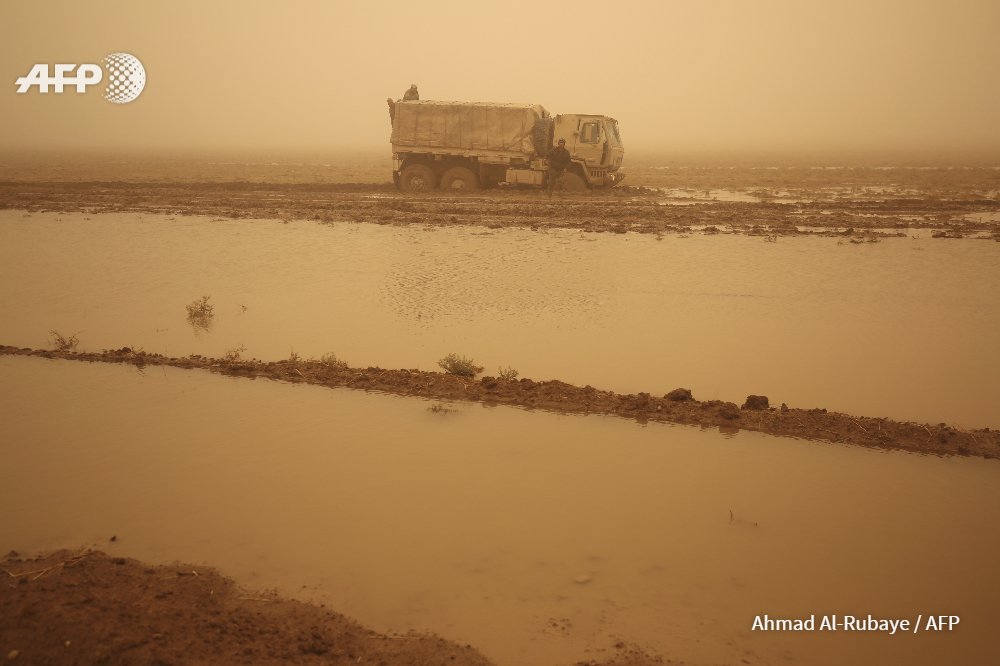 #Iraq Shiite fighters from Hashed al-Shaabi drive through a desert area near Al-Boutha al-Sharqiyah #mosul #AFP Photo by Ahmad Al-Rubaye: image via Aurelia BAILLY @AureliaBAILLY, 2 December 2016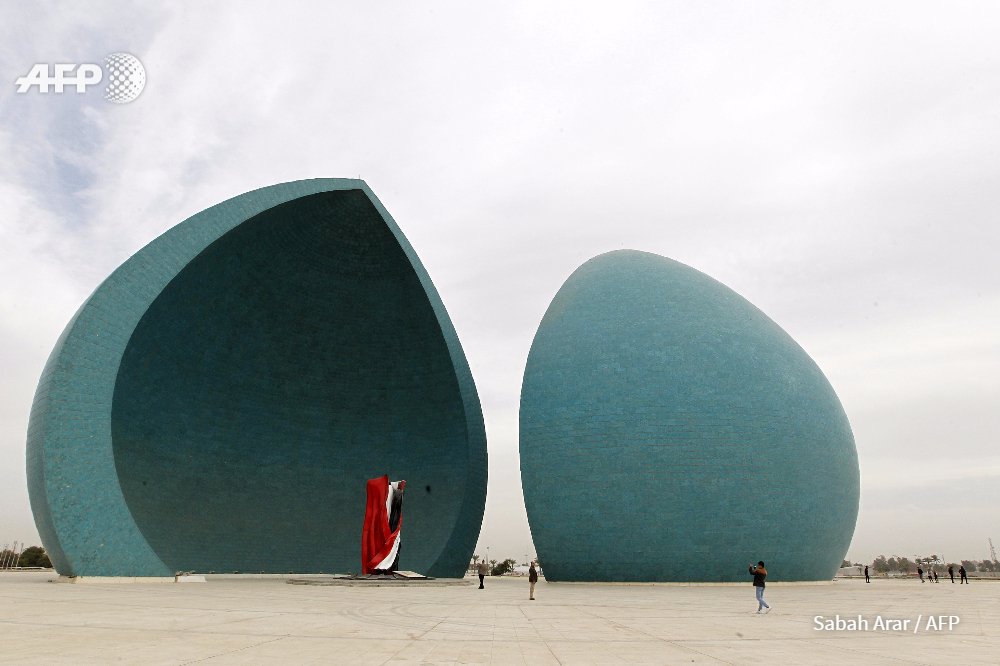 #Iraq Baghdad's al-Shahid (martyr) Monument, which commemorates Iraqi soldiers killed in the Iran-Iraq war #AFP Photo by Sabah Arar: image via Aurelia BAILLY @AureliaBAILLY, 2 December 2016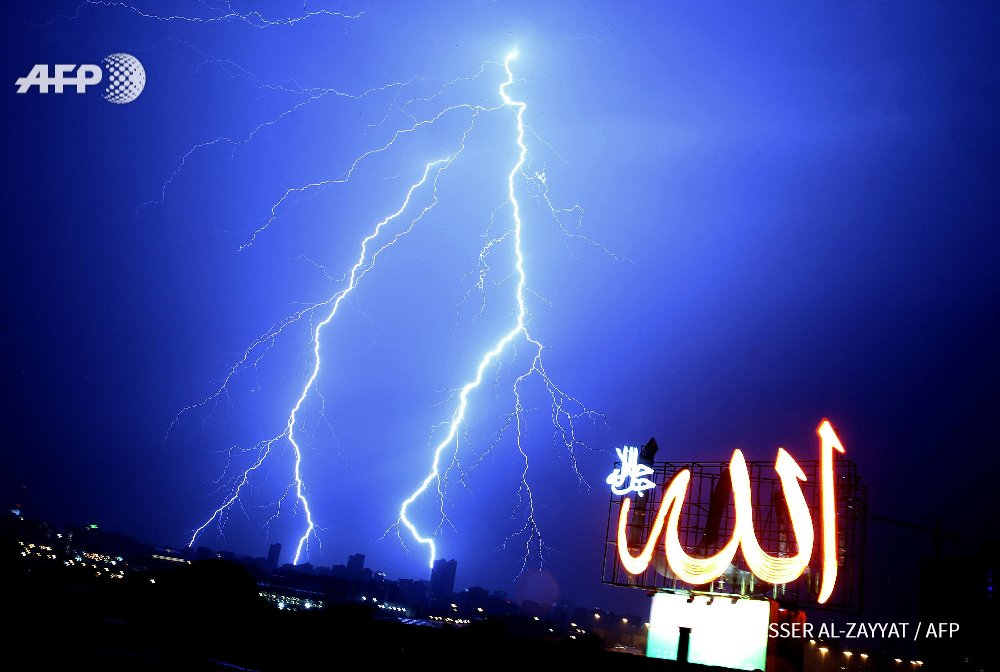 Lightning strikes in the sky over Kuwait City: image via AFP news agency @AFP, 3 December 2016
#Iraq Boys play football in front of oil fields burned by Daesh fighters at Qayara, #Mosul By Goran Tomasevic @reuterspictures: image via Photojournalism @photojournalink, 28 November 2016
#Romania A military medical student sits in a bus before taking part in the National Day parade in #Bucharest. By @vghirda @AP_Images: image via Photojournalism @photojournalink, 2 December 2016
#Cuba Sisters await the arrival of the convoy carrying #Fidel Castro's ashes in El Maja By @EdgardGC @Reuters: image via Photojournalism @photojournalink, 2 December 2016
#Cuba People on trucks head towards the convoy carrying the ashes of #Fidel Castro, in Jatibonico #AFP Photo by @rschemidt: image via Aurelia BAILLY @AureliaBAILLY, 2 December 2016
Supporters of Adama Barrow, leader of the 7-party opposition coalition in #Gambia, arrive at a rally in Wellingara. By@mlongari @AFPphoto: image via Photojournalism @photojournalink, 2 December 2016
Over 500 arrests and serious charges, including rioting and conspiracy, 've been made against #NoDAPL protesters since April. By @olsongetty: image via Photojournalism @photojournalink, 3 December 2016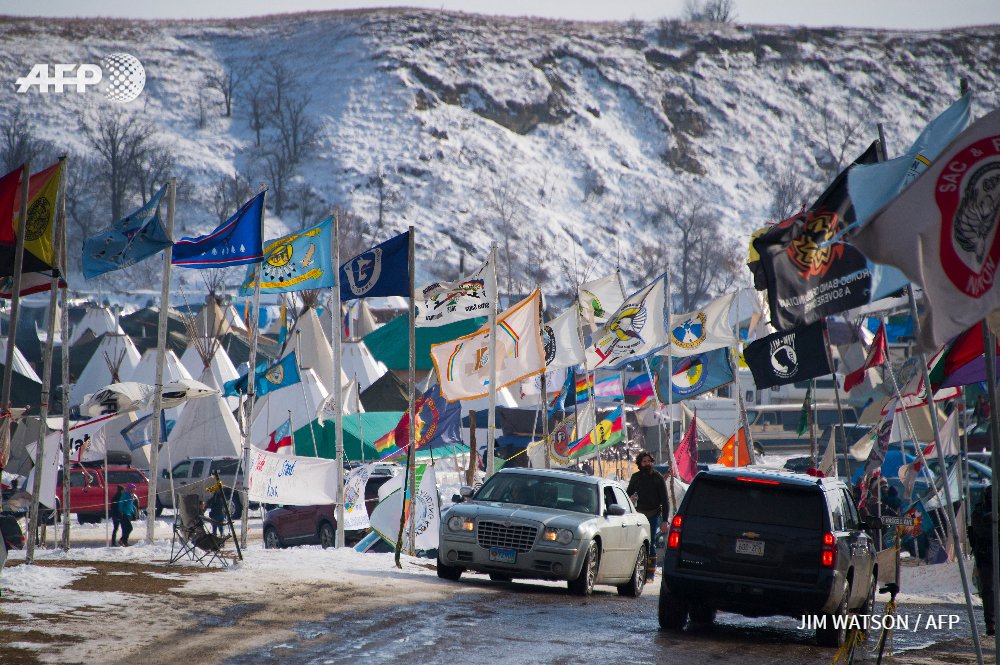 Activists camp near the Standing Rock Sioux Reservation as they try to halt the construction of the Dakota Access Pipeline #DAPL: image via AFP news agency @AFP, 3 December 2016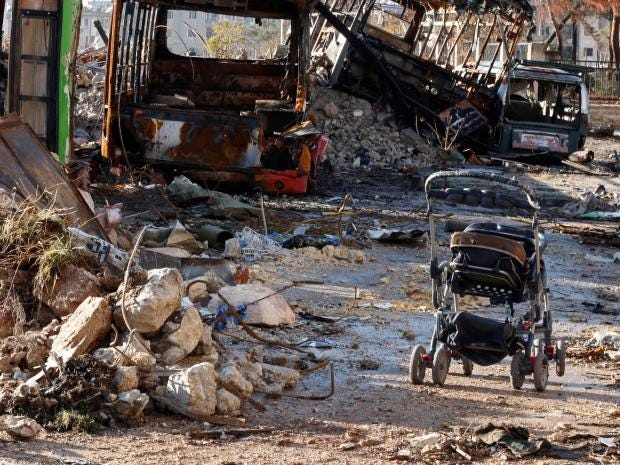 An abandoned pushchair near destroyed vehicles used as barricades by rebels in Hanano, Aleppo: photo by Reuters, 2 December

2016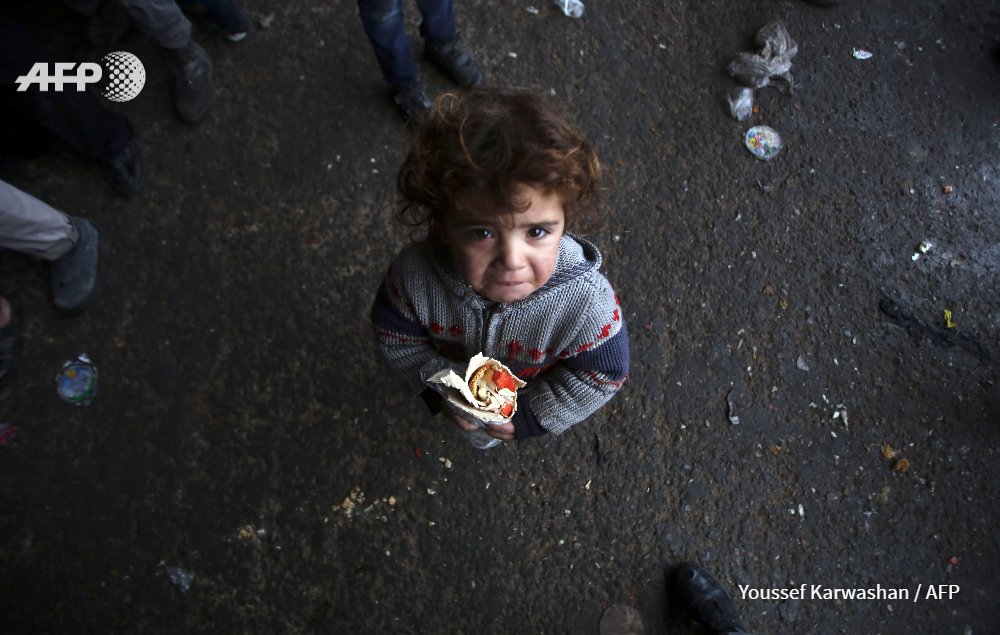 #syria A child who fled with his family from rebel-held areas holds a sandwich at shelter in Jibrin #Aleppo #AFP Photo by @YoussefKarwasha: image via Aurelia BAILLY @AureliaBAILLY, 2 December 2016
\

No words can explain the fair in her eyes #Save_aleppo #standwithaleppo: image via Ahmad Alkhatib @AhmadAlkhtiib, 3 December 2016

I will tell God that #Assad and all who stand with him displaced me from my home in Suburb of #Damascus and send me to die in #Idlib: image via Ahmad Alkhatib @AhmadAlkhtiib, 3 December 2016
YALA #YOLO, You Only live Ones May God bless you old man The besieged #Douma: image via Ahmad Alkhatib @AhmadAlkhtiib, 2 December 2016
Hope from The besieged #Douma
: image via Ahmad Alkhatib @AhmadAlkhtiib, 2 December 2016
Rain it's better than Bombs That what the people in #Aleppo and
#Douma

agree for it The besieged
#Douma
: image via Ahmad Alkhatib @AhmadAlkhtiib, 2 December 2016
The wall in the background of this old man, Documented the #Assad bombs by this small holes The besieged
#Douma
: image via Ahmad Alkhatib @AhmadAlkhtiib, 2 December 2016
Slowly my Son, Don't let the water went to your shoes The besieged
#Douma
: image via Ahmad Alkhatib @AhmadAlkhtiib, 2 December 2016
Yes, Drive bicycle so Fast No bombs no shillings fell happy for while, Assad Jets away from here The besieged
#Douma
: image via Ahmad Alkhatib @AhmadAlkhtiib, 2 December 2016
What are you looking for My shoes? it's ok fine for me I like your anger face oh beautiful boy The besieged
The besieged
#Douma
: image via Ahmad Alkhatib @AhmadAlkhtiib, 2 December 2016
Lovely weather for School and playing with little brother, The besieged
#Douma
: image via Ahmad Alkhatib @AhmadAlkhtiib, 2 December 2016
Hi world, it's a bit cold with this rain But it's better than Barrel bombs and air strikes, The besieged
#Douma
: image via Ahmad Alkhatib @AhmadAlkhtiib, 2 December 2016
The children's of #Gaza also suffering because of the Cold and siege From #Syria our hearts with
you
: image via Ahmad Alkhatib @AhmadAlkhtiib, 2 December 2016
Cassi Alexandra for The New York Times, 3 December 2016
Cassi Alexandra for The New York Times, 3 December 2016