.
Israeli soldier Elor Azaria (centre) who is charged with manslaughter by the Israeli military, is comforted by his family as he awaits the verdict inside the military court in Tel Aviv, Israel.: photo by Heidi Levine/Reuters
Israeli soldier Elor Azaria (centre) who is charged with manslaughter by the Israeli military, is comforted by his family as he awaits the verdict inside the military court in Tel Aviv, Israel.: photo by Heidi Levine/Reuters
The Israeli prime minister, Benjamin Netanyahu, has joined calls for an Israeli soldier to be pardoned after being convicted of manslaughter for shooting dead a severely wounded Palestinian attacker in the West Bank city of Hebron last year.
The chief judge [in the case], Col Maya Heller, said Azaria shot Sharif out of revenge. "His motive for shooting was that he felt the terrorist deserved to die."
Among the pages of commentary in the Israeli media and on social media during the trial, perhaps most bizarre was the decision by Makor Rishon's Profile magazine to declare Azaria one of its men of the year for "sparking the stormiest argument in Israeli society", complete with a cover picture of the accused soldier posing with a gun.
Peter Beaumont, The Guardian, 4 January 2016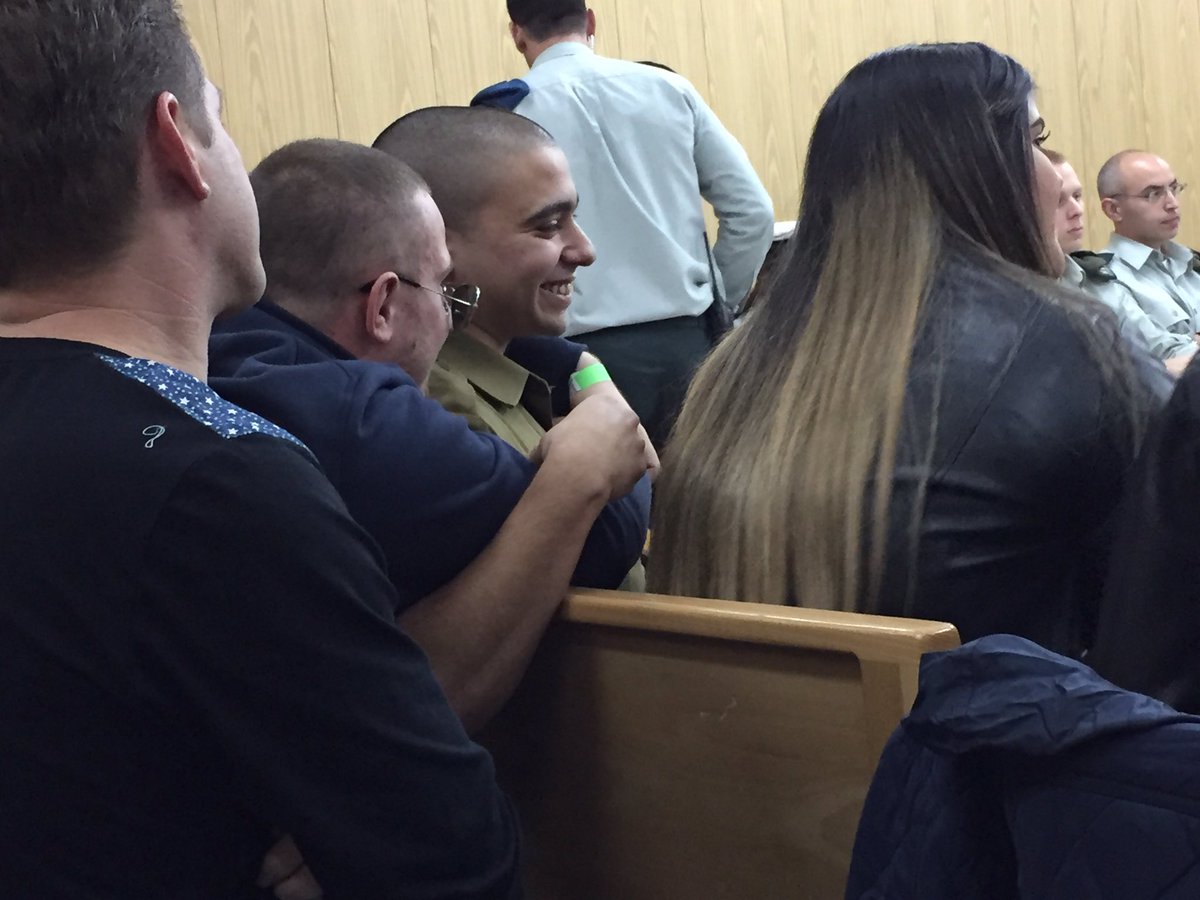 Reporting from inside Tel Aviv military court: Judge reading verdict of #Hebron shooter Elor #Azaria for 1.5 hours: image via Aron Heller @aronhellerap, 4 January 2017
Israeli soldier's manslaughter conviction divides country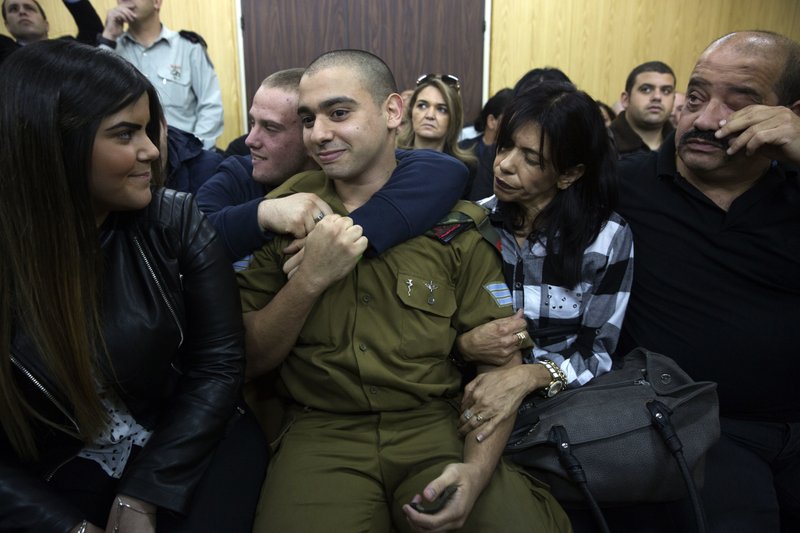 IDF revenge killer Eloy Azaria is embraced by supporters in Tel Aviv military courtroom: photo by AP, 4 January 2016
Israeli soldier's manslaughter conviction divides country: Aron Heller in Tel Aviv, AP, 4 January 2017



TEL AVIV, Israel (AP) — The rare manslaughter conviction Wednesday of an Israeli soldier who fatally shot a badly wounded Palestinian attacker exposed a deepening rift between proponents of the rule of law and a burgeoning nationalist movement.
The military court verdict against Sgt. Elor Azaria marked a victory for commanders seeking to preserve a code of ethics, but it also brought calls for a pardon from prominent hard-line politicians, led by Prime Minister Benjamin Netanyahu, who expressed sympathy for the soldier or depicted him as the victim of a detached elite.
In a statement on Facebook, Netanyahu urged the public to "act responsibly" toward the military, Israel's most respected institution.
"We have one army that is the basis for our existence. IDF soldiers are our sons and daughters, and they must remain above all disputes," he said. But making no direct mention of the military court, he said: "I support granting a pardon to Elor Azaria."
With the statement, Netanyahu plunged into a visceral dispute that has deeply divided Israel, where military service is compulsory and support for young soldiers is widespread.
Since the March shooting, the military leadership has come under unprecedented criticism, as members of Netanyahu's coalition accused top generals of abandoning a serviceman on the battlefield. The uproar helped fuel the resignation of Defense Minister Moshe Yaalon, who staunchly defended the army from the assault from within.
It is rare for a military court to rule against a soldier over lethal action taken in the field, not only in Israel but also elsewhere in the world. But for a country that claims to have the "most moral army in the world," it had no choice but to come down hard on a soldier that the top brass was convinced had strayed, said Amichai Cohen, a senior fellow at the nonpartisan Israeli Democracy Institute think tank.
"If you want the justice system to be taken seriously, you have to punish something like this," he said. "The court can't be influenced by the changing political climate."
Azaria, an army medic, was caught on video by a human rights worker fatally shooting Abdel Fattah al-Sharif, a wounded Palestinian attacker who had stabbed a soldier in the West Bank city of Hebron. Al-Sharif was on the ground, unarmed and virtually motionless, when Azaria fired a single bullet in his head as other soldiers milled about.
The head of the three-judge panel, Col. Maya Heller, broke down Azaria's defense arguments in painstaking detail in delivering the verdict over nearly three hours.
She said there was no evidence to support his conflicting claims that the attacker was either already dead or had posed a threat. She called Azaria's testimony "unreliable," said he could not have "both sides of the stick," and concluded the shooting was "needless."
"We found there was no room to accept his arguments," she said. "His motive for shooting was that he felt the terrorist deserved to die."
That made little difference to Azaria's many supporters.
Outside military headquarters in Tel Aviv, hundreds of his backers held large Israeli flags, banners supporting Donald Trump and others that said "the nation neglected a soldier on the battlefield."
They periodically scuffled with police, and some chanted veiled death threats against the Israeli military chief, Lt. Gen. Gadi Eizenkot. The Ynet news site said the judges and prosecutor would receive bodyguards. The army declined to comment.
Netanyahu's evening announcement came hours after other members of his coalition called for Azaria to be pardoned immediately.
"Today, a soldier who killed a terrorist who deserved to die and who had tried to slaughter a soldier was put in handcuffs and convicted like a criminal," said Education Minister Naftali Bennett, head of the pro-settler Jewish Home Party.
The coalition has had disputes with the legal system, trying to delay an order to uproot an illegally built West Banks settlement outpost and seeking to retroactively legalize dozens of other illegal outposts.
Azaria is scheduled to be sentenced Jan. 15 and could face up to 20 years in prison, though he is expected to receive less than that. Netanyahu's call for a pardon fueled what will be a heated debate over whether Azaria deserves leniency.
Under the law, only Israel's largely ceremonial president can issue a pardon. President Reuven Rivlin's office said he would decide only after the legal process, including an expected appeal, runs its course.
The heightened tensions were on display in the cramped, stuffy courtroom. The 20-year-old Azaria entered smiling and appeared confident as he was embraced by a few dozen relatives and friends. But his mood quickly dampened as the judge began tearing apart his defense. As the verdict was delivered, he stared gloomily ahead as his supporters clapped sarcastically with some shouting, "Our hero!"
A female relative was kicked out for screaming at the judges, while another woman stormed out, shouting: "Disgusting leftists."
After the judges walked out, Azaria's mother, Oshra, screamed, "You should be ashamed of yourselves." Azaria tried to comfort her as she wailed. Another family member whipped his jacket at a reporter, missing his target and hitting another relative.
The shooting of al-Sharif occurred at the height of what has become a more than yearlong wave of Israeli-Palestinian violence and highlighted the difficulties facing young recruits operating in densely populated areas amid Jewish West Bank settlers, Palestinian civilians and potential attackers.
Azaria's supporters said he fired in self-defense. But his detractors, including senior military commanders, have said his actions were unbecoming of a soldier.
The uproar put the army in a delicate position. The military almost always defends the actions of its troops, but the strong video made the incident impossible to ignore. The army also is wary of becoming politicized, and in several cases, leading generals have feuded with hard-line political leaders.
One of Azaria's most vocal supporters, Cabinet minister Miri Regev, herself a former military spokeswoman, said the verdict could deter young Israelis from serving in combat units for fear of being abandoned.
Defense Minister Avigdor Lieberman, who had visited Azaria in court in solidarity, tried to temper tensions by saying that while he disagreed with the "difficult" verdict, it must be respected.
"We must keep the army outside every political argument ... and keep it in the widest consensus in Israeli society," he said.
Israeli rights groups have accused the army of failing to prosecute soldiers who commit unnecessary violence against Palestinians.
It was just the second such conviction "in recent years," the army said. The first involved a soldier convicted in the death of a pro-Palestinian British activist in 2004.
"I felt that the court picked up the knife from the ground and stabbed it in the back of all the soldiers," said former legislator Sharon Gal, who is now the Azaria family spokesman.
Palestinians and rights groups praised the verdict, but called it an anomaly, given the many other questionable shootings that have gone untried.
Yusuf Mahmoud, spokesman for the Palestinian Authority in the West Bank, said the conviction "proved the sincerity of the Palestinian narrative and the lies of the Israeli narrative."
In the labyrinth: Blood vengeance and the making of a folk hero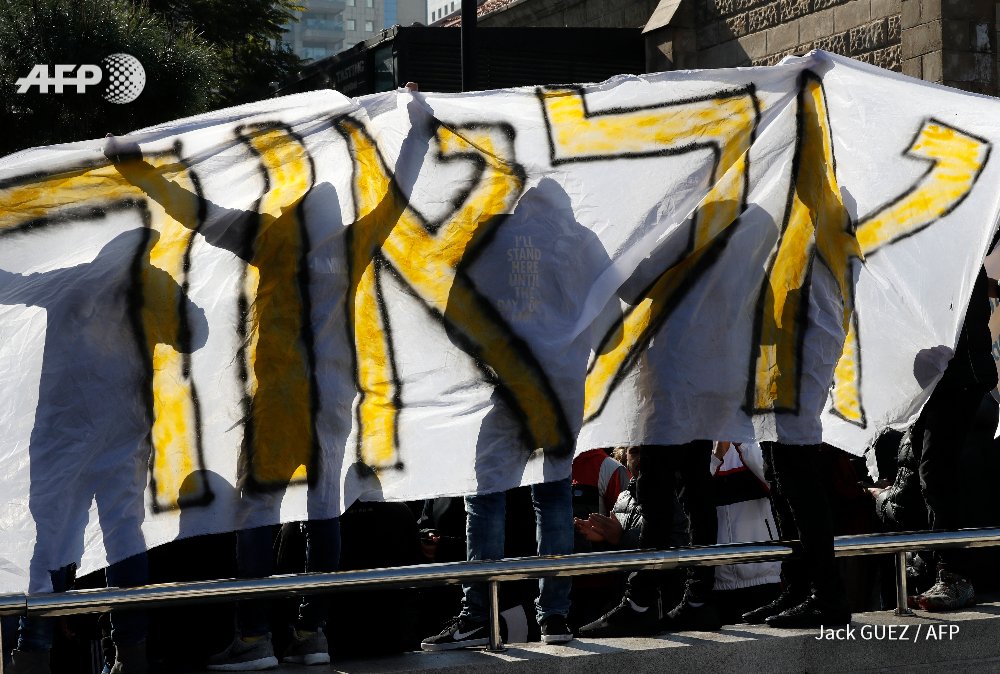 ISRAEL - Israelis hold a poster in Tel Aviv bearing name of Israeli soldier Azari, who shot dead a wounded Palestinian assailant. Photo by Jack Guez: image via Frédérique Geffard @fgeffardAFP, 4 January 2017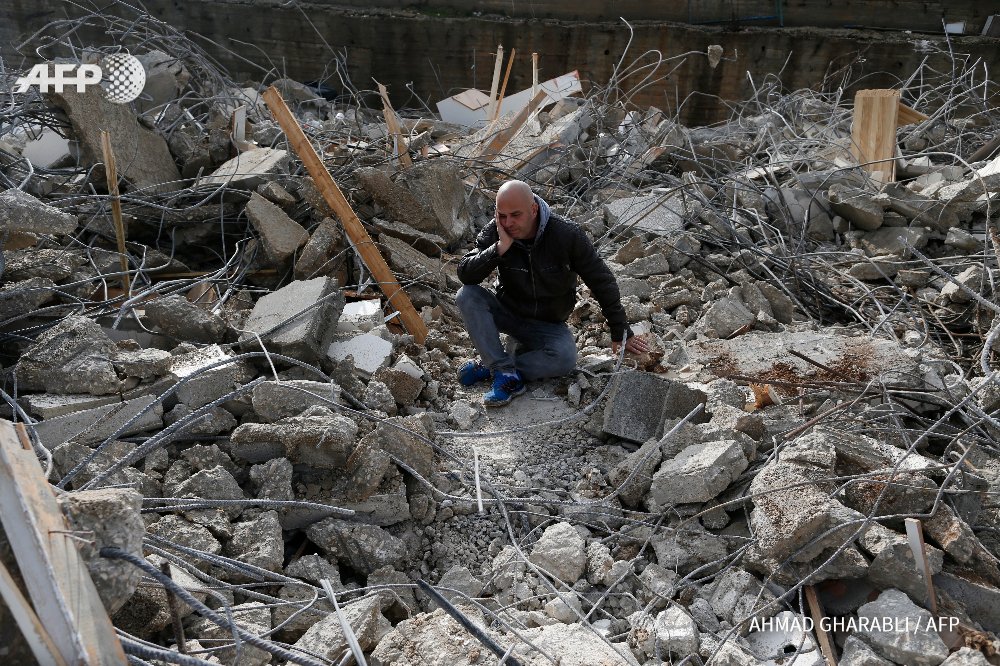 JERUSALEM - A Palestinian man sits amid rubble of a house that was demolished by Israeli army bulldozers in Beit Hanina. By@gharabli_ahmad: image via Frédérique Geffard @fgeffardAFP, 4 January 2017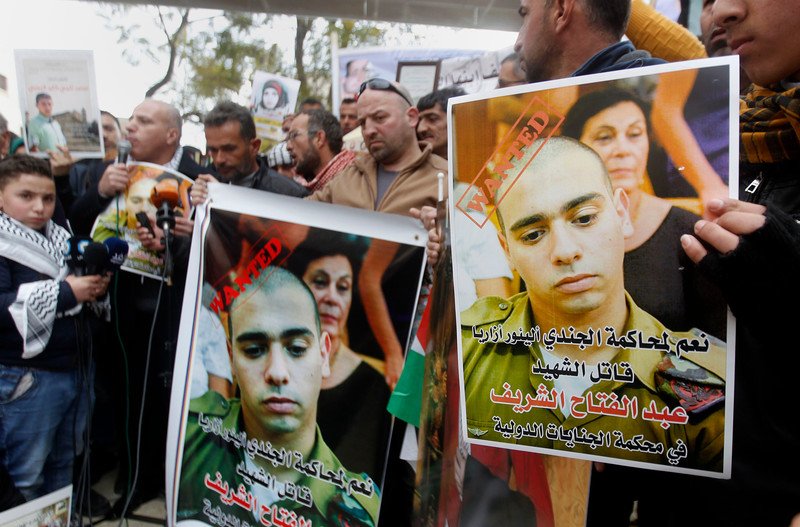 Israeli soldier convicted for revenge killing: image via Electronic Intifada @Intifada, 4 January 2017
#ElorAzaria verdict wrapping up: Beyond reasonable doubt, Azaria shot because he thought the Palestinian deserves to die.
: tweet via Molly Hunter @mollymhunter, 4 January 2017
Israeli soldier filmed executing Palestinian convicted of manslaughter, tho evidence showed premeditation; ministers already call for pardon
: tweet via David Sheen @davidsheen, 4 January 2017
Azaria still projecting calm with same smirk he has had whole time: tweet via Jonah Jeremy Bob @jeremybob1, 4 January 2017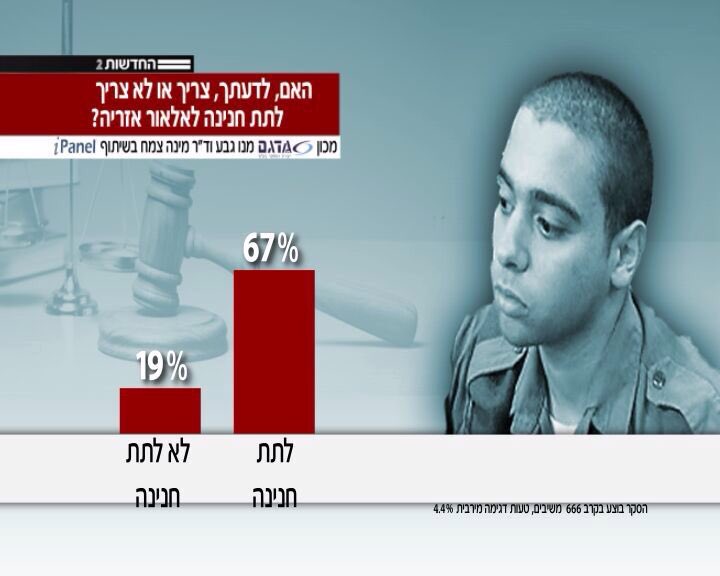 Poll: 2/3 of Israelis, including Netanyahu and many of his ministers, support pardoning soldier filmed executing Palestinian man; < 1/5 oppose: image via David Sheen @davidsheen, 4 January 2017

Outside court, supporters of Israeli soldier Elor Azaria chant "Mohammad is dead", hold Trump banner (via @avner87): image via Ben White @benabyad, 4 January 2017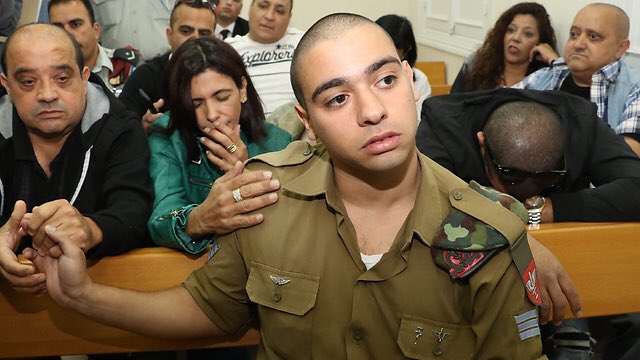 Blood-soaked Netanyahu Supports Pardon for Convicted IOF Terrorist Elor Azaria, who executed a Palestinian on 3/24/16: image via Abbs Winston @AbbsWinston, 4 January 2017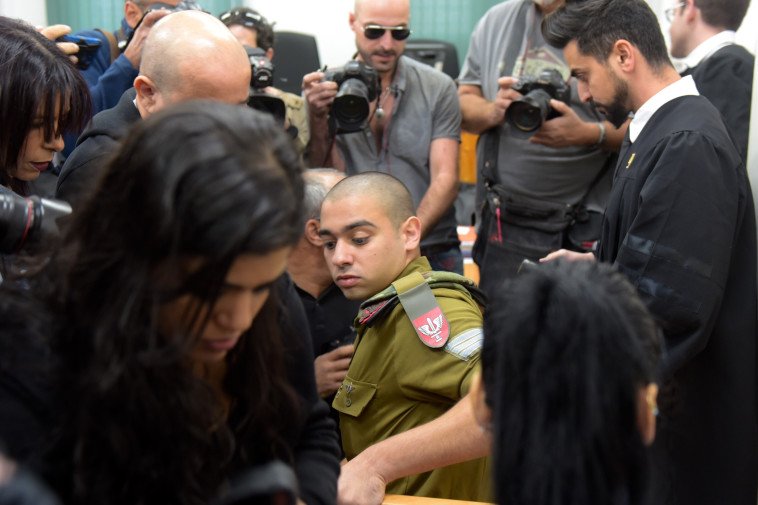 We must assist Israeli soldiers like #Elor Azaria deal w/lawsuits filed by radical left and enemy. #IDF soldiers risk everyday lives for us.: image via Eli Dror @edrormba, 28 November 2016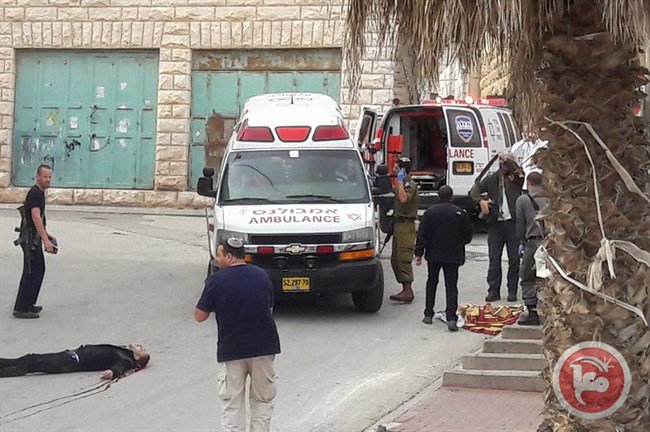 Activist who filmed #Hebron shooting 'fears for his life' after Israeli soldier convicted #Palestine #Israel: Image via Ma'an News Agency @MaanNewsAgency, 4 January 2017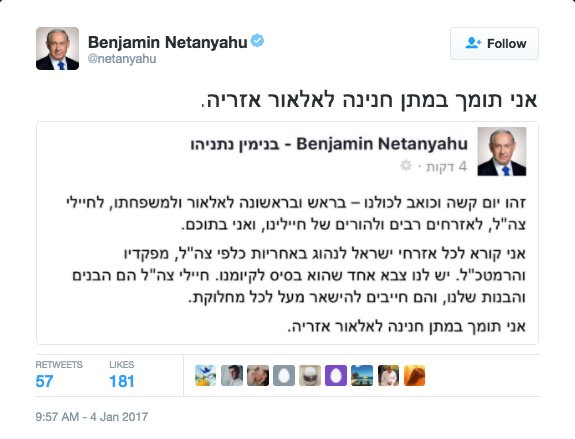 Now he says the soldier should be pardoned. In March I wrote on why Netanyahu's defending a murderer caught on video.
: image via David Sheen @davidsheen, 4 January 2017
As judge decides fate of Israeli soldier filmed killing a Palestinian man, I can hear my downstairs neighbor chanting: "Death to the Arabs!"
: tweet via David Sheen @davidsheen, 4 January 2017
Now that the verdict's been read, the downstairs neighbor has resumed chanting in solidarity with the soldier filmed executing a Palestinian
: tweet via David Sheen @davidsheen, 4 January 2017
Azaria conviction for manslaughter and unbecoming conduct shows importance of @btselem's volunteers "armed" with cameras. #ElorAzaria: tweet via Sari Bashi @saribashi, 4 January 2017
These guys are now chanting in English: "Fuck you, fuck you Btselem": tweet via Raf Sanchez @rafsanchez, 4 January 2017
Judge still reading out verdict.... 2 hours and 15 minutes..... #ElorAzaria: tweet via Ruth Marks Eglash @reglash, 4 January 2017
Two Israelis have been arrested so far for inciting violence against judges who convicted #ElorAzaria: tweet via Raf Sanchez @rafsanchez, 4 January 2017
The fact that this Israeli soldier who was filmed executing a Palestinian man has become a folk hero is sickening, but sadly not surprising.: tweet via David Sheen @davidsheen, 4 January 2017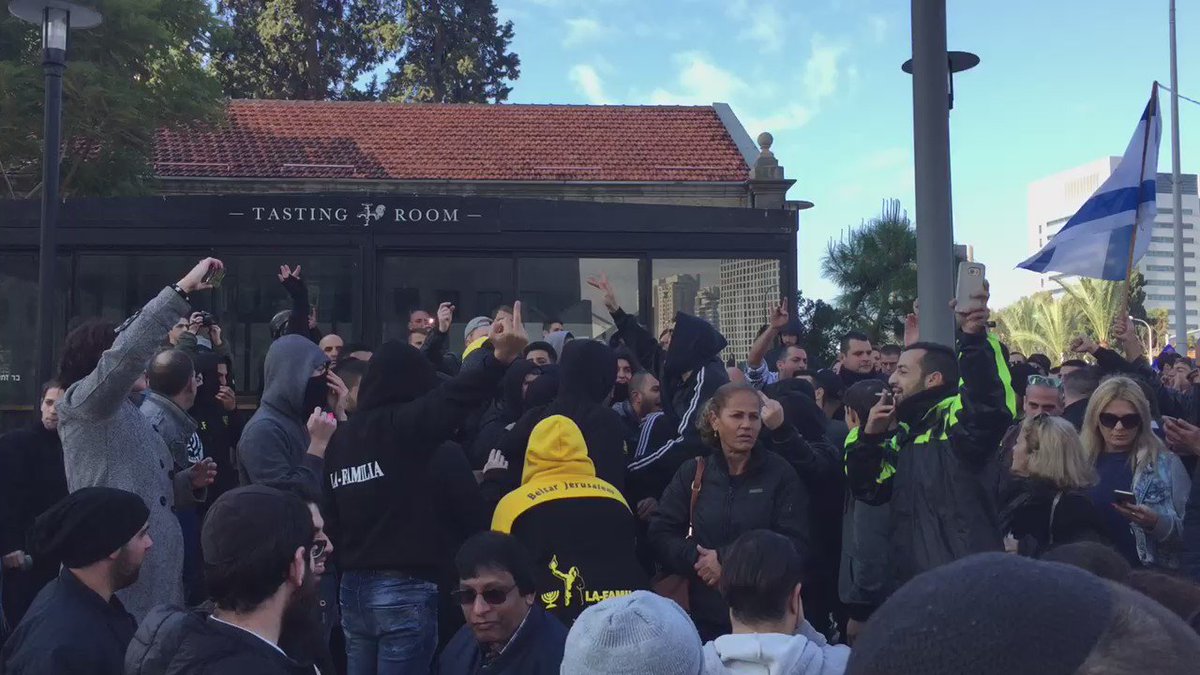 David Sheen retweeted Raf Sanchez
@

rafsanchez
Crowd starting to get nasty but it's more football yob than political extremist
David Sheen added,
I was at court yesterday, but I'm not today, and this is why: Israeli soldier's supporters attack anyone with a camera: tweet via David Sheen @davidsheen, 4 January 2017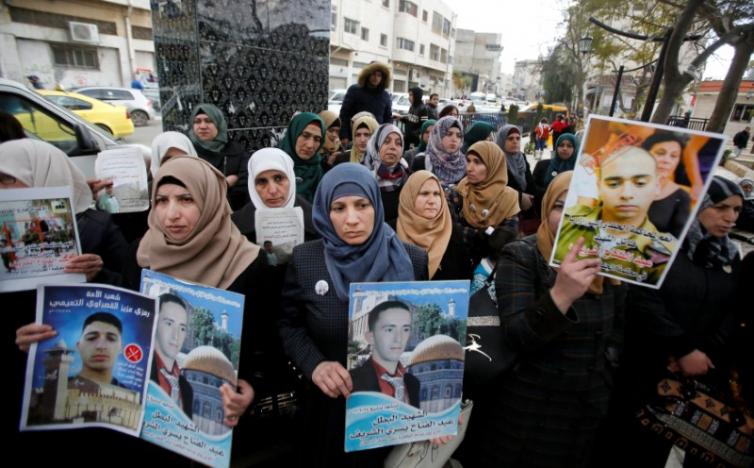 Israeli soldier convicted of manslaughter in killing of wounded Palestinian assailant in the West Bank: image via Reuters Top News @Reuters, 4 January 2017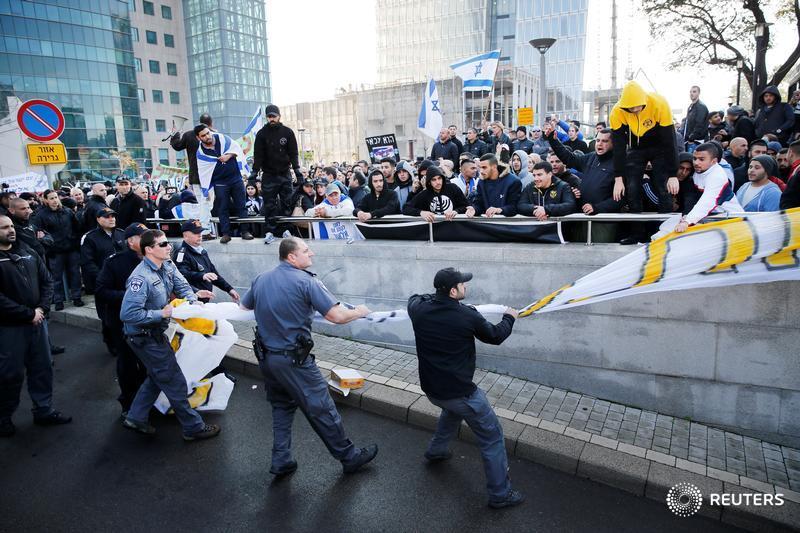 Israeli soldier convicted of manslaughter in killing of immobile Palestinian assailant: image via Reuters Top News @Reuters, 4 January 2017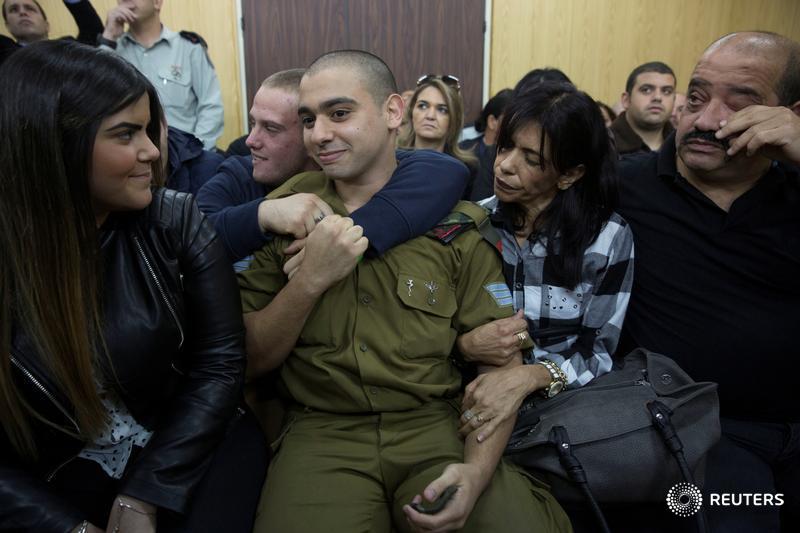 Israeli soldier convicted of manslaughter in killing of immobile Palestinian assailant: image via Reuters Top News @Reuters, 4 January 2017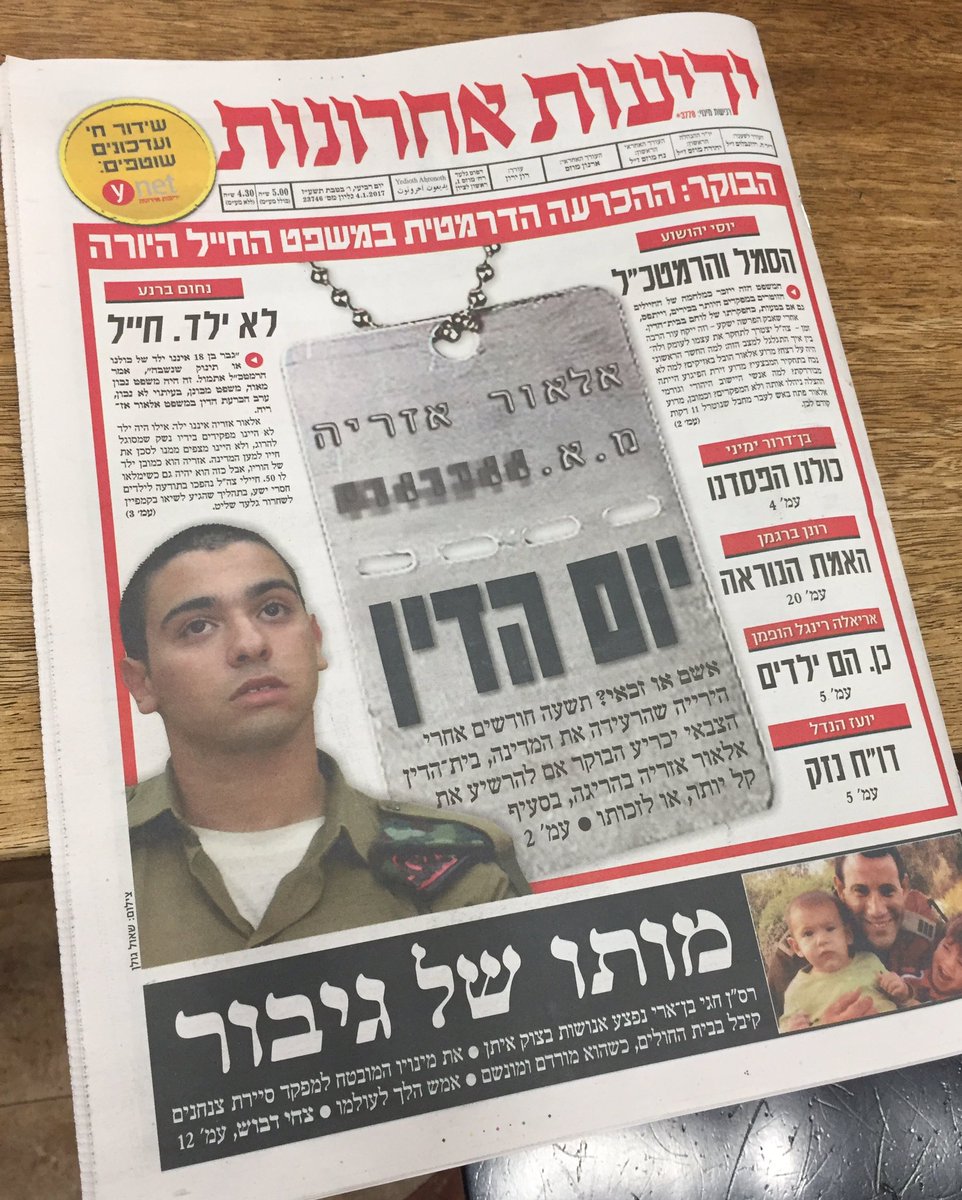 Israel is waiting to learn the verdict in the divisive case of a young soldier accused of executing a Palestinian: tweet via Raf Sanchez @rafsanchez, 3 January 2017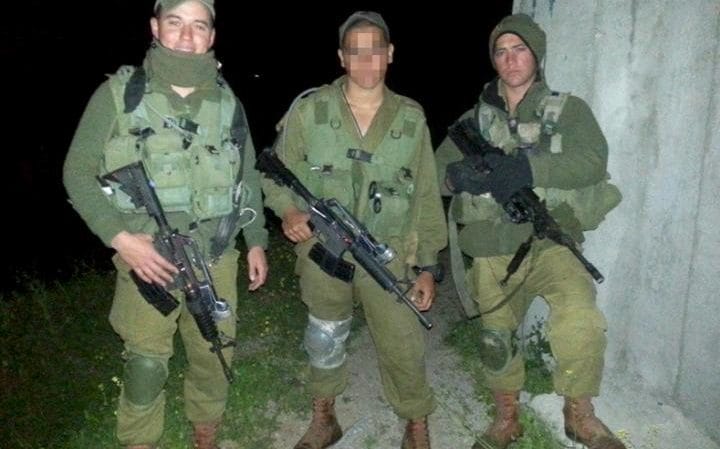 Israeli soldier convicted for killing wounded Palestinian in Hebron, as angry crowd protests his innocence: image via The Telegraph @Telegraph, 4 January 2017
A lot from La Familia, the ultras from Beitar Jerusalem: image via Raf Sanchez @rafsanchez, 4 January 2017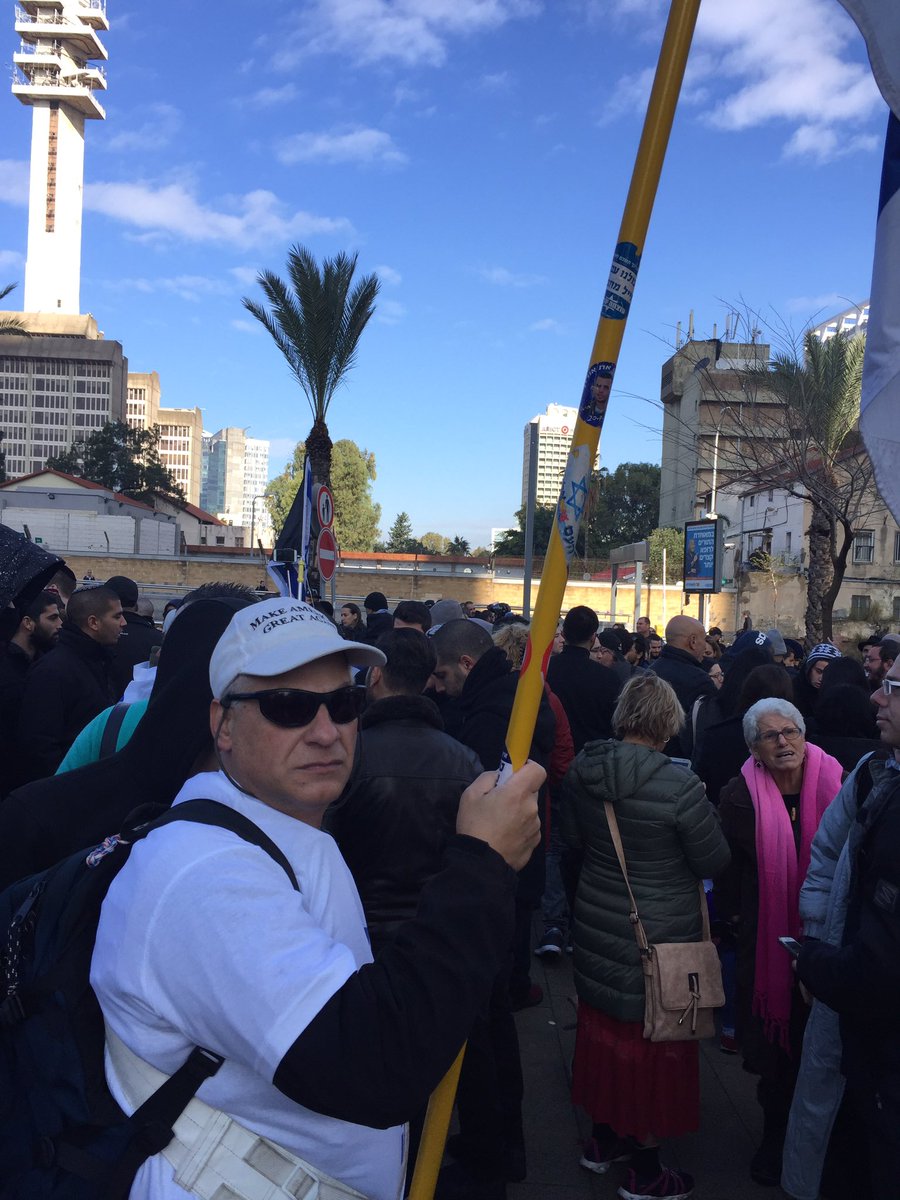 And the inevitable Trump hats: image via Raf Sanchez @rafsanchez, 4 January 2017
Inside the labyrinth: Jorge Luis Borges: La casa de Asterión /The House of Asterion

Classical 7-circuit labyrinth

: image by JamesJen, 2009
Y la reina dio a luz un hijo que se llamó Asterión.
Apolodoro, Biblioteca, III, I
Sé que me acusan de soberbia, y tal vez de misantropía, y tal vez de locura. Tales acusaciones (que yo castigaré a su debido tiempo) son irrisorias. Es verdad que no salgo de mi casa, pero también es verdad que sus puertas (cuyo número es infinito*) están abiertas día y noche a los hombres y también a los animales. Que entre el que quiera. No hallará pompas mujeriles aquí ni el bizarro aparato de los palacios, pero sí la quietud y la soledad. Asimismo hallará una casa como no hay otra en la faz de la tierra. (Mienten los que declaran que en Egipto hay una parecida.) Hasta mis detractores admiten que no hay un solo mueble en la casa. Otra especie ridícula es que yo, Asterión, soy un prisionero. ¿Repetiré que no hay una puerta cerrada, añadiré que ho hay una cerradura? Por lo demás, algún atardecer he pisado la calle; si antes de la noche volví, lo hice por el temor que me infundieron las caras de la plebe, caras descoloridas y aplanadas, como la mano abierta. Ya se había puesto el sol, pero el desvalido llanto de un niño y las toscas plegarias de la grey dijeron que me habían reconocido. La gente oraba, huía, se prosternaba; unos se encaramaban al estilóbato del templo de las Hachas, otros juntaban piedras. Alguno, creo, se ocultó bajo el mar. No en vano fue una reina mi madra; no puedo confundirme con el vulgo, aunque mi modestia lo quiera.
El hecho es que soy único. No me interesa lo que un hombre pueda trasmitir a otros hombres; como el filósofo, pienso que nada es comunicable por el arte de la escritura. Las enojosas y triviales minucias no tienen cabida en mi espíritu, que está capacitado para lo grande; jamás he retenido la diferencia entre una letra y otra. Cierta impaciencia generosa no ha consentido que yo aprendiera a leer. A veces lo deploro, porque las noches y los días son largos.
Claro que no me faltan distracciones. Semejante al carnero que va a embestir, corro por las galerías de piedra hasta rodar al suelo, mareado. Me agazapo a la sombra de un aljibe o a la vuelta de un corredor y juego a que me buscan. Hay azoteas desde las que me dejo caer, hasta ensangrentarme. A cualquier hora puedo jugar a estar dormido, con los ojos cerrados y la respiración poderosa. (A veces me duermo realmente, a veces ha cambiado el color del día cuando he abierto los ojos.) Pero de tantos juegos el que prefiero es el de otro Asterión. Finjo que viene a visitarme y que yo le muestro la casa. Con grandes reverencias le digo: Ahora volvemos a la encrucijada anterior o Ahora desembocamos en otro patio o Bien decía yo que te gustaría la canaleta o Ahora verás una cisterna que se llenó de arena o Ya verás cómo el sótano se bifurca. A veces me equivoco y nos reímos buenamente los dos.
No sólo he imaginado eso juegos, también he meditado sobre la casa. Todas las partes de la casa están muchas veces, cualquier lugar es otro lugar. No hay un aljibe, un patio, un abrevadero, un pesebre; son catorce [son infinitos] los pesebres, abrevaderos, patios, aljibes. La casa es del tamaño del mundo; mejor dicho, es el mundo. Sin embargo, a fuerza de fatigar patios con un aljibe y polvorientas galerías de piedra gris, he alcanzado la calle y he visto el templo de las Hachas y el mar. Eso no lo entendí hasta que una visión de la noche me reveló que también son catorce [son infinitos] los mares y los templos. Todo está muchas veces, catorce veces, pero dos cosas hay en el mundo que parecen estar una sola vez: arriba, el intrincado sol; abajo, Asterión. Quizá yo he creado las estrellas y el sol y la enorme casa, pero ya no me acuerdo.
Cada nueve años entran en la casa nueve hombres para que yo los libere de todo mal. Oigo sus pasos o su voz en el fondo de las galerías de piedra y corro alegremente a buscarlos. La ceremonia dura pocos minutos. Uno tras otro caen sin que yo me ensangriente las manos. Donde cayeron, quedan, y los cadáveres ayudan a distinguir una galería de las otras. Ignoro quiénes son, pero sé que uno de ellos profetizó, en la hora de su muerte, que alguna vez llegaría mi redentor. Desde entonces no me duele la soledad, porque sé que vive mi redeentor y al fin se levantará sobre el polvo. Si mi oído alcanzara los rumores del mundo, yo percibiría sus pasos. Ojalá me lleve a un lugar con menos galerías y menos puertas. ¿Cómo será mi redentor?, me pregunto. ¿Será un toro o un hombre? ¿Será tal vez un toro con cara de hombre? ¿O será como yo?
El sol de la mañana reverberó en la espada de bronce. Ya no quedaba ni un vestigio de sangre.
-- ¿Lo creerás, Ariadna? -- dijo Teseo. -- El minotauro apenas se defendió.
* El original dice catorce, pero sobran motives para inferir que en boca de Asterión, ese adjetivo numeral vale por infinitos.

Mosaic with labyrinth and Minotaur, Conímbriga, Portugal
: photo by Manuel Anastácio, 2005
And the queen gave birth to a son named Asterion.
Apollodorus, Library, III, I
I know they accuse me of arrogance, perhaps also of misanthropy, perhaps madness too. Such accusations (which I shall castigate in due course) are laughable. It is true that I do not leave my house, but it is also true that its doors (which are infinite* in number) are open day and night to man and animal alike. Anyone who wishes may enter. One will not find feminine extravagance here, nor gallant courtly ritual, just quiet and solitude. Here one will find a house like no other on the face of the Earth. (They who declare that in Egypt exists another similar are lying). Even my detractors admit that there is not a single piece of furniture in the house. Another ridiculous tale claims that I, Asterion, am a prisoner. Need I repeat that there are no closed doors? Should I add that there are no locks? Besides, I did one evening step out onto the street; if I returned home before nightfall, I did so because of the fear that the faces of the hoi polloi, faces discoloured and plain like an open hand, had induced in me. The sun had already set, but the helpless cry of a babe and the coarse supplications of the common herd signalled that I had been recognised. The people prayed, fled and fell prostrate; some climbed up to the stylobate of the temple of Axes, others gathered stones. Someone, I believe, hid himself under the sea. Not in vain was my mother a queen; I cannot mix with the common people, though my modesty does so desire it.
The fact is that I am unique. What a man can pass unto others does not interest me; like the philosopher, I think nothing is communicated by the art of writing.
Annoying and trivial minutiae have no place in my spirit, a spirit which is receptive only to whatsoever is grand. Never have I retained the difference between one letter and another. A certain generous impatience has not consented that I should learn to read. Sometimes I deplore this, for the nights and days are long.
Naturally, I am not without amusement. Like a ram on the charge, I run through the galleries of stone until dizzily I tumble to the ground. I conceal myself in the shadows of a cistern or in the corner of a corridor and pretend that I am being searched for. There are rooftops from which I let myself fall until I bloody myself. At any time I can shut my eyes and pretend that I am asleep, breathing deeply. (Sometimes I really do sleep, sometimes the colour of the day has changed by the time I open my eyes). But of the games I play, the one I prefer is pretending there is another Asterion. I pretend that he has come to visit me and I show him around the house. With great reverence I tell him: Now we return to the previous intersection, or Now we head towards another courtyard, or I knew you would like this drain, or Now you will see a cistern that has filled with sand, or Now you will see how the cellar forks. Sometimes I err and we both laugh heartily.
Not only these games have I imagined; I have also meditated on the house. Each part of the house repeats many times, any particular place is another place.
There is not one cistern, courtyard, drinking fountain, manger; there are fourteen (infinite) mangers, drinking fountains, courtyards, cisterns. The house is the size of the world; better said, it is the world. Nevertheless, by dint of exhausting all the dusty galleries of grey stone and the courtyards with their cisterns, I have reached the street and I have seen the temple of Axes and the sea. This I did not understand until a night vision revealed to me that there are also fourteen (infinite) seas and temples. Everything exists many times over, fourteen times, but there are two things in the world that seem to exist only once; above, the intricate Sun; below, Asterion. Perhaps I have created the stars and the Sun and the enormous house, but I do not remember anymore.
Nine men enter the house every nine years so that I may deliver them from all evil. I hear their footsteps or their voices in the depths of the galleries of stone and I run with joy in search of them. The ceremony lasts a few minutes. One after another, they fall to the ground without my having to bloody my hands. Where they fall, they remain, and the cadavers help to distinguish one gallery from another. I know not who they are, but I do know that one of them prophesied, at the moment of his death, that someday my redeemer would come. Since then, the solitude does not pain me because I know that my redeemer lives, and in the end he will rise above the dust. If I could hear all the rumblings of the world, I would detect the sound of his footsteps. Let it be that he take me to a place with fewer galleries and fewer doors.
I wonder: what will my redeemer be like? Will he be a bull or a man? Will he be perhaps a bull with the face of a man? Or will he be like me?
The morning Sun was reflected in the sword of bronze. No trace of blood remained.
"Would you believe it, Ariadne?" said Theseus. "The minotaur hardly put up a fight."
* The original says fourteen, but there is ample reason to infer that in Asterion's eyes, this adjectival numeral is equal to infinite.

Ritratto di Gentiluomo (Portrait of a Gentleman)
: Bartolomeo Veneto (1470-1531
)
(Fitzwilliam Museum, Cambridge; image by Laura Pagnotta, in
Bartolomeo Veneto: Opera completa,
1997
)
Jorge Luis Borges (1899-1986): La casa de Asterión / The House of Asterion, 1947, from El Aleph, 1949; English version by Antonios
Inside the labyrinth: Jose Luis

Borges

: El hilo de la fábula /The thread of the story
Theseus' cycle of deeds: centre: dragging the Minotaur from the Labyrinth: Kodros painter, Attic red-figured kylix, c. 440-430 BC, found at Vulci; image by Twospoonfuls, 2008 (British Museum)
El hilo que la mano de Ariadne dejó en la mano de Teseo (en la otra estaba la espada) para que éste se ahondara en el laberinto y descubriera el centro, el hombre con cabeza de toro o, como quiere Dante, el toro con cabeza de hombre, y le diera muerte y pudiera, ya ejecutada la proeza, destejer las redes de piedra y volver a ella, a su amor.
Las cosas ocurrieron así. Teseo no podía saber que del otro lado del laberinto estaba el otro laberinto, el de tiempo, y que en algún lugar prefijado estaba Medea.
El hilo se ha perdido; el laberinto se ha perdido también. Ahora ni siquiera sabemos si nos rodea un laberinto, un secreto cosmos, o un caos azaroso. Nuestro hermoso deber es imaginar que hay un laberinto y un hilo. Nunca daremos con el hilo; acaso lo encontramos y lo perdemos en un acto de fe, en una cadencia, en el sueño, en las palabras que se llaman filosofía o en la mera y sencilla felicidad.
Cnossos, 1984

Jose Luis Borges in the Palace of King Minos, Knossos, 1984: photo courtesy Archivo Maria Kodama, Fundación J.L. Borges


The thread was placed by the hand of Ariadne in the hand of Theseus (in the other was his sword) so that this might permit him to penetrate the labyrinth and discover at its centre the man with the head of a bull, or, as Dante would have it, the bull with the head of a man, bring death to this creature, and if the labour was performed correctly, thus unravel the secrets of the networks of stone, and return again to her, his love.

But things happen as they happen. Theseus could not have known that on the other side of the labyrinth was another labyrinth, that of time, and that beyond there, in some prefigured place, waited Medea.

The thread has been lost; the labyrinth has been lost also. Now, we no longer even know whether these corridors that encircle us are those of a labyrinth, a secret cosmos, or a chaos of pure chance. Our beautiful duty is to imagine that there exists a labyrinth and a thread. We might never come across the thread; or we might stumble upon it unexpectedly and then lose it again in an act of faith, in the rhythm of a line, in a dream, in the sort of words that are called philosophy or in a moment of mere and simple happiness.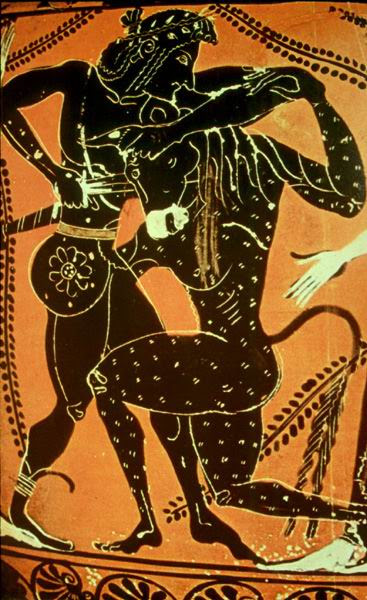 Theseus and the Minotaur: Attic black-figure pot, 6th c. BC.
: image by Darsie, 2005
Theseus dragging the Minotaur from the Labyrinth
: Kodros painter, Attic red-figured kylix, c. 440-430 BC, found at Vulci (British Museum; image by Marie-Lan Nguyen, 2007)
Jose Luis

Borges

: El hilo de la fábula /The thread of the story, from Los conjurados, 1985; English version by TC