Devotees occupy Jones bridge as they take part in the annual procession of the Black Nazarene in metro Manila, Philippines: photo by Romeo Ranoco/Reuters, 9 January 2017
Devotees occupy Jones bridge as they take part in the annual procession of the Black Nazarene in metro Manila, Philippines: photo by Romeo Ranoco/Reuters, 9 January 2017

Donald Trump's Hollywood Walk of Fame Star enclosed in symbolic wall constructed by Los Angeles street artist Plastic Jesus: photo via News.Mic, 30 July 2016




Donald Trump's Hollywood Walk of Fame Star, "protected": photo by Mark Ralston, 30 July 2016




Donald Trump's Hollywood Walk of Fame Star, "protected":: photo by Mark Ralston, 30 July 2016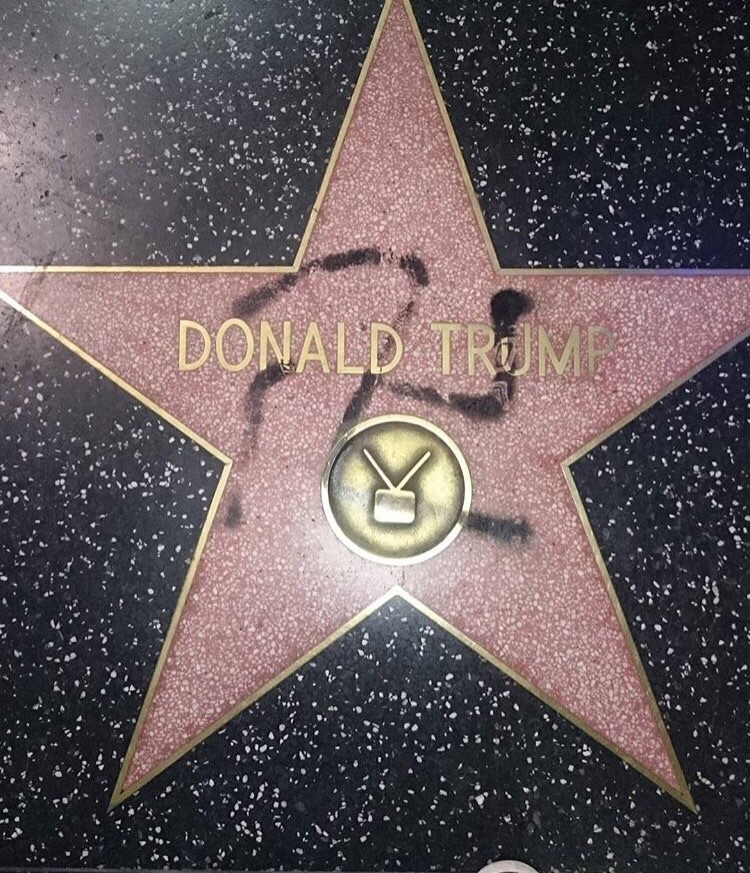 Donald Trump's Hollywood Walk of Fame Star, defaced by Nazi swastika: photographer unknown via News dot Mic, 31 January 2016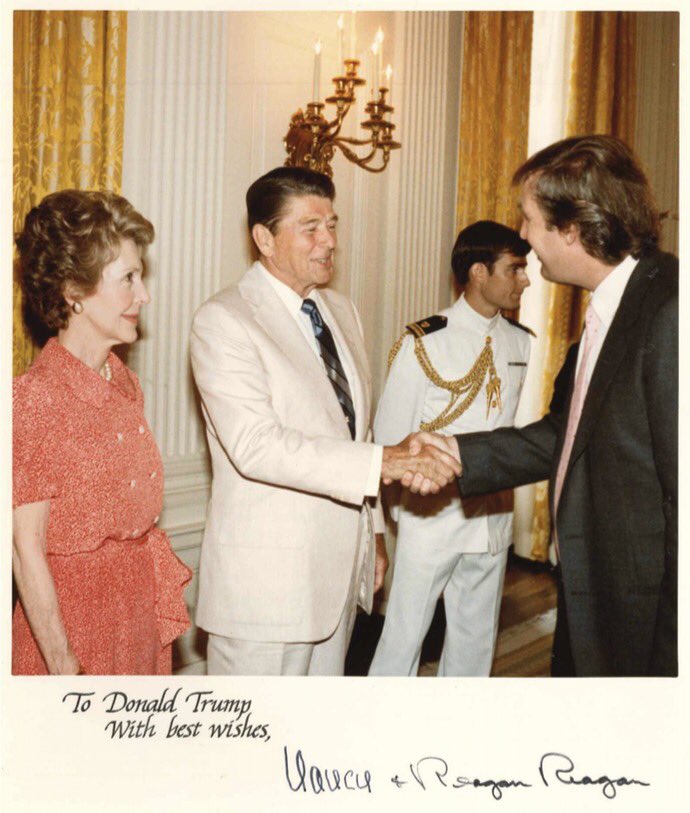 An old picture with Nancy and Ronald Reagan
: image via Donald J. Trump @realDonaldTrump, 9 January 2017
Thomas Wyatt: Fruitless Fruit ("Avysing the bright bemes of these fayer Iyes")
Fruit of
the
potato
rose
(
Rosa
rugosa
),
October,
on the
North Sea
island
Spiekeroog
: photo by Jürge

n

Nowaldt, 2005
Avysing the bright bemes of these fayer Iyes
...

where he is that mine oft moisteth & washeth
...

the werid mynde streght from the hert dep[ar]teth
...

for to rest in his woroldly p[ar]adise
And fynde the swete bitter vnder this gyse
...

what webbe he hath wrought well he p[er]ceveth
...

whereby with him self on love he playneth
...

that spurreth with fyer and bridlith w[i]th Ise
Thus is it in suche extremitie brought
...

in frossen though[t] nowe and nowe it stondeth in flame
...

twyst misery and welth twist ernest & game
...

But few glad and many dyvers thought
...

with sore repentance of his hardines
...

of suche a rote cometh ffruyte fruytl

es
Thomas Wyatt (1503-1542):
Avysing the bright bemes of these fayer Iyes
: transcription by Ricard Harrier (1975) from British Library Egerton MS 2711, fol. 22
Fruit (hips) of Rosa pimpinellifolia, growing in Newborough Warren, 16 October
: photo by Velela, 2006
Mirando 'l sol de' begli occhi sereno,




Ove è chi spesso i miei depinge e bagna,




Dal cor l' anima stanca si scompagna




Per gir nel paradiso suo terreno.




Poi, trovandol di dolce e d' amar' pieno,




Quant' al mondo si tesse opra d' aragna




Vede; onde seco e con Amor si lagna,




Ch' à sí caldi gli spron, sí duro 'l freno.




Per questi estremi duo, contrari e misti,




Or con voglie gelate, or con accese




Stassi cosí fra misera e felice.




Ma pochi lieti, e molti penser tristi;




E 'l piú si pente de l' ardite imprese:




Tal frutto nasce di cotal radice.



Francesco Petrarca

(

1304-1374):
Canzoniere CLXXIII
Rose hip: photo by Elucidate, 2008
Rose hips, Sierra de Valdemeca, Cuenca, Spain, 29 October: photo by Retama, 2007
Mourners gather at at Jamaran mosque during the mourning ceremony of one of the late founders of the Islamic Republic, Akbar Hashemi Rafsanjani: photo by Majid Saeedi, 9 January 2017
Mourners gather around the coffin of former Iranian president Akbar Hashemi Rafsanjani during a mourning ceremony at Jamaran mosque in Tehran today: photo Atta Kenare/AFP, 9 January 2017
Mourners gather around the coffin of former Iranian president Akbar Hashemi Rafsanjani during a mourning ceremony at Jamaran mosque in Tehran today: photo Atta Kenare/AFP, 9 January 2017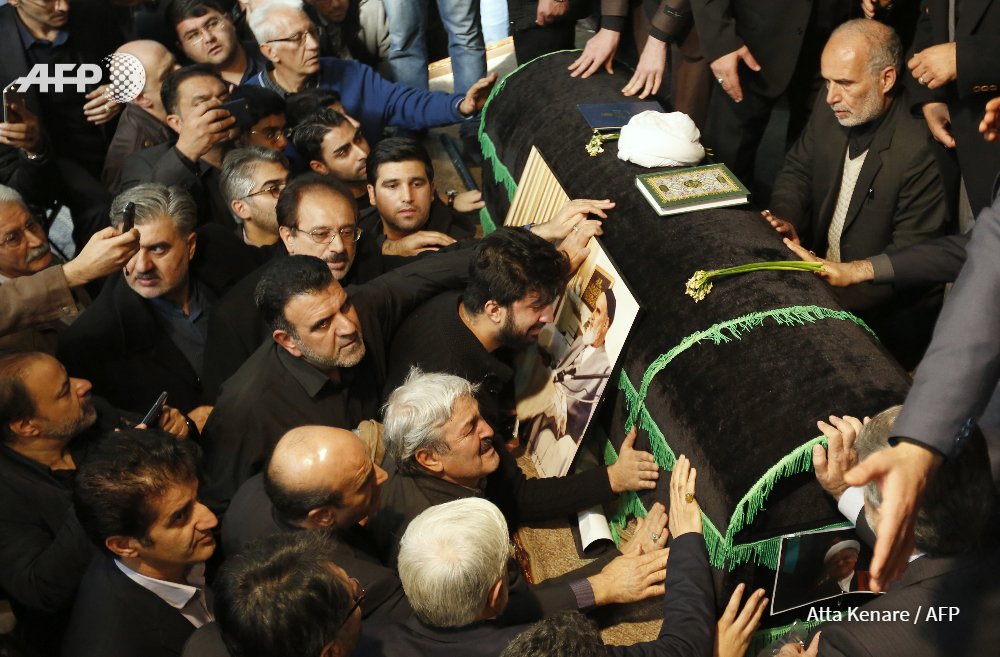 Iran mourns 'sheikh of moderation' former president Akbar Hashemi Rafsanjani at Jamaran mosque in Tehran. Photo Atta Kenare: image via Aurelia BAILLY @AureliaBAILLY, 9 January 2017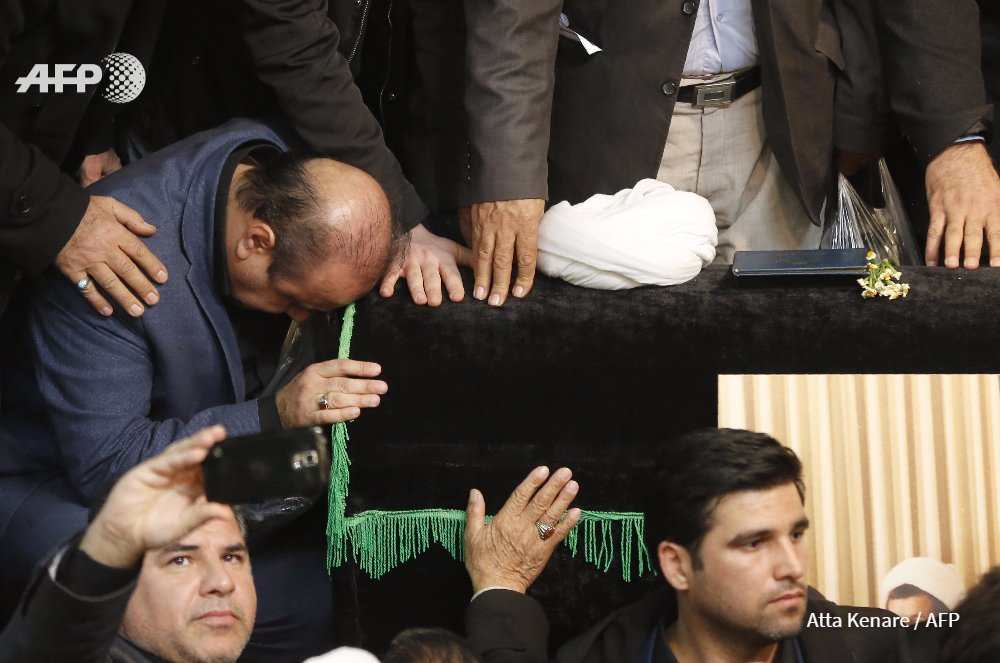 Iran mourns 'sheikh of moderation' former president Akbar Hashemi Rafsanjani at Jamaran mosque in Tehran. Photo Atta Kenare: image via Aurelia BAILLY @AureliaBAILLY, 9 January 2017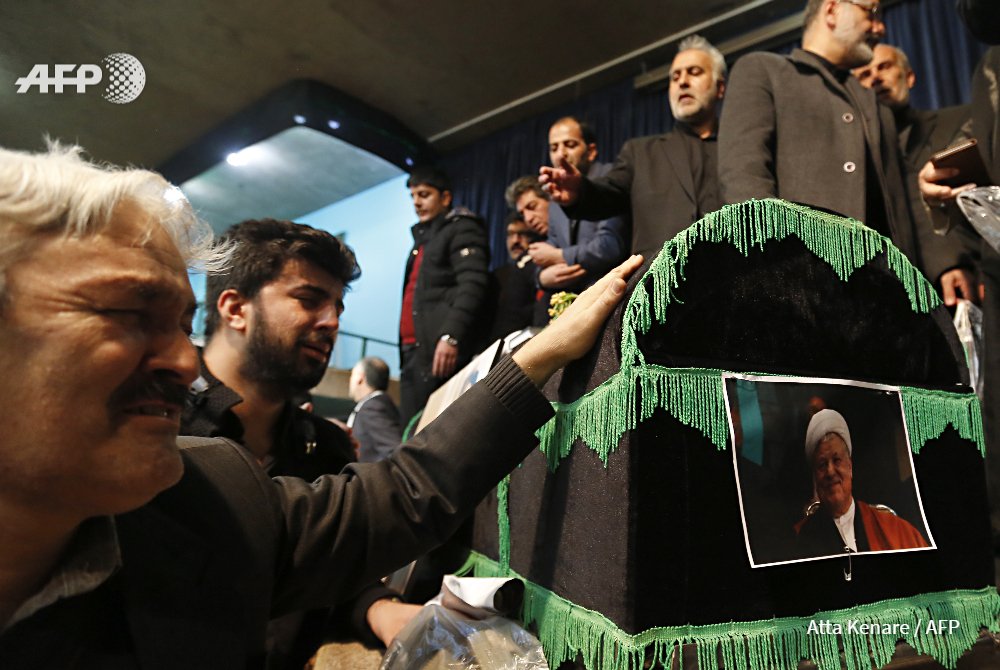 Iran mourns 'sheikh of moderation' former president Akbar Hashemi Rafsanjani at Jamaran mosque in Tehran. Photo Atta Kenare: image via Aurelia BAILLY @AureliaBAILLY, 9 January 2017
New Palestinian Hamas security forces take part in basic training along the coast of the Mediterranean Sea, in Gaza City: photo by Hatem Moussa/AP, 9 January 2017
A Syrian refugee stands at the entrance of the house where he live

s

at Kucukpazar district near Sultanahmet during snowfall in Istanbul: photo by Yasin Akgul/AFP, 9 January 2017
A Syrian refugee stands at the entrance of the house where he live

s

at Kucukpazar district near Sultanahmet during snowfall in Istanbul: photo by Yasin Akgul/AFP, 9 January 2017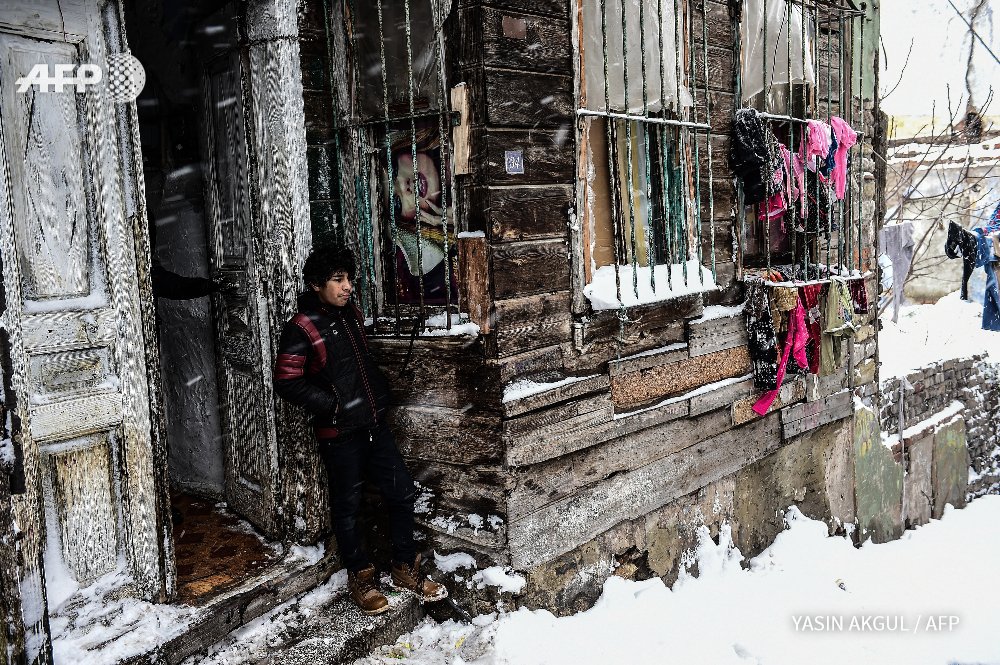 TURKEY -A Syrian refugee stands at entrance of the house where he live

s

at Kucukpazar district during snowfalls in Istanbul. By @yasinnakgul

: image via Frédérique Geffard @fgeffardAFP, 8 January 2017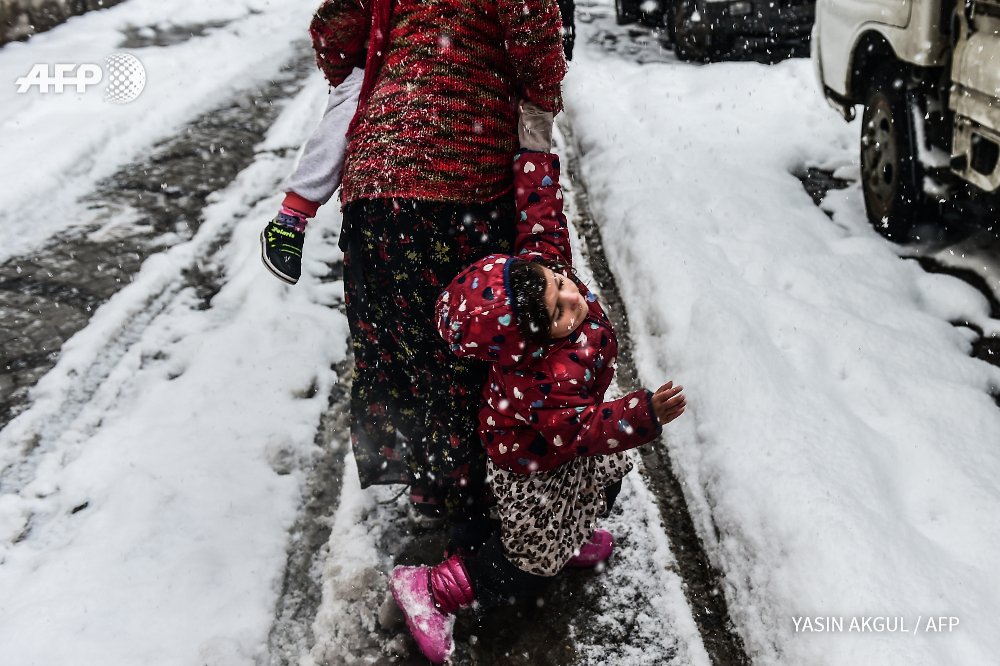 TURKEY - A Syrian woman walks with her children at Kucukpazar district near Sultanahmet during snowfalls in Istanbul. By
@yasinnakgul
: image via Frédérique Geffard @fgeffardAFP, 8 January 2017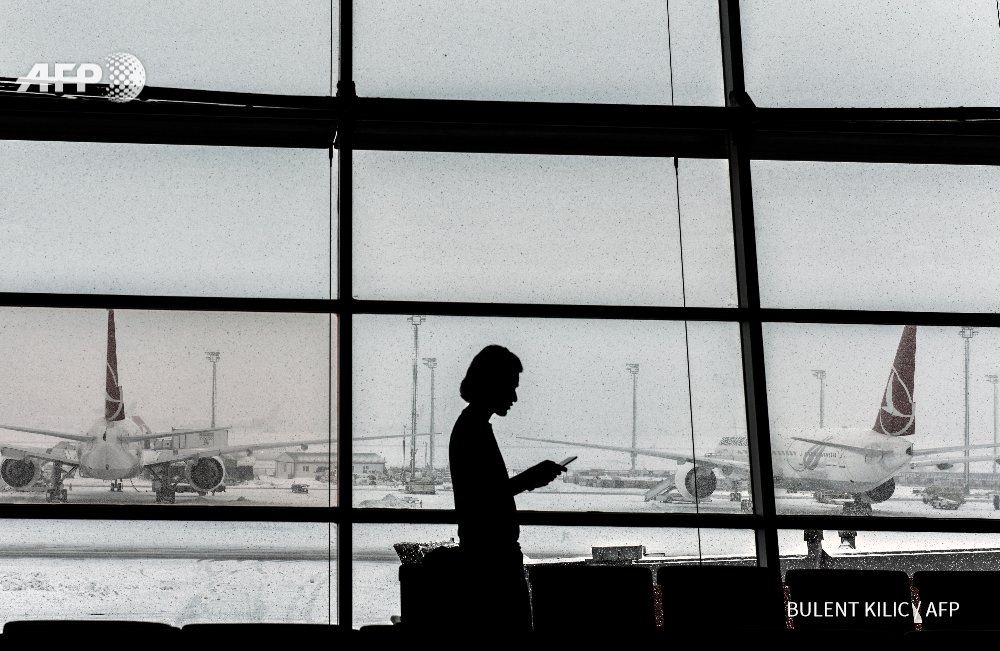 TURKEY - Turkish Airlines planes are stuck on the tarmac during heavy snowfall at Ataturk international airport
in Istanbul. By @Kilicl
: image via Frédérique Geffard @fgeffardAFP, 9 January 2017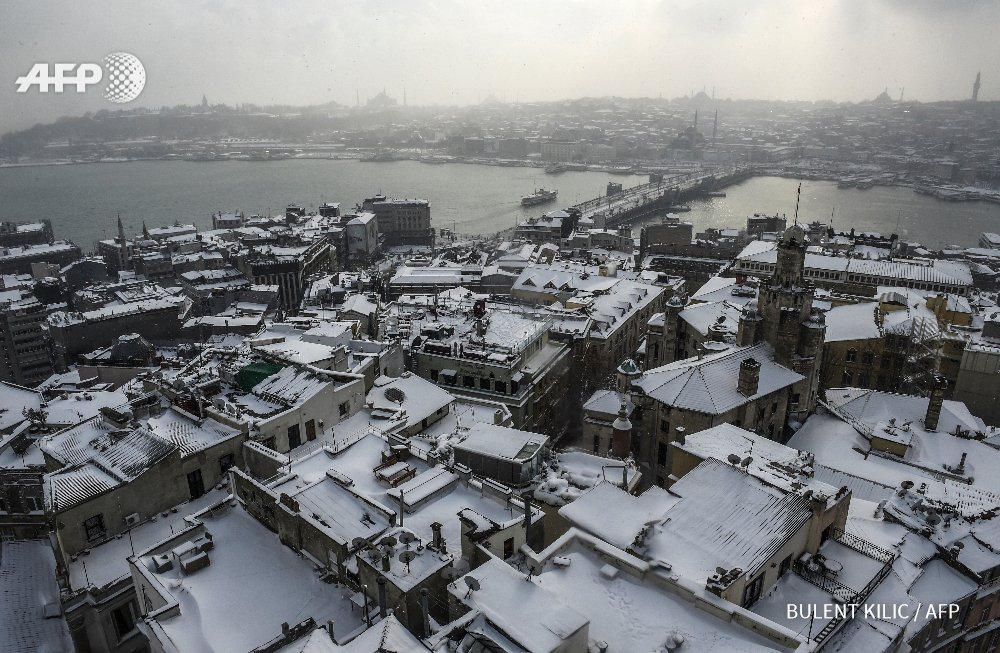 TURKEY - A view from the Galata tower of the historic city centre of Istanbul covered by snow during heavy snowfalls. By
@Kilicl
: image via Frédérique Geffard @fgeffardAFP, 8 January 2017

Commuters in Stratford, London travel by bus, as London Underground workers launched a 24-hour strike which crippled Tube services and caused travel chaos for millions of passengers: photo by Stefan Rousseau/PA, 9 January 2017


Commuters in Stratford, London travel by bus, as London Underground workers launched a 24-hour strike which crippled Tube services and caused travel chaos for millions of passengers: photo by Stefan Rousseau/PA, 9 January 2017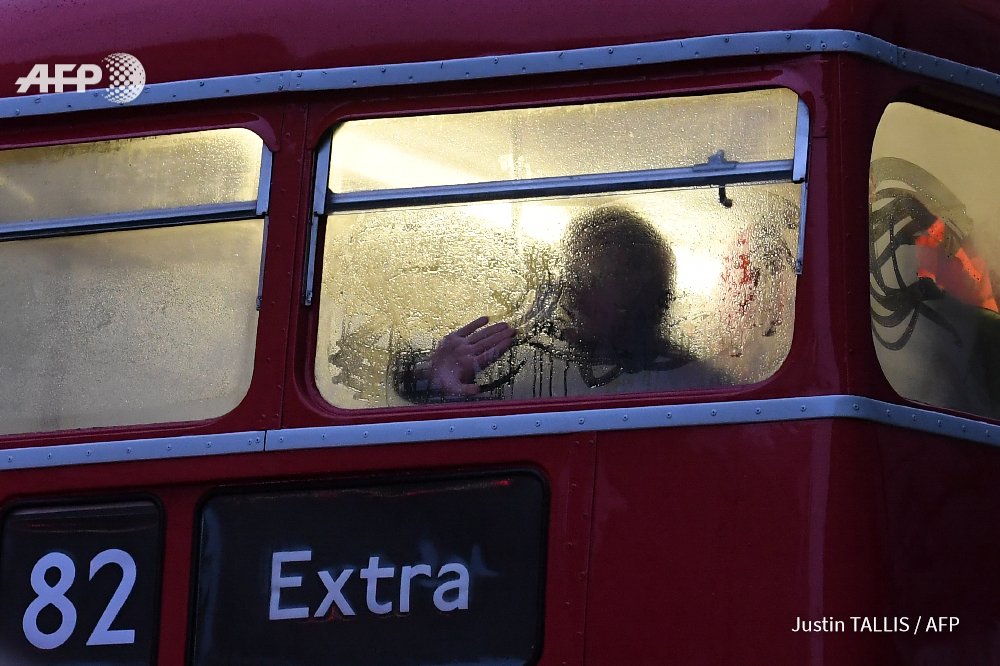 UK - A commuter wipes condensation from the window of an extra bus put on during a 24-hour tube strike in London. By @JustinTallis
: image via Frédérique Geffard @fgeffardAFP, 9 January 2017

A drawing of Mary Poppins wearing a pollution mask is suspended in front of the Queen Elizabeth Tower, London, by Greenpeace campaigners after it was revealed that legal air pollution limits for the whole year have been broken just five days into 2017: photo by Victoria Jones/PA, 6 January 2017



A drawing of Mary Poppins wearing a pollution mask is suspended in front of the Queen Elizabeth Tower, London, by Greenpeace campaigners after it was revealed that legal air pollution limits for the whole year have been broken just five days into 2017: photo by Victoria Jones/PA, 6 January 2017


Safia Bano, the mother of Mohammed Yassar Yaqub is comforted at Masjid Bilal Huddersfield where prayers are being held ahead of his funeral. Yaqub, 28, died after officers opened fire on the car he was travelling in near the M62 in West Yorkshire on Monday evening.: photo by Anna Gowthorpe/PA, 6 January 2017
Safia Bano, the mother of Mohammed Yassar Yaqub is comforted at Masjid Bilal Huddersfield where prayers are being held ahead of his funeral. Yaqub, 28, died after officers opened fire on the car he was travelling in near the M62 in West Yorkshire on Monday evening.: photo by Anna Gowthorpe/PA, 6 January 2017