.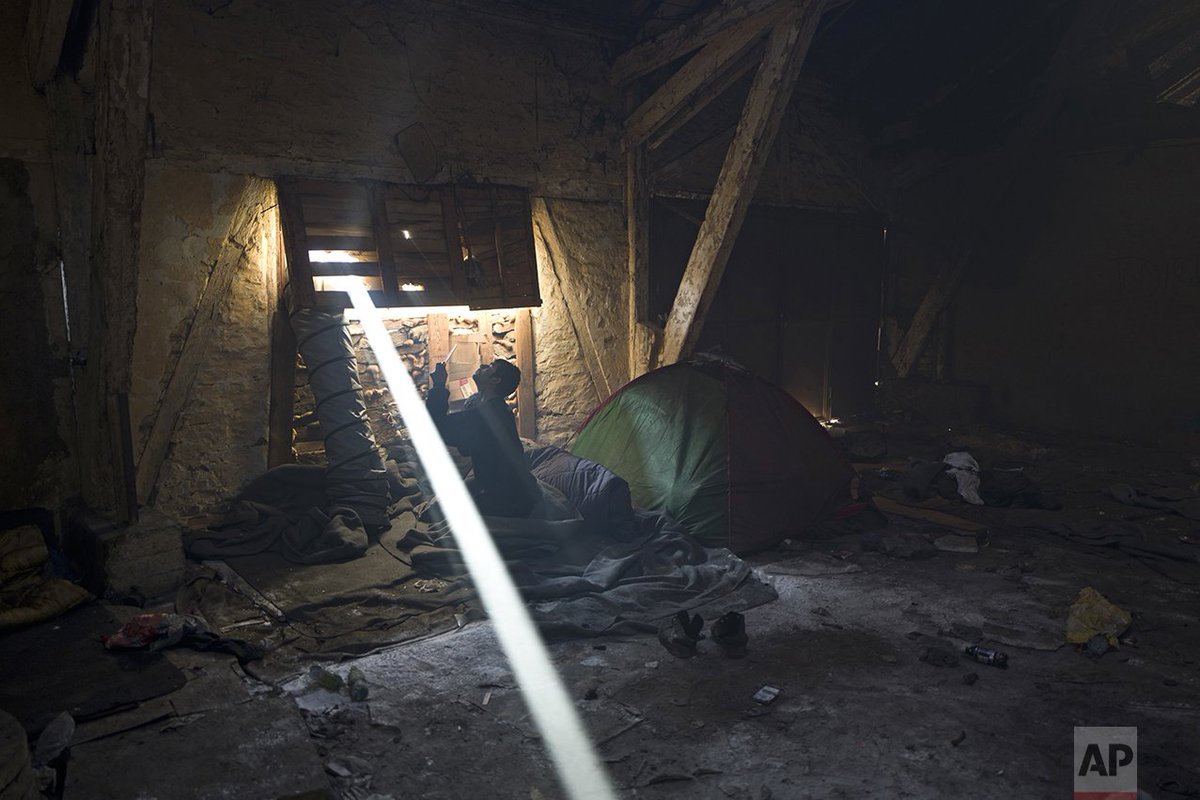 Kaleem Khan, 20, a migrant from Peshawar, Pakistan, shaves his beard in an abandoned warehouse where he and other migrants took refuge in Belgrade, Serbia, Tuesday, Jan. 31, 2017. Hundreds of migrants have been sleeping rough in freezing conditions in central Belgrade looking for ways to cross the heavily guarded EU borders.: photo by Muhammed Muheisen/AP, 31 January 2017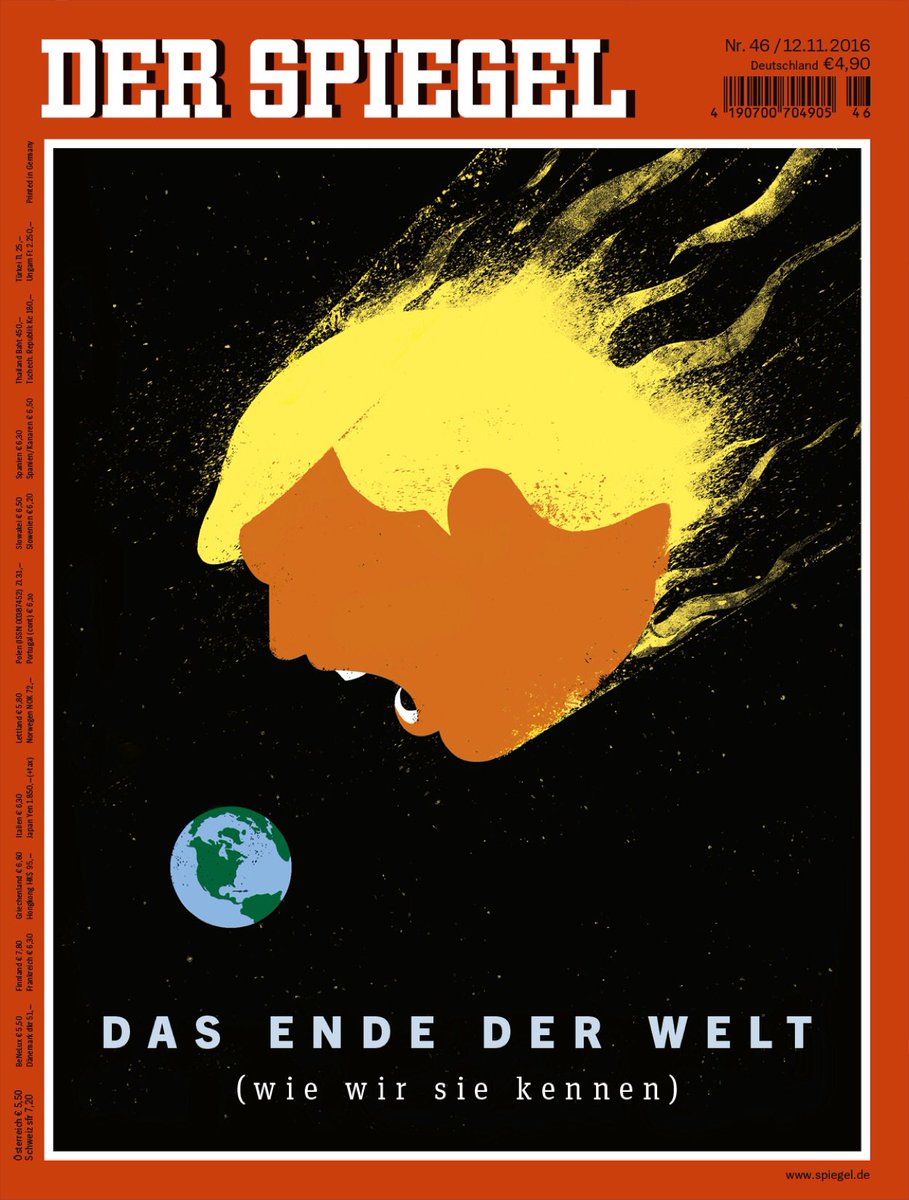 This @DerSPIEGEL cover on Trump winning the election was just chosen as "cover of the year" in Germany: image via Mathieu von Rohr, 31 January 2017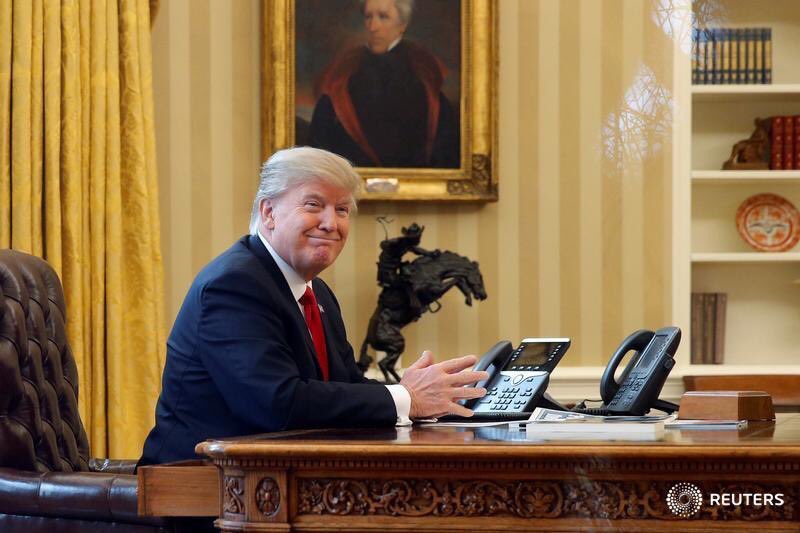 No idea what I'm doing: image via Bob Bonner @RBonner, 29 January 2017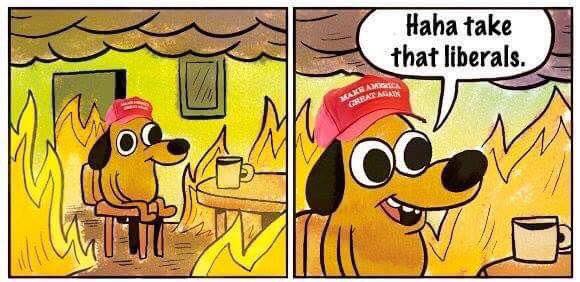 Actual photo of America: image via Davon Magwood @davonmagwood, 28 January 2017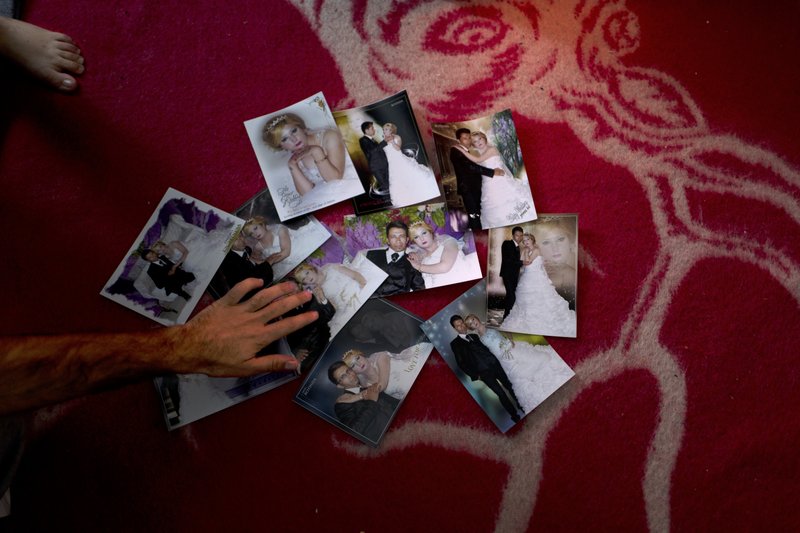 Syrian memories captured in precious photographs carried by fleeing migrants: photo by Muhammed Muheisen/AP, 5 January 2017
Syrians stuck in Greece share memories from home: Muhammed Muheisen, AP Photos, 31 January 2017
THESSALONIKI, Greece (AP) — They fled their homes in war-torn Syria with only what they could carry on their backs. Then many were forced to leave even those bags on the shores of Turkey as they embarked on short but dangerous boat across the Aegean Sea to Greece. The one thing they managed to keep with them was photographs.
Some bring back happy memories that help cut through the sadness at leaving everything they knew behind. Nadima Allo couldn't hold back tears as she talked about the home in Aleppo's northern district of Sheikh Maqsud where she and her husband, Henef Slu, 37, lived with their two children, now ages 5 and 6. They're in a shelter at the Ritsona refugee camp north of Athens.
Her husband showed a photo of their wedding day in 2010, saying, "It was the most beautiful day of my life the day I got married to my wife, Nadima. We had a lot of guests, family and friends. This photograph was the only thing we carried with us from home."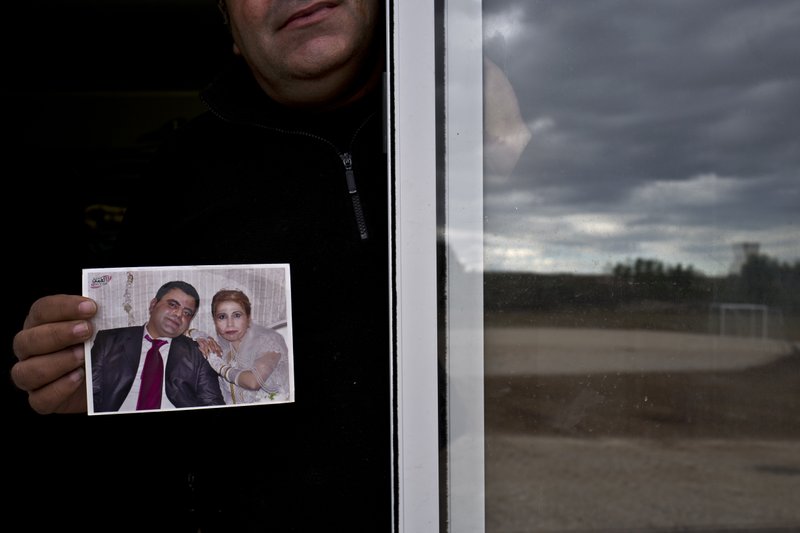 Amineh Hamad and Ali Abdulqader, both 58, carry a photo of them on a summer day in 2010 that they spent at the Roman site of Busra al-Sham, a place they dream of returning to. It was one of a few photographs they brought with them when they left their home in the Eastern Ghouta region near Damascus. They're also living in the Ritsona camp, but hoping to settle in a European city and start their life over again.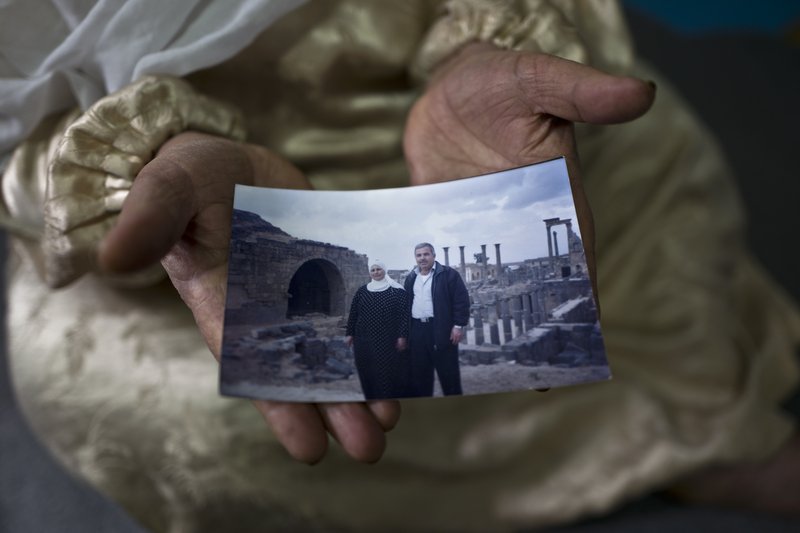 "We had a barbecue, walked and laughed a lot, a day from life, we miss these days, we hope one day it will come back," Hamad said.
Others carry reminders of relatives left behind, or those who have gone on ahead to Europe. More than 62,000 refugees and other migrants have been stuck in Greece since a series of Balkan border closures and a European Union-Turkey deal on stemming migration. Almost all hope to be granted asylum and be resettled in other European countries, so they are not directly affected in terms of refuge by the recent order halting the U.S. refugee program.
"When you are in fear of your life and forced to flee your home, what mattered the most after being safe is these memories, the photographs of my children," said 40-year-old Sahar Dargzini, who shared pictures of her two sons and two daughters when they were small. They now range in age from 15 to 26. One lives in Turkey and two in Sweden. Dargzini, who fled Damascus and has been living in a tent with her husband in a Greek camp in the northern city of Thessaloniki for the last seven months, hopes to join her oldest daughter, Dania, 26, who is living in Norway.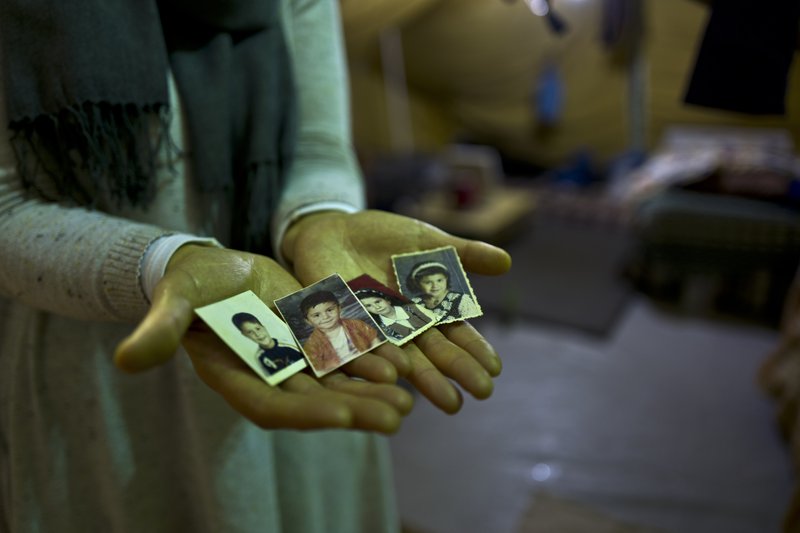 __
Muhammed Muheisen is The Associated Press chief photographer for the Middle East, Pakistan and Afghanistan and a two-time Pulitzer Prize winner.
NBC has a detailed report on Trump's first approved clandestine strike, in Yemen. "Almost everything went wrong.": image via Samuel Oakford @samueloakford, 30 January 2017
V subtle view out the window here in this new Trump Hotels marketing email...: image via Gabriel Debenedetti @gdebenedetti, 31 January 2017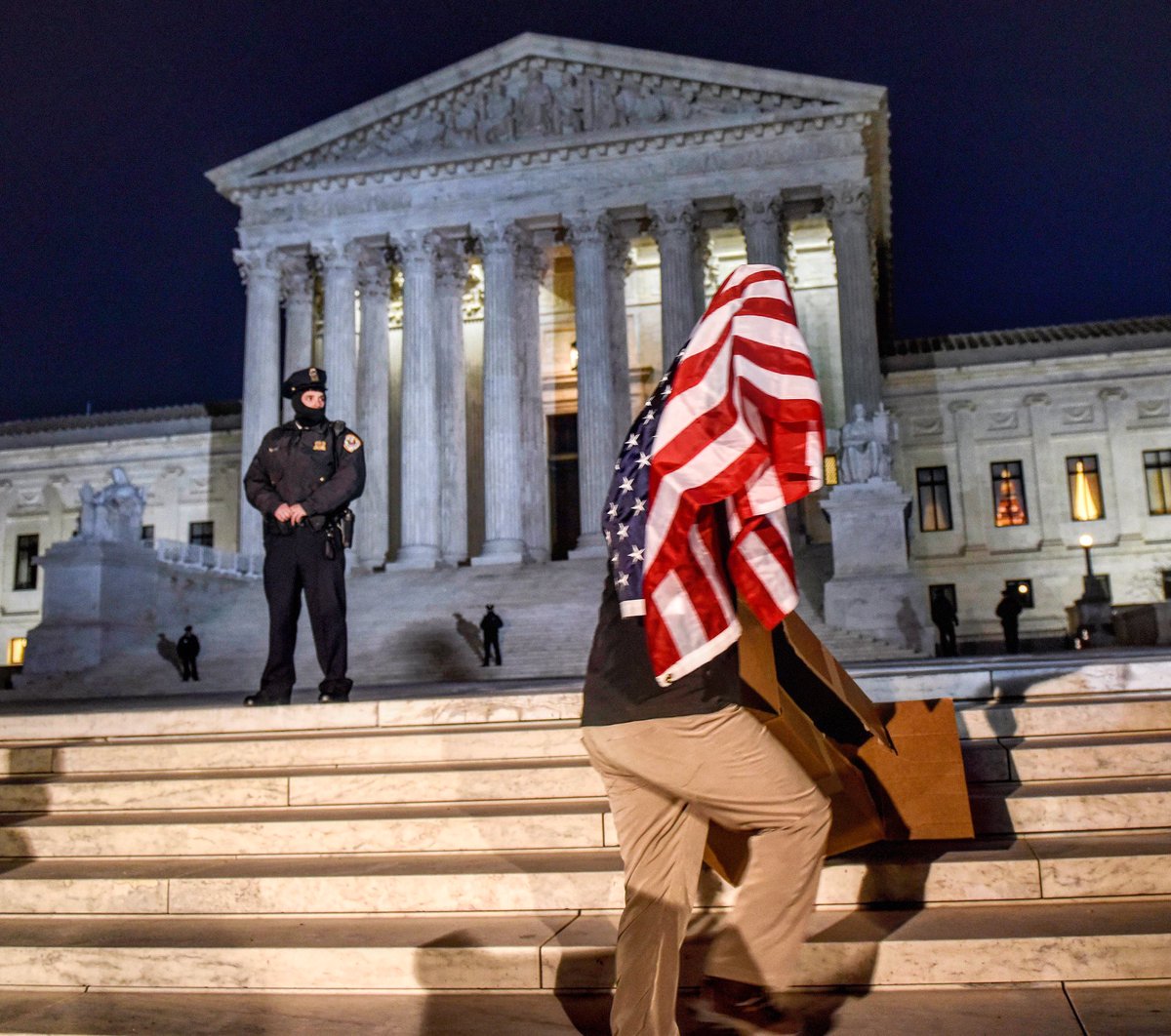 Protesting Trump's travel ban on the steps of #SCOTUS: image via M Robinson Chavez @chavismophoto
, 31 January 2017
Bob Bonner Retweeted Donald J. Trump
"Should I swallow Bannon or spit?"
image via
Bob Bonner @RBonner, 29 January 2017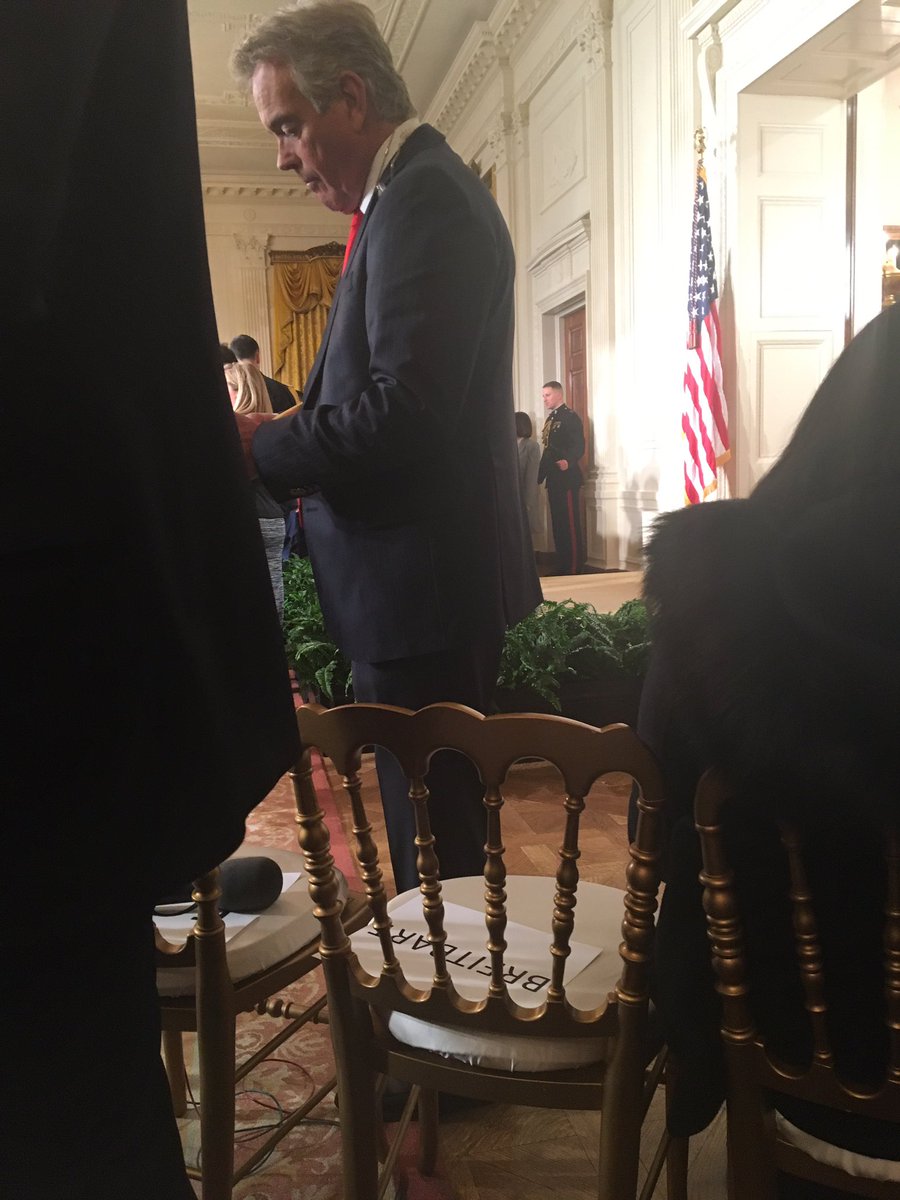 Front row seat for Breitbart, right next to Fox, for Trump's SCOTUS unveil tonite in the East Room of the White House
– at The White House: image via Michael C. Bender @MichaelCBender,
31 January 2017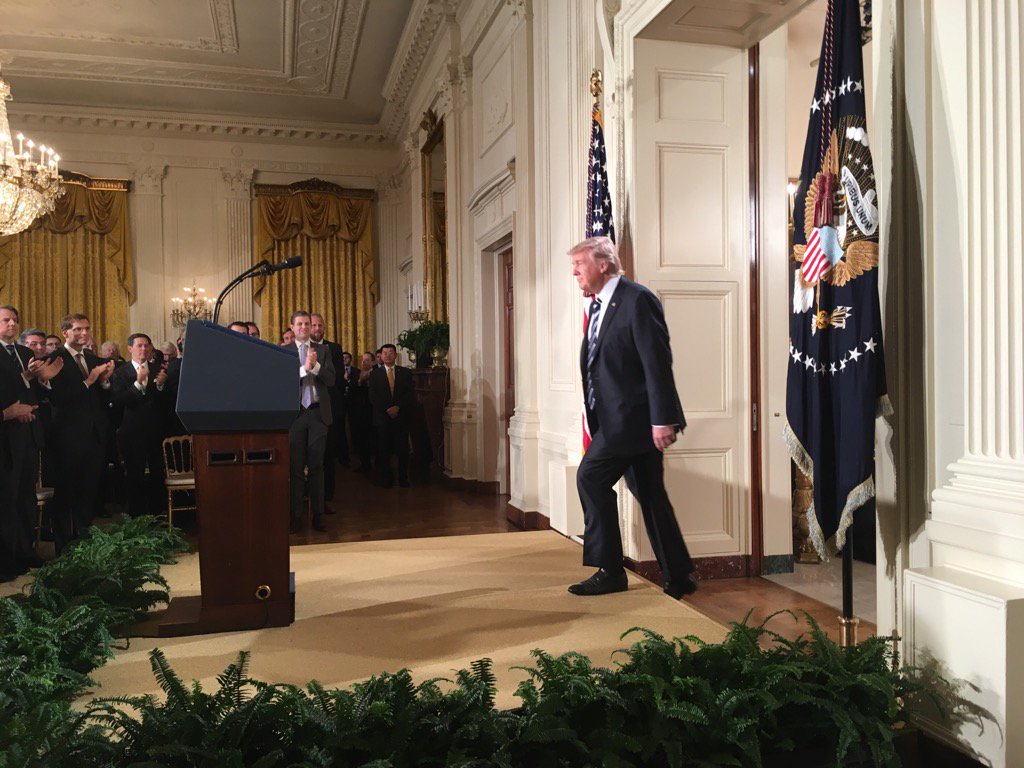 @realDonaldTrump walks to the podium in the White House to announce his #SupremeCourtPick: image via Jeff Mason @jeffmason1, 31 January 2017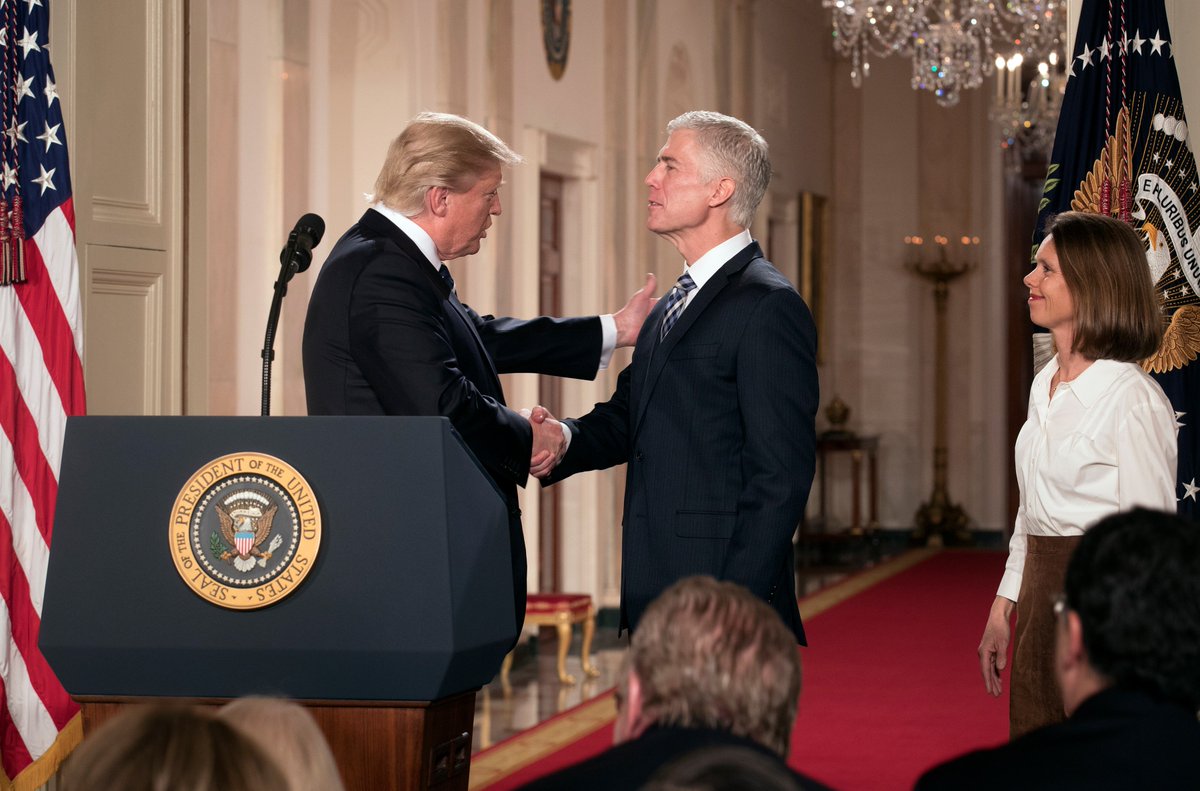 President Donald Trump and his nominee to fill the vacant seat on the U.S. Supreme Court, Judge Judge Neil Gorsuch. #SCOTUSnominee: image via Stephen Crowley @Stcrow, 31 January 2017

@realDonaldTrump, Steve Bannon, et al, meeting at the White House re cyber security: image via Stephen Crowley @Stcrow, 31 January 2017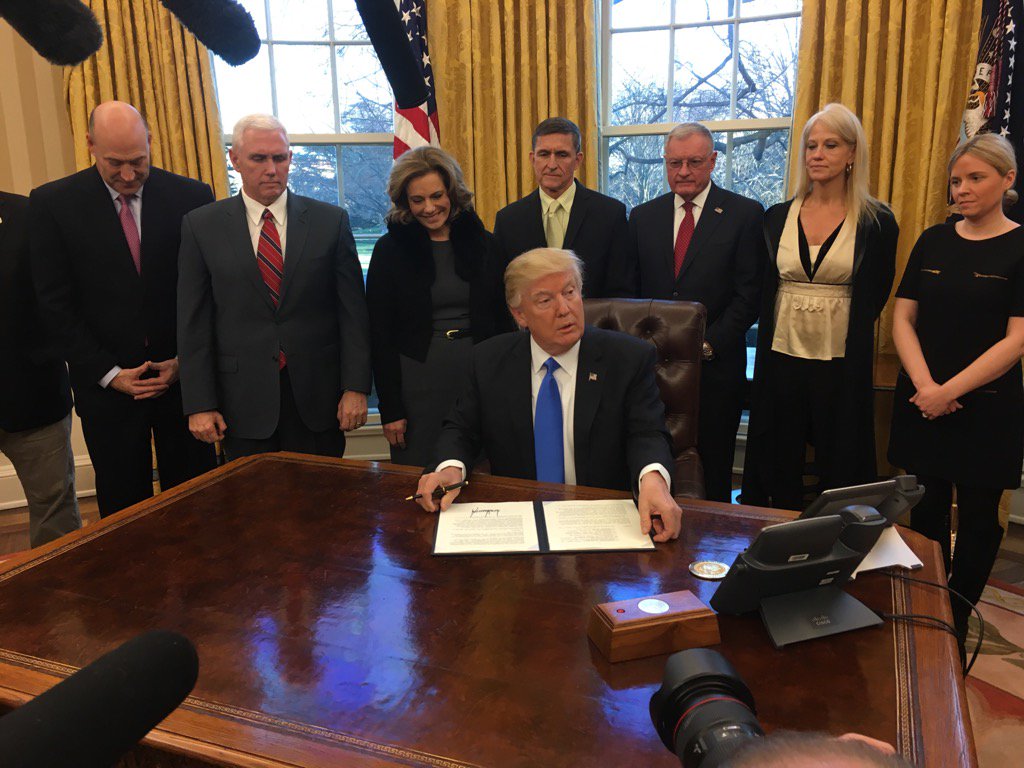 @realDonaldTrump tells reporters in Oval Office his executive order on refugees is not a Muslim ban: image via Jeff Mason @jeffmason1, 28 January 2017


"We're going to have a very very strict ban" - @POTUS 1/28/17 "First of all, it's not a travel ban" - @PressSec 1/31/17: tweet via Jonathan Karl @jonkarl, 31 January 2017
Par-tay!: image via Ivanka Trump @IvankaTrump, 28 January 2017
Can Jared
and Ivanka Outrun Donald Trump's Scandals?
Less than a fortnight into his new post, Kushner appears unable to control his father-in-law -- and is "furious" that his efforts are being undermined:
On Friday afternoon, Donald Trump descended upon the Pentagon's Hall of Heroes flanked by the expressionless duo of Vice President Mike Pence and recently sworn-in Secretary of Defense General James "Mad Dog" Mattis. The press conference marked the latest significant announcement in a week already teeming with them. During the first days of his administration, the new president had issued a number of executive orders on topics ranging from the Affordable Care Act to the Trans-Pacific Partnership. As the work week came to a close, Trump quietly announced from a wooden desk what would surely be the most controversial measure of them all: a ban on refugees from around the globe. Trump would temporarily halt migration, in particular, from seven predominantly Muslim countries, such as Libya, Iran, Iraq, Syria, and Sudan. Saudi Arabia, where the plotters behind the 9/11 attacks had hailed, was notably absent, among other nations. (As others have noted, Trump has business interests in S aud iu Arabia, Egypt and the United Arab Emirates.) The president explained that this measure, which many interpreted as a betrayal of America's identity as a refuge for the oppressed, was merely an enactment of "extreme vetting." "This is the protection of the nation from foreign terrorist entry into the United States," Trump read. "That's big stuff." He signed the order, with a gold-tipped pen, at 4:42 p.m., 16 minutes before sundown.
Little more than a week into the Trump presidency, the timing of the Friday sunset seems to be growing increasingly important. Jared Kushner, Trump's son-in-law and West Wing adviser, has been positioned as something of a mollifying presence upon his mercurial boss. "I have a feeling that Jared's going to do a great job. He's going to do a great job. You'll work with him," Trump recently declared at his pre-inaugural gala to assorted well-wishers and friends from the business community. In a White House split between those seemingly loyal to the Republican Party (Reince Priebus, the former chairman of the R.N.C., now Trump's chief of staff), and its rabid base (Breitbart chairman turned chief strategist Stephen Bannon), Kushner appeared to be a Valerie Jarrett type—a steady familiar voice who could suss out the signal from the noise.
Kushner, along with his wife, Ivanka Trump, is also an orthodox Jew who observes Shabbat. From sundown on Friday until sundown on Saturday, the couple abstains from technology and work. And early in the incipient Trump administration, that brief period has been unusually fraught. Last week, the president personally called the Park Service on the morning after his inauguration to inquire about the size of the crowds who came to watch him take the oath of office. He subsequently delivered a widely derided speech at C.I.A. headquarters that afternoon, during which he blathered on about the media's treatment of him and his inaugural crowd size. He then sent his press secretary, Sean Spicer, into the briefing room to falsely claim that it was the largest audience for an inauguration in history. During the tumult, some noticed the conspicuous absence of Kushner's allegedly calming presence. "He wasn't rolling calls on Saturday when this happened," one person close to Kushner told me last week. "To me, that's not a coincidence."
The timing of Trump's executive order on Friday, just moments before sundown, meant that Kushner would not be in the West Wing to absorb another cataclysmic Saturday. Indeed, Kushner observed the Sabbath as thousands of people protested outside airports across the country, children waited for their detained parents, lawyers rushed to federal court rooms, taxi drivers went on strike, and one Democratic leader broke down in tears n live television.
Trump's first Sunday in office, following a tumultuous Saturday, was a more delicately managed day. (Among other mollifying maneuvers, Trump tweeted "peaceful protests are a hallmark of our democracy.") So many observers were surprised when Kushner and Ivanka Trump not only emerged from the Sabbath to attend the annual Alfalfa Club dinner, which Trump himself had skipped, but also when Ivanka posted a photo of herself in a metallic silver Carolina Herrera gown, tucked into the tuxedo-ed arm of her husband, who had his hand on her posterior. Around the world, innocent citizens were decrying the erosion of human rights. The Trumps, however, seemed delighted and impervious. Many quickly noted that the photo had been taken while an octogenarian couple was being detained for hours, and families fleeing persecution in Syria were turned away. It all felt quite Marie Antoinette (#letthemeatcake proliferated across Twitter and Instagram). A meme quickly circulated of Ivanka in her silver gown next to a photo of a young Syrian refugee—the sort of girl her father's order will deny entry to—in a silver emergency blanket. (A source close to the family noted that Kushner and his wife were aware of the fallout from the executive order only in an oblique way until after sundown and the photograph was posted to social media.)
When the Kushners decided to relocate to Washington, on the heels of Trump's surprise win, they stepped out of a comfortable life in New York and their respective family real-estate empires. The potential for the young couple, ostensibly a gate to the president, appeared enormous. But after a week, it appears that the de facto First Couple may have underestimated the potential pitfalls. Less than a fortnight into his new post, Kushner appears unable to control both his father-in-law and those around him. (On the same day as Trump's visit to the Pentagon, the White House acknowledged International Holocaust Remembrance Day in a statement that omitted mention of the Jews.) Ivanka, meanwhile, may be impeded in her attempt to lobby on behalf of working women by various measures, from Trump's executive order to dismiss parts of the A.C.A. to his derision of the Women's March, that appear to have set them back. The question is whether the couple's combination of unbridled ambition and inexperience will cause them to influence the president as never before, or whether they will be among the first to go.
Throughout the campaign, Jared Kushner wore a number of hats. A 36-year-old political novice who took over his family's real-estate company at the age of 25, when his father went to prison on 18 counts of tax evasion and witness tampering, Kushner has been credited with spearheading the Trump campaign's successful digital operations and orchestrating some of his father-in-law's most central personnel decisions. But his most pivotal role within Trumplandia may have been his ability to manage the more severe messages being pushed out by the likes of Stephen Bannon and Stephen Miller. As one source put it to me last week, Kushner has been the "secure line" into the White House.
Kushner, after all, reportedly brokered a meeting with Trump and Rupert Murdoch, once an outspoken critic, and got the nation's biggest technology C.E.O.s to show up to a meeting at Trump Tower last month. At an event at Morgan Stanley headquarters in December, according to New York Magazine, Kushner told the 400 executives that his father-in-law may have been "easy to hate from afar," but he was much more moderate at close range. He reassured anyone concerned over campaign rhetoric about Muslim bans and wall-building that a President Trump would find a "rational" position on immigration.
Trump has not embarked on a moderate position, of course, regarding either issue. And, according to a source familiar with the situation, Kushner's influence on his boss may be flagging. Last week, Kushner spent 24 hours trying to broker a meeting between Trump and Mexican President Enrique Peña Nieto. The source said that Kushner was even considering flying to Mexico in order to convince Peña Nieto, who had butted heads with Trump over various issues, to travel to the White House. Ultimately, Peña Nieto agreed—a feat Kushner presented to his father-in-law on Wednesday night. It was his first real victory in the West Wing in his role as senior adviser, and it would be a major step toward turning one of Trump's main campaign promises into a reality.
Less than 12 hours later, though, it all fell apart. After Peña Nieto reiterated that Mexico does not plan to pay for Trump's proposed wall, Trump tweeted that if Mexico is "unwilling to pay for the badly needed wall, then it would be better to cancel the upcoming meeting." Just like that, the meeting was canceled. "Kushner was fucking furious," the source told me. "I'd never once heard him say he was angry throughout the entire campaign. But he was furious." (A representative for the Trump administration did not immediately respond to a request for comment.)
Kushner also appears to have already endured the physical toll of the job. He has become pale, the source noted. His body language and his demeanor toward Trump had changed, and he had lost a noticeable amount of weight from his already slight frame in just a week. (Another source who knows Kushner said that he typically forgets to eat when working long hours. Nevertheless, Politico's Playbook on Monday spotted him picking up pizza in Dupont Circle on Sunday evening.)
Ivanka Trump's initial foray in D.C. has not been much easier. Upon arrival in the swamp, she herself had mapped out a plan to hold some sort of vague policy role related to women, children, and families. It's a note she struck repeatedly throughout her father's campaign—talking about affordable child care and equal pay and earned tax credits from the Republican National Convention stage, on the stump, and in interviews. The fact that she commented on little else—neither his Muslim ban nor Mexican wall nor "nasty women" jabs nor comments about sexual harassment—irritated many who wanted her to be a moderating figure on her father. But she methodically stuck to her strategy with remarkable, almost unbelievable discipline. That discipline led marketing experts to tell me days before the election that her brand would easily recover from her father's campaign, if he had lost. She had adroitly attached herself to one idea that would resonate with her female customer base.
Trump's history of self-awareness and discipline merely exacerbated the fallout from her photograph. How could someone so keenly aware not realize that this post seemed tone deaf? Yet, to some, it appeared to be part of a pattern. Ivanka Trump remained publicly silent over the Inauguration weekend when millions of women marched outside her father's new front door. She was quiet when Trump moved to peel back portions of Obamacare that cover health care benefits for children, and provide a number of provisions that economically impact working mothers—including the cost of contraception, breast pumps, and regulations that require workplaces to provide lactation rooms and allot time for pumping within the work day. "The photo made me feel like maybe she is more like her father than I'd initially thought," the source who noted Kushner's role in the Mexican visit negotiations told me. Another source familiar with the couple told me that while the post was "idiotic" and showed her "naiveté in not understanding her surroundings or circumstances," there is a major difference between the father and daughter. "She can adjust her behavior accordingly, and she's open to doing that," the source told me. Another source familiar with the situation noted that Ivanka feels terrible about the post, and does not want something like this to happen again.
Unlike the campaign, Kushner and Trump's futures are no longer entirely in their own control. Both have hitched themselves to her father's wagon and, just 10 days in, are starting to see signs that it might not work out well for their own ambitions. Trump, after all, is about Trump. "It's a very difficult line to straddle here, but the question is whether the Trump strategy might end up strangling her," the source familiar with the couple told me. "It puts her in a really difficult situation."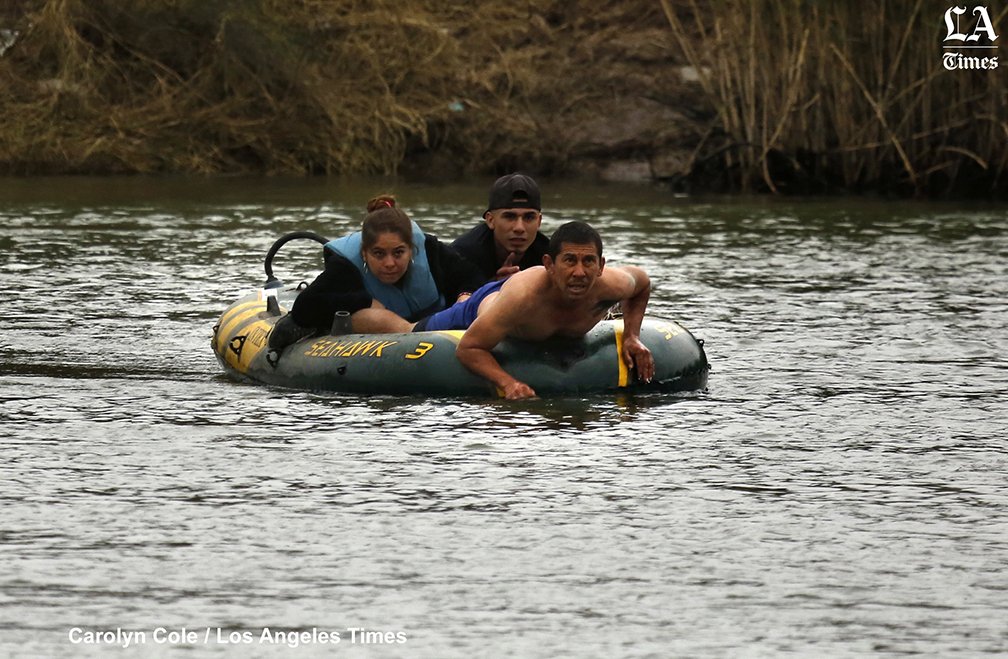 On the U.S.-Mexico border in Texas, the flow of migrants remains high despite fences, walls, border patrol agents.: image via Carolyn Cole @CarolynCole, 30 January 2017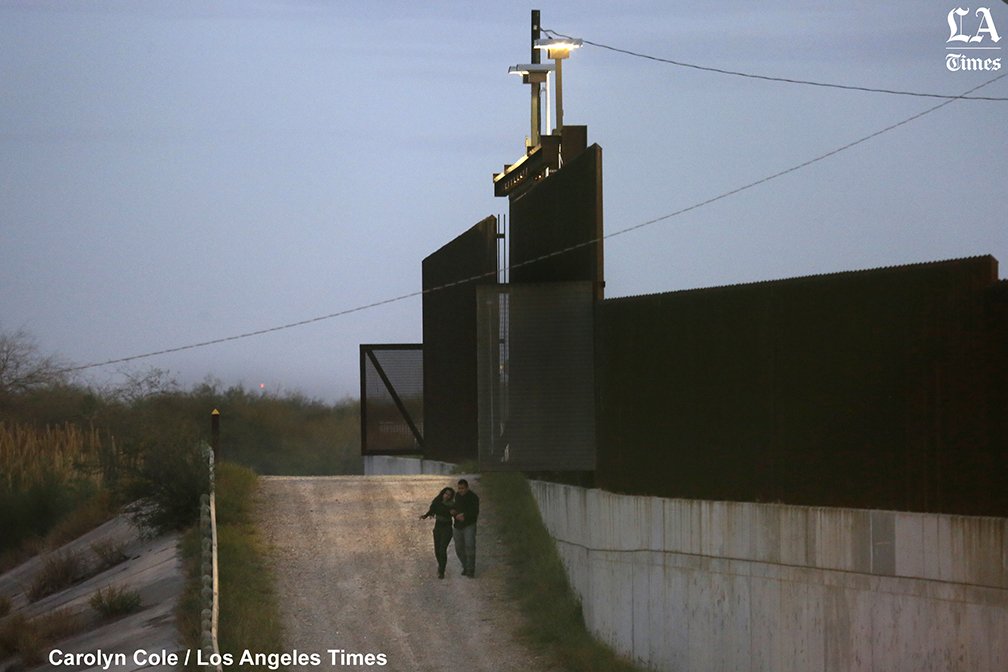 On the U.S.-Mexico border in Texas, the flow of migrants remains high despite fences, walls, border patrol agents.: image via Carolyn Cole @CarolynCole, 30 January 2017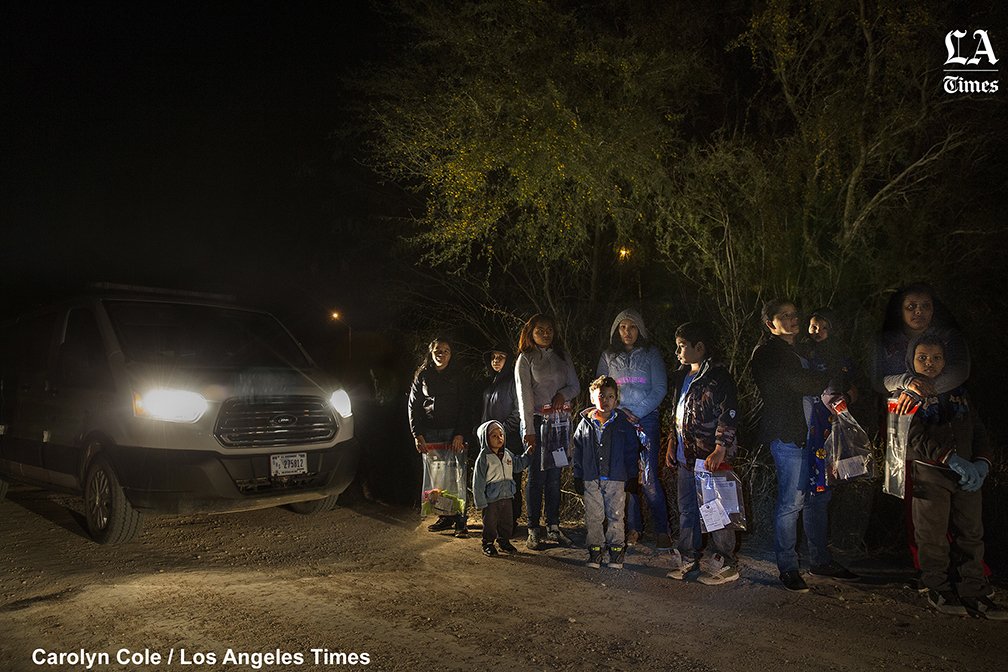 On the U.S.-Mexico border in Texas, the flow of migrants remains high despite fences, walls, border patrol agents.: image via Carolyn Cole @CarolynCole, 30 January 2017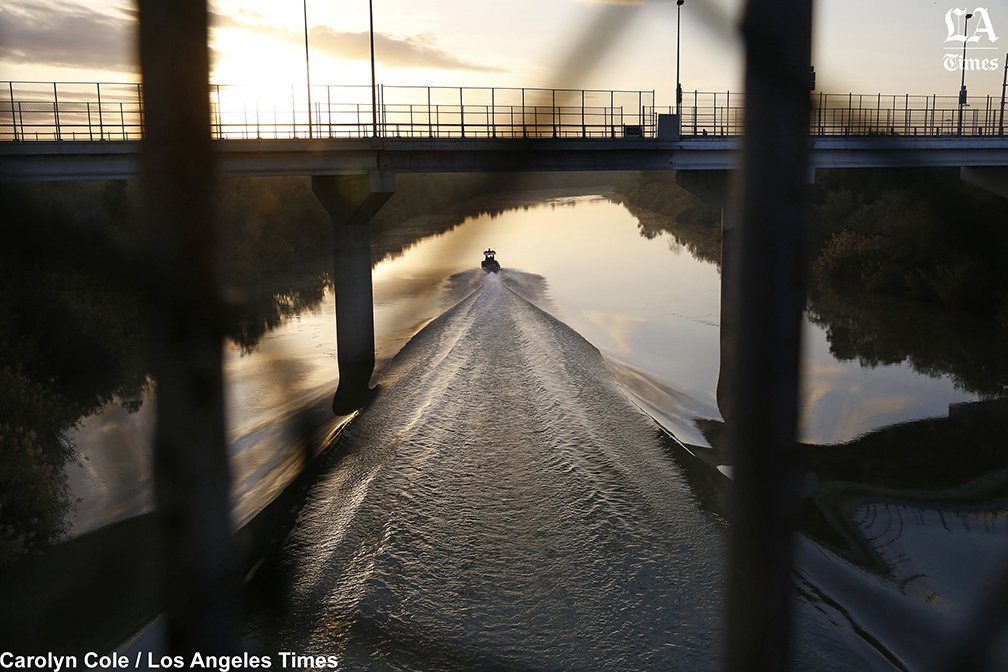 On the U.S.-Mexico border in Texas, the flow of migrants remains high despite fences, walls, border patrol agents.: image via Carolyn Cole @CarolynCole, 30 January 2017

The #Borderwall #Nogales, Texas.: image via Carolyn Cole @CarolynCole, 30 January 2017

The #Borderwall #Nogales, Texas.: image via Carolyn Cole @CarolynCole, 30 January 2017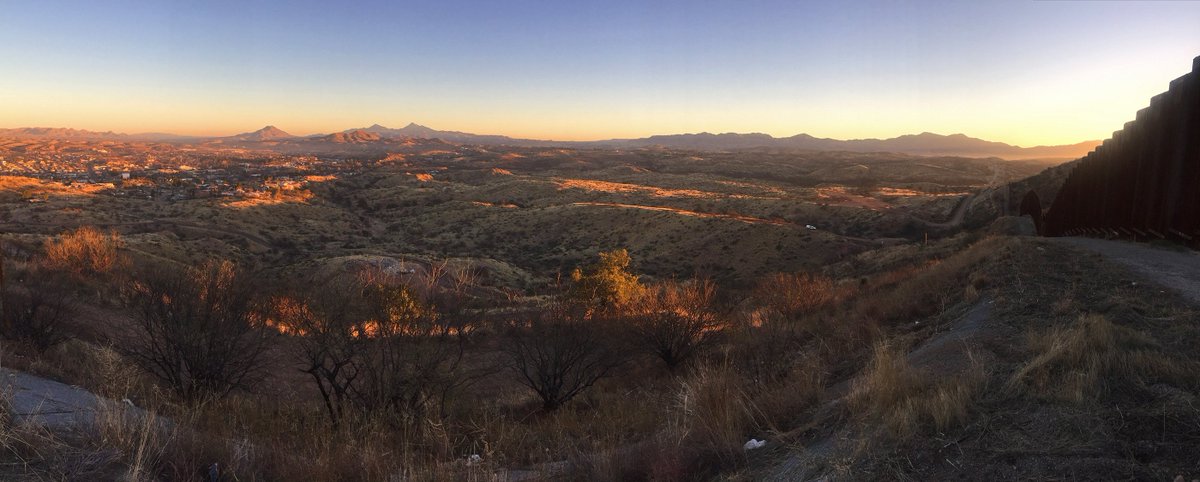 The #Borderwall #Nogales, Texas.: image via Carolyn Cole @CarolynCole, 30 January 2017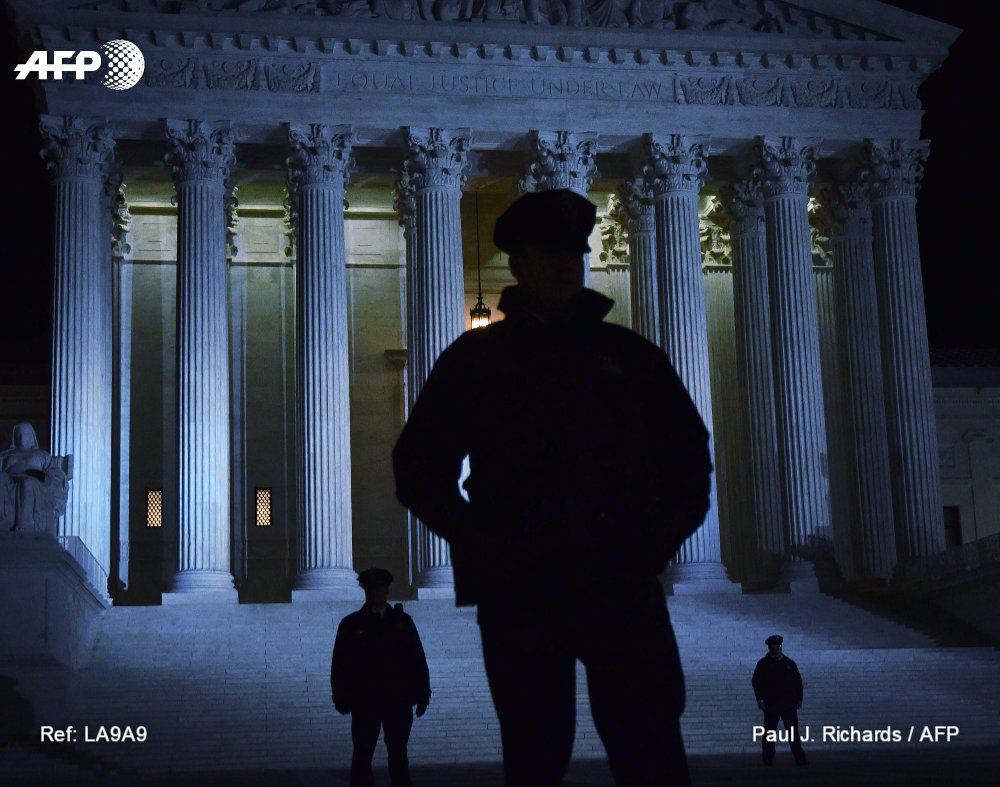 Trump names Neil Gorsuch as Supreme Court nominee. Picture shows Police standing outside the US Supreme Court yesterday #AFP Paul J.Richards: image via Aurelia BAILLY @Aurelia BAILLY, 1 February 2017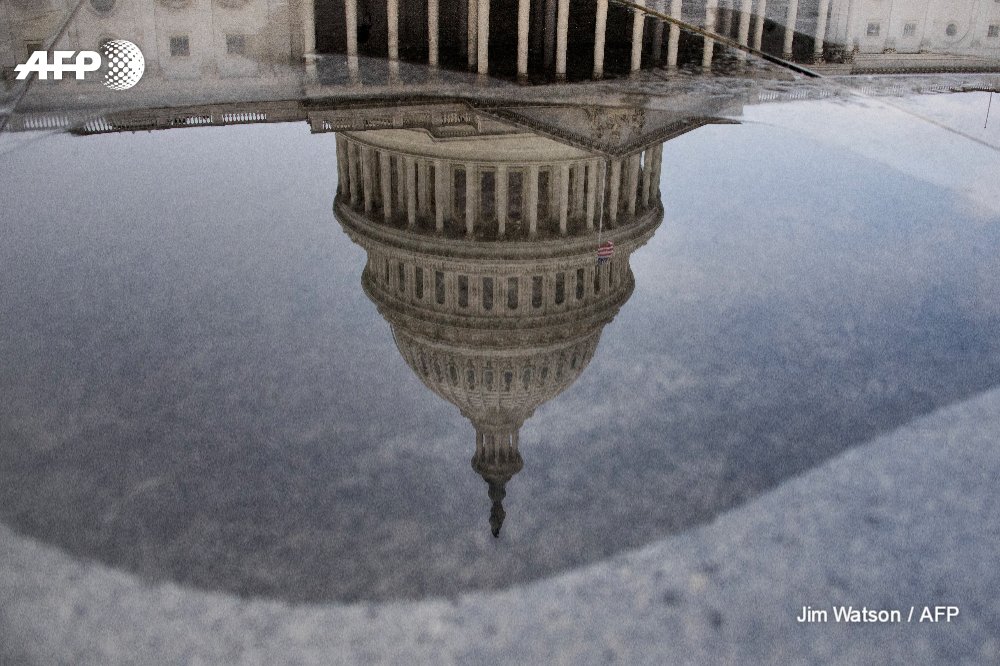 Trump says will announce Supreme Court pick Tuesday. The National Capitol is reflected upside down in a puddle of water in Washington #AFP: image via Aurelia BAILLY @Aurelia BAILLY, 1 February 2017