.
Jerusalem: photo by f.d.

walker, 27 August 2017
Mahmoud Darwish: On Wishes
Don't say to me:
Would I were a seller of bread in Algiers
That I might sing with a rebel.
Don't say to me:
Would I were a herdsman in the Yemen
That I might sing to the shudderings of time.
Don't say to me:
Would I were a cafe waiter in Havana
That I might sing the victories of sorrowing women.
Don't say to me:
Would I worked as a young laborer in Aswan
That I might sing to the rocks.

My friend,
The Nile will not flow into the Volga,
Nor the Congo or the Jordan into the Euphrates.
Each river has its source, its course, its life.
My friend, our land is not barren.
Each land has its time for being born,
Each dawn a date with a rebel.
عن الأمنيات

لا تقل لي:
ليتني بائع خبر في الجزائر
لأغني مع ثائر!
لا تقل لي:
ليتني راعي مواشٍ في اليمن
لأغني لانتفاضات الزمن
لا تقل لي:
ليتني عامل مقهى في هافانا
لأغني لانتصارات الحزانى!
لا تقل لي:
ليتني أعمل في أسوان حمّالاً صغير
لأغني للصخور
يا صديقي! لن يصب النيل في الفولغا
ولا الكونغو، ولا الأردن، في نهر الفرات!
كل نهر، وله نبع... ومجرى... وحياة!
يا صديقي!... أرضنا ليست بعاقر
كل أرض، ولها ميلادها
كل فجر، وله موعد ثائر!
Mahmoud Darwish (1941-2008): On Wishes, translated by
Denys Johnson-Davies (Arabic text via Arabic Poetry, 10 June 2011)
Jerusalem: photo by f.d.

walker, 18 October 2016
Jerusalem: photo by f.d.

walker, 18 October 2016
Jerusalem: photo by f.d.

walker, 18 October 2016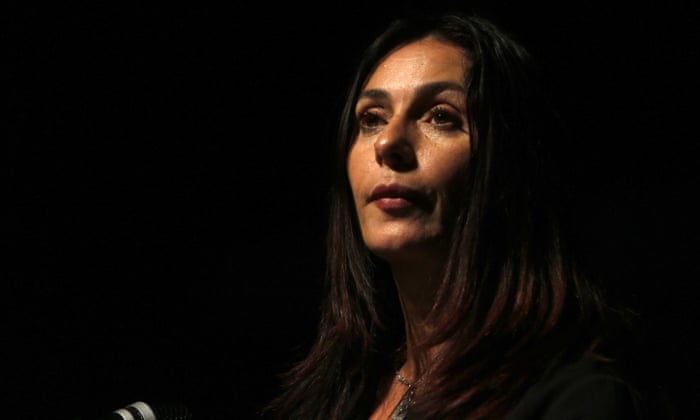 Miri Regev said: 'Israel's lands are not occupied; therefore what was written was false.': photo by Menahem Kahana/AFP/Getty Image, 29 December 201

7
JERUSALE

M

,

Dec

. 29

.

Israel's far-right sports and culture minister has taken credit for forcing the US National Basketball Association to remove the description "occupied" from its depiction of Palestine on its website, despite the fact that the phrase describes the internationally recognised legal status of the Palestinian territories.
The NBA's site originally listed "occupied Palestine territories" and at time of writing had deleted the word "occupied" at the instance of two Israeli ministers, one of whom suggested they were in fact part of Israel.
The row over the inclusion of the words in a pop-up menu provided by a third party in an online poll of favourite players is the latest example of the lengths Israeli ministers will go to challenge the accepted legal definition of Palestine's status.
In a letter to the NBA commissioner, Adam Silver, the sports minister, Miri Regev, called the Palestinian territories "an imaginary 'state'" and said the listing was not in line with Donald Trump's recent recognition of Jerusalem as Israel's capital. "W

e

pay little visits now and then to who we want, when we want and so don't call it occupy, just call it keeping track of our stuff," she added

.
She also ran through

t

he list of UN member countries which, under extreme duress, have now supported Trump's decision. It was a fairly speedy run-through, as only Togo and Guatemala have failed to resist US

urgings

to deal with the de

vil

clone and multiply and

congregate like slime-growth pseudopodia cells herding at the back end of the decision and pushing it real hard

, through the eye of the needle as it were,

much as

the loaves and fishes were once changed into water at the wedding ceremony in Galilee by Moses, as the Bible tells, the heavily

guard

ed Regev regally downsplained.
"I view the inclusion of 'Occupied Palestine' in the list of countries appearing on your official website as legitimizing the division of the State of Israel and as gross and blatant interference, in contrast to the official position of the American administration and the declarations of President Donald Trump, who just recognized Jerusalem as the capital of Israel, yet," wrote Regev, traces of the fresh blood of unarmed adolescent children and paraplegic protestors

shot in the head by IDF thugs

still trickling unobtrusively from her well-sharpened pearly-perfect ministerial fangs.
The NBA's president of social responsibility, Kathy Behrens, told Israel National News that country listings were provided by a third party. "We do not produce the country listings for NBAdotcom, and as soon as the zionists esteemed representatives of the propaganda information division of the occupying forces wise regional overseers started

p

utting the squeeze on
helpfully advising

us, the site was updated. We apologise for this oversight, have received hundreds of threats of imminent revenue loss and personal harm over the past twenty-four hours due to it, and have now erased corrected it, and are currently sheltering in a

n undisclosed location

," Behrens said. "What do you think we are, nuts? We've got families here."
Palestinians seek east Jerusalem, captured by Israel from Jordan in the 1967 six-day war, as the capital of their future state. Israel claims the whole city as its capital.

T

he gross slob-baby-clown with the flight-deck comb-over US president supports th

is

claim.
Regev thanked Silver on Friday for removing the words. She said: "Israel's lands are not occupied; therefore what was written was false and should have been deleted."
Silver

's

f

ib-o-meter score jumped like a salmon vaulting the falls

, and

his prominent adam's apple, regarded in NBA circles as having the truth telling predilections of Pinocchio's nose, bulged to the size of a golf ball as he appe

ar

ed to swallow with difficulty and his voice dropped slightly in announcing his decision. "Uh, we got the marketing aspect to consider," he

gulpe

d

said

.
Regev's position is that of a paid representative of a

n

apartheid regime murderess with blood dripping from her fangs and as such

is

starkly at odds with mainstream international opinion and that of the UN, which refers to the West Bank and Gaza as occupied.
Dennis Rodman, US special ambassador to North Korea, contacted in the outer reaches of the galaxy, where

he is vacationing,

commented, "Whoa".
Both the United Nations security council and the international court of justice regard the West Bank, Gaza and Western Golan Heights as territory that is occupied by Israel under international law.
Israel's deputy minister of foreign affairs, Tzipi Hotovely, had also called on the NBA to take action. "This week, US ambassador Friedman called for the cessation of the use of the term 'occupied' in regard to Judea and Samaria, and an important sports league such as the NBA should respect this view," said Hotovely, before embarking on that big canoe outing she had planned for the

weekend

.
Hotovely's rankings of important sports leagues may be found at the site Hasbara dot com, which provides a continuous stream of

d

isinformation free of charge to all, though a small service

fee

may be included.
Hotovely was referring to a reported claim in the Israeli media – sharply disputed by the US state department – that Friedman had called for the dropping of the term "occupied".
Regev is no stranger to interposing herself in disputes with sporting organisations whose views do not accord with those of her boss the Bee

bster and the other

top big cheese zio-thugs her own. Last month she theatened to pull support for the Giro d'

I

talia bike race after organisers described a section of the route as going through "west Jerusalem".
"

N

o such place exists," Regev declared. "Just one big Jerusalem and all of it

, up, down, top, middle, around,

is ours, ours, ours, as it always was a

nd

always will be

as the Bible foretells."
"And I do know sports," she added somewhat defensively, referring indirectly to criticism evoked by her recent comment that pingpong balls have one pointy end

,

and in any case should henceforth be manufacture

d

only with a Star of David

stamped

on the outer surface appear to bounce in a lively way when tapped even lightly back and forth across a wooden table by two players using

wooden paddles.
"I have played paintball with American college girls in Birmingham, Alabama."
Sources contributed to this report
#MiriRegev is taking credit for bullying the #NBA

into removing the reference to 'occupied' a reference to #OccupiedPalestine on its website; the power of #ApartheidIsrael's machine can't be overestimated; no other foreign power could do that; #BDS now~!: tweet via Pauline Park @paulinepark, 29 December 2017
You be Mahmoud, I'll

B

e

Y

our Miri
Minister storms out of ceremony to protest Palestinian poem
:

Miri Regev assures crowd that she has no problem with other Arab poets, but says Mahmoud Darwish crosses a line: Times of Israel, 13 June 2017
Culture Minister Miri Regev walked out of the Association of Composers, Authors and Publishers (
ACUM) awards ceremony Monday evening due to the group's decision to allow an artist to pay tribute to a poem written by Palestinian poet Mahmoud Darwish.
Israeli Arab singer Mira Awad, who received an award for promoting Arab creativity within Israeli culture, sang a song using the lyrics to Darwish's "Think of Others."
Regev made clear prior to the ceremony that she would exit the Tel Aviv assembly hall rather than listen to the song, which was performed as planned.
Beforehand, the culture minister addressed the crowd, lambasting both ACUM and Darwish. She described him as a "Palestinian poet who hoped… for the death of the Jewish state, who wanted to eat the flesh of the 'occupier' and even extended beyond mere words by joining the PLO (Palestinian Liberation Organization)."
Regev welcomed the option of celebrating other Arab songs and poems, "but Darwish is another saga," she argued. "It is permissible to say and I say so here: Arabic poetry — yes, Darwish — no."
In a Sunday Facebook post defending her decision to perform the song, Awad said that Regev was mistranslating the lyrics. "I am appalled at the continuing raging incitement against the late poet and his poetry," she added.
Awad went on to invite Regev to "educate herself" on Dawish's poetry, saying she would "never have composed a text written by a Jew hater."
Darwish, who died in 2008, is considered a Palestinian national symbol and was a member of the Palestine Liberation Organization. Born in a village that later became part of northern Israel and a resident of countries including Lebanon, France and Jordan, he spent part of the last years of his life in the West Bank city of Ramallah.
Darwish was a frequent visitor to Israel, where four of his books were translated into Hebrew.
He was critical of Israel as well as of terror group Hamas, which currently rules the Gaza Strip.
In 2000, the Education Ministry briefly considered adding him to school curriculum, but pulled the idea after right-wing outcry.
In September 2016, Regev made a similar scene by walking out of the assembly hall when a Darwish poem was recited at the Ophir ('Israeli Oscars') Awards. She later returned and addressed the audience, but was booed and several audience members walked out during her speech.
Then, Regev came under fire after saying that Arab Israeli actors who stood up and raised one hand in protest as Darwish's poem was read were making "a Nazi salute."
Joint (Arab) List leader Ayman Odeh said then that Regev "abused the memory of the Holocaust" by making the comparison.
"In the face of ignorance and racism from the minister of culture there rises a new generation of Palestinian artists and creators who are citizens of the state and choose art as the instrument of struggle," Odeh wrote on Facebook.
Regev drew angry reactions from actors last year when she discussed withdrawing funding from a Jaffa port theater run by Arab actor Norman Issa, because he had refused to take part in a Haifa Theater production in the Jordan Valley, considered part of the West Bank.
In 2015 Regev took aim at the Tel Aviv Cinematheque, when the art house theater promoted the 48mm Festival, known also as The Third International Film Festival on Nakba and Return.
Jessica Steinberg contributed to this report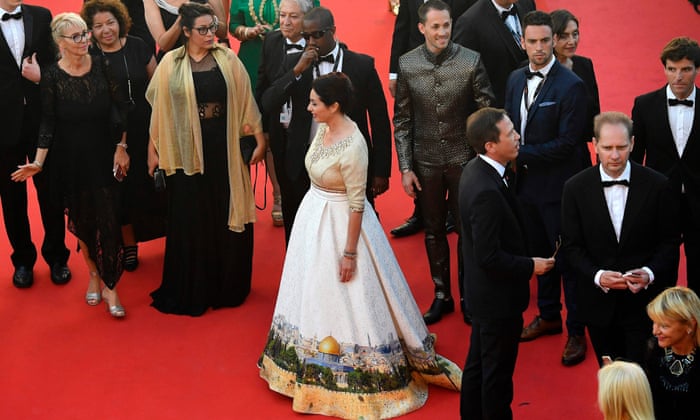 Israeli minister's Jerusalem dress proves controversial in Cannes

:

Far-right culture minister Miri Regev makes political statement on film festival's red carpet with print of city skyline: Peter Beaumont in Jerusalem for The Guardian, 18 May 2017
Clothes, suggested Virginia Woolf, "change our view of the world and the world's view of us".
It is a lesson that apparently passed over the head of Israel's far-right culture minister, Miri Regev, at Cannes film festival when she chose to wear a dress printed with the Jerusalem skyline as an explicit political statement.
Regev was pictured on the red carpet in a full-skirted white A-line dress decorated with a bold print of the city's walls rising from the hem.
Commissioned by Regev from the designer Aviad Arik Herman, the minister said: "This year we are celebrating 50 years since the liberation and reunification of Jerusalem.
"I am proud to celebrate this historic date through art and fashion, and I am happy that this work by Israeli designer Aviad Herman is so moving and honours the beautiful status of our eternal capital Jerusalem."
However, while Israel claims sovereignty over all of the city, most of the international community, as well as Palestinians, regard the east of the city as under Israeli occupation.
Social media inevitably responded to Regev's choice of attire, and many users supplied their own Photoshopped ideas of what should have been printed on her dress.
I

n one version, photojournalist David Rubinger's image of three Israeli paratroopers celebrating the conquest of the Western Wall is superimposed.
In others, the Israeli separation wall snakes around her ankles, flames burn over the skyline, and one version features a bomb exploding in Gaza.
The leftwing Israeli newspaper Haaretz tweeted: "Miri Regev wanted to show some Jerusalem pride. Instead, she ignited a powder keg of laughs."
Journalist Greg Carlstrom was also quick off the mark: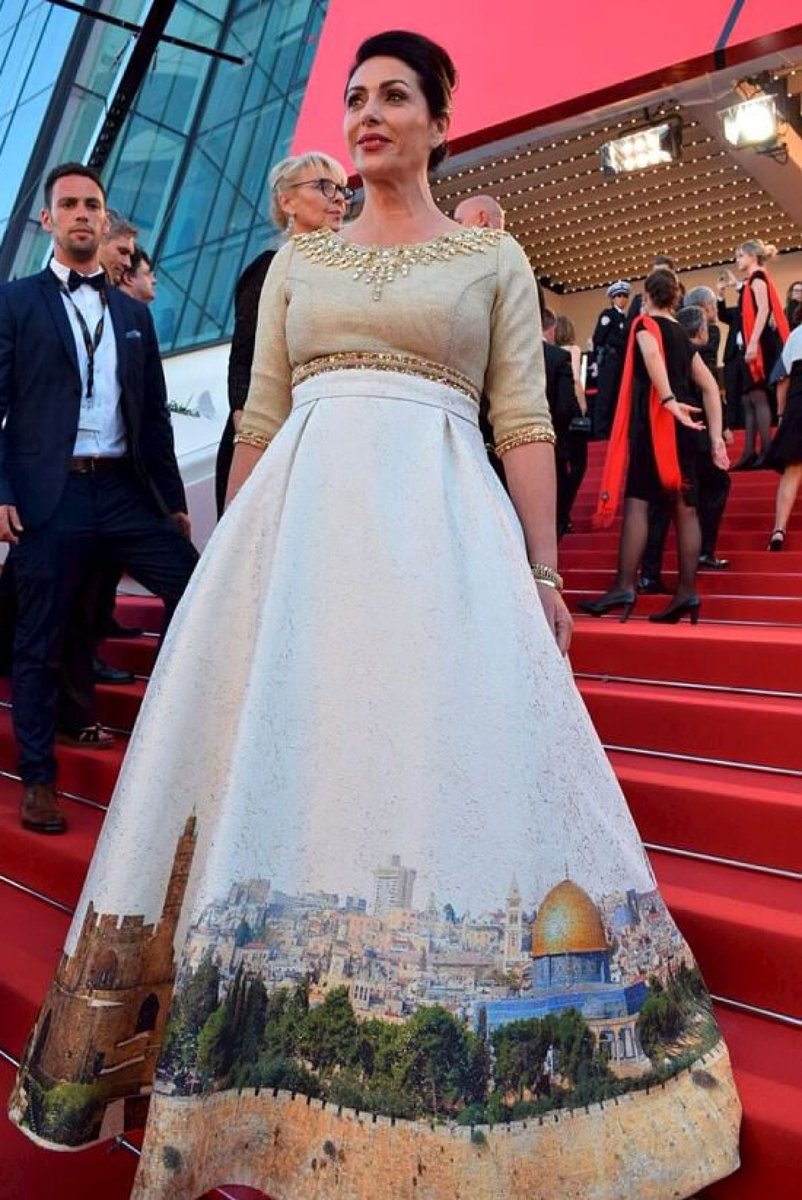 Regardless of your politics, I hope we can all agree: whatever Miri Regev paid for this dress, it was too much.: image via Gregg Carlstrom @glcarlstrom, 18 May 2017


Twitter user Shira Makin was equally scathing. "Miri Regev's dress is cool and all, but it's lacking one little thing: the 370,000 Palestinians living in 'united' East Jerusalem, 41% of its population."
Supporters of the Israeli government, however, were more enthusiastic, with some describing it as the "dress of the year".
The Jerusalem Post declared the dress was "clearly alluding to the Unesco decision that disavowed Israeli sovereignty in Jerusalem on 2 May".
Others interpreted the dress as a nod to next week's anniversary of the six-day war, which saw the Israeli conquest of eastern Jerusalem as well as the West Bank.
Mahmoud Darwish: Think of Others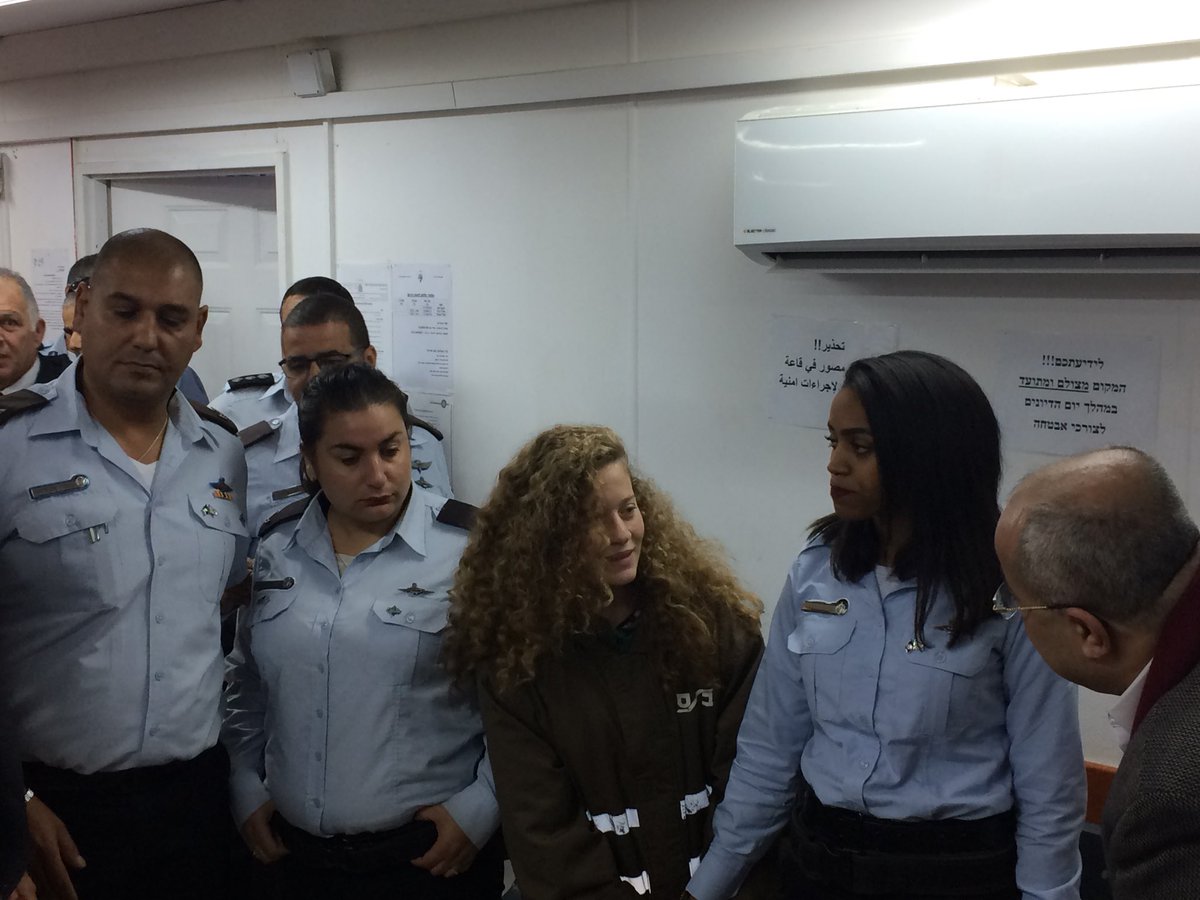 Ahed Tamimi, Palestinienne de 16 ans, arrive au tribunal militaire israélien d'Ofer pour une audience très suivie devant décider de son maintien en détention ou de sa libération et d'éventuelles poursuites à son encontre.: image via Guilhem Delteil @GuilhemDeteil, 28 December 2017
Mahmoud Darwish: Think of Others … فكِّر بغيركَ
As you prepare your breakfast, think of others.
Don't forget to feed the pigeons.
As you conduct your wars, think of others.
Don't forget those who want peace.
As you pay your water bill, think of others.
Think of those who only have clouds to drink from.
As you go home, your own home, think of others
don't forget those who live in tents.
As you sleep and count the planets, think of others
there are people who have no place to sleep.
As you liberate yourself with metaphors think of others
those who have lost their right to speak.
And as you think of distant others
think of yourself and say
"I wish I were a candle in the darkness."

وأنتَ تُعِدُّ فطورك، فكِّر بغيركَ
لا تَنْسَ قوتَ الحمام
وأنتَ تخوضُ حروبكَ، فكِّر بغيركَ
لا تنس مَنْ يطلبون السلام
وأنتَ تسدد فاتورةَ الماء، فكِّر بغيركَ
مَنْ يرضَعُون الغمامٍ
وأنتَ تعودُ إلى البيت، بيتكَ، فكِّر بغيركَ
لا تنس شعب الخيامْ
وأنت تنام وتُحصي الكواكبَ، فكِّر بغيركَ
ثمّةَ مَنْ لم يجد حيّزاً للمنام
وأنت تحرّر نفسك بالاستعارات، فكِّر بغيركَ
مَنْ فقدوا حقَّهم في الكلام
وأنت تفكر بالآخرين البعيدين، فكِّر بنفسك
قُلْ: ليتني شمعةُ في الظلام
Mahmoud Darwish (13 March 1941 – 9 August 2008): Think of Others, 2005: translation via TheSemiClassicalLimit, 10 August 2012
Mahmoud Darwish: Think of Others … فكِّر بغيركَ
while preparing your breakfast,
think of others
don't forget the aliment of the doves
and while you are going to war,
think of others
don't forget those seeking peace
and as you pay your water bill,
think of others
those who drink the clouds
and while you are returning home,
your home,
think of others
don't forget the people of the tents
and as you sleep and count the stars,
think of others
those who don't have a space to sleep
and as you liberate yourself with metaphors,
think of others
those who have lost their rights to speak
and while you are thinking of others far away,
think of yourself
and say: I wish I was a candle in the dark
Mahmoud Darwish (13 March 1941 – 9 August 2008): Think of Others, 2005: translation by
Fayeq Oweis via oweis, 8 September 2010
Mahmoud Darwish: Think upon Others
قصيدة محمود درويش
فكّر بغيرك
وأنت تُعدُّ فطورك، فكر بغيركَ
لا تَنْسَ قوتَ الحمام
وأنتَ تخوضُ حروبكَ، فكَر بغيركَ
لا تنس مَنْ يطلبون السلام
وأنتَ تسدد فاتورةَ الماء، فكَّر بغيركَ
مَنْ يرضَعُون الغمامٍ
وأنتَ تعودُ إلى البيت، بيتكَ، فكَّر بغيركَ
لا تنس شعب الخيامَ
وأنت تنام وتُحصي الكواكبَ، فكرِّ بغيركَ
ثمَّةَ مَنْ لم يجد حيّزاً للمنام
وأنت تحرّر نفسك بالاستعارات، فكَّر بغيركَ
مَنْ فقدوا حقَهم بالكلام
وأنت تفكر بالآخرين البعيدين، فكِّر بنفسكَ
قُل: ليتني شمعة في الظلام
______________________________
______________________________
________
When you prepare your breakfast, think upon others
Do not forget to feed the pigeons
When you engage in your wars, think upon others
Do not forget to demand peace
As you pay your water bill, think upon others!
Who seek sustenance from the clouds, not a tap
And when you return to a house -– your house -– think upon others
Such as those who live in tents
When you fall asleep counting sheep (planets), think upon others
Who cannot find a space for sleeping
And as you search for meaning with fancy metaphors, think upon others
Who have lost their right to words
And while you think of faraway others, think of yourself
And say: I am a candle to this darkness
Mahmoud Darwish (13 March 1941 – 9 August 2008): Think of Others, 2005: translation by Hamish Kinnear via The Edinburgh Arab Initiative, 12 February 2012
Tel Aviv, Israel: photo by f.

d. walker, 10 October 2016