.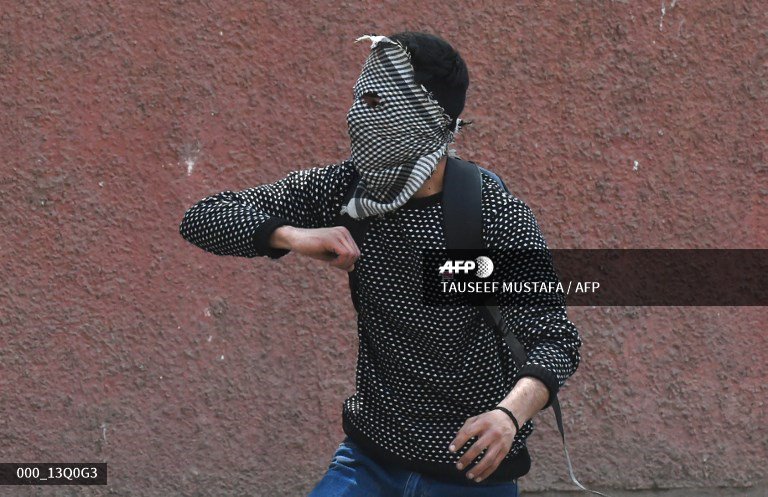 #Kashmir A Kashmiri college student clashes with Indian government forces outside a college during a protest against recent killings in Srinagar @TauseefMUSTAFA #AFP: image via F

r

édérique

G

effard @fgeffardAFP, 5 April 2018
Clashes between students and police in Srinagar against recent killings in south Kashmir's Shopian

.

April 05, 2018. @lookaround81: image via Faisal Khan
@lookaround81, 5 April 2018
Clashes between students and police in Srinagar against recent killings in south Kashmir's Shopian

.

April 05, 2018. @lookaround81: image via Faisal Khan
@lookaround81, 5 April 2018
Mukhtar Khan/Associated Press, 1 April 2018

Mukhtar Khan/Associated Press, 1 April 2018
Deadly Clashes in Kashmir Between Indian Army and Militants: Sameer Yasir,
SHOPIAN, Kashmir — An Indian Army operation against militants fighting Indian rule in the Muslim-majority Kashmir Valley killed at least 12 militants on Sunday, the largest one-day death toll of insurgents in recent years, officials in Kashmir said.
At least three soldiers and four civilians also died, and about 70 other people were wounded in the army crackdown in the district of Shopian, according to the Kashmir authorities.
Army officials called the operation a major success. "It is a special day for our forces," Lt. Gen. A. K. Bhatt said.
Kashmir — caught in a territorial dispute between Hindu-majority India, which controls much of the territory, and Muslim-majority Pakistan — has endured brutal conflict for decades.
A violent secession movement that started in the late 1980s saw many guerrilla fighters crossing the border from Pakistan into India. In turn, India increased its military presence in the region to try to quell the uprising.
The insurgency accelerated after Indian forces killed a charismatic militant leader, Burhan Muzaffar Wani, in July 2016. Since then, the frequency of protests against Indian rule has increased. This year, dozens of people, including many civilians, have been killed in the fighting.
Mukhtar Khan/Associated Press, 1 April 2018
Mukhtar Khan/Associated Press, 1 April 2018
On Sunday, as a gun battle raged in the village of Draged-Sugan, where at least seven of the militants were killed, protesters took to the streets to demonstrate against Indian security forces.
Many of the protesters threw stones at the security personnel in an apparent attempt to provide cover for the militants, members of the Hizbul Mujahedeen and Lashkar-e-Taiba groups.
"For as long as the last Kashmiri is alive, we will come out to support militants," said Numaan Ahmad Malik, 27, a college student, who was wounded in the clashes and was treated at a hospital.
Indian officers retaliated by firing pellet guns and rifles with live ammunition into the crowd, and the state government shut down the internet in an effort to prevent further protests from being organized online.
Many of the injured sustained bullet wounds or pellet injuries, officials said. Shesh Paul Vaid, the top Indian police officer in the region, said that 213 militants were killed last year — the largest number in seven years.
Around the village of Kachdora, where another gun battle unfolded on Sunday, shots and tear gas pierced the sky.
"For every 10 killed, 20 more will join until this land is freed from Indian occupation," said Imtiyaz Ahmad, a protester in Kachdora.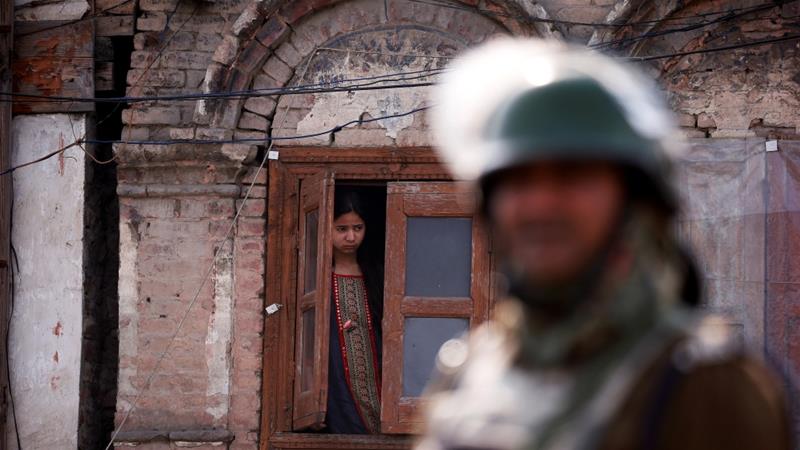 Tens of thousands of people have died in the Kashmir conflict since 1990: photo by Danish Ismail/Reuters via The Wire, 4 April 2018


Barking up the Wrong Tree in Kashmir:

The killing of militants may be seen by those sitting in Delhi as a "success" for the security forces but the fact is that these deaths have strengthened separatist sentiment in the Valley:

Altaf Hussain, The Wire, 4 April 2018
The killing of 13 militants in South Kashmir's Shopian and Anantag districts on Sunday is, to all appearances, a major success for the security forces. Some TV channels also termed it a "major boost" for the ruling party, the Bharatiya Janata Party (BJP), ahead of next year's general elections. But on closer look, we find that it is by no means a setback for the separatist movement. Rather, it is the opposite.
The armed conflict, which has been going on for the past 30 years, has undergone a major change. In the first 10 years or more, bomb blasts, cordon-and-search operations, fire-fights, political assassinations and such other incidents were a daily occurrence. All that has changed now. Where there used to be 3,000 militants active across the state, the number has come down to a couple of hundred. On occasions when the security forces wanted to give themselves a pat on their shoulders, they would call it "residual militancy." But now a perception is being created – with the help of an ill-informed and unprofessional media in Delhi – that the security forces are facing a huge challenge in the state again. This has led to a fatal misunderstanding of the Kashmir situation among ordinary people in India and, perhaps, also among policy-makers in Delhi.
There is no denying the armed conflict. But it's now part of a bigger campaign – involving popular resistance. The change started with the Amarnath temple land row in 2008, when up to half a million people would join protest marches. It was in that year that tens of thousands of people marched towards the Line of Control in Uri. The next two years saw similar protests for months together. But by far the worst kind of unrest happened after the killing of a militant commander, Burhan Wani, in 2016. Tens of thousands of people took to the streets; about 100 fell to bullets, thousands of others were injured and hundreds blinded in one or both eyes by pellets fired by the police and paramilitary forces.
People have joined the funerals of militants in large numbers in the past as well but such outpouring of support for a militant commander was seen for the first time. Also, months before, a new trend had become noticeable – of ordinary people gathering near the site of an encounter to express solidarity with militants or even help them escape. All this is significant because the sudden increase in public support for militants in Kashmir is in inverse proportion to the decline in their numbers. This is reminiscent of the initial days of the armed conflict when militants became part of the folklore and women would sing of them during weddings.
A noteworthy feature of the post-Burhan Wani unrest was that young boys, most of them in their early teens, came face to face with the police and paramilitary forces. They threw stones at them, unmindful of the fact that the police and paramilitary forces carried guns and could kill them or hurt them in the eyes. They appeared ready to die or much worse – lose their eyesight.
In short, the youth of Kashmir are angry. They are frustrated because the Centre has hardly ever during the past decade shown the will to address the problem in Kashmir.
Former Prime Minister Atal Bihari Vajpayee, and after him Manmohan Singh, came close to finalising a deal with Pakistan but the whole process came to naught after the departure of Pakistani president Pervez Musharraf. Relative peace prevailed in the valley for more than five years before Wani's killing but the Central government – whether headed by Congress or BJP – did not launch any political initiative to resolve the issue. The UPA government appointed a three-member committee of interlocutors, headed by prominent journalist Dileep Padgaonkar. But the committee's report has been gathering dust. Shortly before his death, the late Padgaonkar wrote to me: "Kashmir, as you can well imagine, has been on my mind without respite. Someone asked me if I saw any light at the end of the tunnel. I said that I could not spot the tunnel in the first place. Do you?"
Instead of trying for a political breakthrough during the years of peace, the BJP government talked of setting up exclusive colonies for sainiks (army men) and migrant Pandits (who were forced to flee the valley three decades ago) and pressed the state government hard to identify land for the same. This, along with the declining number of Muslims in the state's Jammu region, as reflected in Census reports, triggered insecurities and uncertainties among ordinary people in the Valley about their future. What ever the validity of these concerns, it became an added factor in the renewed pull of militancy.
Everybody in Kashmir knows that these militants are no match for the Indian army and paramilitary forces. Against every soldier, four militants or even more have died on an average. But by dying in clashes with the army, these militants inject life into the separatist movement. The point being missed by many observers in Delhi is that three civilians died (a fourth was reportedly used as a human shield by the troops) and another 50 suffered injuries in clashes with security forces while they showed solidarity with militants during the encounters on Sunday.
The army's hardline policy towards civilians who rush to encounter sites appears to have the support of a majority of the Indian people. They say this is the right response. But the perception in Kashmir is that the army is at war with ordinary people in the state. This is where the slain militants have succeeded. They have been killed but there can be no denying the fact that separatist sentiment has grown stronger.
Altaf Hussain is a freelance journalist. Formerly North India Correspondent of the BBC, he has also worked with the Times of India.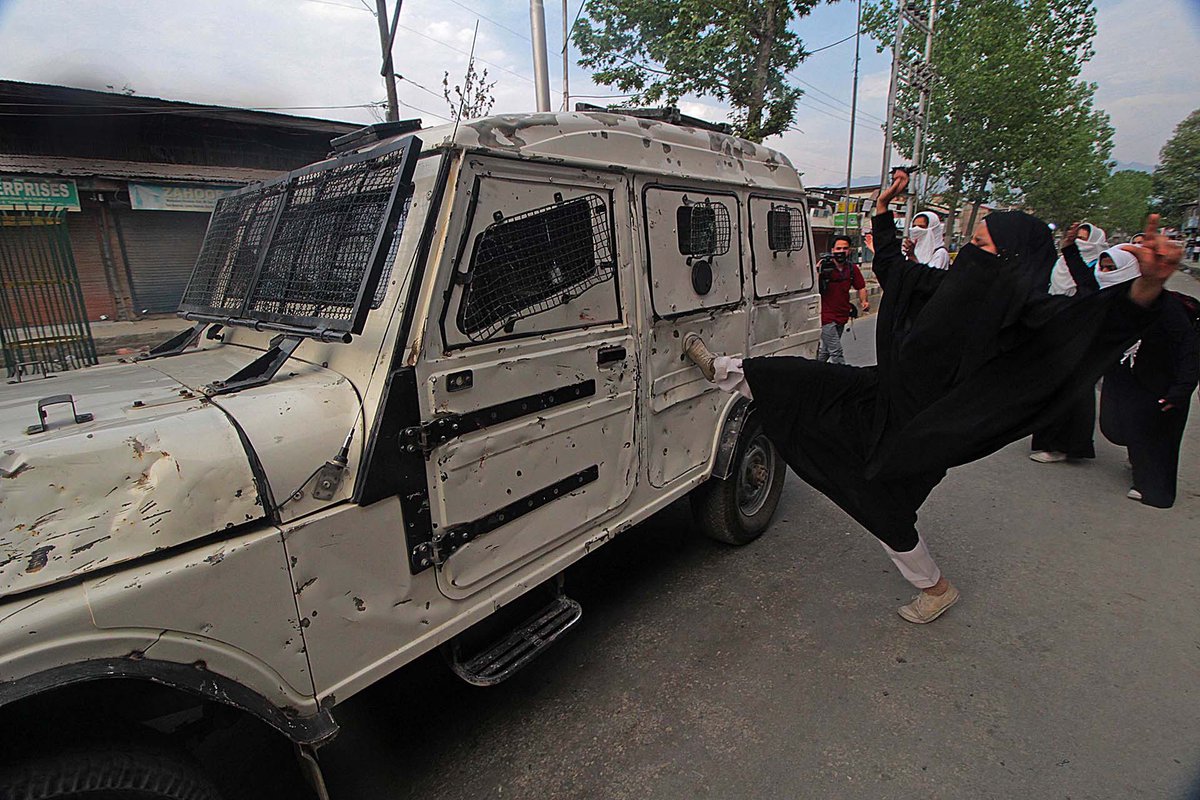 Female students' protest by Kashmir based freelance photographer @lookaround81 wins 3rd prize at the Single News

categor

y

#IstanbulPhotoAwards 2018: Image via Istanbul

Ph

oto Awards @IstPhotoAwards, 1 April 2018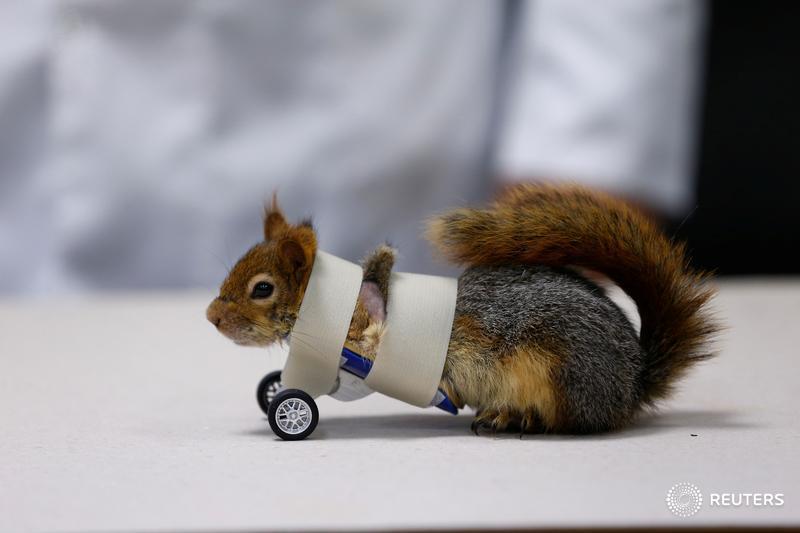 A squirrel sits on the floor after its limb amputation surgery in Turkey: image via Reuters Pictures @reuterspictures, 5 April 2018
#UK UEFA to probe Man City bus attack in Liverpool. #AFP @ellophoto: image via AFP Photo @AFPphoto, 5 April 2018
@moshiology Tell us, we want to know! How did this feel??? #Bungee #Uganda
: image via #DiscoverUgandaTV @ThePearlGuideUg, 4 December 2014
Hypereleasticity
Before the light radiates, where do you place it,
back there or out here in the pre-world
of street riot and armed detachments
grown commonplace, where the beam rotates like a mars light,
thought is as cautiously leashed as a bungee cable jumper
entrusted to a body beyond your body -- is there
a body there, is it real, can you touch it
through the dark fire of the pre-world
that closes in? The presence of energy within
the elastic net fate weaves is the reckless
daredevil of the pre-world; fate allows it three
leaps, two snaps back, causing suffering,
causing hells; creating the body of desire,
suspending it in the vastness of space,
expanding it, disrupting it, offering it intense
resistance, whereof it can know itself.
TC: Energy of the Pre-World as a Bungee Cable Jumper, from Sleepwalker's Fate (1994)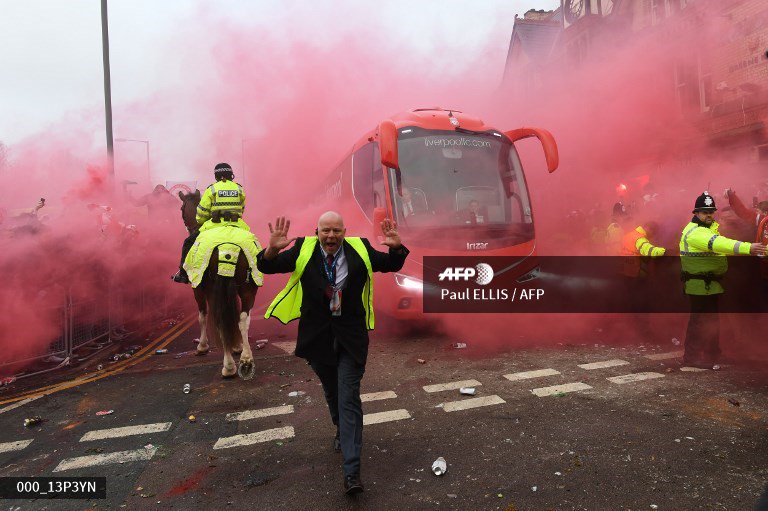 #UK UEFA to probe Man City bus attack in Liverpool. #AFP @ellophoto: image via AFP Photo @AFPphoto, 5 April 2018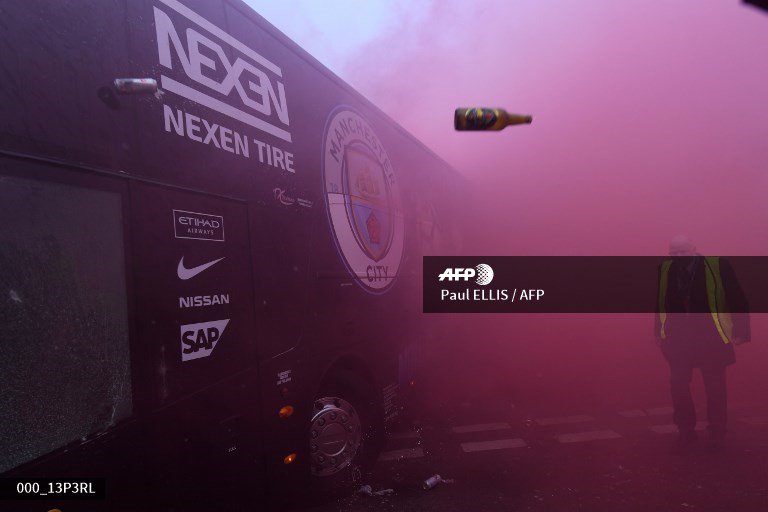 #UK UEFA to probe Man City bus attack in Liverpool. #AFP @ellophoto: image via AFP Photo @AFPphoto, 5 April 2018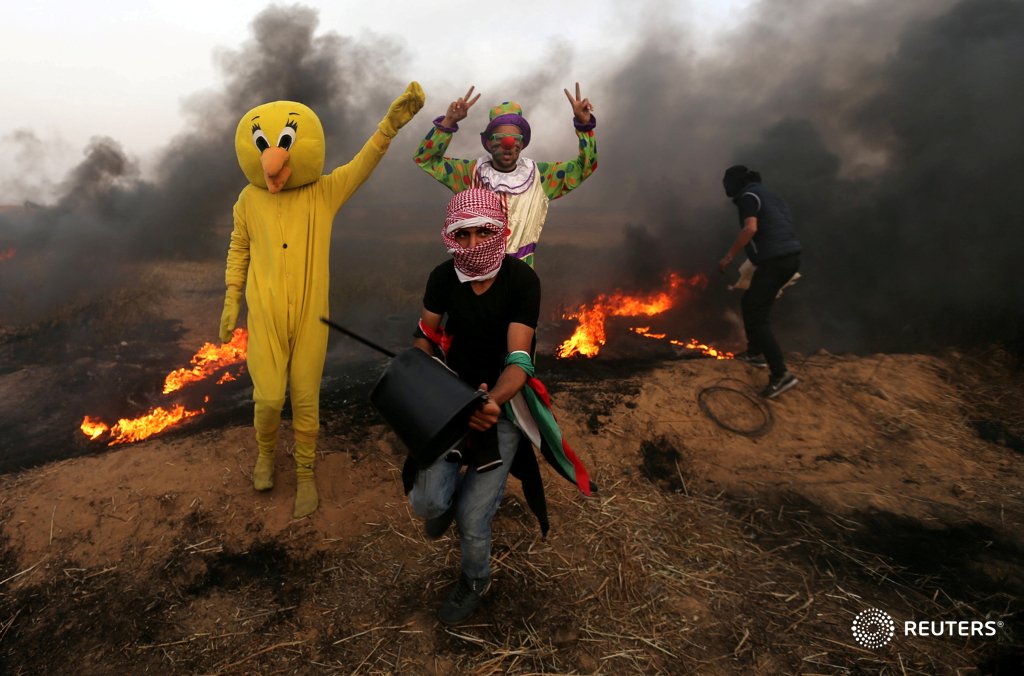 Israeli fire killed a Palestinian at the Gaza border and another died of wounds suffered several days ago, health officials said, bringing to 19 the number of Palestinians dead from a week of frontier protests.: image via Reuters Pictures @reuterspictures, 5 April 2018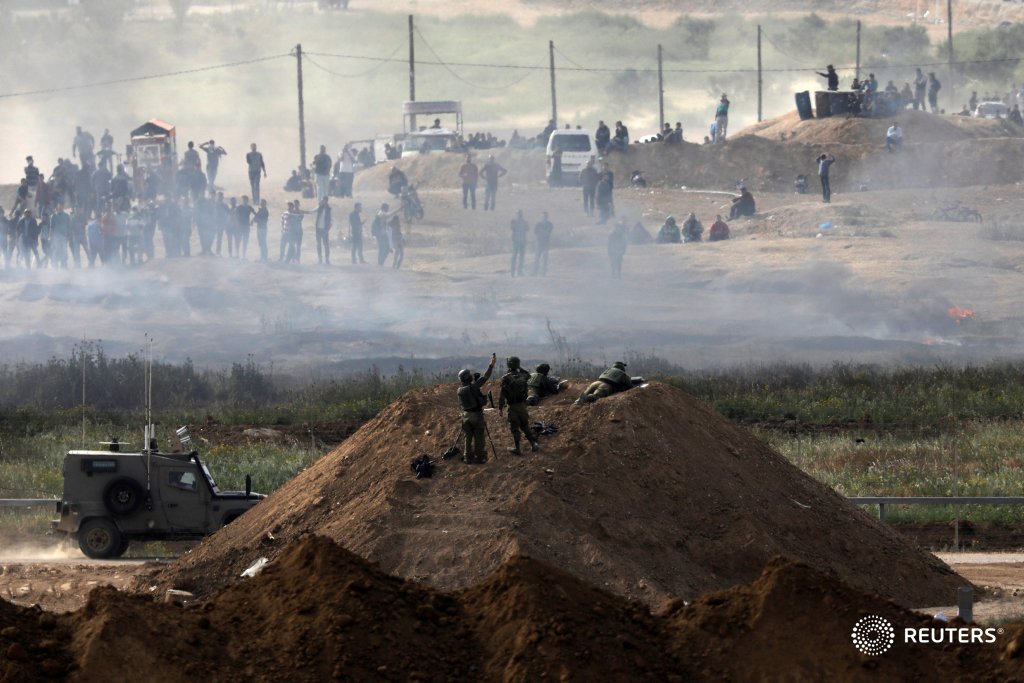 Israeli fire killed a Palestinian at the Gaza border and another died of wounds suffered several days ago, health officials said, bringing to 19 the number of Palestinians dead from a week of frontier protests.: image via Reuters Pictures @reuterspictures, 5 April 2018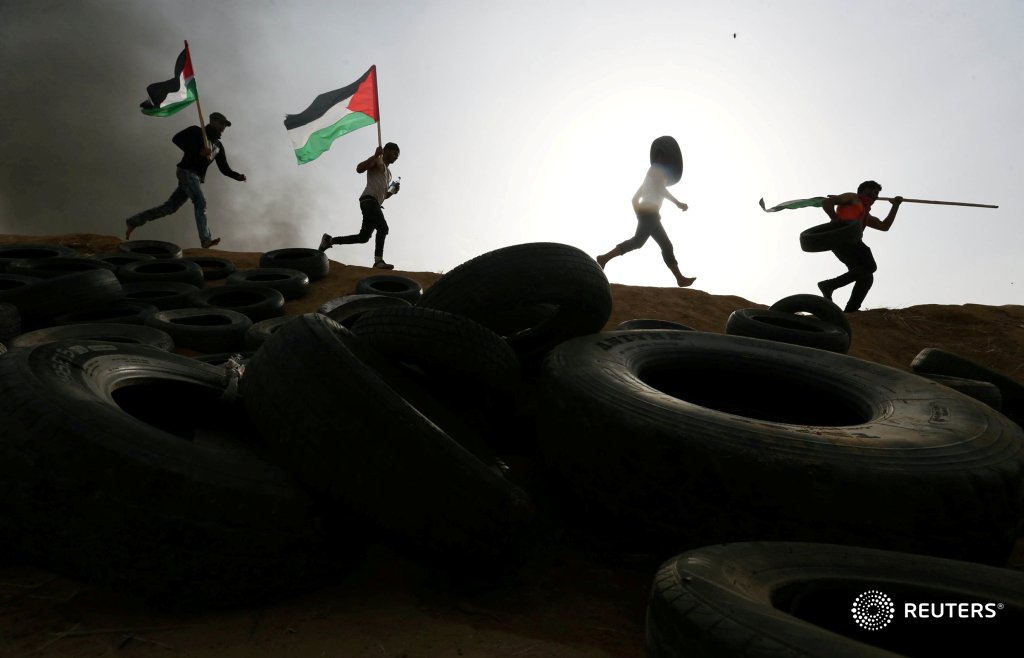 Palestinian protesters run during clashes with Israeli troops at the Israel-Gaza border Photo Ibraheem Abu Mustafa: image via Reuters Pictures @reuterspictures, 5 April 2018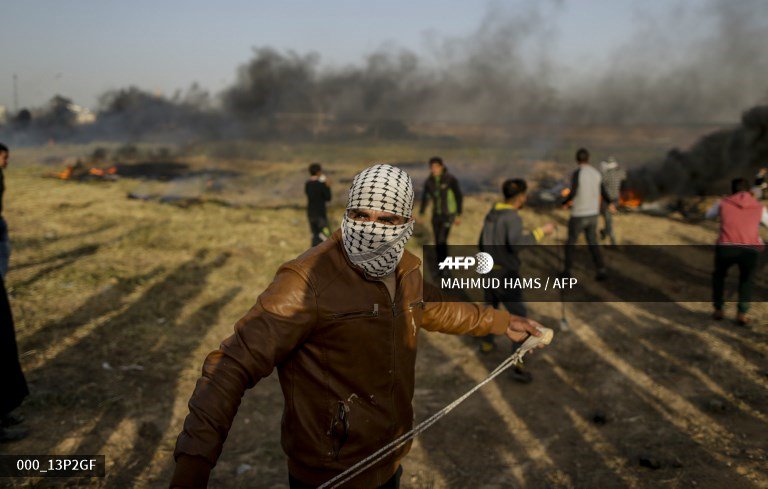 GAZA STRIP - Fears of fresh violence ahead of new Gaza protest Photo @MahmudHams #AFP: image via Frédérique Geffard @fgeffardAFP, 5 April 2018


Fears of fresh violence ahead of new Gaza protest: Joe Dyke, AFP, 5 April 2018
Gaza City (Palestinian Territories) (AFP) - Palestinians readied Thursday for new protests along the Gaza border and Israel warned that its open-fire rules would not change as fears of fresh violence rose a week after the bloodiest day in years.
Thousands of Palestinians are again expected to gather at five spots near the Gaza border on Friday, while Israeli soldiers and snipers will take up positions on the other side of the fence.
Protest organisers said they were planning to try to stop smaller numbers of protesters approaching the fence and hurling stones or rolling burning tyres at Israeli troops, who killed 18 Palestinians last Friday.
It was the bloodiest day since a 2014 war. Another two Gazans have been killed since.
The protests are in support of refugees, including those in the Palestinian enclave who want to return to their former homes in what is now Israel.
Widespread social media calls for protesters to bring tyres to burn and Israel's pledge to prevent damage to the fence and infiltration attempts have raised fears of more deaths.
Young Palestinians have been gathering tyres and carting them near the border to burn and create a smokescreen to make it harder for Israeli snipers.
Some have been walking the streets collecting money to buy tyres.
Israeli Defence Minister Avigdor Lieberman vowed that open-fire rules would not change.
"If there are provocations, there will be a reaction of the harshest kind like last week," Lieberman told public radio.
Lieberman also met with Israeli military chief of staff Gadi Eisenkot to discuss the situation.
The UN envoy for the Middle East peace process, Nickolay Mladenov, called for peaceful demonstrations and restraint by Israeli forces.
"Israeli forces should exercise maximum restraint and Palestinians should avoid friction at the Gaza fence," he said in a statement.
'A mistake'
Last Friday's protest near the Gaza border was attended by tens of thousands of Palestinians.
A smaller number strayed from the main protest and approached the heavily fortified fence on the border with Israel.
Israel says troops opened fire only when necessary against those throwing stones and firebombs or rolling tyres at soldiers.
It said there were attempts to damage the fence and infiltrate Israel, while alleging there was also an attempted gun attack against soldiers along the border.
It accuses Hamas, the Islamist movement that runs the Gaza Strip and with whom it has fought three wars since 2008, of using the protests as cover to carry out violence.
Israeli military spokesman Ronen Manelis warned again Thursday of a wider response if such alleged activity continued.
But questions have mounted over Israel's use of live fire, with Palestinians saying protesters were fired on while posing no threat to soldiers.
Rights groups have criticised the army's actions, while the European Union and UN chief Antonio Guterres have called for an independent investigation.
Human Rights Watch called the deaths "calculated" and illegal.
The Gaza protests are supposed to last six weeks, coinciding with the expected opening of the new US embassy in Jerusalem in mid-May.
The US embassy move has led to deep anger among Palestinians, who see the annexed eastern sector of Jerusalem as the capital of their future state.
Asaad abu Sharkh, a spokesman and member of the organising committee of the protests dubbed the Great March of Return, said better attempts will be made on Friday to keep Gazans from approaching the fence.
"I think this was a mistake, a mistake of organisation from us because we shouldn't have let people (go to the border)," he said.
"But at the same time we were not expecting the Israelis to shoot to kill."
He added that "I don't think there is going to be another massacre."
Israel says more than half of the dead were members of militant groups, including the armed wing of Hamas.
Hamas's armed wing has claimed only five of them, saying they were participating "in popular events side-by-side with their people".
Militant group Islamic Jihad has claimed at least one of the dead as a member, but said he was not carrying a weapon when he was shot.
Hamas has meanwhile offered compensation of $3,000 to the families of protesters killed and $500 for those seriously injured.
Smaller protests have continued this week, while preparations for the large demonstration for Friday have also been under way.
The protests have included events such as traditional dabke dancing at the tents further away from the fence, while closer to the barrier mostly young men have thrown stones toward Israeli soldiers on the other side of the dusty border.
At least one man was seen trying in vain to reflect the light off a small mirror into Israeli snipers' eyes.
On Thursday in Khan Yunis in southern Gaza, Abu Yassin, 28, was among those collecting tyres and hauling them in carts pulled by motorbikes.
He said they were planning to light a number of tyres a few yards away from each other along the border at the same time to make it impossible for Israeli soldiers to see and shoot them.
"This is a peaceful protest," he insisted.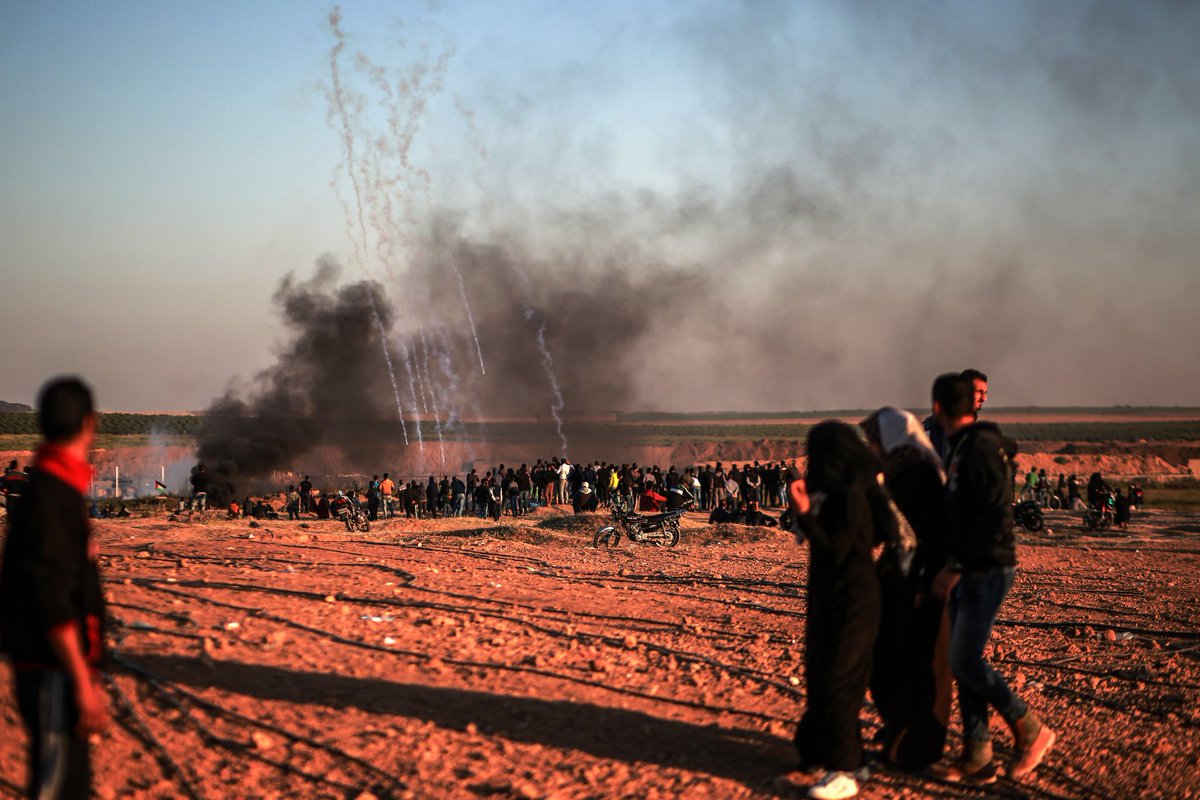 P
alestinian protesters run from tear gas fired by Israeli forces during demonstration following a protest along the border with Israel, east of #Gaza

City.
Photo by
Hosam Salem: image via Hosam Salem @HosamSalemG, 5 April 2018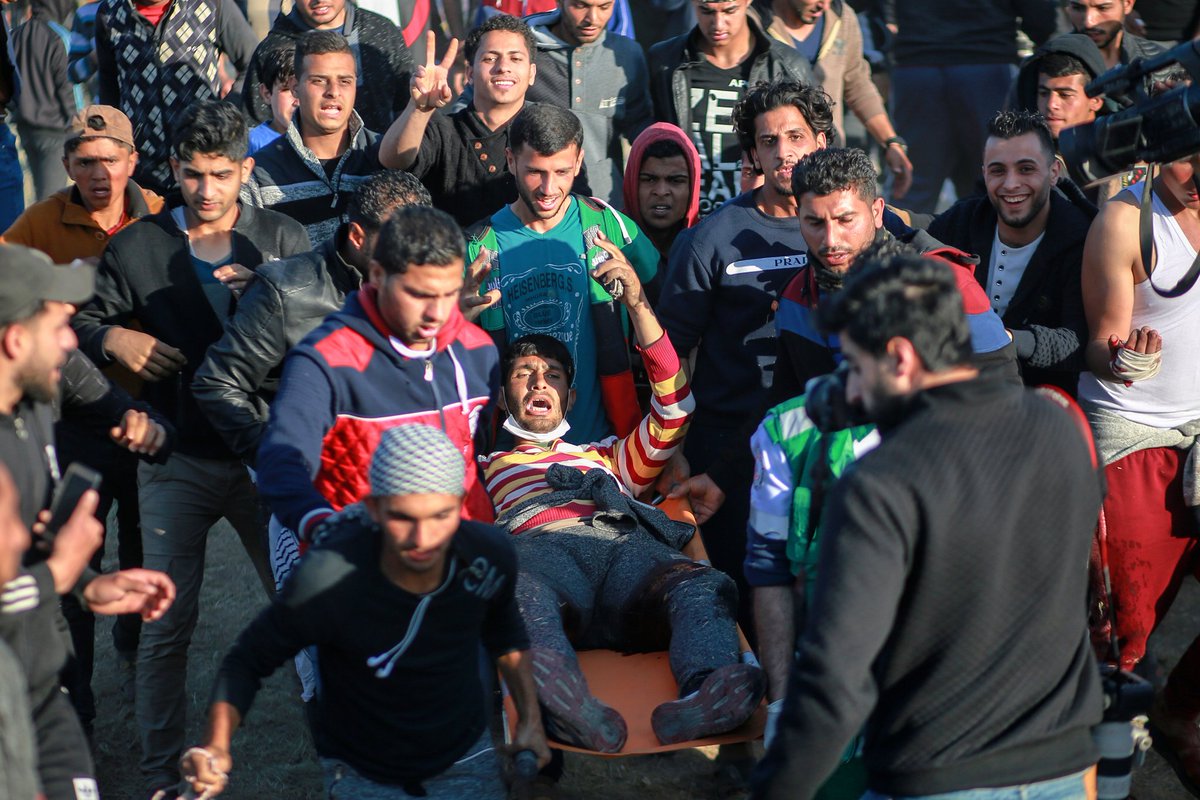 Palestinian protesters carry an injured Palestinian youth during demonstrations along the border with #Israel, east of #Gaza City on April 1st 2018. [Hosam Salem/Al Jazeera] Photo by Hosam Salem: image via Hosam Salem @HosamSalemG,

3

April 2018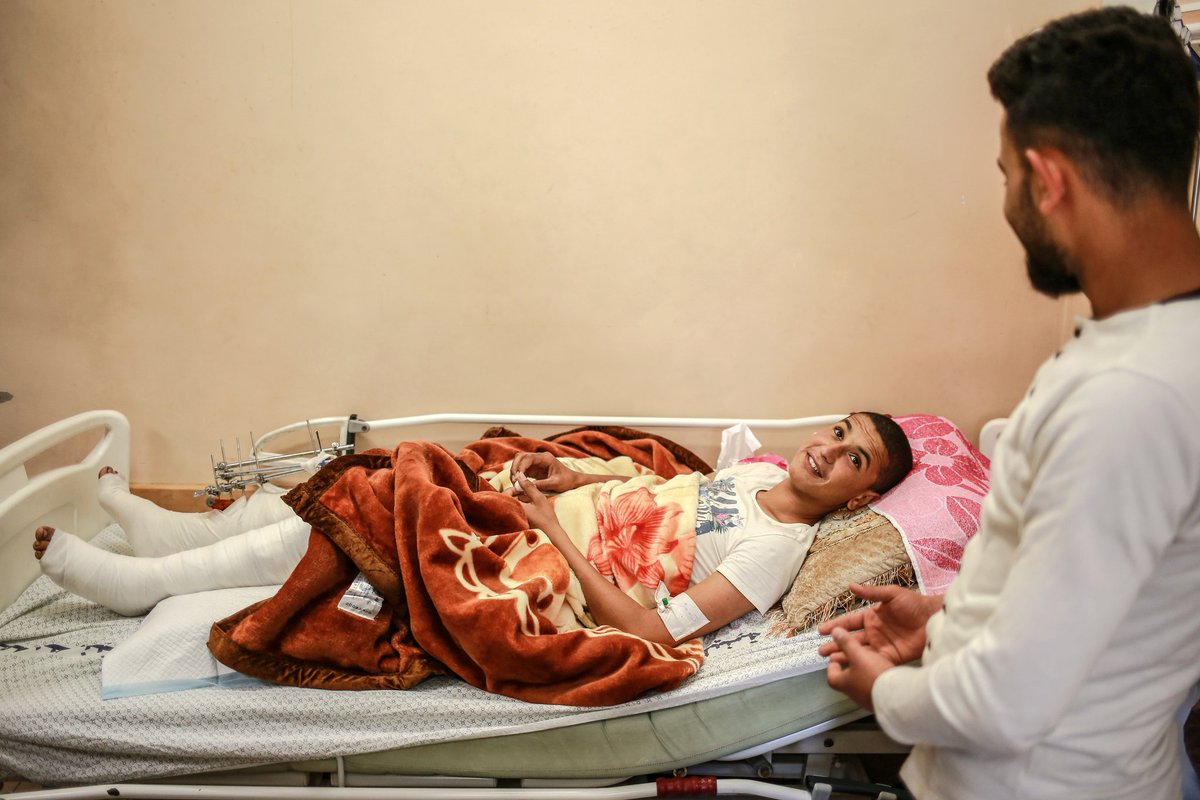 Marwan Yassin, a 15-year-old who participated in the demonstrations, lies wrapped in a heavy blanket. Metal rods stick out of his right leg.
He says he and his friend wanted to plant the Palestinian flag along the border.
[Hosam Salem/Al Jazeera]: image via Hosam Salem

@HosamSalemG, 5 April 2018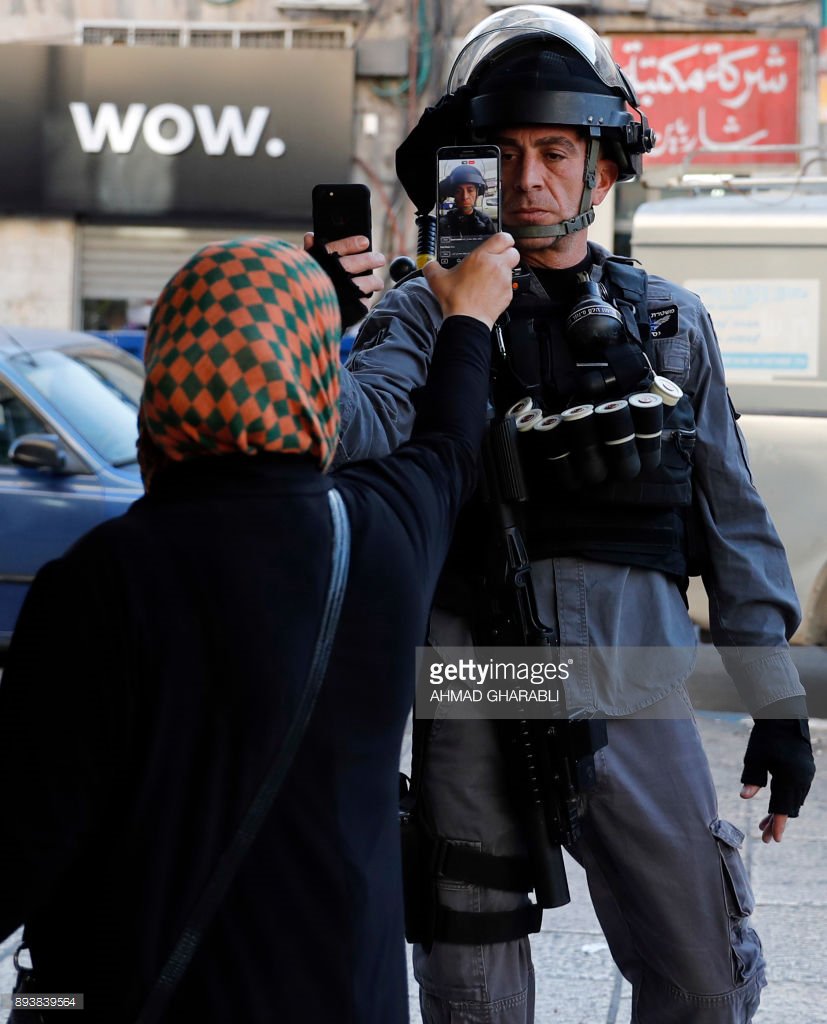 Photo of the Day: #Jerusalem AHMAD GHARABLI AFP/Getty Images: image via Carlos Latuff @LatuffCartoons, 16 December 2017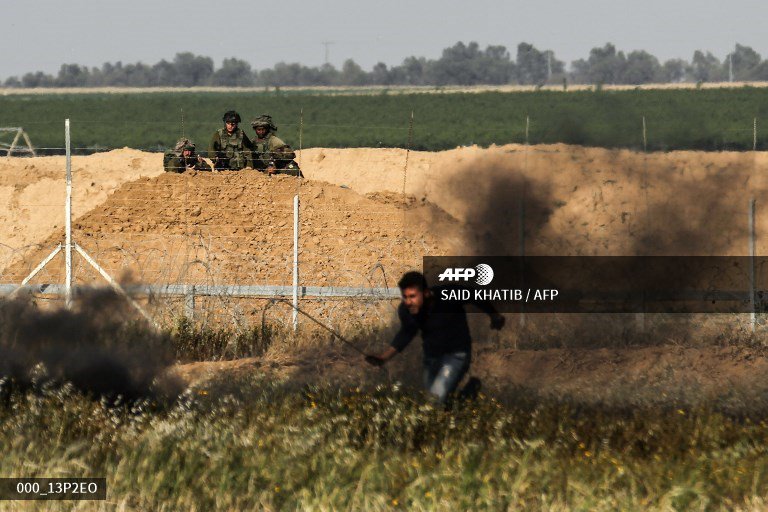 Palestinian shot dead by Israeli forces on Gaza border: ministry #AFP Picture taken today by @saidkhatib: image via Aurelia BAILLY @AureliaBAILLY, 4 April 2018

#Palestinian protestors during clashes with #Israeli forces following a tent city gathering at the Israel-Gaza border, in Khan Yunis in the southern #Gaza Strip, on April 4, 2018. #AFP photo by Said Khatib: image via said khatib @saidkhatib, 4 April 2018

#Palestinian protestors during clashes with #Israeli forces following a tent city gathering at the Israel-Gaza border, in Khan Yunis in the southern #Gaza Strip, on April 4, 2018. #AFP photo by Said Khatib: image via said khatib @saidkhatib, 4 April 2018

#Palestinian protestors during clashes with #Israeli forces following a tent city gathering at the Israel-Gaza border, in Khan Yunis in the southern #Gaza Strip, on April 4, 2018. #AFP photo by Said Khatib: image via said khatib @saidkhatib, 4 April 2018
A #Palestinian protester waves his national flag at the site of a tent protest in support of Palestinian #refugees returning to lands they fled or were expelled from during the 1948 war surrounding Israel's creation, near the border with Israel, east of Khan Yunis, in #Gaza

#AFP photo by Said Khatib: image via said khatib @saidkhatib, 4 April 2018
A #Palestinian protester waves his national flag at the site of a tent protest in support of Palestinian #refugees returning to lands they fled or were expelled from during the 1948 war surrounding Israel's creation, near the border with Israel, east of Khan Yunis, in #Gaza

#AFP photo by Said Khatib: image via said khatib @saidkhatib, 4 April 2018
A #Palestinian protester waves his national flag at the site of a tent protest in support of Palestinian #refugees returning to lands they fled or were expelled from during the 1948 war surrounding Israel's creation, near the border with Israel, east of Khan Yunis, in #Gaza

#AFP photo by Said Khatib: image via said khatib @saidkhatib, 4 April 2018
A #Palestinian protester waves his national flag at the site of a tent protest in support of Palestinian #refugees returning to lands they fled or were expelled from during the 1948 war surrounding Israel's creation, near the border with Israel, east of Khan Yunis, in #Gaza

#AFP photo by Said Khatib: image via said khatib @saidkhatib, 4 April 2018
A #Palestinian
man drives a cart loaded with tyres as A Palestinian youth collects money in Khan Yunis,
#Gaza

as a tent protest continues in support of Palestinian refugees returning to lands they fled or were expelled from during the 1948 war surrounding Israel's creation #AFP photo by Said Khatib: image via said khatib @saidkhatib, 4 April 2018
A #Palestinian
man drives a cart loaded with tyres as A Palestinian youth collects money in Khan Yunis,
#Gaza

as a tent protest continues in support of Palestinian refugees returning to lands they fled or were expelled from during the 1948 war surrounding Israel's creation #AFP photo by Said Khatib: image via said khatib @saidkhatib, 4 April 2018
A #Palestinian
man drives a cart loaded with tyres as A Palestinian youth collects money in Khan Yunis,
#Gaza

as a tent protest continues in support of Palestinian refugees returning to lands they fled or were expelled from during the 1948 war surrounding Israel's creation #AFP photo by Said Khatib: image via said khatib @saidkhatib, 4 April 2018
A #Palestinian
man drives a cart loaded with tyres as A Palestinian youth collects money in Khan Yunis,
#Gaza

as a tent protest continues in support of Palestinian refugees returning to lands they fled or were expelled from during the 1948 war surrounding Israel's creation #AFP photo by Said Khatib: image via said khatib @saidkhatib, 4 April 2018