.
Smoke billows following an Israeli military strike on Gaza City on August 8, 2014: photo by Mahmud Hams / AFP. 8 August 2014
Ripe are, dipped in fire, cooked
The fruits and proved upon the earth and an Order it is
That all must enter in, as snakes,
Prophetic, dreaming upon
The hills of heaven. And much
As on the bent shoulders

A load of logs
Must be retained. But evil are
The ways. For errantly
Like wild horses, run the constrained
Elements and the ancient
Orders of the earth. And always
Toward unboundedness goes out longing. Much however must
Be retained. And fidelity is required.
Forward however nor back will
We look. And allow ourselves to be rocked, like
Friedrich Hölderlin: "Reif sind..." (Ripe are the fruits), Hymnal Draft for Mnemosyne (Third Version), 1803 or 1805/1806 [?], trans. TC

Palestinians look on as rescue workers continue the search for bodies buried under the Al-Qassam mosque after an overnight Israeli air strike in Nuseira: photo by Oliver Weiken / EPA 9 August 2014

Palestinians remove a body from under the rubble of Qassam Mosque in Nuseirat refugee camp in central Gaza: photo by Hatem Moussa / AP, 9 August 2014



Palestinians watch as rescuers work to retrieve bodies from the rubble of the Qassam mosque after an overnight Israeli airstrike in Nuseirat refugee camp in central Gaza: photo by Oliver Weiken / EPA, 9 August 2014.

Palestinians gather on the rubble of al-Qassam mosque in Nuseirat refugee camp, central Gaza Strip, after it was hit by an Israeli airstrike, Saturday, August 9, 2014: photo by Hatem Moussa / AP, 8 August 2014
Desecration (also called desacralization or desanctification) is the act of depriving something of its sacred character, or the disrespectful, contemptuous, or destructive treatment of that which is held to be sacred or holy by a group or individual.
Residents of Nusairat in the Gaza Strip watch from every perch as bodies are excavated from the rubble of the al-Kassam mosque hit by an Israeli airstrike on Saturday: photo by Max Becherer / Polaris Images for The Washington Post, 9 August 2014
Gaza mosques fall to Israeli airstrikes, without any groundswell of outrage: Sudarsan Raghavan and William Booth, Washington Post, 9 August 2014
NUSEIRAT CAMP, Gaza Strip — A yellow bulldozer clawed through the rubble of Al Qassam mosque on Saturday, searching for the last body. The crowd looked on without emotion, as it had throughout a day during which two other corpses were unearthed. Someone had planted a green Hamas flag atop the debris, at once a sign of mourning and defiance.
"The Israelis have the idea that Hamas owned the mosque, and they do suspicious activities inside," Ahmed Jabbar, 42, said matter-of-factly, standing near the debris.
"They think there are tunnels inside. It's all lies. This is Allah's house. Anyone can go inside it."
Once viewed as crossing a red line in conflicts pitting Jews or Christians against Muslims, the mosque has become a military target. Israel's military says mosques are being used to store weapons, cover tunnels and shelter fighters and serve as command control centers and launch sites for rockets. Palestinians say that when Israel strikes a mosque, it mostly kills civilians and destroys their religious sanctuary.
In the month-long war, Israeli airstrikes have struck more religious targets than in Israel's two previous offensives against Hamas in 2009 and 2012, Palestinians say. According to the Palestinian Liberation Organization, 63 mosques have been destroyed and 150 have been partially damaged. Ten Muslim cemeteries were also targeted.
Surprisingly, there has been little outrage from the Palestinian street or from the broader Muslim world. Violent upheavals across the Middle East, political analysts say, have acclimated Muslims to seeing their houses of worship under siege. Arabic news channels and Facebook and other social media have been filled with scenes of mosques pocked with bullets and damaged by attacks in recent conflicts and revolutions in Egypt, Syria and Libya. The shock value is over, say analysts.
There have been clear-cut cases where Israel has killed civilians when striking a mosque.
Saturday's attack on Al Qassam Mosque killed a local Hamas leader who was praying inside during pre-dawn prayers, according to Palestinian news reports. But the identities of the other two who died were unknown. Residents said they all used the mosque to pray, not only Hamas members.
As the bulldozer picked up a tangle of concrete and steel, some residents said they were outraged by Israel's attacks on mosques. But they were too afraid to hold protest rallies.
The war, they said, has forced them to stay inside their homes or seek refuge in U.N. schools or other areas. They also worried that Israel would target any large gathering of Palestinians.
"We feel so insecure," Jabbar said. "Do you think we can go out and protest? We're afraid we'll be hit by the Israeli jets."
But the mosque attacks, others said, will have consequences for the future.
"This makes matters worse," said Bajes Ehsawi, 64, a resident, as he watched the bulldozer. "The only relationship between Palestinians and Israelis will be jihad."
A Palestinian man embraces the body of a man who was killed when Israel bombed Al-Qassam mosque in the central Gaxan town of Nuseirat on August 9, 2014: photo by Roberto Schmidt / AFP, 9 August 2014

Summary of damage: via Al Jazeerah: Cross-Cultural Understanding, 9 August 2014


With today's numbers of deaths and injuries as a result of Israeli terrorist attacks on the Palestinian people in Gaza Strip, the death toll has reached 1901, in addition to 9,567 injuries, more than one-third of them crippling for life.

The Palestinian Ministry of Health has stated that a total of

1901

, including 432 children, 243 women and 79 elderly Palestinians have been killed. We are still awaiting confirmation of some names.

A total of

9567

Palestinians, including 2878 children, 1854 women, and 374 elderly, have been injured.

***
Five Palestinians Killed In Central Gaza
Saturday August 09, 2014 13:38 by Saed Bannoura -- IMEMC (International Middle East Media Center) and Agencies
The Palestinian Ministry Of Health stated that five Palestinians were killed, and several others injured, some seriously, after the Israeli occupation terrorist army bombarded a mosque in Nussayrat area, and the al-Maghazi refugee camp, in Central Gaza.

The Ministry said resident Moath Azzam Abu Zaid, 37, died under the rubble of the al-Qassam Mosque in Nussayrat.

His remains and a number of wounded Palestinians have been moved to the al-Aqsa Hospital.

Rescue teams continued the search under rubble, and located the remains of two Palestinians, identified as Nidal Mohammad Badran, 34, and Tareq Ziad Jadallah, 25.
Israel drones and war jets are still flying over different parts of the Gaza Strip.
The Ministry of Health in Gaza stated on Saturday at dawn, the 1899 Palestinians have been killed, and Israeli missiles and shells have injured more than 9837 since July 8.
Gaza death toll tops 1900, three dead bodies pulled out of mosque rubble
[ 09/08/2014 - 10:35 AM ]
GAZA, (PIC) --
At least three dead bodies have been recovered by the Gaza rescue crews from beneath the debris of Izzuddin Al-Qassam Mosque in the Nussayrat refugee camp, in central Gaza, on Saturday while search for other dead bodies continued.
A PIC correspondent said civil defense crews rushed to the bombed are to recover the casualties buried under Izzuddin Al-Qassam Mosque, razed to the ground by a barrage of rocket fire unleashed by the Israeli fighter jets at dawn Saturday.
The recovered bodies were identified as those of Mu'a

dh

Zayed, Tareq Jad Allah, and Ni

dh

al Badran.
Al-Qassam Mosque was the largest in the Nusayrat refugee camp and built over an overall area amounting to 1000 square meters. An Israeli rocket attack reduced the four-floored mosque to rubble.
The incident occurred shortly after the 72-hour ceasefire, brokered by Egypt last Tuesday, expired.
The death toll has reached more than 1,900, while the number of wounded civilians has gone up to about 9,900, mostly children, women and elderly people. Hundreds of civilian homes, mosques, factories and public headquarters were completely destroyed in Israeli attacks.
60 Palestinian mosques destroyed by Israel during Gaza offensive
[ 09/08/2014 - 08:08 AM ]

GAZA, (PIC) --
At least 60 mosques were reduced to rubble while some 150 others sustained partial damages in the ongoing Israeli offensive that has been rocking the blockaded Gaza Strip for more than 30 days, the Palestinian Ministry of Awqaf and religious affairs said.

The Awqaf Ministry stated on Friday that the Israeli occupation destroyed at least 60 mosques in waves of atrocious strikes targeting Gaza since July 7.

According to the ministry, random Israeli rocket fire ruined 20 mosques in Central Gaza, 17 in Khan Younis, 11 north of the Strip, 10 in the Central Province, and two more mosques in Rafah, to the south of Gaza.

Israeli attacks culminated in the shelling of 11 cemeteries, three charity committees, and one religious school for boys.

At least 1894 Palestinian civilians were killed in the massive Israeli aggression, while 9817 others suffered injuries.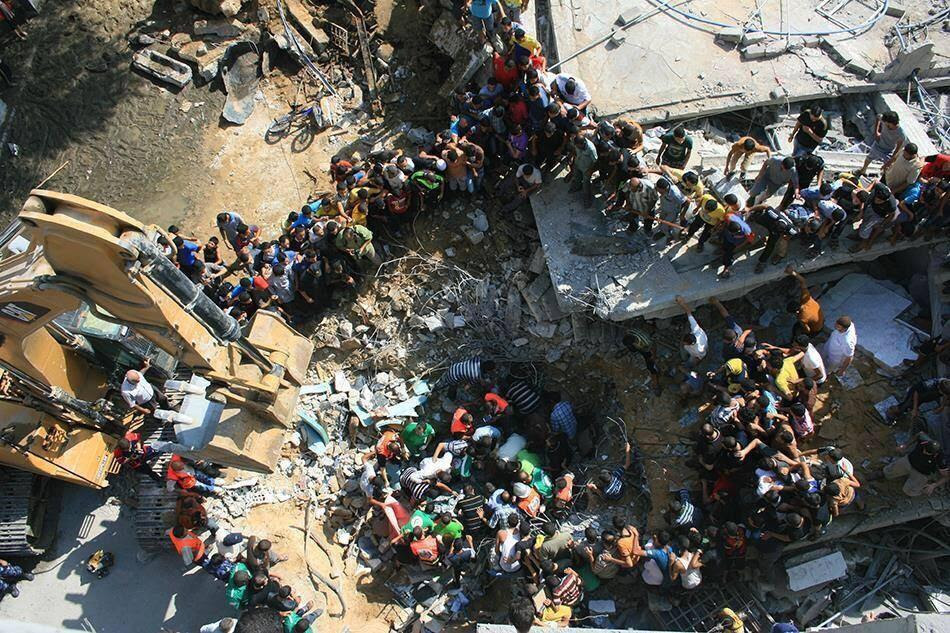 TODAY: taking out the martyrs from under the rubble of AlQassam mosque in Gaza...: photo via Falasteen on twitter, 9 August 2014


TODAY: taking out the martyrs from under the rubble of AlQassam mosque in Gaza...: photo via Falasteen on twitter, 9 August 2014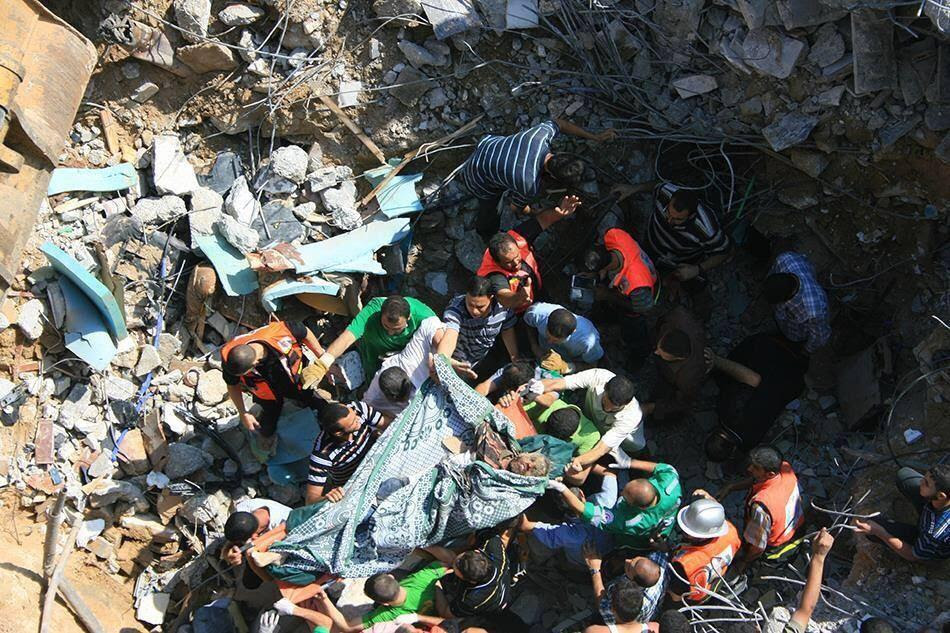 TODAY: taking out the martyrs from under the rubble of AlQassam mosque in Gaza...: photo via Falasteen on twitter, 9 August 2014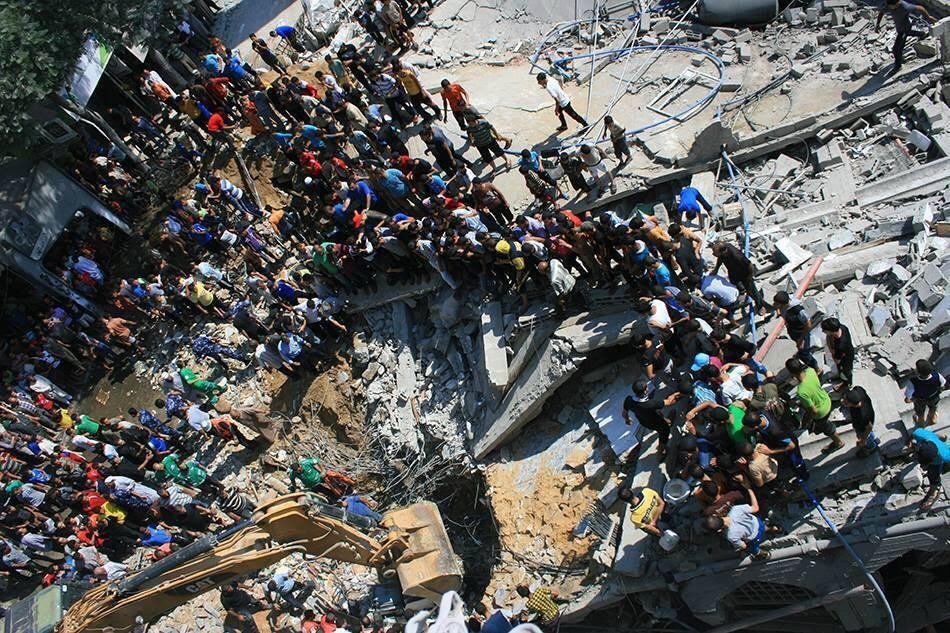 TODAY: taking out the martyrs from under the rubble of AlQassam mosque in Gaza...: photo via Falasteen on twitter, 9 August 2014