.
Mule Deer (Odocoileus hemionus), Caprock Canyons, West Texas
: photo by Leaflet, 15 May 2005
Today... dry season continuing after the latest insane war... I made it down the steps oh boy... and saw a doe, in the midst of the full-on mad-dog rush-hour get-and-spend take-no-prisoners commuter traffic stream blasting up the hill to where the rich live, attempting to herd her two scared fawns across the freeway feeder.
Two trips; on the second, the more timid of the young ones finally got the message, moved by her gentle nudgings, and -- as she lagged behind, observing the imminent danger with watchful motherly caution -- somehow made it across unscathed.
But now the red light at the Alameda had again turned green, and she was stranded and beginning to panic, ears pinned, eyes wide, frantically looking for an opening; a car bearing down on her at 40 mph, she leapt over the bonnet, seeming to hang in the air one long heartstopping moment, bounded away...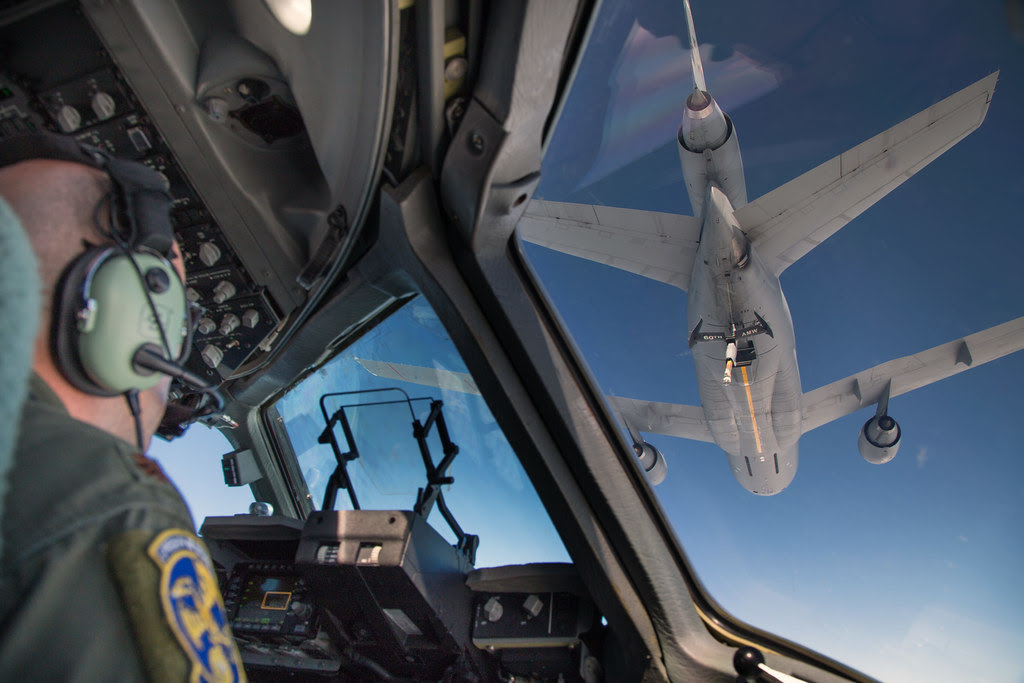 gas 'n go
(view from an Air Force C-17 Globemaster III about to receive fuel from a KX-10A Extender on a training mission above southern Oregon): photo by Robert Couse-Baker (**RCB**), 25 September 2013