.

Resistance will continue .. #palestine #Jerusalem @SanduKanKanack: image via ibrahem_km @ibrahem_km, 7 November 2014
In Jerusalem, and I mean within the ancient walls,
I walk from one epoch to another without a memory
to guide me. The prophets over there are sharing
the history of the holy . . . ascending to heaven
and returning less discouraged and melancholy, because love
and peace are holy and are coming to town.
I was walking down a slope and thinking to myself: How
do the narrators disagree over what light said about a stone?
Is it from a dimly lit stone that wars flare up?
I walk in my sleep. I stare in my sleep. I see
no one behind me. I see no one ahead of me.
All this light is for me. I walk. I become lighter. I fly
then I become another. Transfigured. Words
sprout like grass from Isaiah's messenger
mouth: "If you don't believe you won't believe."
I walk as if I were another. And my wound a white
biblical rose. And my hands like two doves
on the cross hovering and carrying the earth.
I don't walk, I fly, I become another,
transfigured. No place and no time. So who am I?
I am no I in ascension's presence. But I
think to myself: Alone, the prophet Mohammad
spoke classical Arabic. "And then what?"
Then what? A woman soldier shouted:
Is that you again? Didn't I kill you?
I said: You killed me . . . and I forgot, like you, to die.
Mahmoud Darwish (1941-2008): In Jerusalem, 2004

,
translated by Fady Joudah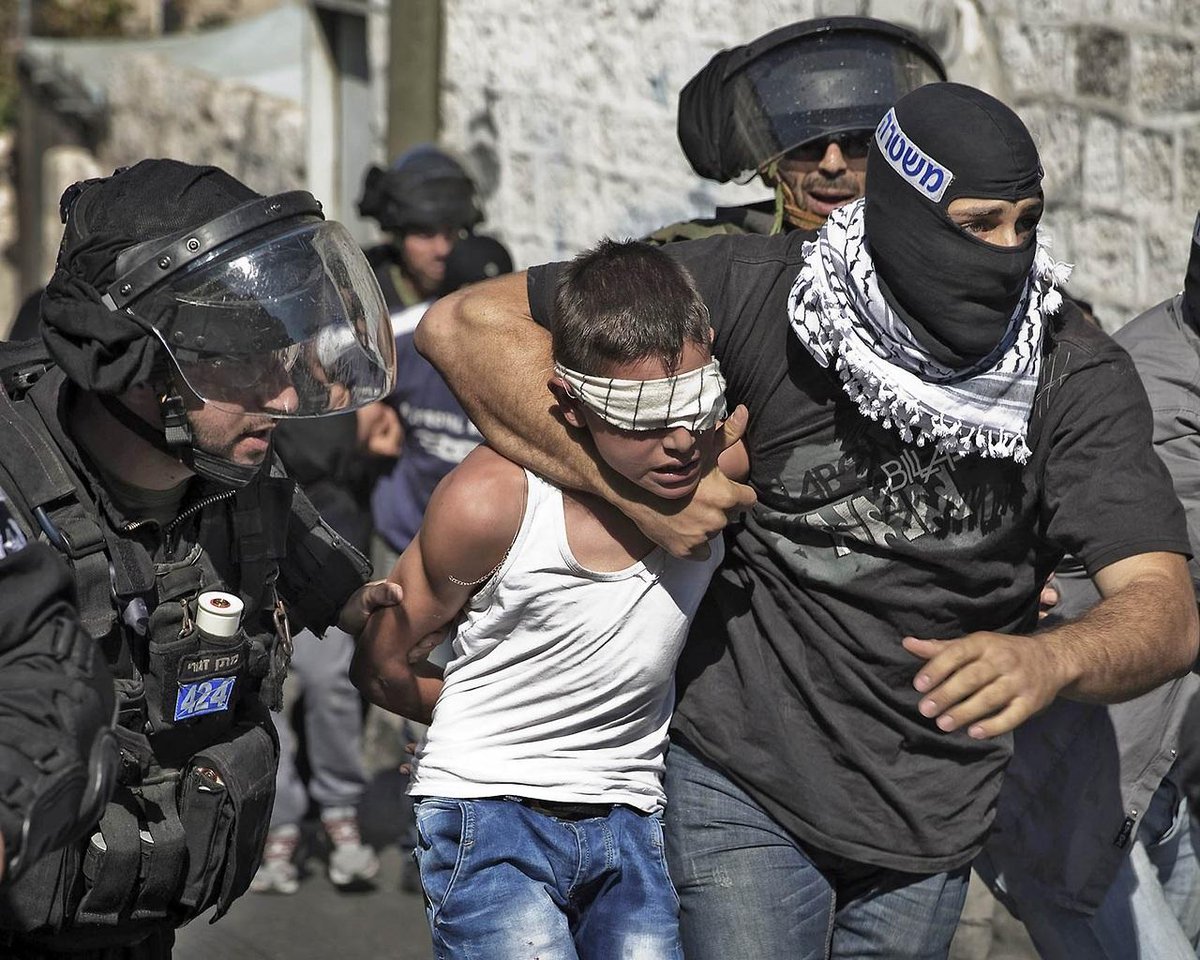 [Israeli police detain a Palestinian youth following clashes after Friday prayers in the East Jerusalem neighbourhood of Wadi al-Joz]

Undercover IDF kidnap and detain Palestinian children in #Jerusalem. #Palestine. Scum of the earth: photo by Finbarr O'Reilly / Reuters via F. @Palestinianism, 9 November 2014
Still they have courage faith and standing against evil forces. #AqsaUnderAttack #HandsOffAlAqsa: image via Aamir Hayat @wajdnali100, 6 November 2014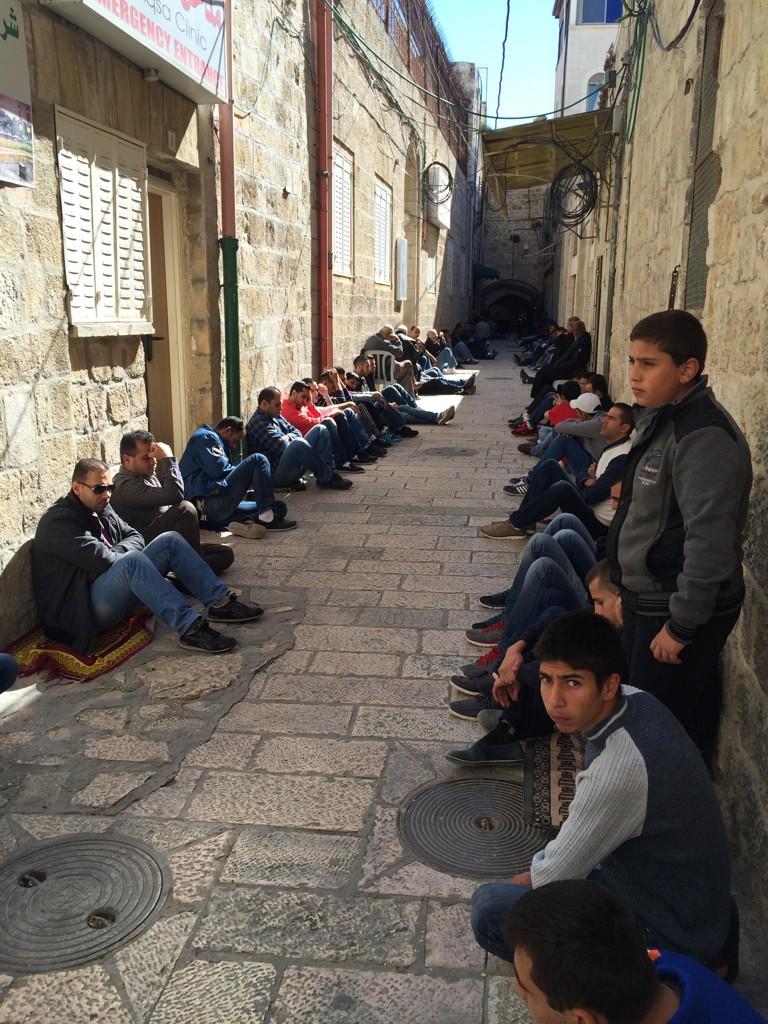 Men under 35yo in the alleyways of the Old City not allowed into Al Aqsa for prayer: image via Alexander Marquardt @MarquardtA, 7 November 2014
Israel 'pushing for religious warfare', Palestinian minister says #Jerusalem: image via Malika Bilal @mmbilal, 7 November 2014
New restrictions on access to Al-Aqsa Mosque #Aqsa #AqsaUnderAttack
: image via DAILY SABAH Breaking @DSBreaking, 7 November 2014

A Palestinian makes a hole in the separation wall in #Jerusalem 1 day the whole wall will come down #AlAqsaUnderAttack: image via handsoffAlaqsa #BDS @azadzman, 8 November 2014
Masjid al-Aqsa completely closed down by Israel and no Palestinians are allowed in! #AqsaUnderAttack #FreePalestine: image via Ibrahim Ellily @hima_madrid92, 31 October 2014

Jerusalem. Access at Muslim religious site denied as part of the continuing escalation of the occupation forces against Palestinians: image via Palinfo @PalinfoAr, 3 November 2014
Jerusalem. Occupation gangs prevent Muslims entering Al-Agsa Mosque today while keeping the site open to settlers
: images via Palinfo @PalinfoAr, 2 November 2014
Desecration of holy site by Zionist settlers guarded by occupation gangs today
: images via Palinfo @PalinfoAr, 3 November 2014
Israeli forces re-open Al-Aqsa grounds to Zionist settlers
: images via Palinfo @PalinfoAr, 4 November 2014
For the first time the occupation army enters the Aqsa Mosque, the most serious violation so far
: images via Palinfo @PalinfoAr, 4 November 2014
Israeli forces attack determined worshipers in the courtyards of the Al-Aqsa
: images via Palinfo @PalinfoAr, 4 November 2014
Jerusalemites burning settlers' car
: images via Palinfo @PalinfoAr, 4 November 2014
''All Muslims are a part of one body''. When it comes to these things, we must make our voice heard!: image via Mustafa Yaleze @uAmsterdam66, 5 November 2014
Don't say "There is nothing to do." Pray for KUDUS! Pray for all of us!! #AqsaUnderAttack #AKSAcigneniyorSUSMA: image via Gülsümm @gulsumkr, 5 November 2014, 5 November 2014
Aqsa occupied Ummah under the Qur'an Qur'anic feet deep sleep wake up anymore @AqsaUnderAttack #AksalcinHareketeGec: image via #Güllü @Memleketim_36, 5 November 2014
@QudsN From #Shuafat camp in #Jerusalem...
#AlAqsaUnderAttack #JerusalemUnderAttack: images via Kholoud Lafi @kholoudPal, 5 November 2014
Occupation gangs storm charity hospital before kidnapping wounded young man: image via Palinfo @PalinfoAr, 8 November 2014