.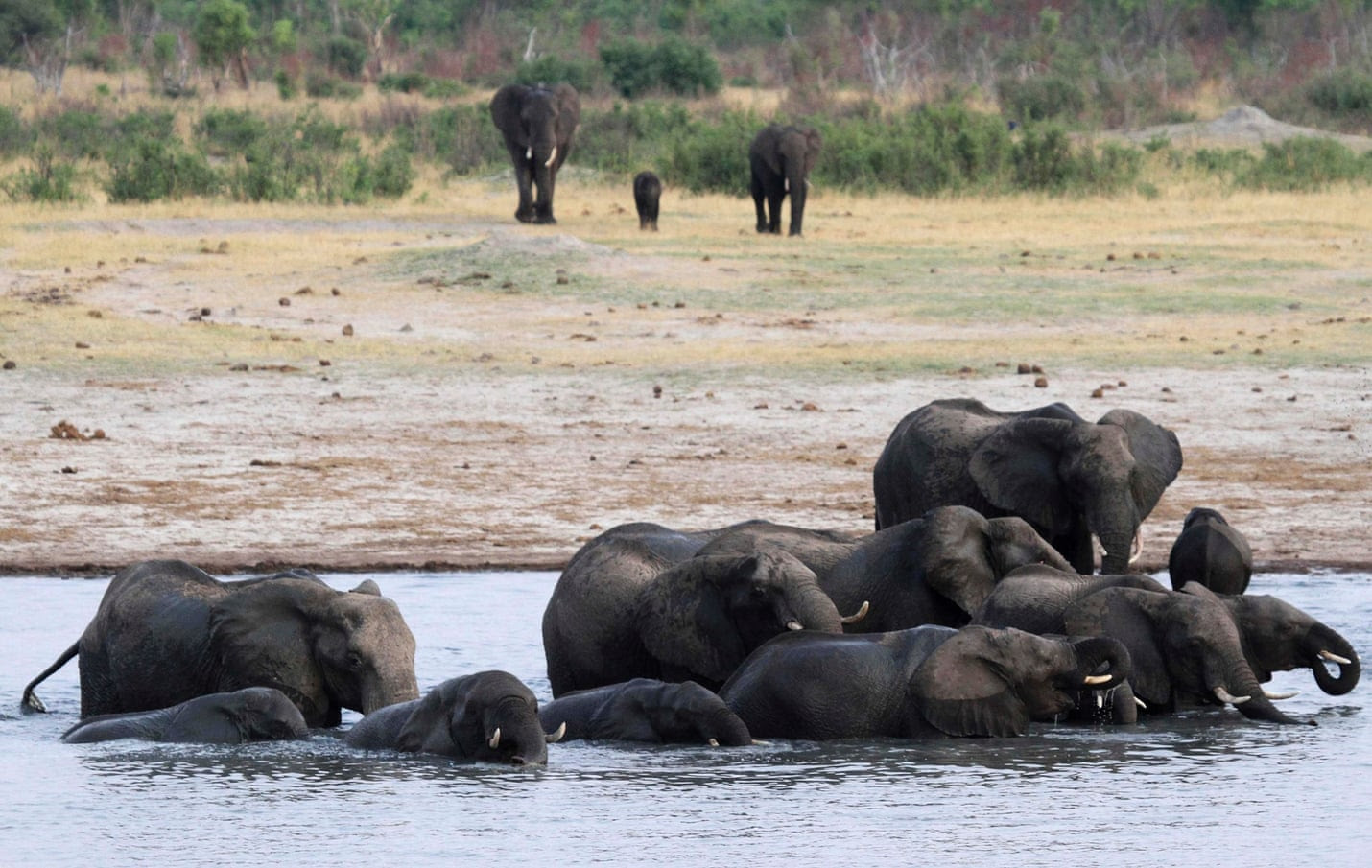 A herd of elephants gather at a watering hole in Hwange National Park, Zimbabwe. The watering hole was one of several that were contaminated by poachers with cyanide in 2013, leading to the death of at least 100 animals, according to Zimbabwean authorities
: photo by Philimon Bulawayo/Reuters via The Guardian, 21 October 2014

Now we will count to twelve
and we will all keep still.

For once on the face of the earth,
let's not speak in any language;
let's stop for one second,
and not move our arms so much.

It would be an exotic moment
without rush, without engines;
we would all be together
in a sudden strangeness.

Fisherman in the cold sea
would not harm whales
and the man gathering salt
would look at his hurt hands.

Those who prepare green wars,
wars with gas, wars with fire,
victories with no survivors,
would put on clean clothes
and walk about with their brothers
in the shade, doing nothing.

What I want should not be confused
with total inactivity
Life is what it is about;
I want no truck with death.
If we were not so single-minded
about keeping our lives moving,
and for once could do nothing,
perhaps a huge silence
might interrupt this sadness
of never understanding ourselves
and of threatening ourselves with death.
Perhaps the earth can teach us
as when everything seems dead
and later proves to be alive.

Now I'll count up to twelve
and you keep quiet and I will go.
Pablo Neruda (1904-1973): Keeping Quiet, from Extravagaria, translated by Alastair Reid, 1974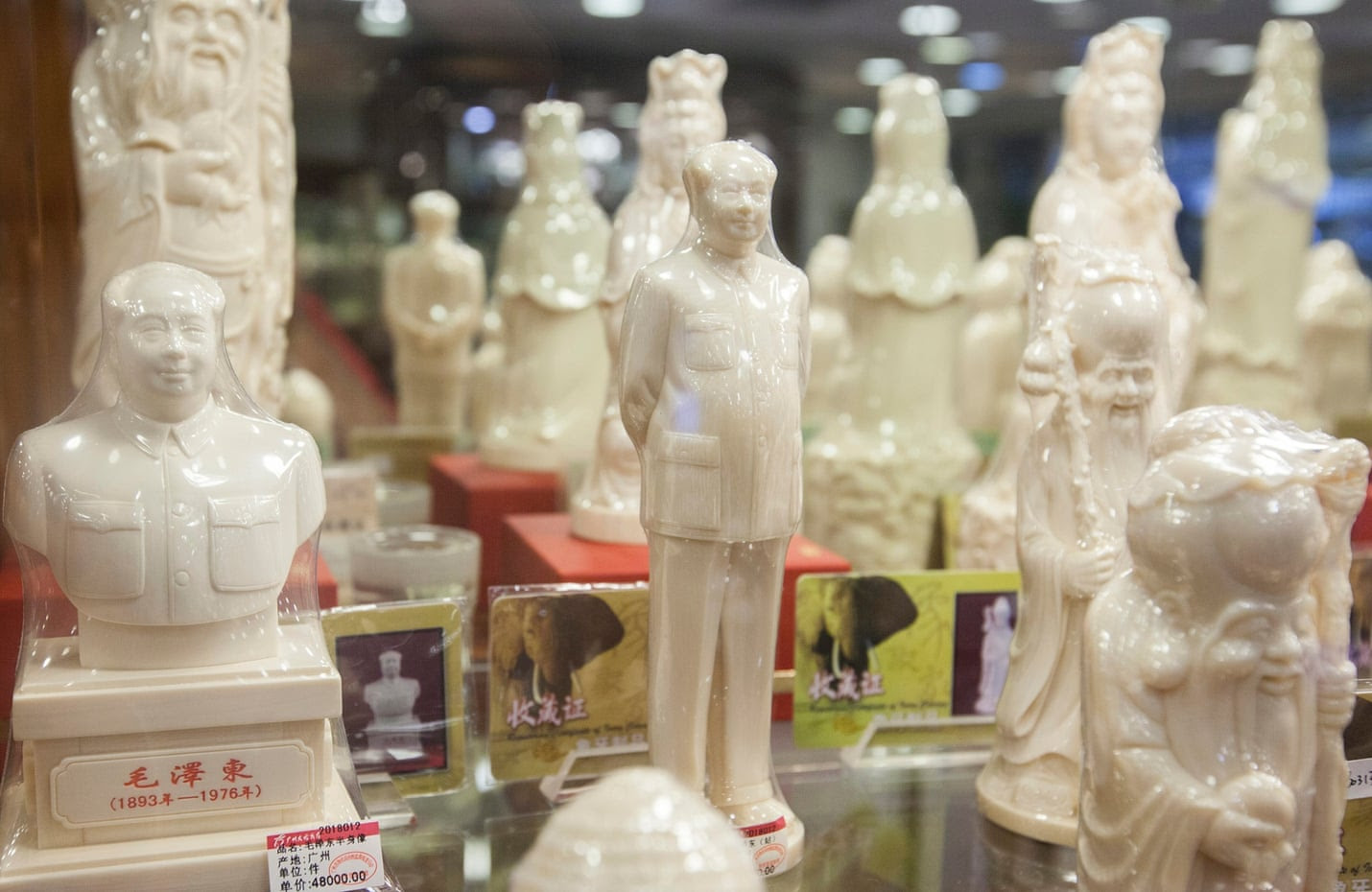 An ivory bust of former Chinese leader Mao Zedung for sale in Guangzhou, China. Chinese demand for ivory is stripping Tanzania of its elephant population
: photo by STR/EPA via The Guardian, 7 November 2014


Ahora contaremos doce
y nos quedamos todos quietos.
Por una vez sobre la tierra
no hablemos en ningún idioma,
por un segundo detengámonos,
no movamos tanto los brazos.
Sería un minuto fragante,
sin prisa, sin locomotoras,
todos estaríamos juntos
en un inquietud instantánea.
Los pescadores del mar frío
no harían daño a las ballenas
y el trabajador de la sal
miraría sus manos rotas.
Los que preparan guerras verdes,
guerras de gas, guerras de fuego,
victorias sin sobrevivientes,
se pondrían un traje puro
y andarían con sus hermanos
por la sombra, sin hacer nada.
No se confunda lo que quiero
con la inacción definitiva:
la vida es sólo lo que se hace,
no quiero nada con la muerte.
Si no pudimos ser unánimes
moviendo tanto nuestras vidas,
tal vez no hacer nada una vez,
tal vez un gran silencio pueda
interrumpir esta tristeza,
este no entendernos jamás
y amenazarnos con la muerte,
tal vez la tierra nos enseñe
cuando todo parece muerto
y luego todo estaba vivo.
Ahora contaré hasta doce
y tú te callas y me voy.
Pablo Neruda: A callarse, from Extravagaria, 1958

The Vatican. A gust of wind blows Pope Francis' mantle during his weekly general audience in St. Peter's Square
: photo by Alessandra Tarantino / AP via The Guardian, 7 November 2014


Queen Elizabeth II greets actor Angelina Jolie to present her with the insignia of an Honorary Dame Grand Cross of the Most Distinguished Order of St Michael and St George, in the 1844 room at Buckingham Palace, London: photo by Anthony Devlin / PA via The Guardian, 11 October 2014
Beijing, China. Russian president Vladimir Putin walks past US president Barack Obama in traditional Chinese dress before a welcome banquet for the Asia-Pacific economic cooperation summit: photo by Sergei Ilnitsky / EPA via The Guardian, 10 November 2014

An Abyssinian Colobus baby yawns at the Nogeyama Zoological Gardens in Yokohama, Japan: photo by Itsuo Inouye / Associated Press, 2011
Amur tiger (Panthera tigris altaica) with cub, Buffalo Zoo
: photo by Dave Pape, 200
8
A female Amur Tiger, Iris, licks its 7-week-old cub during one of their first walks in an open-air cage at the Royev Ruchey zoo in Krasnoyarsk, Russia. The Amur Tiger is an endangered species: photo by Ilya Naymushin / Reuters, 2011

A one-week-old Jaguar cub plays with her mother Rosa Salvaje at the National Zoo in Managua, Nicaragua: photo by Esteban Felix / Associated Press, 2011
Attica, Athens. A young white tiger plays with his mother in their enclosure at the Attica zoo. White tigers have not been seen in the wild since 1958
: photo by Louisa Gouliamaki / AFP via The Guardian, 10 November 2014

Naypyitaw, Burma. A baby elephant, which was found in a river during the rainy season, plays with white elephants, seen as sacred signs of good fortune, peace and wealth: photo by Damir Sagolj / Reuters
via The Guardian, 12 November 2014

Rasuruan, Indonesia. A seven-day-old female Sumatran elephant calf stands with its mother at the Safari zoo. Smallest of the Asian elephants, Sumatran elephant (Elephas maximus sumatrensis) is facing serious pressures arising from illegal logging and associated habitat loss, and fragmentation in Indonesia: photo by Fully Handoko / EPA via The Guardian, 14 November 2014

Barn Owl chicks sit in a box in Israel's Beit Shean Valley near the border with Jordan: photo by Baz Ratner / Reuters, 2012

A mother bear and her two cubs, spooked by noise from TV helicopters, peer from a tree in Altadena, California: photo by Nick Ut / Associated Press, 2012

A

G

iant

P

anda s

its

in a tree at a breeding center in Dujiangyan, China. The

animal

is among six young

G

iant

P

andas which were bred in captivity and were released as a group of "pioneers" into an enclosed forest in Sichuan province

: photo by

China Daily / Reuters

, 2012
Diademed Sifaka (Propithecus diadema), sitting, Mantadia National Park, Madagascar: photo by C. Michael Hogan, 2006
Diademed Sifaka (Propithecus diadema), with radio collar, Andaside-Mantadia National Park, Madagascar: photo by Karen Coppock, 2007
Diademed Sifaka (Propithecus diadema): photo by Tom Junek, 2003
Diademed Sifaka (Propithecus diadema): photo by Tom Junek, 2003

A rare baby diademed sifaka lemur peaks out from its mother's lap, almost hidden in the canopy of a lowland rainforest of Madagascar, the only island where lemurs can be found. They are critically endangered due to habitat destruction and hunting
: photo by Hery Randriahaingo / Aspinall Foundation via The Guardian, 21 October 2014

Tony Abbott with koala at G20 summit in Brisbane. To right, Vladimir Putin in the grips of a second koala (two-year-old Jimbelung, whose name means 'friend'): photo by Andrew Taylor / G20 Australia via The Guardian, 16 November 2014

Brazil's Dilma Rousseff with Abbott's mate: photo by Andrew Taylor / G20 Australia via The Guardian, 16 November 2014
Angela Merkel, out of picture to right, takes a more cautious approach and admires Tony Abbott's koala from a safe distance. It might be a wise strategy. From the Wildcare Australia website: 'Koalas have strong razor-sharp claws that are capable of causing severe injuries, particularly to the face. They also bite – hard. Although they may appear docile, they are capable of lashing out very quickly': photo by Andrew Taylor / G20 Australia via The Guardian, 16 November 2014
Habitat: photo by

Karena Goldfinch, 11 November 2012
Logging at Toolangi State Forest: photo by

Karena Goldfinch, 11 November 2012
Logging at Toolangi State Forest: photo by

Karena Goldfinch, 11 November 2012
Black forest: photo by

Karena Goldfinch, 17 October 2012
The dark side of the hill this morning: photo by

Karena Goldfinch, 27 November 2012
Black wallaby: photo by

Karena Goldfinch, 3 July 2012
St. Andrews Kookaburra: photo by

Karena Goldfinch, 17 July 2012
He only wanted to eat some grass. (This young wombat was hit by a car.): photo by

Karena Goldfinch, 7 October 2012
Untitled: photo by Karena Goldfinch, 21 March 2013

Toolangi: photo by

Karena Goldfinch, 11 November 2012
If you go down to the woods today... #2: photo by

Karena Goldfinch, 12 February 2013
A solitary desert elephant bull (Loxodonta africana) walks through sand dunes on the Skeleton Coast, Namibia. Conservation groups are calling for members of the public to sign a petition after Namibia's decision to grant more elephant hunting licences
: photo by Jami Tarris / Corbis via The Guardian, 18 July 2014