.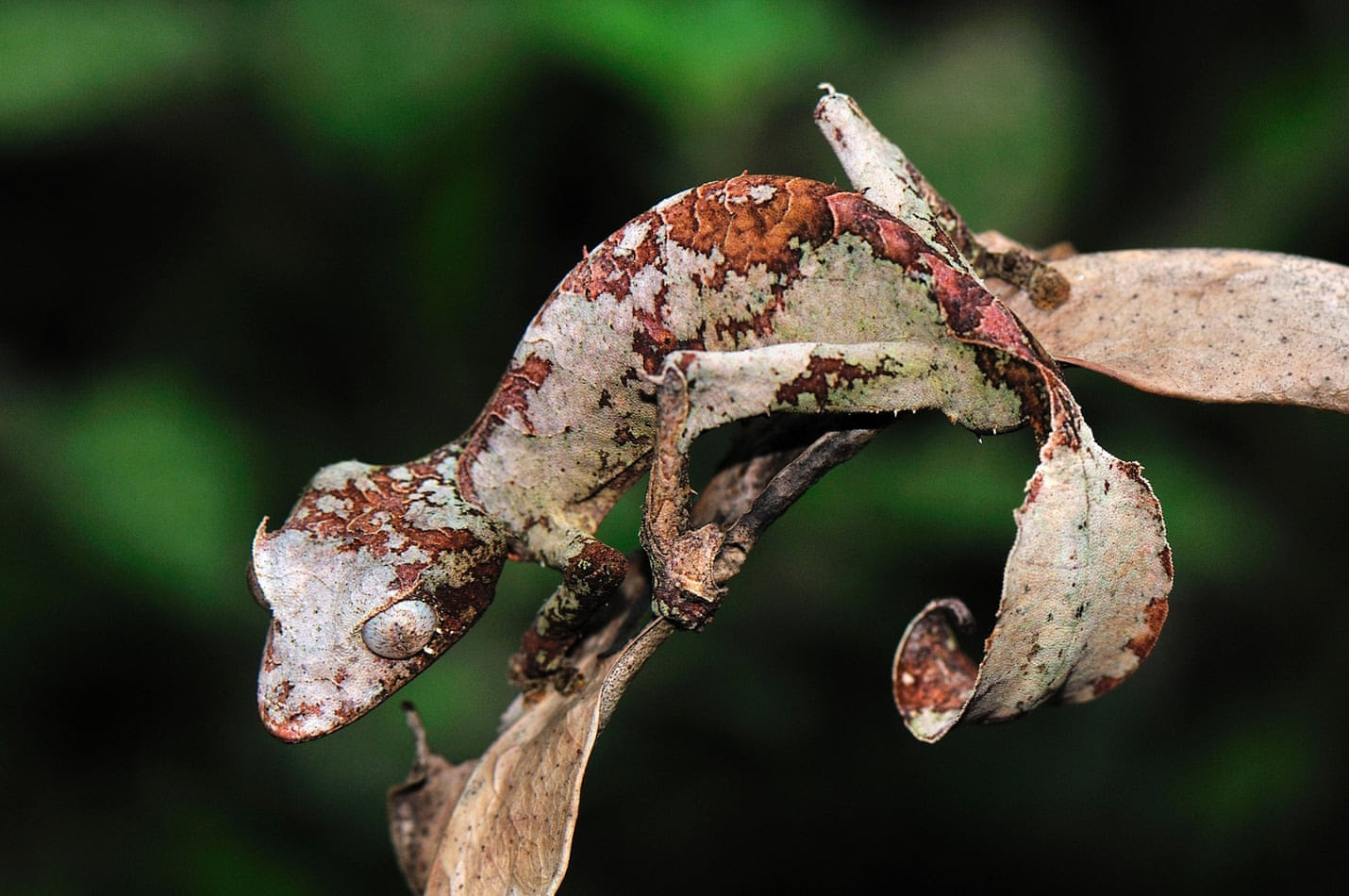 A leaf-tailed gecko in Andasibe-Mantadia national park, Madagascar: photo by Thomas Marent/Ardea/Caters News Agency via the Guardian, 9 October 2014
A noise would awaken or impersonate Kim.
As if these things were self evident
In her sleep ancient lunar fish enacted,
As if before an underwater window,
A comic mimicry of a sunken world,
The one Kim wished to inhabit -- as if
Wishing were the next best thing to being
There. When the white moon comes up in the black
Cold winter night, the skin of empire drifts off
Like a poison that's evaporated;
Funny, thought Kim, how the film over words
Loses its toxic power in certain lights
Above implication's dowager kingdom.
This morning... Just before the sun rose.... #moon #jpnagar: image via vrundashankara @vrundavs, 13 December 2014

A flotilla of fish follow a transparent drifting jellyfish, Aurelia labiata. Gulf of Mexico.
Many animals of the open sea, like this Aurelia labiata jellyfish, are largely transparent: photo by Sonke Johnson / Operation Deep Scope 2005 Expedition: NOAA Office of Ocean Exploration (NOAA Photo Library)
Flowery flounder.
The peacock flounder (Bothus mancus) can change its pattern and colours to match its environment: photo by Brocken Inaglory, 28 May 2010

Orientalischer Süßlippfisch (Plectorhinchus orientalis). Tauchgang ca. 15m Tiefe, Koh PhiPhi, Thailand. – Dieser "sweetlip" wird gerade bei einer Putzerstation von 2 Putzerfischen bedient, diese entfernen diverse Bakterien und Parasiten von Haut und Kiemen: photo by Morningdew, March 2006
Northern lights and the moon over #Tromso, #Norway Credit: G. Gunnar: image via Observing Space @ObservingSpace, 12 December 2014
Insect w:Planthopper, Siphanta acuta, mimics a leaf: photo by Brocken Inaglory, 2008
Hooded Grasshopper Teratodus monticollis, superbly mimics a leaf with a bright orange border.
Teratodus monticollis at Pocharam lake, Andhra Pradesh, India: photo by J.M. Garg, 2 August 2008
Biston betularia caterpillars on birch (left) and willow (right): photo by Noor MAF, Parnell RS, Grant BSA.
4 September 2008

in Reversible Color Polyphenism in American Peppered Moth (Biston betularia cognataria) Caterpillars; image by Rocketpocket, 9 September 2008
A mossy leaf-tailed gecko blends in perfectly with the branch of a tree at Montagne d'Ambre national park, Madagascar: photo by Thomas Marent/Ardea/Caters News Agency via the Guardian, 9 October 2014
A tawny frogmouth owl among a jumble of branches in Western Australia: photo by Don Hadden/Ardea/Caters News Agency via the Guardian, 9 October 2014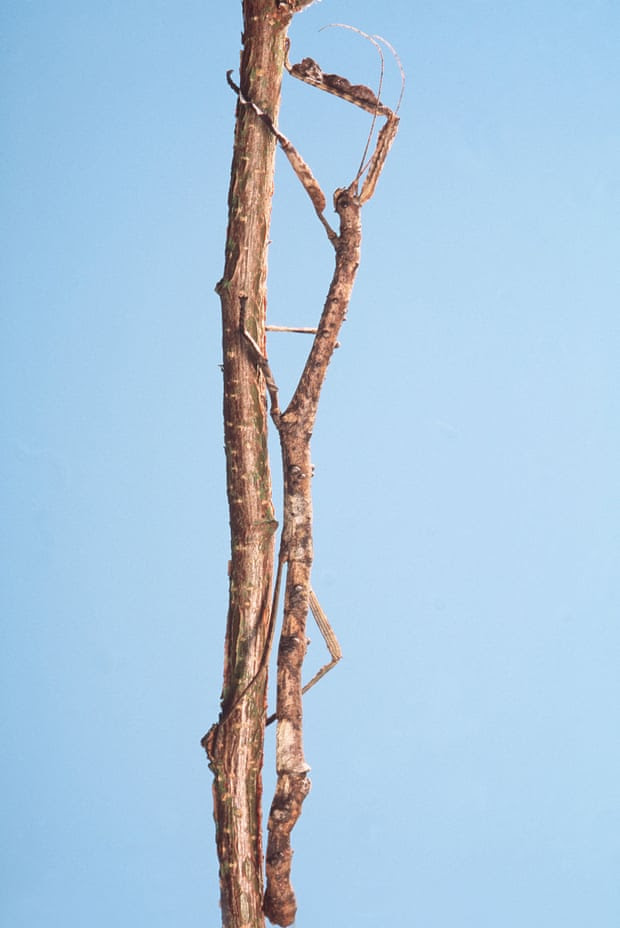 This stick insect is indistinguishable from a real stick: photo by Pascal Goetgheluck/Ardea/Caters News Agency via the Guardian, 9 October 2014
A black arches moth on tree bark in Cornwall, UK: photo by David Chapman/Ardea/Caters News Agency via the Guardian, 9 October 2014

Papuan Frogmouth (Podargus papuensis), Daintree River, Queensland, Australia: photo by JJ Harrison, 2 July 2011
Colostygia aqueata, Großer Buchstein @ approx. 850 m, Gesäuse National Park, Styria, Austria: photo by Kurt Kulac, 21 July 2011
Colostygia pectinataria (

l

a Cidari

e

verd

â

tre -- the Green

C

arpet), Hainaut, Belgium: photo by Entomart,

18 May

2006
Saharan Horned Viper

aka

Horned Desert Viper (Cerastes cerastes), Stuttgart Zoological Garden: photo by H. Krisp, 2 December 2011
Common squirrel in oak leaves. Protective coloration allows it to

merge

with the oak leaves. Kharkov Forest Park, U

kraine

: photo by Dennis

Mar

kov, 9 May 2007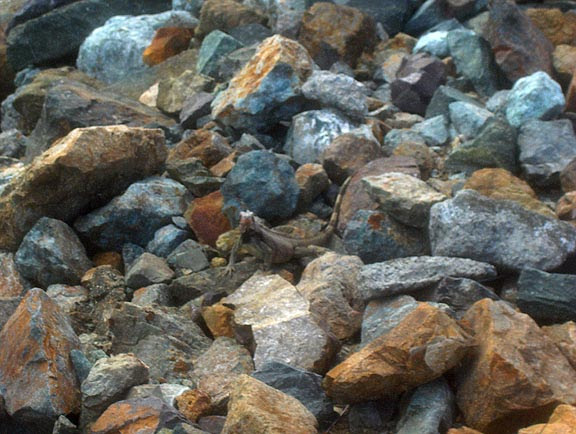 Iguana, blending in with the rocks on St. Thomas: photo by Howard33, 15 January 2010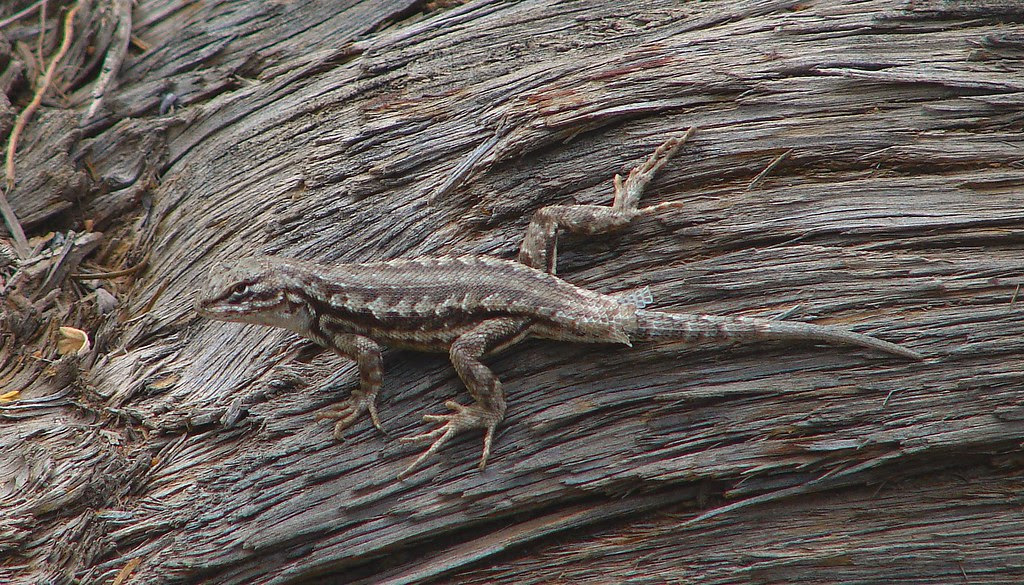 Lizard, Oregon: photo by Seattle.roamer, 26 July 2009
Lesser Sand

P

lovers (Charadrius mongolus): photo by Cisticola, 20 April 2009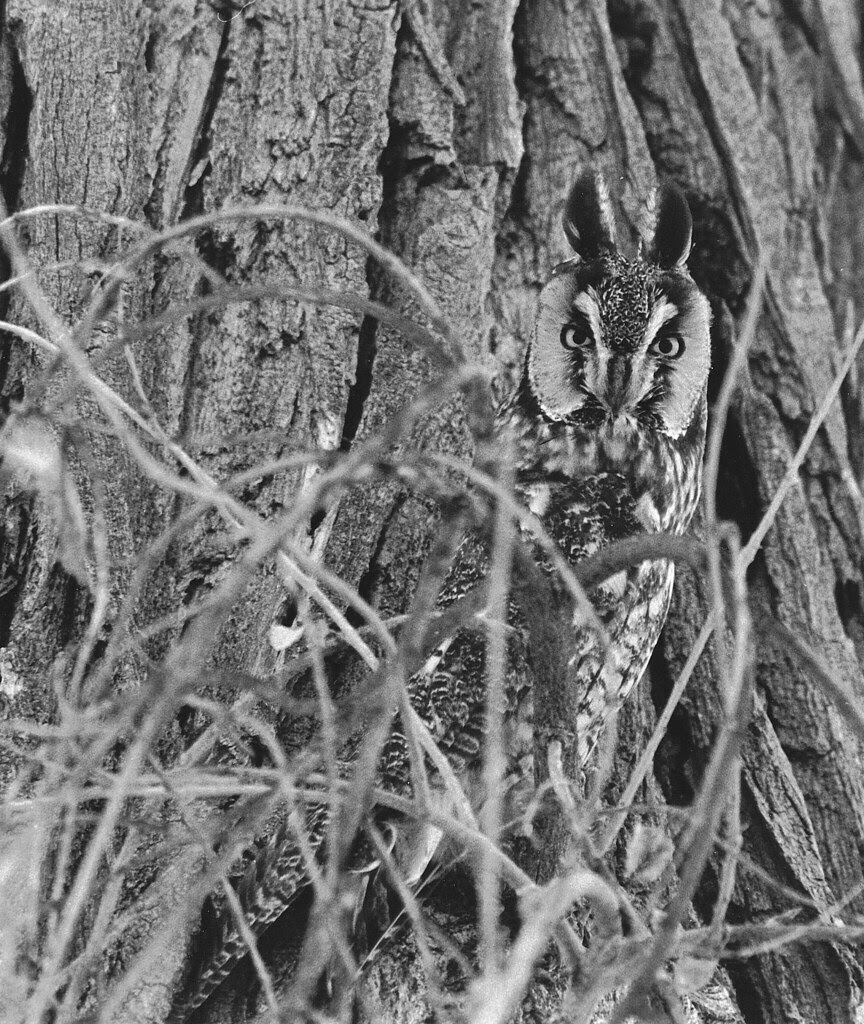 Long-eared Owl (Asio otus), Carson River, Lyon County, Nevada: photo by fug

i

e, 28 April 1984
Fusco marginatus, Vilnius, Lithuania: photo by Lukas Jonaitis, 30 May 2009
A 4mm Macroxiphus sp. cricket mimics an ant to ward off predators. Pictured in Dar es Salaam, Tanzania: photo by Muhammad Mahdi Karim, March 2009

Indian Spectacled Cobra (Naja naja), one of India's most venomous snakes, Hyderabad: photo by Kamalnv, 25 October 2008


Rhagerhis moilensis (False Cobra) in captivity.
The false cobra (Malpolon moilensis) is an opisthoglyphous snake found in parts of Africa and the Middle East. The name "False Cobra" comes from the fact that this is not a cobra.
The False Cobra (Malpolon moilensis) is a mildly venomous but harmless colubrid snake which mimics the characteristic "hood" of an Indian cobra's threat display. It imitates a cobra's stance by spreading its neck into a hood and hissing like the cobra. It can grow up to 1.5 metres in length and preys on rodents and lizards: photo by Etienne Boncourt, 2 June 2013
An undercover police officer, who had been marching with anti-police demonstrators, aims his gun at protesters after some in the crowd attacked him and his partner: photo by Noah Berger/AP, 12 December 2014
Oakland undercover officer who drew gun on protesters 'could have shot anyone'. After their cover was blown, two plainclothes officers found themselves in a melee with demonstrators and a freelance photographer captured the incident on film: Nicky Woolf and Jessica Glenza, The Guardian, 12 December 2014
An undercover California highway patrol officer who infiltrated protests against police violence in Oakland pulled a gun on demonstrators after his and his partner's cover was blown.
Michael Short, a freelance photographer who was covering the protest for the San Francisco Chronicle and witnessed the incident, told the Guardian that after the crowd realised that the pair were undercover officers, they became "incensed".
One of the protesters snatched the beanie from the head of the smaller of the two officers. Immediately afterwards, another member of the crowd ran up from behind and punched the same officer in the head, knocking him to the ground.
The shorter officer stood up and tackled his assailant, at which point the other officer, who was already brandishing his baton, drew his gun and pointed it at the crowd, which was surging forward.
This is the moment that Short captured on film.
After drawing his weapon, the taller officer radioed for backup. According to Short, between 20 and 25 uniformed officers who had been accompanying the protest arrived and pushed back the crowd. "Everyone was yelling and screaming," said Short.
Short said that the danger didn't really register with him in the moment. "In retrospect, yeah, it was scary," he said. "One little slip and he could have shot anyone in the crowd, including myself."
The two officers have not yet been named, though the California Highway Patrol's Golden Gate division has confirmed that there were two plainclothes officers at the protest, and that one of them had drawn his weapon.
An undercover officer points his gun at the crowd while his partner subdues a protester, as demonstrations continue for a fifth night in Oakland: photo by Michael Short / San Francisco Chronicle, 10 December 2014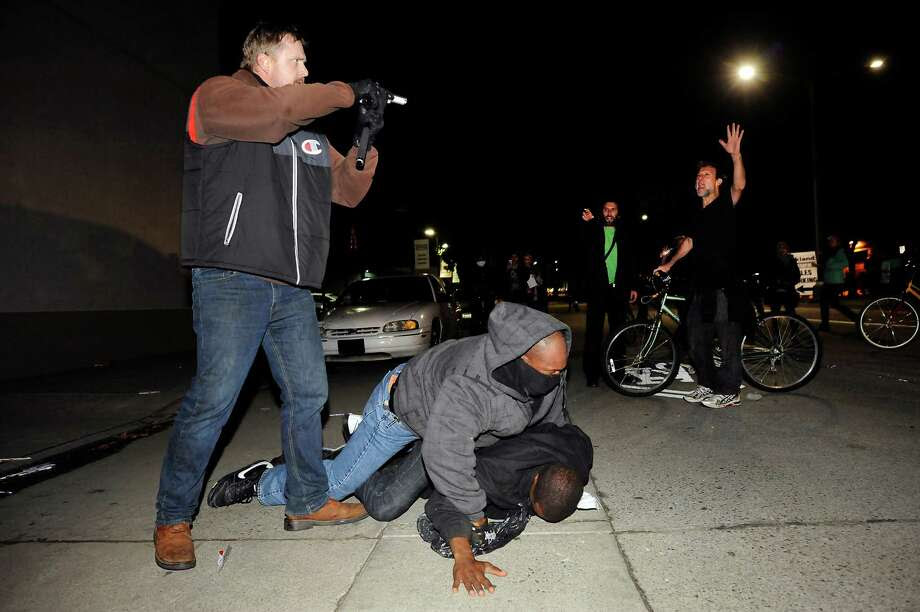 An under cover officer points his gun at the crowd while his partner subdues a protester, as demonstrations continue for a fifth night in Oakland
: photo by Michael Short / San Francisco Chronicle, 10 December 2014

An undercover officer points his gun at the crowd while his partner subdues a protester, as demonstrations continue for a fifth night in Oakland: photo by Michael Short / San Francisco Chronicle, 10 December 2014
Undercover Cops Outed Caught Smashing Windows Caught Inciting Violence #BerkeleyProtest #ICantBreathe
: image via Joseph Godfrey @j0eg0d, 11 December 2014
Dear Oakland, watch out for these undercover pigs. #berkeleyprotests #BlackLivesMatter: image via Nadir Bouhmouch @LeJebly, 11 December 2014
Tuesday's demonstrations against police brutality in the San Francisco Bay Area were smaller than the last three nights, but still drew hundreds of people
: photo by Justin Benttinen for the Guardian, 10 December 2014
The #Moon and #Jupiter: image via MonkeyIslandLane.org @MonkeyIsland, 12 December 2014