.
[Looking westward from Berkeley hills,
early evening]
: photo by Film&PhotoArchivist, 19 May 2015
Apart from branches in courtyards and small stones,
The countryside is beyond me.
I can go along University Avenue from Rochester to Sobrante
And then the Avenue continues to the Bay.
Often I think of the dry scope of foothill country,
Moraga Hill, Andreas, Indian country, where I was born
And where in the scrub the air tells me
How to be born again.

Often I think of the long rollers
Breaking along the beaches
All the way down the coast to the border
On bookish cressets and culverts blue and Mediterranean.

In drops of spray as fine as letters
Blown high, never to be answered,
But waking am the shore they break upon.

Both the dry talkers, those old Indians,
And the dry trollers, those old pirates,
Say something, but it's mostly louder talking,
Gavel rapping, and procedural dismays.

Still here we are, and where we roll and call,
The long rollers of the sea come in
As if they lived here. The dry Santa Ana
Sweeps up the town and takes it for a feast.

Then Rochester to El Sobrante is a distance
Josephine Miles (1911-1985): "Apart from branches in courtyards...", from Saving the Bay, 1967, in Collected Poems 1930-83 (1983)
Bay Side Ocean View (Berkeley). 35 mm plastic toy camera from dog food. Expired Tri-X from the 1980s.
: photo by Dave Hebb, 12 July 2015
University Avenue, Berkeley, at night
: photo by Whyzee, February 2008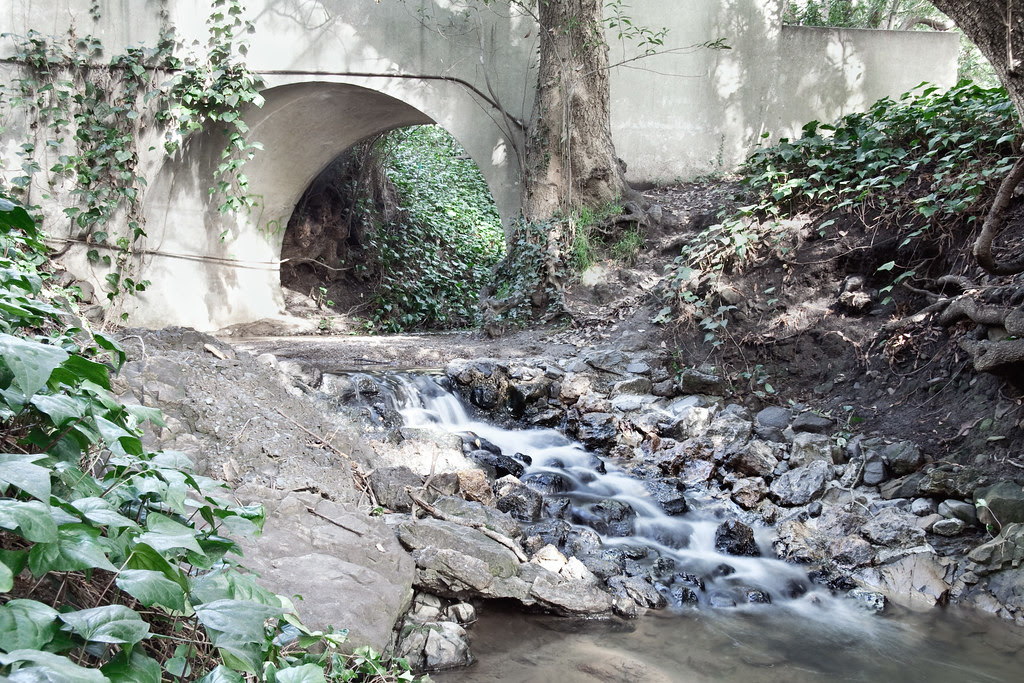 Strawberry

Creek

I: photo by Sean Goebel (geekyrocketguy), 3 February 2010
Strawberry

Creek

III: photo by Sean Goebel (geekyrocketguy), 3 February 2010
Strawberry

Creek

coming out of the culvert from UC Berkeley
:
photo by Coro, 13 January 2009

photo by Coro, 2009
Strawberry

Creek

as it drops to a lower level, just east of Sather Gate Bridge at UC Berkeley:
photo by Coro, 13 January 2009
Strawberry

Creek

: postcard, c 1906, photographer unknown for E.P. Charlton and Company, San Francisco (via East Bay

Creeks

)
Oak trees, El Sobrante Ridge Regional Preserve: photo by nick fullerton, 15 October 2010
Manzanita trunk, El Sobrante Ridge
Regional Preserve: photo by nick fullerton, 15 October 2010
Pallid Manzanita trunk, El Sobrante Ridge
Regional Preserve: photo by nick fullerton, 16 February 2010
Path with Manzanitas, El Sobrante Ridge
Regional Preserve: photo by nick fullerton, 16 February 2010
Oak, El Sobrante, California: photo by Paul Excoff, 19 February 2009
Wildcat Canyon hike panorama. Taken from Wildcat Canyon, facing east at the center, San Pablo Bay is on the left, San Francisco Bay on the right
: photo by Daniel Ramirez, 7 February 2009
El Sobrante Ridge
Regional Preserve: photo by nick fullerton, 13 April 2012
Treasure Island. Bay Bridges
.: photo by Film&PhotoArchivist, 13 July 2014
Treasure Island. Angel Island: Camp Reynolds Barracks. If we had been around here 50-100 years ago we'd have also seen a row [of] enlisted [men's] barracks on the right, but those were demolished many years ago
.: photo by Film&PhotoArchivist, 13 July 2014