.

EXCLUSIVE: What a secret IMF report reveals about #Greece [photo: A man walks by a mural in Athens: Yannis Behrakis]: image via Reuters Top News @Reuters, 14 July 2015
Greece put its faith in democracy but Europe has vetoed the result: The EU has humiliated Syriza and ignored its referendum: now the only power the country has left is to implement what the lenders want: Paul Mason, The Guardian, 13 July 2015
The only thing certain about the aftermath of Sunday's Euro summit is the disgrace of the political leaderships.
The EU's main powers tried to ritually humiliate the Greek government, but ruthlessness of intent was matched by incompetence when it came to execution. The German finance minister, Wolfgang Schäuble, threw on to the table a suggestion for Greece to leave the single currency for five years. Senior MPs from his coalition partner, the socialist SPD, screamed from the sidelines that they had not agreed to this -– yet enough of Germany's partners did agree to get the proposal into the final ultimatum.
The Greeks were negotiating under threat of their banking system being allowed to collapse, a threat made by the very regulator supposed to maintain financial stability.
For the Greek leadership, it has also been a week of miscalculation. Armed, they thought, with a mandate for less austerity, they listened once again to the French, whose technocrats actually helped design the Greek offer going into the Brussels summit, only to see that offer ripped apart and replaced with a demand for the reversal of every measure against austerity the government has ever taken.
But the real problem is not the politicians. It is the eurozone's inability to contain the democratic wishes of 19 electorates. When the Finnish government threatened to collapse the talks, it was only expressing the wishes of the 38% of voters who backed the nationalist rightwingers of Finns Party. Likewise, when Schäuble sprang his temporary Grexit plan, he was expressing the demand of 52% of German voters, who want Greece to leave.
GREECE - A banner "The End" during a demonstration against European Union's austerity in Athens. By @ADS4AFP #AFP: image via AFP Photo Department @AFPphoto, 13 July 2015
Little did leftwing Greece understand how scant was the power its ministers actually wielded from their offices
As for the Greeks, having tramped the streets of Athens alongside them for the best part of two months, I am certain that the "Oxi" movement was essentially a demand to stay in the Euro on different terms. You cannot get 70-80% of people in the working-class suburbs of Athens turning out –- in the face of a rightwing media bombardment –- on far-left anti-Euro sentiment alone.
Now it seems that both sides of the Greek referendum were voting for an illusion. One of the most touching aspects of Greek life is people's obsessional respect for parliamentary democracy. Syriza itself is the embodiment of a leftism that always believed you could achieve more in parliament than on the streets. For the leftwing half of Greek society, though, the result is people continually voting for things more radical than they are prepared to fight for.
I asked one of Syriza's grassroots organisers, a tough party cadre who had been agitating for a "rupture" with lenders for weeks, whether he could put his members onto the streets to keep order outside besieged pharmacies and supermarkets. He shook his head. The police, or more probably the conscript army would have to do it.
When it comes to the now-abandoned Thessaloniki Programme, the radical manifesto on which Alexis Tsipras came to power, there is always talk of implementing it "from below": that is, demanding so many workers' rights inside the industries designated for privatisation that it becomes impossible; or implementing the minimum wage through wildcat strikes. But it never happens. When strikes are called, it's by the communists. When riots happen, it's the anarchists. The rest of leftwing Greece is mesmerised by parliament.
Little does it understand how scant was the power its ministers actually wielded from their offices. And now the realisation dawns: the Greek parliament has no power inside the eurozone at all. It has the power only to implement what its lenders want.
And what of rightwing and centrist Greece? Its party structures are already shattered by the political defeats of January and the referendum. But here, too, the mass base is prone to voting for an illusion. When they went on to the streets with their badly translated red-baiting placards in mid-June, the Greek right claimed to be for nothing more than "Europe". But the Europe they want is the Europe that tolerated corruption and fiscal profligacy, and indeed paid for it. The Europe of the submarines purchased from Germany, under conditions which put a former Greek defence minister in jail for taking bribes. Peoples with sovereignty have the right to vote for illusory things. But the Euro took sovereignty away.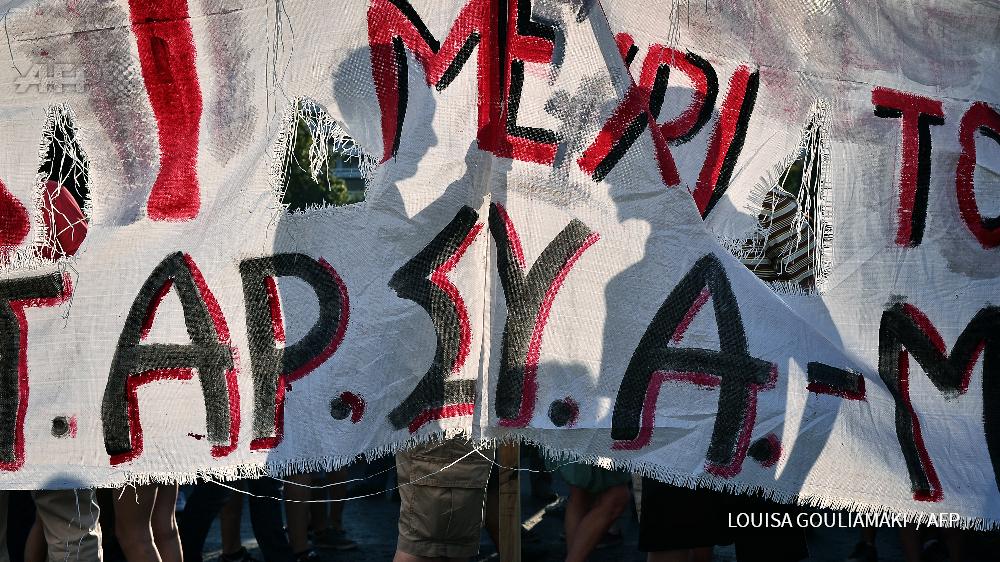 GREECE - Anti-EU demonstration calling for dismissal of accords between Greece and its creditors. By @lgouliam #AFP [photo by Louisa Gouliamaki]: image via Frédérique Geffard @fgeffardAFP, 14 July 2015
"Let's go to the beach. Let's bring women that look like supermodels and a bunch of handsome guys and let's flip the finger at the world, saying: 'We're still Greece'".
I followed the summit in a bar, with a bunch of young Greek freelancers –- photographers, fashion magazine journalists, speakers of perfect English who could work anywhere, but choose to tote their DSLRs and laptops here. They know they're sitting on the most visually stunning and compelling story in the developed world. We watched the hashtag #ThisIsACoup proliferate until our eyes could not stay open. Then, said one: "Let's go to the beach. Let's bring women that look like supermodels and a bunch of handsome guys and let's flip the finger at the world, saying: 'We're still Greece'. That will go viral." It probably would, but the Greece they're part of is shattered. The economy can and will rebound. Syriza will purge itself and be reformed. The right will find leaders who don't look bewildered by their own defeats.
The problem is with democracy. If democracy cannot express illusions and crazy hopes; if it cannot contain narratives of emotion and ideals, it dies. By countermanding first the landslide victory of an elected government and then a 61% plebiscite majority, the EU functionally vetoed the outcomes of Greek democracy. If the democratic spirit now dies in Greece –- and it might –- we had better hope that phenomenon too does not go viral.

A man passes by a graffiti showing a euro sign bleeding, in central Athens: image via Aris Messinis @ArisMessinis, 14 July 2015
"Better to be broke with the Drachma than a slave with the Euro." #Greece: image via Alexander Marquardt @MarquardtA, 7 July 2015
Exclusive: Greece needs debt relief far beyond EU plans - Secret IMF report: Reuters, 14 July 2015
Greece will need debt relief far beyond what euro zone partners have been prepared to consider due to the devastation of its economy and banks in the last two weeks, a confidential study by the International Monetary Fund seen by Reuters shows.
The updated debt sustainability analysis was sent to euro zone governments late on Monday, hours after Athens and its 18 partners agreed in principle to open negotiations on a third bailout program of up to 86 billion euros in return for tougher austerity measures and structural reforms.

"The dramatic deterioration in debt sustainability points to the need for debt relief on a scale that would need to go well beyond what has been under consideration to date -- and what has been proposed by the ESM," the IMF said, referring to the European Stability Mechanism bailout fund.

European countries would have to give Greece a 30-year grace period on servicing all its European debt, including new loans, and a very dramatic maturity extension, or else make explicit annual fiscal transfers to the Greek budget or accept "deep upfront haircuts" on their loans to Athens, the report said.
Telos. California: photo by Aaron Durand, 15 May 2012
The newspapers age in an hour

Pensioners wait outside a national bank branch in Thessaloniki, as banks opened only for pensioners to allow them to withdraw their pensions, with a limit of 120 euros: photo by Sakis Mitrolidis/AFP, 3 July 2015


May 11
After the rain the buildings and the stones
change colors.
Two old men sit on the bench. They don't talk.

So much shouting and so much silence remains.
The newspapers age in an hour.
Stressed, unstressed, stressed, unstressed,
the monotony of change; -- stressed,
unstressed, stressed, strophe, antistrophe
and neither rage nor sorrow.
Evening lights out;
just as heavy for the one who struck
as for the one he struck.
The men sit on the stones,
pare their nails.
The others died.
We forgot them.
Yannis Ritsos (1909-1990): May 11, from Diaries of Exile (1948-1950), translated by Karen Emmerich and Edmund Leroy Keeley, 2014
Selling off the silver: #Greece agrees to create independent fund that'll manage privatisation: image via BBC News (World), 14 July 2015
January 25
For a moment we took refuge
against the latrine wall.
The wind was cutting.
An old man stared at a cloud.
I looked at him smiling
in the light of that cloud -- so peaceful,
so far removed from desire and pain --
I was jealous.
Old people agree with the clouds.
And it's taking us a long time to get old.
Yannis Ritsos (1909-1990): January 25, from Diaries of Exile (1948-1950), translated by Karen Emmerich and Edmund Leroy Keeley, 2014
Greek pensioner Giorgos Chatzifotiadis, outside a national bank branch in Thessaloniki on July 3, 2015 [photo by
Sakis Mitrolidis] #Greece: image via AFP Correspondent @AFPblogs, 7 July 2015
TELOS. South Bay, CA..: photo by Same $hit Different Day, 10 January 2012
TELOS. Boxcar World. Benched in Southern California: photo by **TRUE2DEATH**, 23 December 2013
14 July: Under the rule of the unliving
#
Greece is being treated like a hostile occupied state
| @AmbroseEP: image via The Telegraph @
Telegraph

, 14 July 2015

RT @Channel4News: #GreekCrisis - @ PaulMasonNews with all the latest from #Greece: image via Janine Louloudi @janinel83, 13 July 2015
Yanis Varoufakis:

First Thoughts on Greece's Terms of Surrender
Outgoing Greek Finance Minister Yanis Varoufakis puts his helmet on as he is surrounded by media after his resignation in Athens on Monday: photo by Petros Karadjias/AP, 6 July 2015
Yanis Varoufakis: On the Euro Summit's Statement on Greece: First thoughts: from Yanis Varoufakis: thoughts for the post-2008 world, 14 July 2015
In the next hours and days, I shall be sitting in Parliament to assess the legislation that is part of the recent Euro Summit agreement on Greece. I am also looking forward to hearing in person from my comrades, Alexis Tsipras and Euclid Tsakalotos, who have been through so much over the past few days. Till then, I shall reserve judgment regarding the legislation before us. Meanwhile, here are some first, impressionistic thoughts stirred up by the Euro Summit's Statement.
A New Versailles Treaty is haunting Europe -– I used hat expression back in the Spring of 2010 to describe the first Greek 'bailout' that was being prepared at that time. If that allegory was pertinent then it is, sadly, all too germane now.
Never before has the European Union made a decision that undermines so fundamentally the project of European Integration. Europe's leaders, in treating Alexis Tsipras and our government the way they did, dealt a decisive blow against the European project.
The project of European integration has, indeed, been fatally wounded over the past few days. And as Paul Krugman rightly says, whatever you think of Syriza, or Greece, it wasn't the Greeks or Syriza who killed off the dream of a democratic, united Europe.
Back in 1971 Nick Kaldor, the noted Cambridge economist, had warned that forging monetary union before a political union was possible would lead not only to a failed monetary union but also to the deconstruction of the European political project. Later on, in 1999, German-British sociologist Ralf Dahrendorf also warned that economic and monetary union would split rather than unite Europe. All these years I hoped that they were wrong. Now, the powers that be in Brussels, in Berlin and in Frankfurt have conspired to prove them right.
The Euro Summit statement of yesterday morning reads like a document committing to paper Greece's Terms of Surrender. It is meant as a statement confirming that Greece acquiesces to becoming a vassal of the Eurogroup.
The Euro Summit statement of yesterday morning has nothing to do with economics, nor with any concern for the type of reform agenda capable of lifting Greece out of its mire. It is purely and simply a manifestation of the politics of humiliation in action. Even if one loathes our government one must see that the Eurogroup's list of demands represents a major departure from decency and reason.
The Euro Summit statement of yesterday morning signalled a complete annulment of national sovereignty, without putting in its place a supra-national, pan-European, sovereign body politic. Europeans, even those who give not a damn for Greece, ought to beware.
Much energy is expended by the media on whether the Terms of Surrender will pass through Greek Parliament, and in particular on whether MPs like myself will toe the line and vote in favour of the relevant legislation. I do not think this is the most interesting of questions. The crucial question is: Does the Greek economy stand any chance of recovery under these terms? This is the question that will preoccupy me during the Parliamentary sessions that follow in the next hours and days. The greatest worry is that even a complete surrender on our part would lead to a deepening of the never-ending crisis.
The recent Euro Summit is indeed nothing short of the culmination of a coup. In 1967 it was the tanks that foreign powers used to end Greek democracy. In my interview with Philip Adams, on ABC Radio National's LNL, I claimed that in 2015 another coup was staged by foreign powers using, instead of tanks, Greece's banks. Perhaps the main economic difference is that, whereas in 1967 Greece's public property was not targeted, in 2015 the powers behind the coup demanded the handing over of all remaining public assets, so that they would be put into the servicing of our un-payable, unsustainable debt.

On sale for 24 hours. All $ goes to Greek solidarity group providing care for refugees #Greece: image via Molly Crabapple @mollycrabapple, 14 July 2015