.
846: photo by Petros Kotzabasis
, 16 June 2015
Why are you punishing me? What is my crime?
Yannis Ritsos: November 6
Evening. The bell for the evening meal.
Shouts from the boys playing soccer.
Was it yesterday? -- I don't remember; -- a stunning sunset
so violet, so gold, so rosy.
We stood there. We watched. We talked
alone, alone, tossing our voices into the wind
so as to tie things together, to unbind our hearts.
A letter arrived in the yard:
Panousis's son was killed.
Our talk nestled against the walls.
The sunset suddenly nothing.
The night had no hours. The knot loosened.
Panousis's aluminum plate grew cold on the table.
We lay down. We covered ourselves. We loved one another
around that untouched plate that no longer steamed.
Around midnight the black cat came in through the window
and ate some of Panousis's food.
Then the moon came in
and hung motionless over the plate.
Panousis's arm on the blanket
was a severed plane tree.
Well then -- must we really be so sad
in order to love one another?
Yannis Ritsos (1909-1990): November 6, from Diaries of Exile (1948-1950), translated by Karen Emmerich and Edmund Leroy Keeley, 2014
7314: photo by Petros Kotzabasis
, 2 January 2015
8904: photo by Petros Kotzabasis
, 11 November 2014
9036: photo by Petros Kotzabasis
, 6 September 2014
Untitled: photo by Petros Kotzabasis, 13 March 2015 (from Daily Practice)
Untitled: photo by Petros Kotzabasis, 8 March 2014 (from Daily Practice)
Untitled: photo by Petros Kotzabasis, 7 March 2015 (from Daily Practice)
Untitled: photo by Petros Kotzabasis, 2 March 2015 (from Daily Practice)

Untitled: photo by Petros Kotzabasis, 5 March 2015 (from Daily Practice)
Untitled: photo by Petros Kotzabasis, 28 February 2015 (from Daily Practice)
Untitled: photo by Petros Kotzabasis, 24 February 2015 (from Daily Practice)

Untitled: photo by Petros Kotzabasis, 23 February 2015 (from Daily Practice)
Untitled: photo by Petros Kotzabasis, 9 February 2015 (from Daily Practice)
Untitled: photo by Petros Kotzabasis, 4 February 2015 (from Daily Practice)
Untitled: photo by Petros Kotzabasis, 1 February 2015 (from Daily Practice)

Untitled: photo by Petros Kotzabasis, 31 January 2015 (from Daily Practice)

Untitled: photo by Petros Kotzabasis, 29 January 2015 (from Daily Practice)
Untitled: photo by Petros Kotzabasis, 27 January 2015 (from Daily Practice)
Untitled: photo by Petros Kotzabasis, 26 January 2015 (from Daily Practice)
Untitled: photo by Petros Kotzabasis, 12 January 2015 (from Daily Practice)
#Greece Ppl in athens confronted riot police chanting We r not slaves No to euro-No to drachma. FREEDOM to all of us: image via U @kinimatini, 3 July 2015

Le message à #Exarchia #Athènes #Grèce: image via Aude Lasjaunias @AudeLjs, 1 July 2015


"Once
with #tanks, now with #banks." #Exarchia,
#Athens, #Greece. via @TeamVaroufakis: image via elise hunchuck @
elisehunchuck 4 July 2015 Toronto, Ontario

Hayır! #Exarchia "O zaman tankları kullanmışlardı. Şimdi bankaları kullanıyorlar." #OXI: image via Fraksiyon @fraksiyon, 4 July 2015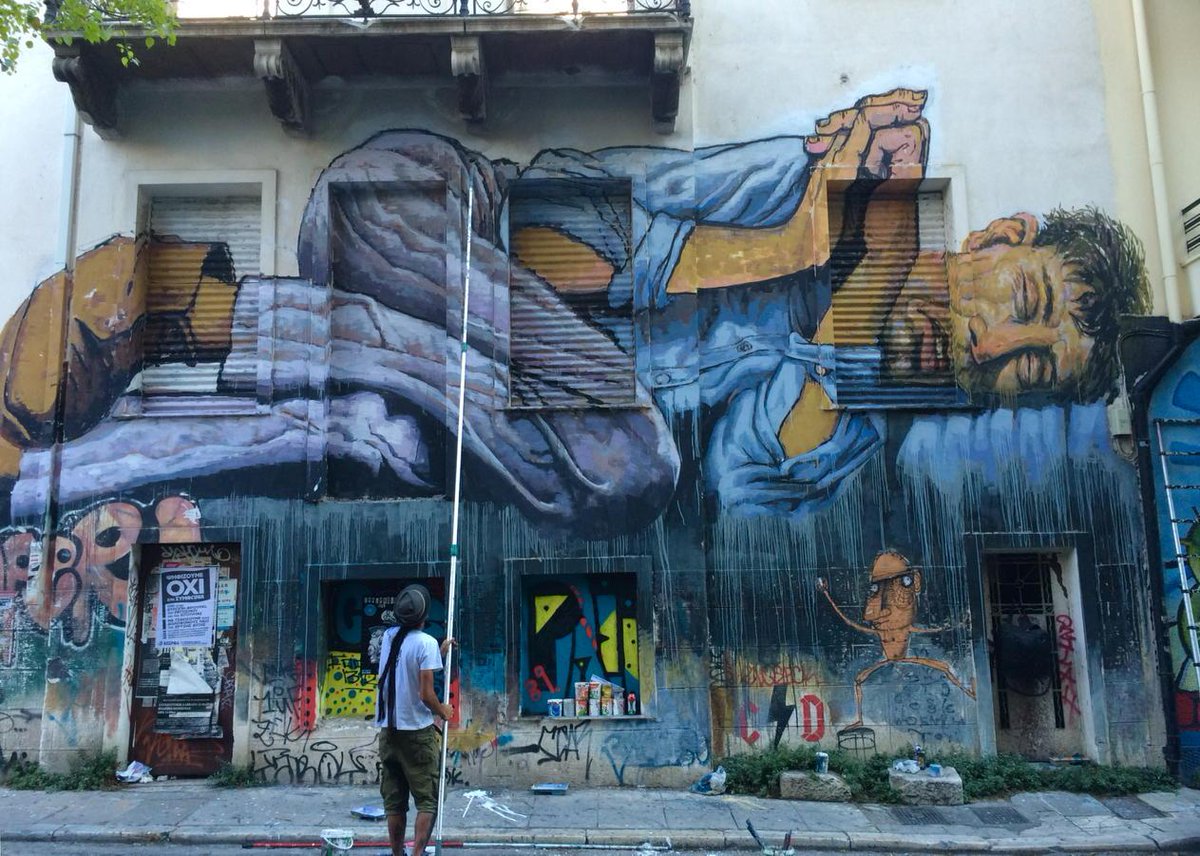 Finishing touches on painting of a homeless man that took 3 days to complete, 5 years to inspire. #Athens #Greece: image via Daniele Hamamdjian @
DHamamdjian

, 4 July 2015
The walls in Greek capital are covered with OXI messages #Athens #referendumgr #Greece #Grcija #Atene #OXI: image via Katja Lihtenvainer, 2 July 2015
The walls in Greek capital are covered with OXI messages #Athens #referendumgr #Greece #Grcija #Atene #OXI: image via Katja Lihtenvainer, 2 July 2015
The walls in Greek capital are covered with OXI messages #Athens #referendumgr #Greece #Grcija #Atene #OXI: image via Katja Lihtenvainer, 2 July 2015
Anti-austerity banknotes from Greece via @jonhenley: image via Tom Overton @tw_overton, 4 July 2015

At the 'No' rally, Syntagma. Fair question ... #Greece via @jonhenley: image via jon henley @jonhenley, 4 July 2015
Un bel rogo in mezzo di strada, a #Exarchia è praticamente una tradizione anarchica #Greferendum: image via Matteo Pucciarelli @il_pucciarelli, 3 July 2015

Cassonetti bruciati e disordini a #Exarchia. Black block lanciano molotov, mobilitazione della polizia: image via Andre Balestri @bacao 5 June 2015 Attica, Greece
Smoke rises over barricades on an Athens street before the referendum: photo by Kay Nietfeld / European Pressphoto Agency via Los Angeles Times, 5 July 2015