.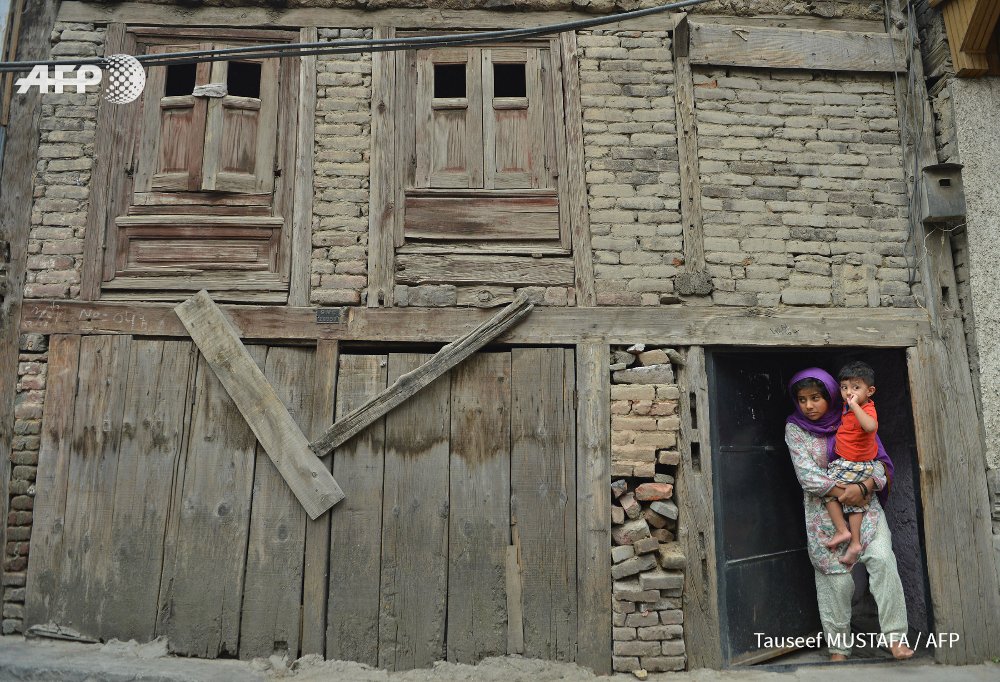 INDIA - A Kashmiri girl holds her brother in the doorway of their home in Srinagar. By @TauseefMUSTAFA: image via AFP Photo Department @AFPphoto, 22 August 2016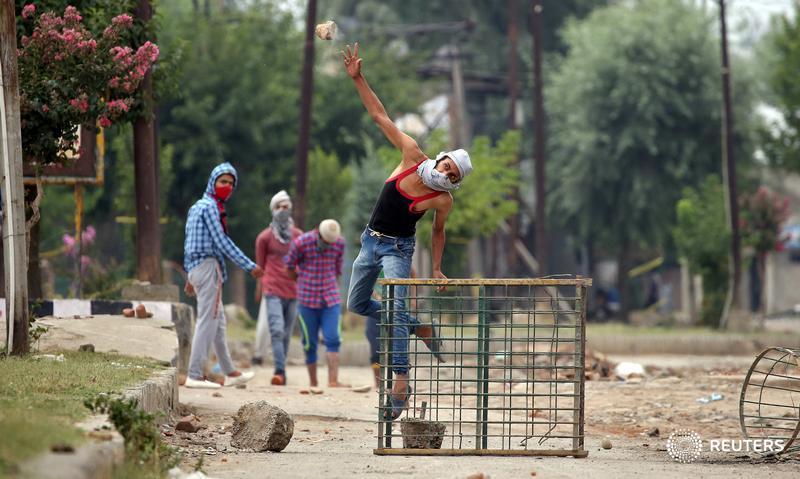 A man throws a rock at security personnel in Srinagar, Kashmir Aug. 22. Reuters photo by @Cathal1978: image via Reuters_India Photos @IndiaPhotos, 22 August 2016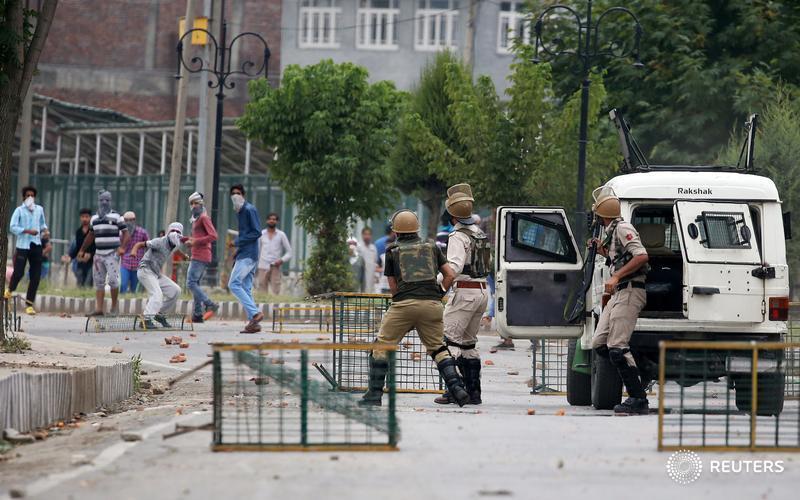 Kashmir on the boil: image via Reuters_India Photos @IndiaPhotos, 22 August 2016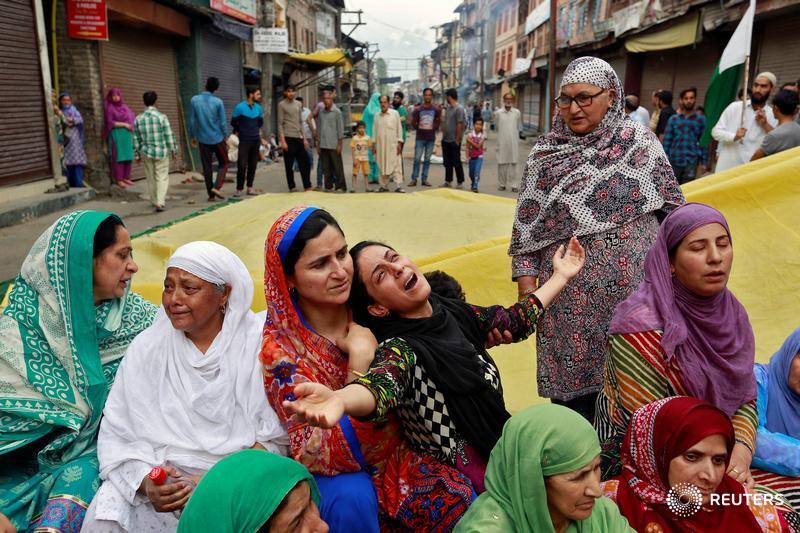 Kashmir on the boil: image via Reuters_India Photos @IndiaPhotos, 22 August 2016
Lament for a stonethrowing boy: "he never saw a moment of happiness in his life"
The bereaved family of Irfan Fayaz Wani (inset) | Photo: Faisal Khan: image via Kashmir Reader, 23 August 2016

Chronicle of a stone pelter who foretold his death: Umar Mushraq, Kashmir Reader, 23 August 2016
Srinagar: Mosques in old Srinagar reverberate with the slogan 'shaheed hamara Irfan' (Irfan, our martyr)

,

and repeated assertions that this martyrdom would not be forgotten.

Government forces killed Irfan Fayaz Wani, 18, on Sunday evening during a protest by firing a teargas canister at his chest.

The roads leading to his home in Fateh Kadal, on the banks of Jhelum river, in a poor neighbourhood, have been painted with his name. His friends and neighbours remember him as the most committed pro-freedom boy in the area.

Irfan was born on 18 February 1998 in a poor family and his friends said "he never saw a moment of happiness in his life."

He left his studies after the sixth class due to the poor health conditions of his father, an auto-rickshaw driver. At a young age, he was charged with stone pelting and disturbing law and order.

His cousin, Muzamil, said, "How can a young boy like him understand the meaning of azadi or stone pelting

?

They took him away from his home and lodged an FIR. He was a juvenile."

"He was put in the lock up with adults, some of whom were criminals.

"The detention and harassment hooked him to stone throwing. We begged police to release him and not to file an FIR against him as it will ruin his career. But they were adamant about ruining him," Muzamil said.

After his release, he regularly joined protests and stone throwing clashes. He was arrested again and booked the second time. He was only 10.

Police nicknamed him 'Ganda (onion)'.

During this time his father was taken ill and his elder brother was injured, which effectively made him the most responsible male member of the family.


Mehraj Din Sofi, his neighbour, gave him a job at his tea stall in Nishat after he left studies.

"I took care of him like my own son. He was such a nice kid. He was loved by all in his neighbourhood. He was always patient and calm. He knew he is the only one in his family now who can earn and he was determined to do it. For one year he was working at my tea stall and then left without any reason," Mehraj said.

His elder brother, Aijaz Ahmad Wani, said, "After he left his job at tea stall, my mother raised money to buy him an auto-rickshaw. He took all the responsibility of home and raised his younger sisters treating them like his daughters."

In the meantime, he was persistently troubled by the police if there was stone pelting in his area.

"They would immediately arrest him if there was stone pelting," said Aijaz. "He was mentally tortured and beaten. This made him so used to it that he was no longer afraid of police and any security men."

His uncle said the police made this "kind kid" into a "stone pelter".

"How would he tolerate that his sisters and mother would go crazy each time the police raided his home in the middle of the night. His ailing father would cry whenever police would pick up him," his uncle said.

The family said about 21 cases have been filed against Irfan in various police station across Srinagar.

His best friend Abid said Irfan was not spared by the police even while driving auto-rickshaw.

"Police would collect 'hafta' from him. They were torturing him every day and everywhere without any reason," Abid said.

"He was a nice boy. He would bow his head while talking to elders. He was a religious boy. He offered morning prayers and would buy bread and groceries for home. His day would start at 4am," Abid said.

Abid said Irfan dreamed of becoming rich and marrying off his sisters, Saima and Mevish.

"He wanted to do something for his family."

Irfan's mother Rafiqa Banoo said, "Police were after him. We knew that some day they will kill him. We would worry whenever he went out for earning livelihood."

"He was threatened every now and then by Sajjad Khan (SP), Aijaz Trali (DSP) Yousuf (DSP M.R.Gunj) and this made him leave for Manali in 2015," Abid said.

Irfan's father died of a heart attack on 26 September 2015. Neighbours said Irfan's persecution at the hands of police had a very bad effect on his father's health.

Irfan was informed about his father's death but the police arrested him before he could step inside his home.

"They told him your father has died now. You are free now. You are broken. If you are so strong, go and join militancy. We will see you there," Abid said.

His father's death shattered Irfan. "He told us police is responsible for his father's death, which is also a fact. He became so crazy that he said he will join militancy in south Kashmir and kill every policeman," Abid said.

The family alleges that seven days ago, police officers Sajjad Khan and Aijaz Trali raided his home and threatened him they will kill him very soon.

"After this uprising police officials would threaten him on the road and at his home," Abid said. "And he was not afraid of their threats. But his mother insisted that he should go away and stay at some relatives' home for some days."

Abid said that Irfan wrapped a shroud around his body some days ago and asked him, "How do I look in this?"
"He said he would die a martyr soon."

After spending seven days at a relative's home, Irfan longed to see his family. On Sunday, in the afternoon, he bathed and had tea with his cousins. He left from there by foot at 6pm.

When he reached Malaratta Chowk in Nowhatta at 6:30pm, about 2km from his home, a small protest was on.

An eyewitness who saw him coming from a lane, said: "There was a police armoured vehicle and CRPF in Malaratta Chowk. When they saw him they pointed their fingers at him. Then we heard a shot and Irfan fell down."

Another eyewitness said: "he was shot from close range and we ran to help him".

"We took him inside a house. He said, 'I'm fine, don't take me to hospital'. He started to sweat and we felt he is not fine," the eyewitness said.

His brother Aijaz was informed and he managed to find a car to take Irfan to the hospital.

"He was lying in my arms and was talking. He was saying 'give me water'. I gave him water. Then he said he needed to urinate. We stopped the car and I helped him to urinate on the road. Later, the blood started coming out from his nose and mouth and he closed his eyes. We thought he had fainted. At hospital, doctors told us he was dead."

When Irfan's auto-rickshaw was searched by his friends on Monday morning for any valuables, they found a small diary under the hood. Irfan had noted down FIR numbers on the left side and dates for court appearance on the right side. Nothing else had been written down in the diary.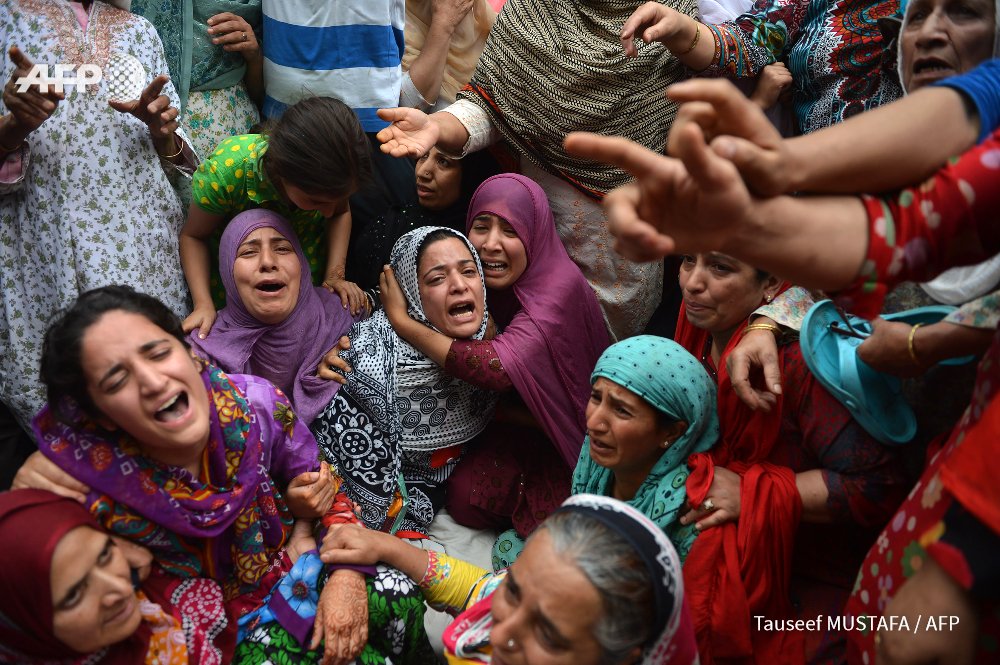 INDIA - Local residents visit the family of Irfan Ahmed to offer their condolences in Srinagar. By @TauseefMUSTAFA: image via AFP Photo Department @AFPphoto, 22 August 2016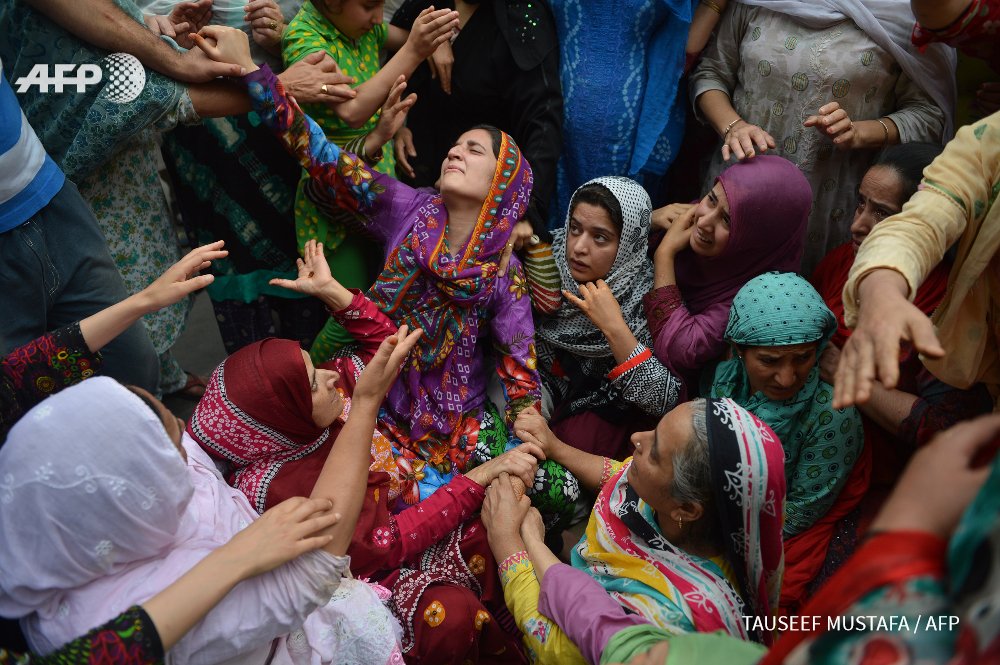 INDIA - Local residents visit the family of Irfan Ahmed to offer their condolences in Srinagar. By @TauseefMUSTAFA: image via Frédérique Geffard @fgeffardAFP, 22 August 2016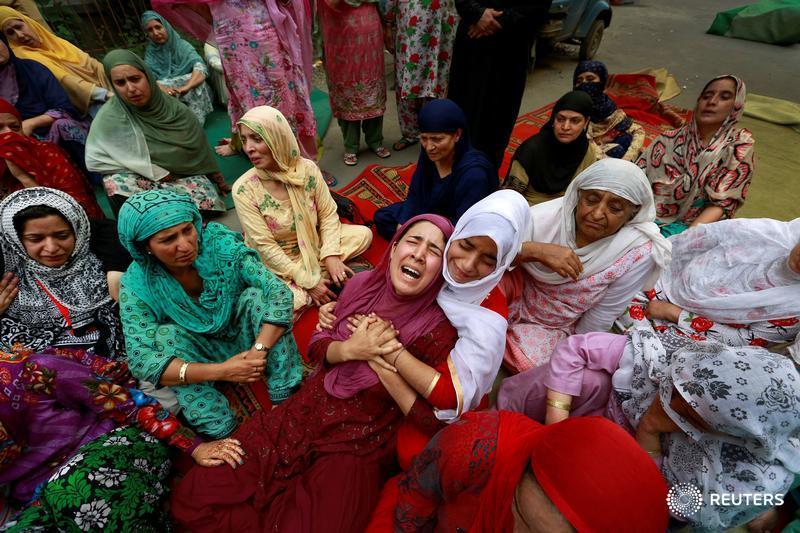 Relatives of Irfan Ahmed, who according to local media died after being hit by a tear gas canister fired by security forces, mourn his death in Srinagar as the city remains under curfew following weeks of violence in Kashmir. photo Cathal McNaughton: image via Reuters Pictures @reuterspictures, 22 August 2016 22 August 2016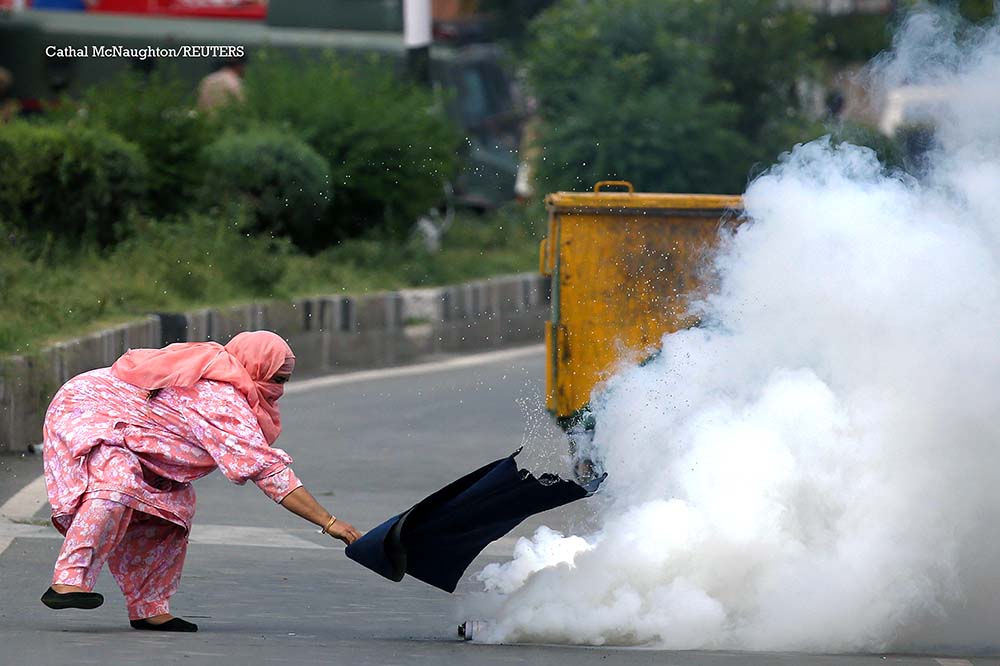 Srinagar Police fire tear gas at a crowd protesting against recent killings in Kashmir @Cathal1978 @reuterspictures
: image via SundayTimesictures @STPictures, 17 August 2016 City of London, London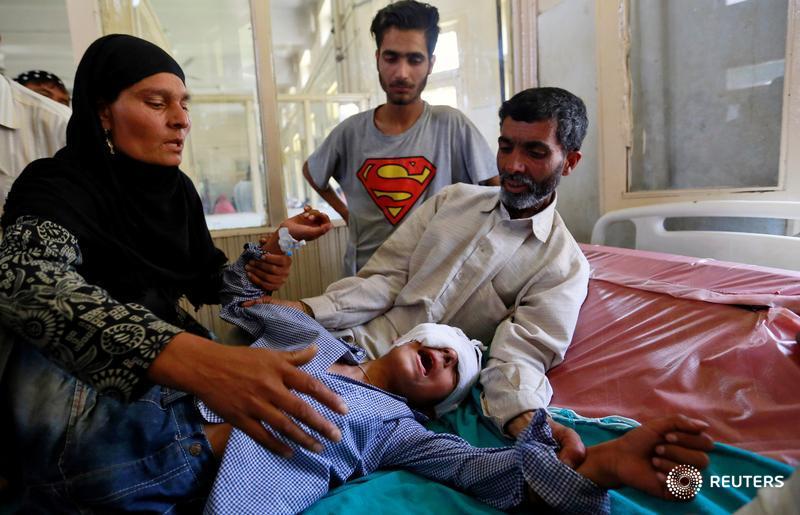 Hospital in Kashmir filled with beating, shooting victims | By @Cathal1978: image via Reuters_India @ReutersIndia, 19 August 2016
A horse in the middle of the road in #Srinagar as the city remains under curfew, Aug. 21. Reuters pic by @Cathal1978: image via Reuters_India @ReutersIndia, 22 August 2016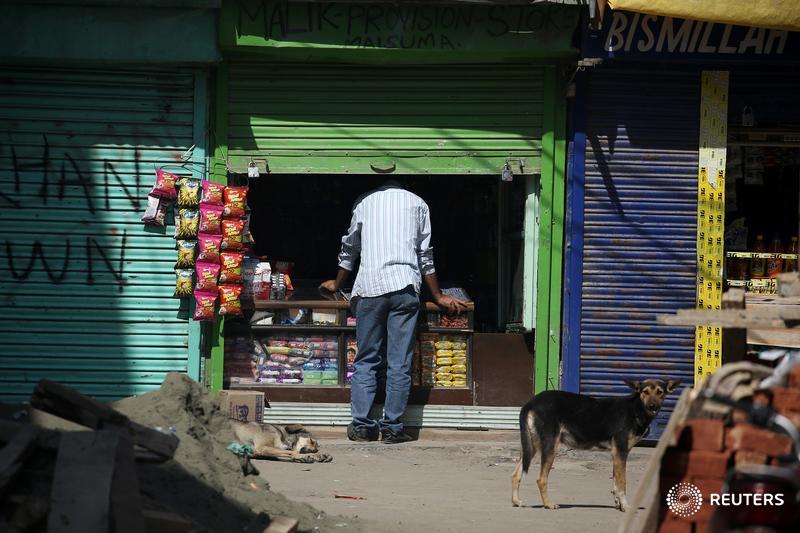 Kashmir on the boil: image via Reuters_India Photos @IndiaPhotos, 22 August 2016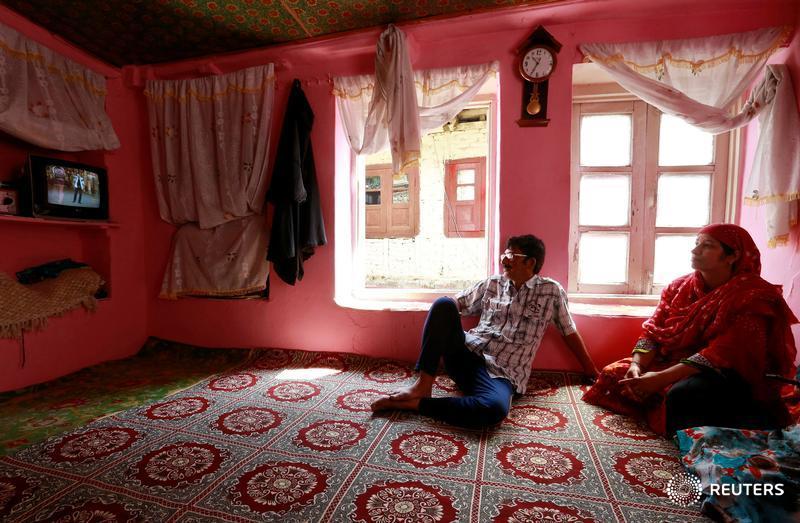 Kashmir on the boil: image via Reuters_India Photos @IndiaPhotos, 22 August 2016
Not in our news


Not in our news: vast demonstrations underway against Saudi Arabia in Yemen today.: image via Ed Husain @Ed_Husain, 20 August 2016


Not in our news: vast demonstrations underway against Saudi Arabia in Yemen today.: image via Ed Husain @Ed_Husain, 20 August 2016


Not in our news: vast demonstrations underway against Saudi Arabia in Yemen today.: image via Ed Husain @Ed_Husain, 20 August 2016
People watch a water show at Wynn Palace, U.S. casino tycoon Steve Wynn's newest resort, during its opening in Macau, China: photo by Bobby Yip/Reuters, 22 August 2016


People watch a water show at Wynn Palace, U.S. casino tycoon Steve Wynn's newest resort, during its opening in Macau, China: photo by Bobby Yip/Reuters, 22 August 2016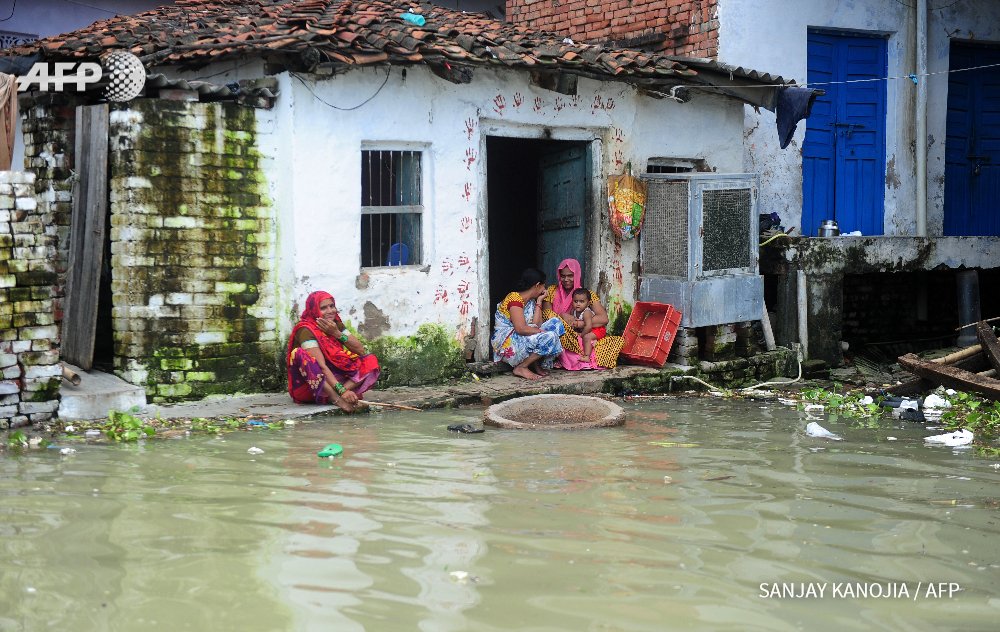 INDIA - Villagers sit outside their home during flooding in Allahabad. By @sanjaykanojia07 #AFP: image via Frédérique Geffard @fgeffardAFP, 21 August 2016

Indian commuters cross a street during monsoon showers in Kolkata: photo by Piyal Adhikary / EPA, 22 August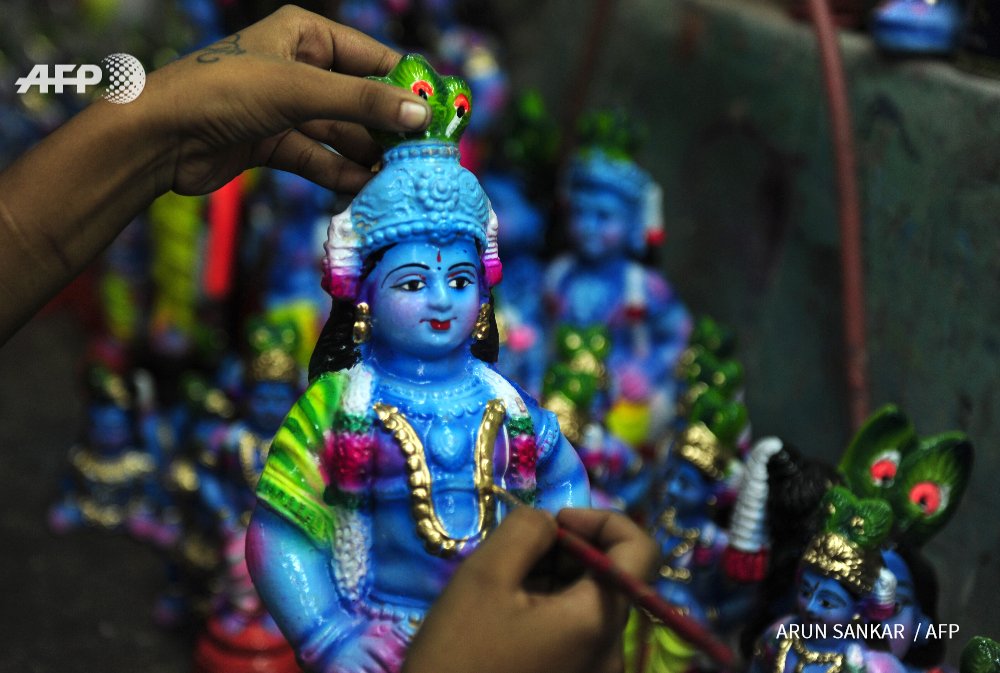 INDIA - A women worker gives finishing touches to an idol of Hindu god Krishna in Chennai. By @ArunsankarKrish #AFP: image via Frédérique Geffard @fgeffardAFP, 21 August 2016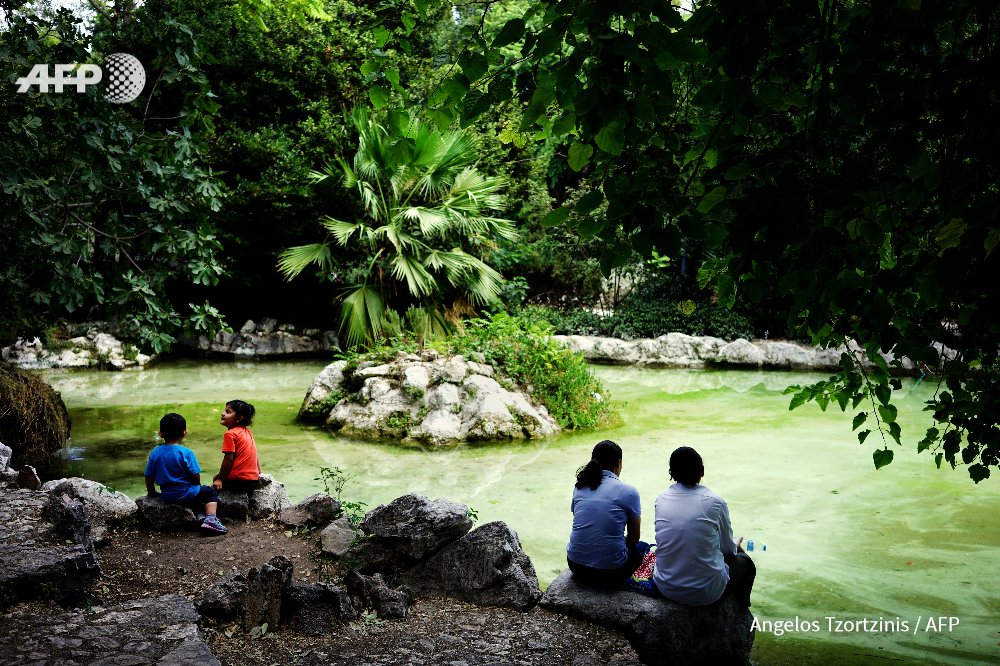 GREECE - People sit in front of a small lake in the National Garden in central Athens. By @atzortzinis #AFP: image via Frédérique Geffard @fgeffardAFP, 21 August 2016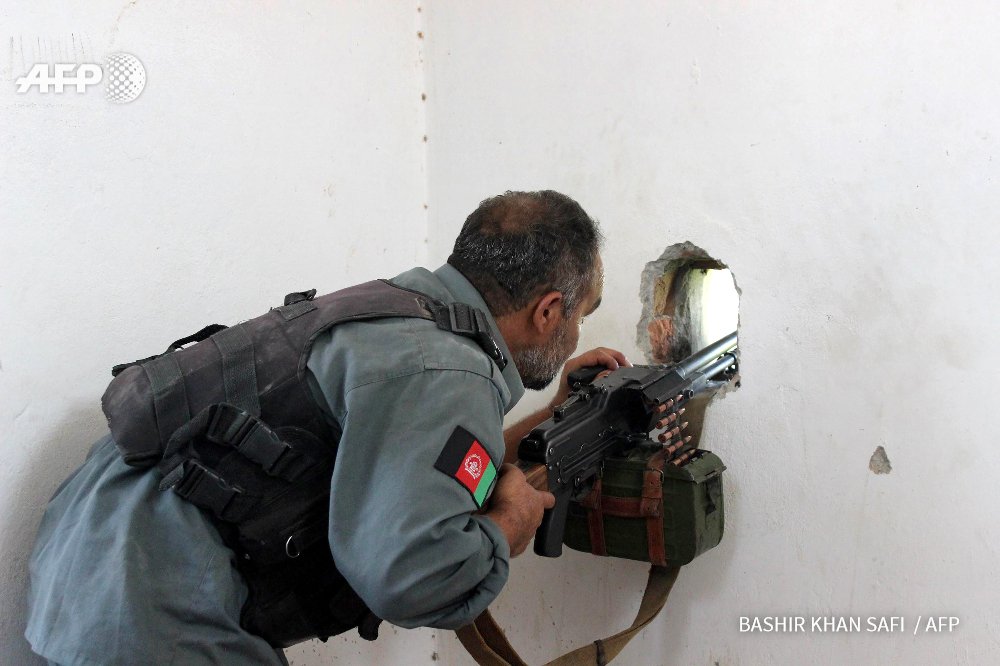 AFGHANISTAN - Security personnel patrols after recapturing control of Kunduz from Taliban. By Bashir Khan #AFP: image via Frédérique Geffard @fgeffardAFP, 21 August 2016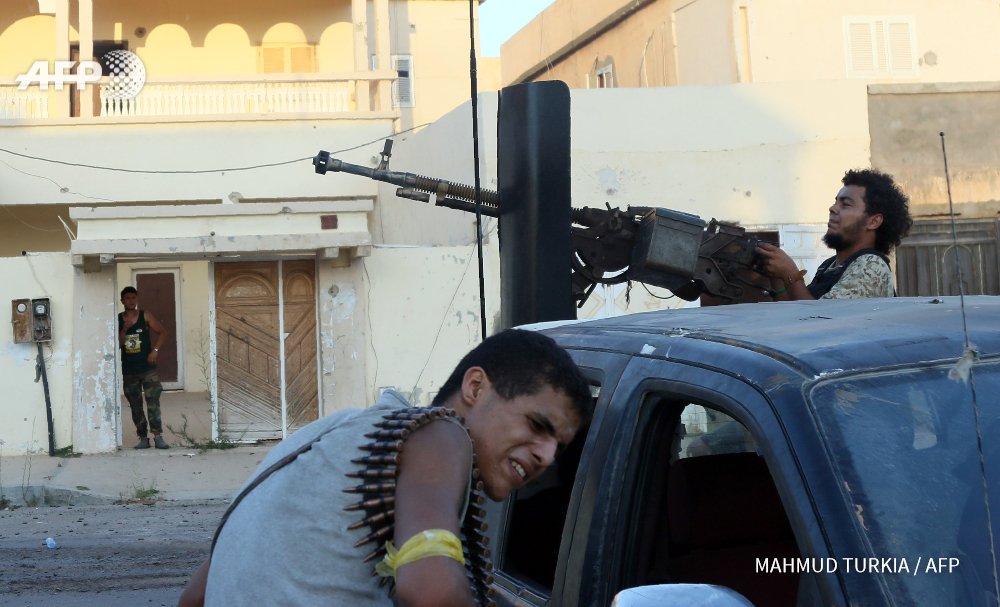 LIBYA - A member of the forces loyal to GNA hold a position near District One in Sirte. By Mahmud Turkia #AFP: image via Frédérique Geffard @fgeffardAFP, 21 August 2016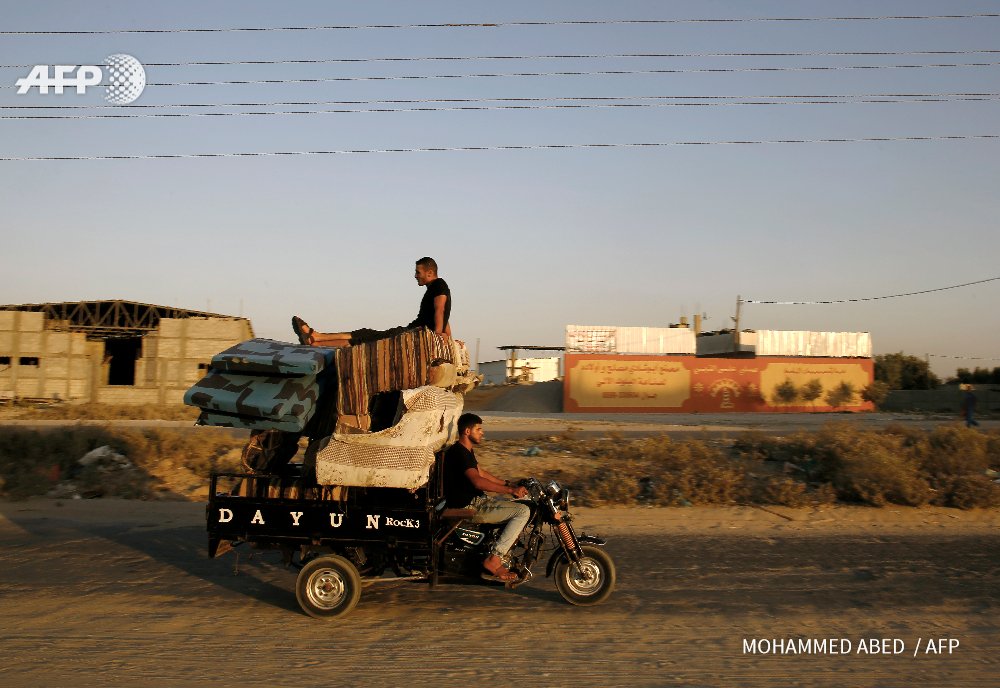 GAZA STRIP - A Palestinian man drives a three wheeler loaded with sofas and mattresses in Beit Hanun. By @mohmdabed: image via Frédérique Geffard @fgeffardAFP, 22 August 2016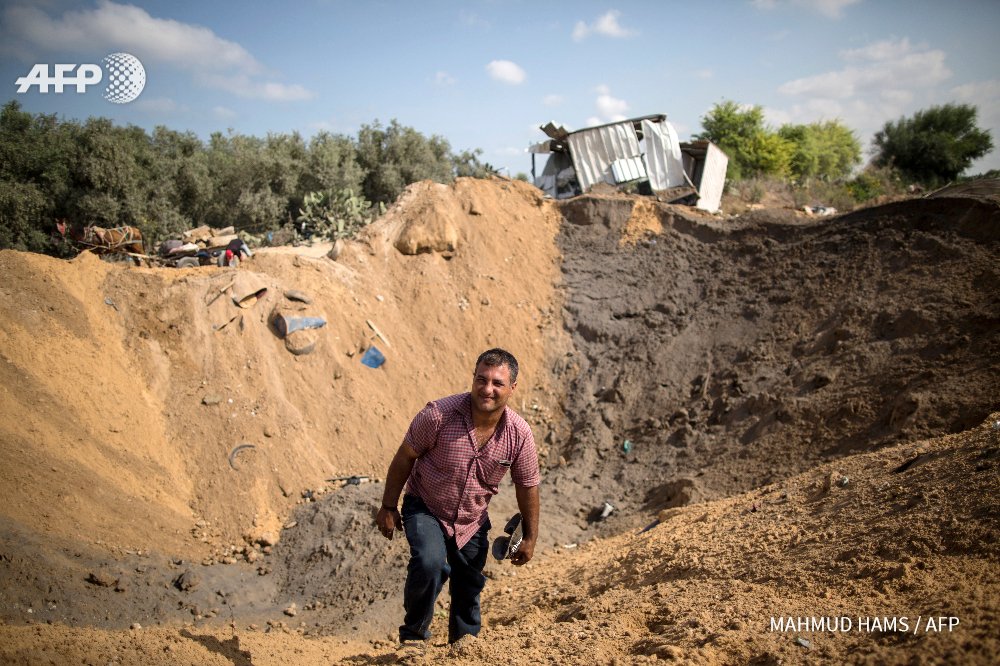 GAZA STRIP - Israel targets Hamas positions in Beit Lahia after a rocket hits Israeli city of Sderot. By @MahmudHams: image via Frédérique Geffard @fgeffardAFP, 22 August 2016
Palestinian fighters of Ezz Al-Din Al Qassam Brigades, the armed wing of the Hamas movement, march during a military parade in Rafah, southern Gaza Strip, marking the second anniversary of the 50-day war between Israel and Gaza: photo by Mohammed Saber / EPA, 22 August 2016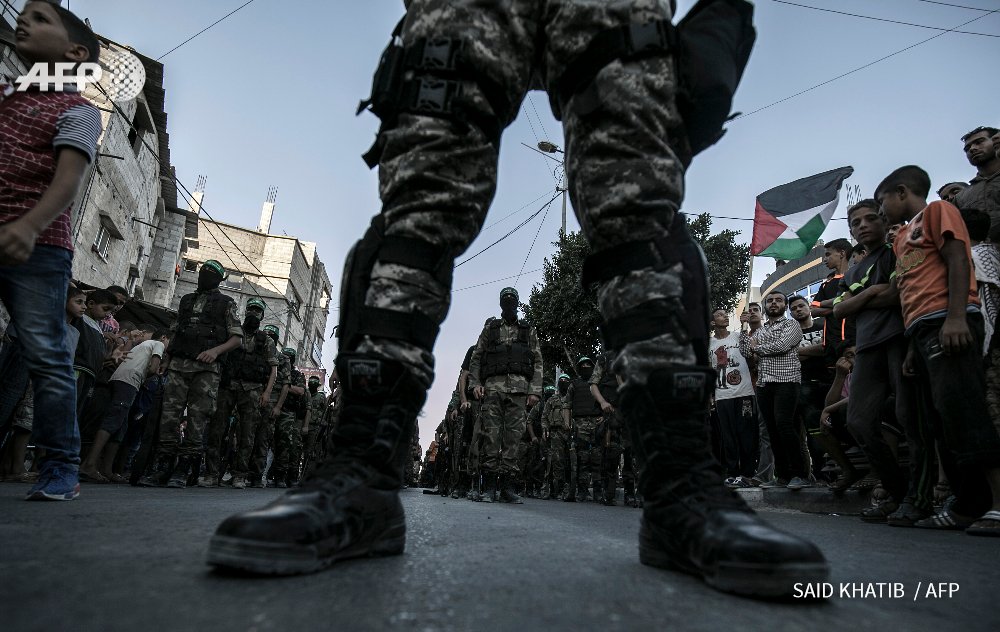 GAZA STRIP - Members of the al-Qassam Brigades take part in a anti-Israel military parade in Rafah. By @saidkhatib: image via Frédérique Geffard @fgeffardAFP, 22 August 201

6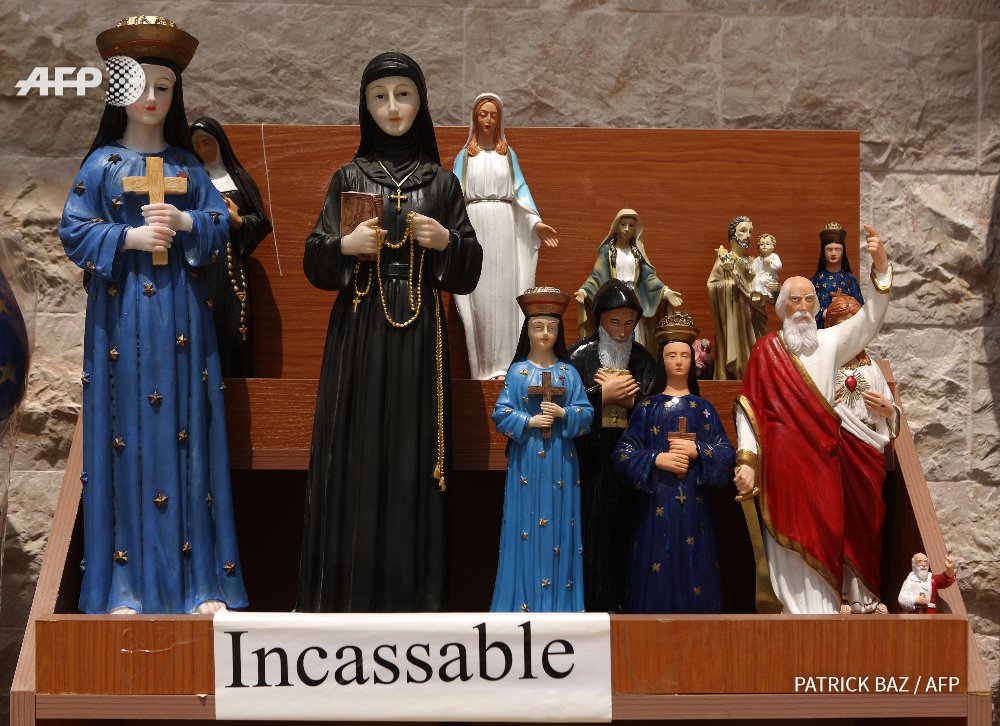 LEBANON - Statues sit at a souvenir shop at the Sanctuary of Our Lady of Bechouat. By @Patrick_Baz #AFP image via Frédérique Geffard @fgeffardAFP, 21 August 2016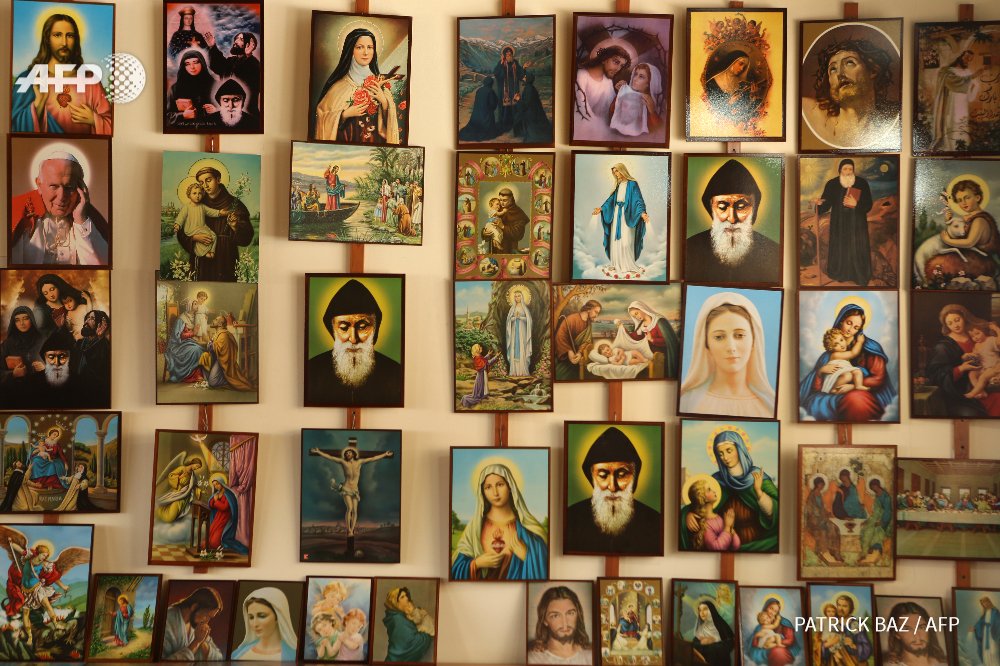 LEBANON - A souvenir shop at the Sanctuary of Our Lady of Bechouat. By @Patrick_Baz #AFP: image via Frédérique Geffard @fgeffardAFP, 21 August 2016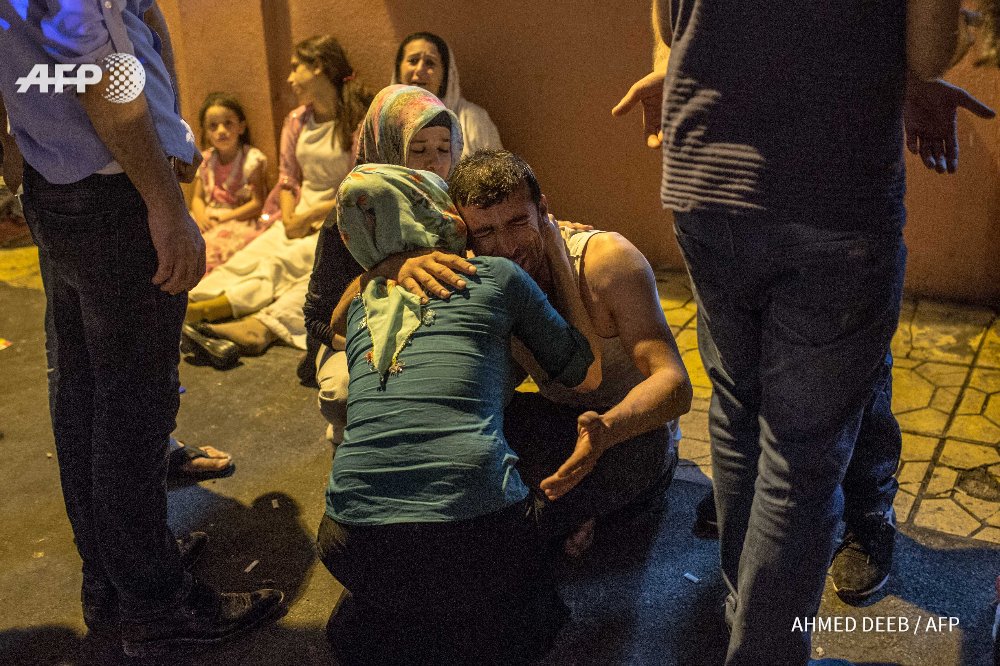 TURKEY - Relatives grieve at hospital in Gaziantep following a militant attack on wedding party. By @ahmaaddeeb #AFP: image via AFP Photo Department @AFPphoto, 21 August 2016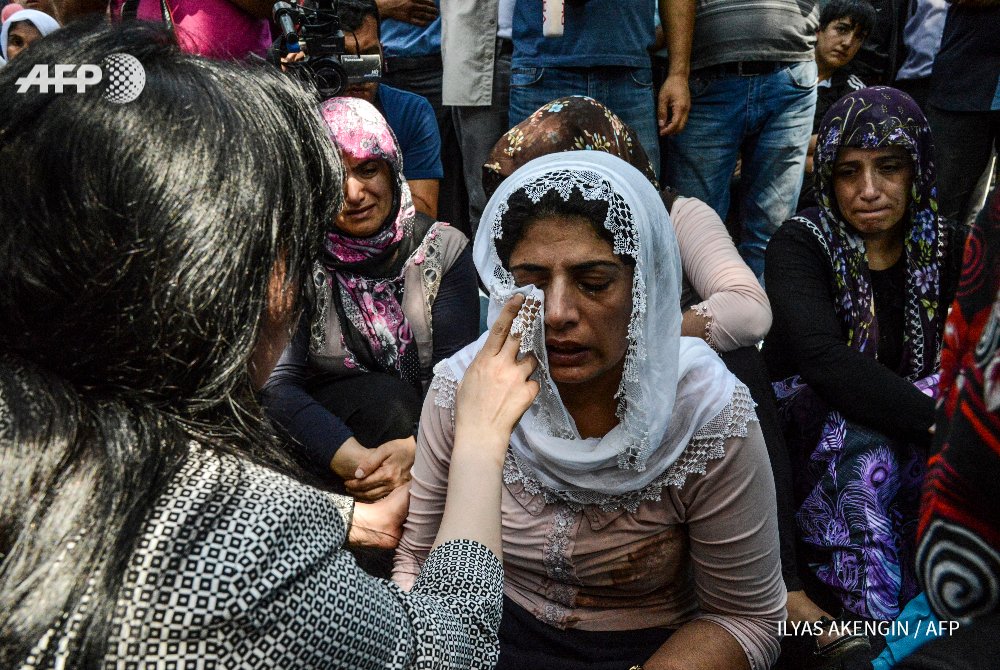 Women cry during funeral for victims of attack on wedding party that left 50 dead in Gaziantep. By @pironic2121 #AFP: image via AFP Photo Department @AFPphoto, 21 August 2016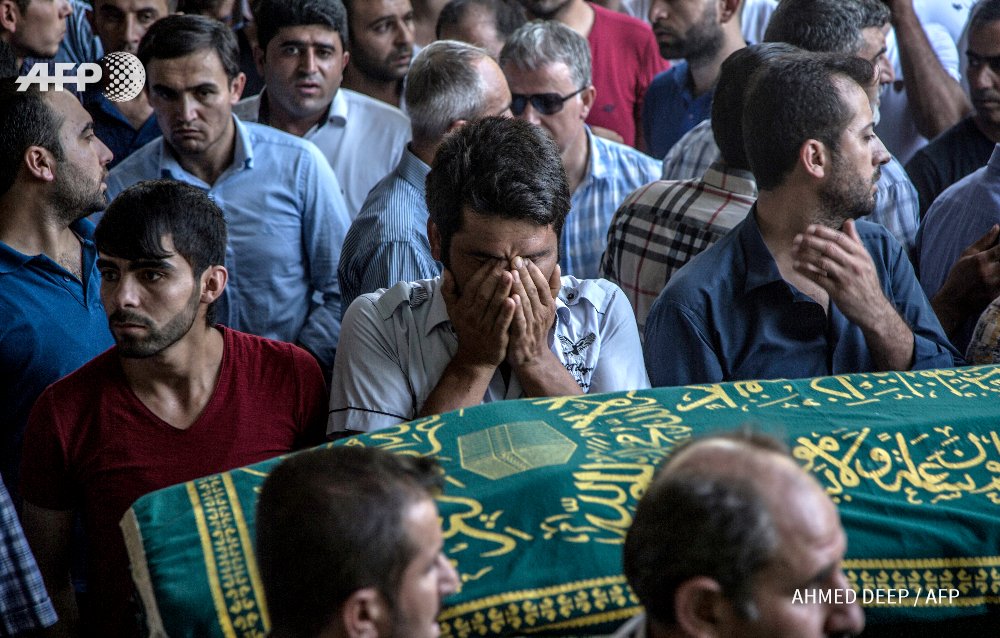 TURKEY - Funeral of victims of last night's attack on wedding party that left 50 dead in Gaziantep. By @ahmaaddeeb: image via Frédérique Geffard @fgeffardAFP, 21 August 2016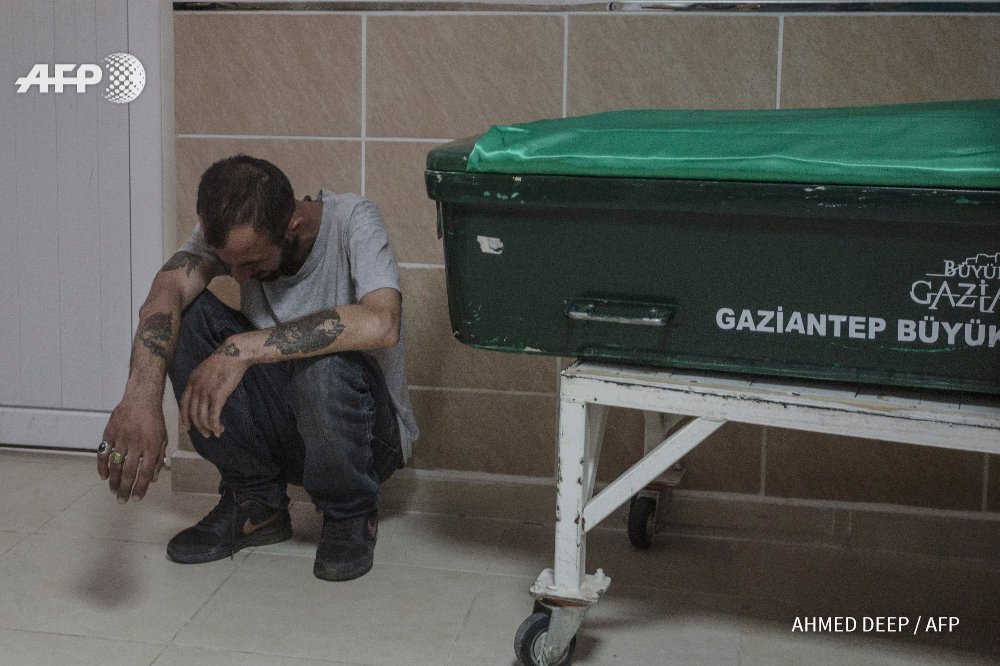 TURKEY - Funeral of victims of last night's attack on wedding party that left 50 dead in Gaziantep. By @ahmaaddeeb: image via Frédérique Geffard @fgeffardAFP, 21 August 2016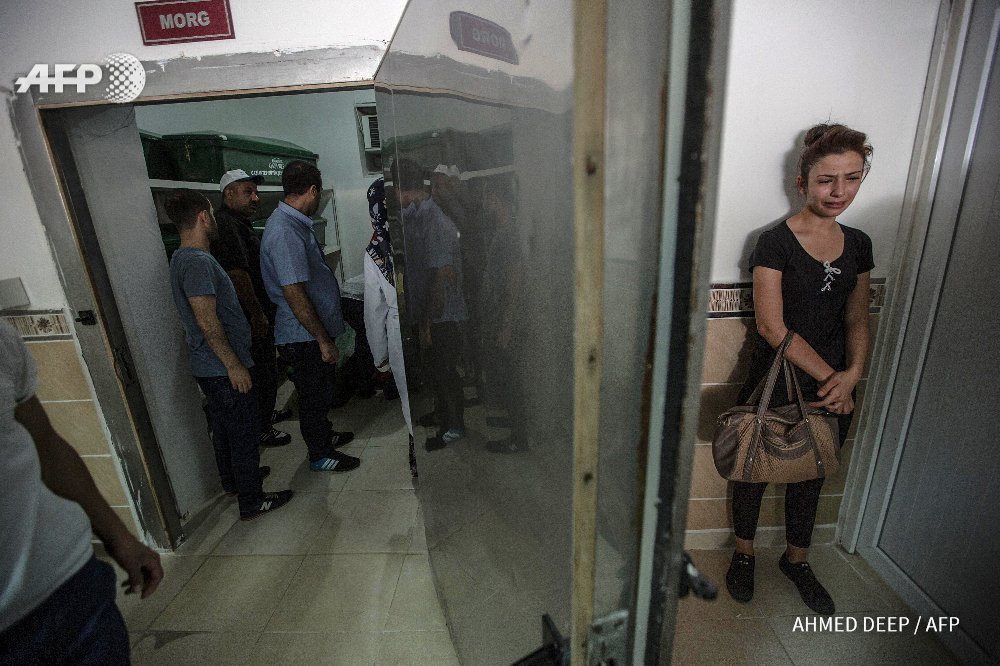 A woman cries at morgue as she waits for coffin of relative, victim of attack on wedding party in Gaziantep. #AFP: image via AFP Photo Department @AFPphoto, 21 August 2016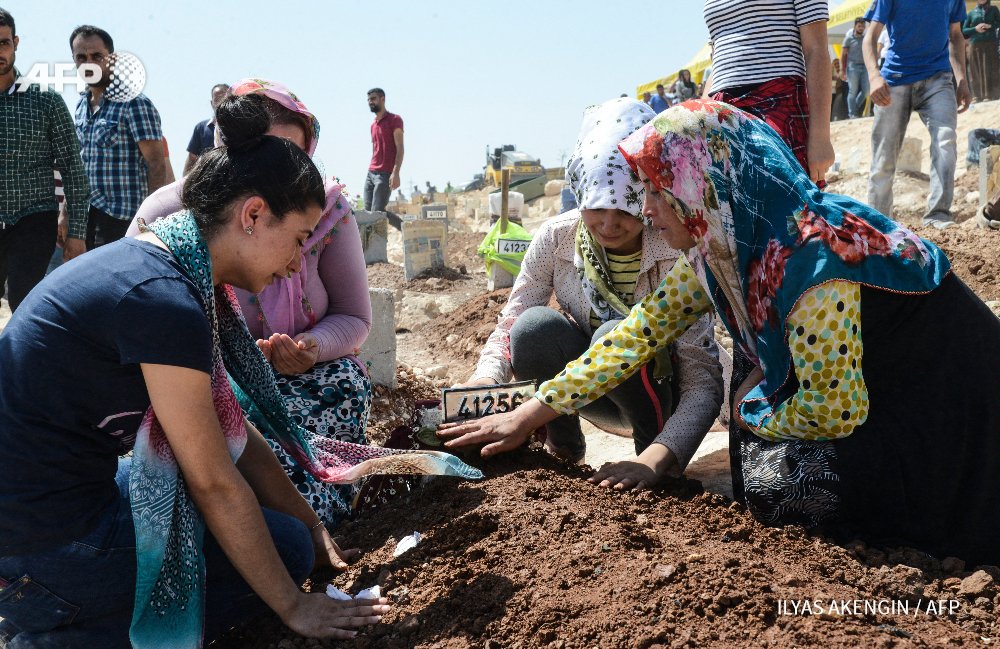 Funeral for victims of attack on wedding party that left 50 dead in Gaziantep. By @pironic2121 #AFP: image via AFP Photo Department @AFPphoto, 21 August 2016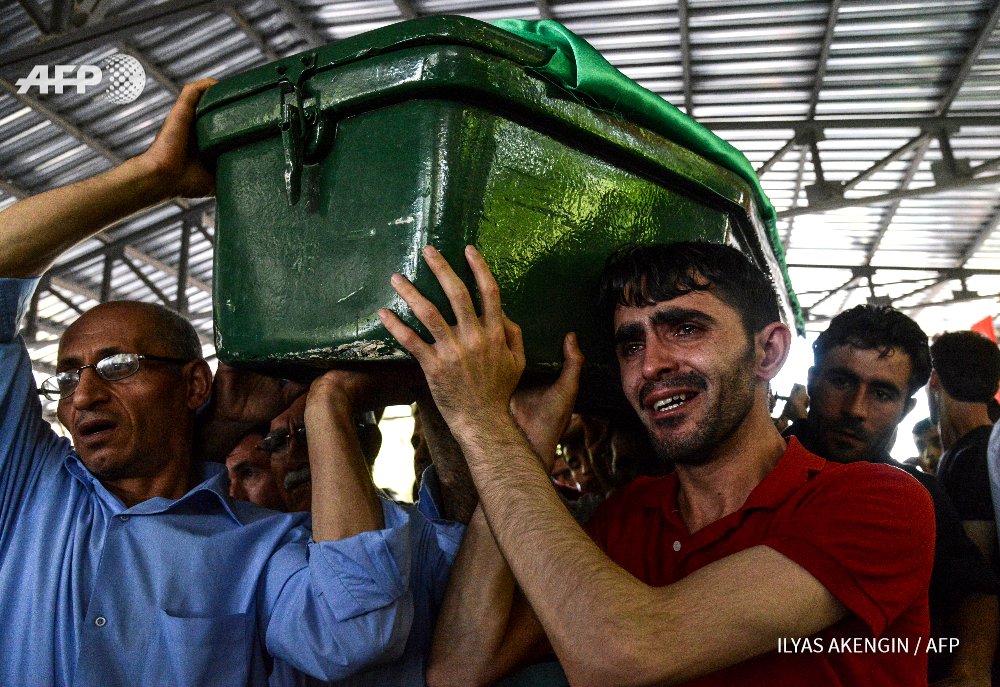 Funeral for victims of attack on wedding party that left 50 dead in Gaziantep. By @pironic2121 #AFP: image via AFP Photo Department @AFPphoto, 21 August 2016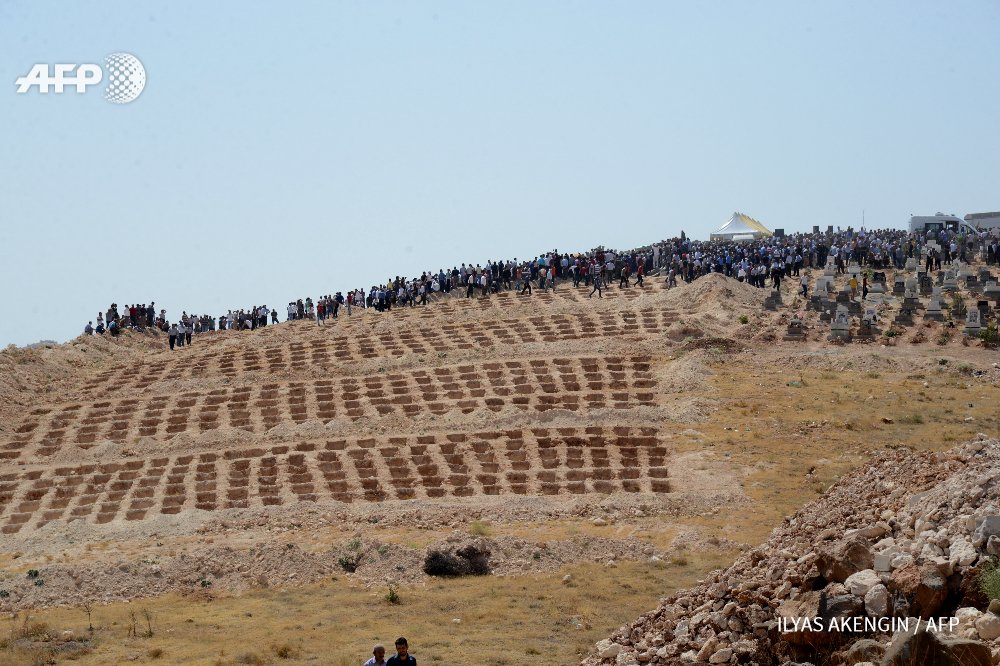 Funeral for victims of attack on wedding party that left 50 dead in Gaziantep. By @pironic2121 #AFP: image via AFP Photo Department @AFPphoto, 21 August 2016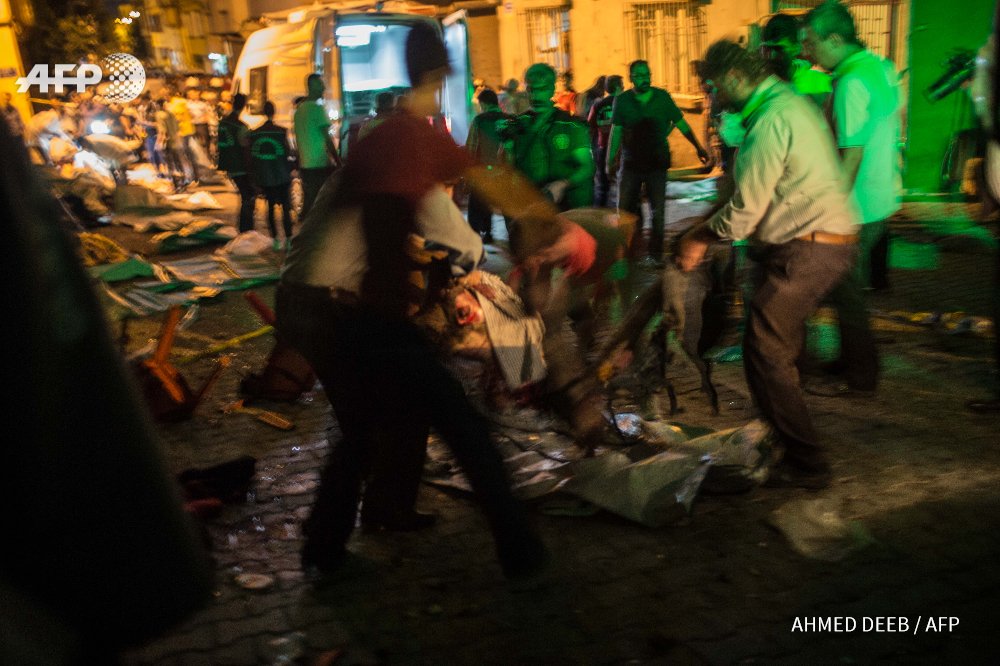 TURKEY - People carry an injured man following a militant attack on a wedding party in Gaziantep. By @ahmaaddeeb: image via Frédérique Geffard @fgeffardAFP, 21 August 2016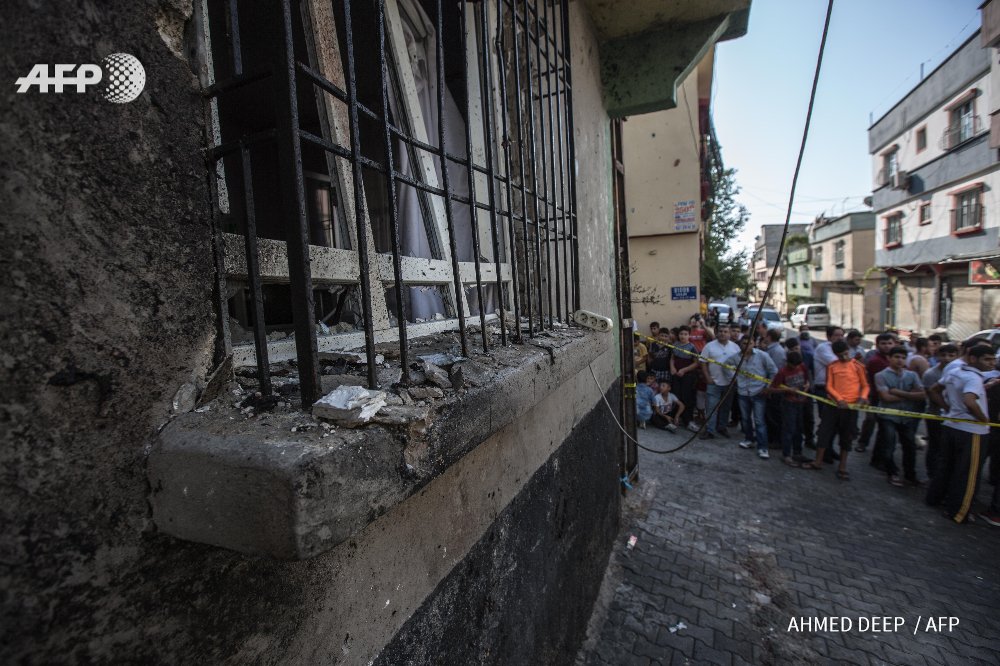 TURKEY - The explosion scene following a late night attack on a wedding party in Gaziantep. By @ahmaaddeeb: image via Frédérique Geffard @fgeffardAFP, 21 August 2016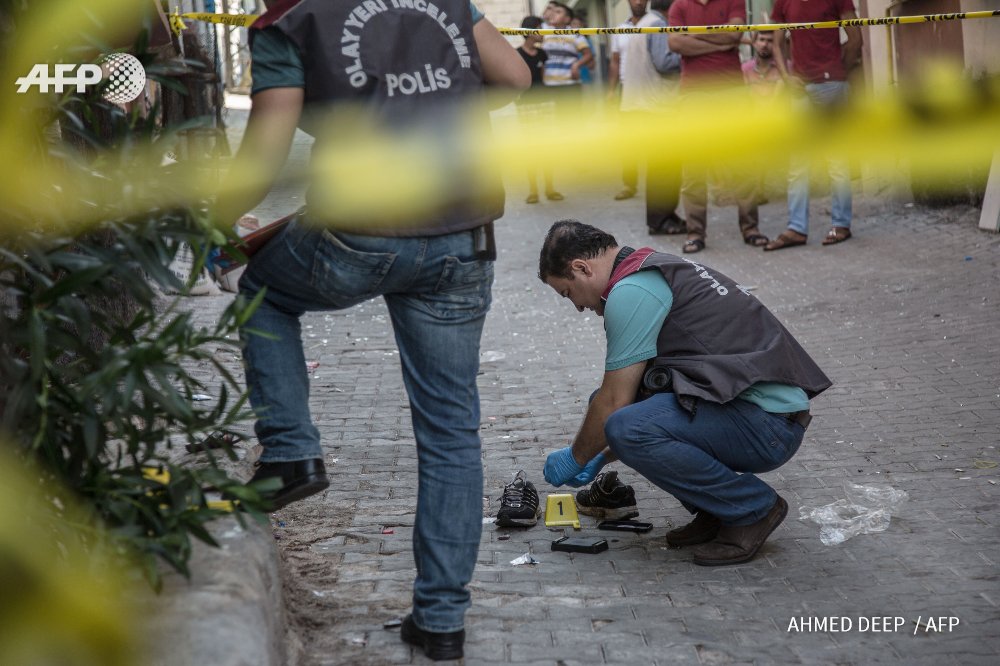 TURKEY - The explosion scene following a late night attack on a wedding party in Gaziantep. By @ahmaaddeeb: image via Frédérique Geffard @fgeffardAFP, 21 August 2016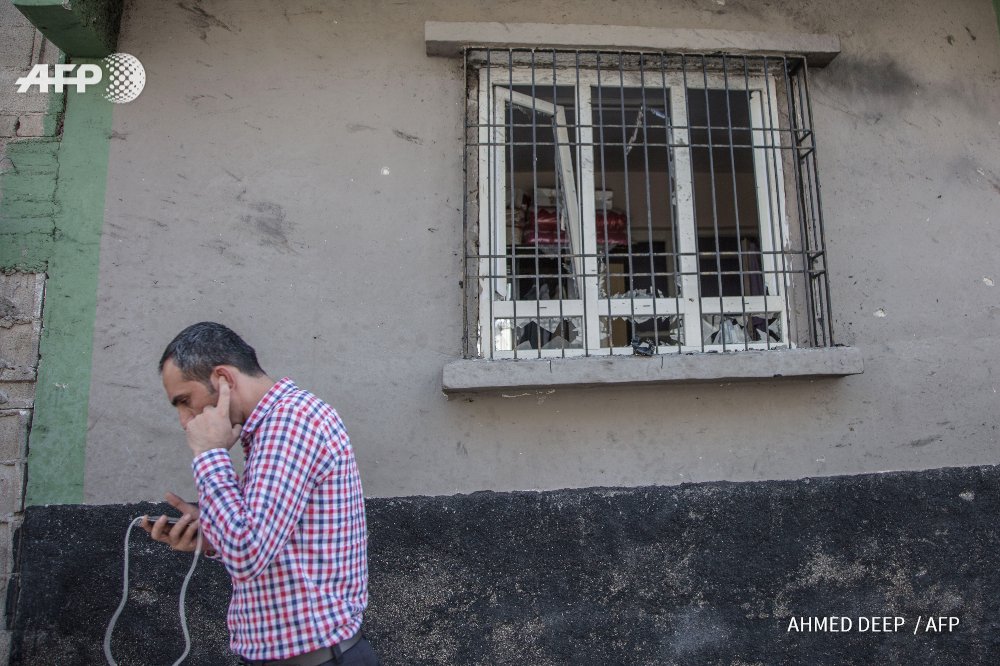 TURKEY - The explosion scene following a late night attack on a wedding party in Gaziantep. By @ahmaaddeeb: image via Frédérique Geffard @fgeffardAFP, 21 August 2016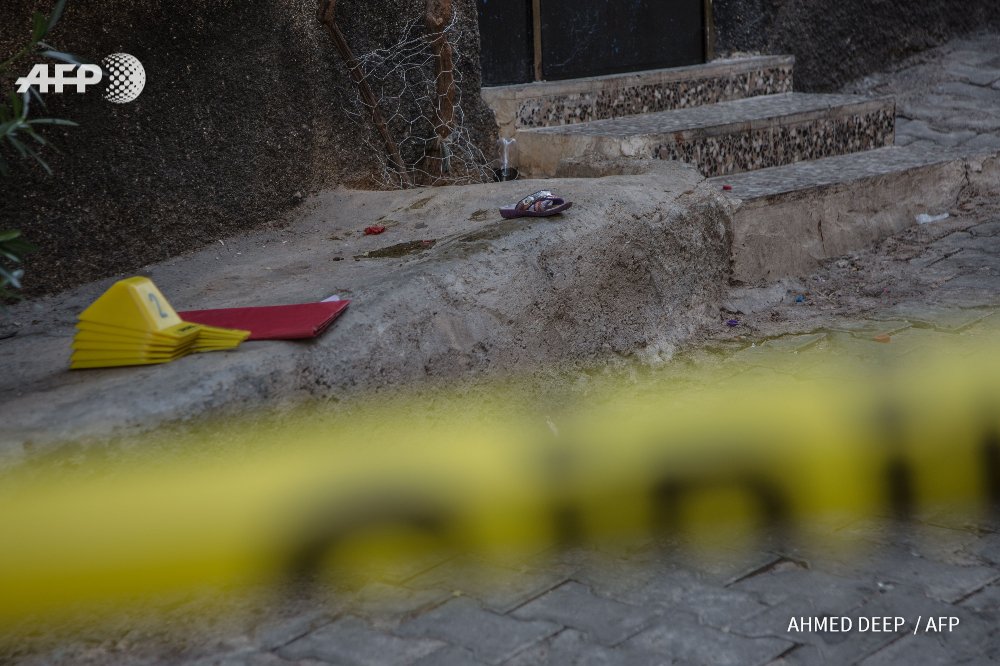 TURKEY - The explosion scene following a late night attack on a wedding party in Gaziantep. By @ahmaaddeeb: image via Frédérique Geffard @fgeffardAFP, 21 August 2016
Night must fall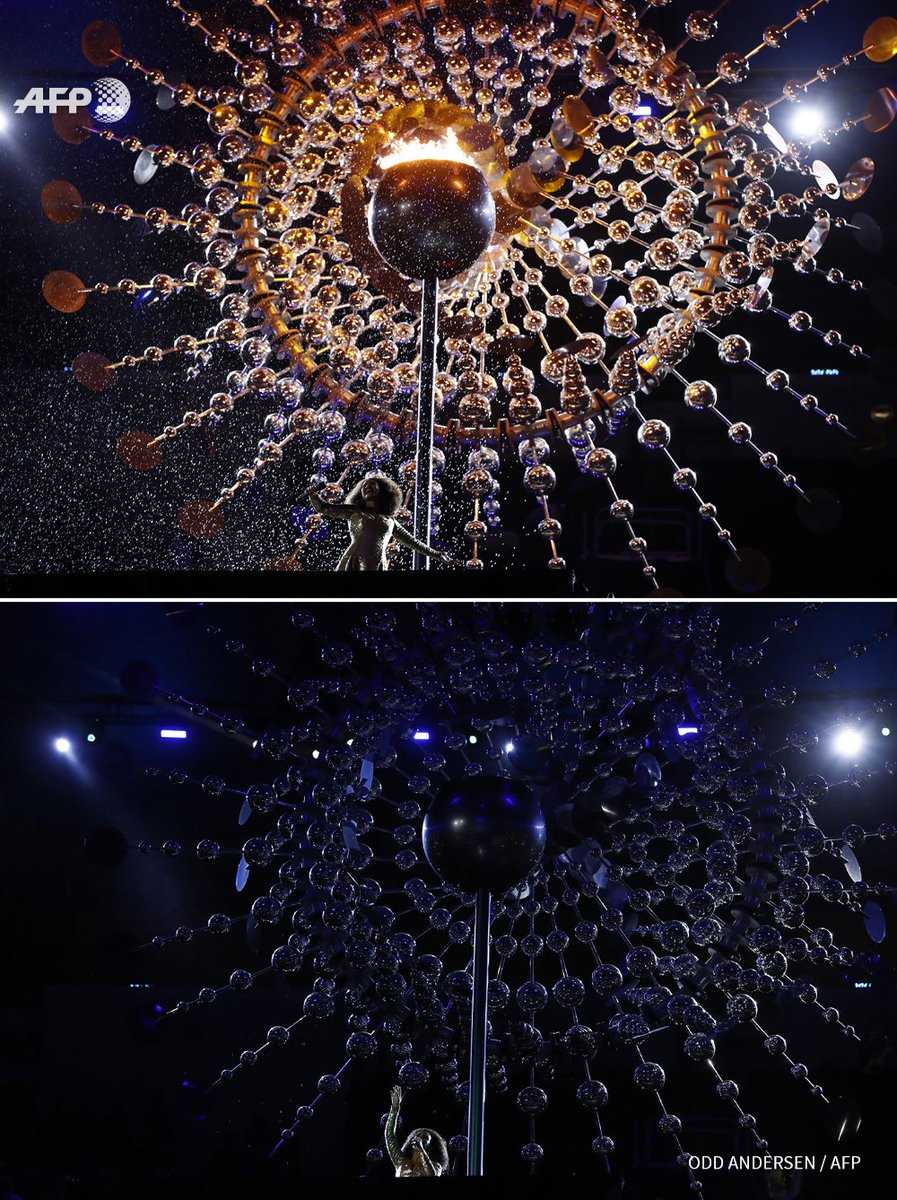 #Rio2016 Rio Olympics flame extinguished. By @OddAndersen #AFP: image via AFP Photo Department @AFPphoto, 21 August 2016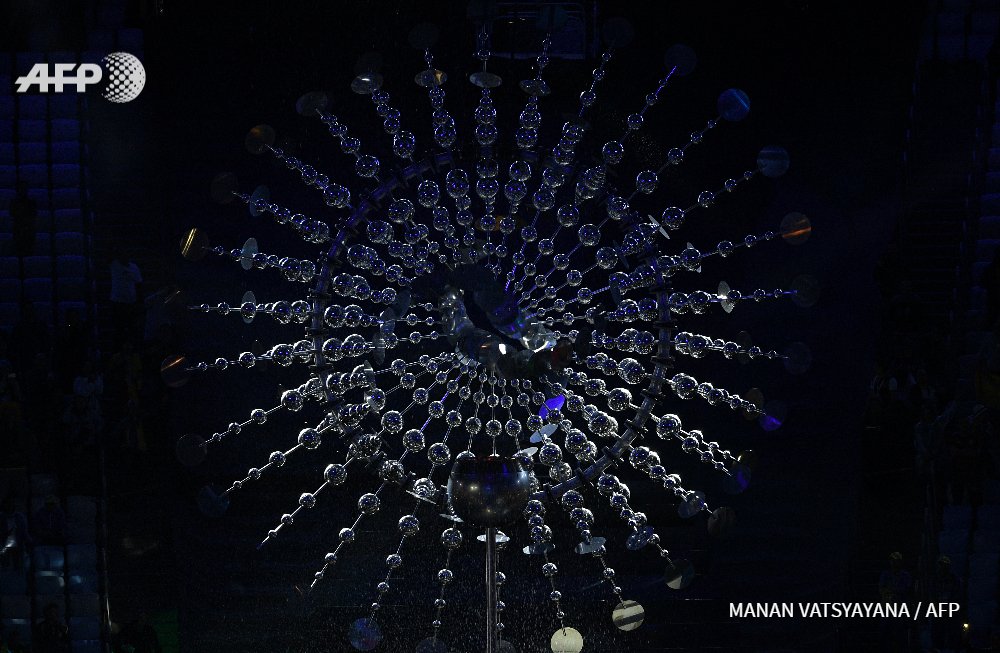 #Rio2016 Rio Olympics flame extinguished.By @MananVatsyayana #AFP: image via AFP Photo Department @AFPphoto, 21 August 2016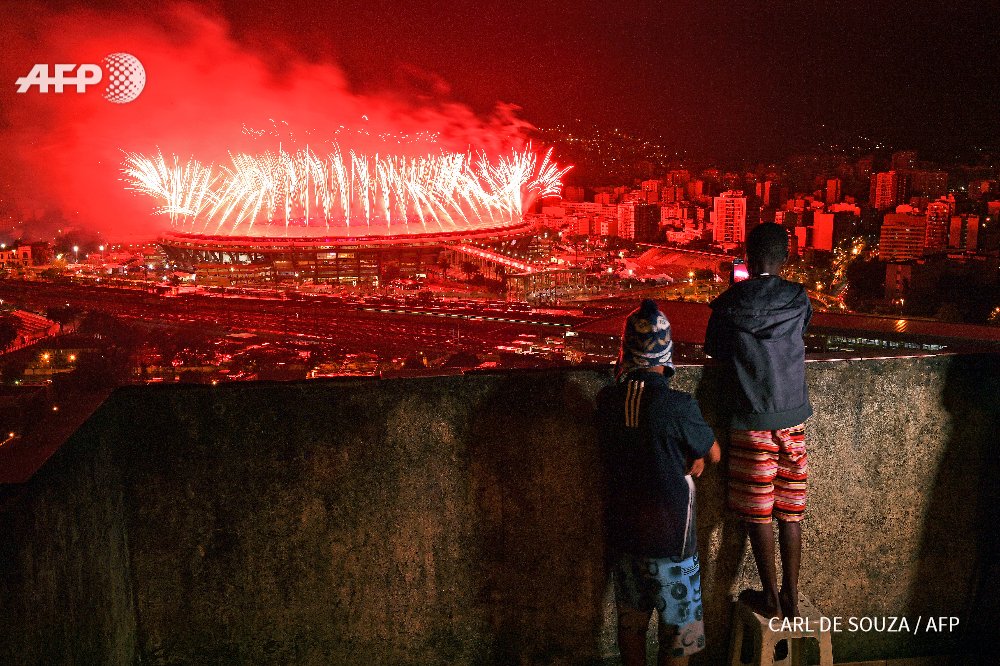 #Rio2016 Fireworks of closing ceremony over Maracana stadium from Manugeira favela. By @CarldeSouza1: image via AFP Photo Department @AFPphoto, 21 August 2016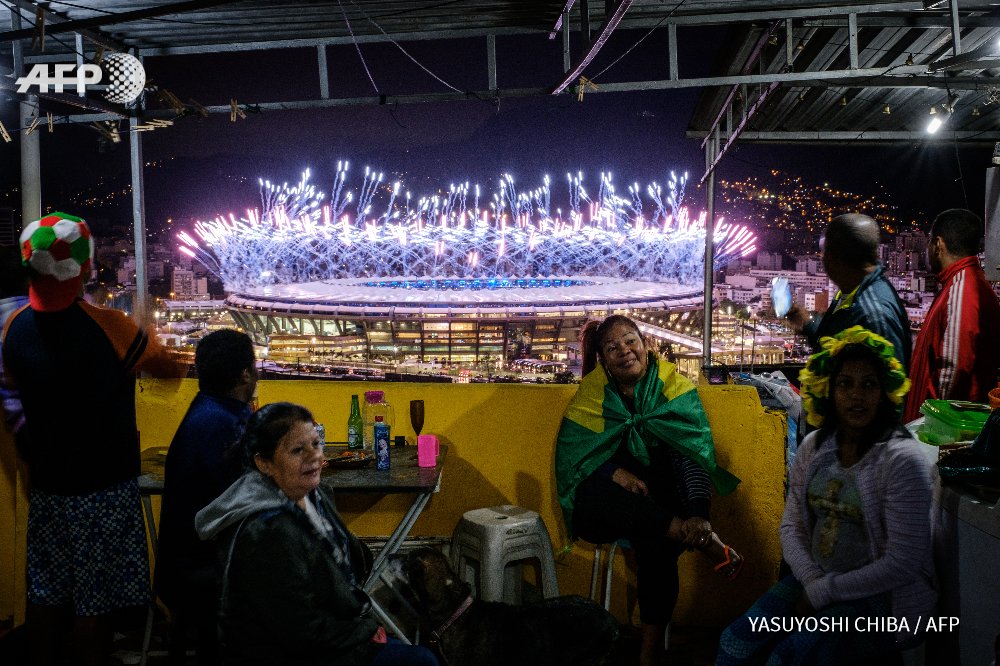 #Rio2016 Fireworks of closing ceremony over Maracana stadium from Manugeira favela. By @YasuyoshiChiba: image via AFP Photo Department @AFPphoto, 21 August 2016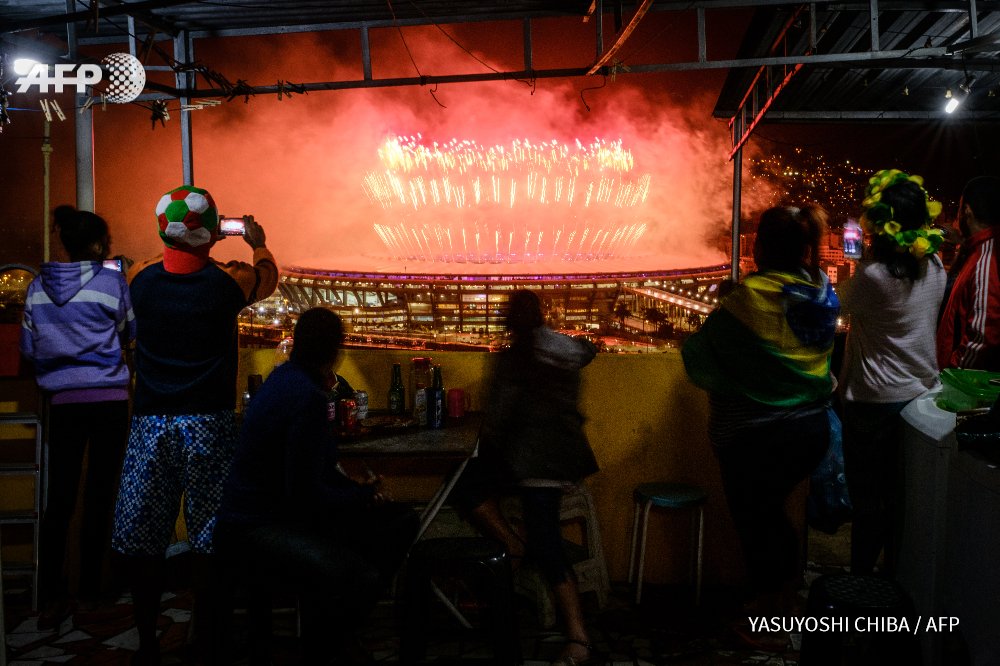 #Rio2016 Fireworks of closing ceremony over Maracana stadium from Manugeira favela. By @YasuyoshiChiba: image via AFP Photo Department @AFPphoto, 21 August 2016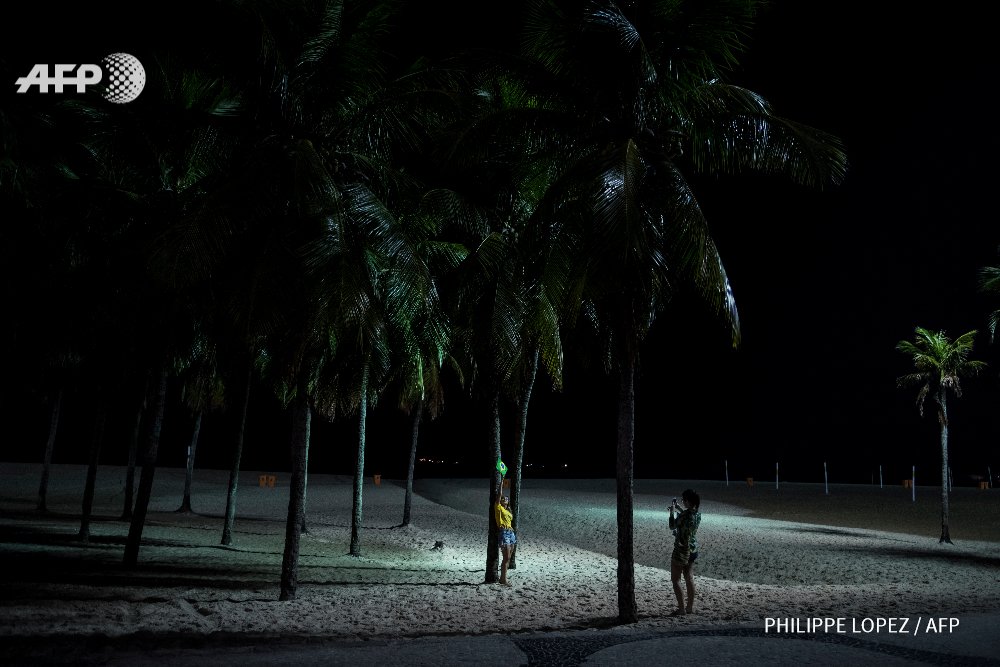 A woman poses under palm trees at Copacabana beach in Rio de Janeiro. By @philippe_lopez #AFP: image via AFP Photo Department @AFPphoto, 21 August 2016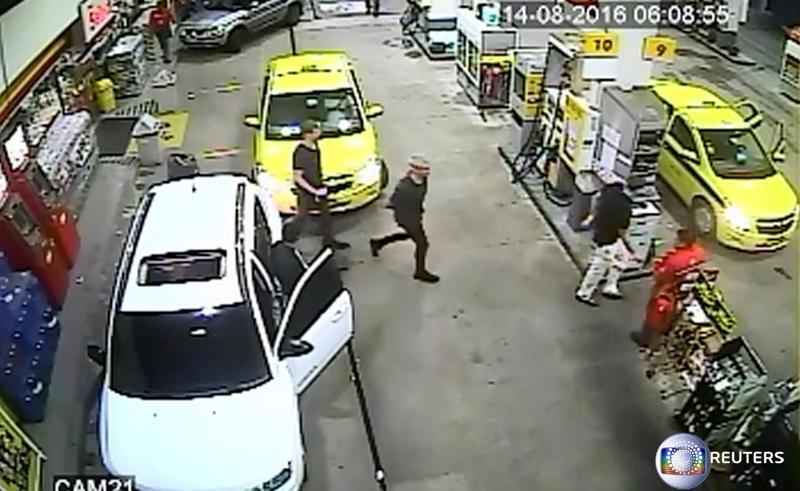 Swimmers in hot water as security video undermines Lochte's account #LochteGate #LochMess: image via Reuters Pictures @reuterspictures, 18 August 2016
Apartment buildings in Chongqing, China, part of the 1,760,000 square metre New Century Global Center, which claims to be the world's largest building by floor space: photo by Nicolas Asfouri/AFP, 22 August 2016
Apartment buildings in Chongqing, China, part of the 1,760,000 square metre New Century Global Center, which claims to be the world's largest building by floor space: photo by Nicolas Asfouri/AFP, 22 August 2016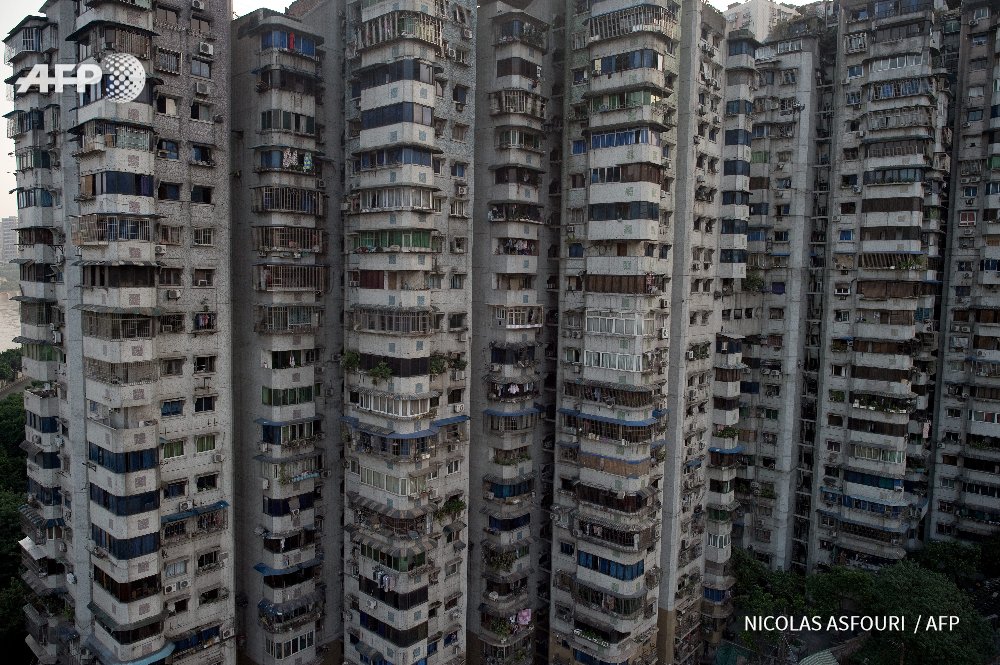 CHINA - View of buildings in Chongqing which is claiming to be world's largest building by floor space. By @NAsfouri #AFP: image via Frédérique Geffard @fgeffardAFP, 22 August 2016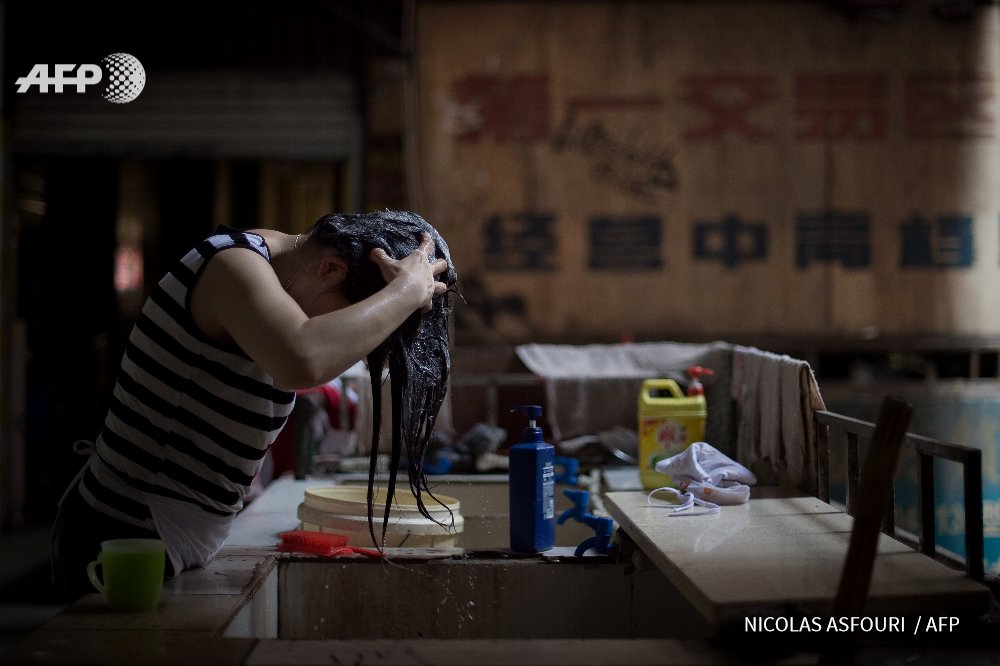 CHINA - A Chinese woman washes her hair over a sink in a street in Chongqing. By @NAsfouri #AFP: image via Frédérique Geffard @fgeffardAFP, 22 August 2016


A man stands amid the damage after an airstrike in the rebel held Douma neighbourhood of Damascus, Syria: photo by Bassam

Khabieh/Reuters, 22 August 2016
A man stands amid the damage after an airstrike in the rebel held Douma neighbourhood of Damascus, Syria: photo by Bassam Khabieh/Reuters, 22 August 2016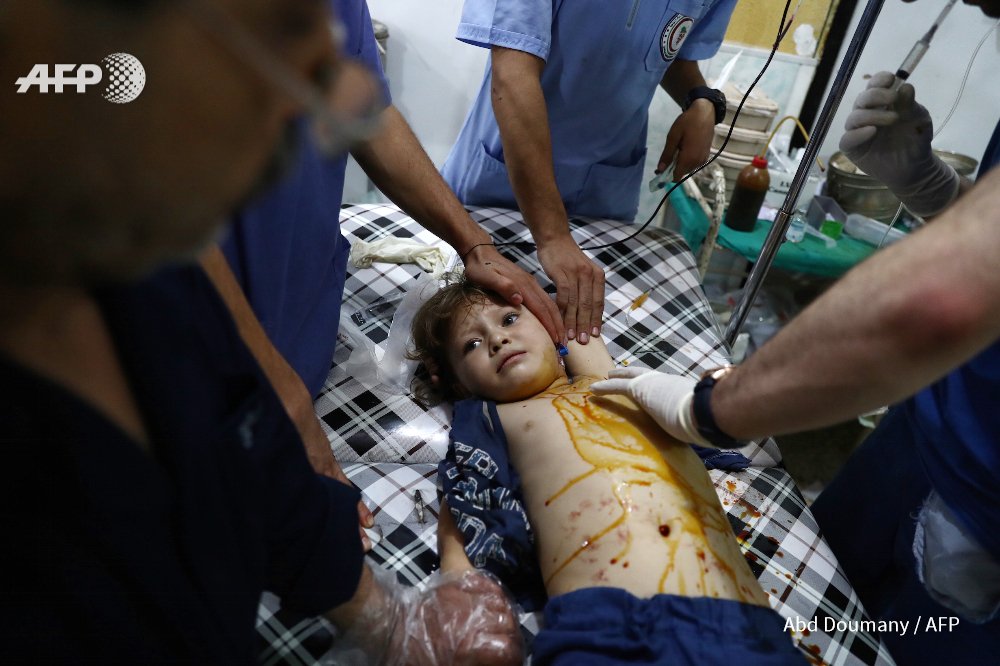 SYRIA - An injured child receives treatment at a makeshift hospital following an air strike on Douma. By @AbdDoumany: image via Frédérique Geffard @fgeffardAFP, 21 August 2016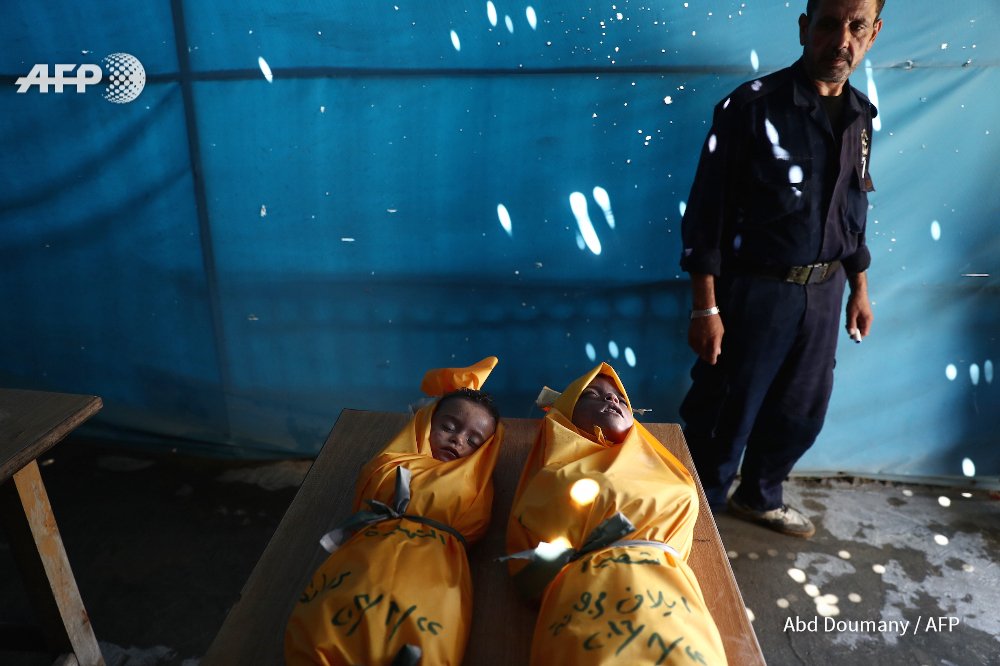 SYRIA - A man stands at a morgue next to bodies of sisters who died following an air strike on Douma. By @AbdDoumany: image via Frédérique Geffard @fgeffardAFP, 22 August 2016
In this photo released by Italian Red Cross migrants embrace each other during a rescue operation at the Mediterranean sea. At least five people have died during the sinking of a wooden boat full with migrants as they tried to reach the Italian coast.: photo by Yara Nardi/Italian Red Cross/AP, 22 August 2016
In this photo released by Italian Red Cross migrants embrace each other during a rescue operation at the Mediterranean sea. At least five people have died during the sinking of a wooden boat full with migrants as they tried to reach the Italian coast.: photo by Yara Nardi/Italian Red Cross/AP, 22 August 2016
Iraqi security forces detain a boy after removing a suicide vest from him in Kirkuk, Iraq: photo by Ako Rasheed/Reuters, 22 August 2016
Iraqi security forces detain a boy after removing a suicide vest from him in Kirkuk, Iraq: photo by Ako Rasheed/Reuters, 22 August 2016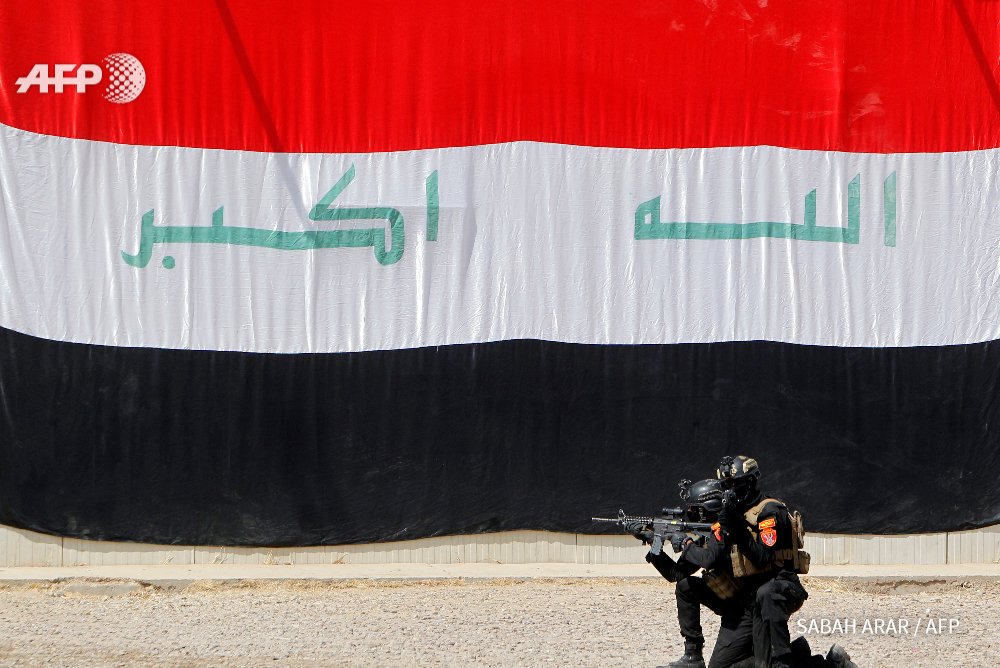 IRAQ - Members of the "Golden Division" take part in a training in Baghdad. By @SabahAfp
: image via Frédérique Geffard @fgeffardAFP, 20 August 2016
Workers carry sacks of tea leaves at a tea estate in Nagaon district in the northeastern state of Assam, India: photo by Reuters, 22 August 2016
Workers carry sacks of tea leaves at a tea estate in Nagaon district in the northeastern state of Assam, India: photo by Reuters, 22 August 2016
Performers take part in the closing ceremony of the Olympics in Rio de Janeiro: photo by Kevin Lamarque/Reuters, 22 August 2016
Performers take part in the closing ceremony of the Olympics in Rio de Janeiro: photo by Kevin Lamarque/Reuters, 22 August 2016
Uniformed soldiers of the King of Norway's Guard parade for inspection by their mascot, king penguin Nils Olav, who was awarded a knighthood in 2008, at RZSS Edinburgh Zoo as they announce the penguin's promotion and new title of Brigadier Sir Nils Olav. The prestigious title was awarded during a special ceremony which was attended by over 50 uniformed soldiers of His Majesty the King of Norway. Sir Nils paraded his way up Penguin Walk, whilst inspecting the soldiers of the Guard.: photo by Jane Barlow/PA, 22 August 2016
Uniformed soldiers of the King of Norway's Guard parade for inspection by their mascot, king penguin Nils Olav, who was awarded a knighthood in 2008, at RZSS Edinburgh Zoo as they announce the penguin's promotion and new title of Brigadier Sir Nils Olav. The prestigious title was awarded during a special ceremony which was attended by over 50 uniformed soldiers of His Majesty the King of Norway. Sir Nils paraded his way up Penguin Walk, whilst inspecting the soldiers of the Guard.: photo by Jane Barlow/PA, 22 August 2016
A Philadelphia Phillies fan sits in the stands under an umbrella in a baseball game against the St Louis Cardinals. The Cardinals won 9-0.: photo by Brian Garfinkel / AFP, 22 August 2016
Action from the men's handball gold medal game between Denmark and France at the Future Arena in Rio de Janeiro, Brazil: photo by Marko Djurica / Reuters, 22 August 2016
Japan's prime minister Shinzo Abe holds a ball aloft during the Rio 2016 Olympic Games closing ceremony. Tokyo will host the next games in 2020.: photo by Jae C Hong / AP, 22 August 2016

The setting sun illuminates a formation of thunderclouds over a corn field in Petersdorf, Germany: photo by Patrick Pleul / EPA, 22 August 2016