.
People comfort each other following a bomb blast in Quetta, Pakistan. A powerful bomb went off on the grounds of a government-run hospital Monday, killing dozens of people, police said: photo by Arshad Butt/AP Photo, 8 August 2016
Suicide bomber kills at least 45 at Pakistan hospital: Gul Yousafzai, Reuters, 8 August 2016
Q

UETTA, Pakistan - A suicide bomber killed at least 45 people and wounded dozens more in Pakistan on Monday, in an attack on mourners gathered at a hospital in Quetta, according to officials in the capital of the violence-plagued southwestern province of Baluchistan.

The bomber struck as more than 100 mourners, mostly lawyers and journalists, crowded into the emergency department to accompany the body of a prominent lawyer, who had been shot and killed in the city earlier in the day, Faridullah, a journalist who was among the wounded, told Reuters.

"There are many wounded, so the death toll could rise," said Rehmat Saleh Baloch, the provincial health minister.

He said at least 45 people were killed, and more than 50 wounded, as the casualty toll spiked from initial estimates.

Television footage showed scenes of chaos, with panicked people fleeing through debris as smoke filled the hospital corridors.

The motive behind the attack was unclear and no group had yet claimed responsibility, but several lawyers have been targeted during a recent spate of killings in Quetta.

The latest victim, Bilal Anwar Kasi, was shot and killed while on his way to the city's main court complex, senior police official Nadeem Shah told Reuters.

The subsequent suicide attack appeared to target his mourners, Anwar ul Haq Kakar, a spokesman for the Baluchistan government, said.

"It seems it was a pre-planned attack," he said.

Police cordoned off the hospital following the blast.

Aside from a long-running separatist insurgency, and sectarian tensions, Baluchistan also suffers from rising crime.

Quetta has also long been regarded as a base for the Afghan Taliban, whose leadership has regularly held meetings there in the past.

In May, Afghan Taliban leader Mullah Akhtar Mansour was killed by a U.S. drone strike while traveling to Quetta from the Pakistan-Iran border.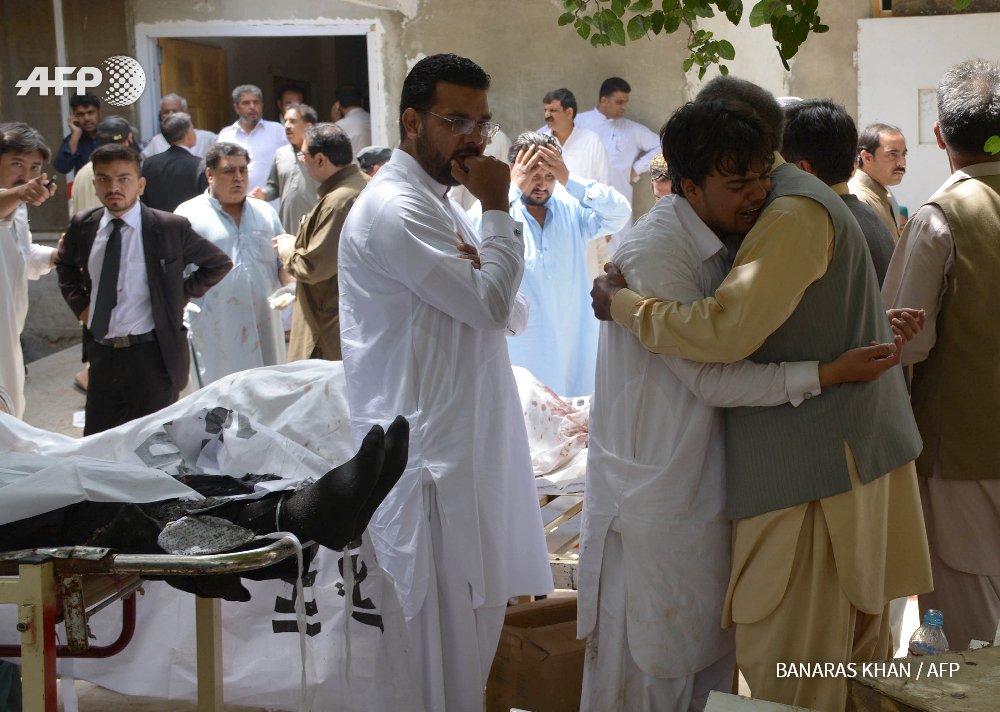 Relatives mourn next to bodies of victims after a bomb explosion at a government hospital premises in Quetta, south-west Pakistan: photo by Banaras Khan/AFP: image via AFPnews agency @AFP, 8 August 2016
At least 40 killed in SW Pakistan hospital blast: minister: AFP, 8 August 2016
At least 40 people were killed and dozens wounded when a bomb ripped through a crowd of mourners on Monday at a hospital in southwest Pakistan, officials said, with fears the toll will rise.
The blast in the Balochistan provincial capital Quetta came after mourners including journalists and lawyers had gathered at the hospital following the fatal shooting of a senior local lawyer.
Video footage showed bodies strewn on the ground, some still smoking, among pools of blood and shattered glass as shocked survivors cried and comforted one another.
Many of the dead appeared to be wearing black suits and ties. A large burn mark against white brick appeared to indicate where the bomb went off.
Officials were cautious about the death toll, saying mobile phone jammers had been activated around hospitals in the area so they were unable to contact officers on the ground.
"The last information we had was 40 dead but it may increase," said Saleh Baloch, health minister for Balochistan, in a figure confirmed by an AFP reporter at the scene.
"There were around 40 people injured when we were shifting them to hospitals. But now mobile jammers have been activated and so we don't have updated information," he told AFP.
The military has also been deployed in and around the city's hospitals, he said.
The toll makes the attack the second deadliest in Pakistan this year so far, after a bombing in a crowded park in Lahore over Easter killed 75.
Several lawyers and some journalists had gathered at the hospital after the death of the president of the Balochistan Bar Association in a shooting earlier Monday, Akbar Harifal, provincial home secretary, told AFP.
The lawyer, Bilal Anwar Kasi, was targeted by two unidentified gunmen as he left his home in the morning for work.
There was no immediate claim of responsibility for either the blast or the shooting. Facebook activated its safety check for Quetta in the wake of the attack.
Balochistan, which borders Iran and Afghanistan, has major oil and gas resources but is afflicted by Islamist militancy, sectarian violence between Sunni and Shiite Muslims and a separatist insurgency.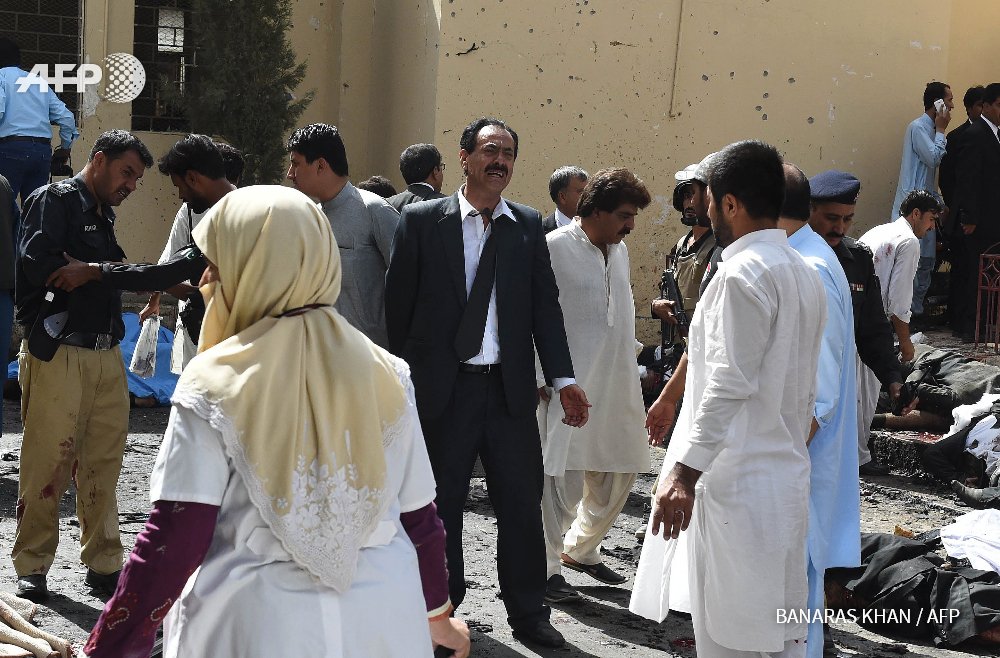 #UPDATE At least 40 people are killed after a bomb rips through a hospital in SW Pakistan
[photo Banaras Khan/AFP]: image via AFP news agency @AFP, 8 August 201

6
53 dead as blast hits Quetta Civil Hospital after lawyer's killing: Syed Ali Shah, Dawn News, 8 August 2016
QUETTA: At least 53 people were killed in a suicide bombing inside the Civil Hospital on Monday, hospital officials said. Many others were injured in the attack.
There was no claim of responsibility for the blast, which occurred at the gates of the building housing the emergency ward. Bomb Disposal Squad officials confirmed the explosion was a suicide bombing.
"The blast took place after a number of lawyers and some journalists had gathered at the hospital following the death of the president of the Balochistan Bar Association in a separate shooting incident this morning," said Balochistan Home Secretary Akbar Harifal.
Condemning the attack, Balochistan Chief Minister Sanaullah Zehri told local TV channel Geo News that Indian intelligence agency Research and Analysis Wing (RAW) was behind terror incidents in Quetta.
The CM shared this statement with the media before initial investigations into the blast were completed, and before the nature of the blast was confirmed.
The bomber struck as more than 100 mourners, mostly lawyers and journalists, crowded into the emergency department to accompany the body of Advocate Bilal Anwar Kasi, Faridullah, a journalist who was among the wounded, told Reuters.
Noor Ahmed, the hospital's deputy chief surgeon for victims of violent crime, said they were treating about 50 wounded in the bombing.
"I can confirm that so far, 53 people have been killed in today's bombing at our hospital," said Ahmed.
According to senior police official Zahoor Ahmed Afridi, most of the dead were lawyers. Several lawyers including the former president of Balochistan Bar Association Baz
Mohammad Kakar were reported injured.
Journalists present at the premises also came in the line of fire and a cameraman for DawnNews, Mahmood Khan, who was severely injured in the explosion, later passed away. Shahzad Khan, a cameraman associated with Aaj TV, was killed in the blast.
An emergency was declared in hospitals across Quetta and several injured were shifted to other hospitals for treatment.
"This was a security lapse," Balochistan Home Minister Sarfaraz Bugti said, adding that he was personally investigating the attack. He said the hospital had not received any threats in the past.
Following the blast in Quetta, Inspector General (IG) police A.D. Khawaja issued a high security alert across Sindh.
Prime Minister Nawaz Sharif strongly condemned the blast in Quetta and expressed his "deep grief and anguish over the loss of precious human lives" in the attack.
"No one will be allowed to disturb the peace in the province that has been restored thanks to the countless sacrifices by the security forces, police and the people of Balochistan," he said in a statement.
Lawyers have been targeted several times in the last few months in Balochistan.
A lawyer, Jahanzeb Alvi, was shot dead by unknown armed men in the Brewery road area of Quetta last week on Aug 3.

Advocate Bilal Kasi, who himself was shot dead on the morning of Monday's blast, had strongly condemned the murder of Advocate Alvi and announced two days' boycott of courts proceedings.

The principal of University of Balochistan's law college, Barrister Amanullah Achakzai, was also shot dead by unknown assailants on Spini Road here in June.
Balochistan has been experiencing incidents of violence and targeted killings for over a decade. More than 1,400 incidents targeting the minority Shia and Hazara community have taken place in the province during the past 15 years.
The largest province of the country by area, is home to a low-level insurgency by ethnic Baloch separatists. Al Qaeda-linked and sectarian militants also operate in the region.
The province shares borders with Afghanistan and Iran.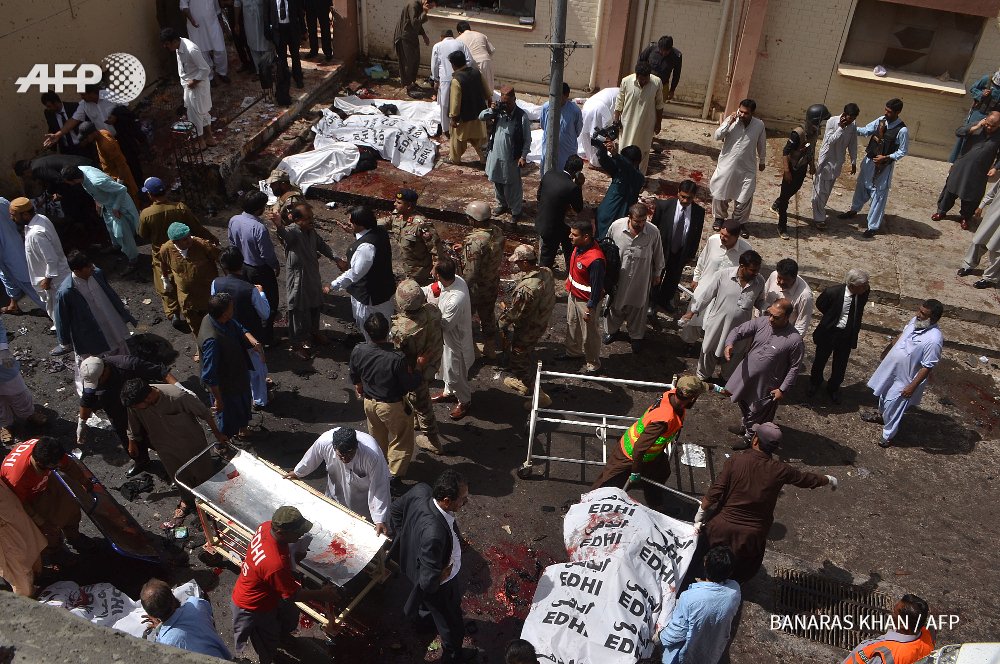 PAKISTAN - A bomb explosion at a government hospital premises in Quetta. By Banaras Khan #AFP: image via Frédérique Geffard @fgeffardAFP, 8 August 2016
#India attacks hospitals and ambulances in #Kashmir its terror proxies attack a hospital in #Quetta #Balochistan #IndianTerrorism #Pakistan: tweet via Ahmad Quraishi @AQpk, 8 August 2016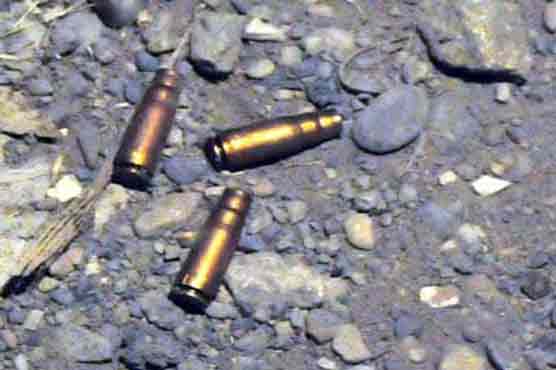 #Baluchistan Bar Association President Advocate Bilal Anwar Kasi gunned down by unknown gunmen in #Quetta: image via PTV World @WorldPTV, 8 August 2016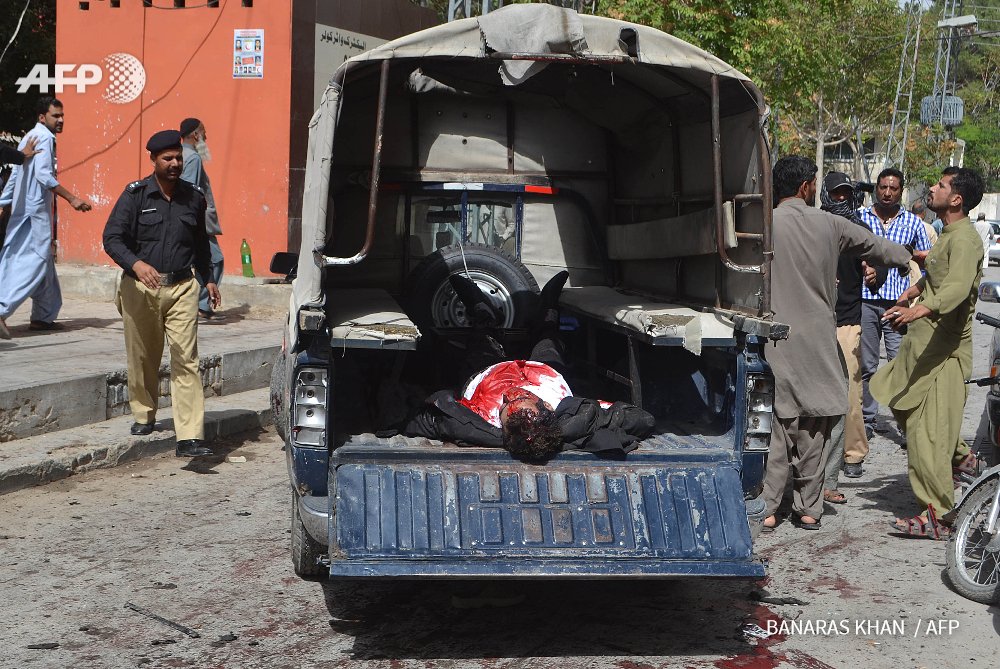 The body of a Pakistani lawyer lies in a police van after a bomb explosion at a hospital in Quetta; by Banaras Khan: image via AFP Photo Department @AFP, 8 August 2016

60 souls 60 jems of #Balochistan #QuettaBleeds: image via #Human @ShahidQazi1, 8 August 2016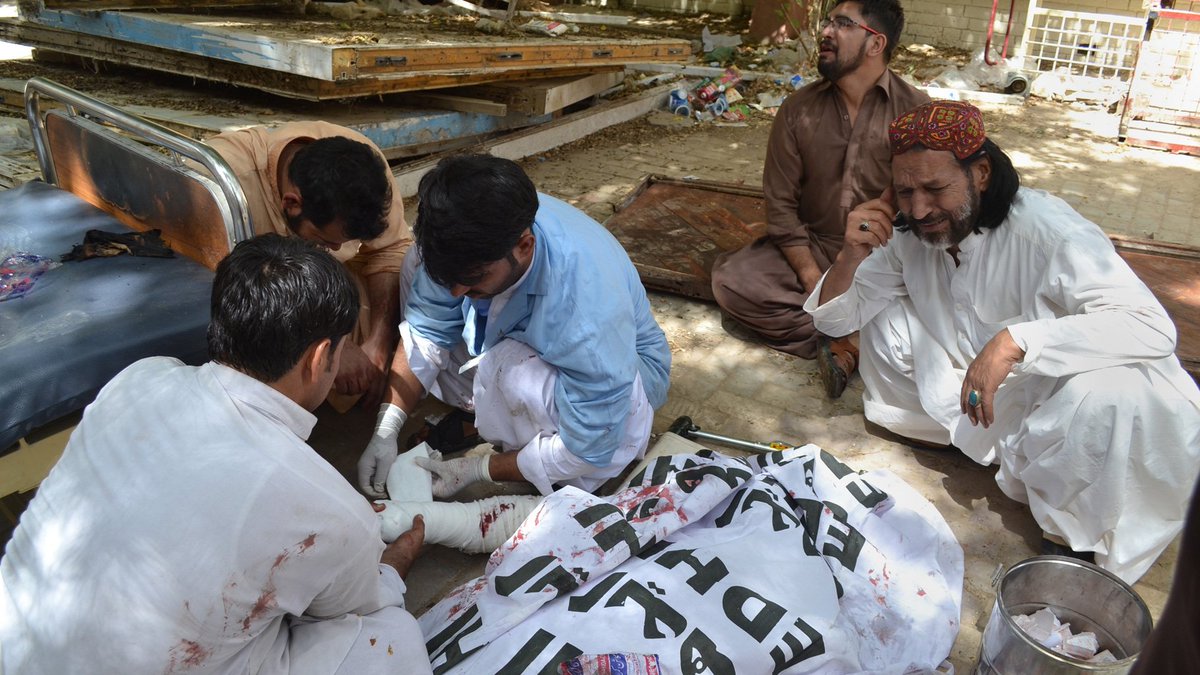 60 killed, many injured in a Civil Hospital explosion in #Quetta: image via TheQuint Verified account @The Quint, 8 August 2016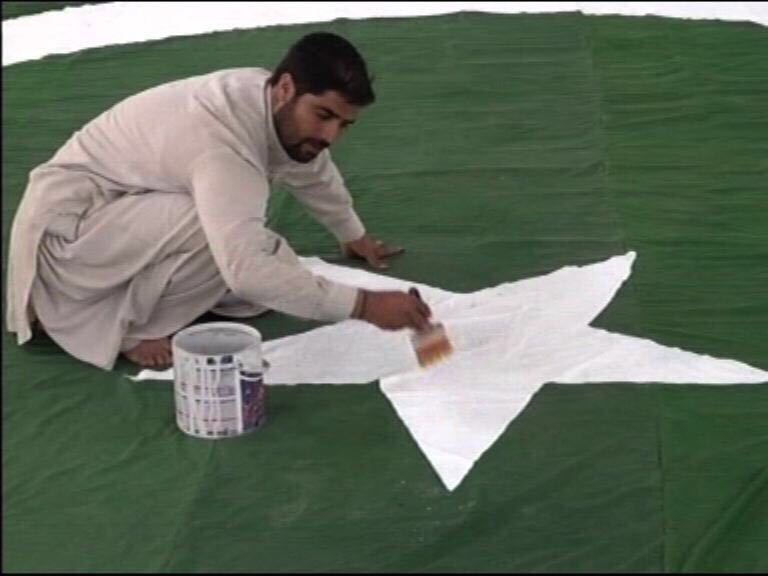 Recent image of AAJ TV journalist Shehzad Ahmed who has been killed in today's #Quetta blast. RIP.: image via The Nation @TheNation, 8 August 2016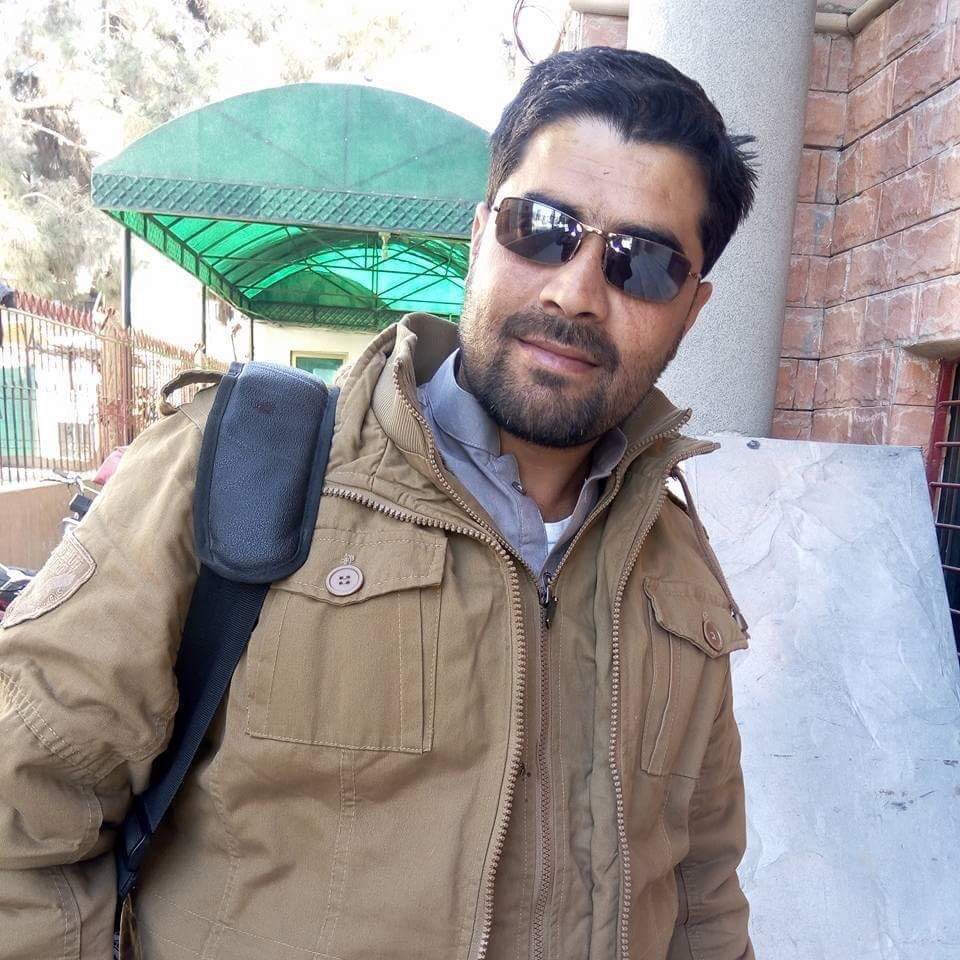 #Balochistan has lost cameraman Shazad Ahmed, in #quettablast @cpjasia @RSF_Inter @FreedomofPress@FreedomHouseDC
: image via Malik Siraj Akbar @Malik Siraj Akbar, 8 August 2016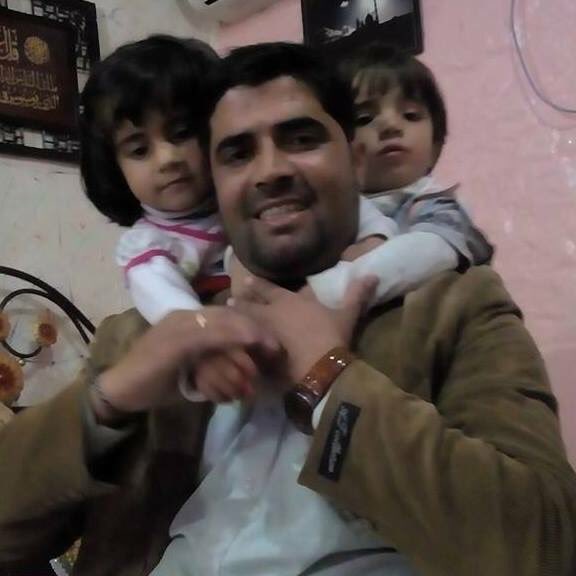 martyred cameraman had 2 jobs to earn livelihood as Pakistani media outlets dont pay enough to #Balochistan journalists: image by Shezad Baloch @Shezadbaloch, 8 August 2016
Balochistan Chief Minister Sanaullah Zehri says that Indian intelligence agency RAW behind @Quetta terrorist attack: image via Nadeem Malik Verified account @nadeemmalik, 8 August 2016

Mourning the dead after Quetta blast: photo by AFP, 8 August 2016

#Quetta #Baluchistan #Pakistan #PakistanZindabad #ShukriyaPakistan #SalamPakistan #Azadi #OneNation #Islam #Peace: image via Muhammad Mudassir @mudassir98u, 8 August 2016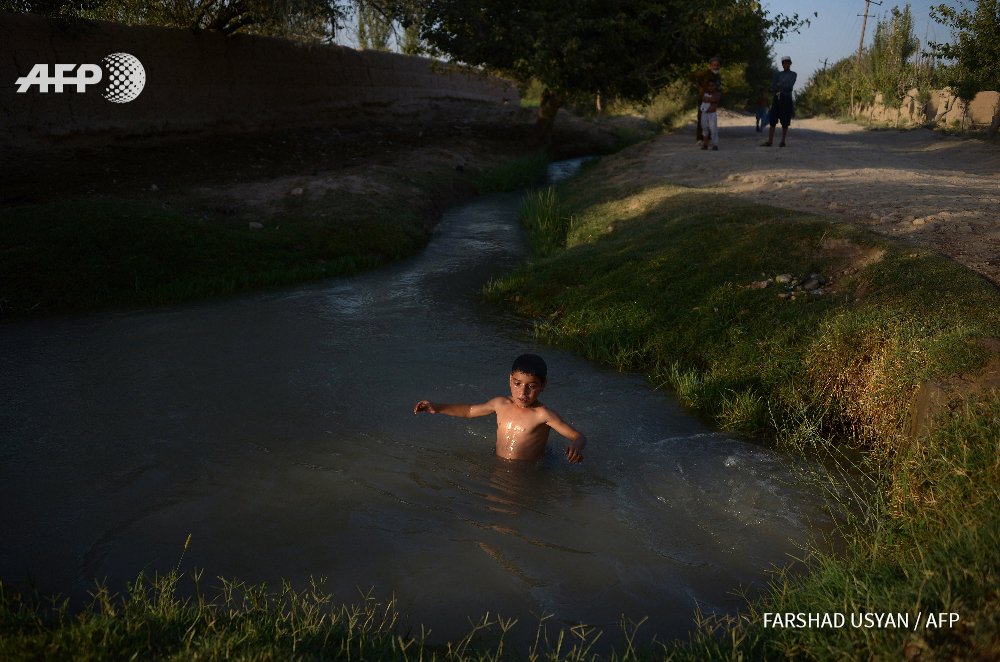 AFGHANISTAN - A child swims in a canal on the outskirts of Mazar-i-Sharif. By @Farshadusyan #AFP: image via Frédérique Geffard @fgeffardAFP, 8 August 2016
An Indian paramilitary trooper stands guard during a curfew in the Batmaloo area of Srinagar, Kashmir: photo by Tauseef Mustafa/AFP, 8 August 2016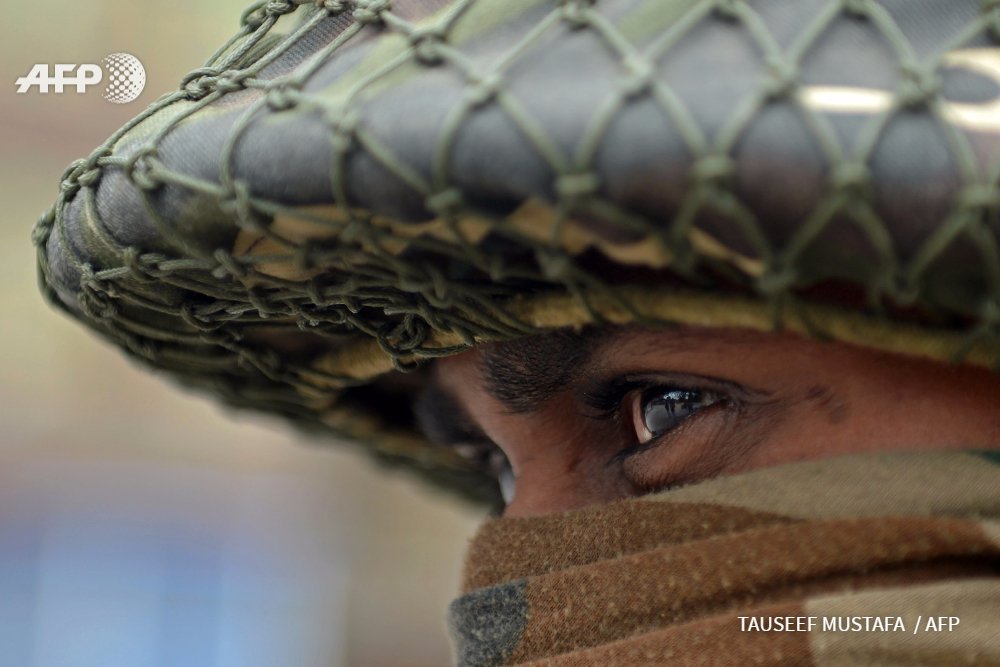 INDIA - A paramilitary trooper stands guard during a curfew in the Batmaloo area of Srinagar. #Srinagar by @TauseefMUSTAFA: image via AFP Photo Department @AFP, 8 August 2016
An Indian paramilitary trooper stands guard during a curfew in the Batmaloo area of Srinagar, Kashmir: photo by Tauseef Mustafa/AFP, 8 August 2016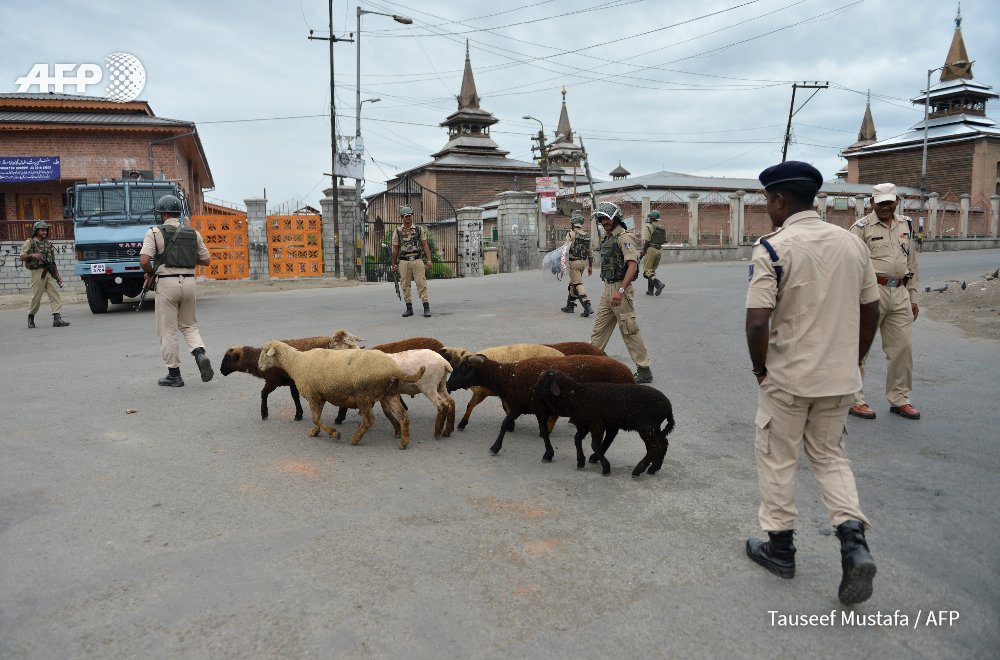 INDIA - Indian paramilitary troopers patrol near the mosque Jamia Masjid during a curfew #Srinagar by @TauseefMUSTAFA: image via AFP Photo Department @AFP, 8 August 2016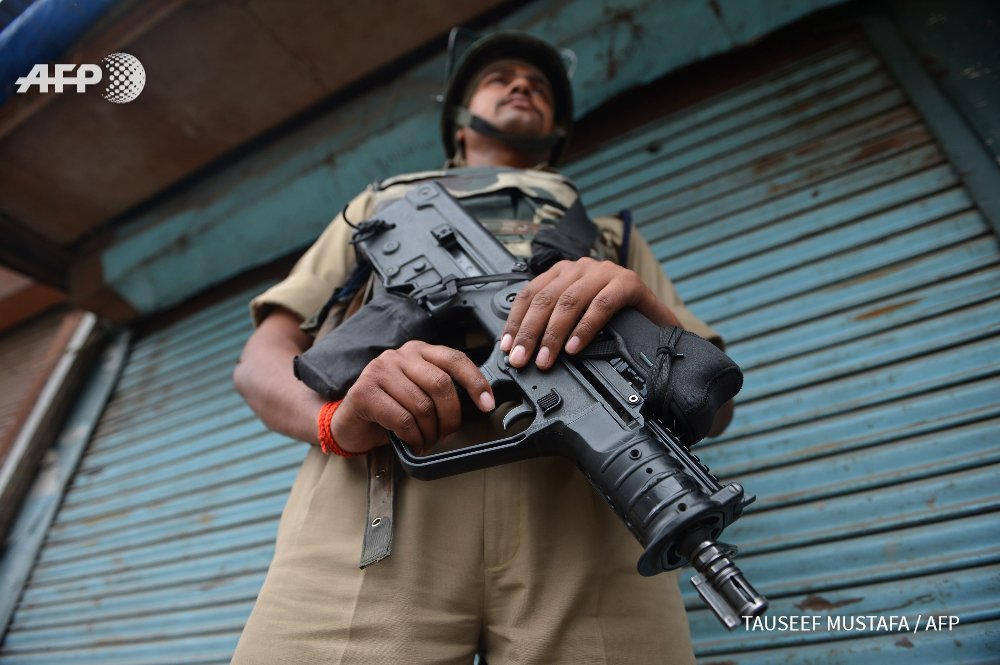 INDIA - A paramilitary trooper stands guard near the grand mosque Jamia Masjid in Srinagar. By @TauseefMUSTAFA #AFP: image via Frédérique Geffard @fgeffardAFP, 8 August 2016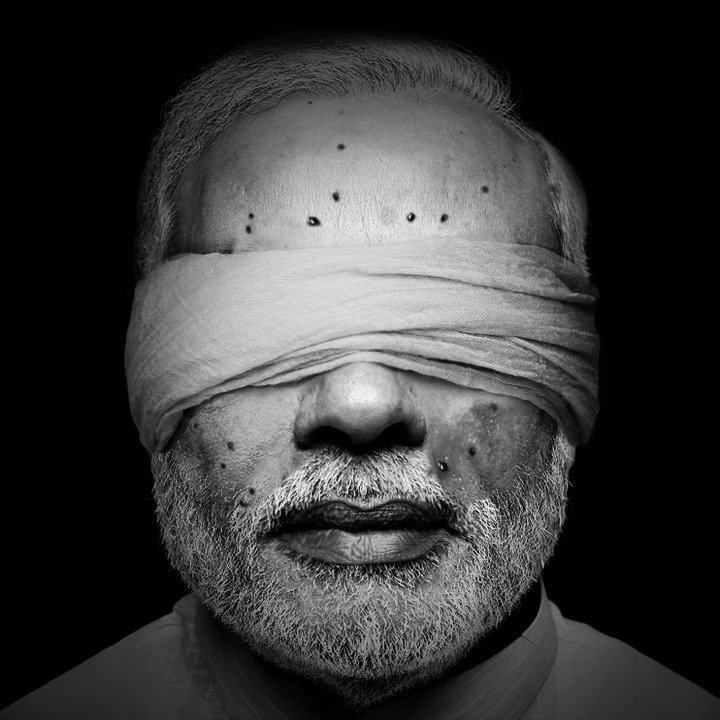 674 wounded in a single day as pellets, bullets, tear gas rain on #Kashmir protesters: image via Jibran Nasir @MJibranNasir, 6 August 2016
Special Azadi Train to leave Peshawar for Karachi on 14 Aug 16. Commander Burhan Wani and other #Kashmir pics featured.
: image via SyedAli Geelani @sageelani, 8 August 2016
A vale of tears, torment: Abbas Nasir, Dawn, 6 August 2016
The heated exchanges over Kashmir between Pakistan and India at the Saarc ministerial conference in Islamabad this week and the abrupt departure for Delhi of the Indian home minister were indicative of the situation on the ground in India-held Kashmir.
Even then, the exchanges hardly captured the real mood in the Kashmir valley which is in the grip of seething anger. The brutality with which protests are being put down by the security forces has ensured things remain on the boil.
The statistics speak for themselves. Since the 21-year-old militant commander who was more of a social media star, Burhan Wani, was killed early last month and protests erupted across the valley after tens of thousands participated in his funeral, at least 60 people have been killed and some 4,000 injured.
One aspect of the brutal repression is the use of shotguns by both the dreaded paramilitary Central Reserve Police Force and the Jammu and Kashmir Police. Shotguns in use of police forces are also called 'riot guns'.
Deployed in crowd control situations, these guns are supposed to use 'non-lethal' ammunition including rubber pellets and are normally aimed and discharged at more or less the legs or feet of the protesters. Often they are less powerful than shotguns used for hunting.
Evidence (both of their use and the impact) suggests the Indian security forces have used hunting shotguns with steel pellets and fired their weapons at the upper torso and faces of the protesters. Photo­graphs and X-rays of dozens of young men and women have appeared on the social media showing multiple pellet wounds in their upper bodies and faces.
The worst possible consequence of such use of shotguns against the mainly young (some not even in their teens yet) demonstrators is that they have been blinded. The number of those being treated for eye injuries is said to be in excess of 300 while some 50 have lost their sight completely.
Of course I have had no access to the valley itself but on a recent visit to London, where a serious ankle injury confined me mostly to bed, I was still able to talk to many friends and acquaintances from Srinagar and other places in the valley.
Their common refrain was that Kashmiris have now travelled a long distance from the last elections where many voted in the hope for peace. This proved to be elusive and now their children, kith and kin are being brutally oppressed. All are saying one word in unison: 'Azadi' (freedom).
I'd rather not name my friends for the fear of their family members' safety who are in the valley itself, but many of them seemed to have reached a pass where they don't care and maintain a high-profile presence by writing about the atrocities in the media and raising awareness via social media on a daily basis.
Side by side with their common demand for azadi, many Kashmiris I talked to were also equally clear about saying 'no thanks' to Pakistan-based militant groups such as Lashkar-e-Taiba (LeT). This is simply because they believed that such groups undermine their indigenous struggle.
As one London-based Kashmiri elaborated, "Look at what happened to what was purely our own struggle in the 1980s and 1990s. It was hijacked by the Pakistan-based groups. Their jihad based on an ideology pretty alien to the valley targeted innocent civilians and even foreigners in Kashmir, which discredited our movement and isolated it internationally."
Another factor that all these Kashmiris were keen to stress on was that when they say 'azadi' they mean both from India and Pakistan. They wish to govern themselves. "The best act of friendship by Pakistan would be to let us be. We have reached a stage where we'd be horrified to contemplate a day when, say, Islamabad replaces New Delhi."
Ironically, it was the man responsible for the Kargil fiasco, Gen Pervez Musharraf, who also saw and addressed this factor, perhaps less to respect the wishes of the Kashmiris but more to provide India with an acceptable solution, when he proposed a 'borderless' region during the 2005 summit with the then prime minister Manmohan Singh.
Considerable progress had been made four years earlier also when Musharraf met prime minister Atal Bihari Vajpayee at the Agra summit and matters appeared close to an agreement when ostensibly loose remarks by the Pakistan president were pounced upon by hard-line BJP leaders opposed to any accord.
The hardliners were led then by Lal Krishna Advani and they found their spokesperson in Mrs Sushma Swaraj (the current foreign minister) whose characterisation of the dialogue before the assembled media was such that nobody who was part of the discussions on the Pakistan side could recognise it. This jettisoned the process that was generating considerable optimism in 2001.
But the progress made in 2005 again crawled to a halt when Musharraf became embroiled in a fight for survival at home, following his March 2007 attempted sacking of the then Supreme Court chief justice. The 2008 attack by LeT terrorists targeting unarmed civilians in Mumbai almost pushed the two nuclear powers to the very edge.
Today, regardless of the peace initiatives Prime Minister Nawaz Sharif may be keen on, the GHQ seems to have drawn red lines for him not to cross, including vigorously trying the Mumbai carnage accused.
And having won the election due to his appeal among both big business and hard-line Hindu nationalists, his Indian counterpart Narendra Modi appears also lost in no-man's land where relations with Pakistan are concerned.
While those who call the shots in the two countries are currently locked in on one-upmanship, the defence budgets on each side are ballooning, the Kashmir valley continues to bleed with no respite in sight, and the subcontinent remains teeming with millions steeped in poverty and misery. And there appears no light at the end of the tunnel.

Diyalgam youth had performed ablution before joining protests, Haseeb was shot at by the police in head - #kashmir: image via Awaaz @AwaazKashmir, 8 August 2016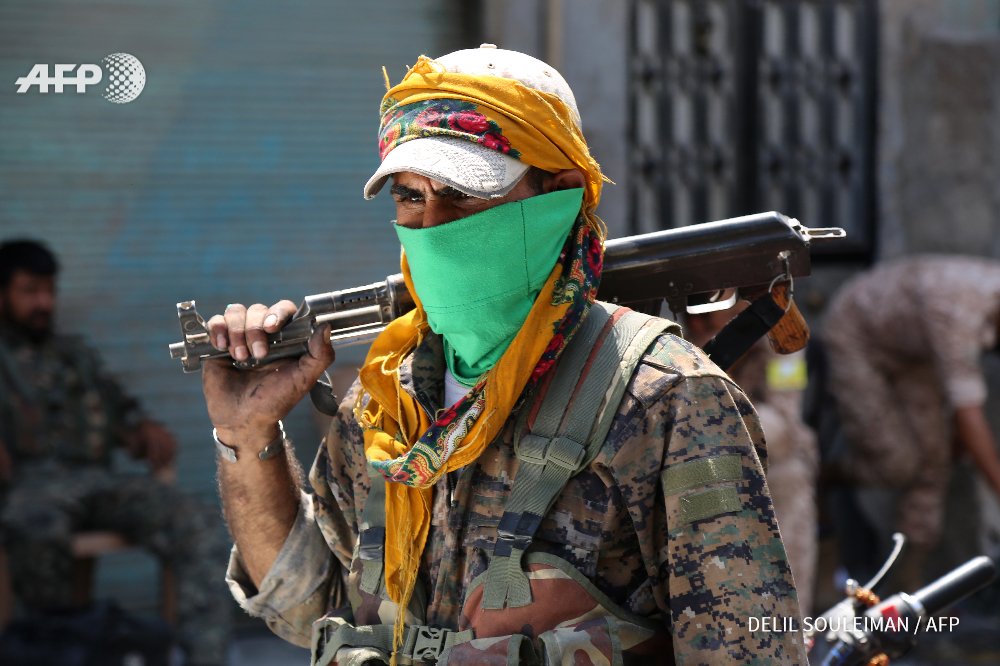 SYRIA - A member of the Syrian Democratic Forces walks on a street with his weapon in Manbij. By @Dellsouleman #AFP: image via Frédérique Geffard @fgeffardAFP, 8 August 2016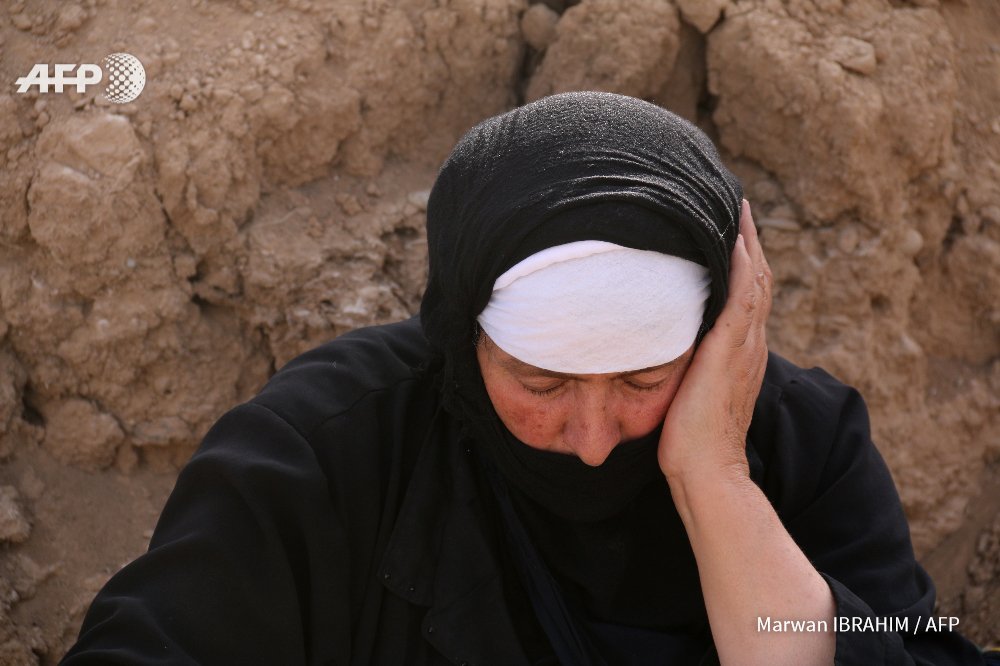 IRAQ - A woman who fled Hawijah in northern Iraq rests after arriving in the Kirkuk province. By Marwan Ibrahim #AFP: image via Frédérique Geffard @fgeffardAFP, 8 August 2016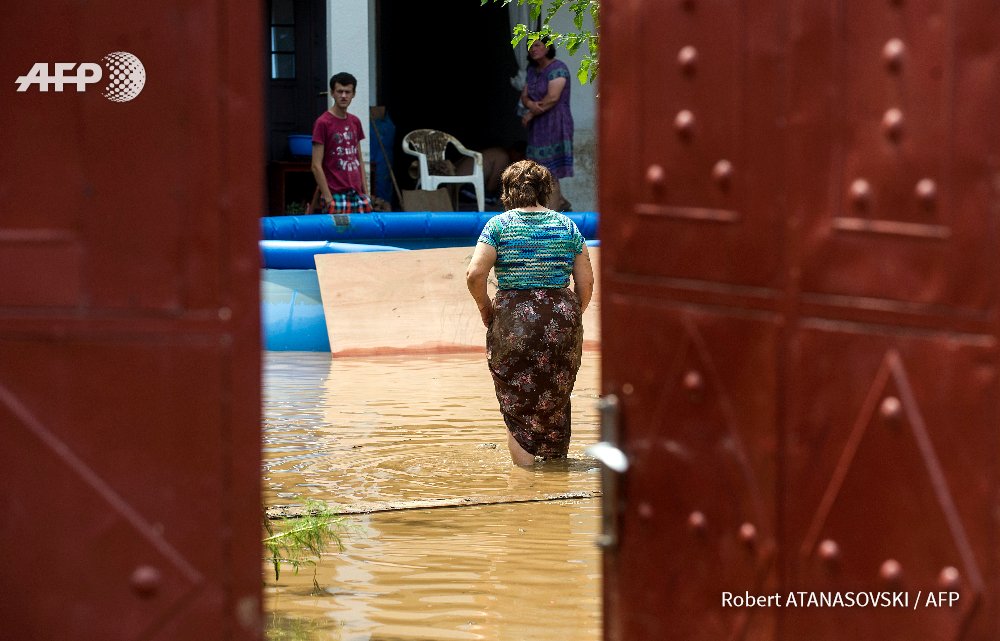 MACEDONIA - A woman wades in floodwaters in front of her home in Stajkovci near Skopje. By @RAtanazovski #AFP: image via Frédérique Geffard @fgeffardAFP, 8 August 2016
People comfort each other following a bomb blast in Quetta, Pakistan. A powerful bomb went off on the grounds of a government-run hospital Monday, killing dozens of people, police said: photo by Arshad Butt/AP Photo, 8 August 2016