.
A migrant girl sleeps under a mosquito net outside the former international airport in Athens, currently used as a temporary camp for migrants and refugees: photo by Angelos Tzortzinis/AFP, 10 August 2016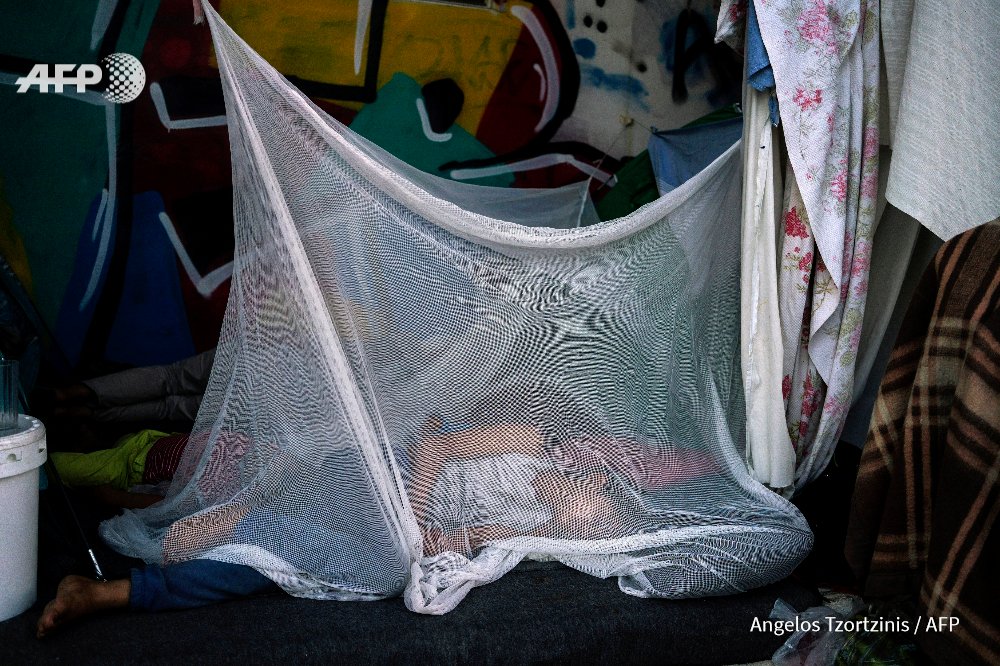 GREECE - A migrant girl sleeps under a mosquito net outside former international airport in Athens. By @atzortzinis: image via AFP Photo Department @AFPPhoto, 10 August 2016
.
A migrant girl sleeps under a mosquito net outside the former international airport in Athens, currently used as a temporary camp for migrants and refugees: photo by Angelos Tzortzinis/AFP, 10 August 2016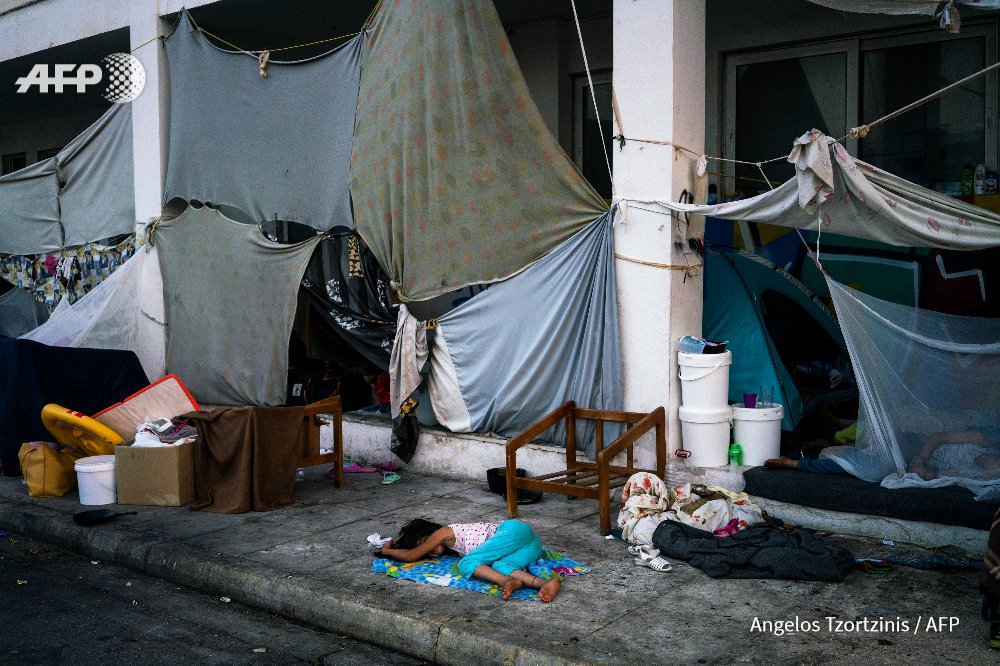 GREECE - A refugee girl sleeps on the ground outside the former international airport in Athens. By @tzortzinis #AFP: image via Frédérique Geffard @fgeffardAFP, 10 August 2016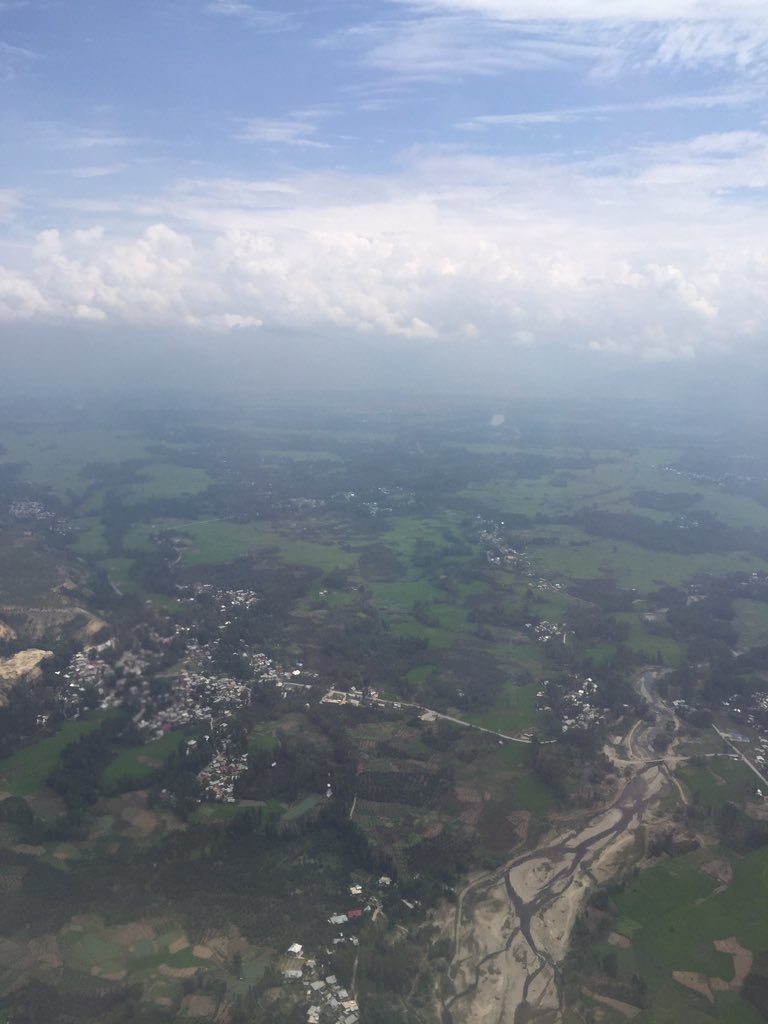 Just landed in #Kashmir. Uneasy calm.: image via Harinder Baweja Verified account @shammybaweja, 10 August 2016


First Time In The History Of #Kashmir People Of Anantnag Organised Pro Freedom Boat Rally. #KashmirNow: image via Vavaid Shaikh @javaidShaikh, 10 August 2016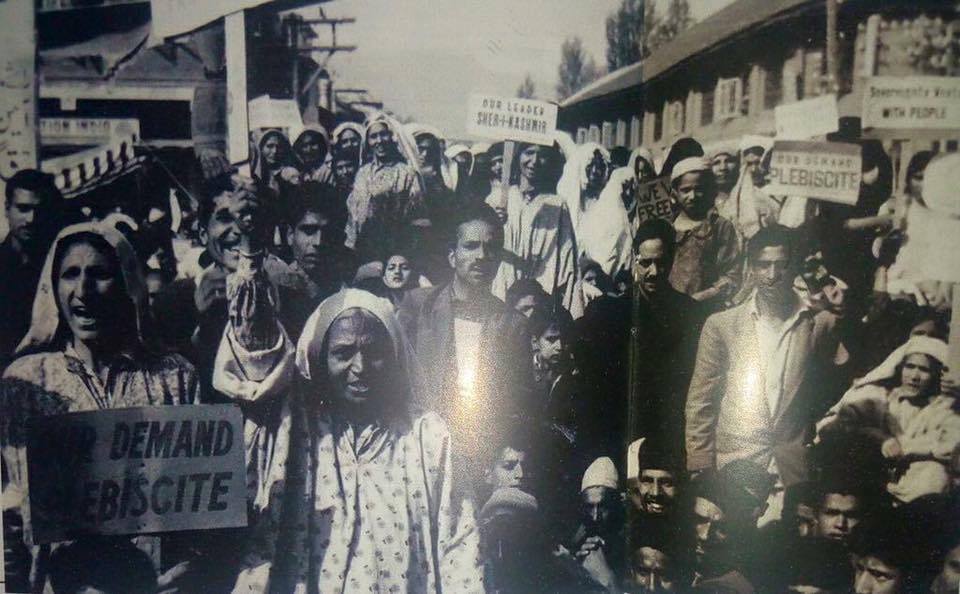 Kashmir: the right to self-determination denied since 1947. Photo (from fb) of plebiscite rally, Srinagar, 1953.: image via najeeb mubarki @najeebmubarki, 10 August 2016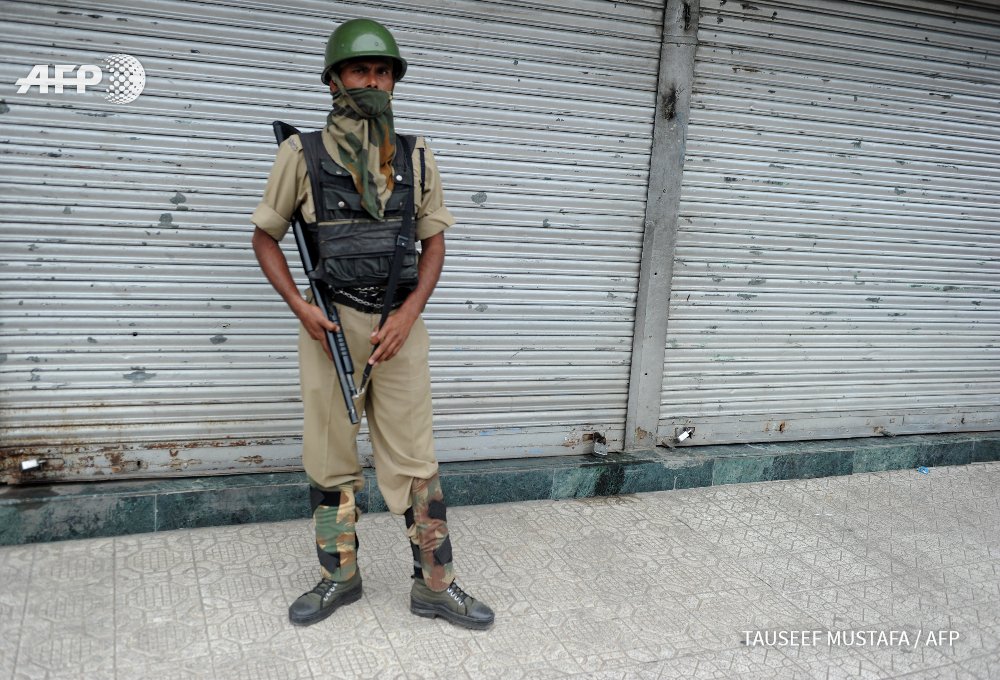 INDIA - Paramilitary trooper stands holding a pellet gun stands guard during a curfew in Srinagar. By @TauseefMUSTAFA: image via Frédérique Geffard @fgeffardAFP, 10 August 2016
Arundhati Roy: What exactly does azadi mean to Kashmiris?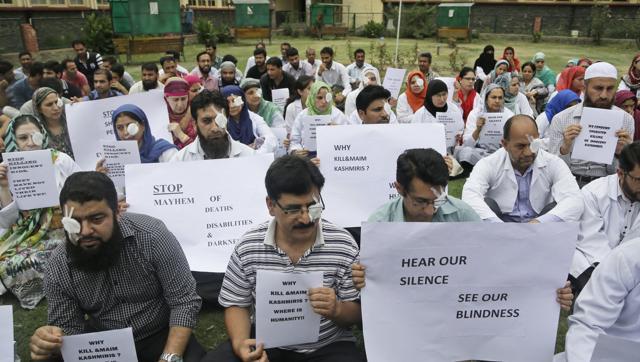 For 34th day, #Kashmir remains paralysed by protests and curfew: image via Hindustan Times Verif

ie

d account @HtTweets, 10 August 2016
Azadi: What exactly does azadi mean to Kashmiris? Why can't it be discussed? Since when have maps been sacrosanct? Arundhati Roy, Outlook, 25 July 2016
The people of Kashmir have made it clear once again, as they have done year upon year, decade upon decade, grave upon grave, that what they want is azadi. (The "people", by the way, does not mean those who win elections conducted in the rifle sights of the army. It does not mean leaders who have to hide in their homes and not venture out in times like these.)
While we denounce -- as we must -- the gunning down of unarmed protesters by the security forces, the attacks on ambulances and hospitals by policemen, and the blinding of teenagers with pellet guns, we have to keep in mind that the real debate cannot only be about the violation of human rights by Indian security forces in the Kashmir valley. Egregious though they are, those violations are the consequence -- the inevitable and unavoidable consequence -- of the militaristic suppression of a people's struggle for freedom. Kashmiris are not fighting for the establishment of the rule of law or an end to human rights violations. They are fighting for azadi. For this, they are prepared to face down bullets with stones. For this, they are prepared to die in numbers. For this, they are prepared to exhibit acts of open defiance that may lead to their death or incarceration in the most densely militarised zone in the world. For this, they are prepared to take to arms, to fight to the death, knowing full well that they will die young. They have proved that with tragic regularity. They have been nothing if not consistent.
It's no use
pretending that what the Indian government has on its hands is a fleeting law and order problem created from time to time by a fickle, volatile people. What is happening is a dangerous, spiralling crisis of unmanageable proportions in a region that is sandwiched between two hostile nuclear powers. For that reason alone it should concern the whole world.
If we really want to address that crisis, if we really want to stop the endless cycle of killing and dying, if we really want to stem the haemorrhaging, the first step has to be a small concession to honesty. We have to have an honest conversation. However diverse the views may be, however opposed to one another -- the subject of that conversation has to be azadi: What exactly does azadi mean to Kashmiris? Why can't it be discussed? Since when have maps been sacrosanct? Should a people's right to self-determination be denied at any cost? Are the people of India prepared to have the blood of thousands of ordinary people on their conscience? With what moral authority can we talk about all the other horrors being visited upon us, if we are prepared to swallow this one? Is the presumed "consensus" in India on the subject of Kashmir real or manufactured? Does it matter? In truth, it shouldn't. What matters is what Kashmiris want, and how to arrive at that consensus in the most peaceful, democratic and informed way possible.
If there is to be a solution to this terrible, seemingly endless tragedy, we have to be able to think clearly, speak freely and listen fearlessly to things we may not want to hear. We have to find a new imagination. This applies to everybody, on all sides of the dispute.
Something beautiful could come of it. Why not? Why ever not?


People participate in protest rally against indian occupation in Pulwama Today. #Kashmir: image via Syed Ai Geelani @sageelani, 10 August 2016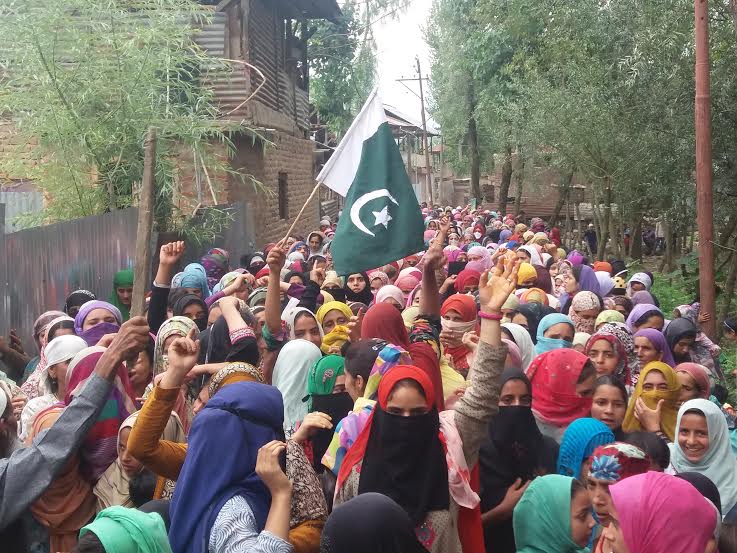 Kashmir women protests in Sopore's Boitangoo: image via Kashmir Dispatch @KashmirDispatch, 10 August 2016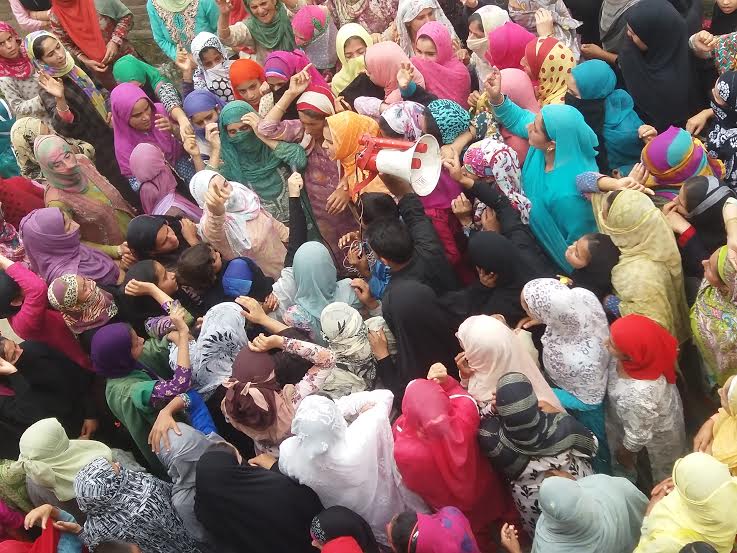 Kashmir women protests in Sopore's Boitangoo: image via Kashmir Dispatch @KashmirDispatch, 10 August 2016
1000s of ppl participated in protest rally in Dangerpora Pulwama Pro-freedom and anti-india slogans wr raised #Kashmir: image via Syed Ali Geelani @sageelani, 10 August 2016


1000s of ppl participated in protest rally in Dangerpora Pulwama Pro-freedom and anti-india slogans wr raised #Kashmir: image via Syed Ai Geelani @sageelani, 10 August 2016
1000s of ppl participated in protest rally in Dangerpora Pulwama Pro-freedom and anti-india slogans wr raised #Kashmir: image via Syed Ai Geelani @sageelani, 10 August 2016
Sheikh Abdul Aziz (1952 – August 11, 2008) was killed during protest against india's economic blockade of #Kashmir: image

via Syed Ai Geelani @sageelani, 10 August 2016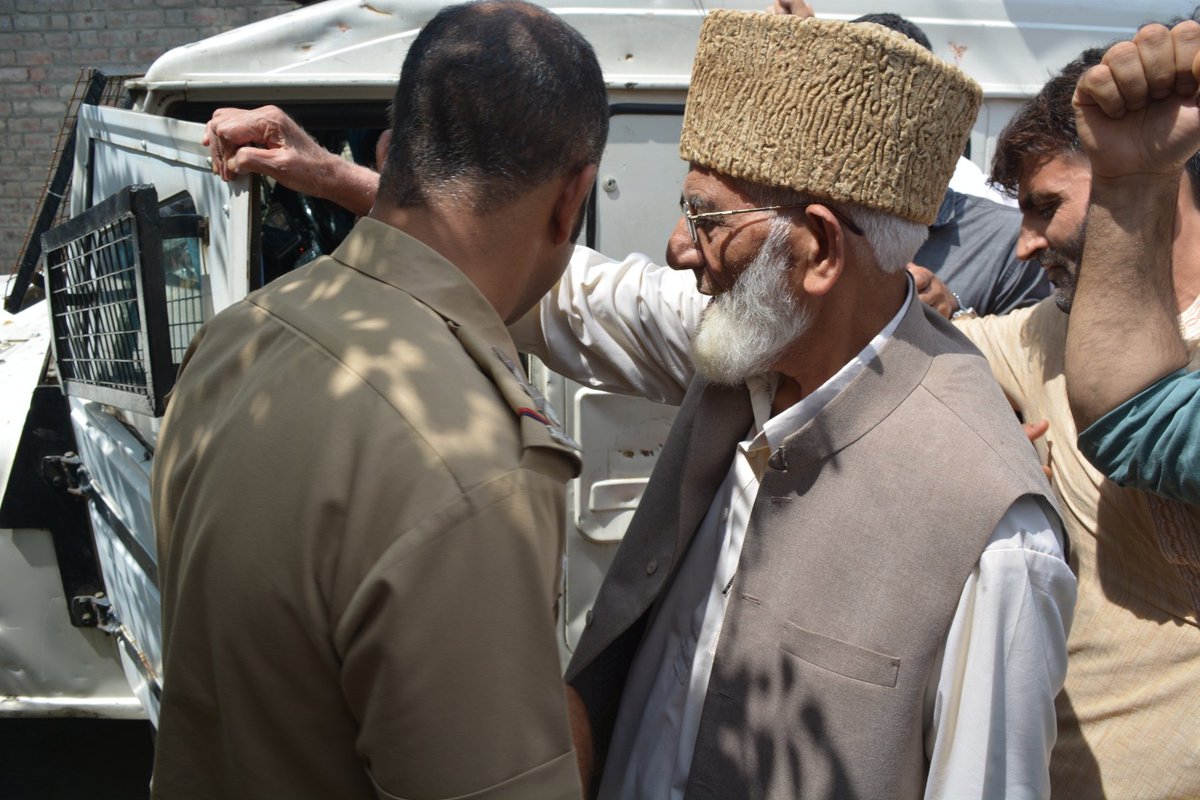 Syed Ali Geelani arrested by #Kashmir police while trying to visit Mazar-e-Shohada Srinagar. #KashmirKillings: image via KashmirDispatch @KashmirDispatch, 11 August 2016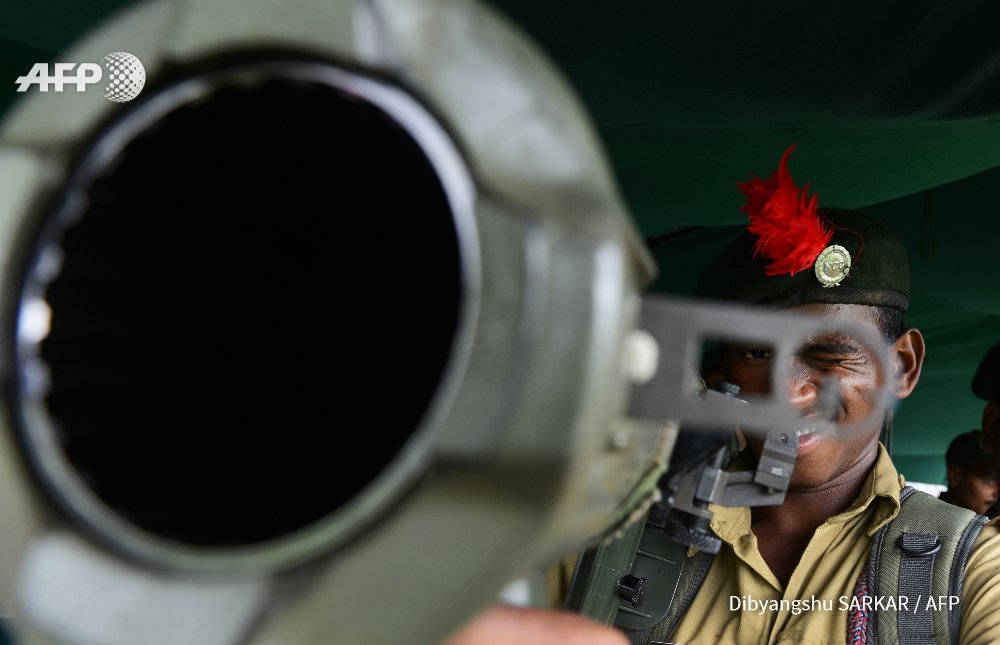 INDIA - School students take a close look at defence equipment during an exhibition in Kolkata. By @Dibyangshus: image via Frédérique Geffard @fgeffardAFP, 10 August 2016
Kashmiris believe armed resistance is the only way: Sacher Baloch, Dawn, 8 August 2016
KARACHI: Supreme militant commander of the Hizbul Mujahideen Syed Salahuddin urged Pakistan on Sunday to find a peaceful solution to the ongoing violence in India-held Kashmir.
If a peaceful solution is not reached then Pakistan should consider cutting off diplomatic ties with India over the killing of Burhan Muzaffar Wani in Kashmir.
Speaking during a press conference at the Jamaat-i-Islami's (JI) headquarters, Idara Noor-i-Haq, here Salahuddin, who is also the head of the Muttahida Jihad Council, said that the young commander's killing gave "new meaning to the struggle for India-held Kashmir".
Salahuddin spoke for the entire duration of the one-hour press conference, with members of the JI, including its Karachi emir Naeem-ur-Rahman, sitting next to him. The reporters were informed that Salahuddin had come on a short visit to Karachi from Muzaffarabad to "especially speak to the media".
Reading from a piece of paper, Salahuddin said:"Today marks the 30th day of curfew in India-held Kashmir. The violence has claimed 65 lives so far and around 125 people are injured through the pellet guns used by the Indian troops."
He said Pakistan was "morally bound" to help the Kashmiris at this time.
Pointing out the United Nations Security Council resolution on the accession of Kashmir, he said there were so far "18 such resolutions tabled by the UN on Kashmir which have been ignored by the international community".
He added: "Any resistance by the Kashmiris in the face of the extreme violence perpetrated by the Indian troops will end up being the responsibility of the international community besides India."
In light of the current discord in relations between India and Pakistan due to the wave of violence exacerbated by the killing of Wani in Kashmir, Salahuddin said that calling back ambassadors from India is the "best solution at the moment."
The diplomatic relations between the two neighbouring countries turned bitter recently when Indian home minister Rajnath Singh left a South Asian Association for Regional Cooperation (Saarc) meeting amid a spat with his Pakistani counterpart, Chaudhry Nisar Ali Khan. During the meeting, the Indian home minister accused Pakistan of sponsoring terrorism which led Nisar to snub him during the luncheon thrown for the Saarc members.
Speaking about the recent turn of events, Salahuddin said he had "advised the government to not participate in the Saarc meeting; yet the government went ahead with it".
However, he appreciated the protests in India and discussion on the Kashmir issue in Indian parliament. Specifically mentioning international writer Arundhati Roy, he said: "It is good to know that there are people, such as Arundhati Roy sahiba, who question the motives of their own state as well."
Answering a question after the press conference was over, he said that Pakistan's policy towards Kashmir "remains inconsistent" which gave strength to the Indian troops in the valley. Despite the "indecisiveness on Pakistan's part", he added that the Kashmiris were getting ready for "a decisive moment to take matters in their own hands. With the increasing violence, many Kashmiris believe that armed resistance is the only way to move through the chaos."
Karachi emir of the JI Naeem-ur-Rahman said that Aug 15 would be commemorated as a 'black day' in which rallies would be taken out from Muzaffarabad to Chakothi, near the Wagah border crossing in Lahore, Karachi and Islamabad.
Mourners accompany the body of fallen local hero, Burhan Wani, in Tral, south Kashmir: photo via Dawn, 25 July 2016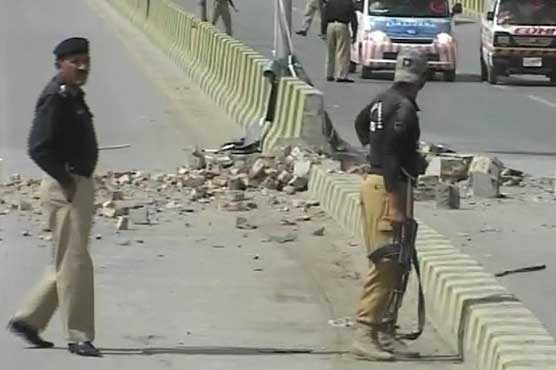 Scene of roadside IED blast in #Pakistan #Quetta Thu am. 13 injured. Police said fed Shariah Ct Judge was targeted.: image via Ayesha Tanzeem @atanzeem, 10 August 2016
14 injured as roadside bomb targets judge's police escort in Quetta: Syed Ali Shah, AP, 11 August 2016
QUETTA: Officials said a roadside bomb went off near a vehicle escorting a judge of the Federal Shariat Court, wounding 14 people.
A

roadside blast target

ed

a vehicle belonging to the Anti-Terrorism Force (ATF) accompanying Justice Zahoor Shahwani's vehicle at Quetta's Zarghon Road on Thursday.
According to rescue officials, ten civilians and four security officials were injured, with two in critical condition, in a roadside blast targeting

the

vehicle belonging to the ATF near Al Khair Hospital in Balochistan's provincial capital. The blast also shattered windows of nearby buildings.
Balochistan Home Minister Sarfaraz Bugti said the judge was unharmed.
Police spokesman Shahzada Farhat says police officers and passers-by were wounded.
The bomb was planted along the side of the road and exploded as the ATF's vehicle escorting the judge passed by.
Security forces and a bomb disposal squad reached the scene to collect evidence. Rescue teams moved the injured to Civil Hospital Quetta and CMH.
Police cordoned off the area as a search operation went underway.
"This is a busy road and the terrorists take advantage of this, planting bombs and fleeing on motorcycles," said Bugti, strongly condemning the attack while talking to media at the site of the blast.
"These blasts are aimed at sabotaging Independence Day activities in Balochistan. I believe these cowardly acts will not bring down our morale. We are in a conflict zone and we will fight with renewed resolve."
"We are reviewing our security measures and you will see changes on the ground."
The minister added that three to four kilograms of explosive material was used in the blast.
The explosion comes just days after a suicide bombing that killed over 70 people, mostly lawyers and journalists, at the emergency ward of Quetta's Civil Hospital on Monday.
A combing operation is ongoing throughout Quetta following Monday's blast.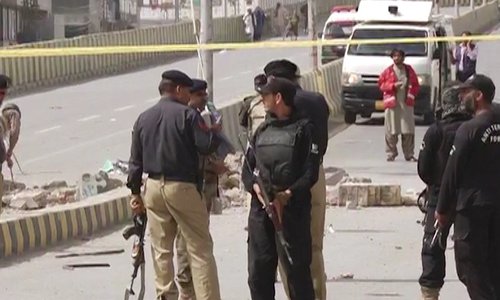 10 injured in #Quetta roadside blast
: image via Dawn.com Verified account @dawndotcom, 11 August 201

6
#Pakistani judge escapes roadside bomb attack in #Quetta. 4 members of anti-terror force guarding him are among 13 wounded.: tweet via Ataz Gul @AyazGul64, 11 August 2016 Punjab, Pakistan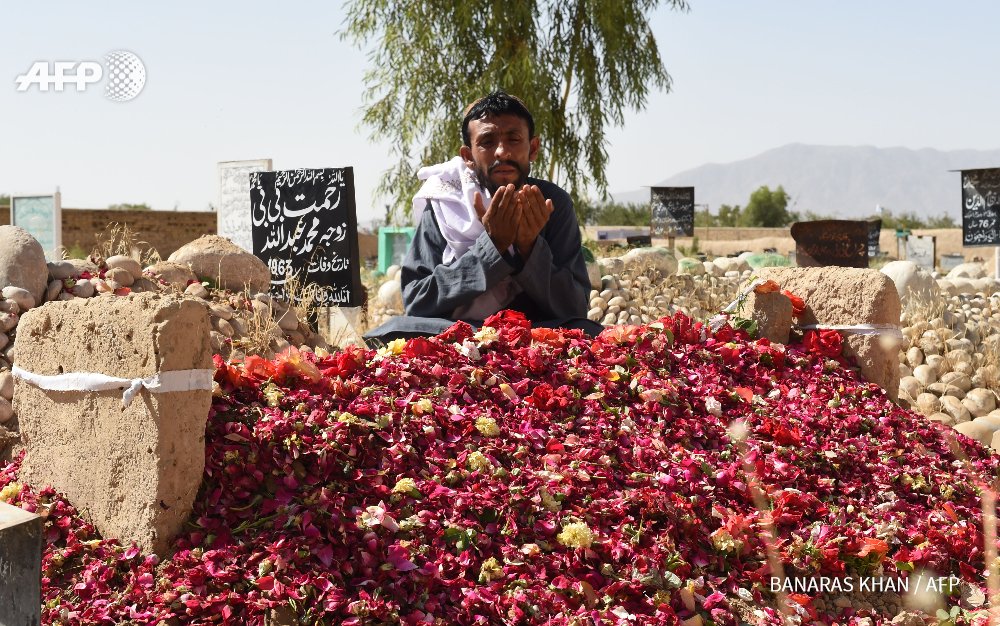 PAKISTAN - A relative prays beside the grave of a lawyer killed in a suicide bombing in Quetta. By Banaras Khan: image via AFP Photo Department @AFPPhoto, 10 August 2016
Wall chalking in #Balochistan, stand with us, Boycott the celebration on the creation of a monster #14AugustBlackDay: image via Jahán Balóc @BalochWorld, 9 August 2016
ISIS rears its head in Balochistan: Tarek Fatah, Toronto Sun, 9 August 2016
Nearly 100 people died Monday in an attack by Islamic State (ISIS) on a hospital in Quetta, the capital of Pakistan's Balochistan province.
Balochistan, the size of France, is a strategic territory at the mouth of the Straits of Hormuz that can effectively choke off all oil traffic to and from the Persian Gulf.
In March 2012, I wrote the following about the war in Balochistan for the Sun papers:
"A terrible war is unfolding in a faraway land called Balochistan. Almost daily, bodies of young men, kidnapped and tortured to death by the Pakistan occupation army, end up in ditches. Others, still alive, are thrown from helicopters into the arms of the rough mountain terrain below. Yet, not a single western journalist covers this ongoing, slow-motion genocide of the Baloch people."
An independent country before it was occupied by Pakistan in 1948, Balochistan has witnessed a 65-year insurgency by nationalist guerrillas seeking freedom for their once independent country.
Baloch leaders say that to counter the largely secular independence struggle led by left-wing revolutionaries, the Pakistan army introduced Islamic right-wing jihadi death squads to carry out assassinations of the Baloch intelligentsia, the political leadership, journalists, lawyers and academics.
For example, most of the dead and wounded victims of ISIS in the latest attack were lawyers, who had come to the hospital after the head of the Balochistan Bar Association was shot dead a few hours earlier by gunmen.
Two weeks ago, Baloch human rights activist Wahed Baloch, who ran a private library of 10,000 books and was lovingly referred to as the "Baloch Bookman", was abducted from a bus and has since disappeared along with tens of thousands of other Baloch who had the misfortune to obtain higher education.
The reported nexus between the Pakistan army and the Islamic radicals has come full circle. The tail is now wagging the dog.
One faction of the Pakistan-backed Taliban has split and joined ISIS. It calls itself Jamaat-ur-Ahrar.
It was this group that claimed to carry out the horrific suicide bombing in Quetta. Its spokesman said in an email, the group "takes responsibility for this attack, and pledges to continue carrying out such attacks. We will release a video report on this soon."
The response from the Pakistan government was callous at best, seemingly more concerned about the economic impact on its investments than the people who died.
The prime minister was overshadowed by the country's armed forces chief of staff, whose spokesman claimed the attack was aimed at wrecking the multi-billion-dollar China-Pakistan Corridor (CPEC), being built to link a Chinese naval base on Balochistan's coastal city of Gwadar and China's Xinxiang region.
The Twitter post by the military's spokesperson drew a sharp rebuke by exiled Balochistan leader Mehran Marri, who wrote: "100 people killed in #Balochistan's capital & the shameless #PakistanArmy is worried about the China-Pak CPEC deal."
While the spectre of ISIS in Balochistan is a scary development, Baloch leaders claim the attack may have been staged by the Pakistan military to extract American funds.
Marri put it this way on Twitter: "Is it a coincidence, days after U.S. blocks $300M to Pakistan there's a major terror attack? Who r the Pakistanis fooling? China or the USA?"
Meanwhile the latest victims of ISIS in Balochistan went largely unnoticed around in the world.
Imagine if they had died in Gaza, or Glasgow.
#
BalochistanExcitedFor14AUGToda
y there are green flags everywhere in #Balochistan. We defeat terrorism with hope.
: image via Mobeen Aslam @mobeenaslam, 10 August 2016

#Balochistan Nationalist Leader condemns #QuettaBlast and discloses Pakistan army's task of sponsoring Jihadis: image via Samir Baloch @SaamZad, 10 August 2016
Veracity of attack claims:
Qasim A. Moini, Dawn, 10 August 2016
In the aftermath of Monday's carnage in Quetta, a number of possible perpetrators have emerged, including two militant groups and a foreign intelligence agency. Yet somewhere in between the suspicions of government officials, boastful claims of terrorists and conspiracy theories lies the truth -- which only a thorough and transparent investigation can unveil.
Following the gun and bomb attacks, Balochistan Chief Minister Sanaullah Zehri voiced the suspicion that India's Research and Analysis Wing (RAW) could have been behind the tragedy, claiming that the foreign intelligence agency had conducted similar operations before "in Quetta and other areas".
While the role of hostile external actors cannot be ruled out and must be investigated, it was surprising that such a senior official made the statement so soon after the event, before even the preliminary investigations were completed. Surely state functionaries should have solid evidence before publicly making such claims.
However, what was even more confusing were the dual claims made by TTP offshoot Jamaatul Ahrar (JA) and the Islamic State militant group (IS), declaring responsibility for the atrocity. Interestingly, the IS statement was released through the terror outfit's 'news agency', Amaq, claiming a "martyrdom bomber" had carried out the outrage.
There was some confusion whether JA had joined forces with IS, which would have made the dual claims contradictory. However, it appears that Jamaatul Ahrar's alliance with IS was never formal but merely a statement of appreciation, as many within JA's ranks share the sectarian worldview of IS. Moreover, the 'official' Islamic State affiliate in this region is, and remains, IS Wilayah Khorasan, a group completely different than JA.
Of course in the nebulous world of religious militancy, alliances, loyalties and goals are always fluid and subject to change. JA itself is the new avatar of TTP Mohmand. This outfit had also attacked courts previously, in Charsadda (March 2016).
Militants issuing claims and counterclaims is not a new phenomenon. Such tactics have been witnessed before. For example, in the Bacha Khan University attack in January 2016, militant Umar Mansoor claimed the attack, while Mohammad Khorasani, the TTP's 'official spokesman', distanced himself from it.
In another example, both Jundallah and IS claimed the May 2015 Safoora attack, in which over 45 members of the Ismaili community were massacred in Karachi. This is of course not the same Jundallah that is active in the Iranian province of Sistan-Baluchestan. What is more, the Pakistan-based Jundallah has claimed attacks as far afield as France, a claim that many analysts say is difficult to believe.
Orlando shooter Omar Mateen was also praised as a "soldier of the caliphate in America" by IS, though it is not clear how, when and even if IS -- based in the deserts of Syria and Iraq -- communicated its directives to the security guard-turned-militant in far-off Florida. It may simply be a case of opportunism, as militant groups seek to adopt the attacks carried out by lone wolves and freelancers to boost their own image and 'street cred', while the perpetrators go down in a blaze of glory by linking up to globally active terrorists.
It also appears that various militant groups make claims that are merely red herrings, to confuse investigators, or to secure bragging rights in the world of militancy.
A senior police officer based in Khyber Pakhtunkhwa, requesting anonymity, confirmed this to Dawn. "Militant groups do it [make conflicting claims] for two main reasons: to create confusion or to indulge in point-scoring. Unless law enforcers and intelligence agencies make arrests or analyse explosives or have a [solid] lead, we cannot say" who is actually responsible. "These claims are mostly made to create ambiguity".
Analyst and director of the Centre for Research and Security Studies Imtiaz Gul agrees and adds: Multiple claims are made "to obfuscate the identity of the real perpetrators. It is immaterial who claims responsibility. What is important is that something has been staged to create insecurity".
Mr Gul also observes that delayed claims -- for example the claims for the Quetta attacks came several hours after the incidents occurred -- "point to the fact that something is fishy".
Perhaps what emerges is the fact that investigators must not rush to make a judgement. While all angles must be studied, paying too much heed to unsubstantiated claims by militant groups may derail the investigations.
Instead of pursuing overly broad claims -- some touching on the farcical -- it would perhaps be more productive to employ scientific investigation methods and reliable intelligence to uncover the hands behind the Quetta carnage, and the many other tragedies of its kind.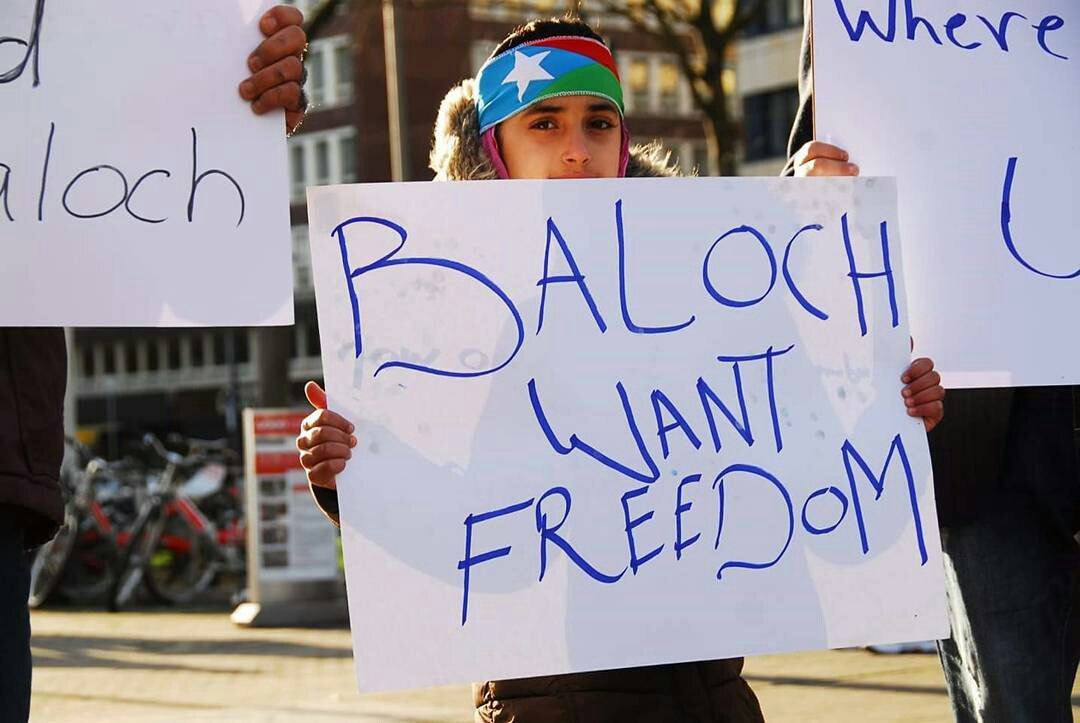 Baloch Demand Only Freedom For Balochistan. #BalochistanDay #Balochistan: image via SHAYZAD BALOCH @shayzad_baloch, 10 August 2016
#haveaniceday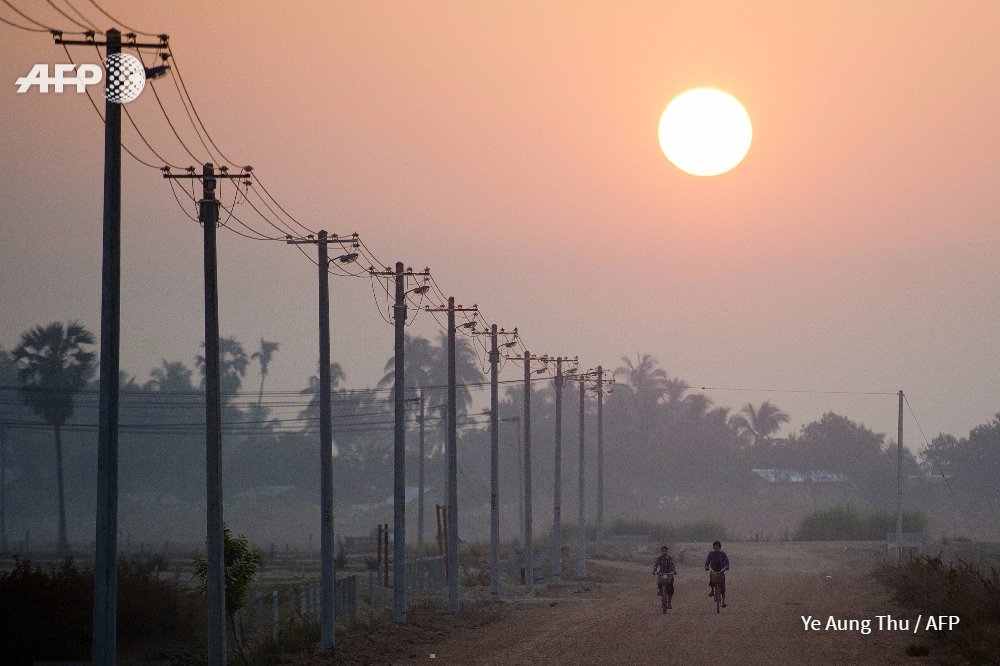 #haveaniceday #Myanmar #sunrise Residents ride bicycles in Naypyidaw on January 30 #AFP Photo by @ye_aung_thu: image via Aurelia BAILLY @AureliaBAILLY, 10 August 2016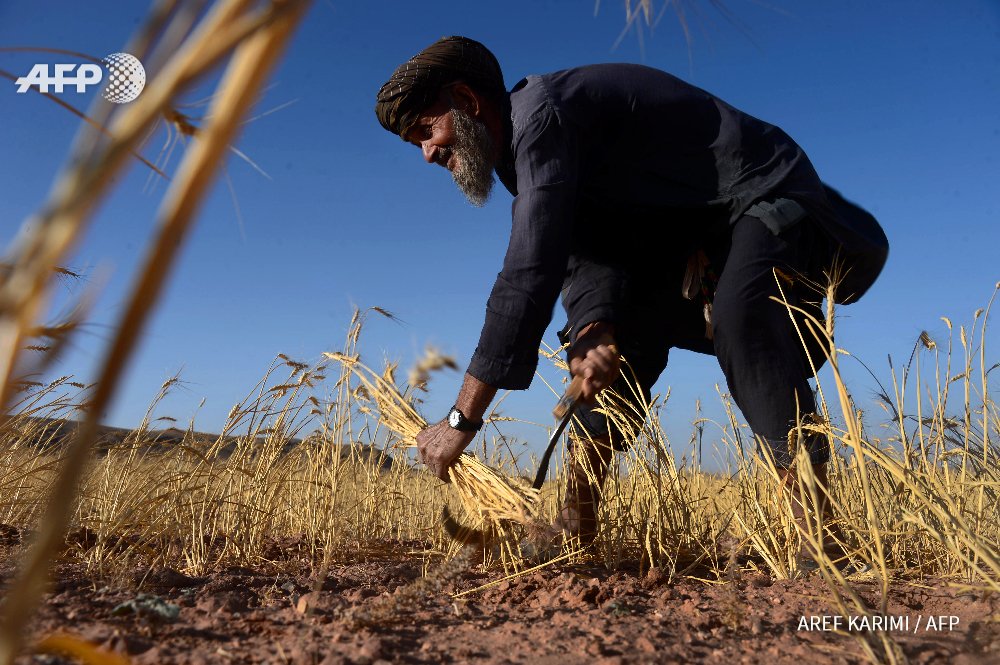 AFGHANISTAN - A farmer harvests wheat in a field on the outskirts of Herat. By @Arefkarimi #AFP: image via Frédérique Geffard @fgeffardAFP, 10 August 2016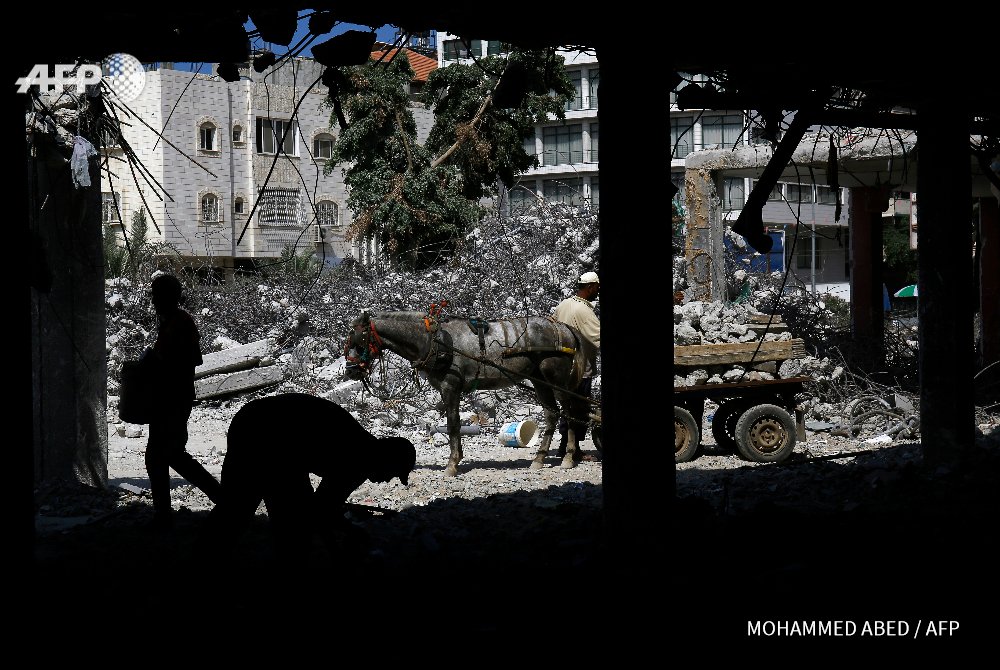 GAZA CITY - Palestinian workers remove debris from buildings destroyed during the 50-day war. By @mohmdabed #AFP: image via Frédérique Geffard @fgeffardAFP, 10 August 2016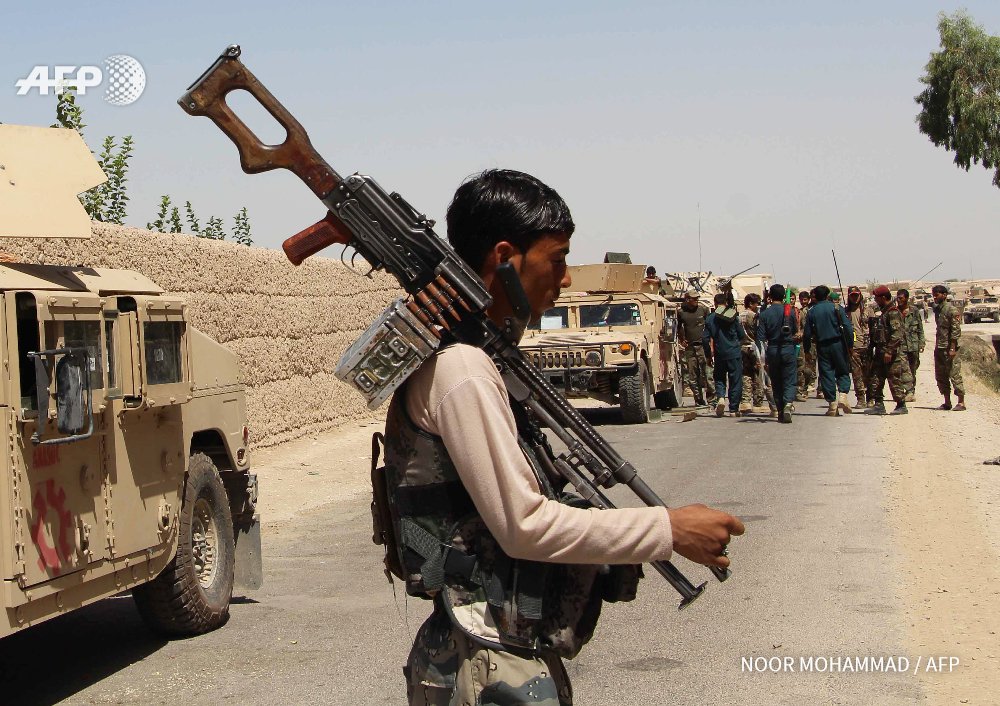 AFGHANISTAN - Security personnel prepare for combat with Taliban in the Nad Ali district of Helmand. By Noor Mohammad: image via Frédérique Geffard @fgeffardAFP, 10 August 2016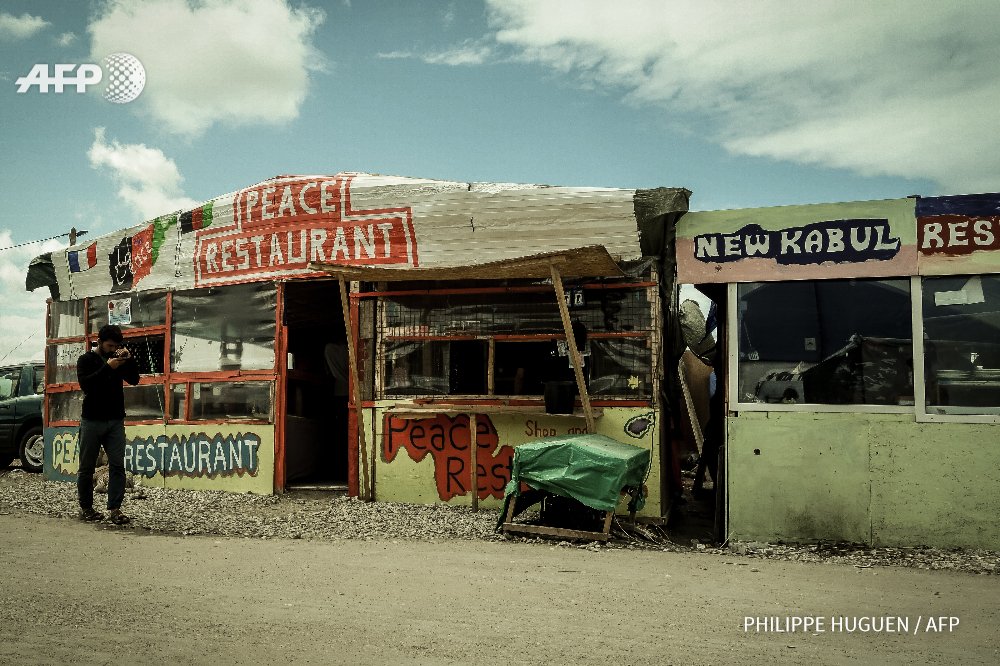 FRANCE - A makeshift restaurant in the so-called "Jungle" migrant camp in Calais. By Philippe Huguen #AFP: image via Frédérique Geffard @fgeffardAFP, 10 August 2016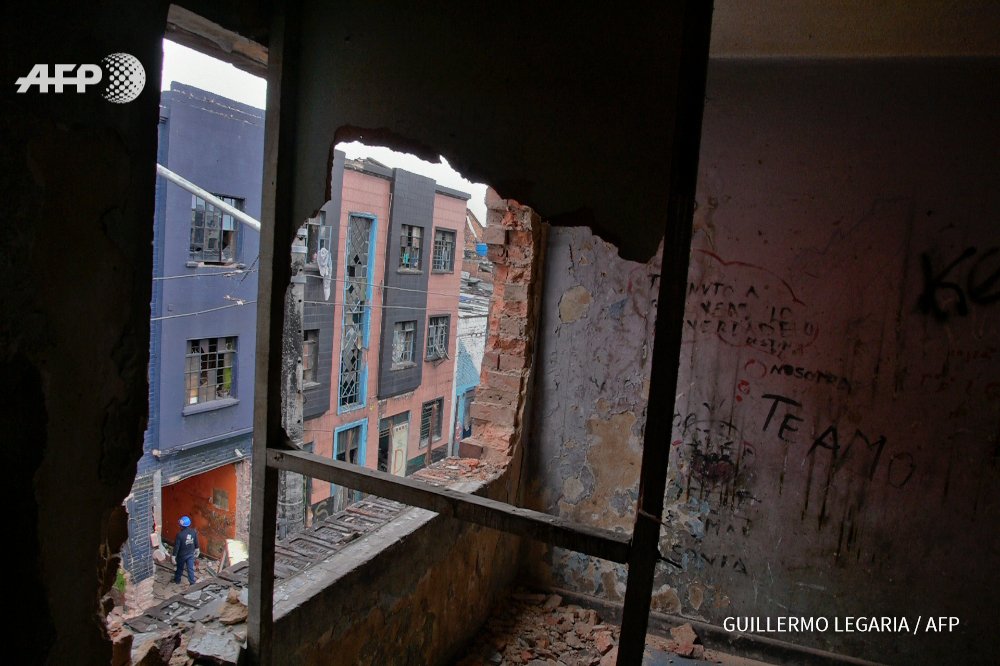 COLOMBIA - A municipal employee takes part in demolition works at The Bronx in Bogota. By @GuilleLegaria #AFP: image via Frédérique Geffard @fgeffardAFP, 10 August 2016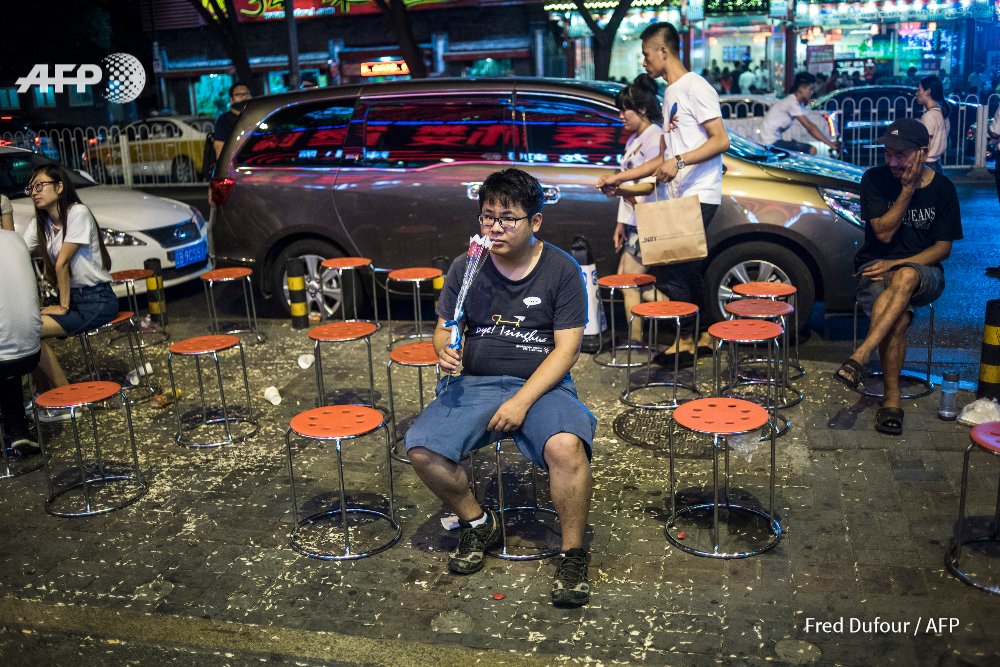 #Beijing A man smells a rose as he waits for a table at a restaurant during the Qixi Festival by @freddufour_afp: image via AFP Photo Department @AFPPhoto, 10 August 2016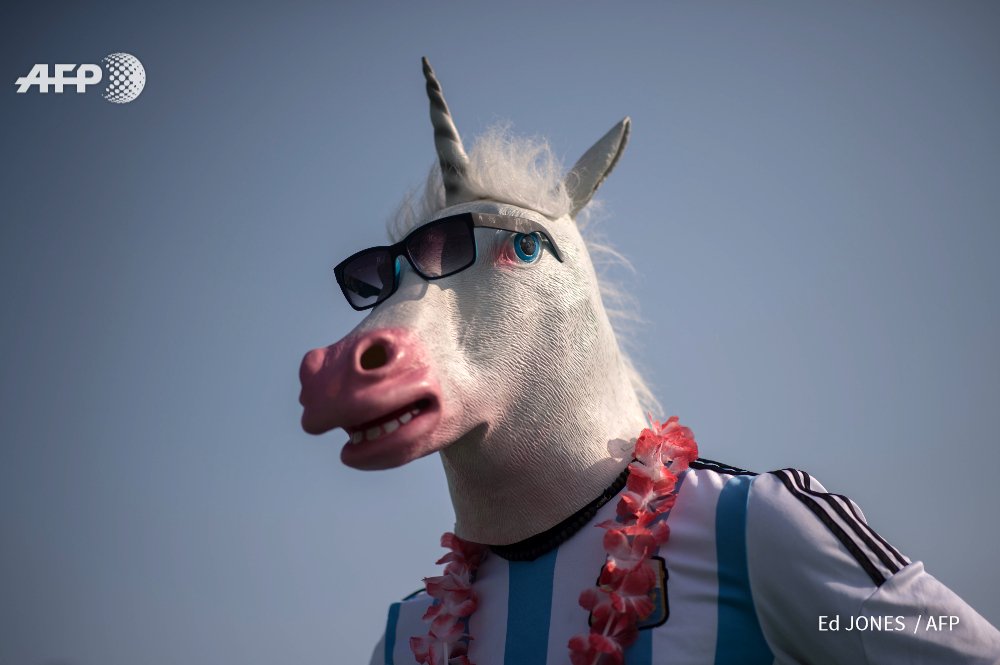 #rio2016 - A fan of Argentina wears a horse mask at the Olympic Park. Photo @edwardesjones: image via AFP Photo Department @AFPPhoto, 10 August 2016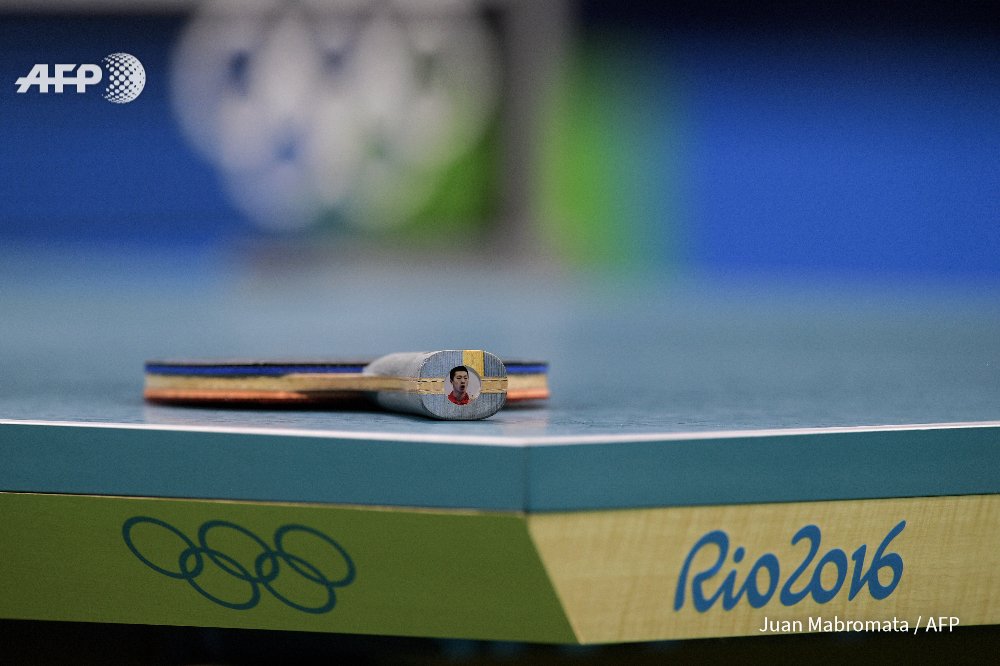 #rio2016 - China's Ma Long's racket with his own picture on the end is seen on the table. Photo Juan Mabromata: image via AFP Photo Department @AFPPhoto, 10 August 2016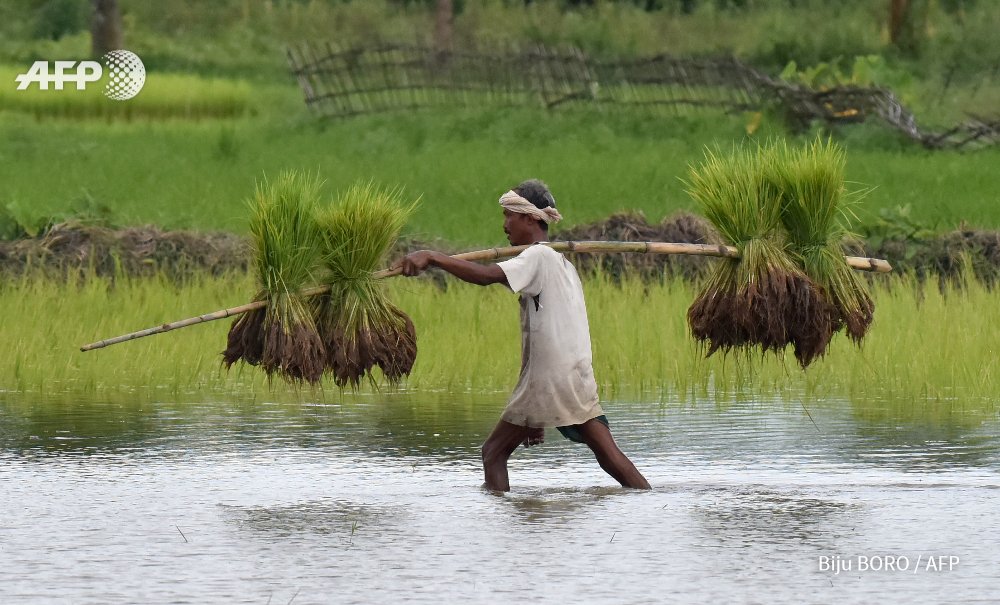 INDIA - A tribal farmer carries paddy seedlings for planting in his agricultural field in Raha. By Buju Boro #AFP: image via AFP Photo Department @AFPPhoto, 10 August 2016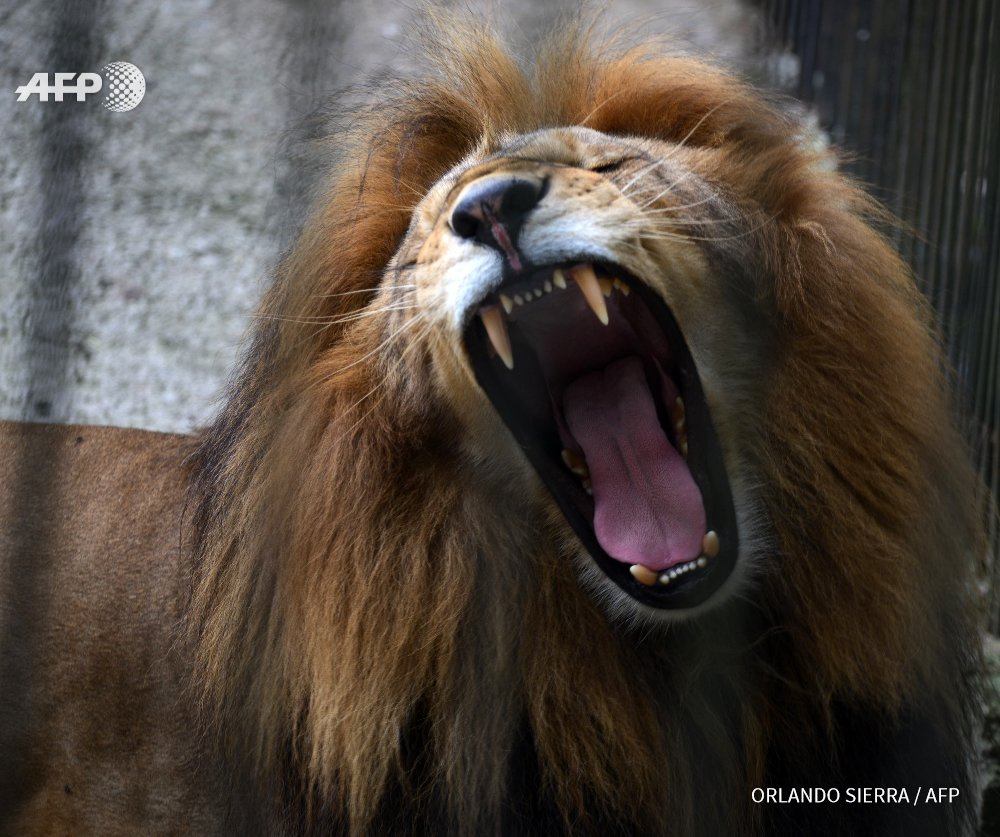 HONDURAS - A lion is seen at the Rosy Walter zoo in Tegucigalpa. By Orlando Sierra #AFP: image via AFP Photo Department @AFPPhoto, 10 August 2016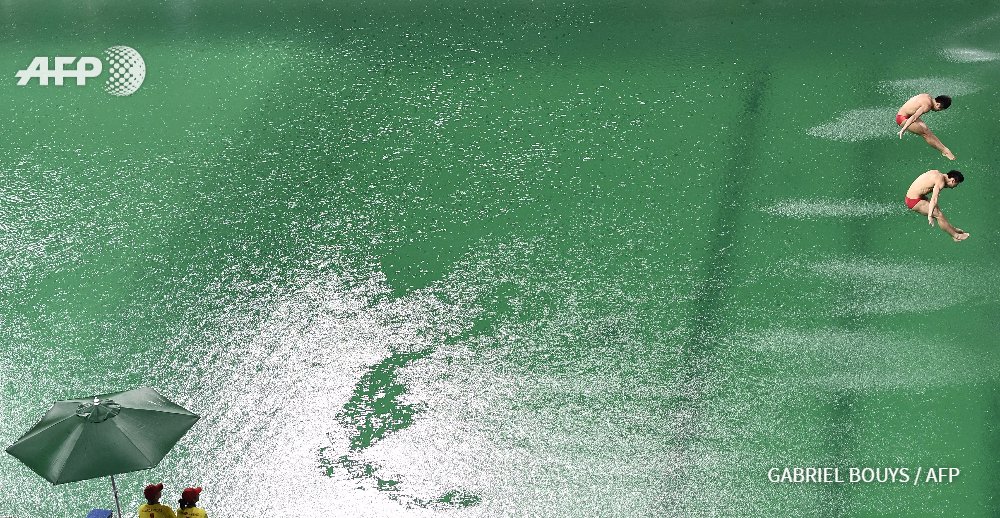 #Rio2016 Today's Highlights #AFP: image via AFP Photo Department @AFPPhoto, 10 August 2016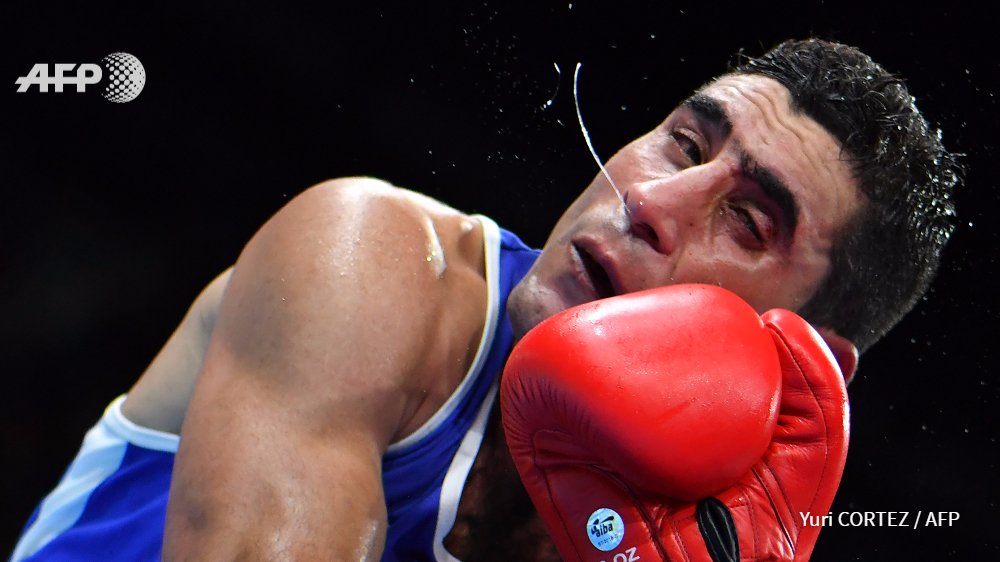 #boxing actions continue during #OlympicGames #Boxeo #Rio2016 #Brasil #RioOlympics2016: image via Yuri Cortez @YuriYurisky, 10 August 2016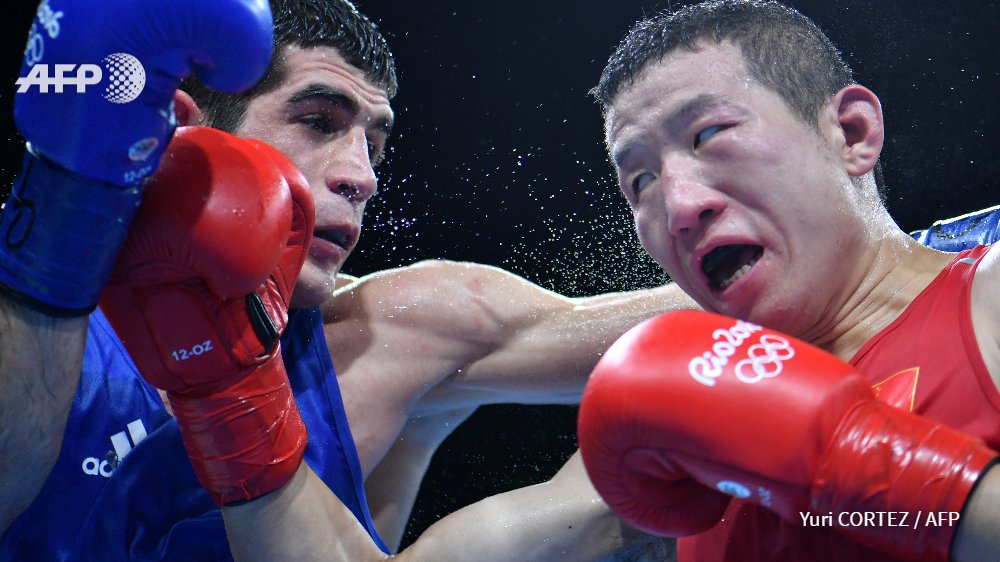 #boxing actions continue during #OlympicGames #Boxeo #Rio2016 #Brasil #RioOlympics2016: image via Yuri Cortez @YuriYurisky, 10 August 2016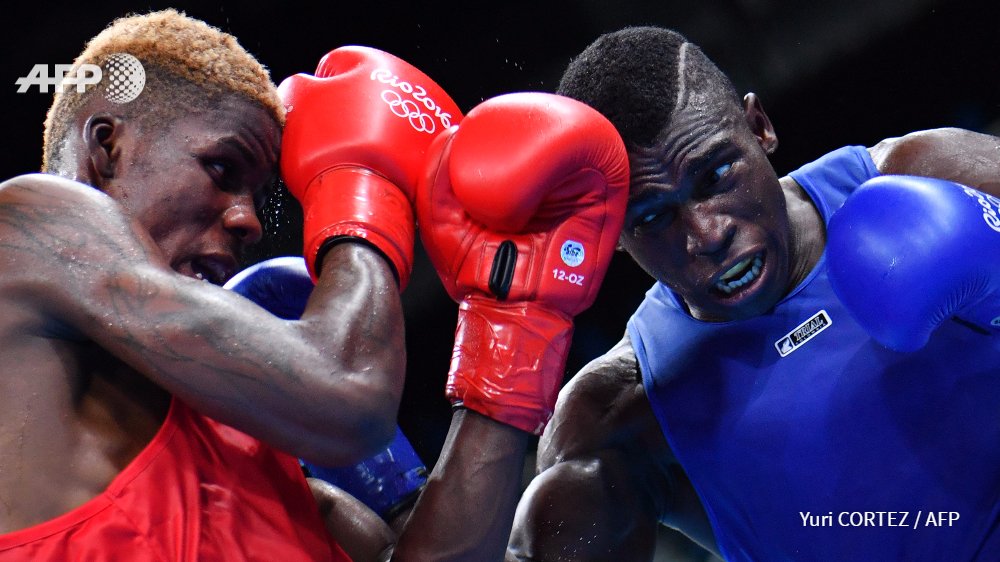 #boxing actions continue during #OlympicGames #Boxeo #Rio2016 #Brasil #RioOlympics2016: image via Yuri Cortez @YuriYurisky, 10 August 2016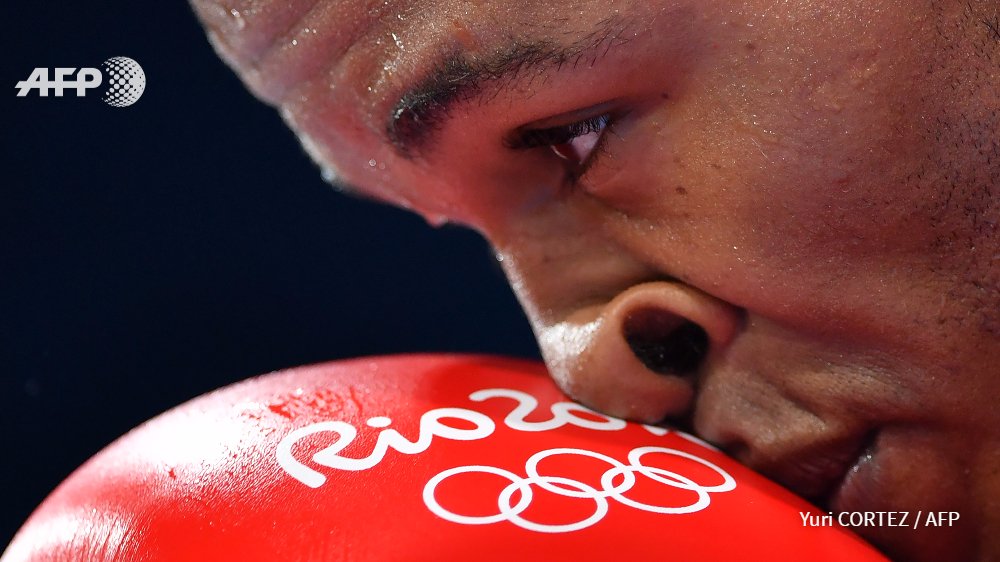 #boxing actions continue during #OlympicGames #Boxeo #Rio2016 #Brasil #RioOlympics2016: image via Yuri Cortez @YuriYurisky, 10 August 2016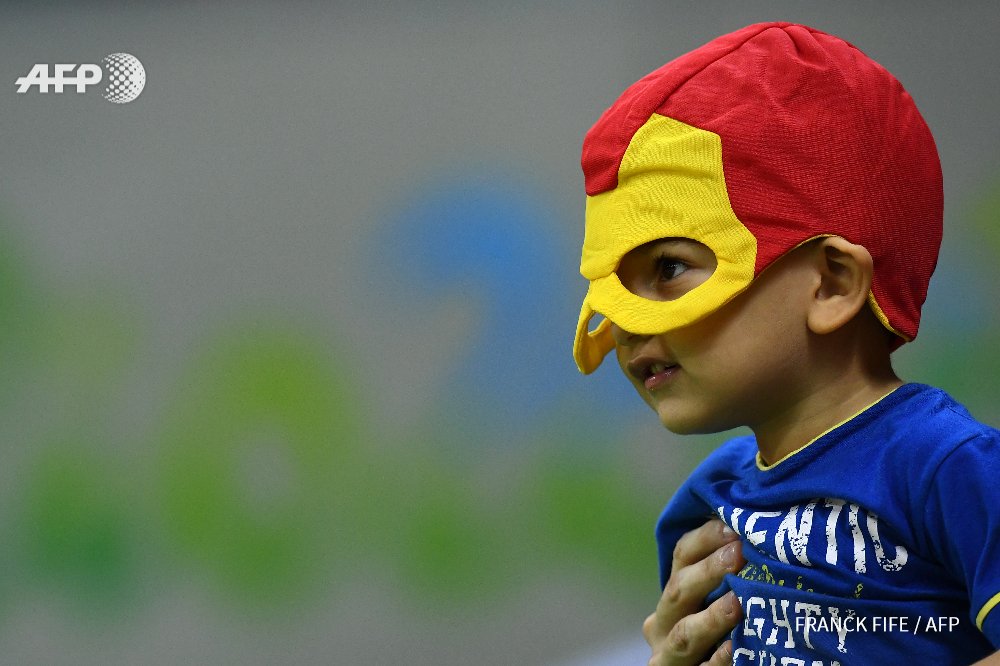 #Rio2016 - A handball fan waits for women's preliminaries Group B handball match Russia v Sweden. Photo @franck_fife: image via AFP Photo Department @AFPphoto, 10 August 2016
Stickers and a picture decorate a wall in a caravan where a Christian family has been living in Irbil, Iraq. They were forced to flee their home town of Mosul when Islamic State militants took control two years ago: photo by Alice Martins/AP, 10 August 2016
Stickers and a picture decorate a wall in a caravan where a Christian family has been living in Irbil, Iraq. They were forced to flee their home town of Mosul when Islamic State militants took control two years ago: photo by Alice Martins/AP, 10 August 2016
An Indian Muslim pilgrim whose hands are decorated with henna and garlands is photographed before leaving for the annual Hajj pilgrimage to the Holy city of Mecca at the airport in New Delhi: photo by Sajjad Hussain/AFP, 10 August 2016
An Indian Muslim pilgrim whose hands are decorated with henna and garlands is photographed before leaving for the annual Hajj pilgrimage to the Holy city of Mecca at the airport in New Delhi: photo by Sajjad Hussain/AFP, 10 August 2016
Political Party agents check the voters roll at Kanyama Basic school voting station during Zambian general elections in Lusaka: photo by Gianluigi Guercia/AFP, 11 August 2016
Political Party agents check the voters roll at Kanyama Basic school voting station during Zambian general elections in Lusaka: photo by Gianluigi Guercia/AFP, 11 August 2016