.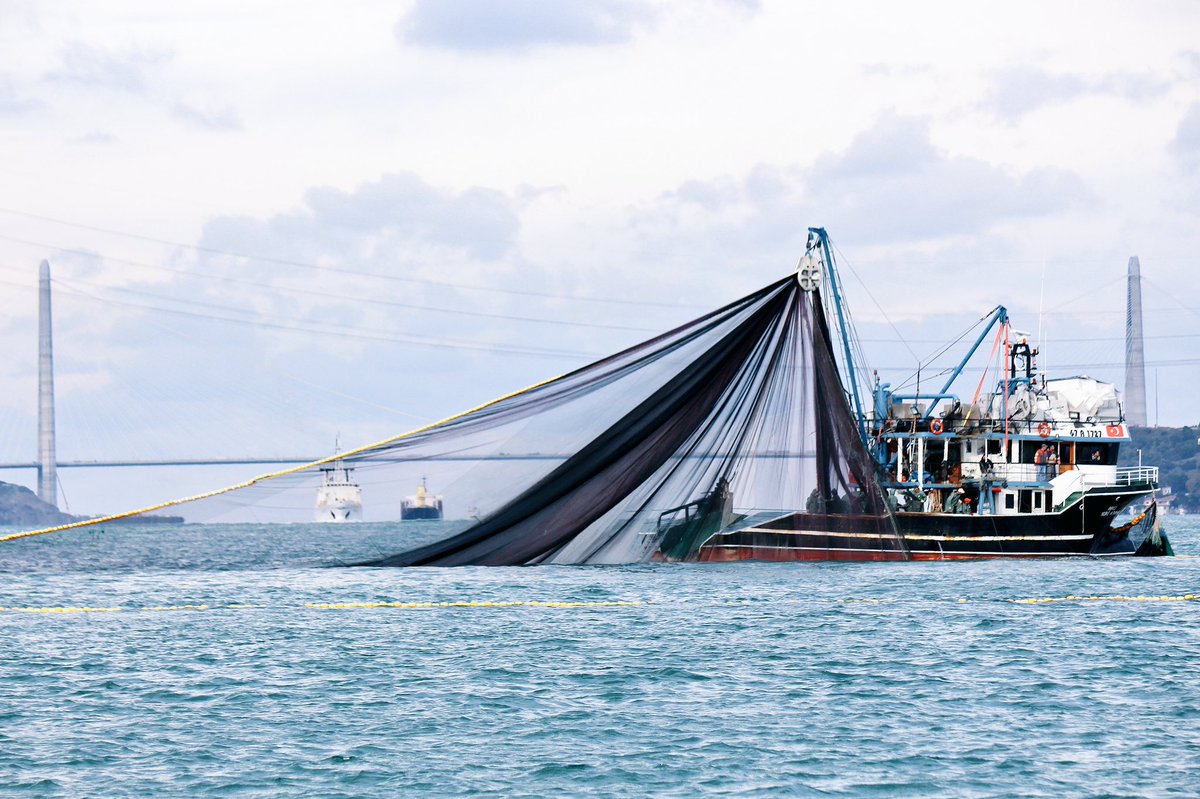 #ВМФ Yug class vessel Donuzlav seen entering the Bosphorus late afternoon yesterday through the net of the fishing vessel Hacı Nuri Ataman: image via Yörük Isik @YorukIsik, 20 October 2016
Thomas Hardy: Channel Firing
That night your great guns, unawares,
Shook all our coffins as we lay,
And broke the chancel window-squares,
We thought it was the Judgment-day
And sat upright. While drearisome
Arose the howl of wakened hounds:
The mouse let fall the altar-crumb,
The worms drew back into the mounds,
The glebe cow drooled. Till God called, "No;
It's gunnery practice out at sea
Just as before you went below;
The world is as it used to be:
"All nations striving strong to make
Red war yet redder. Mad as hatters
They do no more for Christés sake
Than you who are helpless in such matters.
"That this is not the judgment-hour
For some of them's a blessed thing,
For if it were they'd have to scour
Hell's floor for so much threatening....
"Ha, ha. It will be warmer when
I blow the trumpet (if indeed
I ever do; for you are men,
And rest eternal sorely need)."
So down we lay again. "I wonder,
Will the world ever saner be,"
Said one, "than when He sent us under
In our indifferent century!"
And many a skeleton shook his head.
"Instead of preaching forty year,"
My neighbour Parson Thirdly said,
"I wish I had stuck to pipes and beer."
Again the guns disturbed the hour,
Roaring their readiness to avenge,
As far inland as Stourton Tower,
And Camelot, and starlit Stonehenge.

Thomas Hardy (1840-1928): Channel Firing, April 1914, from Satires of Circumstance, 1914
"They are deploying all of the northern fleet and much of the Baltic fleet in the largest surface deployment since the end of the cold war. This is not a friendly port call.

"
HMS Richmond на фоне Кузнецова #ВМФ [HMS Richmond, a British frigate, shadowing the Russian aircraft carrier Admiral Kuznetsov photo Royal Navy/EPA]: image via Nikolay Chilikov @NChilikov, 19 October 2016

Royal Navy sends ships to shadow Russian fleet passing Britain: Ministry of Defence says British ships will 'man-mark' Russian fleet, which is believed to be travelling to Syria for possible final assault on Aleppo: George Sandemman and agencies, The Guardian, 19 October 2016
A fleet of Russian warships is heading towards the Mediterranean on a route past the British Isles as part of what is believed to be the country's largest naval deployment since the cold war.
It is not clear if the fleet will pass via the North Sea and the Channel or west of Ireland. It includes the aircraft carrier the Admiral Kuznetsov, which is reported to be carrying fighter bombers and is accompanied by several other Russian vessels.
A Ministry of Defence spokesman said: "When these ships near our waters we will man-mark them every step of the way. We will be watching as part of our steadfast commitment to keep Britain safe."
The convoy was photographed by the Norwegian military as it journeyed through international waters on its way to Syria where it is thought they will participate in a final assault on the besieged city of Aleppo.
The Royal Navy destroyer HMS Duncan sailed from Portsmouth on Tuesday to join HMS Richmond in escorting the group on its voyage south. HMS Dragon, also a destroyer, is due to meet two Russian corvettes that were travelling north towards Britain from the direction of Portugal.
It is understood that shadowing ships is regular business for the Royal Navy, who have been supported by Royal Air Force surveillance aircraft on this occasion.
The Admiral Kuznetsov is Russia's only aircraft carrier but is capable of hosting more than 50 aircraft and is equipped with Granit anti-ship cruise missiles.
Photos released by the Norwegian navy, taken on Monday off its coast near Andoya Island, show that the aircraft carrier was accompanied by a nuclear-powered battle cruiser, Peter the Great.
Two anti-submarine warships, the Severomorsk and Vice-Admiral Kulakov, were also present, alongside four support vessels. Russia has a naval base in Arkhangelsk, east of Norway's northernmost point. A Norwegian newspaper, VG, quoted General Morten Haga Lunde, head of Norway's military intelligence service, as saying the eight ships involved "will probably play a role in the deciding battle for Aleppo".
Royal Navy ships will continue to escort the Russian task group and provide a visible presence south through the North Sea and Channel as the Russian fleet sails through and carry out their flying operations, the MoD said. The UK is working alongside Nato partners to monitor the warships passing the UK this week.
A senior Nato diplomat said that the Russians were assembling their largest naval deployment in decades with 10 ships already based off the Syrian coast. Citing western intelligence and speaking on the condition of anonymity, he told Reuters: "They are deploying all of the northern fleet and much of the Baltic fleet in the largest surface deployment since the end of the cold war. This is not a friendly port call. In two weeks we will see a crescendo of air attacks on Aleppo as part of Russia's strategy to declare victory there."
Vice-Admiral Clive Johnstone, the UK commander of Nato's Allied Maritime Command, said allied nations routinely monitored "activities of interest" which includes the presence of Russian vessels close to national waters. "This is in the interest of supporting our overall maritime awareness and safety of navigation in sea lanes of communication."
Tass, Russia's state news agency, said in July, citing a source, that the Admiral Kuznetsov would take part in the Russian operation in Syria from October to January. It said the vessel would carry 15 Su-33 and Mig-29K jet fighters and 31 helicopters.
Norwegian media also reported that Russia had told Norway that the warships were on their way to the Mediterranean where they have supported the Syrian president, Bashar al-Assad, in his fight against rebel groups.


Russian Navy's Tarantul Cls Guided Missile Corvette Ivanovets 954 northbound on the Bosphorus, transiting at a very early hour. 07.00(+GMT3): image via alper böler @alperboler, 18 October 2016


Russian Navy's Tarantul Cls Guided Missile Corvette Ivanovets 954 northbound on the Bosphorus, transiting at a very early hour. 07.00(+GMT3): image via alper böler @alperboler, 18 October 2016


Russian Navy's Tarantul Cls Guided Missile Corvette Ivanovets 954 northbound on the Bosphorus, transiting at a very early hour. 07.00(+GMT3): image via alper böler @alperboler, 18 October 2016
Russian Navy's Tarantul Cls Guided Missile Corvette Ivanovets 954 northbound on the Bosphorus, transiting at a very early hour. 07.00(+GMT3): image via alper böler @alperboler, 18 October 2016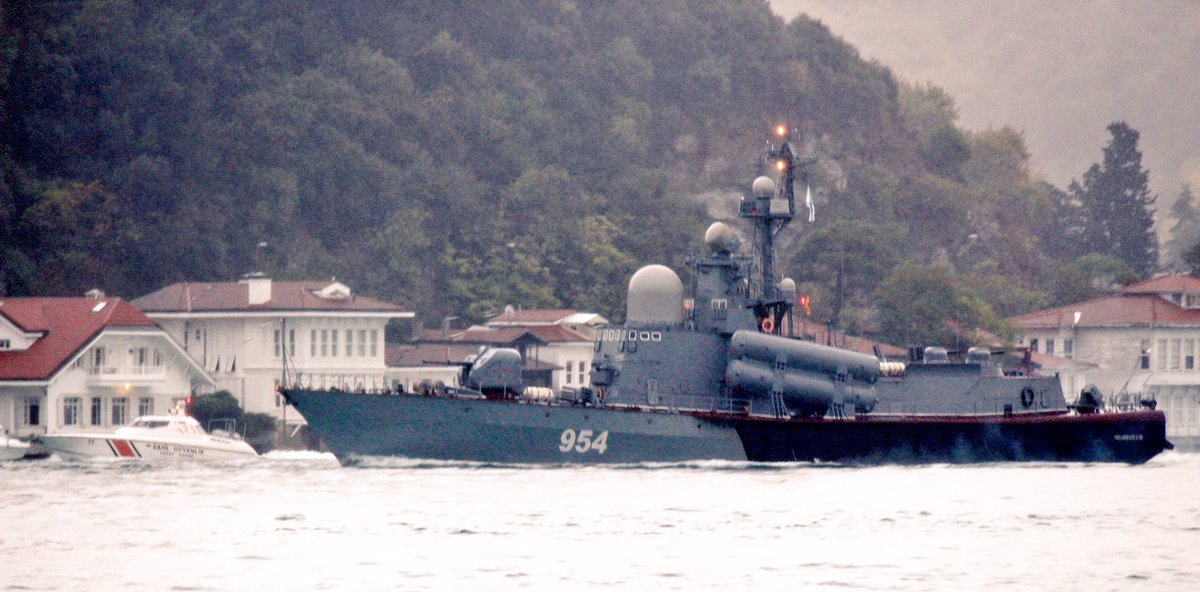 Tarantul III class guided missile corvette #ВМФ #4Ф Ivanovets transits Bosphorus after 98 days Mediterranean deployment and enters Black Sea: image via Yörük Isik @YorukIsik, 18 October 2016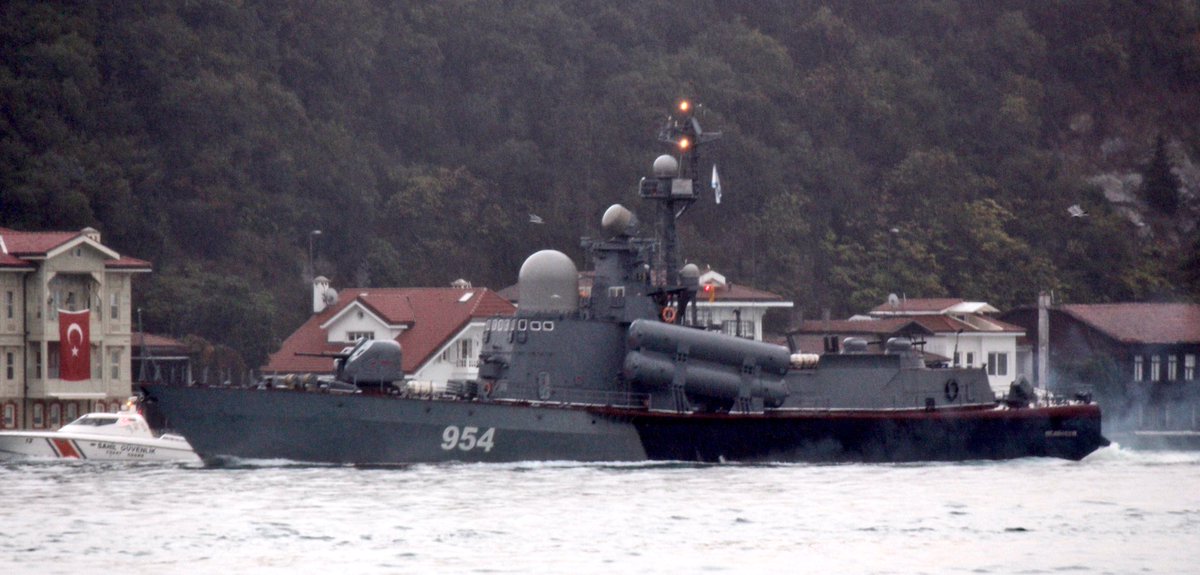 Tarantul III class guided missile corvette #ВМФ #4Ф Ivanovets transits Bosphorus after 98 days Mediterranean deployment and enters Black Sea: image via Yörük Isik @YorukIsik, 18 October 2016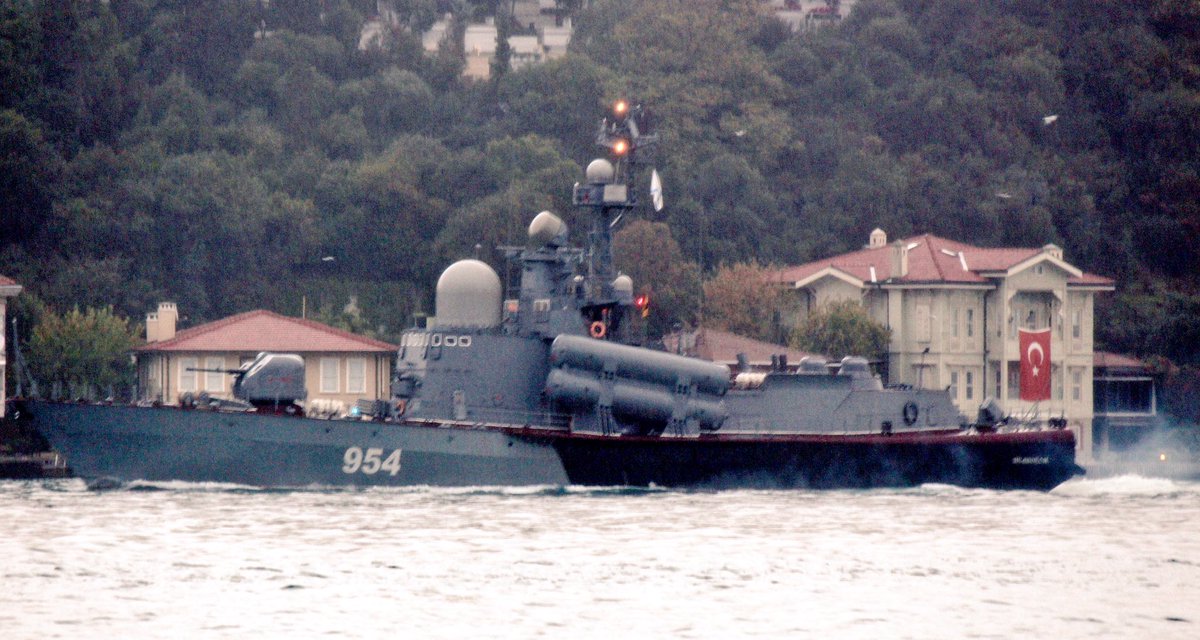 Tarantul III class guided missile corvette #ВМФ #4Ф Ivanovets transits Bosphorus after 98 days Mediterranean deployment and enters Black Sea: image via Yörük Isik @YorukIsik, 18 October 2016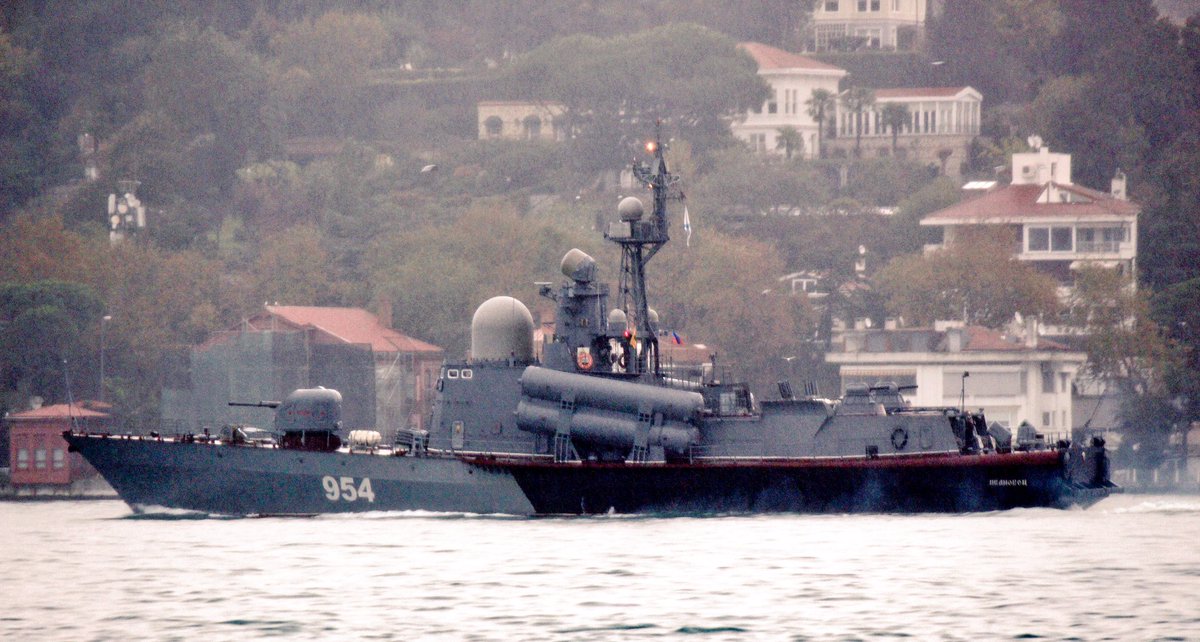 Tarantul III class guided missile corvette #ВМФ #4Ф Ivanovets transits Bosphorus after 98 days Mediterranean deployment and enters Black Sea: image via Yörük Isik @YorukIsik, 18 October 2016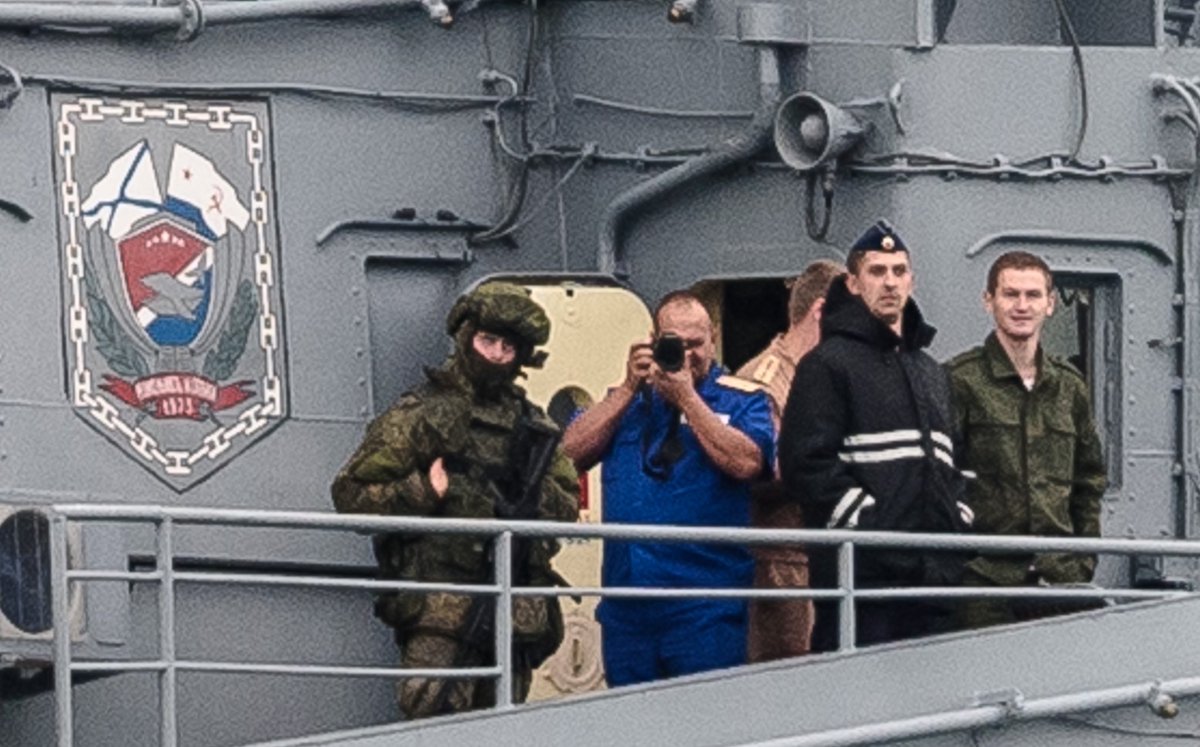 Watching the Watchers: #BosphorusNavalWatch observed by #ВМФ #4Ф BSF TaLST Nikolai Filchenkov crew during its Bosphorus transit @ozannkosee: image via Yörük Isik @YorukIsik, 18 October 2016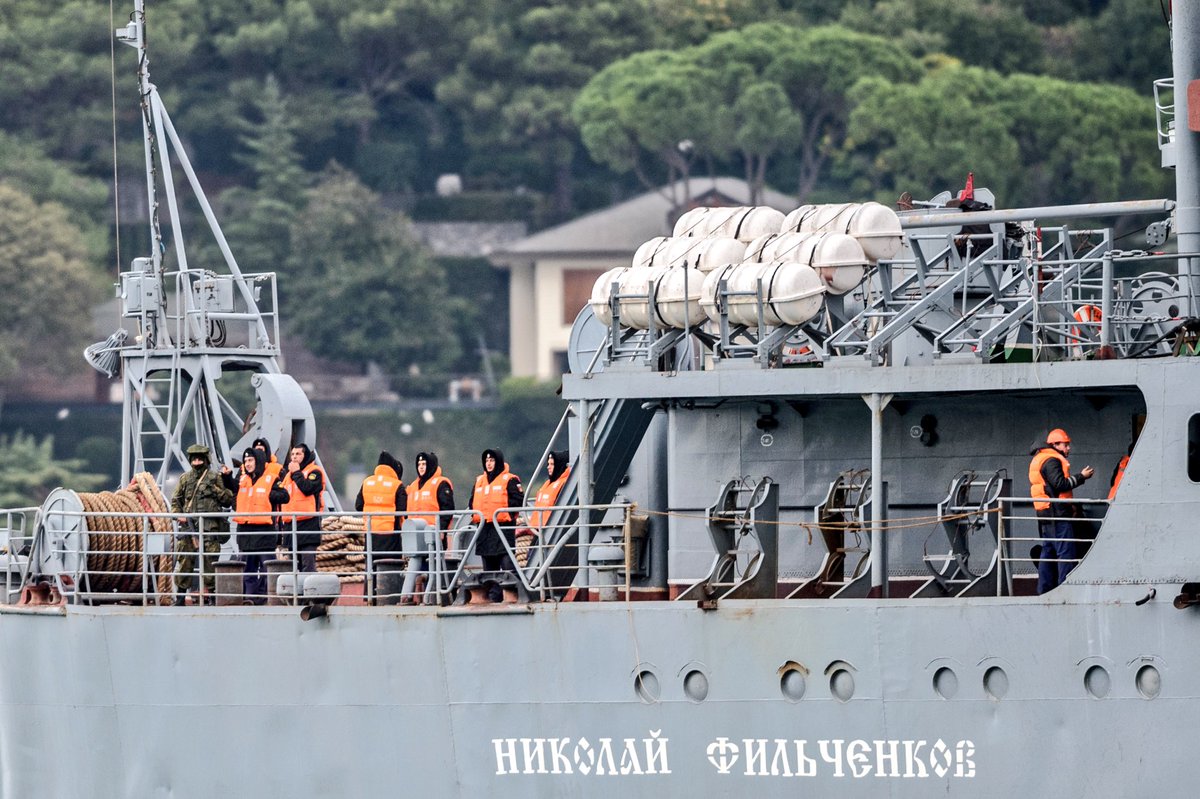 Sailors, officers, spetsnaz on #ВМФ #4Ф BSF Tapir class LST Nikolai Filchenkov during its 14:45Z #Syria-bound Bosphorus transit @ozannkosee: image via Yörük Isik @YorukIsik, 18 October 2016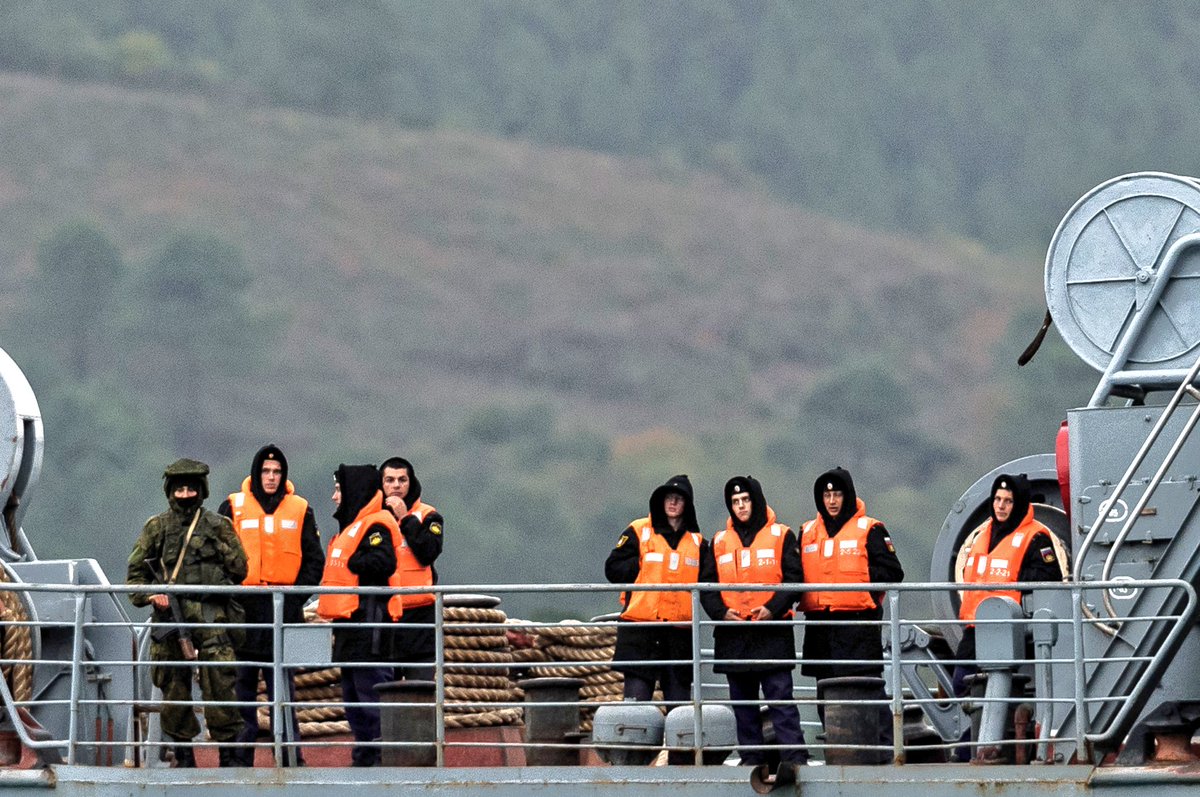 Sailors, officers, spetsnaz on #ВМФ #4Ф BSF Tapir class LST Nikolai Filchenkov during its 14:45Z #Syria-bound Bosphorus transit @ozannkosee: image via Yörük Isik @YorukIsik, 18 October 2016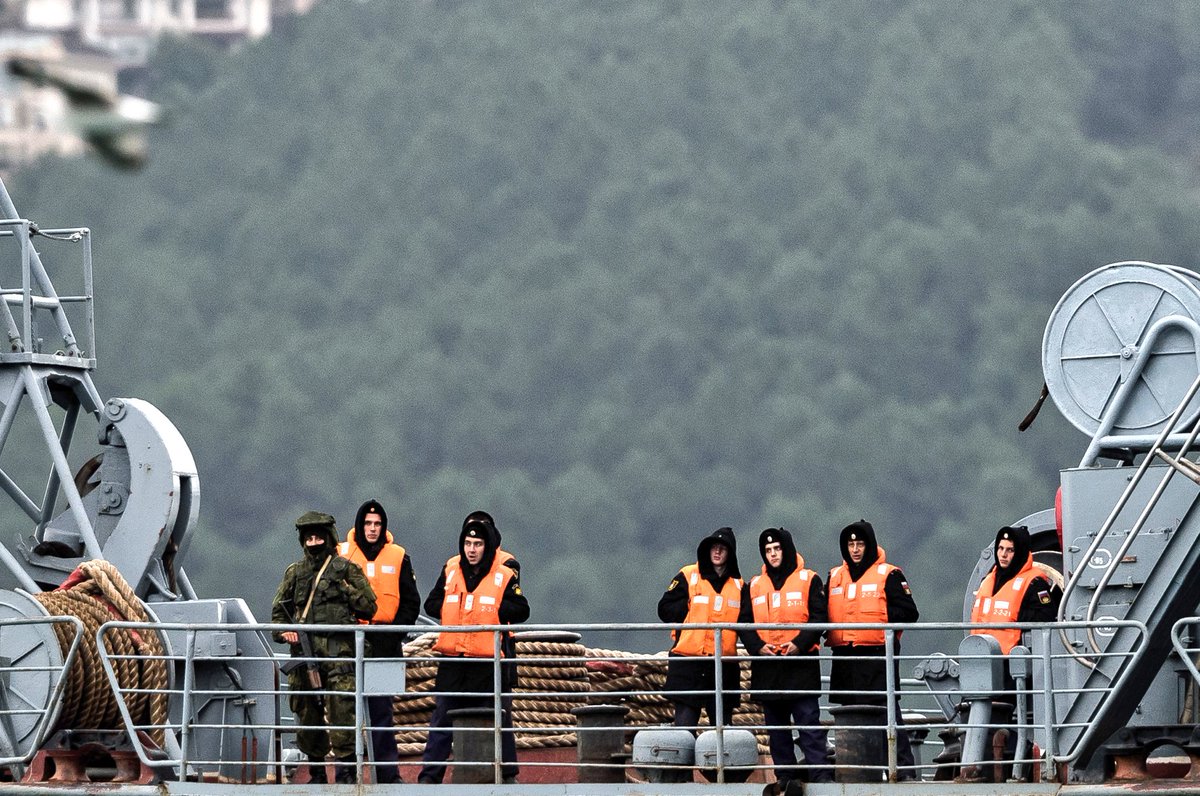 Sailors, officers, spetsnaz on #ВМФ #4Ф BSF Tapir class LST Nikolai Filchenkov during its 14:45Z #Syria-bound Bosphorus transit @ozannkosee: image via Yörük Isik @YorukIsik, 18 October 2016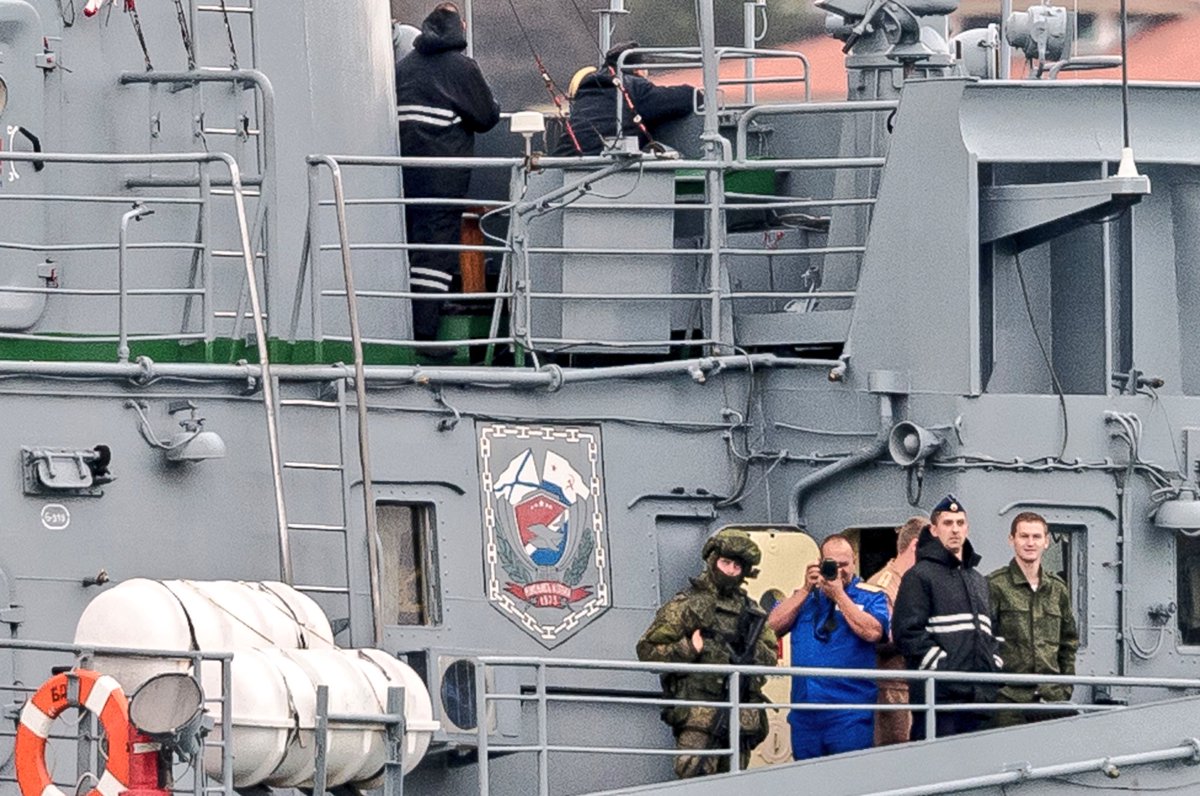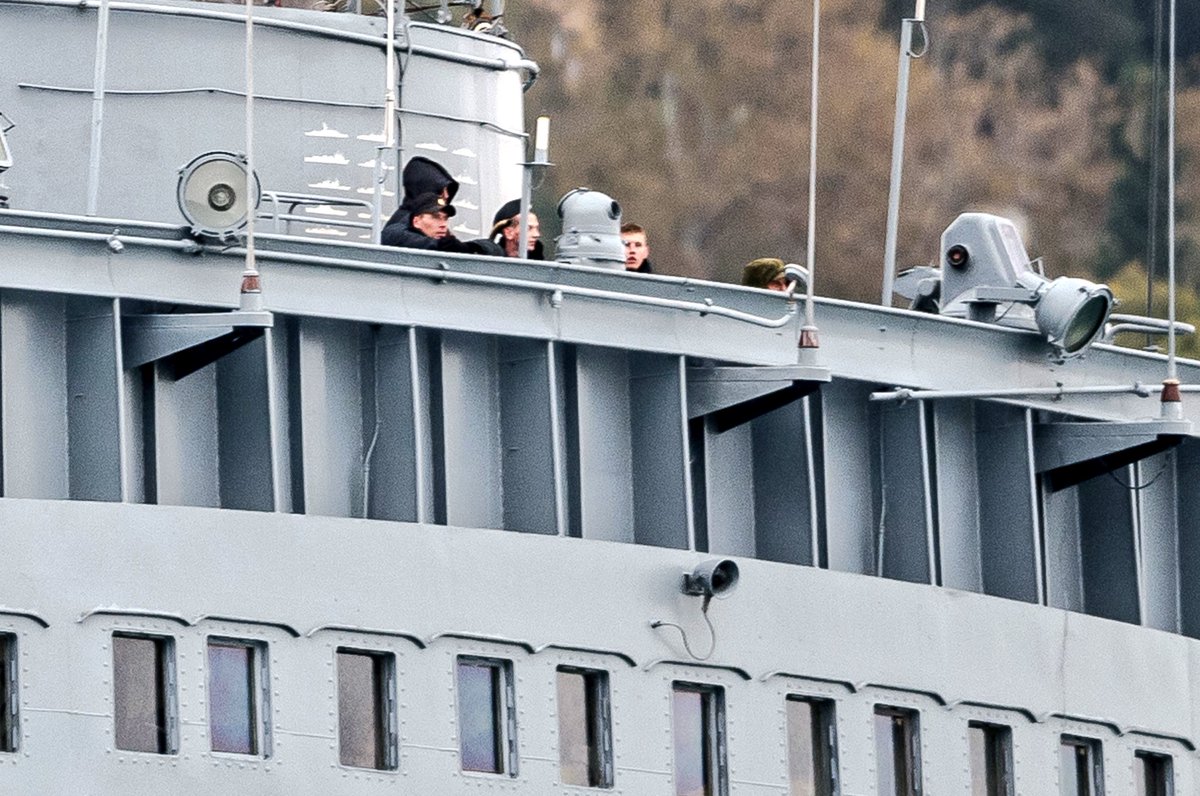 NATO ships recognition silhouettes on the bridge of ВМФ #4Ф BSF Tapir cl. LST Nikolai Filchenkov during its Bosphorus transit @ozannkosee: image via Yörük Isik @YorukIsik, 18 October 2016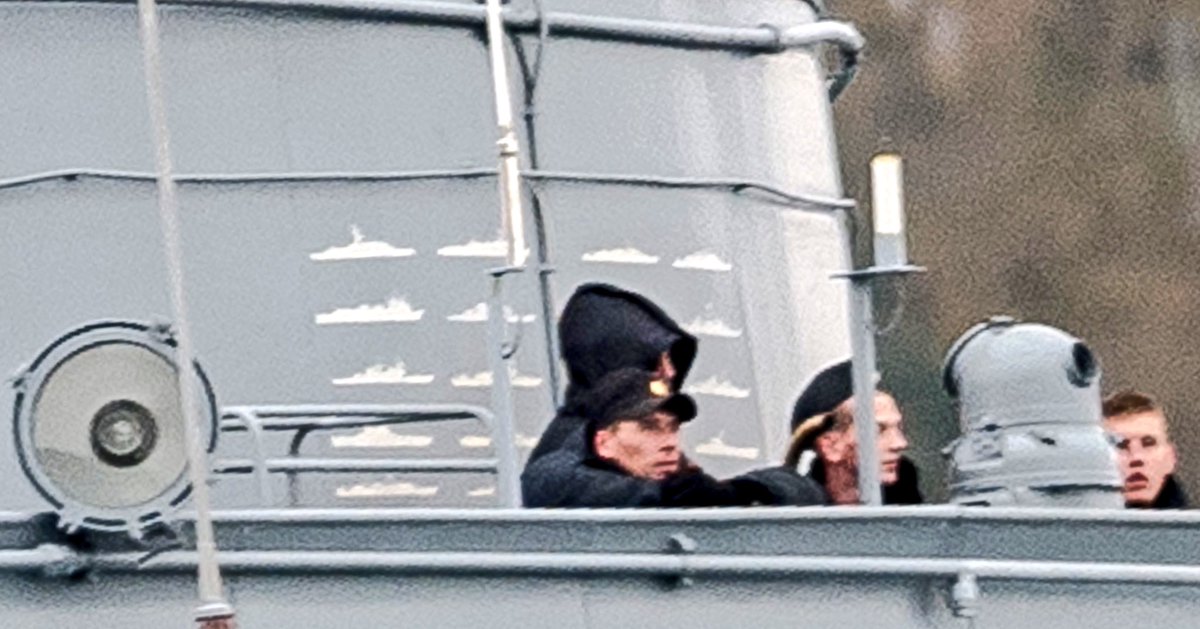 NATO ships recognition silhouettes on the bridge of ВМФ #4Ф BSF Tapir cl. LST Nikolai Filchenkov during its Bosphorus transit @ozannkosee: image via Yörük Isik @YorukIsik, 18 October 2016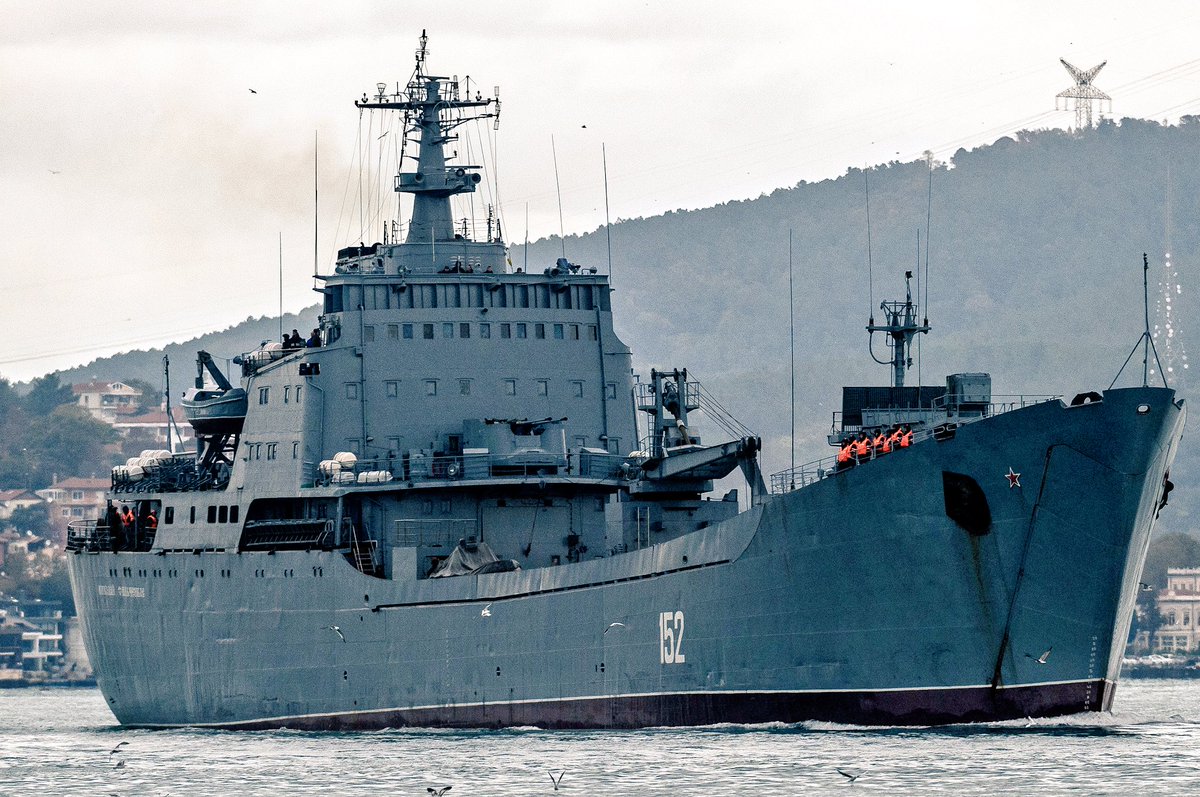 NATO ships recognition silhouettes on the bridge of ВМФ #4Ф BSF Tapir cl. LST Nikolai Filchenkov during its Bosphorus transit @ozannkosee: image via Yörük Isik @YorukIsik, 18 October 2016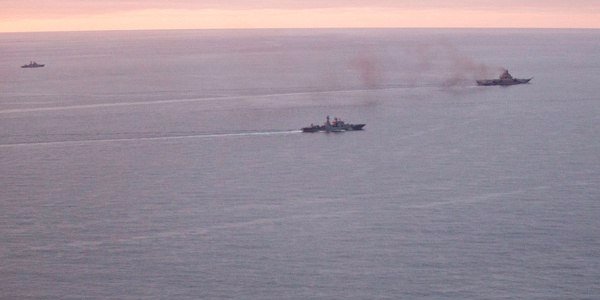 Группировка боевых кораблей ВМФ России проследовала мимо берегов Норвегии на пути к Средиземному морю
Группировка боевых кораблей ВМФ России проследовала мимо берегов Норвегии на пути к Средиземному морю [Russian naval ships the carrier Admiral Kuzne

ts

ov and the battle cruiser Peter the Great, photographed in the Baltic Sea by Norwegian military] #ВМФ #АПЛ: image via Defence dot ru @DefenceRu, 18 October 2016
Open season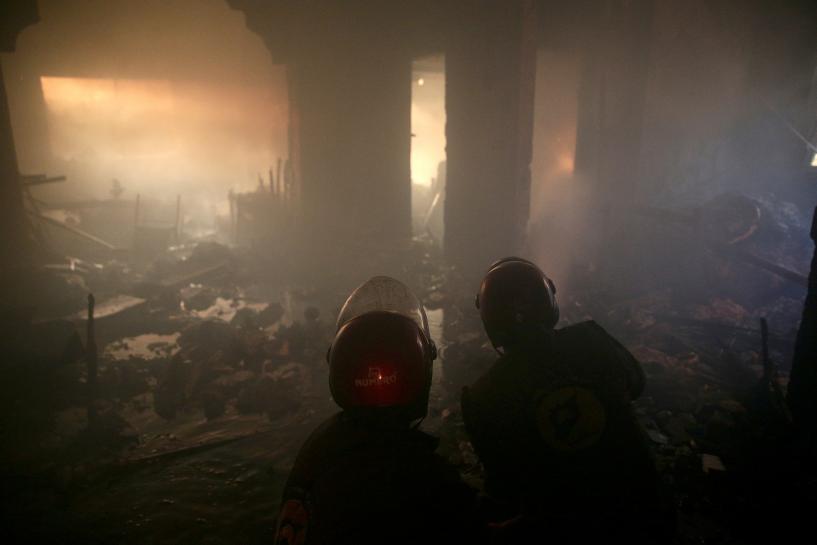 Turkey kills 160 to 200 Syrian Kurdish militants in airstrikes: image via Reuters Top News @Reuters, 20 October 2016
Married women pose for pictures as they perform rituals for the well being of their husbands during the Hindu festival of Karva Chauth in Ahmedabad, India.: photo by Amit Dave/Reuters, 19 October 2016
Married women pose for pictures as they perform rituals for the well being of their husbands during the Hindu festival of Karva Chauth in Ahmedabad, India.: photo by Amit Dave/Reuters, 19 October 2016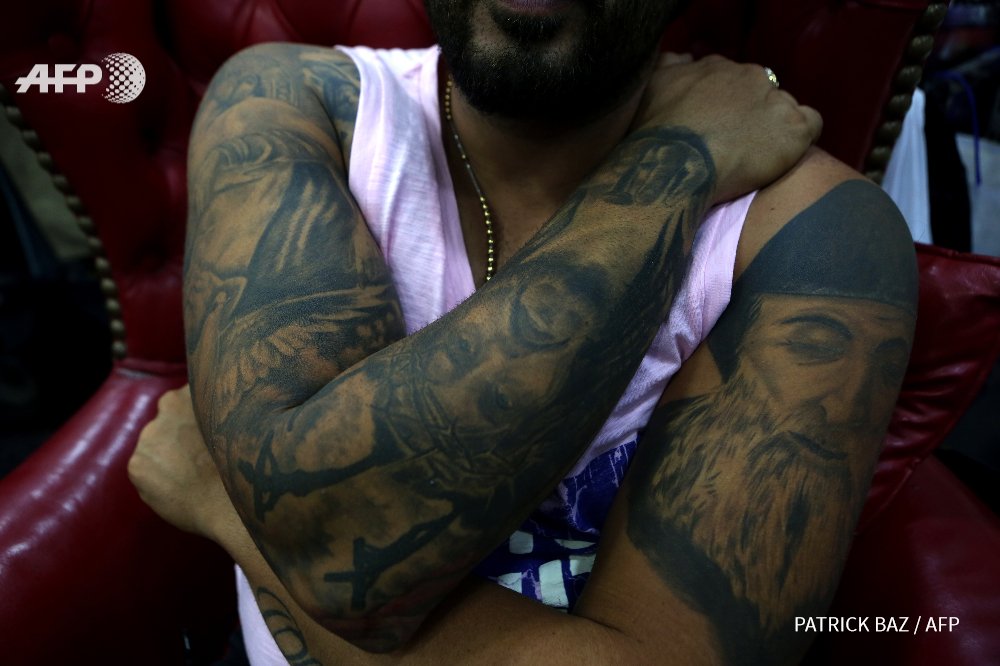 LEBANON - A Christian Maronite flashes his tattoos depicting Jesus Christ and Lebanese St Charbel in Beirut. By @Patrick_Baz #AFP: image via Frédérique Geffard @fgeffardAFP, 19 October 2016
Commuters arrive from Metro North Railroad trains in Grand Central Station in New York: photo by Timothy A Clary/AFP, 19 October 2016
Commuters arrive from Metro North Railroad trains in Grand Central Station in New York: photo by Timothy A Clary/AFP, 19 October 2016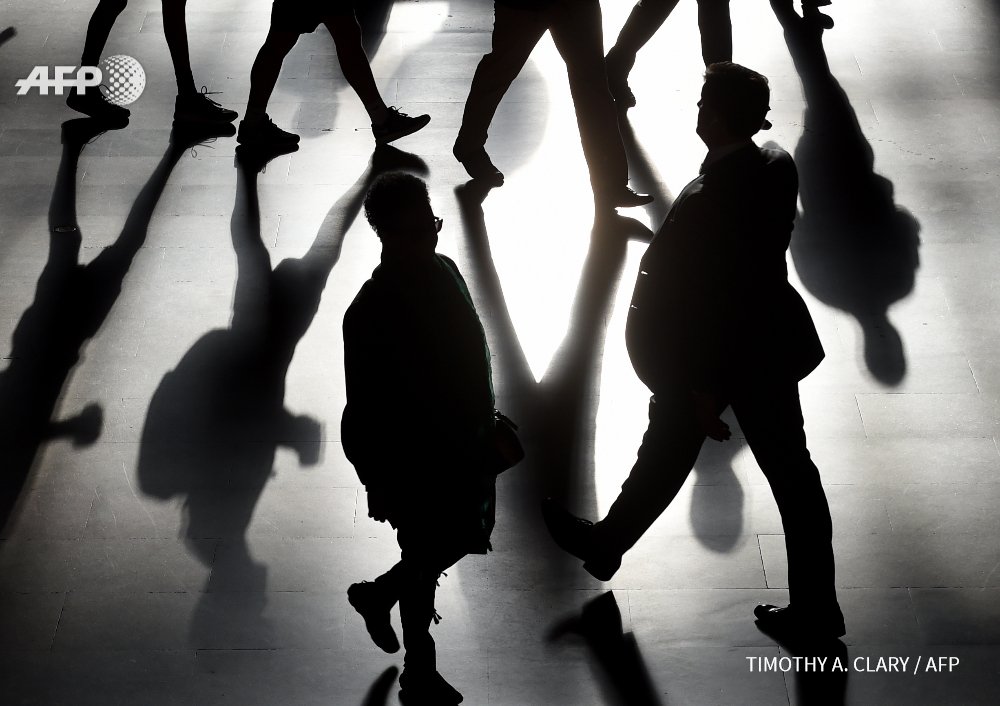 US - Commuters arrive from Metro North Railroad trains in Grand Central Station in New York. By @timothyclary #AFP: image via Frédérique Geffard @fgeffardAFP, 19 October 2016
Displaced people, who are fleeing from clashes in Al-hud village, south of Mosul, head to Qayyarah, during an operation to attack Islamic State militants in Mosul, Iraq: photo by Reuters, 19 October 2016
The Soyuz MS-02 spacecraft carrying the crew of Shane Kimbrough of the U.S., Sergey Ryzhikov and Andrey Borisenko of Russia blasts off to the International Space Station (ISS) from the launchpad at the Baikonur cosmodrome, Kazakhstan: photo by Shamil Zhumatov/Reuters, 19 October 2016
The Soyuz MS-02 spacecraft carrying the crew of Shane Kimbrough of the U.S., Sergey Ryzhikov and Andrey Borisenko of Russia blasts off to the International Space Station (ISS) from the launchpad at the Baikonur cosmodrome, Kazakhstan: photo by Shamil Zhumatov/Reuters, 19 October 2016
A woman prepares food near her destroyed house in the aftermath of Hurricane Matthew in the commune of Roche-a-Bateaux, southwest Haiti: photo by Hector Retamal/AFP, 19 October 2016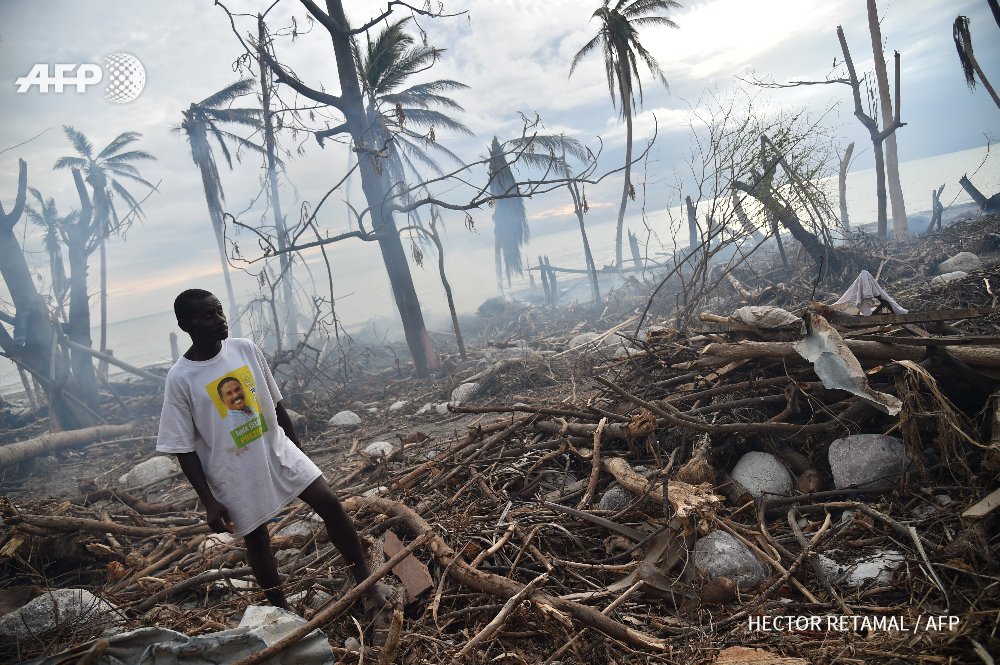 HAITI - A man walks back to his house before burning wood and debris set on fire by residents in Labeyi. By @hectorretamal #AFP: image via Frédérique Geffard @fgeffardAFP, 19 October 2016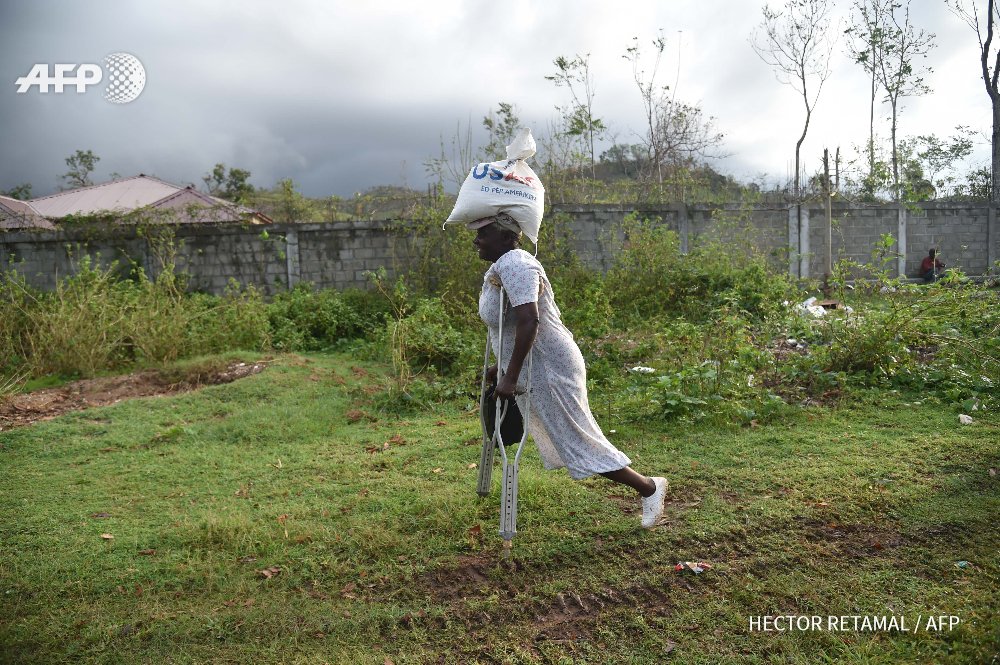 HAITI - A woman walks after receiving a food delivery for the World Food Programme in commune of Maniche, in Les Cayes. By @hectorretamal #AFP: image via Frédérique Geffard @fgeffardAFP, 18 October 2016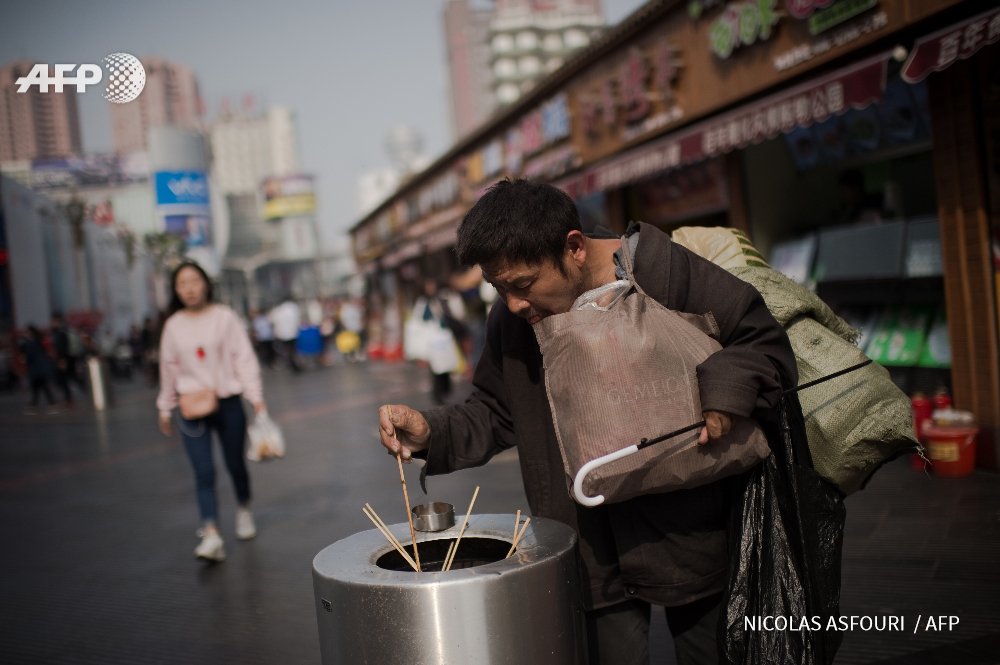 CHINA - A homeless man looks for stuff in a trash bin at a shopping mall area in Zhengzhou. By @NAsfouri #AFP: image via Frédérique Geffard @fgeffardAFP, 19 October 2016

The Advance Toward #Mosul: Traps, Smoke Screens and Suicide Bombers by @bdentonphoto: image via Photojournalism @photojournalink, 19 October 2016
Smoke rises from burning oil wells near the town of Qayyarah, south of Mosul, Iraq during the operation to recapture the city from the Islamic State group: photo by Bulent Kilic/AFP, 19 October 2016
Smoke rises from burning oil wells near the town of Qayyarah, south of Mosul, Iraq during the operation to recapture the city from the Islamic State group: photo by Bulent Kilic/AFP, 19 October 2016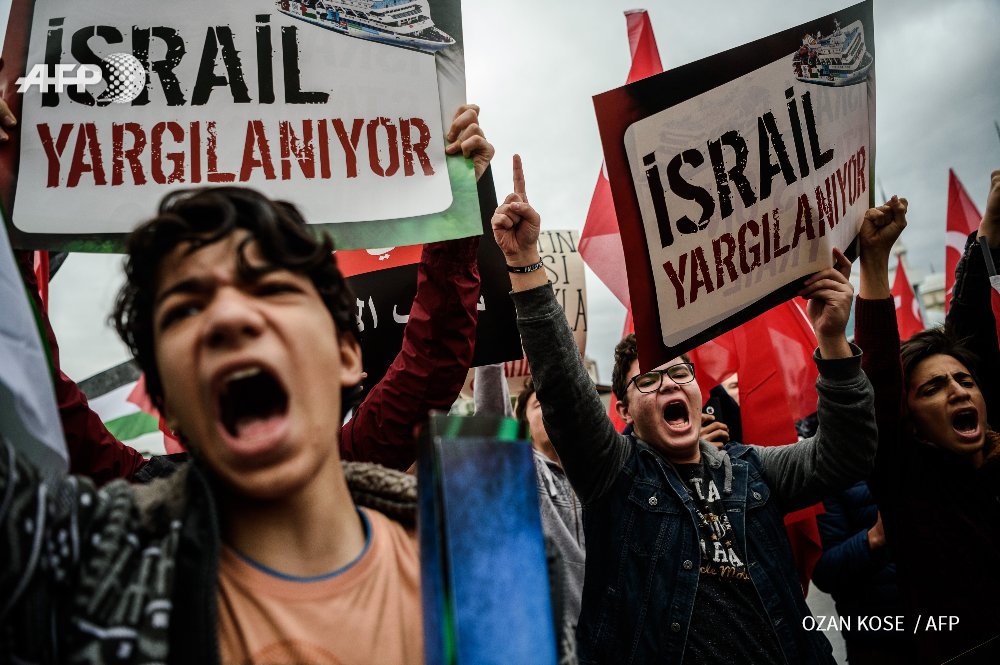 TURKEY - Protesters hold placards " Israel stands on the trail" as they shout anti-Israeli slogans at Istanbul courthouse. By @ozannkosee: image via Frédérique Geffard @fgeffardAFP, 19 October 2016
Alberto Pizzoli/Agence France-Presse via
The

New York Times, 19 October 2016
Larry Busacca

for Saint Laurent via
The

New York Times, 19 October 2016
Larry Busacca for Saint Laurent via
The

New York Times, 19 October 2016
Larry Busacca for Jimmy Choo via
The

New York Times, 19 October 2016
for
MOSCHINO

via
The

New York Times, 19 October 2016
The

New York Times, 19 October 2016
The

New York Times, 19 October 2016
The

New York Times, 19 October 2016
The

New York Times, 19 October 2016
via Dolce and Gabbana / The New York Times, 19 October 2016
via Dolce and Gabbana / The New York Times, 19 October 2016