.
Barber and Coin, Guns and Ammo, Beaverton, Oregon: photo by Austin Granger, 5 February 2014


Joseph Ceravolo: Hand Gun
When I was a child
I thought a handgun in a holster
and the lead colored bullets on the belt
was one of the most beautiful things
made by man.
Of course at that time
I didn't consciously know
of the phallic significance or symbol,
but it doesn't really matter.
It's not the object now
but the feeling that accompanied,
which still remains and comes back,
but not for

guns

and bullets
but for eternity.
It must be the way Sumerians
felt for their Gilgamesh
and Jews for David
and Egyptians for Pharaoh
and anyone for heroes,
a hope of eternity
for ever and ever new.
A chance not for the object
but for the soul alone,
if that be possible.
But it's too easy
to love life too much
and all is gone away, alas,
like a shot from
the

gun

of childhood.
When I was a child
I thought of eternity.
Joseph Ceravolo (1934-1988): Hand

Gun

, 24 October 1986, from Collected Poems, 2012
Kabul, Afghanistan. A girl plays with a toy gun during celebrations for Nowruz, the Iranian new year, which marks the first day of spring and the start of the year in the Persian calendar: photo by Mohammad Ismail/Reuters via The Guardian, 22 March 2015
We Sell Guns (Boston, Massachusetts): photo by Jim Rohan (LowerDarnley), 31 March 2013

Would-be customer is shown the merchandise at fake gun store: image from YouTube video via Breitbart, 17 March 2015
Gun Control Group Sets Up Fake Store, Shames First-Time Buyers: A.W.R. Hawkins, Breitbart, 17 March 2015
In effort to prove once and for all that owning guns puts Americans in danger, States United to Prevent Gun Violence set up a fake gun store and shamed first-time gun buyers into foregoing their purchase.
They did this by only offering models of guns for sale that had been used in high-profile crimes. So when a first-time female buyer asked to the see a gun that was easy to operate the clerk grabbed a .22 revolver and said, "[This] is the easiest gun we have to use. It's our most popular one… It's also a gun that 5-year-old found in his parents bedroom, went down and shot his 9-month-old baby brother with it."
For another customer the clerk shows a 9mm semiautomatic. He describes it as "a very handy gun" and that's "easy to use." The clerk says, "It's a great gun to carry in your purse, like that gal from the Walmart, her two-year-old son reaches into her pocketbook, pulls it out, shoots her."
The clerk does the same thing with a shotgun -- used in a San Diego shooting -- and various other guns used in more recent crimes.
For Adam Lanza's horrible acts at Sandy Hook Elementary the clerk lays down an AR-15, snaps his fingers, and says, "20 little kids, gone like that."
Customers Walk Into a '#GunShop'
Hoping to Get Something for Protection. Little Did...: image via Gun Rights Update @gunrightsupdate, 19 March 2015

A "#gunshop" that suddenly appeared in the... #hoax: image via Trending Hoax News @Hoaxalizer, 19 March 2015
#California #handgun
sales hit record number in 2014 at over 510,000
: image via San Francisco Trending Hoax News @SunTimesSF, 5 March 2015
The classic Colt Python chambered in .357 magnum. Photo: @lonestarloaded #colt #python #revolver #handgun #pistol
: image via jb @jbcday, 19 March 2015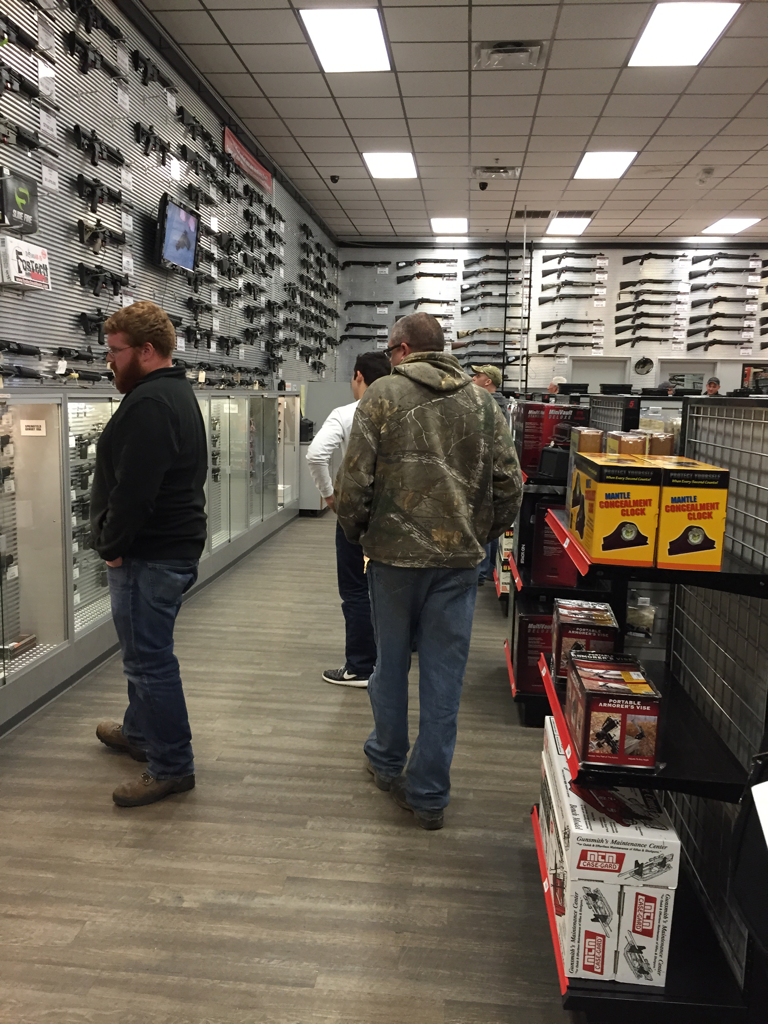 Lots of Musk and camo hoodies in this place. #gun
shop
: image via Tracy Eckert @
tracyeckert

, 31 January 2015
Missouri passed a law that allows open carry of guns, even in towns with bans, and for 'specially trained employees' to bring guns to schools: photo by
Prisma Bildagentur AG / Alamy/Alamy via the Guardian, 11 September 2014
A
young attendee inspects an assault rifle during the 2013 National Rifle Association annual meeting and exhibits in Houston, Texas..: photo by
Justin Sullivan via The Guardian, 14 December 2014

A Vermont measure, introduced by three top Democrats in the state senate, would expand background checks to most private sales:
photo by Joe Raedle via the Guardian, 10 February 2015
Abby, aged 8, from Louisiana: photo by
An-Sofie Kesteleyn
from the series My Little Rifle via the Guardian, 28 April 2014
A demonstrator helps hold a large Come and Take It banner at a rally in support of open-carry gun laws in Austin, Texas..: photo by
Eric Gay/AP via The Guardian, 30 January 2015
Officers investigate the scene after a shooting at She's a Pistol, a woman-centric gun shop in Shawnee, Kansas, on Friday: photo by
Tammy Ljungblad/AP via the Guardian, 12 January 2015
An exterior view of Guns Galore gun shop, where Ivan Lopez reportedly bought the weapon he used at Fort Hood: photo by
Erich Schlegel /Reuters via The Guardian, 4 April 2014
Dead kids in a classroom - just good business for @NRA and
gun industry #gun
sense
: image via US Gun Violence @
usgunviolence
, 12 March 2015
WATCH: Parents laugh at gun extremist who says guns in schools 'just makes sense' #gun
sense
: image via Shannon @
shannonrwatts, 12 March

2015
Bristol Palin's Fiancé Playing With Baby Next To Unsecured Handgun. #Gun
Sense
: image via That Anomaly Woman @
Anomaly100, 22 March

2015

Gun enthusiasts check out products at a National Rifle Association meeting. Gun advocates spread letters and petitions condemning Lynch's stance on gun control, as Senate Republicans continue to stall US attorney general confirmation. The National Association for Gun Rights collected 200,000 signatures against Lynch's confirmation. The battle took an ugly turn this week when some Democrats injected race into the debate, suggesting that Republicans were opposed to the nomination of the first African American woman for the post. The Illinois senator Dick Durbin, the second-ranking Democrat in the Senate, drew a Rosa Parks analogy and said Republicans were forcing Lynch to "sit in the back of the bus".: photo by Scott Olson via the Guardian, 20 March 2015