.
Indonesia's Street Monkeys #streetmonkey #animalrights #creepy #Jakarta #WowShack: image via Wow Shack @W
owShack
,

1 February 2015
My family. To begin with it had no part or share in what I was doing. Having set forth from that place, it was only natural I should return to it, given the accuracy of my navigation. And my family could have moved to other quarters during my absence, and settled down a hundred leagues away, without my deviating by as much as a hair's-breadth from my course. As for the screams of pain and wafts of decomposition (assuming I was capable of noticing them), they would have seemed to me quite in the natural order of things, such as I had come to know it. If before such manifestations I had been compelled each time to turn aside, I should not have got very far. Washed (on the surface only) by the rains, my head cracking with unutterable imprecations, it was for myself I should have had to turn aside, before all else. (After all perhaps I was doing so: that would account for my vaguely circular motion.) Lies, lies: mine was not to know, nor to judge, nor talk, but to go.

Jakarta, Indonesia: A monkey is chained on its cage before it is trained for a monkey circus. Monkey circus or "topeng monyet" is very popular and the most original form of entertainment in Indonesia especially in Java
: photo by Adi Weda/EPA via The Guardian, 7 November 2008
That the bacillus botulinus should have exterminated my entire kith and kin (I shall never weary or repeating this) was something I could readily admit -- but only on condition that my personal behaviour had not to suffer by it. Let us rather consider what really took place, if Mahood was telling the truth. And why should he have lied to me, he so anxious to obtain my adhesion? (To what, now that I come to think of it? To his conception of me?) Why? For fear of paining me perhaps. But I am there to be pained, that is what my tempters have never grasped. What they all wanted (each according to his particular notion of what is endurable) was that I should exist and at the same time be only moderately (or perhaps I should say finitely) pained. They have even killed me off, with the friendly remark that having reached the end of my endurance I had no choice but to disappear. (The end of my endurance! It was one second they should have schooled me to endure: after that I would have held out for all eternity, whistling a merry tune.)
#streetmonkey: image via daniar aditya @
daniar aditya,

27 March 2013
The hard knocks they invented for me! But the bouquet was this story of Mahood's in which I appear as upset at having been delivered so economically of a pack of blood relations (not to mention the two cunts into the bargain: the one for ever accursed that ejected me into this world and the other, infundibuliform, in which -- pumping my likes -- I tried to take my revenge).
To tell the truth (let us be honest at least), it is some considerable time now since I last knew what I was talking about. It is because my thoughts are elsewhere. I am therefore forgiven. So long as one's thoughts are somewhere everything is permitted.
A monkey is led by its trainer Qi Defang in preparation for a circus in Suzhou, China. The city has more than 300 circus troupes: photo by William Hong/Reuters via The Guardian, 6 December 2014
On then, without misgiving, as if nothing had happened. And let us consider what really took place (if Mahood was telling me the truth when he represented me as rid at one glorious sweep of parents, wife and heirs). I've plenty of time to blow it all sky-high, this circus where it is enough to breathe to qualify for asphyxiation: I'll find a way out of it, it won't be like the other times. But I should not like to defame my defamer. For when he made me turn and set off in the other direction, before I had exhausted the possibilities of the one I was pursuing, he had not in mind a shrinking of the spirit, not for a moment: but a purely physiological commotion, followed by a simple desire to vomit -- corresponding respectively to the howls of my family as they grudgingly succumbed and the subsequent stench (this latter compelling me to beat in retreat under penalty of losing consciousness entirely). (This version of the facts having been restored, it only remains to say it is no better than the other and no less incompatible with the kind of creature I might just conceivably have been if they had known how to take me.)
So let us consider now what really occurred. Finally I found myself, without surprise, within the building (circular in form as already stated, its ground-floor consisting of a single room flush with the arena) and there completed my rounds -- stamping under foot the unrecognizable remains of my family (here a face, there a stomach, as the case might be), and sinking into them with the ends of my crutches, both coming and going.
To say I did so with satisfaction would be stretching the truth. For my feeling was rather one of annoyance at having to flounder in such muck just at the moment when my closing contortions called for a firm and level surface. I like to fancy (even if it is not true) that it was in mother's entrails I spent the last days of my long voyage, and set out on the next. (No, I have no preference: Isolde's breast would have done just as well, or papa's private parts, or the heart of one of the little bastards.) But is it certain? Would I have not been more likely, in a sudden access of independence, to devour what remained of the fatal corned-beef?
How often did I fall during these final stages, while the storms raged without?

Monkey Training for a Circus, Suzhou, China. With more than 300 circus troupes, Suzhou is known as the hometown of the Chinese circus.: photo by Yongzi Chu/EPA via the Guardian, 12 February 2015
But enough of this nonsense: I was never anywhere but here, no one ever got me out of here. Enough of acting the infant who has been told so often how he was found under a cabbage leaf that in the end he remembers the exact spot in the garden and the kind of life he led there before joining the family circle. There will be no more from me about bodies and trajectories, sky and earth -- I don't know what it all is. They have told me, explained to me, described to me, what it all is, what it looks like, what it's all for (one after the other, thousands of times, in thousands of connections), until I must have begun to look as if I understood. Who would ever think, to hear me, that I've never seen anything, never heard anything but their voices? (And man! The lectures they gave me on men, before they even began trying to assimilate me to him!) What I speak of, what I speak with, all comes from them -- it's all the same to me. But it's no good, there's no end to it. It's of me now I must speak, even if I have to do it with their language. It will be a start, a step towards silence and the end of madness: the madness of having to speak and not being able to -- except of things that don't concern me, that I don't believe, that they have crammed me full of to prevent me from saying who I am, where I am, and from doing what I have to do in the only way that can put an end to it, from doing what I have to do. How they must hate me!
This is gross. #Indonesian fun?? Please sign against #streetmonkey abuse and #murder: image via Suzi Urell @SuziUrell
,

12 March 2015
Ah a nice state they have me in -- but still I'm not their creature (not quite, not yet). To testify to them, until I die (as if there was any dying with that tomfoolery): that's what they've sworn they'll bring me to. Not to be able to open my mouth without proclaiming them, and our fellowship: that's what they imagine they'll have me reduced to. It's a poor trick that consists in ramming a set of words down your gullet on the principle that you can't bring them up without being branded as belonging to their breed. But I'll fix their gibberish for them. I never understood a word of it in any case -- not a word of the stories it spews, like gobbets in a vomit. My inability to absorb, my genius for forgetting, are more than they reckoned with. Dear incomprehension, it's thanks to you I'll be myself in the end. Nothing will remain of all the lies they have glutted me with. And I'll be myself at last (as a starveling belches his odourless wind, before the bliss of coma).
Is it really worth inquiring? With my cogged means? No, but that's no reason not to. On their own ground, with their own arms, I'll scatter them, and their miscreated puppets. (Perhaps I'll find traces of myself by the same occasion.)
Circus poster, Omaha, Nebraska
: photo by John Vachon, November 1938 (Farm Security Administration Collection, Library of Congress)
What is strange is that they haven't been pestering me for some time past (yes, they've inflicted the notion of time on me too). What conclusion, using their methods, am I to draw from this? Mahood is silent: that is to say his voice continues, but is no longer renewed. Do they consider me so plastered with their rubbish that I can never extricate myself, never make a gesture but their cast must come to life? But within, motionless, I can live, and utter me, for no ears but my own. They loaded me down with their trappings and stoned me through the carnival. I'll sham dead now, whom they couldn't bring to life, and my monster's carapace will rot off me. But it's entirely a matter of voices: no other metaphor is appropriate. They've blown me up with their voices, like a balloon, and even as I collapse it's them I hear.
A monkey enjoys a watermelon during the 'monkey buffet festival' in Lopburi, Thailand. The festival is held every year to promote tourism and to thank the monkeys for drawing visitors to the town
: photo by Narong Sangnak/EPA via The Guardian, 6 December 2014
Who, them? And why nothing more from them lately? Can it be they have abandoned me, saying "Very well, there's nothing to be done with him, let's leave it at that, he's not dangerous"? Ah but the little murmur of unconsenting man, to murmur what it is their humanity stifles! The little gasp of the condemned to life, rotting in his dungeon garrotted and racked, to gasp what it is to have to celebrate banishment! Beware!
No, they have nothing to fear. I am walled round with their vociferations. No one will ever know what I am, none will ever hear me say it: I won't say it, I can't say it, I have no language but theirs. No, perhaps I'll say it (even with their language), for me alone -- so as not to have not lived in vain, and so as to go silent. (If that is what confers the right to silence -- and it's unlikely: it's they who have silence in their gift, they who decide, the same old gang, among themselves.) No matter, to hell with silence: I'll say what I am, so as not to have been born for nothing. I'll fix their jargon for them. Then any old thing (no matter what, whatever they want), with a will, till time is done -- at least with a good grace.
Samuel Beckett (1906-1989): from The Unnamable (1959)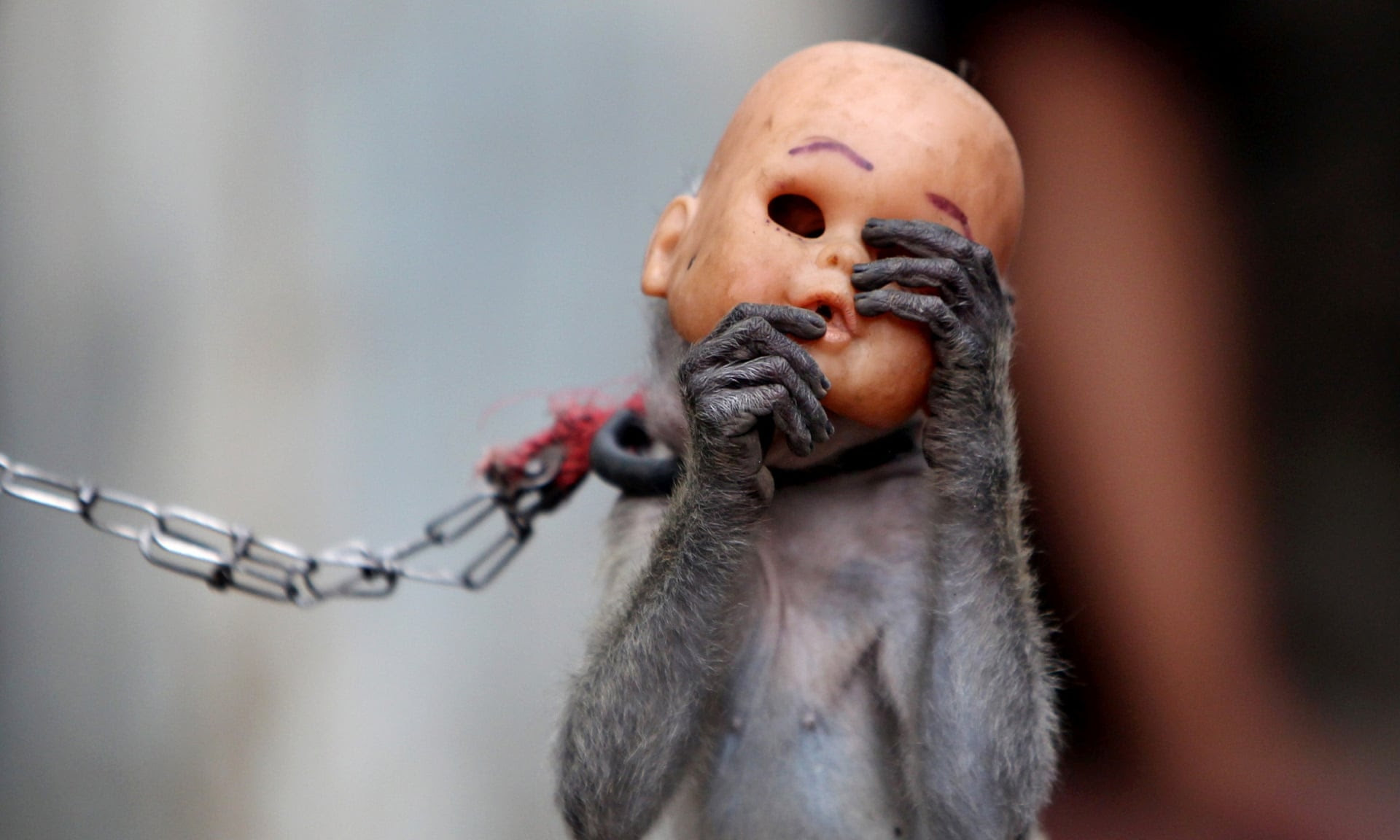 A street monkey performing in a baby mask in Jakarta: photo by Tatan Syuflana/AP via The Guardian, 27 October 2013