.
Rogue owl caught after year-long reign of terror in Dutch town: European eagle owl suspected of more than 50 attacks on humans in Purmerend, Netherlands: AFP via the Guardian, 13 March 2015
A rogue owl that has terrorised a northern Dutch city for the past year, forcing citizens to arm themselves with umbrellas at night, has been caught, officials have announced.
Dubbed the "terror owl" by residents of Purmerend, north of Amsterdam, the aggressive European eagle owl is suspected of more than 50 attacks on humans, swooping silently from above and leaving many of its victims bloody and bruised.
An eagle owl sits under the eaves of a building in Purmerend, Netherlands: photo by Jacob Jorritsma/AP via the Guardian, 13 March 2015
"The animal was trapped by a falconer today," the Purmerend city council said on Friday evening.
"It's in good health and is currently being kept in a temporary facility awaiting a transfer once a proper permanent home has been found," it added.
Look at its evil glare! Wonder who will buy the movie rights. #terrorowl: image via Jantine Zandbergen @thequietcold, 26 February 2015
The large owl is suspected of a spate of mysterious attacks on citizens over the last year, prompting the city to advise evening strollers to arm themselves with umbrellas for protection against aerial assaults.
"The attacks were getting heavier," the city said, adding: "Many people were afraid to go out of their homes."
Talons extended, a Eurasian eagle owl goes for the kill at Turbary Woods Owl and Bird of Prey sanctuary near Preston, Lancashire: photo by National Pictures via The Guardian, 27 November 2009

As the owl is a protected animal, the city had to get special permission to trap the creature. Once that was granted, a falconer set out on a bird-hunt.
Owl in The Netherlands is not pleased with you people. #TerrorOwl: image via Uncle Smirk @PastaFace2, 27 February 2014 East Lake-Orient Park, FL
In one of the many assaults, two members of a local athletics club were attacked last month, with one runner requiring stitches for six head wounds caused by the nocturnal bird of prey's talons.
European eagle owl: photo by Christopher Thomond via The Guardian, 21 July 2014
Owl experts have said the bird's behaviour was unusual, meaning it was either raised in captivity and associated humans with food, or had heightened hormone levels because of the start of the breeding season.

RT @jimmistorey #eagleowl #animaux: image via Miranda Holmqvist @MirandaHqv. 3 July 2014


The European eagle owl is one of the largest owl species, with a wingspan of up to 1.8 metres (almost six feet) and weighing up to 3kg.
City council member Mario Hegger said he had mixed feelings about the owl's capture.
#EagleOwl
webcam in western Germany at Eifel: image via Raptor Politics @
Raptor Politics

, 13 March 2015
"On the one hand, you would of course rather leave such a magnificent beast alone," he said. "But on the other hand, the situation could not continue. We had to do something."

Bird of wisdom, bird of prey … an owl: photo by Ian Jeffery via The Guardian, 2 May 2014
Lorine Niedecker: "A monster owl..."

Lorine Niedecker (1903-1970): "A monster owl...", from Collected Works, 2002
Eurasian eagle owl
: photo by Brad Wilson via The Guardian 12 March 2015

An eagle owl fluffs its feathers at the Grugapark in Essen, Germany: photo by Ina Fassbender/Reuters via The Guardian, 28 March 2014
Owl, 'D' Ranch, Point Reyes: photo by Austin Granger, February 2011
Edward Lear (1812-1888): drawing and limerick from A Book of Nonsense, 1846
Roman owl mosaic, Itálica, Spain: photo by Kriegerkalle, 6 September 2008
Athene Winged Lioness Owl with Python Regurgitating Jason: Etrurian red-figured cup, c. 480-470 BC (Vatican Museum)
Spotted
owlets offered for sale at Chowk market near Charminar in Hyderabad
: photo by Abrar Ahmed/Traffic India via National Geographic, 4 November 2010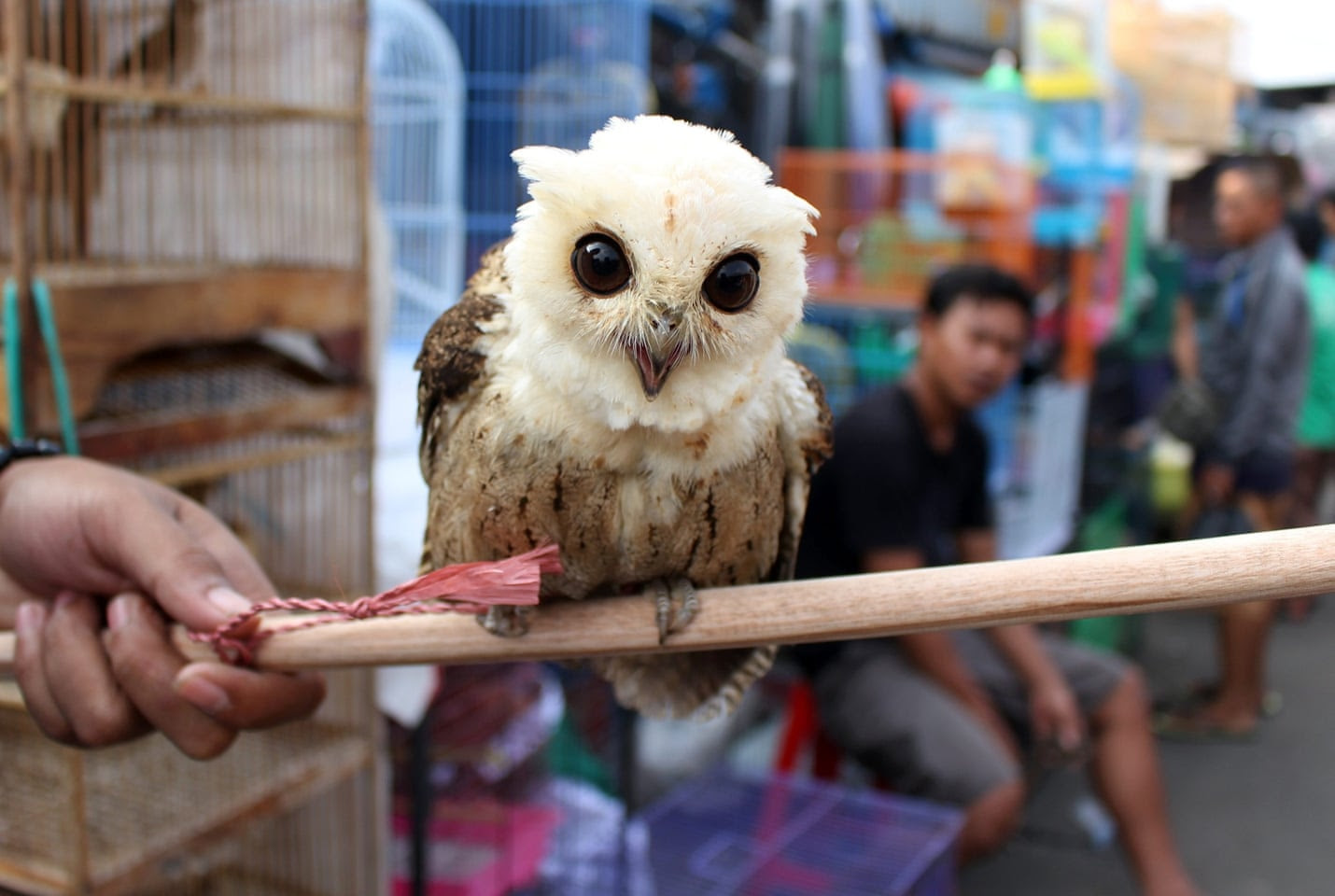 A vendor holds an owl for sale at Jatinegara bird market in Jakarta, Indonesia. Sale of endangered animals is a major problem in Indonesia: photo by Adi Weda/EPA
via The Guardian, 5 September 2014