.
Painted staircase (detail): Giovanni Domenico Tiepolo, 1757, fresco (Villa Valmarana ai Nani, Vicenza)
Government forces bombed the city of Aleppo now: image via baraa al halabi @baraaalhalabi, 22 April 2016
Fouad Mohammed Fouad: Aleppo Diary
1.
Writing is pain.
And the blood that drips down the screen pollutes the atmosphere

staining the couch with what looks like dried coffee, which we touch with trembling fingers
so we don't get infected.
We manage with broken backs as if going to hell seeing dark red -- no, brown as well -- which deposits a residue like rust in the soul.
We stroke their old heads then turn aside to lick away the tears.
Those who crawl from street to screen leave green traces on the asphalt that spring into bushes of basil; they toss us a flower and die in haste to spare our shame.
Now you've entered the sacred valley, take off your shoes and walk on broken glass.
2.
The comrades in reading have fallen asleep.
You wander alone through the book stacks
with no sign of an exit.
From the third shelf on the right comes a groan --
a whole chapter expelled from a novel.
Laughter the tragic title
for a book of philosophy.
Politics flows like phlegm from one shelf to another.
There is no time for epic
for The Book of Delight and Intimacy
as Machado eases open the book covers
gently, so as not to disturb the ornaments.
We are the proofs of books
full of paragraphs in need of revision.
3.
I sit on the balcony. Aleppo spread before me black and deserted. The clatter of crockery in the dark means life goes on. No sound save sporadic gunfire from somewhere, then a single shell preceded by a peculiar whistle. Someone is leaving this planet with a dry throat. Aleppo before me black and still. These huge shadows might be trees or childhood goblins or black vapours exhaled by women waiting for children who are already numbers in a news report.
Aleppo. No oud plucked. No 'Swaying Silhouette'. No drinks in The Nightingale. No drinkers. No song.
One by one
they awaken
the beasts of darkness.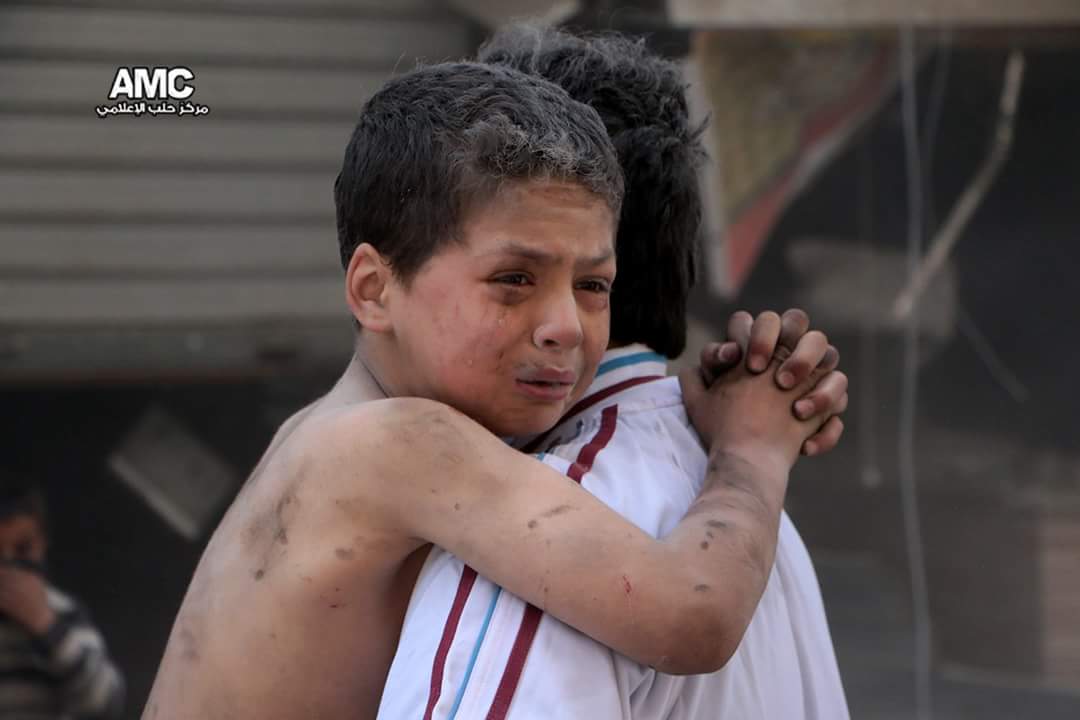 Aftermath of regime airstrikes on #Aleppo today #Syria - @arabthomness: image via Conflict News @Conflicts, 22 April 2016
الكتابة ألم.

والدم الذي ينقط على الشاشة يلوث المشهد ويترك على الكنبة مايشبه بقع القهوة الجافة نلمسها بأصابع مرتجفة كي لا تنتقل الينا العدوى

نستند بظهور مكسورة كأننا ذاهبون الى الجحيم بعيون مغبشة بالاحمر الداكن.. لكنه بنيٌّ أيضاً ويترك على الروح مايشبه الصدأ

نمسح على الرؤوس الهرمة ونهرب من لفظها ثم نلعق الملح الذي يسيل من العيون.

الذين يزحفون من طرف الشارع الى طرف الشاشة يتركون على الاسفلت أثراً أخضراً سرعان ما يكبر مثل سياج من الحبق، يرموننا بوردة ويموتون على عجل كي لانخجل منا
... اخلعْ نعليك الآن وامشِ على قطع الزجاج.. إنك في الوادي المقدس.
تتجول وحيداً بين رفوف المكتبة
دون إشارات تدل على المخرج.
الأنين على اليمين من الرف الثالث
فصل كامل مطرود من الرواية،
والضحك عنوان مأساوي
لكتاب في الفلسفة.
تسيل السياسة كالمخاط من رف لآخر
لا وقت للملاحم
لكتاب الإمتاع والمؤانسة
حيث ماتشادو يدفع الغلاف المقوى برفق
كي لاتسقط الصحون
..
نحن أشبه ما نكون بمسودات الكتب
مليئين بالمقاطع التي تحتاج الى تنقيح"
على شرفة البيت أجلس، حلب أمامي سوداء وموحشة، قرقعة صحون في العتمة تعني ان ثمة حياة تحدث على طاولة. لا نأمة سوى رشقات رصاص متقطعة من مكان ما وقذيفة واحدة يسبقها صفير غريب... ثمة من يترك الان هذا الكوكب بحلق جاف.
حلب أمامي سوداء وساكنة، الظلال العملاقة هذه ربما لأشجار ربما لغيلان قادمة من حكايات بعيدة في الطفولة ربما هو بخار اسود تنفثنه الآن نساء ينتظرن اولاداً صاروا أرقاماً في نشرة الاخبار
حلب.. لا نقرة عود.. لا قدٌ يميس.. لا كأس في "العندليب"* .. لا ندامى .. ولاغناء
..
..
واحداً فواحداً
يستيقظون،

Fouad Mohammed Fouad (b. 1961): Aleppo Diary (2016), translated by Samuel Wilder with The Poetry Translation Workshop, 2016
A Syrian man evacuates an area following a reported air strike in the rebel-held neighbourhood of Hayy Aqyul in Syria's second city Aleppo: photo by Ameer Alhalbi/AFP, 22 April 2016
A Syrian man evacuates an area following a reported air strike in the rebel-held neighbourhood of Hayy Aqyul in Syria's second city Aleppo: photo by Ameer Alhalbi/AFP, 22 April 2016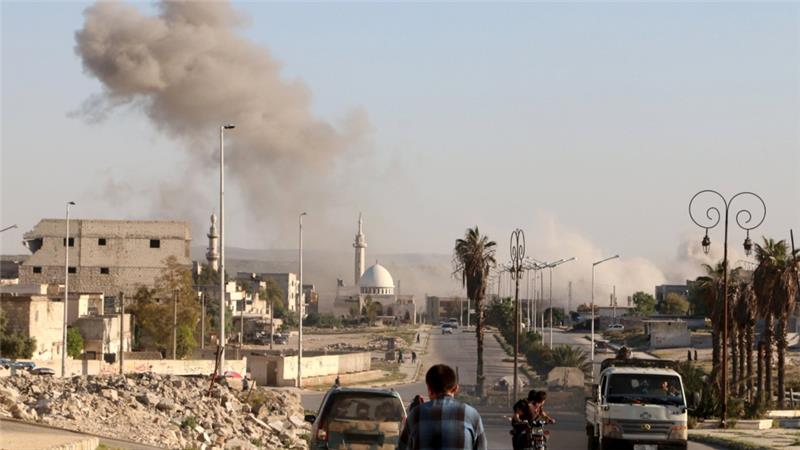 Aftermath of the Assad barrel bomb attack on Anadan in north rural #Aleppo, #Syria today: image via Sami @Paradoxy13, 22 April 2016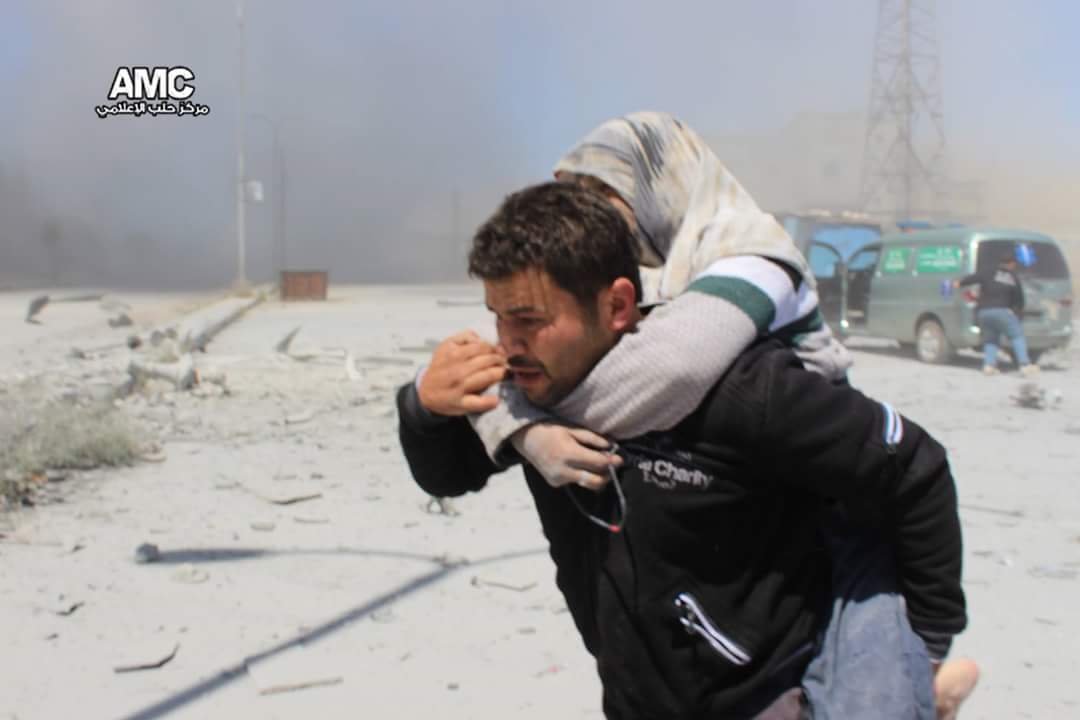 Aftermath of regime airstrikes on #Aleppo today #Syria - @arabthomness: image via Conflict News @Conflicts, 22 April 2016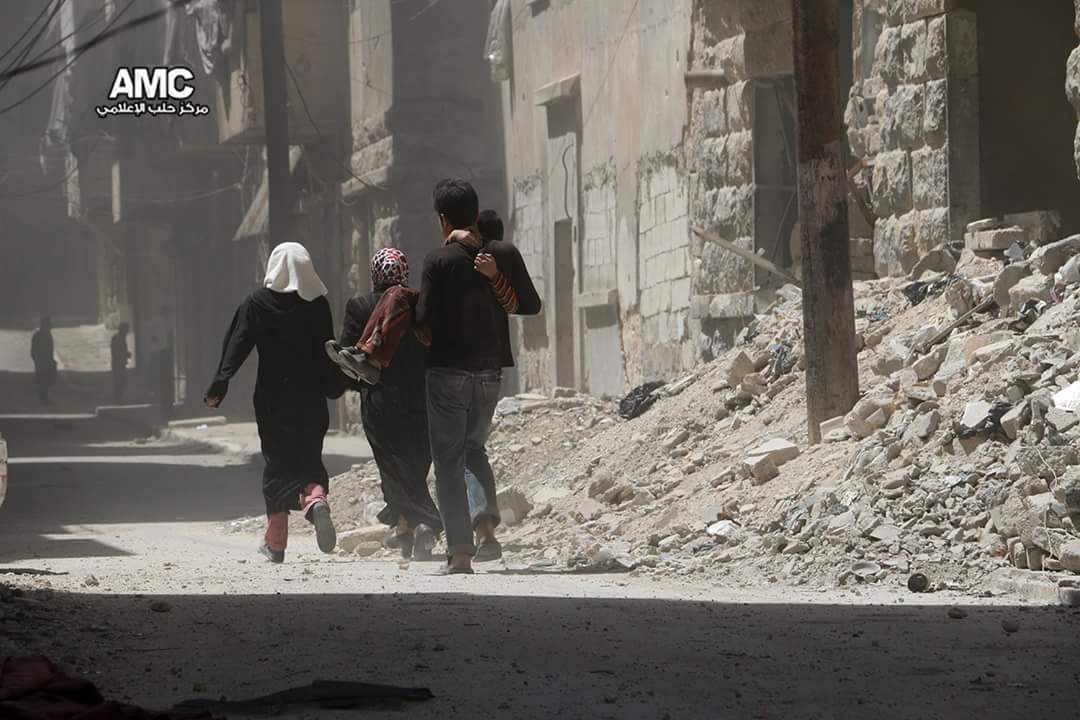 Aftermath of regime airstrikes on #Aleppo today #Syria - @arabthomness: image via Conflict News @Conflicts, 22 April 2016


Whole story Jamal Hassan al-Ashqar, killed by Assad's planes, while he was picking berries in Marjah district #Aleppo: image via Luna Watfa @luna_alabdalla, 22 April 2016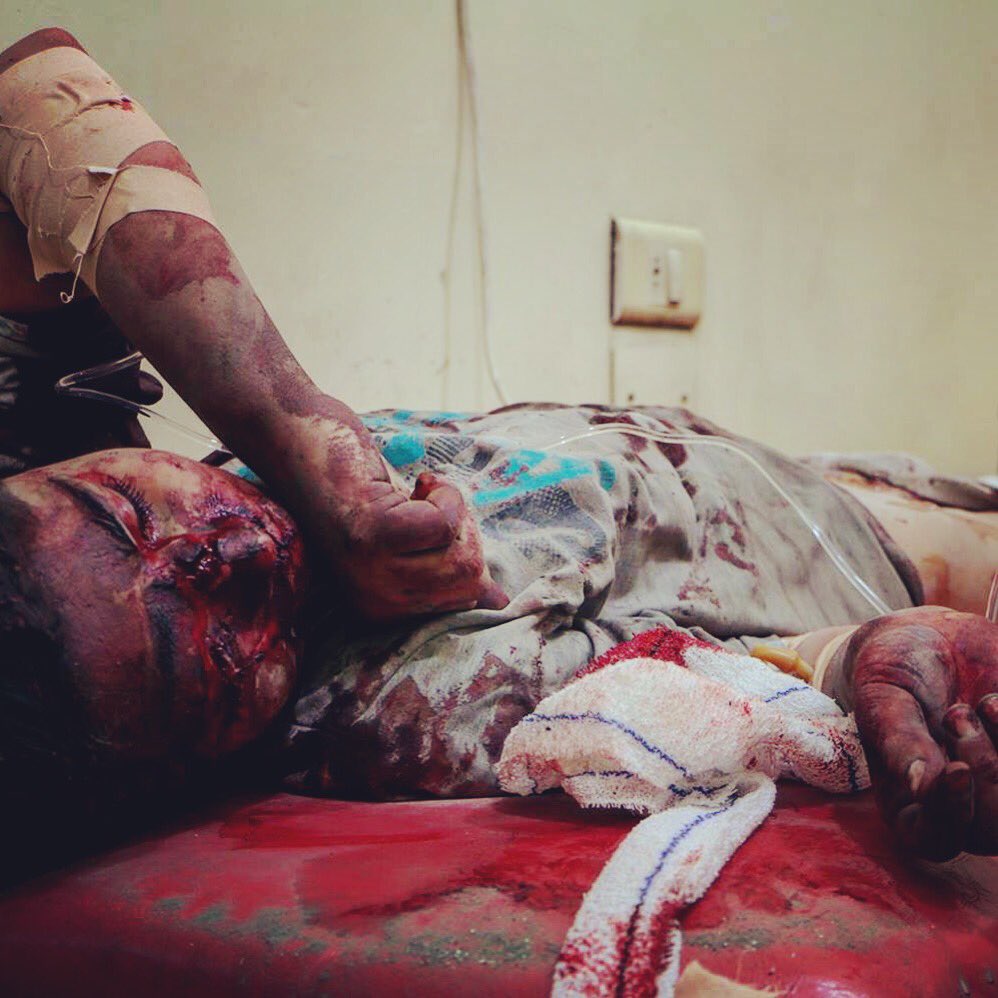 #Syria: At least 5 civilians killed, tens wounded in today's heavy regime airstrikes on rebel-held parts of #Aleppo: image via Sakir Khader @sakirkhader, 22 April 2016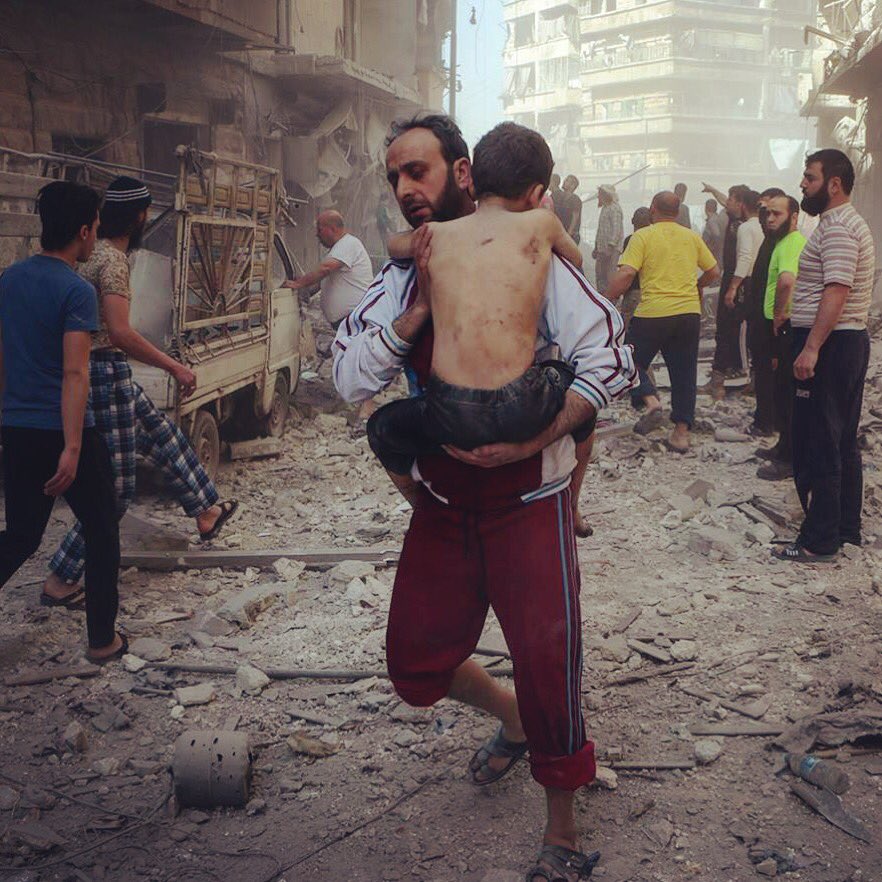 #Syria: At least 5 civilians killed, tens wounded in today's heavy regime airstrikes on rebel-held parts of #Aleppo: image via Sakir Khader @sakirkhader, 22 April 2016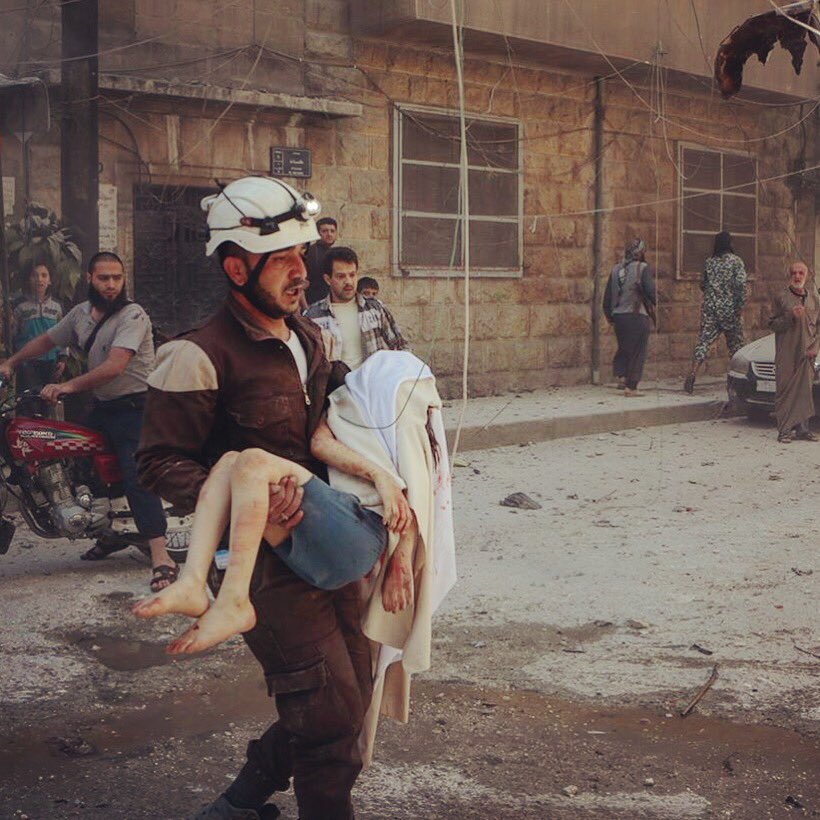 #Syria: At least 5 civilians killed, tens wounded in today's heavy regime airstrikes on rebel-held parts of #Aleppo: image via Sakir Khader @sakirkhader, 22 April 2016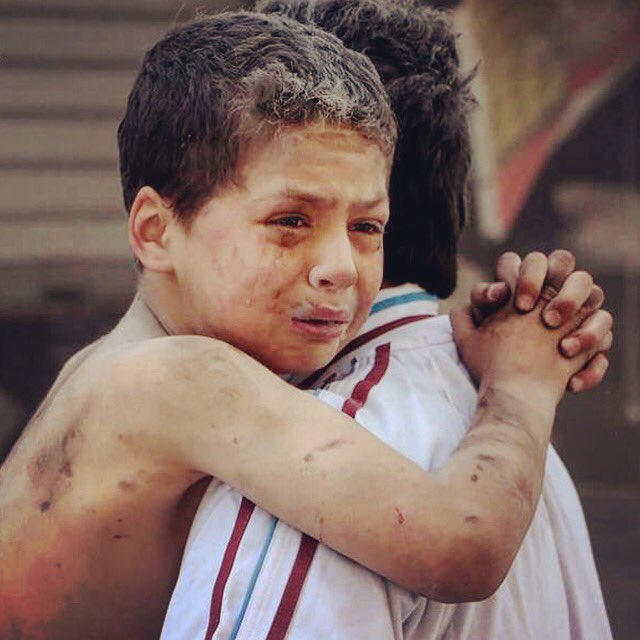 #Syria: At least 5 civilians killed, tens wounded in today's heavy regime airstrikes on rebel-held parts of #Aleppo: image via Sakir Khader @sakirkhader, 22 April 2016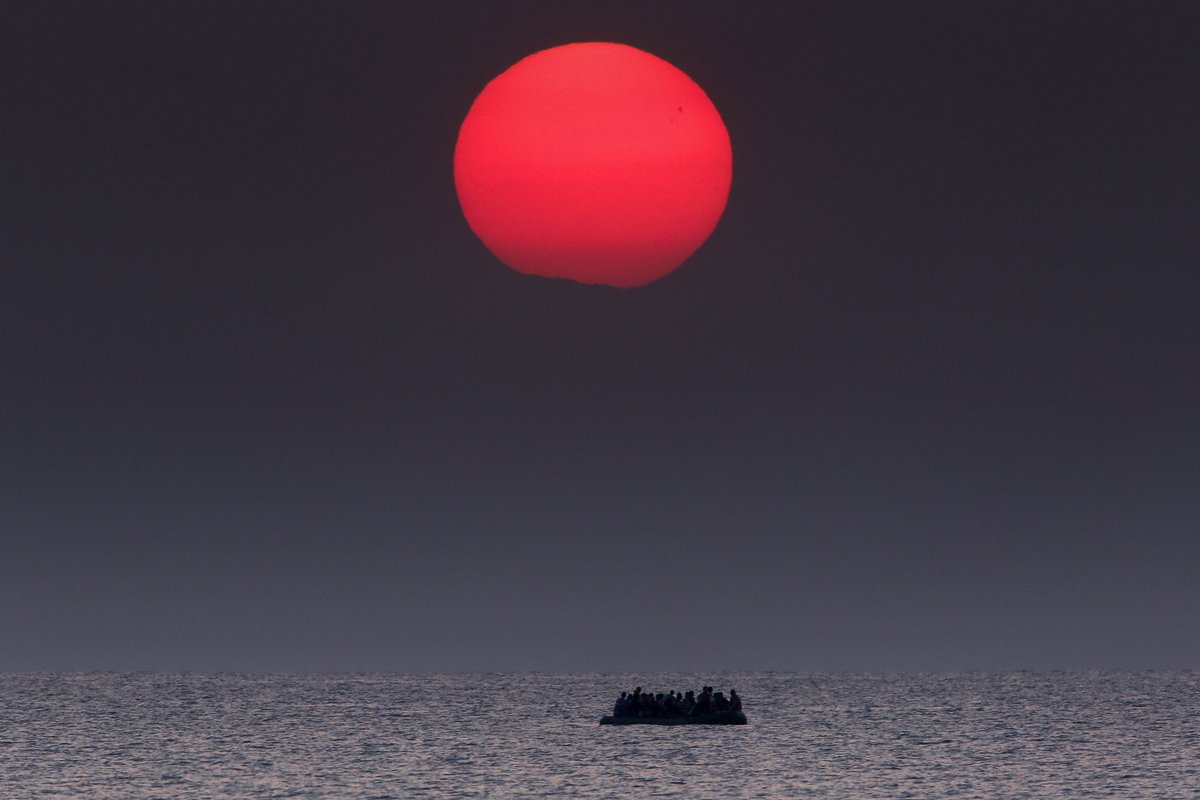 Migrant flow from #Turkey to #Greece picking up again: image via Al Arabiya English @AlArabiya_Eng, 22 April 2016
Ultra-Orthodox Jews burn leaven in the Mea Shearim neighbourhood of Jerusalem, ahead of the Jewish holiday of Passover: photo by Ammar Awad/Reuters,

2

1 April 2016
Ultra-Orthodox Jews burn leaven in the Mea Shearim neighbourhood of Jerusalem, ahead of the Jewish holiday of Passover: photo by Ammar Awad/Reuters,

2

1 April 2016
German Chancellor Angela Merkel attends the 500th anniversary ceremony of the German Beer Purity Law (Reinheitsgebot) in Ingolstadt, Germany: photo by Michaela Rehle/Reuters, 22 April 2016
German Chancellor Angela Merkel attends the 500th anniversary ceremony of the German Beer Purity Law (Reinheitsgebot) in Ingolstadt, Germany: photo by Michaela Rehle/Reuters, 22 April 2016
A Buddhist monk sleeps in a chair while monks and novices gather to receive alms at Wat Phra Dhammakaya temple outside Bangkok: photo by Jorge Silva/Reuters, 22 April 2016
A Buddhist monk sleeps in a chair while monks and novices gather to receive alms at Wat Phra Dhammakaya temple outside Bangkok: photo by Jorge Silva/Reuters, 22 April 2016
Over 100,000 Buddhist monks and novices gather to receive alms at Wat Phra Dhammakaya temple in Pathum Thani, outside Bangkok: photo by Jorge Silva / Reuters, 22 April 2016
Republican U.S. presidential candidate Donald Trump's hand is seen as he reacts during a campaign event in Harrisburg, Pennsylvania: photo by Carlos Barria/Reuters, 22 April 2016
Republican U.S. presidential candidate Donald Trump's hand is seen as he reacts during a campaign event in Harrisburg, Pennsylvania: photo by Carlos Barria/Reuters, 22 April 2016


President Barack Obama arrives at Downing Street to meet with British Prime Minister David Cameron in London, England: photo by Dan Kitwood Via FT Photo Diary, 22 April 2016
Photographers in the press pen as Prime Minister David Cameron welcomes US President Barack Obama to Downing Street: photo by Lauren Hurley/PA, 22 April 2016
Britain's Prince Philip, Duke of Edinburgh drives US President Barack Obama, US First Lady Michelle Obama and Britain's Queen Elizabeth II from the helicopter into Windsor Castle after the Obama's arrived for a private lunch in Windsor, southern England: photo by Geoff Pugh/AFP, 22 April 201

6
Britain's Prince Philip, Duke of Edinburgh drives US President Barack Obama, US First Lady Michelle Obama and Britain's Queen Elizabeth II from the helicopter into Windsor Castle after the Obama's arrived for a private lunch in Windsor, southern England: photo by Geoff Pugh/AFP, 22 April 201

6

The crescent moon rises behind a statue on the Saint-Germain l'Auxerrois church in central Paris, France: photo by Christian Hartmann / Reuters, 18 April 2016



An activist from the environmental organisation Greenpeace attaches a replica gas mask to the face of the statue of Nelson on Nelson's column during a protest in Trafalgar Square, London. Greenpeace activists scaled numerous statues across the capital to highlight dangerous levels of pollution.: photo by Andy Rain/EPA, 18 April 2016



An activist from the environmental organisation Greenpeace attaches a replica gas mask to the face of the statue of Nelson on Nelson's column during a protest in Trafalgar Square, London. Greenpeace activists scaled numerous statues across the capital to highlight dangerous levels of pollution.: photo by Andy Rain/EPA, 18 April 2016


A South Korean worker cleans a statue of South Korean Admiral Yi Sun-sin ahead of the coming of spring at Gwanghwamun Plaza in Seoul, South Korea. Admiral Yi was a Korean hero who defeated the Japanese invaders in the 16th century.: photo by Ahn Young-joon / AP, 18 April 201

6

Dancers perform during the Moors and Christians d'Alcoi parade held every year during fiestas in Alcoy, Spain: photo by Morell / EPA, 22 April 2016

The Battle of Alexander: Albrecht Altdorfer, 1529, oil tempera on wood, 158 x 120 cm (Alte Pinakothek, Munich)
A woman poses for a photographer as a man sits next to her in downtown Catania, Italy: photo by Tony Gentile / Reuters, 20 April 2016
Gulls fly into a gale-force north-westerly wind in Cape Town, South Africa: photo by Nic Bothma / EPA, 22 April 2016
A woman walks her dogs on Kommetjie beach strewn with kelp as a storm approaches Cape Town, South Africa: photo by Nic Bothma / EPA, 22 April 2016